Looking to get a mid-size SUV, but not sure which one is right for you?
Shoppers in the market for a new SUV have seemingly limitless options these days. Those options can get overwhelming and shoppers have more than a few questions that need to be answered. The Durango and the Grand Cherokee can often be mistaken as the same vehicle with different badging, but the contrast of the two can be just what you need to help you make the right decision.

TL;DR: Dodge Durango vs Jeep Grand Cherokee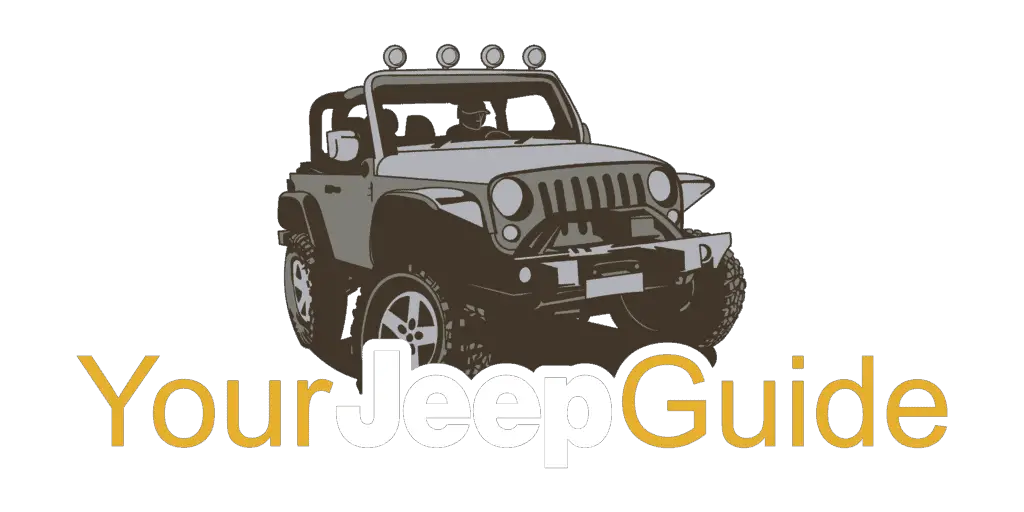 Dodge Durango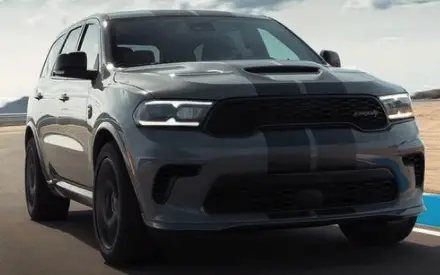 Grand Cherokee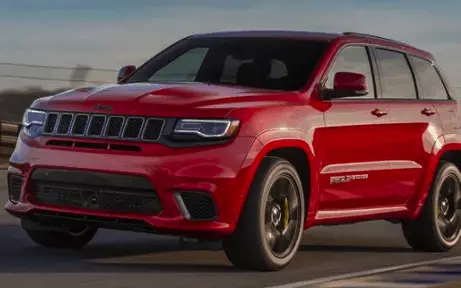 Pros
Dodge Durango
Sporty, aggressive style
Excellent towing capacity
Roomy cargo area
7 passenger seating
Grand Cherokee
Roomy Cargo Area
Powerful engine options for towing and hauling
Excellent Off-Road Ability
Luxurious interior
Cons
Dodge Durango
Below-average fuel economy
Base interior feels cheap
Grand Cherokee
Not very fuel-efficient
High priced top trim levels
Best For
Dodge Durango
With a sleek and sporty look and feel, the Durango is best-suited for those looking for a fun family hauler.
Grand Cherokee
Those with a medium-sized family looking for a comfortable vehicle capable of adventure with the whole family.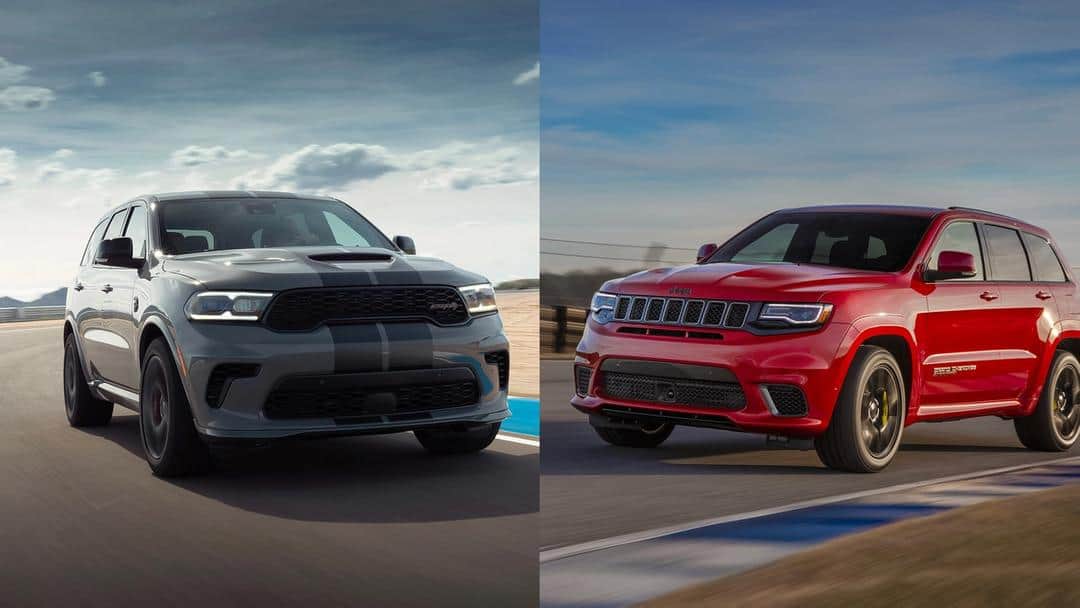 Relevant Specs: Dodge Durango vs Jeep Grand Cherokee
Dodge Durango vs Jeep Grand Cherokee Specs
Compare by tapping or clicking below!

MSRP
Dodge Durango
$31,765 – $80,995
Grand Cherokee
$34,200 – $87,895
Seating
Dodge Durango
5-Person standard seating with an optional third row to increase capacity to 7
Note: In third-row models, the option for second-row captains' chairs decreasing capacity to 6
Grand Cherokee
5-person seating capacity with an optional third row to increase capacity to 7
Note: Third-row seating configuration is set to arrive mid-2021
Length
Dodge Durango
200.8 Inches
Grand Cherokee
189.9 Inches
Width
Dodge Durango
75.8 Inches
Grand Cherokee
76.5 Inches
Curb Weight
Dodge Durango
4986 Pounds
Grand Cherokee
4746 Pounds
Cabin Volume
Dodge Durango
134 Cubic Feet
Grand Cherokee
140.5 Cubic Feet
Cargo Volume
Dodge Durango
All Seats Upright: 17.3 Cubic Feet
Third Row Folded: 43.3 Cubic Feet
All Seats Folded: 85.1 Cubic Feet
Grand Cherokee
Seats Upright: 36.3 Cubic Feet
Seats Folded: 68.3 Cubic Feet
Engine(s)
Dodge Durango
Base Engine: 3.6L Pentastar V6
Optional Engines:
5.7L Hemi V8
6.4L SRT V8
6.2L Supercharged V8
Grand Cherokee
Base Engine: 3.6L Pentastar V6
Optional Engines:
5.7L Hemi V8
6.4L SRT V8
6.2L Supercharged V8
Transmission(s)
Dodge Durango
8-speed Automatic
Grand Cherokee
8-speed Automatic
Horsepower
Dodge Durango
3.6L V6: 295hp
5.7L Hemi V8: 360hp
6.4L SRT V8: 475hp
6.2L Supercharged V8: 710hp
Grand Cherokee
3.6L V6: 293hp
5.7L Hemi V8: 360hp
6.4L SRT V8: 475hp
6.2L Supercharged V8: 707hp
Torque
Dodge Durango
3.6L V6: 260lb-ft
5.7L Hemi V8: 390lb-ft
6.4L SRT V8: 470lb-ft
6.2L Supercharged V8: 645lb-ft
Grand Cherokee
3.6L V6: 260lb-ft
5.7L Hemi V8: 390lb-ft
6.4L SRT V8: 470lb-ft
6.2L Supercharged V8: 645lb-ft
Towing Capacity
Dodge Durango
6200lbs to 8700lbs
**Towing capacity will vary based on both engine and drivetrain
Grand Cherokee
6200lbs to 7200lbs
**Towing capacity will vary based on both engine and drivetrain
MSRP: Everyone wants to get the best value for their money when buying a new SUV. Both the Durango and the Grand Cherokee have many different options as far as trim levels go. This is reflected in the price.
When directly compared, the Durango comes in slightly cheaper with a base MSRP of $31,765 compared to the Grand Cherokee at $34,200. These prices will then vary based on the trim level and options with the more extravagant Hellcat Durango topping out at $80,995 and the Trackhawk Grand Cherokee at $87,895.
Seats: Seat configuration is a huge factor for people buying an SUV. For the most part, buyers are looking for something that can comfortably carry around the family without resorting to buying a minivan.
The Durango has multiple seating configurations, with the base model being a five-seater, an optional third row can increase that capacity to 7. While the Grand Cherokee currently comes in a five-seat configuration, there will soon be an option for the third row of seating with the introduction of the Grand Cherokee L.
Length: The length of the vehicle can not only determine how much space is inside, both seating capacity and cargo area, but is also a big factor when it comes to stability and handling. Granted, we're not talking about sports cars here, but stability and handling are huge when it comes to SUVs. 
It may not be something buyers typically research, but it is something that they notice on a test drive and could mean the difference between a vehicle that is enjoyable to drive and one that is not.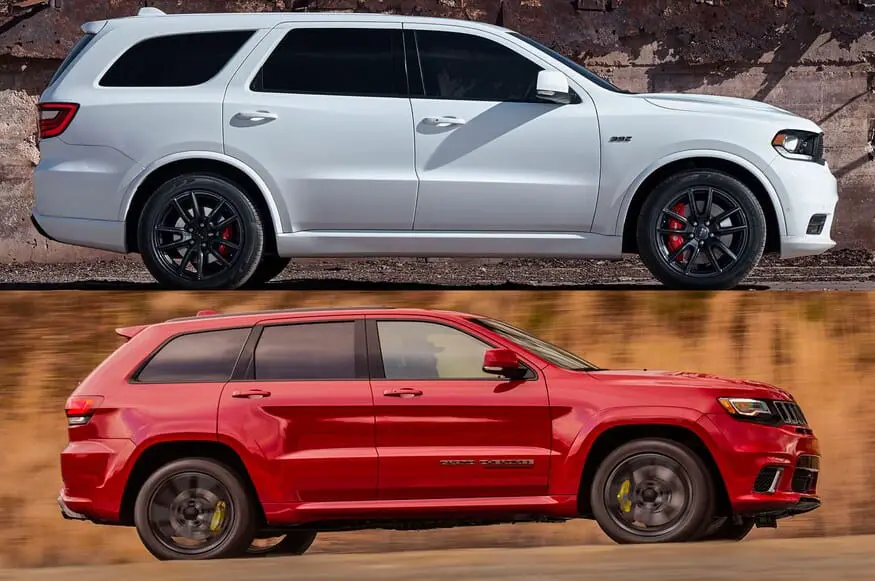 Width: Width goes hand in hand with length. Again, it is not only an indication of possible interior space but stability and handling as well. A wider and longer vehicle typically has better handling, distributing weight and force differently than a shorter vehicle. A difference of a few seemingly insignificant inches can make a huge difference in how the vehicle handles.
Curb Weight: Curb weight is the weight of the vehicle as it comes off the assembly line and does not factor in anything installed after manufacturing, like added accessories. Curb weight is important when it comes to fuel economy. Generally, the lighter the vehicle, the better it will be on the gas. 
The Durango is slightly bigger than the Grand Cherokee (although, not by much), and it shows that it is a couple of hundred pounds heavier. A couple of hundred pounds may seem like a significant difference, but it is a low enough number that it doesn't change the fuel mileage between the two (based on the base model vehicles with the 3.6L V6 engine).
Cabin Volume: If you're looking for a mid-size SUV, then you're probably looking for space. Whether your family is growing or you're carpooling to work, it's important when buying a vehicle of this stature that there is plenty of room to keep both you and your passengers comfortable.
Both the Durango and the Cherokee offer spacious interiors and are very similar in that regard, with the biggest difference being in the third-row seating area of the Durango (not yet available in the Grand Cherokee at the time of writing this). The third row doesn't change the overall volume of the cabin. That said, it changes the second-row seating area slightly.
Cargo Volume: What good is having an SUV that can carry your family, but not their gear? An exaggeration, I know, as both of these mid-size SUVs are more than capable of doing both.
But if we remove the third-row option, and compare the two vehicles as both five-seaters, the Durango's slightly larger size shows when it comes to the cargo area and has a full 7 cubic feet more area with the seats upright than the Grand Cherokee. Fold the rear seats down, and that difference increases to almost 17 more cubic feet. This space makes a big difference when you consider how similar the dimensions of the two vehicles are.
Engine: Mopar is synonymous with muscle; their Hemi engines being pure powerhouses since the beginning of the muscle car era, advancing in technology throughout the decades. That technology is no longer reserved for their sports cars, but instead transferring over to their trucks and SUVs. Both the Durango and the Grand Cherokee share the same Mopar power plants from the 3.6L V6 to the muscle-bound 6.2L supercharged V8. There's an option for anyone depending on their needs.
Transmission: No matter which powerplant you decide to go to within either vehicle, it will be paired with Dodges 8-speed automatic transmission. The 8-speed transmission does an excellent job of transferring power while increasing fuel economy when compared to vehicles with 6-speed transmissions. 
Horsepower: Horsepower is a reference to how much power an engine produces and directly reflects performance. The need for horsepower in any vehicle is relative to the user.
Maybe there is no need for an exuberant amount of power, like if the SUV is used to take the kids back and forth to school, driving short in-town distances. Or maybe you like the concept of Dodge's five-door sports car and want to feel that power.
Both the Durango and the Grand Cherokee offer the same power points, but the horsepower is only slightly different. So slight, however, that the average consumer probably wouldn't even notice.
Torque: Torque is a measure of rotational force and is considered the strength of the vehicle. Torque is not only the force that gives a sports car its incredible acceleration but is also the force that helps vehicles put heavy loads into motion. Take the torque into consideration if you plan on towing or hauling with either SUV. Torque is what makes or breaks an SUV in terms of its workability.

Towing Capacity: Surprisingly enough, with both vehicles having the same available engines, and the same transmissions, the towing capacity can vary greatly, with the V8 Durango's being able to tow 1500 more pounds than its Grand Cherokee counterpart. This 1500lbs can mean the difference between being able to tow the family boat or not and is a considerable difference considering the similarities between the two vehicles.
Key Differences Between Dodge Durango and Jeep Grand Cherokee
Where the Grand Cherokee infuses class and luxury, the Durango takes on styling more indicative of its car counterparts, the Charger and Challenger. This styling gives it a sports car look and feels that stands out from the Grand Cherokee.
While both SUVs incorporate features from either end of the spectrum, it's clear when the two are side by side why Dodge calls the Durango a five-door sports car. The slightly larger stature of the Durango shines through in both seating capacity and cargo capacity.  Add to that the increased towing capacity of the Durango, and not only is it sportier, but more of a workhorse as well.
But let's not forget about the Jeep's famous off-road capabilities. If you're looking for an SUV that can keep up with your adventurous lifestyle there is no doubt that a trail-rated Grand Cherokee can get you to those hard to reach, off the beaten path areas better than most, if not all midsize SUVs out there, the Durango included.
Advantages of a Dodge Durango
A slightly larger stature means more passenger and cargo space
Available third-row seating makes the Durango a 7 passenger SUV
Towing capacity can far exceed that of the Grand Cherokee depending on the model
Sporty design makes for an SUV that feels like a sports car
Lower MSRP with pricing to suit any one's budget
Advantages of a Jeep Grand Cherokee
Jeep Grand Cherokee trail rated off-road capabilities.
Interior and exterior design offer class and luxury
A lower curb weight can result in better handling
Use-Case Comparison: Dodge Durango vs Jeep Grand Cherokee
Built on the same platform, and sharing the same drivetrain options, it's easy to assume that the Durango and Grand Cherokee are essentially the same vehicles. But this is where you would be wrong. They are far from the same.
The Durango appeals more to those looking for a sporty, on-road family hauler, while the Grand Cherokee appeals more to those looking for a touch of luxury while still having something capable of adventure. It's easy to see what they have in common, it's more important to look at what separates the two into completely different animals.
Off-Road Capability
While we can't say that the Durango isn't capable of going off-road, it isn't the choice when comparing it to the Grand Cherokee. The Durango is better known for its on-road performance, and it lacks some of the features that make the Grand Cherokee a better choice, like full protective skid plates and off-road suspension. 
These features shouldn't come as much of a surprise to most people, however, as most of us have come to expect exceptional off-road capabilities when it comes to any Jeep. Of course, this doesn't mean that the Durango can't go off-road. The four-wheel-drive versions most certainly can, but it just means that the Durango is better suited for light off-road adventures, while the Grand Cherokee is capable of pulling off those off-road maneuvers Jeep has become famous for.
Family Vacations / Road Trips
When it comes to packing up the family and heading out for vacation, both the Durango and the Grand Cherokee can be viable options, but certain things will set the two apart. The larger Durango provides not only more passenger room but considerably more cargo space as well. You can pack in more people and gear, which, let's face it when taking the family on an extended vacation is a big game-changer. 
When we think of family vacations, they often involve bringing along some family toys, like a boat or personal watercraft, or even a camper trailer. While the Grand Cherokee, without a doubt, can help, the Durango outshines it as far as towing goes.

Daily Driver
Both the Durango and the Grand Cherokee can make exceptional daily drivers. With the smaller V6 engines, both are quite good on fuel, often a big consideration when choosing a vehicle to drive daily. Where the two differ is in their styling. If you're going to be spending a lot of time inside your vehicle, it's important to find one you love spending that time in. While both offer unique interior design, we believe the thing that sets the two apart is the luxurious interior styling of the Grand Cherokee.
Towing/Hauling
As discussed previously, the Durango is far more capable than the Grand Cherokee when it comes to towing and hauling. That is not to say that the Grand Cherokee can't tow, because it can, and it does it quite well, but where the Durango's towing capacity maxes out at 8700lbs, a similarly equipped Grand Cherokee is only capable of 7200lbs at its max (see the above charts for precise numbers).
That could mean the difference between being able to tow that boat, or not. That lower towing capacity isn't necessarily a bad thing, but it is something that you should consider when determining exact towing needs.
Final Thoughts: Dodge Durango vs Jeep Grand Cherokee
Like when choosing any vehicle, choosing between a Durango and a Grand Cherokee should be relative to the customer and their specific needs. While both share great qualities, they also have specific things that set them apart from each other.
The Durango is sporty and has on-road performance in mind, but the Grand Cherokee is catered towards those looking for a luxurious on-road capable SUV that can still hold its own when taken off the beaten path. These qualities aren't ones that make one dominate the other, but rather leave the choice to the consumer based on their specific needs.
It isn't our goal to pick one over the other. We want to provide you, as the reader, with the right information to make an educated decision when it comes time to make a purchase. With that said, there are areas where one outshines the other, and below are our picks for which was better in some important categories.
Off-Roading Ability: Durango | Grand Cherokee
Family Vacations: Durango | Grand Cherokee
Daily Driver: Durango | Grand Cherokee
Towing and Hauling: Durango | Grand Cherokee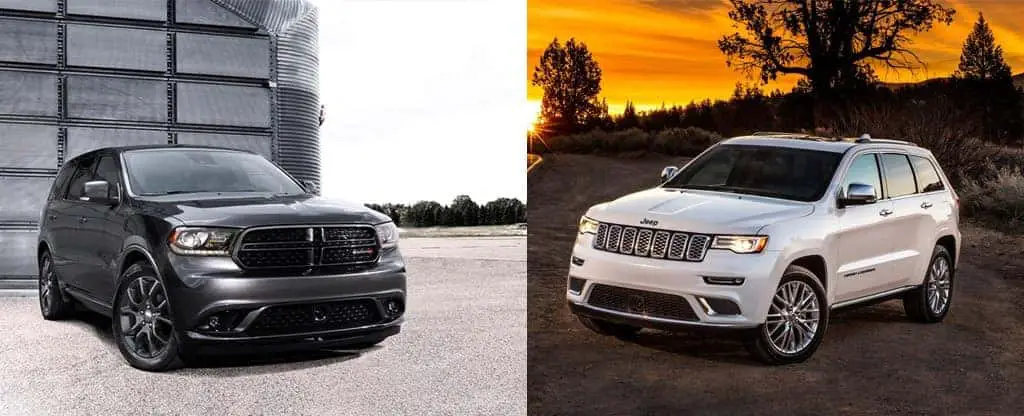 People Also Ask
We've covered a lot for you to make an informed decision when you head out to shop for your next midsize SUV. With that said, there are sometimes still some questions. Here are some of the most frequent questions that we get.
Are the Durango and Grand Cherokee the Same?
While built on the same platform and sharing the same drivetrains, the Durango and the Grand Cherokee should not be considered the same vehicle as their styling and certain capabilities like towing and off-road aspects make the two distinctly different.
Do Jeep Grand Cherokees Last Long?
Despite what some critics may say about the Grand Cherokee, they are a reliable vehicle and it is not unheard of to see them last well beyond their estimated 5 to 7-year lifespan and reach mileages of 300,000 or more.
Do Dodge Durango's Hold Their Value?
It is estimated that a Dodge Durango will lose close to 50% of its initial value in the first five years. While this may seem like a lot, average depreciation for SUVs over five years is around 60% making the Durango better than average when it comes to holding its value.
Where Are the Jeep Grand Cherokees Made?
The Jeep Grand Cherokee is American made, being produced in Detroit, MI.