Jeep Grand Cherokee remains a prominent name in the class of SUVs around the world. The SUV comes in six models: the Trackhawk, Trailhawk, Laredo, Overland, SRT, and Summit. Most of the models of Grand Cherokee come in rear-wheel drive as well as four-wheel drive. So you can simply turn on 4wd jeep grand cherokee.
However, the Trailhawk comprises of four-wheel-drive only. On the other hand, the Trackhawk and SRT are equipped with specialized all-wheel-drive systems.
These specifications remain key when buyers are making their choice. At the same time, there are also crucial factors that play an essential role.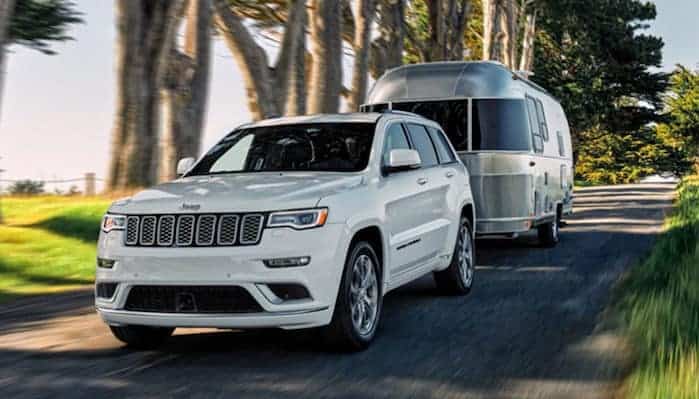 Many potential buyers wish for their Jeep to finish a race apart in practical terms. They want to drive it every day and make sure their vehicles offer not only a spectacular driving experience but also has far more significant uses.
Powerful SUVs are often used to transport physical items or to tow other vehicles. Towing capacity often determines how powerful an SUV is because it is a direct measure of how much weight it can pull other than its own, assuming the suspension, shocks, and overall stability is up to the task.
It may be that you have encountered a situation where you need to tow a vehicle that broke down in the middle of the road.
Such cases call for a powerful engine that can withstand heavyweight and perform to its full potential. With that being said, let's consider how useful is the Jeep Grand Cherokee if you are using it to tow vehicles.
Jeep Grand Cherokee Towing Capacity by Engine
The Grand Cherokee offers not only different models but also different engine classes. Let's break these down below:
1. 3.6L PENTASTAR® V6 ENGINE
6,200 pounds towing capacity
295 horsepower/260 lb-ft of torque
8-speed automatic transmission
2. 5.7L HEMI® V8 ENGINE
7,200 pounds towing capacity
360 horsepower/390 lb-ft of torque
8-speed automatic transmission
3.  6.4L HEMI® SRT V8 ENGINE
7,200 pounds towing capacity
475 horsepower/470 lb-ft of torque
8-speed automatic transmission
4. SUPERCHARGED 6.2L HEMI® V8 ENGINE
7,200 pounds towing capacity
707 horsepower/645 lb-ft of torque
8-speed automatic transmission
Towing Capacity of the Jeep Grand Cherokee by Generation
1st Generation (1993 – 1998)
Suffice to say, the Jeep Grand Cherokee was an instant hit when it debuted in 1993. Not only was it a capable off-roader, but it was also the only SUV in its class that offered a V8.
From the bare-bones SE up to the Limited with power and heated seats, the Grand Cherokee represented a combination of luxury and off-road performance. Likewise, in 1998, the Limited could be optioned with a 245 horsepower 5.9L V8, which made it one of the fastest SUVs for its time.
While the Grand Cherokee has changed over the last 30 years, the first generation has always maintained a loyal following among off-road enthusiasts. As a tribute to their ruggedness, they are still a common sight on many trails today. Equipped with powerful V8's for the time and often imitated, the 1st generation Grand Cherokee went on to define the standard for the modern SUV.
| Engine | Transmission | Drive (2WD or 4WD) | Max Towing Capacity |
| --- | --- | --- | --- |
| 4.0L Straight Six | 5 Speed Manual  | 2WD/4WD | 5000 lbs. |
| 4.0L Straight Six | 4 Speed Automatic  | 2WD/4WD | 5000 lbs. |
| 5.2L V-8  | 4 Speed Automatic  | 2WD/4WD | 6500 lbs./6700 lbs. |
| 5.9L V-8  | 4 Speed Automatic  | 2WD/4WD | 5,000 lbs. |
2nd Generation (1999 – 2004)
Completely redesigned, the WJ built on the success of its predecessor up to the point that only 127 parts were carried over. It goes without saying that just about everything was new, starting off with the OHC 4.7L that replaced the pushrod 5.2L and 5.9L V8's. Not only was it more powerful, but it offered better fuel economy. The iconic 4.0L I-6 carried over, although it received a mild boost in horsepower and torque.
Check our article on jeep wrangler automatic transmission shifting problems.
Like the 1st gen, the WJ was an excellent off-roader, and the Quadra-Trac II 4WD system was truly advanced for the time. Additional improvements were made to the suspension and the interior, and there were few places this burly Jeep could not go. Civilized, capable, and with more creature comforts, the WJ was a winner, and over a million were produced during its short production run. Likewise, for some, it is regarded as the last "real" Jeep Grand Cherokee since the design of its successor was heavily influenced by Mercedes.
| Engine | Transmission | Drive | Towing Capacity |
| --- | --- | --- | --- |
| 4.0L Straight Six | 4 Speed Automatic | 2WD/4WD | 5000 lbs. |
| 4.7L V-8 | 5 Speed Automatic | 2WD/4WD | 6500 lbs. |
3rd Generation (2005 – 2010)
As mid-size luxury SUVs were becoming the norm, the WK represented a shift in that direction with even more luxury and creature comforts. In addition, the GC now featured a double-wishbone front suspension and the rear live axle being dropped. While road manners were improved, they came at the expense of off-road capability. Despite that, it was still a capable off-road vehicle and could tackle terrain that most SUVs would not dare venture.
Perhaps the salvation for the WK came in the form of engine choices. The 4.0L straight-six was retired in favor of a more powerful 3.7L V6. Likewise, in 2008, the 4.7L received a boost to 305 horsepower, up from 235. In addition, the Overland could be optioned with a 357 horsepower, jeep wrangler 5.7L hemi and a hot-rod AWD SRT-8 was now available. Powered by a 420-hp 6.1L Hemi, the SRT-8 could sprint from 0-60 in 4.6 seconds.
| Engine | Transmission | Drive | Towing Capacity |
| --- | --- | --- | --- |
| 4.0L Straight Six | 4 Speed Automatic | 2WD/4WD | 5000 lbs. |
| 4.7L V-8 | 5 Speed Automatic | 2WD/4WD | 6500 lbs. |
| 6.1L V-8 | 5 Speed Automatic | AWD | 3500 lbs. |
| 3.0L V-6 Diesel | 5 Speed Automatic  | 2WD/4WD | 7400 lbs./7200 lbs |
| 5.7L V-8 | 5 Speed Automatic | 2WD/4WD | 7400 lbs./7200 lbs. |
| 3.7L V-6 | 5 Speed Automatic | 2WD | 3700 lbs. |
]
4th Generation (2011 – 2020)
The fourth generation, or WK2, continued the civilized trend by focusing on luxury and road manners. However, it was still a Jeep and certainly one of the most capable off-road SUVs you could buy. Often regarded as a well-rounded package and as a credit to its success, the WK2 is the most awarded SUV to date, having won 30 honors related to luxury, value, and off-road capability. 
Like the WK, there were multiple engine choices ranging from a 290 hp V6 all the way up to the tire-scorching 707 hp Trackhawk. Other improvements came in the form of new eight-speed transmissions, and the 4WD system became more capable than ever. It also featured an advanced air suspension and several towing assist features that complemented its best-in-class towing capacity. Loaded with the latest tech, the WK2 represented the best that Jeep has to offer. In production for 10 years, it also marked the longest production run for the Grand Cherokee.
| Engine | Transmission | Drive | Towing Capacity |
| --- | --- | --- | --- |
| 3.6L V-6 | 8 Speed Automatic | 2WD/4WD | 6200 lbs. |
| 5.7L V-8 | 8 Speed Automatic | 2WD/4WD | 7400 lbs./7200 lbs. |
| 3.0L V6 Diesel | 8 Speed Automatic | 2WD/4WD | 7400 lbs/7200 lbs |
| 6.4L V-8 | 8 Speed Automatic | 4WD | 7200 lbs. |
| 6.2L V-8 | 8 Speed Automatic | 4WD | 7200 lbs. |
Best Jeep Grand Cherokee for Towing: Old & New 
Early Jeep Grand Cherokee: 1993 – 2010
Despite having a unibody construction as opposed to a cab on a frame like a conventional pickup, the Jeep Grand Cherokee is a decent towing rig.
Of course, it will not replace a ½ or ¾ ton truck, but when properly equipped, the 1st and 2nd gen models have a respectable towing capacity of 5000-6500 pounds depending on the year and engine. Likewise, even the can I-6 can haul 2.5 tons, although it should be noted that the more powerful V8's are better suited for the task.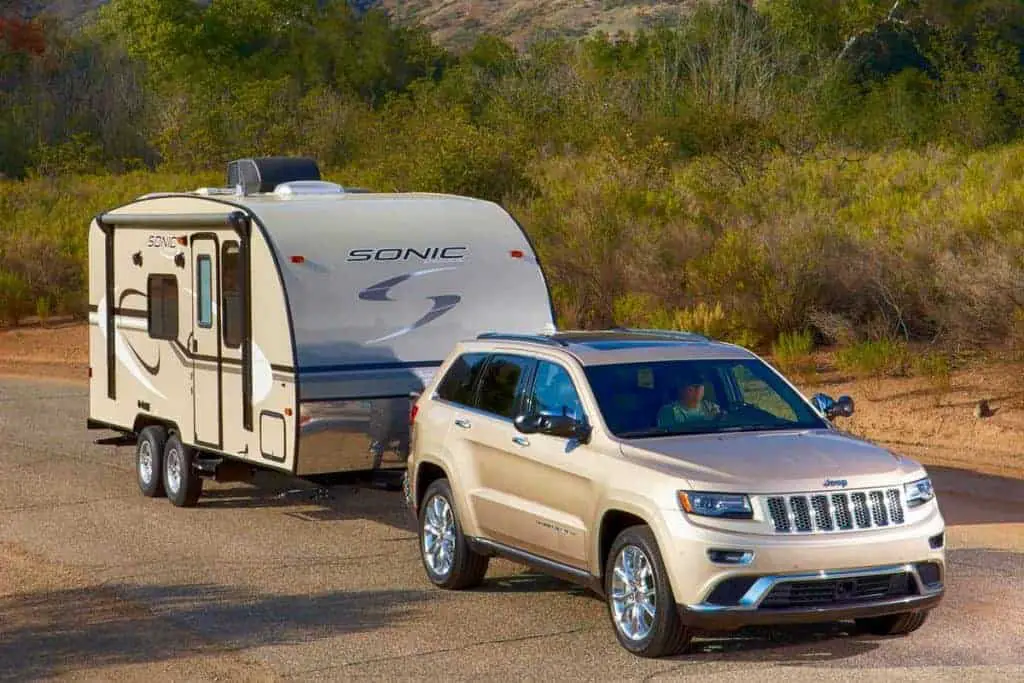 However, there are a few considerations to take into account for the GC, most notably for the 1st generation. They have a narrow wheelbase that presents some additional challenges, especially for inexperienced drivers.
In simple terms, you need to take extra care when turning and maneuvering as they are more prone to rolling over. This largely holds true for the WJ as well, and the factory brakes are barely adequate for the task.
With that said (and aside from the above-mentioned considerations), you will need to add the basics like a hitch, cooling system upgrades, and additional wiring. Having a trailer with brakes and a sway control kit are good recommendations as well.
While occasional towing is not an issue, it should be noted that the Grand Cherokee was never intended to be a regular tow vehicle.
Late Model Jeep Grand Cherokee: 2011 – 2020 
When it comes to towing, the WK2 is by far the most capable Jeep Grand Cherokee. When equipped with a V8 or the V6 turbo diesel, these models can haul up to 7400 lbs. (7200lbs. for the 4×4), which is the highest towing capacity for a mid-size SUV. Suffice to say that is more than enough for hauling along a boat, camper, or another vehicle. 
However, the high payload capacity is not just because they have more powerful engines. The WK2, especially the latest models, are equipped with additional safety features like trailer sway control, hill descent, and hill start assist. Not only does it provide more control, but added safety when towing a trailer. In addition, extra stopping power on the Trackhawk and SRT models from their upgraded Brembo brakes.
With that said (and thanks to the additional safety features and wider wheelbase), towing lighter loads like a pair of jet skis or dirt bikes with a WK2 will not be an issue.
However, like all Grand Cherokees, they were not designed to be a regular tow rig and for frequent or heavy towing it should not be thought of as a replacement for a ½ or ¾ ton pickup.
Dedicated Technology for Easy Towing
So, in terms of towing capacity, I have taken into consideration the weight its capable of pulling, and it is indeed quite impressive.
As a matter of fact, the overall towing experience is made convenient due to technological assistance integrated into its interior. This means, all the controls that allow you better towing are a touch away.
These include:
Trailer Sway Control
This dynamic control system lets a driver keep their Grand Cherokee in control when driving through tight corners and severe driving conditions.
It also helps during adverse weather conditions, such as blizzards and rain. What it does is only apply brake pressure on corresponding wheels and regulate acceleration whenever necessary in order to keep the Jeep stable on the road.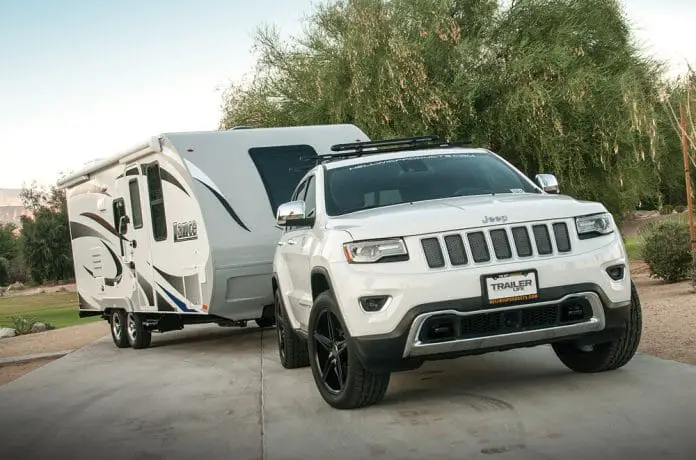 Hill Descent Control
When you have a heavy load in tow, it is a mighty challenge to descent a hill. This is where the Hill Descent Control proves as a game-changer.
Your vehicle manages a steady and composed drop on this control because it informs the car about a steep incline. The system applies brakes automatically, which is of great use.
Hill Start Assist
Every driver experiences the problem when their vehicle starts rolling back when parked on a hill or leaving the traffic signal. This option allows you to prevent the rollback in any conditions.
It simply keeps your car in stationery while your foot leaves the brake pedal and hits the accelerator. This way, having a tow remains stable.
High-performance Brakes by Brembo
Exclusively available on the Jeep Grand Cherokee SRT and Trackhawk, the Brembo brake systems offer a remarkable advantage.
They comprise two-piece vented rotors coupled with six-piston front calipers (Brembo) for the Trackhawk model and 15-inches of front rotors for the SRT model.
What Else Is Included in the Tow Package?
Apart from technological assistance, there are more features that can offer a handful of benefits. The package includes the following:
A spare tire of standard size
An engine cooling system
A trailer wiring harness
A powerful 180-amp alternator
That's not all; the Jeep Grand Cherokee models benefit from a reinforced towing capacity, thanks to the following features:
Standard Tow Hooks: Comes with the Jeep Grand Cherokee Trailhawk
Chrome Front Tow Hooks: Exclusive for the Jeep Grand Cherokee Overland
Conclusion
The Jeep Grand Cherokee remains a top-notch SUV with commendable towing capacity, just like its Dodge counterpart: the Durango. The Grand Cherokee's state-of-the-art interior, technological assistance on every step, and power under the hood make it a friendly and fun vehicle to drive.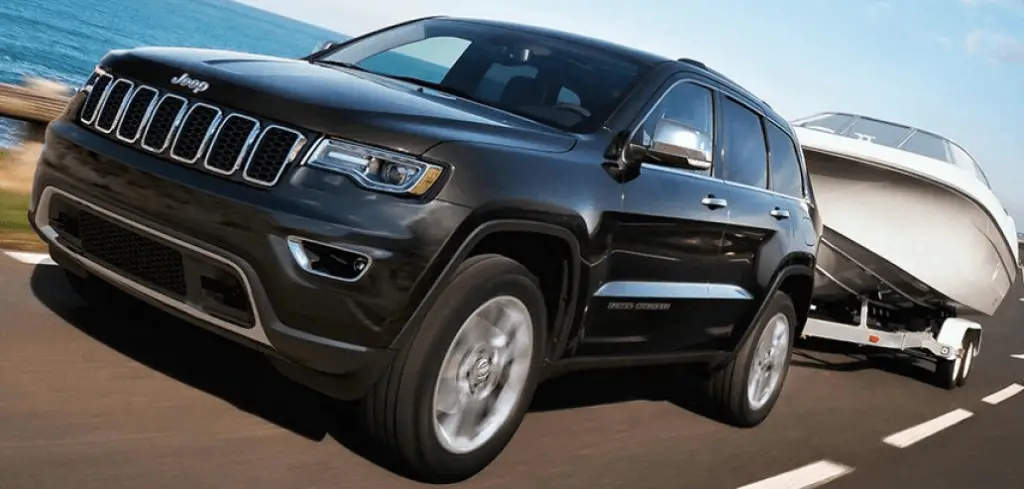 It has been on the market for 10 years now a fact that can easily be a cause for concern for many automakers. Of course, it would result in outdated features and design.
However, the company Jeep has always stepped in the right direction and provided the much sought-after features in its popular SUV.
Who Worked on This?
---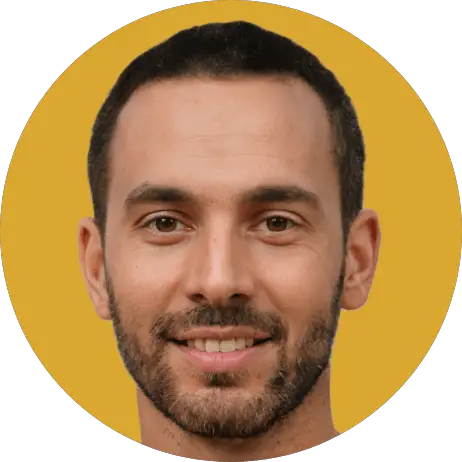 Brian
Editor
A master of organization, Brian helps keep everything running smoothly for Your Jeep Guide.
No Jeep yet but we're working on that!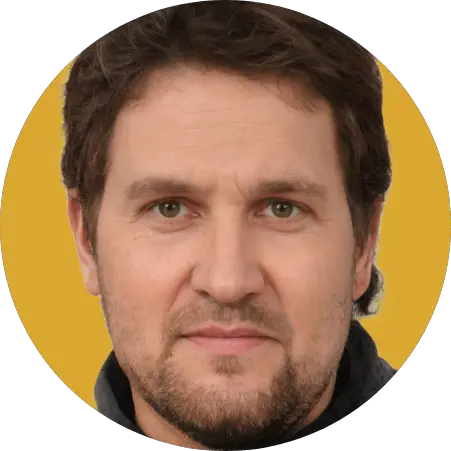 Cory
Writer
Cory loves his XJ and frequently thrashes it through the hills. He's constantly fixing something.

"What fenders?"
Check Us Out!