The steering stabilizer is responsible for a better grip on the road and to prevent wobbling on the steering parts.
Two of the most common reasons to replace the item is either when it's leaking or damaged.
We'll walk you through the instructions of how to install it, review a few of the top brands, and answer a few frequently asked questions.
Comparison of the Best Jeep JK Steering Stabilizers  
IMAGE
PRODUCT

Our Top Pick

Made from very durable materials to last longer
Everything needed for a complete installation is included
Very easy bolt-on installation for quick installation

View Latest Price →

Will reduce the harshness of highway handling
Prevent Shimmy when changing to larger tires
Easier handling to prevent quick fatigue

View Latest Price →

Best Budget Option

Best for the Money
Made with twin tube design for durability
Better lifting for comfortable ride

View Latest Price →

Best Dual Steering Stabilizer for Jeep JK
Reduce vibration and bump steer drastically
Much better overall performance for your vehicle

View Latest Price →

Best Fox Steering Stabilizer Jeep JK
Comes with a lifetime replacement warranty included
Will reduce the harshness of highway handling

View Latest Price →

Best Falcon Steering Stabilizer Jeep JK
Hardened shaft to prevent corrosion and rock damage
Always return to center for a smooth riding option

View Latest Price →
Why Did These Jeep JK Steering Stabilizers Make Our List?
You need to make a careful selection when choosing the best steering stabilizers for Jeep JK. We considered the following aspects when we picked the products for our review.
Getting the Right Fit
Your Jeep JK has a specific suspension lift, and not all stabilizers will fit on it. All of the products we've reviewed are manufactured to fit the Jeep JK's suspension. 
Simple Installation
Many of our readers are DIY mechanics, so we looked for stabilizers that are simple to install. If this is the first time you're attempting it, the product installation guides will be helpful.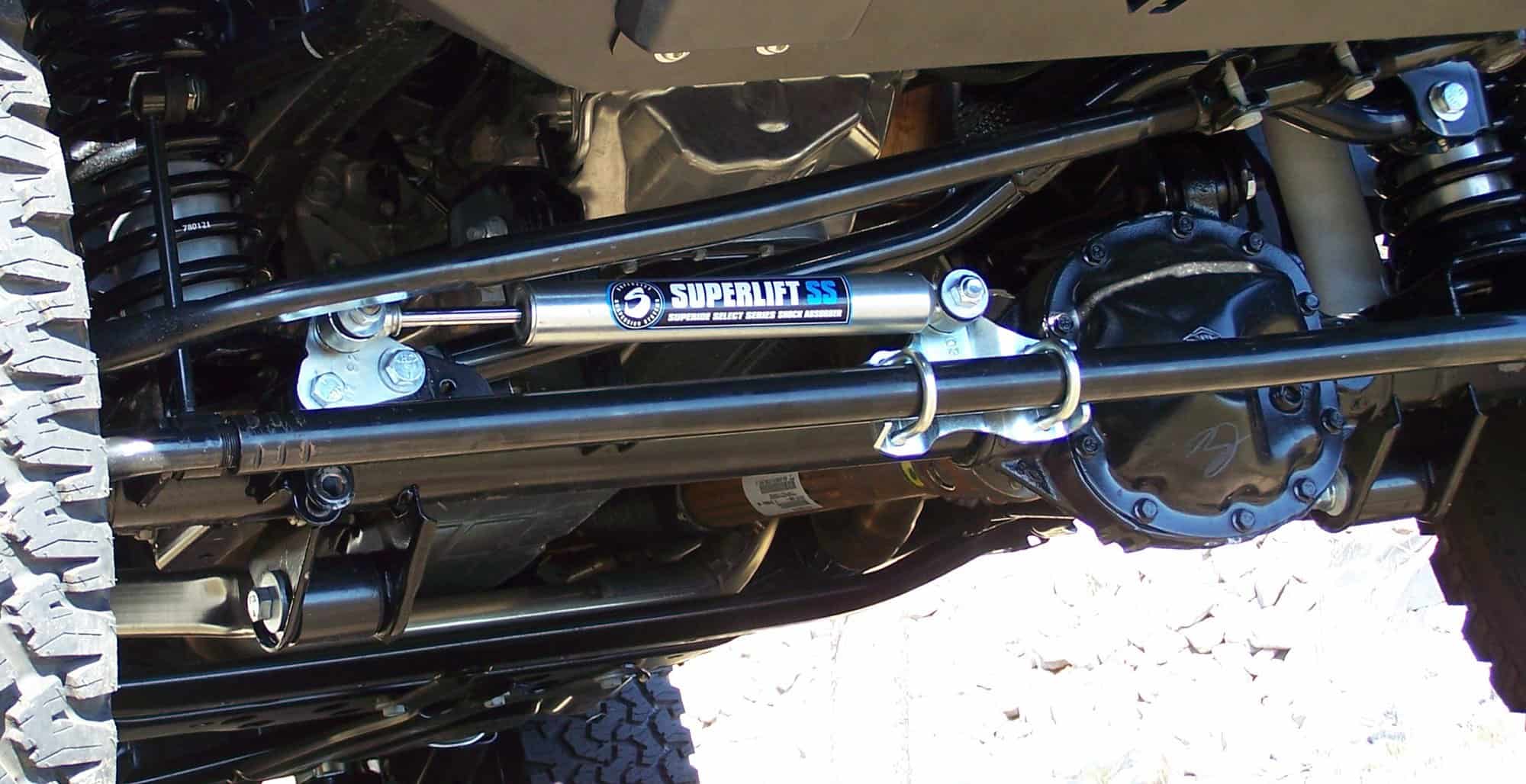 High Quality at the Best Price
A quality steering stabilizer will have a zinc coating for extra protection with hardened chrome or a similar strength shaft. You need to select the best quality at a price that won't break the bank, so we reviewed products in different price ranges.
Manufacturers
As the popularity of off-road vehicles has increased, the companies that manufacture parts have increased too. You'll find a roomful of companies who make steering stabilizers, but a lot of them don't offer reliable products. We've included manufacturers with a proven track record and who've been in the automotive industry for some time.
At a Glance: Our Top Picks for Best Steering Stabilizers For Jeep JK
Review of the Best Jeep JK Steering Stabilizers
Let's take a look at this year's top picks.
TeraFlex 1513001
We may earn commission from purchases made from our links, at no additional cost to you
What Recent Buyers Report
Buyer's mentioned it only taking around 45 minutes to install this steering stabilizer, and it was effortless. After two months, with no issues, one user intentionally hit a pothole to test it and was happy to report that it did the job. Overall, users found the instructions clear and easy to follow.. 
Why it Stands Out to Us
Teraflex has its roots in a company that distributed Jeep parts and accessories since the 1950s. In 1996, it started to manufacture heavy-duty suspension parts for the avid off-road enthusiast. The team has the knowledge and experience to create innovative parts for the unique needs of Jeep owners. 
This part is the ideal replacement if you've modified your Jeep JK with a suspension lift system and larger tires. It's designed specifically for the off-road vehicle because it reduces bump steer and absorbs the additional stress caused by larger tires. However, you don't need to keep to the dirt roads and off-road track; it can handle high speeds too.
Bottom Line
TeraFlex 1513001 is one of the best steering stabilizers for Jeep JK out there. It's an excellent product at a mid-range price. TeraFlex is a company with a good track record, the part is designed for the JK, and it's easy to install.
Pros
Larger diameter shock tube
Two-inch body with 5/8″ hardened chrome rod
Upgraded premium seal to prevent pressure loss
Outranks the standard factory model in stabilizing an off-road vehicle
Integrated dust shield protects the shaft from damage caused by sand
Cons
Fits only on modified Jeep JKs
Incorrect installation diminishes the overall appearance
Skyjacker 8203
We may earn commission from purchases made from our links, at no additional cost to you
What Recent Buyers Report
According to buyers, this dual steering stabilizer takes no time to install, and the vehicle's handling improved immediately. There's concern about the Grade 5 cadmium hardware and customers have used an adhesive to ensure the bolts are tight. Many reviewers believe this is the best product if you're on a budget.
Why it Stands Out to Us
Skyjacker has been in the automotive aftermarket industry for over 45 years. According to its website, its biggest goal is to provide quality suspension products since the day it established the company. 
The Skyjacker 8203 offers better vehicle control with its heavy-duty stabilizers. If your Jeep JK has larger wheels, this dual steering stabilizer will be a first-class upgrade for your vehicle.
All the mounting brackets are included in the kit so you won't have to stumble around looking for hardware. It's a bolt-on replacement part that mounts to the factory-drilled holes on your Jeep, and you'll only need the essential hand tools.
Bottom Line
With its no drilling, straightforward installation, and usability for an extensive range of year models, it gets a spot on our list. This high-quality replacement part is manufactured by a reputable company and at the higher end of the price range.
Pros
Ideally suited to work with large wheels
Available as part of a complete suspension lift kit
Fits on all year models of the Jeep JK from 2007 to 2018
Easy installation that doesn't require any cutting or drilling
Reduces driver fatigue by making the vehicle handling and steering easier
Cons
Bolts sometimes tend to loosen
Installation instructions aren't detailed
Daystar KU01019
We may earn commission from purchases made from our links, at no additional cost to you
What Recent Buyers Report
Users mentioned that the product is of good value for the price paid and that it performed well on the road. Others were pleased with the quick delivery time and the absence of shaking or tire dance.
Why it Stands Out to Us
We awarded the "Best for the Money" prize to the Daystar heavy duty replacement steering stabilizer. This affordable product is tuned to offer maximum performance. Daystar's design has absorption power that significantly reduces the harsh lateral impact, which is transferred to the steering wheel. 
The oil capacity is increased by the twin-tube design and solid piston seal, and your driving experience will improve immensely with the smoothness that this stabilizer offers. Most of the rotational and shimmy vibrations are absorbed. At the same time, high-quality polyurethane will ensure that it lasts for a long time.
Bottom Line
This steering stabilizer is a high-quality product that does its job well at an affordable price. It's strong and long-lasting, but if you struggle too much, you may need to ask a mechanic to install it for you.
Pros
Twin-tube design
Provides maximum shock absorption
Velocity-sensitive valving for better traction
No special tools needed with factory mounting
Top-performing steering stabilizer at an affordable price
Cons
Medium difficulty installation
Not everyone will want a white replacement part
Best Dual Steering Stabilizer for Jeep JK
Rough Country 8734930
We may earn commission from purchases made from our links, at no additional cost to you
What Recent Buyers Report
Rough Country's buyers are pleased with the part and said they couldn't recommend it enough. One guy had been on the fence about the price for months, but it was worth it. Others experienced a significant improvement in tire wear, and praised the part for taking their Jeep's steering and handling ability to another level.
Why it Stands Out to Us
The name Rough Country is popular amongst Jeep owners and most off-road enthusiasts, and it offers a three-year guarantee on this product. That in itself makes them a reliable company. Tie-rod and ball-joint wear and tear are radically reduced with this dual stabilizer while it handles the largest wheels available on the market. 
Installing this stabilizer will improve the appearance of your Jeep JK and enhance the vehicle's overall performance. When you lift a suspension and add large wheels, turning your vehicle becomes difficult and this item is the ideal solution.
Bottom Line
This dual steering stabilizer from Rough Country is worth writing home about. Not only does this product vastly improve vehicle handling, but it also reduces wear and tear on all your steering components. With a three-year guarantee, it's a valuable addition to your Jeep.
Pros
Extends the life of your tires
Works with a lift of 2"-6″ on your Jeep JK
Offers an easy installation process and 100% bolt-on
Rough Country backs this part up with a 3-year guarantee
Helps to reduce the wear and tear on tie rods and ball joints
Cons
Must check hardware regularly
May not hold up in rough conditions
Best Fox Steering Stabilizer Jeep JK
Fox 2.0 IFP Stabilizer
We may earn commission from purchases made from our links, at no additional cost to you
What Recent Buyers Report
Consumers reported vehicle handling with this part changing from night to day, and stated it was well worth every dime. Some said it's hard to beat this part and another person considered it the best stabilizer he had ever used. While not everyone cared about the brand, loyal Fox fans were happy to have another quality product from the company.
Why it Stands Out to Us
If you read the outstanding features mentioned above, you'll agree that this is an excellent replacement for the stock part. Fox has been in the automotive industry since 1957, giving them over 60 years of experience and acquired knowledge. They're known for producing high-quality components and developing high-performance stabilizers. 
As part of a series of products designed for competitive racing, your Fox 2.0 will dampen steering difficulty on any terrain. As a last thought, the zinc plating and double-clear coating will keep the stabilizer free from rust and corrosion.
Bottom Line
We trust this company, we've tested the product, and we have no second thoughts in choosing this to be on our list. Fox has stood the test of time, and this steering stabilizer has proven its worth.
Pros
Appearance is high-tech
Aluminum body that is impact extruded ensures resistance to rust
Adjustable through shaft that absorbs steering forces from any direction
Features the same advanced damping technology as Fox's top series shocks
Internal floating piston that isolates the shock fluid from the nitrogen charge
Cons
Higher price range
Some concerns about the gas charge
Best Falcon Steering Stabilizer Jeep JK
TeraFlex 01-02-22-110-158
We may earn commission from purchases made from our links, at no additional cost to you
What Recent Buyers Report
Buyers highly recommended this part and commented that you could see the quality as soon as you take it out of the box. Other users called this a game changer and enjoyed the option that the adjustable sensitivity offers. It's easy to install and makes a huge difference in steering capability.
Why it Stands Out to Us
Nothing can go wrong if a reputable off-road parts manufacturer designs a steering stabilizer to install specifically on your Jeep JK. It's the only steering stabilizer on our list that's adjustable. On the highest setting, it's ideal for driving on the freeway at a higher speed. 
The medium setting allows for natural feedback while driving in the city. Changing it to the softest setting will provide excellent control on off-road trails. 
The Falcon features excellent benefits and is manufactured to provide outstanding performance on every terrain. If you're looking for a smooth driving experience, this is the part for you.
Bottom Line
Falcon is a popular brand and we would be remiss to not include them on the list. When you find a steering stabilizer with adjustable settings and add a three-year guarantee, you have a winner. 
Pros
Easy to install
Three different modes of stabilization
Balanced return-to-center equilibrium
Above-average part construction and material quality
Cavitation is prevented with the inline oil and gas separator
Cons
Tie-rod bracket too large for stock tie rod
Designed for the Jeep JK exclusively with limited options
What is a Steering Stabilizer? What Does a Steering Stabilizer Do?
A steering stabilizer and a shock absorber both reduce movement. While the shock absorber limits up and down movement on the suspension, side to side movement is dampened by the steering stabilizer. Off-road enthusiasts know that driving on rough terrain can be great fun, but it's also dangerous. 
Boulders and potholes will cause the steering wheel to jerk to one side, and you can lose control over the vehicle. The steering stabilizer is a safety feature that reduces the jerking motion and allows you to remain in control. At higher speeds, it prevents the steering wheel from shaking.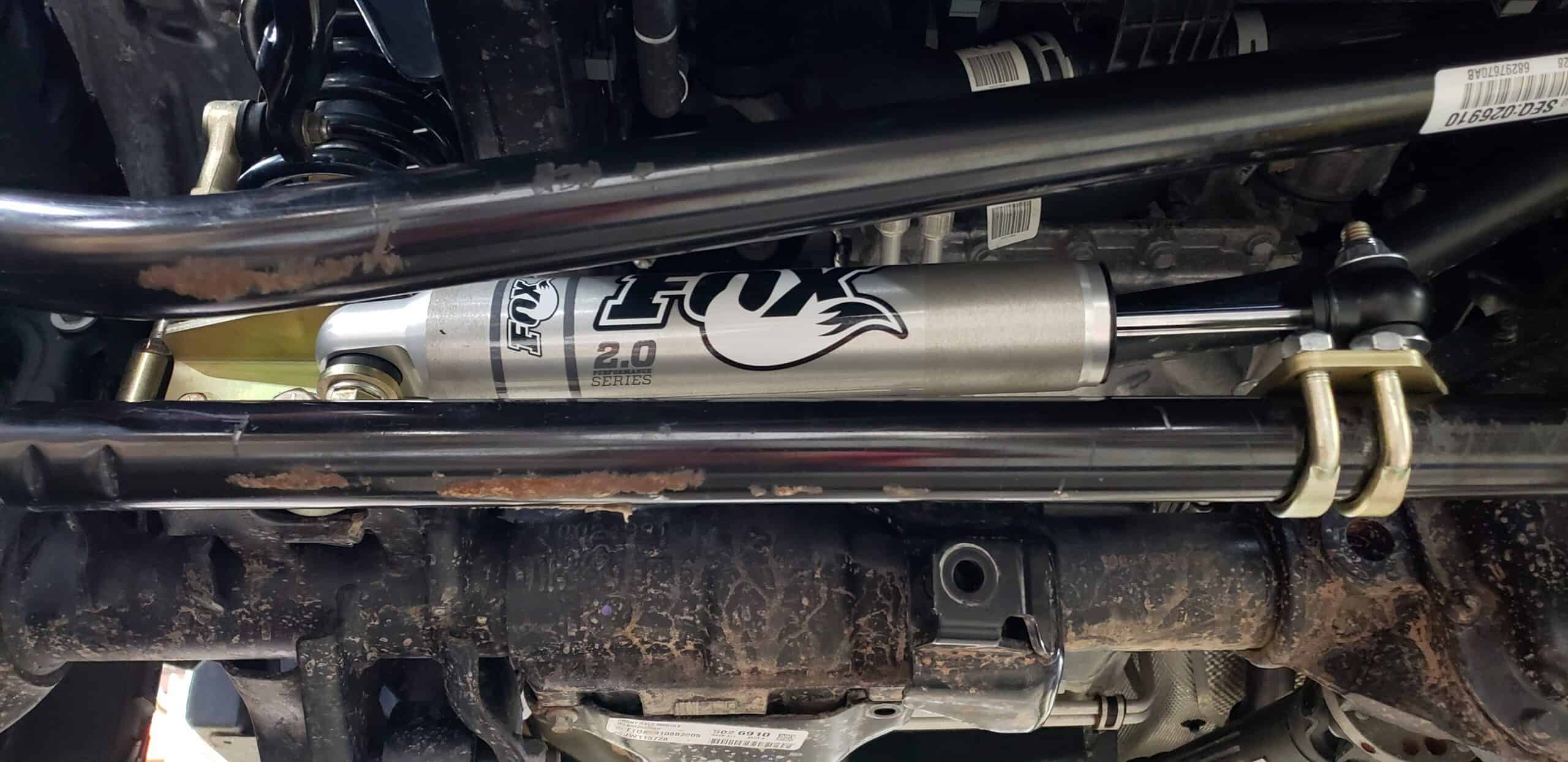 When Should I Get a Replacement Steering Stabilizer for My Jeep JK?
If you experience any of the following warning signs when driving, your steering stabilizer may be faulty, and you should consider replacing it.
Hydraulic fluid leaks on the driver's side and behind the engine.


Steering that shakes a lot or feels unstable when driving on a dirt road.


Clunking noises under your Jeep could indicate loose parts in the steering stabilizer.


A steering wheel that feels wobbly or loose.


Feeling the steering wheel shake when driving at a higher speed.
A faulty steering stabilizer can be the reason for you to lose control of your vehicle, and it could end your day badly.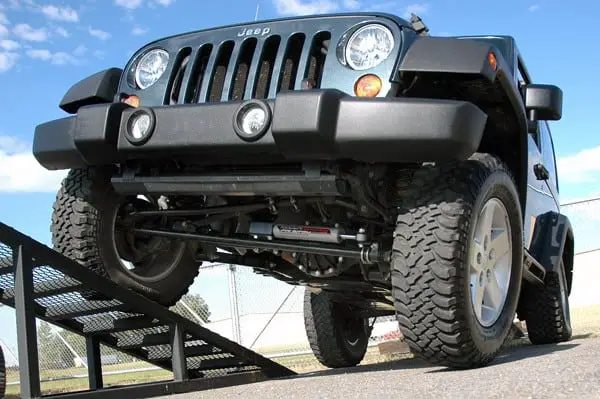 Pros and Cons of Steering Stabilizers For Jeep JK
Nothing is perfect and even great products have some downfalls. Here are some of the advantages and disadvantages to steering stabilizers. 
Pros
The most significant benefit of a steering stabilizer is the prevention of jeep death wobble. This term refers to the fast, shaking movement on your Jeep's steering parts that cause your steering wheel to move rapidly from side to side. The occurrence has earned its name because it feels as if your vehicle will shake itself apart. 
Controlling your vehicle becomes extremely difficult, and drivers sometimes let go of the wheel, which is not a good idea at all. The only way to stop death wobble while driving is to slow down, or sometimes you even need to bring the vehicle to a full stop. It isn't only an uncomfortable vibration in the steering wheel; it's an unmistakably harsh shaking of the wheel.
Your steering stabilizer will help a lot to ensure that your Jeep JK stays firm on the road. It aids in keeping your tires stable for better performance and safety. It also ensures a comfortable and smooth driving experience.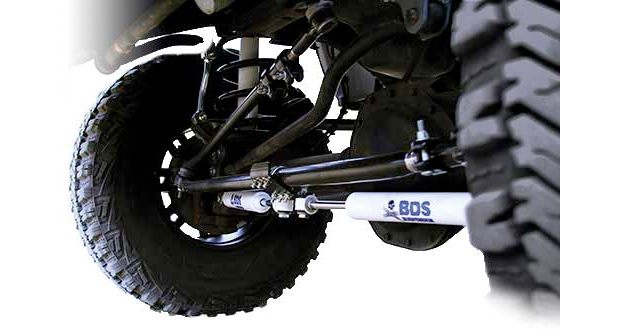 Cons
The only drawback to a steering stabilizer is that it can mask other problems on your steering components. 
Dual Steering Stabilizer vs Single for Jeep JK – Comparison Overview 
While there can be much said about both dual and single steering stabilizers, the most important considerations are tire size and terrain. When you have 33″ or smaller tires on your Jeep, and you're mostly driving on paved roads, a single steering stabilizer will offer enough stability and control. If you have 35″ or larger tires, enjoy off-road tracks, have a lot of work for your winch, or need to drive in the snow, a dual stabilizer is the best choice.
There are, however, a few other points to keep in mind when picking a replacement for your Jeep. 
If your Jeep has power steering, a dual stabilizer can cause it to overheat in extreme circumstances, and damage the pump. 
A dual stabilizer provides better impact absorption, but it can make it difficult to turn your steering wheel.
After installing a single steering stabilizer, people reported that they'd experienced some wandering while driving on a freeway, and a little jerking when they've hit a pothole.
Even if you consider all the possible drawbacks of a single or double steering stabilizer, both will improve your driving experience. Apart from driving experience, it'll also offer better protection for your vehicle's steering components.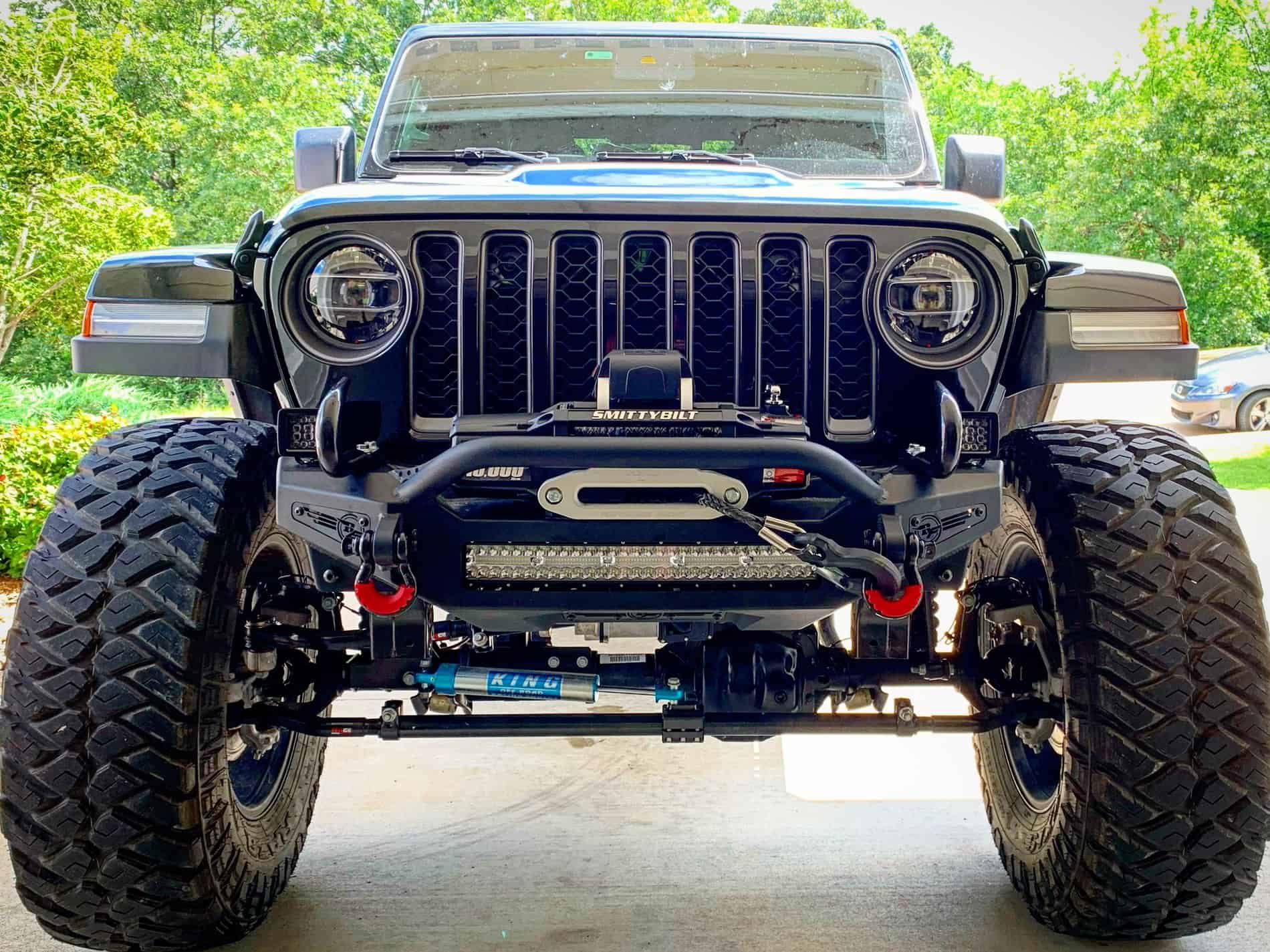 Jeep JK Steering Stabilizer Install 
We promised that we'd walk you through the installation instructions, so let's look at how to install the Fox steering stabilizer. This product features metal and rubber bushings on both ends. It has an aluminum-machined end on one side with a durable body and a half-inch diameter shaft port.
Your first step is to remove the factory steering stabilizer. Remove the bolt on the axle and the tie rod.


Put a rubber bushing inside the metal bushing on the aluminum end and use the provided bolt and nut to fasten it to the axle.


Turn your wheels to the left. It'll allow your steering stabilizer to be completely extended and you'll be able to ensure that you mount it in the right place.


Now place a rubber bushing inside the metal bushing on the shaft and fasten the mounting bracket to it. 


Place the mounting bracket behind the tie rod and attach it to the backing plate. 
This install is quite simple and will take you about an hour to complete. 
Be sure to refer to the video below for a full overview of what was just described.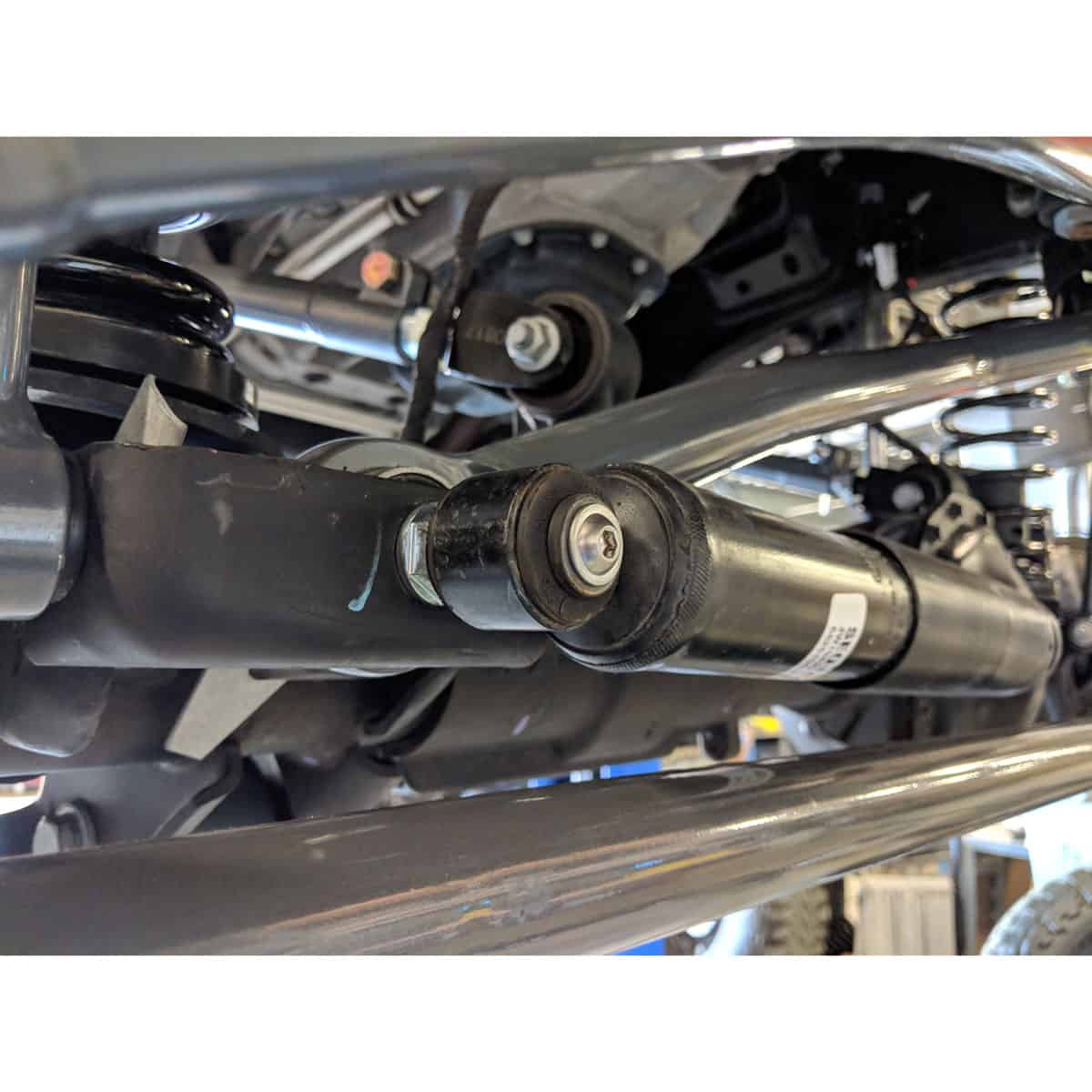 Conclusion 
Death wobble and other symptoms of a damaged steering stabilizer can jeopardize your safety, and safety is always the best reason to replace a faulty component. Always ensure that you get the best possible part that will keep you safe while you enjoy all the benefits your Jeep JK offers you.
Quick Summary – Best Jeep JK Steering Stabilizers
Before you leave, here's a quick recap of the best Jeep JK steering stabilizers:
People Also Ask
Sometimes you think you need a part for your Jeep, but you're not sure about it. You may read this article and have read similar articles and reviews, but all your questions aren't answered. Let's see if we can help. 
Here are a few answers to questions that people also ask.
Does a Jeep JK Need a Steering Stabilizer?
Yes, the steering stabilizer has the crucial duty of absorbing steering bumps, wandering traction, and other steering issues. Installing a steering stabilizer will improve your off-road driving fun and keep you safe on the open road.
Will a Steering Stabilizer Fix Death Wobble?
If the wobble is caused by a worn steering stabilizer, replacing it is the solution to your problem. Be proactive and inspect every part of the steering mechanics to eliminate other issues. The wobble could also be caused by ball joints, tie-rod ends, or a front track bar that is damaged or worn.
Do You Need an Alignment After Replacing Steering Stabilizer?
Installing a steering stabilizer on your Jeep JK won't have any influence on your wheel alignment. If you've experienced death wobble or didn't have your wheel alignment checked in a while it's a good idea to have it assessed.
How to Adjust a Steering Stabilizer on Jeep JK?
If you've followed the instructions to ensure a proper installation, it's ready for the road, or track and shouldn't require further alterations. However, if you've installed an adjustable stabilizer, be sure to follow the manufacturer's instructions to make the necessary changes.
How Much Does a Steering Stabilizer for Jeep JK Cost?
You'll find the best steering stabilizers for Jeep JK at a variety of prices. We've reviewed items at a lower cost than $40 and even one that's over $400. It's best to do a little research and find the highest quality product within your budget.
Can I Install a Steering Stabilizer Myself?
Yes, you can install your Jeep's steering stabilizer yourself. Some of the products we've reviewed are relatively easy to install, and some have very clear instructions. However, we would advise you to ask a mechanic for help if the steps don't seem straightforward.
What Does Steering Damper Do?
A steering damper is another name for a steering stabilizer. It serves precisely the same purpose. Your steering damper will prevent death wobble, jerking, shimming, and shaking and it'll improve your driving experience by keeping your Jeep JK firm and stable on the road. 
Who Worked on This?
---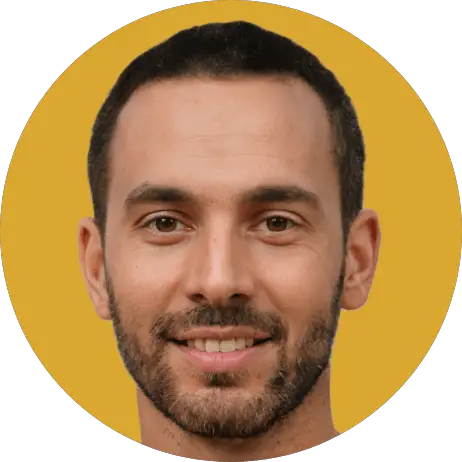 Brian
Editor
A master of organization, Brian helps keep everything running smoothly for Your Jeep Guide.
No Jeep yet but we're working on that!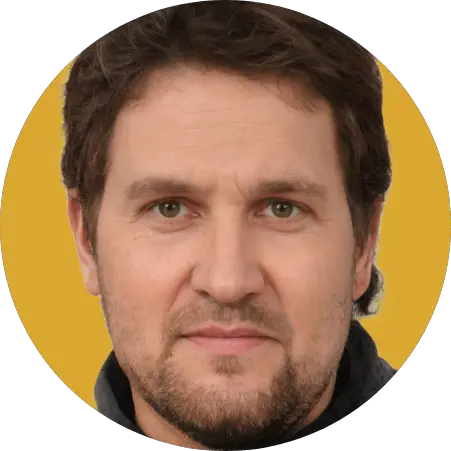 Cory
Writer
Cory loves his XJ and frequently thrashes it through the hills. He's constantly fixing something.

"What fenders?"
Check Us Out!