You love your Jeep Wrangler and drive it everywhere, but as you drive it, parts wear out. One of the most common and possibly catastrophic failures you can experience in any vehicle involves the ball joints. 
So, what are ball joints, and how do you know when you need to replace them?
Comparison of the Best Jeep Wrangler JK Ball Joints
IMAGE
PRODUCT

Compatible with many different models
Hardware Included: Yes
Construction material: 4140 Chrome Moly

Upper and lower ball-joint kit to be complete
Hardware Included: Yes
Construction material: Chromoly steel

Best Budget Option

MOOG Chassis Products K3185

Best for the Money
Hardware Included: Yes
A dust boot shield included for better protection

Greater durability with wear and impact testing done
Hardware Included: Yes
Suitable to be used on a wide variety of models

Will last up to a very long 100 000 miles
Hardware Included: Yes
Use exact spacers for installation on vehicle
What Are Ball Joints? What Do Ball Joints Do?
Ball joints connect your vehicle's steering to its wheels. They consist of a metal ball with a tapered stud coming out of it, which sits inside a lubricated socket.
These joints serve as the pivot point between your wheels and your suspension, allowing you to steer.
Ball Joint Diagram
The ball joints can be difficult to visualize. Below is a diagram of ball joints in a Jeep Wrangler JK.
How to Tell if Ball Joints Are Bad
You can generally tell your ball joints are going bad while you're driving. How? Your Jeep won't handle correctly anymore.
How to Tell If Ball Joints Are Bad While Driving
If your ball joints are going bad, you'll notice a serious wobble in your steering wheel, and your steering will drift in one direction or another. 
You might also notice uneven wear on your tires, particularly feathering or wear on the tires' insides. 
How Long Do Ball Joints Last?
They should last anywhere from 70,000 miles to 150,000 miles when properly maintained.
If you take your Jeep to a shop or dealership for its regular maintenance, the mechanics may grease the ball joints if necessary. 
What Happens When Ball Joints Go Out?
Nothing good. When your ball joints fail, your wheels can move freely and independently of your steering system, and if you're moving, you can lose control. 
Have you ever seen a car on the side of the highway with a wheel folded under it? That's what can happen if your ball joint fails.
How to Check Ball Joints on a Jeep JK
There are several ways to check your ball joints; however, there's a very easy way to do it yourself. Check the video below.
Put your JK up on jack stands first, so the tires are about two inches off the ground. Then slide something like a two-inch pipe underneath the tire and lift. And if you don't have jack then you will be amaz by hearing the answer of how much is it to lift a jeep wrangler.
If you see movement in the joint, you have a problem. 
What Do Bad Ball Joints Sound Like?
When you're driving, you can hear a clunking sound as you turn that you might also feel in your steering wheel. As the joints get worse, that clunking gets louder and happens more frequently. 
If you don't replace your ball joints, you'll eventually hear it and feel it all the time until they fail. 
At a Glance: Our Top Picks for Jeep Wrangler JK Ball Joints
BEST OVERALL :

TeraFlex 3442002

RUNNER-UP:

Alloy USA 11800

BEST BUDGET OPTION:

MOOG Chassis Products K3185
Review of the Best Jeep Wrangler JK Ball Joints
So what are the best ball joints on the market for a Jeep Wrangler JK? 
TeraFlex 3442002
Hardware Included? Yes
Construction material: 4140 Chrome Moly
Warranty: Lifetime
What Recent Buyers Report
People who have bought these recently love their adjustability. With most ball joint assemblies, you're stuck with the camber angles you've got. 
With these, you can fine-tune their adjustment so your wheels are straight and parallel regardless of how you drive.
Why it Stands Out to Us
We like TeraFlex's ball joints because of their load-bearing capacity. The side load capacity means you can customize your JK for off-roading or other things besides driving to work every day. 
If you want or need oversized tires and offset wheels, you won't go through ball joints like they're cotton candy dipped in water, and they won't snap unexpectedly.
Furthermore, this product's adjustability adds to the versatility we find so appealing. Many people like taking their Wranglers off-road and serious off-roaders need that kind of versatility without having to buy expensive, custom-made parts. 
Bottom Line
These ball joints are one of the best on the market today. You should consider them if you want versatility and durability without ordering custom-designed assemblies.
You'll also like these since they all but eliminate wobble, giving you the rock-solid steering you desire.
Pros
Greasing doesn't require removing the axle shaft
Its grip makes it easy to work out small details
Adjustability eliminates wobble, including death wobble
Fits JK Wrangler models with Dana 30 or Dana 44 front axles
Designed to handle loads from oversized tires and offset wheels
Cons
Requires professional installation
Grease channels difficult to access
Alloy USA 11800
Hardware Included? Yes
Construction material: Chromoly steel
Warranty: 5 years
What Recent Buyers Report
JK owners who have this product really like the fact that they work well with bigger tires. While customers don't like the fact that they're stiff when they're new, they say these joints break in quickly enough that the stiffness isn't a problem.
Why it Stands Out to Us
We like these ball joints because they're great for people who like to use their Wranglers for commuting and road trips. These joints may work best for those of you who are road warriors. 
Their ability to eliminate wobble on paved roads caught our attention, too. While most types of ball joints do this to some degree, these do it with larger tires on paved roads. 
Bottom Line
If you like to stay on paved roads and you're looking for quality ball joints, we believe these will work very well for you whether you drive your JK for your daily commute, are a road warrior, or all of the above. 
Just remember these don't work well for off-roading.
Pros
Easy maintenance following installation
Made specifically for vehicles with larger tires
Allows grease to flow between its components
Steel socket in place of factory plastic-nylon socket insert
Threaded preload system ensures smooth steering and a longer life span
Cons
Not suitable for rough use
Can't use with CV front axle shafts
MOOG Chassis Products K3185
Hardware Included? Yes
Warranty: Limited Lifetime Warranty
What Recent Buyers Report
Jeep owners mention that the recessed dust boot puffs out a bit when you grease the joint's interior. Nevertheless, these joints fit the Wrangler JK and other Jeep models and work best with standard tires. 
Also, even though you can install them yourself, customers say that it takes patience and muscle to do so. 
Why it Stands Out to Us
Moog is one of the better brands out there when it comes to certain Jeep Wrangler JK parts. Their joints have a larger grease reservoir than other ball joints, making it so the grease lubricates the bearing more effectively than other ball joint brands.
The socket is easier to grease up as well, which means you can easily perform your own maintenance and reduce the wear and tear that occurs with poor lubrication. That, in conjunction with the larger reservoir, helps ensure your ball joints won't wear out prematurely.
Bottom Line
If you're looking for a solid brand for JK ball joints, you should take a good look at MOOG. Not only do you get a good value for your parts, but you also get something you can install and maintain yourself. 
Pros
Can install them yourself
Outstanding quality for its price
Trusted by many top mechanics
Pressed-in cover plate helps maintain tightness
Comes with pre-installed dust boots to reduce wear and tear
Cons
Requires a needle-end tool to insert the grease
Must order upper and lower ball joints separately
Parts Warehouse PW0253
What Recent Buyers Report
Some buyers don't like that they can't remove the dust boots, particularly on the lower ball joints. However, if you use the proper cup during installation, you probably won't have a problem here. 
They also say these are on par with OEM joints both on quality and fit. 
Why it Stands Out to Us
We like the fact that these are as good as standard OEM parts. As long as you have some proficiency in replacing parts like ball joints, you can save yourself a bit of money buying and installing them yourself. 
Furthermore, they're versatile, fitting many different Jeep models, including the Wrangler JK. If you own more than one Jeep model, you might discover you can use this product on all your Jeeps, not just your Wrangler. 
Anything similar to a standard OEM part should work well for you, including these joints. 
Bottom Line
If you want something better than your standard ball joints, look for higher quality parts from a different manufacturer. If you're satisfied with something equivalent to standard parts, you should give these ball joints a good look.
Pros
Black oxide coating reduces corrosion
More affordable than similar quality ball joints
Works with Jeep Wrangler JK and other Jeep models
Includes all equipment needed for installation
Permanently attached dust boots reduce contamination problems upon installation
Cons
Challenging to install lower ball joint zerk
May have difficulty installing these yourself
DANA Spicer 706944X
What Recent Buyers Report
Some buyers feel there's too much play in the upper joints, while others have problems with the lower joints' softness. Even so, many reports having no problems aligning this product themselves after mechanics were unable to align them properly.
Why it Stands Out to Us
What stood out most to us is that you can align them easily, which restores your steering to normal without the need to shell out more money than necessary.
We feel these have limitations that other brands of JK ball joints do not. They work best under normal conditions, so if you plan on doing a lot of towing or off-roading, you may not want to consider these. 
However, if you're not planning on carrying heavy loads, towing anything, or going off-roading regularly, we feel these are high-quality joints well worth their price.
Bottom Line
If you want ball joints that are simple, comparable to factory parts, and sufficient for everyday use, take a good look at this product. You might find that they're just the right ball joints for you.
Pros
Easy to align
All four ball joints included
Known to last at least 100,000 miles
Lightweight without sacrificing sturdiness
Restores your default steering so it feels like it did at the time of purchase
Cons
Only compatible with JKs from 2007 to 2011
Lower ball joints aren't as solid as upper joints
Types of Ball Joints
There are two types of ball joints out there. 
Load-carrying joints support the weight of the vehicle and give the wheels a pivot point for steering. They're the lower joint in the full assembly, and their position depends on the type of suspension your vehicle has.
The follower's joints don't carry any weight. Instead, they provide precise tolerances in addition to aiding the pivot points. 
MOOG Ball Joints vs OEM
OEM ball joints are sufficient for standard use, meaning they're fine if all you're doing is driving on paved roads, even if you drive long distances. 
However, MOOG joints tend to perform better and last a bit longer than OEM parts. MOOG is a good, budget-friendly brand that will give you a better value than standard OEM parts.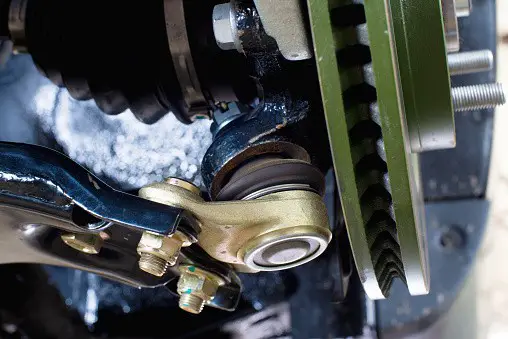 How to Change Ball Joints
If you want to change out the ball joints on your Wrangler, you'll need to take the following steps:
1. Put your Jeep up on jack stands and remove the wheels.
2. Loosen the brake fluid reservoir, compress the brake caliper piston with a C-clamp, and then remove the brake calipers. 
3. Remove the brake lever.
4. Remove the bolts connecting the steering knuckle to the hub, then pull out the cotter pin and the retaining washer and cap, and remove the nut holding the hub to the axle shaft. 
5. Pull the axle shaft from the differential, then remove the tie rod attached to the front steering knuckle.
6. Remove the lower ball joint's castellated nut and then the upper joint's nut. Remove the steering knuckle, and press out the ball joints. 
7. Install the new ball joints, starting with the upper joint. Clean and grease the parts where the old joints sat. Press in the lower joint from the bottom and the upper joint from the top. Use a C-clamp to do this effectively.
For more on how to replace your ball joints, check out this video.
Conclusion 
The last thing you ever want is for a ball joint to fail while you're driving. If you've noticed clunking, wandering, or front-end wobbling on your Jeep Wrangler JK, you probably need to replace your ball joints. 
Consider each of these products, and chances are, there's at least one that will work well for you.
Quick Summary – Best Jeep Wrangler JK Ball Joints
Before you head out, here's a quick recap of the best Jeep Wrangler JK ball joints:
TeraFlex 3442002
Alloy USA 11800
MOOG Chassis Products K3185
People Also Ask
We have a few questions people commonly ask about ball joints and how to replace them, and we've done some additional research to answer those questions for you so you don't have to look around yourself.
How Much Does it Cost to Replace Ball Joints?
That depends on a couple of factors, including the parts' prices and whether you choose to do it yourself. It may also depend on where you live. 

Having a dealership replace the front ball joints can cost up to $300 for parts and labor. If you want more expensive ball joints, you'll spend considerably more. 

However, if you choose to do the job yourself, you'll only pay for the parts and the tools.
How Many Ball Joints Are on a Car?
If your car has SLA (short-long arm) suspension, it has four ball joints: The lower, or load-carrying joints, and the upper, or follower joints. Each wheel has two of them. 

However, if your car has struts rather than SLA suspension, it only has two ball joints.
Who Worked on This?
---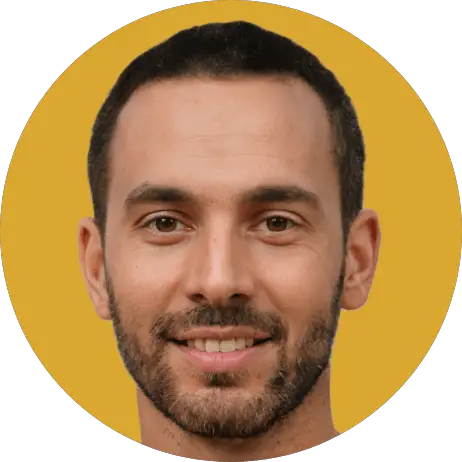 Brian
Editor
A master of organization, Brian helps keep everything running smoothly for Your Jeep Guide.
No Jeep yet but we're working on that!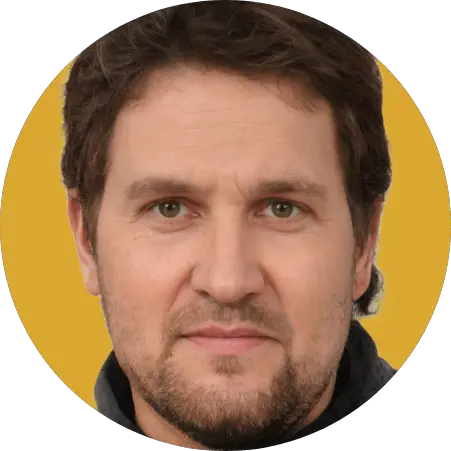 Cory
Writer
Cory loves his XJ and frequently thrashes it through the hills. He's constantly fixing something.

"What fenders?"
Check Us Out!