With your Jeep Wrangler, you can take some incredible off-road trips and experience the rugged beauty of the outdoors. 
However, that doesn't mean that your Jeep comes outfitted with everything necessary for the type of trips you plan on taking. 
No matter what type of trip you're planning, adding some quality modifications to your Jeep will help provide more safety for you and protection for your Jeep.
Comparison of the Best Jeep Wrangler Mods
IMAGE
PRODUCT

Our Top Pick

Will accommodate lights up to 9 inches diameter
Installation Difficulty: Hard
Cost: $$$

View Latest Price →

Can be used with 2007 to 2016 Jeep models
Installation Difficulty: Easy
Cost: $

View Latest Price →

Best Budget Option

Best for the Money
Installation Difficulty: Easy
Cost: $

View Latest Price →

Best Jeep Light Bar
Installation Difficulty: Moderate
Cost: $$

View Latest Price →

Best Jeep Lift Kits
Installation Difficulty: Hard
Cost: $$

View Latest Price →

Best Jeep Wrangler Headlights
Installation Difficulty: Moderate
Cost: $$

View Latest Price →

Best Jeep Hardtop Hoist
Installation Difficulty: Moderate
Cost: $$

View Latest Price →
Can You Really Find Quality Mods That are Affordable?
Yes, you can find quality mods for an affordable price. While we generally connect a higher price tag to superior quality, that is not always the case. 
Of course, larger mods like a bumper or a garage ceiling storage system will cost more because of the size and additional material. That doesn't mean there aren't affordable options. 
Many of the best modifications listed below are under $100, which shows that you can add plenty of upgrades to your Jeep without breaking the bank.
The key to finding affordable mods is to look for smaller additions that can make a huge difference, like LED headlights or grab handles. You can also find numerous more massive modifications that are much cheaper than other popular choices, even though they may cost over $100. 
What to Look for When Buying New Jeep Wrangler Mods
There are dozens of Jeep Wrangler mods to choose from, so how do you know where to start? Here are four key points to consider as you start choosing your next – or first – modifications. 
Your Driving Goals
How do you plan on using your Jeep? Are you going to take off-road trips every weekend, or are you only going to travel on rough terrain a few times a year?
How you use your Jeep Wrangler is crucial in determining which mods to buy. If you only use it a few times a year for extreme driving, you won't need expensive, heavy-duty modifications. Likewise, if you want to make multiple trips a month, it would be wise to invest in more modifications focused on safety and protection.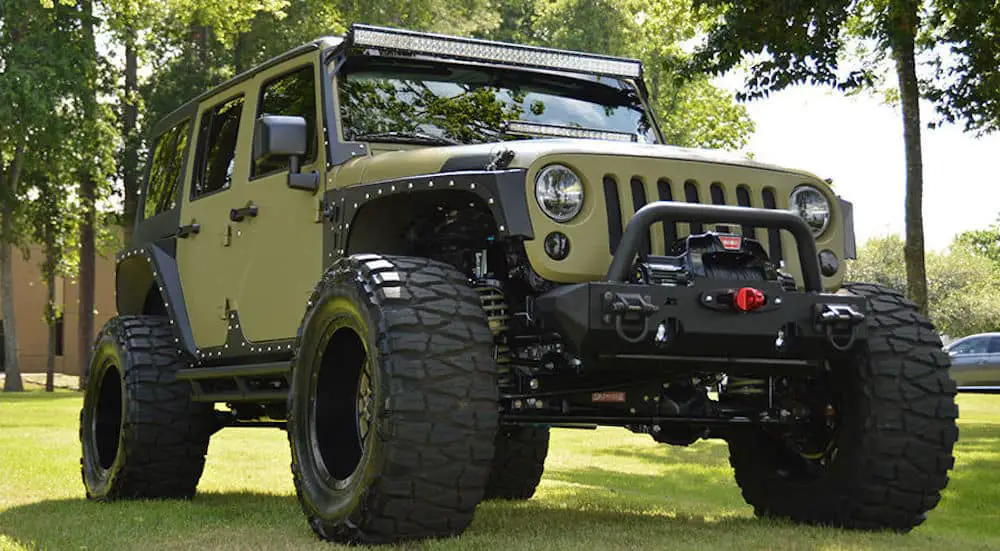 Material
Always look at the material of the mod you're considering buying. Even if you don't plan on doing extreme all-terrain expeditions, you don't want your brand-new modification to fall apart after just one use. 
Make sure each product has high-quality, lasting material so you can enjoy it for years to come. 
Budget
Outfitting your Jeep with the latest mods can take a massive toll on your budget. Decide before you start looking for a mod how much you are willing to pay. 
Since there are numerous types of modifications, you are sure to find some modifications that will fit your budget. Just look at several of the cheaper choices below!
Style
Even though many modifications are for a safer ride, there are plenty of styles to choose from. Take your time to pick the perfect bumper or lights that fit your overall aesthetic. 
At a Glance: Our Top Picks for Best Jeep Mods
Review of the Best Jeep Wrangler Mods
Are you ready to add some significant modifications to your Jeep Wrangler for the adventure of a lifetime? Whether you're planning your next camping trip or all-terrain expedition, the following mods will be great additions to your Jeep. 
Pick one – or all! – to provide a new level of safety and enjoyment to your ride.  
Smittybilt 76807 XRC
Installation Difficulty: Hard
Cost: $$$
We may earn commission from purchases made from our links, at no additional cost to you
What Recent Buyers Report
Recent customers have been incredibly pleased with this bumper mod. They raved about the high-quality materials, aesthetics, and fit on their Jeep Wrangler. 
There was only one resounding complaint throughout many reviews, which was about the accompanying instructions' low quality. Since the package doesn't come with clear instructions, customers commented that a newbie might struggle with the installation. 
Other than that, the reviews were incredibly positive. 
Why it Stands Out to Us
When you're looking for a Jeep Wrangler front bumper, you want one that can last through serious all-terrain travel. This Smittybilt product has a design that ensures durability for everything from rock crawling to driving in extreme conditions. 
The rolled steel gives the bumper a great sturdiness, while the textured matte finish adds protection and style. With an aggressive design, the Smittybilt bumper protects the entire front of your car from any obstacles. 
As an added plus, the bumper comes with accommodations for OE fog lights, a 12k winch, and smaller lights up to nine inches in diameter.   
Bottom Line
Since the front bumper can be one of the more expensive Jeep Wrangler mods, it's vital to find a high-quality and durable one. This Smittybilt bumper is one of the best options on the market, with its multiple features and long-lasting materials.
Pros
Accommodates 12K winch
Space to mount up to 9-inch lights
Comes with a warranty from Smittybilt
Rolled steel material measuring 3/16 inch
Fender-to-fender protection for any terrain
Cons
Subpar delivery service
Poor accompanying instructions
Mopar Door Sill Guards
Installation Difficulty: Easy
Cost: $
We may earn commission from purchases made from our links, at no additional cost to you
What Recent Buyers Report
Customers compared these door sill guards to their steel counterparts and stated that these were a much better option thanks to the lower price and better fit. They also praised the easy installation and overall appearance. 
There were some complaints about the guards not lasting for years since they also receive plenty of wear and tear from boots. Other people also mentioned that the strips did not fit perfectly on the door sill, so you must lay them out before sticking them to the sill. 
Why it Stands Out to Us
Unfortunately, many Jeep Wranglers don't come with any protection on the door sills. These Mopar guards are a great, affordable way to protect that exposed area of your Jeep from boot scuff marks and chipped paint. 
While this may seem like an unnoticeable modification, we love these door sill guards because they protect one of the Jeep's most used areas. 
Plus, they are incredibly easy to install. Just remove the sticky backing and place them on the sill where you would like them. 
Bottom Line
If you're looking for a simple but highly effective Jeep Wrangler modification, these door sills will make an impressive change. For a low price, you can change your scuffed sills into ones that look brand new again.
Pros
Four strips
Sticky adhesion
Plastic material
Easy application
Cons
Not perfect fit
May not be a permanent fix
Titan Wheel Hubcentric Wheel Spacers
Installation Difficulty: Easy
Cost: $
We may earn commission from purchases made from our links, at no additional cost to you
What Recent Buyers Report
Overall, customers were reasonably happy with these wheel spacers. Many people complimented Hubcentric on creating quality, long-lasting products. After long trips with extra weight in the Jeep, people reported that the spacers were still in-tact and working well.
There were mixed reviews on the installation. Many people put the spacers on themselves, and some people saw great reviews while others had theirs fall apart. However, the company clearly states to have a professional install the wheel spacers.
Why it Stands Out to Us
When off-roading, you need as much added control as possible. These wheel spacers give you increased space and better maneuvering ability for driving on all terrain. 
We love the sturdy build and 1.5-inch thickness, which works for many Jeep drivers. The billet aluminum in each spacer ensures they last for months or years to come. 
Bottom Line
When you're looking for Jeep Wrangler modifications to give your more underbody space and better control on rough terrain, these Hubcentric spacers are a quality option.
Pros
1.5-inch thickness
Long-lasting quality
Five by five-bolt pattern
Full set of four-wheel spacers
Aligns wheels with fender flares
Cons
Professional installation
May need additional lugs
AutoFeel LED Light Bar Kit
Installation Difficulty: Moderate
Cost: $$
We may earn commission from purchases made from our links, at no additional cost to you
What Recent Buyers Report
Numerous people praised the number of lights that came in the package and the extreme brightness they produce.
While some people stated that it was an excellent value for the low price, others stated the opposite. They mentioned that some kits needed more parts and the limited instructions made the installation process difficult. 
Why it Stands Out to Us
Whether you're driving in the daytime or at night, your Jeep Wrangler needs strong, quality lights. You can use these AutoFeel LED lights in all conditions, even for signaling. 
With varying sizes of light strips, you can on your Jeep where needed.
The OSRAM LED chips in the lights add extra brightness to the beams, and the waterproof material ensures continued visibility in any weather conditions.
Bottom Line
Adding lights to your Jeep Wrangler can be an expensive ordeal, but AutoFeel offers this product as an affordable alternative. With six strong LED lights, this package can be a fantastic, cheap addition to your Jeep.
Pros
Waterproof lights
Wide illumination range
Daytime, nighttime, and signal light
OSRAM LED chips for improved visibility
Package with six lights and mounting brackets
Cons
May need extra parts
Little to no instruction
MotoFab Lifts 07-18JK3F3R
Installation Difficulty: Hard
Cost: $$
We may earn commission from purchases made from our links, at no additional cost to you
What Recent Buyers Report
This product was a favorite among buyers. They raved about the real three-inch lift and how it was just what they wanted.
However, like many Jeep Wrangler mods, people stated that the package came with a poor instruction manual. Plus, they said that this kit was just a starter package to lifting your Jeep and that you would need adjustable track bars and sway bar links.
Why it Stands Out to Us
We love the high-quality steel material with a powder-coat finish. It gives the lift kit a stylish look while providing lasting durability. 
While three inches may not seem like a big difference, it can drastically change the feel of your Jeep and clear up to 35-inch tires. 
For an easy lift, this ModFab kit is an excellent option. We can't forget the lifetime warranty that comes with the product!
Bottom Line
Lifting your Jeep just a few inches can make a massive difference in off-road driving. This product is relatively cheap and a durable option for anyone looking for a little extra space under their Jeep.
Pros
28-piece package
Clears 35-inch tires
High-performing product
High-grade steel material
Three-inch front and rear lift kit
Cons
Poor instructions
May need additional materials
Best Jeep Wrangler Headlights
Sunpie 8700-2
Installation Difficulty: Moderate
Cost: $$
We may earn commission from purchases made from our links, at no additional cost to you
What Recent Buyers Report
People were quite happy with this product. Numerous customers stated that they were delighted with the simple installation and incredible difference in your visibility.
However, a few complaints were that the high beam wore out too quickly and that Sunpie's customer service system was not extremely helpful.
Why it Stands Out to Us
Driving off-road can be tricky – and even dangerous! – without the appropriate light fixtures. We love these large, seven-inch round headlights that provide extremely clear visibility. 
The addition of Cree Chips gives up to 60% more brightness than other options on the market. You can choose between a high beam at 4800 LM and a low beam at 3600 LM. There are also H4 and H13 adapters for headlights and fog lights. 
Additionally, we enjoyed the waterproof aluminum material that lets you see even in a heavy downpour. 
Bottom Line
If you aren't satisfied with the lights that came with your Jeep, these Sunpie LED lights will make an incredible difference in visibility both day and night.
Pros
One-year warranty
Headlights and fog lights kit
Waterproof aluminum material
Package with two LED headlights
Cree Chips for 60% more brightness
Cons
Subpar customer service
High beams may wear out
Harken 7803B.12
Installation Difficulty: Moderate
Cost: $$
We may earn commission from purchases made from our links, at no additional cost to you
What Recent Buyers Report
Customers raved about how easy this hoist made it for them to store and lower their hardtop. They loved the simple pulley system and extra space in their garage. 
There were some negative comments concerning the price since people mentioned that there were much cheaper options available on the market. Others also mentioned that the pulley system might wear out quickly. 
Why it Stands Out to Us
Not all Jeep mods have to be directly on your Jeep! We know how difficult it can be to store a hardtop in your limited garage space, and this pulley system saves you space and time. 
We love the pulley system that lets you quickly raise and lower the hardtop when you need it. Plus, the anti-drop system prevents any accidents by creating a 6 to 1 mechanical advantage. Even if you accidentally drop the pulley rope, the system automatically locks to avoid injury. 
While the system may look challenging to install, it comes with a hoist kit, instruction manual, and helpful video so you can install it easily on your own.
Bottom Line
While this Jeep Wrangler mod doesn't accommodate your ride, it does make storing your hardtop less of a hassle. If you are tired of limited space in your garage or continually struggling to store and attach your hardtop, this Harken system could be a lifesaver.
Pros
Easy installation
Anti-drop system
Five-year warranty
Reduces weight by six
Maximum load of 145 pounds
Cons
Pulleys may wear out
More expensive option
Rough Country Black Steel Grab Handles
Installation Difficulty: Easy
Cost: $
We may earn commission from purchases made from our links, at no additional cost to you
What Recent Buyers Report
People were extremely pleased with the strength and durability of these handles. People claimed that the handles did not move an inch once installed. However, a common complaint among buyers was the installation process. From poor instructions to confusing steps, the installation can be frustrating. 
Once the customers installed the handles, they stated that they couldn't be happier with the product. 
Why it Stands Out to Us
Handles are a must-have for any Jeep Wrangler owners who enjoy a rough trail drive or all-terrain expedition. We like these particular handles because of their durable build with ¾-inch steel and ⅞-inch rubber coverings. 
Not only do they provide a sturdy place to grab onto while riding in your Jeep, but they are also comfortable to use with the ergonomic curve. 
As an added plus, the handles come with a lifetime replacement warranty from Rough Country in case anything happens to them.
Bottom Line
If you are looking for a long-lasting, useful mod that can make a significant difference on your drive, these Rough Country handles are a fantastic option. Plus, they sell at a low price, so your wallet can thank you.
Pros
Solid steel
Rubber grips
Comfortable grips
Long-lasting design
Compatible with the existing mounting area
Cons
Poor instructions
May be hard to install
Best Jeep Wrangler Floor Mats
Armor All 78840ZN
Installation Difficulty: Easy
Cost: $
We may earn commission from purchases made from our links, at no additional cost to you
What Recent Buyers Report
While most customers were pleased with the superior quality for the low price and durability, there were a couple of complaints. Some people stated that the back seat mats were slightly too small, while others mentioned that the mats might move slightly while in use. Still, the positive comments about the quality and protection much outweighed those few negative points.
Why it Stands Out to Us
All-terrain driving doesn't mean that you stay in the car the whole time! You'll get out and explore, but then bring back all the mud and rain into the Jeep on your shoes. These rubber Armor All floor mats provide the perfect protective layer between your shoes and the Jeep's floor. The anti-slip technology helps keep them in place while you drive, and you can easily remove them and wash off the dirt. One of our favorite features is that you can cut the mats to fit perfectly on your floor.
Bottom Line
Protecting your Jeep Wrangler floor from dirt, snow, and even food is vital, and these floor mats do a stellar job at keeping those areas clean. This modification is an excellent option for anyone looking to keep their Jeep clean throughout the year at an incredibly low price.
Pros
Cut material to fit
Four pieces in a set
Anti-slip technology
Various colors to choose from
Protection in all types of weather
Cons
May move slightly
Back mats may be small
Best Jeep Wrangler Dash Cam
Rexing V1-4K Ultra HD
Installation Difficulty: Moderate
Cost: $$$
We may earn commission from purchases made from our links, at no additional cost to you
What Recent Buyers Report
While not all recent buyers have used this dash cam for a Jeep Wrangler, they have been delighted with the results. The user-friendliness, adjustable lens, and different recording settings were all key selling points for the customers. 
Not many people had anything negative to say, but a few commented on the possible complexity of upgrading the software. Another potential downfall is that the adhesives may not stick in scorching weather. 
Why it Stands Out to Us
Having a dash camera is perfect for recording your epic off-road trip or just providing you more views of your surroundings. This Rexing cam has a little bit of everything, providing the complete package for an affordable price. 
The Ultra HD sensor lets you record crystal clear videos while driving at high speeds, and the 170-degree angle lens gives an incredibly wide look at the surroundings. 
Plus, we love the additional parking monitor that automatically switches and records a short video or frames throughout the day. This way, you don't have to continually activate the parking mode when you want it to record.
Finally, the recording software automatically stops and protects all footage in the case of an accident, so you don't accidentally record over necessary data.
Bottom Line
Whether you're looking for a camera to record your trip or provide footage of any potential accidents, this dashcam from Rexing provides all the available settings for you.
Pros
HD video quality
Connects with wifi
170-degree lens angle
Automatic parking monitor
Supercapacitor for extreme temperatures
Cons
Possible confusing updates
Adhesives may come off in hot weather
Dos and Don'ts of Modding Your Jeep Wrangler
If you're new to the world of Jeep modifications, you may have a lot of questions and not know where to start. Here are five tips to start outfitting your car for any type of activity.
DO Start With Creating Extra Space
One of the best places to start is with the underbody of the car. Driving anywhere that is not paved asphalt can be incredibly dangerous to the underbody of the car. Rocks, small hills, or even plants can scrape your car and do damage. Plus, with narrow wheel placement, you won't have as much mobility.
Look into lifts and spacers to give you as much room as needed under your car. They will also help make maneuvering through rough terrain much more manageable. 
DO Invest in a Bumper
Since Jeep Wranglers come with a bumper, this mod may seem unnecessary. However, generic bumpers do not offer sufficient protection for off-road trips. 
This investment will be a larger purchase, but it is a worthwhile investment. You will have better departure angles and improved protection as you traverse the wilderness.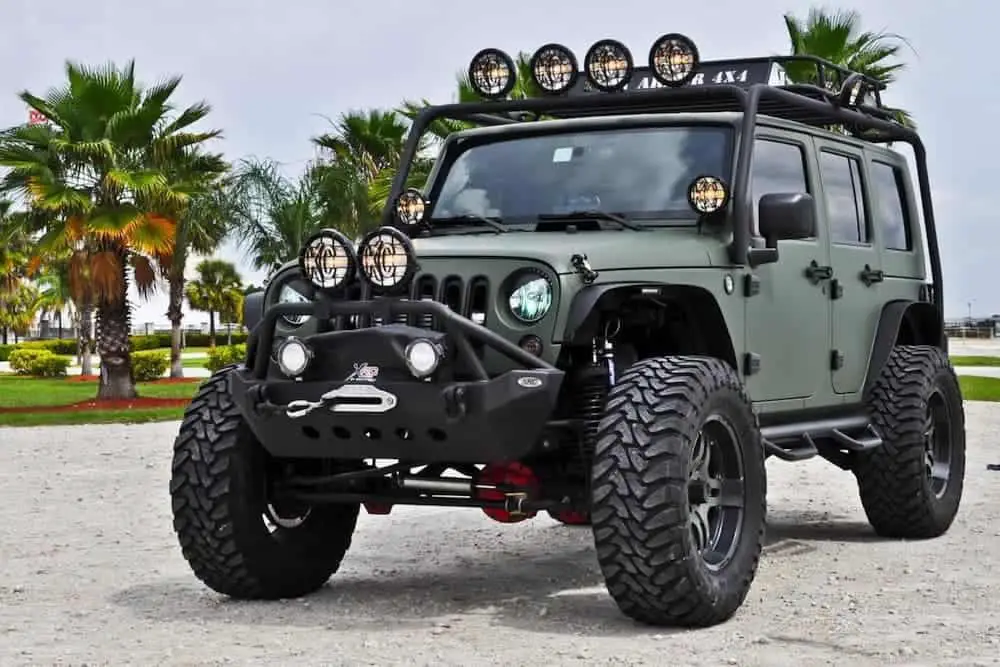 DO Consider Larger Tires
One way of creating more underbody space while improving traction is by buying large tires. By just increasing the size to 35 inches, you can lift the whole car by almost 3 inches. From there, you can try larger tires for more space and more comfortable driving over enormous obstacles. 
DON'T Break the Bank
With all the available Jeep mods, it may begin looking like a huge investment to modify the car. However, there are plenty of things you can do that don't cost a fortune. 
Even as you consider larger purchases, make sure to consider all the available options as to not invest in a mod that is overpriced. 
DON'T Focus Only on Looks
Adding mods can create a fantastic, hardcore look for your Jeep. However, make sure you don't only consider the aesthetics. Just because a product looks fantastic doesn't mean it works well or is suitable for your driving needs. 
Focus instead on what would make your drive more comfortable. Consider the material, cost, and functionality.
Types of Jeep Wrangler Mods
Jeep Wrangler modifications can range from small additions to heavy-duty changes to improve your ride. Here are some of the common types of mods to get you started. 
Bumpers
Yes, new Jeeps come with bumpers. However, those are only for light riding. If you want to do any off-roading or all-terrain driving, quality front and back bumpers are a must-have. These modifications will have better departure angles, more protection, and a better approach. 
Bumpers not only make your Jeep look more hardcore, but they will give you the ability to do some serious all-roading. 
Wheels
Depending on where you want to drive, you will probably need to change the tires. They are the only thing that has constant contact with the road, so you must ensure they are up to the challenge.
Whether you will travel through mud or rocks, consider buying tires specifically for that type of terrain to give you maximum traction. 
Lifts and Spacers
While other people may purposefully lower their cars, Jeep owners need to lift the body. This change offers more space between rocky terrain and the tender underbody of the car.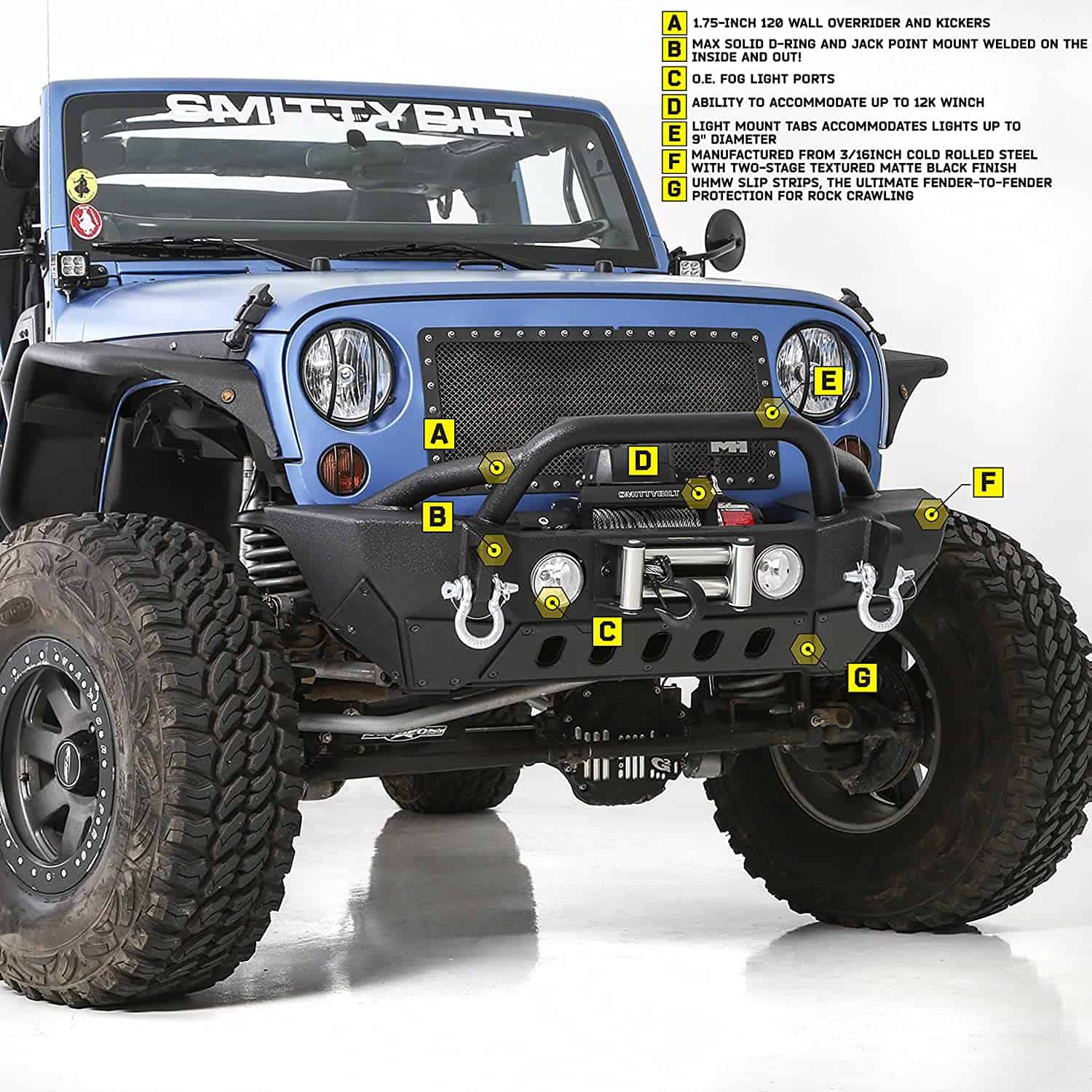 Similarly, spacers widen the Jeep's area between the wheels, giving it even more space, mobility on the road, and better curve maneuvers. 
Cab Accommodations
Many of the Jeep Wrangler mods focus on the exterior, but we can't forget the interior. There is a great variety of interior modifications that you can buy, from floor mats to sturdy handles to ensure you and your passengers are safe enough to ride to the maximum.
Quick Summary – Best Jeep Wrangler Mods
Before you get too far, here's a quick summary of the best Jeep Wrangler mods:
Conclusion
Buying your Jeep Wrangler is just the beginning of your journey to off-roading. Modifications are a must-have for all-terrain driving, not only to give your Jeep a better look but also to make driving easier and safer for you. 
With all of these fantastic options for Jeep Wrangler mods, you will hopefully have a good idea of where to start. You may not need all of these, but a few will make your ride much smoother. 
Other Jeep Related Guides
Looking for all our mod guides? You've come to the right place. Check out our guides below:
Who Worked on This?
---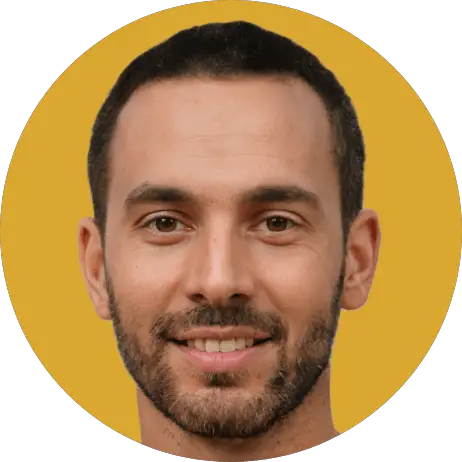 Brian
Editor
A master of organization, Brian helps keep everything running smoothly for Your Jeep Guide.
No Jeep yet but we're working on that!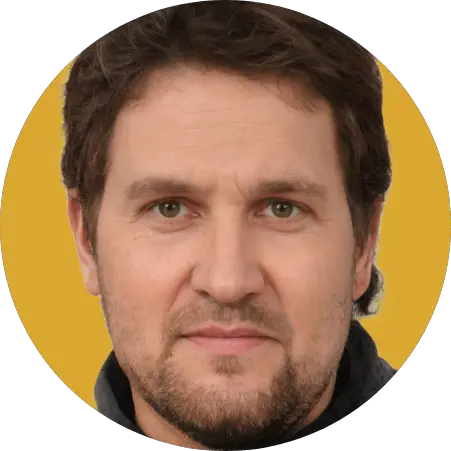 Cory
Writer
Cory loves his XJ and frequently thrashes it through the hills. He's constantly fixing something.

"What fenders?"
Check Us Out!