Looking for a compact SUV to best suit your needs, but unsure of which direction to go?
Without a doubt, you're not the only one. In a saturated market, it is not an easy choice to make but we have found that Jeeps, whether the Compass or Cherokee have set themselves apart from others in the same category, as well as from each other.

TL;DR: Jeep Compass vs Cherokee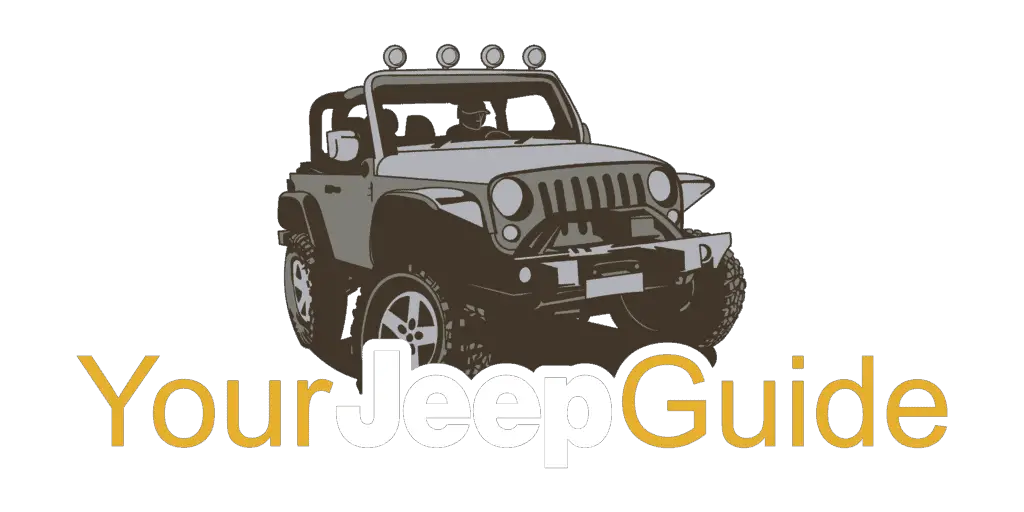 Pros
Jeep Compass
Comfortable Interior
Plenty of cargo space
Excellent Off-Road Ability
Fuel-Efficient 4-cylinder engine
Jeep Cherokee
Excellent Off-Road Ability
Comfortable, roomy cabin area
Powerful engine options for towing and hauling
Cons
Jeep Compass
Below-average reliability
Expensive Higher Trim Levels
Jeep Cherokee
High priced top trim levels
Heavy compared to others in its class
Best For
Jeep Compass
Those looking for a 4-wheel drive vehicle to commute with
Jeep Cherokee
Those looking for a compact SUV capable of adventure and the ability to tow over 2000lb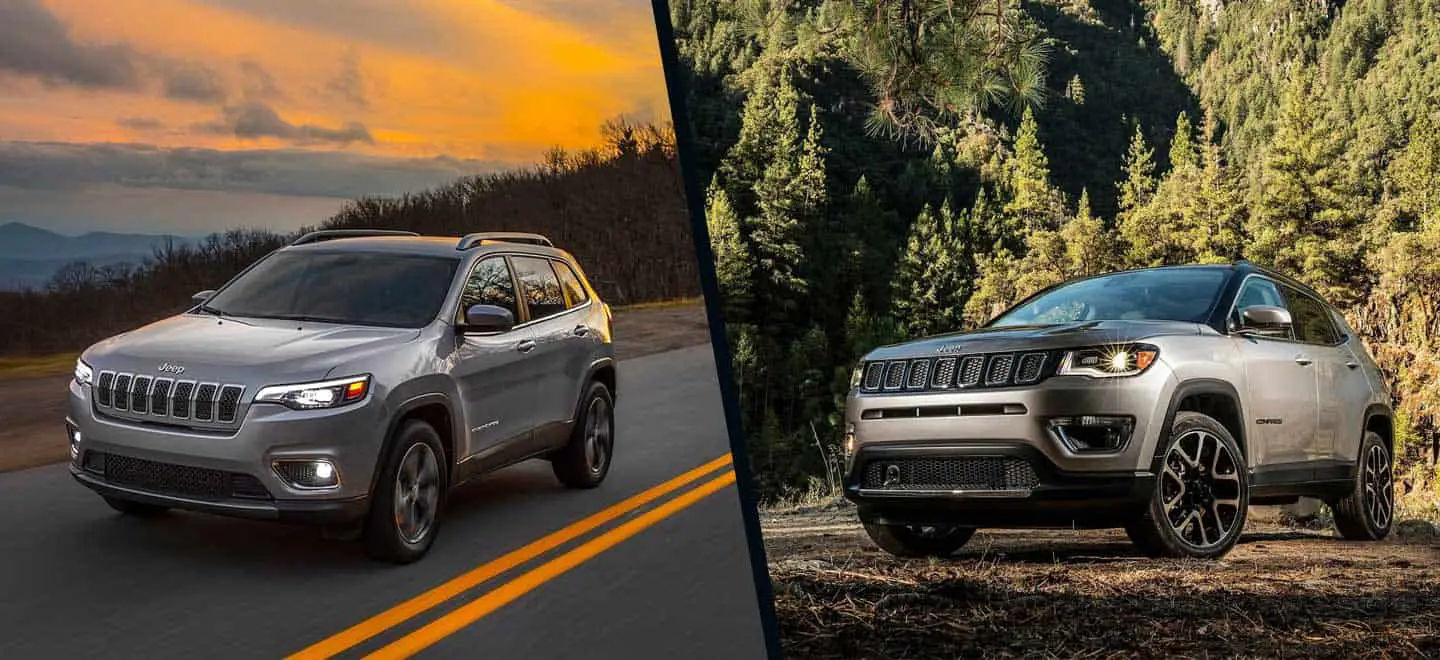 Relevant Specs: Jeep Compass vs Cherokee
Jeep Compass vs Cherokee
Compare by tapping or clicking below!

MSRP
Jeep Compass
$25,410 – $32,310
Cherokee
$26,290 – $36,025
Cargo Volume
Jeep Compass
Seats Upright: 27.2 Cubic Feet
Seats Folded: 59.8 Cubic Feet
Cherokee
Seats Upright: 27.6 Cubic Feet
Seats Folded: 54.7 Cubic Feet
Engine(s)
Jeep Compass
2.4L In-line 4 Cylinder
Cherokee
Base Engine:
2.4 Liter 4 Cylinder
Optional Engines:
2.0 Liter 4 Cylinder Turbo
3.2 Liter Pentastar V6
Horsepower
Jeep Compass
2.4L 4cyl: 180hp
Cherokee
2.4L 4cyl: 180hp
2.0L Turbo: 270hp
3.2L V6: 271hp
Torque
Jeep Compass

2.4L 4cyl: 175 lb-ft
Cherokee
2.4L 4cyl: 171lb-ft
2.0L Turbo: 295lb-ft
3.2L V6: 239lb-ft
Transmission(s)
Jeep Compass
Base Transmission: 6 Speed Automatic
Optional Transmission: 9 Speed Automatic
Cherokee
9 Speed Automatic
MPG
Jeep Compass
22 City/32 Hwy MPG
Cherokee
2.4L 4cyl: 22 City/31Hwy MPG
2.0L Turbo:23 City/31 Hwy MPG
3.2L V6:20 City/29 Hwy MPG
Towing Capacity
Cherokee
2.4L 4 Cylinder: 2000lbs
2.0L Turbo: 4000lbs
3.2L V6: 4500lbs
Seats: Both the Compass and the Cherokee come with a 5-person seating configuration with front captains' seats and a three-person rear seat. If looking for more cargo space the passenger front seat of the Compass has a fold-flat option.
Doors: The Compass and the Cherokee both come in four-door configurations for easy access to the rear seat, or cargo if that rear seat is folded down. The four-door configuration is the only one available for either vehicle.
MSRP: The price of these two vehicles reflects the fact that they are in two different vehicle sub-classes. Both are considered crossover SUVs, but the Compass is in the sub-compact class, while the Cherokee is a compact crossover.
The Compass comes in several trim configurations like the Cherokee does, but there is only one available engine option as opposed to the three different engines that are available in the Cherokee. Other features affect the difference in cost, but the engines do change the price point considerably. MSRP greatly varies between these two vehicles based on the trim levels as well.
Length: The length of a vehicle determines both compactness and stability, especially in the SUV market. A longer SUV typically means a longer wheelbase. Though it's not always the case as there are other factors involved in vehicle stability, a longer wheelbase often means a more stable one. 
While the overall length of these two SUV's differs only by 5 inches, the Compass is visibly smaller than the Cherokee. The difference of 5 inches may not seem like much, but it can make a dramatic difference in the handling and stability, and interior space.
Curb Weight: Curb weight is the weight of the vehicle (with no passengers/cargo) and it's a factor in fuel efficiency. The lighter the vehicle, coupled with the power the engine provides, determines how fuel-efficient a vehicle will be.
The bigger Cherokee outweighs the Compass by over three hundred pounds. Although it seems like a really big difference, it may not be significant enough to show major changes in fuel efficiency.
Cargo Volume: Most would assume that a bigger vehicle is going to have more space. While it's not necessarily wrong to assume that, it also isn't always the case. Take these two SUVs. Most would think that because the Cherokee is bigger, it has more room for their gear, but that is not the case. The bigger Cherokee has less cargo room, based on things like body style and interior configuration. 
Engine(s): Mopar equips their Jeep products with many different engine options depending on their customer's needs. While the Compass has only one engine option available, the Cherokee has two different four-cylinder engines as well as a six-cylinder option.
Choosing the right engine will depend on what you are looking to get out of the vehicle, considering things like power, fuel economy, and towing capacity.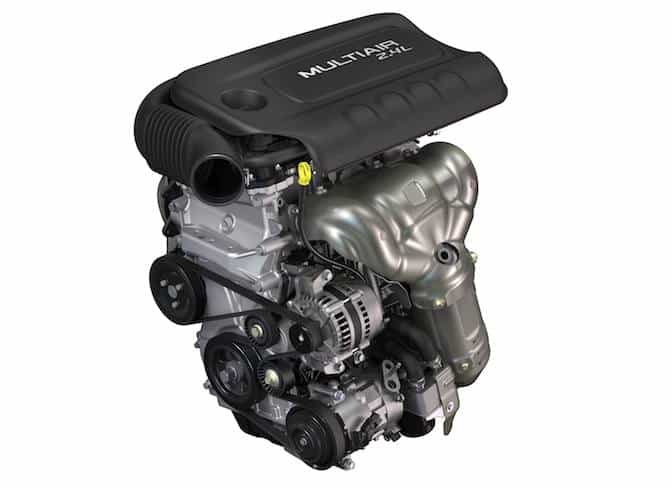 Horsepower: Horsepower essentially translates to speed. While it may not seem like something worth taking into consideration, it's important for someone who does a lot of out of highway driving and needs to get to a high speed quickly.
Torque: Torque is a measure of rotational force delivered to the tires. Torque is not only the force that gives a sports car its acceleration but it also assists in towing or uphill applications. 
Unless needing it for a specific reason, many consumers don't even consider torque. Not considering it can mean getting a vehicle that underperforms to your needs and leads to disappointment.
Transmission(s): While all Cherokees sold in the U.S. use a 9-speed automatic transmission, the Compass comes with a base 6-speed automatic transmission, with the option of having that same 9-speed the Cherokee has.
The biggest advantage to the 9-speed transmission is fuel economy. With more gears, an engine paired with the 9-speed transmission has a lower RPM at cruising speed, making it better on fuel at highway speeds.
MPG: We all understand fuel mileage. These days, with smaller more efficient engines and better transmissions – it's possible to get great gas mileage out of just about anything, even SUVs that were at one point considered to be some of the least fuel-efficient vehicles on the road. Both vehicles are relatively similar in mileage regardless of engine choice.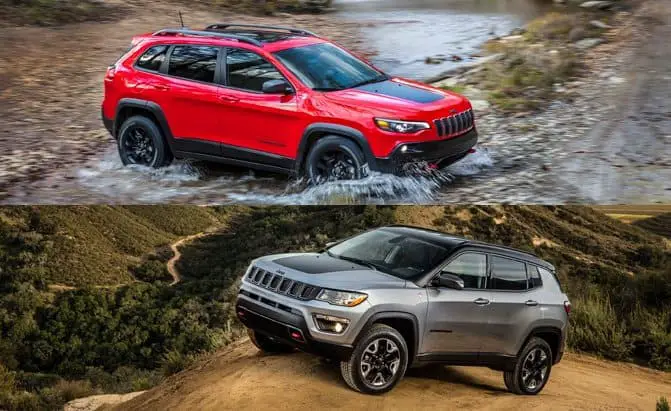 Towing Capacity: Towing capacity is simple: the amount of weight a vehicle can tow (includeing the trailer). Many people may never intend to tow, but some realize they need it when it's all too late.
The decision is easy here, if you're going to tow anything beyond a few jetskis – you're going to need the Jeep Cherokee with the 2.0T or Pentastar V6.
Key Differences Between Jeep Compass and Jeep Cherokee
At first glance, the Compass and Cherokee could almost be the same vehicle. They share much of the same styling, interior design, with very subtle differences, and Jeep's famous off-road capabilities.
Despite the similarities, some things set them apart from each other. Where the Compass has but one engine option, the Cherokee has three to choose from. The Cherokee comes standard with a 9-speed automatic transmission. For the Compass, this transmission is an option, not standard. These two factors mean big differences when it comes to things like towing capacity and fuel economy. 
Advantages of a Jeep Compass
Towing capacity is considerably more than the Compass when properly equipped.
With two different four-cylinder and a larger six-cylinder engine option, the Cherokee can be both powerful and fuel-efficient.
The Cherokees' larger size means more cabin space making for a more comfortable fit for passengers.
Advantages of a Jeep Cherokee
Considered an entry-level Jeep the Compass has a lower MSRP compared to the Cherokee.
Despite its smaller size, the Compass boasts a higher cargo capacity.
Manages a great on-road feel without sacrificing off-road capabilities.
Has a best-in-class highway fuel economy rating of 32 MPG.
Use-Case Comparison: Jeep Compass vs Cherokee
Both the Compass and Cherokee are compact SUVs, with the Compass being a slightly smaller version often considered to be entry-level. The two share so many of the same qualities that it is often hard to distinguish one from the other.
Some things do set them apart, like the more power of the Cherokee or the more cargo space available in the Compass. However subtle the differences may be, they could be the difference makers when it comes to choosing the right one.
Off-Road Capability
Both the Compass and the Cherokee are available in front-wheel-drive versions, but their off-road capabilities set them apart from others in their class, and a big reason why a lot of people lean towards a Jeep over others.
When it comes to off-roading in either of these Jeeps, their capabilities on paper are nearly identical. Ground clearance, approach, and departure angles are fractions apart, so close in fact that most people, even the most hardened off-roaders wouldn't notice a difference. 
Where the Cherokee does separate itself is in the torque and power available in its optional engines. Simple off-road applications may not require any extra power but get into more difficult situations and extra torque can come in handy when trying to crawl up a rocky incline or slowly make your way through thick mud.
Road Trips
Every road trip looks different. Maybe you're going solo; nothing but you and your gear, or maybe you're packing up the family for a weekend getaway. Whichever one it might be, you're going to want something that suits your specific needs. Both the Compass and the Cherokee have certain benefits for certain situations.
For those who are less concerned about space for passengers and more concerned about the ability to carry lots of gear, the smaller Compass comes out on top with more cargo space than its big brother.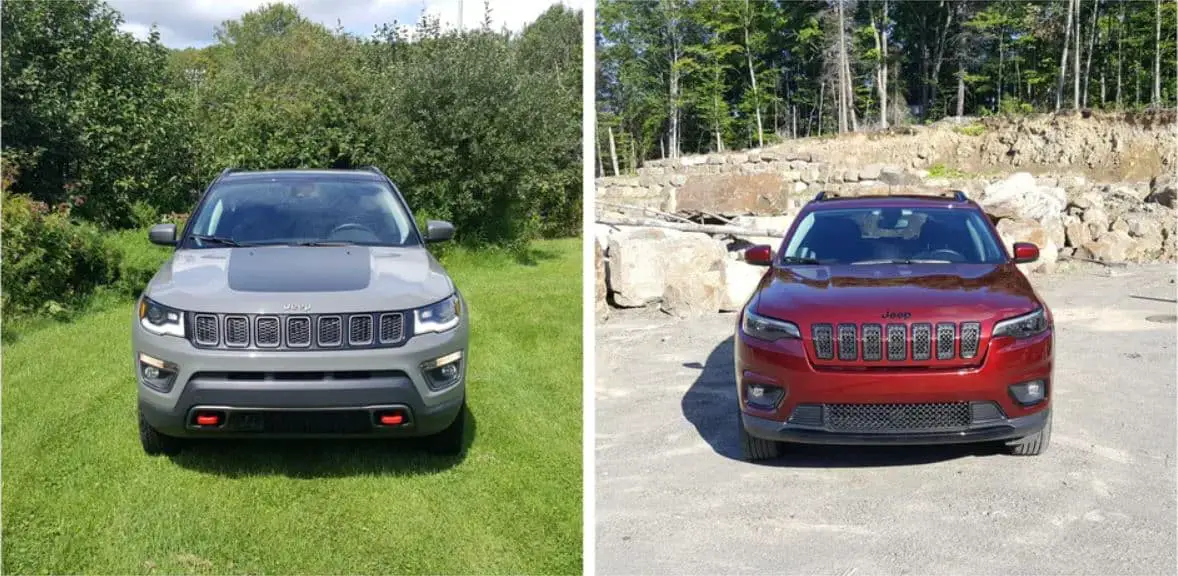 The Cherokee on the other hand sacrifices some of that cargo space to provide slightly more room for your passengers. Where the Cherokee does outshine the Compass is in its towing capacity. If that road trip you're planning involves towing a small camper, or maybe a personal watercraft, the Cherokee would be the right choice with a towing capacity that far exceeds that of the Compass (max towing capacity of 4500lbs as opposed to the max capacity of 2000lbs in the Compass).
Daily Driver
For daily drivers, both the Compass and the Cherokee offer the comfort and technology that people want when they plan on spending some time in their SUVs.  Whether your daily commute means driving on the highway or just around the city, fuel economy is a big factor when it comes to daily driving.
The Cherokee is equipped with the bigger six-cylinder engine and is the least fuel-efficient option, as can be expected. When equipped with either of the four-cylinder options, it is comparable to the Compass, with the Compass only being slightly better on the highway. 
With all that said, someone who plans on using their new Jeep for mainly city driving might choose the Compass because of its smaller stature. Measurement differences are minimal, to be sure, but the slightly smaller Compass does have a much better turning radius making it a little more suitable for getting in and out of tight spaces.  
Cold Weather
Cold climates mean less than desirable driving conditions at times. Snow, blowing snow, and ice can all be obstacles those in the north might have to face daily in the heart of winter. This weather is where four-wheel-drive systems can come into play.
Both the Compass and the Cherokee use the Active Drive 4 wheel drive system. Depending on the model you chose, both will come with different versions of this system tailored to off-roading. When it comes to poor on-road driving conditions, the base Active Drive all-wheel-drive systems in both vehicles are perfectly capable of handling snow and ice. Both operate similarly with the system transferring torque to the proper wheels when slipping is noticed.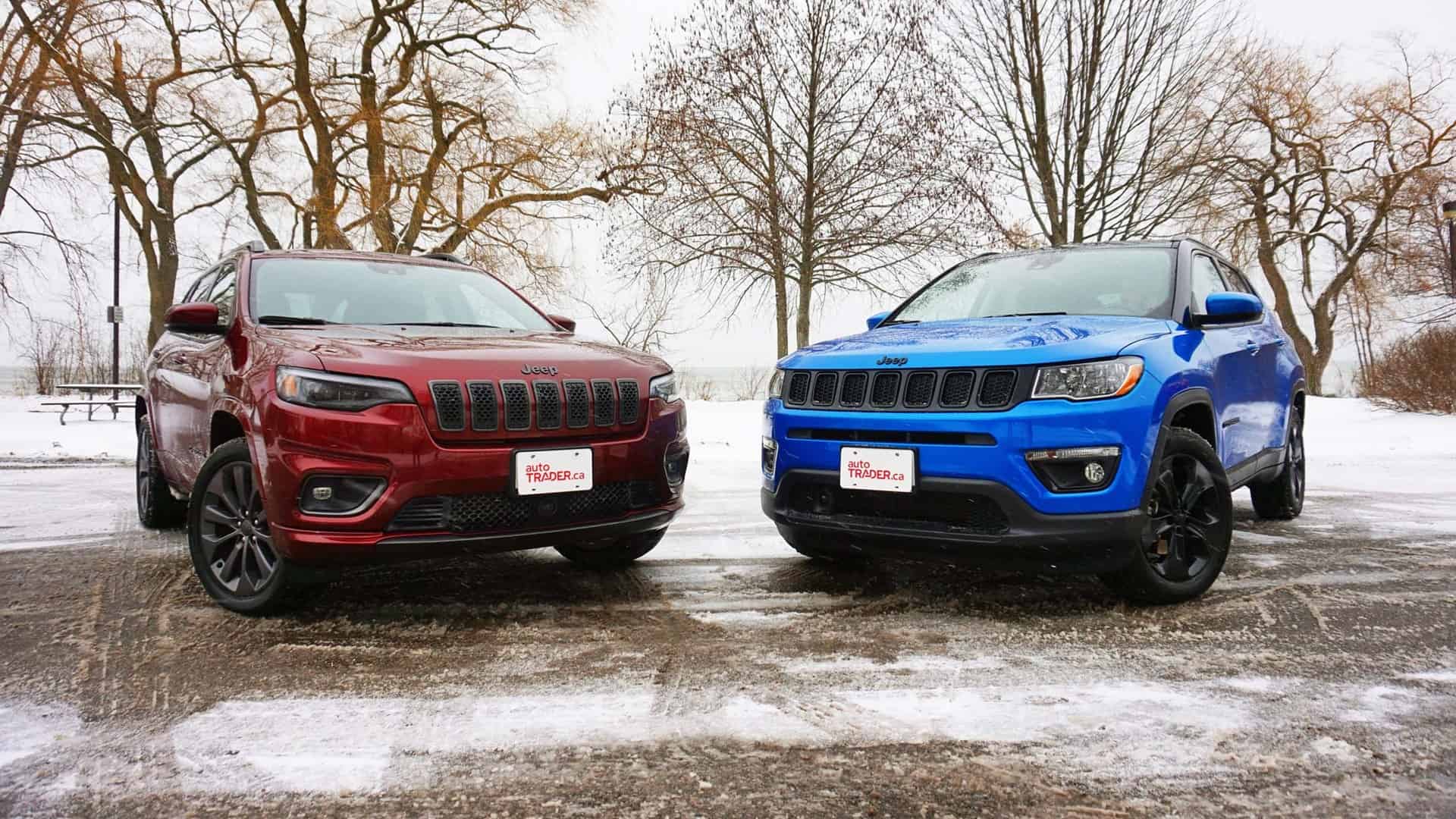 The major difference between the two is that the Compass has the option to turn the system off together to help improve fuel efficiency when four-wheel drive is not needed. Both the Compass and Cherokee are quite good and getting up and going in foul weather. Where the difference lies is stopping distances. 
The best 4-wheel drive system won't help at all when it comes to being able to stop, and because the Cherokee is a heavier vehicle, it's going to have a harder time stopping, and the faster you are moving, the harder it will be to stop on a slippery road.
Final Thoughts: Jeep Compass vs Cherokee
Because the Compass and the Cherokee are so closely related, and so similar when it comes to features, choosing one over the other is going to come down to a customer's specific needs and wants.
If you're planning on using one to tow something, the Cherokee is the better option. 
If you need lots of space for your gear, then the Compass might be the better choice.
If you're looking for a family SUV that can take you on some adventures, both are more than capable of giving you that experience. 
There is no clear right or wrong choice when it comes to these SUVs. Sure, things like price, size, and power can all be factors in setting these two apart,  but what it all boils down to is a personal preference.
Off-Roading Capability: Compass | Cherokee
Road Trips: Compass | Cherokee
Daily Driver: Compass | Cherokee
Cold Weather: Compass | Cherokee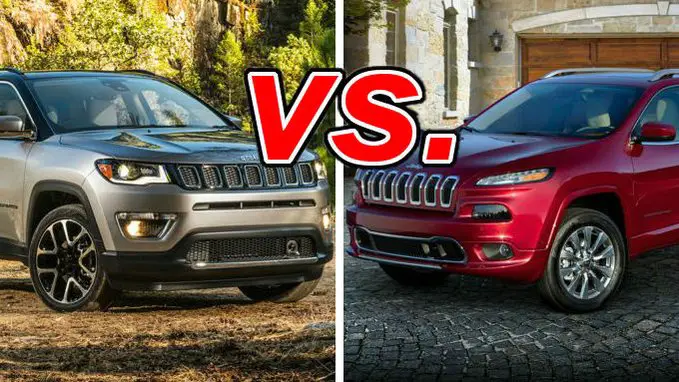 People Also Ask
We're not here to tell you which SUV you should choose, but rather to help you make an informed decision. While we've covered a lot to help you do just that, there may still be some questions. Here are some of the most common questions buyers ask.
How Long Will a Jeep Compass Last?
It can be difficult to predict just how long the newer models of the Compass will last. The most important factor to ensure that it does last a long time is doing the maintenance. New vehicles have regular maintenance schedules to ensure that it keeps operating at its best. It is not unheard of to see Jeeps go well beyond their 5-year life expectancy and reports show that older Compasses can travel over 200,000 miles.
How Long Will a Cherokee Last?
Just like with the Compass, maintenance is key to the longevity of a Cherokee. It is not unheard of to see Cherokees exceed 10 years and 300,000 miles.
Is Jeep Discontinuing the Compass?
Some options, like the 6-speed manual transmission, are being discontinued, and a redesign is on its way, there is no indication that Jeep is discontinuing the Compass.
Is Jeep Compass Expensive to Maintain?
Maintenance costs will vary depending on both the age and the mileage on the vehicle. Currently, the estimated maintenance cost for the Compass is $526 per year which is slightly above average for a compact SUV.
Where is the Jeep Cherokee Made?
The Jeep Cherokee is American made, built in Belvidere, Illinois.
Other Jeep Related Guides