Choosing the right tire for your Jeep can be a daunting task. There are so many options that it's easy to get lost. One second you're looking at all-terrains, which seem to have the features you want, but then you notice extreme off-road tires, and suddenly you're struggling to compare the two.
In this article, we hope to cut through the noise and offer advice on what to look for when choosing a tire. We'll also offer our suggestions for the best Jeep tires.
Comparison of the Best Jeep Tires
IMAGE
PRODUCT

Our Top Pick

Any-weather, all-terrain, durable and rugged capability
Heat diffuser tech in lower sidewall effectively dissipates heat
Resists wear from high torque, providing extra handling stability

View Latest Price →

Tread allows for tire to bite into terrain for added stability
2833 lbs maximum single load
Includes tread wear indicator for added safety

View Latest Price →

Best Budget Option

Best for the Money
All weather traction enhances handling
Heavy duty construction for dry, wet, icy conditions

View Latest Price →

Best 33 Inch Tires For Jeep Wrangler
Pattern engineered for strength, grip, and traction
2205 lbs maximum single load

View Latest Price →

Best 35 Tires For Jeep Wrangler
Stone ejector protects tread, clear mud, and reject stones
Reinforced shoulder groove offers for better performance

View Latest Price →

Best Jeep Off Road Tire
Optimally blended tread reduces tear for superior endurance
Sidewall rubber blocks provides rock, mud, snow traction

View Latest Price →
How to Choose Quality Jeep Tires
Determining the best tires for a Jeep depends largely on the Jeep's main purpose. If a Jeep is going to be used primarily on city streets, then mud tires won't be necessary. Once you've determined what you're going to use your Jeep for, you can look at specific attributes to find the best Jeep tire.
Look at the Tread
Look for tread patterns to meet specific criteria. Tread patterns range in styles from radial all-season tires to extreme off-road tires. Each has its own design for its specific utility. Typically, tires that cater to urban commutes will have a tight tread design, with grooves running longitudinally to channel water and maintain positive traction with the pavement. On the opposite side of the spectrum are your mud-terrain tires. The mud-terrains have wider gaps in their tread pattern. This allows mud to be flung out from the tire's tread so it can dig through the muck, maintaining traction and forward momentum.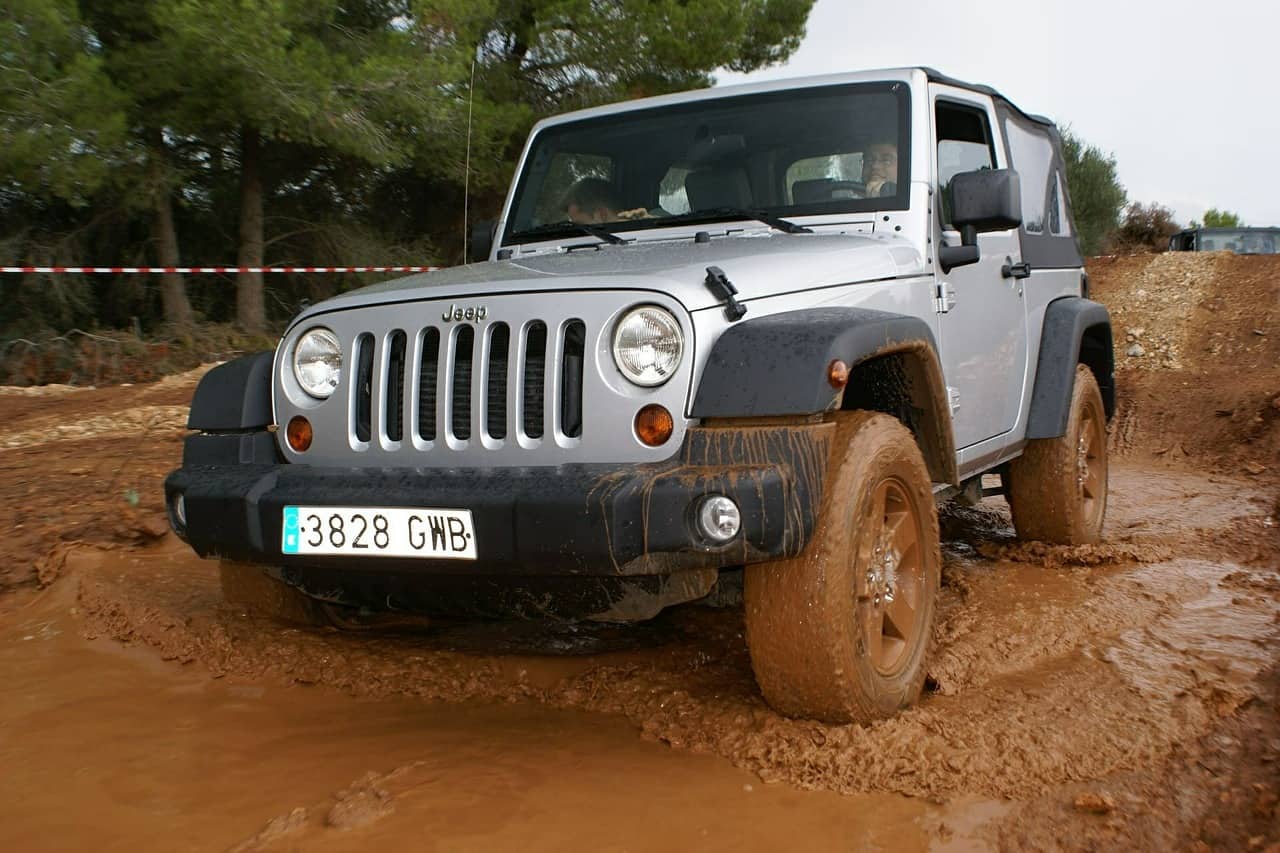 What's the Load?
Knowing what the Jeep is going to be carrying can also be an important factor. Tires have a load capacity range represented by the letters "A" through "F" in the alphabet. Each letter represents a load capacity and operating air pressure. If you're leaving your Jeep mostly stock from the factory, you can get by with a tire that has a lower capacity. However, if you're taking your Jeep on a long expedition, adding things like wenches and extra fuel stores, you might need a high load capacity range.
Overall
Knowing what you'll be asking of your Jeep will determine the best tire for you. Often Jeep owners buy extremely aggressive tires, but they never leave the pavement so the extra features are never used. These same Jeep owners are upset when those same tires are extremely loud, ride rough, and have a relatively short lifespan. They didn't take their needs into account to choose the best tire for their Jeep.
At a Glance: Our Top Picks for Jeep Tires
Review of the Best Jeep Tires
Falken Wildpeak AT3W
We may earn commission from purchases made from our links, at no additional cost to you
What Recent Buyers Report
Recent Buyers are thrilled with these tires. Overall, consumers rave about how well these tires perform on pavement and in off-road conditions. One key factor is how well the Falken Wildpeak AT3W handles in the snow.
Why it Stands Out to Us
The Falken Wildpeak AT3W stands out to use because of its rugged good looks and civilized city performance. They're a multipurpose tire that handles surprisingly well in snow as well as other dreadful weather conditions. There's a little road noise, and the tire's weight might affect fuel consumption, but its pros make up for its shortcomings. The Falken Wildpeak AT3W also does well in most off-road conditions. Put these on your Jeep and prepare to be amazed at how efficiently you arrive at your favorite fishing hole or campsite. For all these reasons, the Falken Wildpeak AT3W makes our list of best tires for Jeep.
Bottom Line
It's our opinion that these tires check most of the boxes consumers will have when searching for a great tire. With an ability to perform well in snow and other harsh weather, it's easy to see why we feel this tire cuts the best overall tire for Jeep. Heck, you could even throw on a snowplow and clear your driveway/roads!
Pros
Handles great in snow
Does well in all weather, both on-road and off
Tread on upper sidewall increases traction while off-road
Sidewall construction protects the tire from road hazards and punctures
Thermal heat engineering to lower sidewall dissipates heat to keep tire cool at higher speeds
Cons
Slight road noise
Heavy for a tire at 39lbs
Toyo Tires Open Country A/T II
We may earn commission from purchases made from our links, at no additional cost to you
What Recent Buyers Report
The reviews of the Toyo Tire Open Country A/T II are mixed. Some report the tire's excellent performance in most conditions. Others, however, comment that the tire loses traction easily in wet weather. The contrast might be due to driving styles, but we felt it important to include a representative sampling.
Why it Stands Out to Us
The Toyo Tire Open Country A/T II is a well-designed tire. Its wide grooves provide solid traction in most conditions, and its zigzag pattern improves handling in light snow environments. Most consumers have been happy with these tires, but they fell short of the best overall because the reports were mixed. The Toyo Tire Open Country A/T II is a good tire, but not everyone can come first. It's for this reason the Toyo tire comes in as runner-up in best tires for Jeep.
Bottom Line
The Toyo Tire Open Country A/T II is an average tire. It's a handsome tire that does the job that's asked of it. While the reviews are mixed, we feel these tires still deserve to make our list of best tires for Jeep.
Pros
Good in light snow
Good in on and off-road conditions
Sidewall protection from punctures
Tire's rubber construction adds to the lifespan
Wide tread pattern grooves remove water from the contact patch for better hydroplaning resistance
Cons
Mixed reviews
Not suitable for extreme weather
Goodyear Wrangler Radial
We may earn commission from purchases made from our links, at no additional cost to you
What Recent Buyers Report
Individuals who purchased the Goodyear Wrangler Radial were pleased overall. Most reported that the tires handle well in a variety of conditions and circumstances. However, some mentioned that the load rating and tire pressure aren't the same as a previous make of the same model.
Why it Stands Out to Us
Goodyear Wrangler Radial stood out to us because it's a great all-season tire for the price. Also, Goodyear is a trusted brand on the market. If you live in an area where Mother Nature throws a multitude of weather conditions at you, but don't have the extra funds to spare, then these tires might be what you're looking for. They do come with limitations, and it's a good idea to check the load capacity if buying a replacement set, but overall they'll do well. We feel that these are among the best tires for Jeep.
Bottom Line
At its price range, the Goodyear Wrangler Radial is hard to beat. It handles well, and the run-flat technology provides the driver with an enhanced sense of security. If you need new tires but are short on cash, these tires may be best for your Jeep.
Pros
Run-flat technology
Great all-season tire
Good in snowy conditions
Average in light off-road conditions
Large tread blocks offer a stable footprint for better handling
Cons
Not great in deep clay
Not for heavier loads like its predecessor
Best 33″ Tires for Jeep Wrangler
Federal Couragia M/T
We may earn commission from purchases made from our links, at no additional cost to you
What Recent Buyers Report
Customers who purchased the Federal Couragia M/T were mainly pleased. They were searching for a tire that performs well in more extreme off-road conditions, and this one is designed specifically for those conditions. Some commented that they even perform well in snow.
Why it Stands Out to Us
The Federal Couragia M/T is a great looking tire. Put these on your Jeep Wrangler and get the aggressive look you desire. Their wide tread design means that while off-roading in deep mud or other sloppy terrains, these tires will fling out any debris. These are important qualities in a moderately oversized tire like a 33 inch. Because of these qualities, the Couragia M/T makes our list.
Bottom Line
These tires offer everything a Jeep off-roader is looking for. Their soft rubber offers superior grip when climbing rocks and the sidewall construction translates to better performance when slightly deflated. However, these tires are geared to off-road use only, so when driving on paved roads, they'll be noisy and won't last as long as other tires.
Pros
Aggressive looking
Does well when deflated
Great tread design for mud
Great sidewall protection and traction
Wider grooves in the tread allow for self-cleaning of mud and debris while off-roading
Cons
Noisy on paved roads
Not good for daily driving in urban areas
Best 35″ Tires for Jeep Wrangler
Nitto Trail Grabber All-Season Radial Tire
We may earn commission from purchases made from our links, at no additional cost to you
What Recent Buyers Report
Almost all who've purchased the Nitto Trail Grabber All-Season Radial Tire were extremely impressed. They were looking for a tire that did well both on paved roads and held their own while off-road as well. The reports of this tire were so good that it was tough to find anything negative to bring up at all.
Why it Stands Out to Us
The Nitto Trail Grabber Radial Tire stands out because it's a large, aggressive tire designed for use in city driving as well as trail hopping. If you're a Jeep owner who likes the weekend off-road excursion, these tires are worth a look. Don't let the term "radial" fool you. These tires might be listed as an all-season radial, but they're one of the most aggressive all-terrain/off-road options on the market. If you're looking for a 35-inch tire that won't drive you insane with the noise they produce while cruising down the highway, these might be the best Jeep tires for you.
Bottom Line
For large oversized tires like a 35 inch, a great option is the Nitto Trail Grabber All-Season Radial Tire. The name, in this case, is deceptive. All tires have limitations, but with the Nitto Grabber All-Season Radial Tire, finding one will be a challenge.
Pros
Great sidewall construction help prevent punctures
Deep center sipe increases traction on wet surfaces
3D tapered grooves add biting edge for off-road use
Stone ejectors to help prevent rock and mud retention
Radial design and rubber composition reduce road noise
BFGOODRICH All-Terrain T/A KO2
We may earn commission from purchases made from our links, at no additional cost to you
What Recent Buyers Report
Purchasers of the BFGoodrich All-Terrain T/A KO2 are thoroughly pleased. They proclaim these tires are great for almost any surface condition. Trying to find negative comments about these tires was extremely difficult.
Why it Stands Out to Us
The BFGoodrich All-Terrain T/A KO2 is one of the most sought after tires currently on the market. They're quiet enough for daily city commutes and have a good lifespan. They're also great for most recreational activities that might take you and your Jeep off paved roads frequently. Overall these aren't only some of the best off-road tires, they're some of the best all-purpose tires, period. After reviewing the specs, it's easy to see why the BFGoodrich All-Terrain T/A KO2 is on the list.
Bottom Line
The BFGoodrich All-Terrain T/A KO2 are common tires for Jeep owners. They offer a driver many benefits in multiple circumstances. If you're looking for an intermediate level off-road option, then this is a great tire for your Jeep.
Pros
Great in deeper mud and snow
Relatively quiet on paved roads
Upper sidewall traction for increase performance when deflated
CoreGuard technology provides stronger sidewalls to prevent splitting and bruising
Specially engineered rubber blend to reduce chip and tear for optimal gravel-road use
Cons
Extremely common tire reduces "wow" factor
Not great in more extreme off-road conditions
Advantages of Investing in a Quality Lift Kit For Jeep Wrangler TJ
The advantages of lift kits are focused mainly on the off-road enthusiast. Lift kits offer a driver more distance between the ground and the vehicle's frame and allow larger tires to be installed.
Axle Clearance
When venturing off-road, the distance between certain parts of your vehicle and the ground is critical. The lowest point of an off-road vehicle is usually the differential, also known as a "pumpkin." When exploring mud and snow terrains, deep ruts are often a major concern because if they are too deep, your pumpkin can get trapped.
For this reason, off-roaders will add larger tires to their rigs for more separation from the ground. After a certain point, lift kits are necessary so that larger tires can be applied.
Frame and Body Clearance
Another advantage of adding a lift kit to a Jeep is the distance it creates between the ground and the Jeep frame. This prevents "high-centering" the Jeep. This can be a frequent problem when rock climbing or traversing terrain with narrow inclines like small creeks.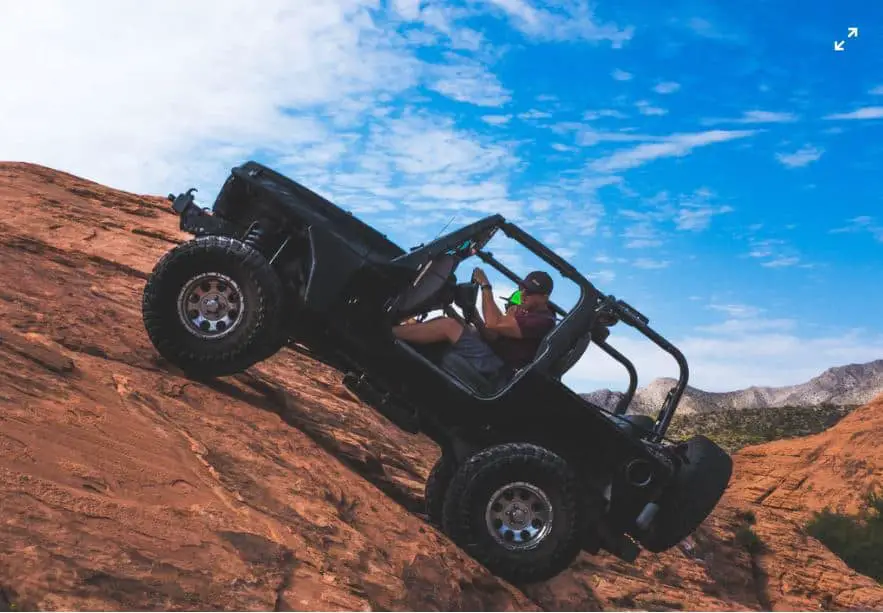 Lift kits are also important for providing distance between your wheel well and the tire. This is another helpful factor in climbing over rocks and is a huge benefit to fighting through mud-bogs. 
Having a proper lift kit that offers a good amount of clearance between the frame and ground, and that offers clearance between the wheel well and tire, will make your off-roading experience more successful.
When is it Time to Replace My Jeep's Tires?
Determining when to replace the tires on your Jeep will depend on what style of the tire you have. But you can use a U.S. quarter as a judge. Place the quarter head-first into the tire groove nearest the outer sidewall. If you have radial street tires, the tread should reach the top of George Washington's head. Repeat this process across the tire's width, placing the quarter in each groove from outer sidewall to inner sidewall. 
For all-terrains, the general rule is that the tread should reach George's forehead, and for mud-terrain or off-road tires, it should reach to the bridge of his nose.
Failure to replace your tires when necessary will result in reduced performance. This, in turn, could prove catastrophic in adverse weather conditions. Also, the risk of a tire blowout becomes more likely with further tread reduction.
What Do The Numbers and Letters Mean On a Tire?
In the case of 33×12.50R15, the numbers represent specific measurements. The 33 is the diameter of the overall tire measured in inches, the 12.50 is the width of the tire measured in inches, and the R15 represents the radial construct, which in layman's terms is the size of the rim, measured in inches, that the tire is to be installed on.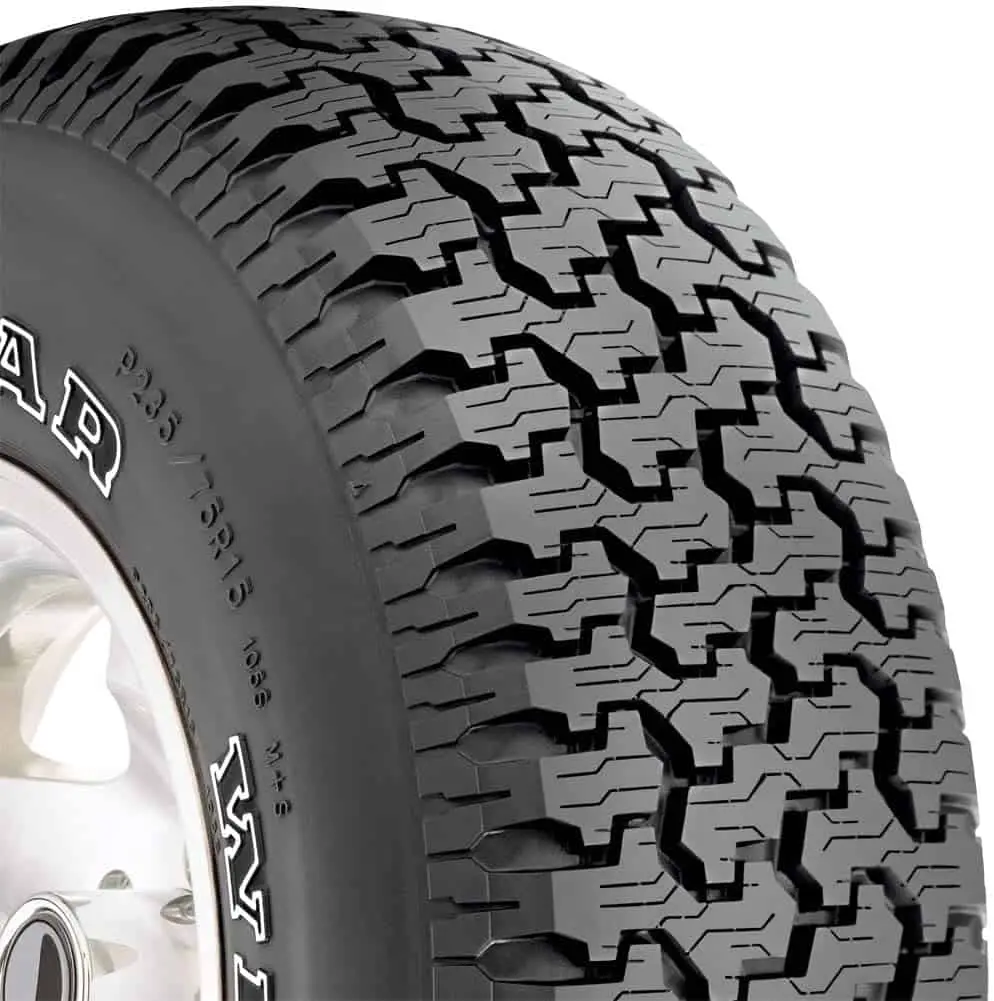 In the case of 285/75R16, the numbers represent the measurements as follows.
The 285 is the section width or tire width measured in millimeters.
The 75 is the aspect ratio that determines the sidewall's height from the rim to the tread's highest point, represented as a percentage. So, in this example, the height of the sidewall is 75% of 285.
The R16 represents radial construct or rim size measured in inches.
To determine the tire's overall diameter in inches, you must use the following formula: Section Width x Aspect Ratio x 2/25.4 + R# = overall tire diameter.
Using our example, it would be 285*75%*2/25.4+16=32.8, which is roughly a 33″ tire.
What Size Tires Can I Put On My Jeep?
The tire size your Jeep will accept depends on whether or not you have a lift installed and which Jeep model you own. If you're leaving your Jeep at the stock height, the basic rule is only to go one size larger than the stock size. This rule varies depending on the make and model of the Jeep. So it's important to look at the sidewall of your current tires and go from there. If you choose tires that are too big for your Jeep, they will rub and hang on the wheel well and obstruct turning. Use caution when choosing larger tires.
What Are The Biggest Tires For a Stock Jeep Wrangler?
The biggest tire that can fit on a stock Jeep Wrangler is a 33×12.50. This shouldn't cause any problems like rubbing or decreasing turning capability.
Types of Tires for Jeeps
There are three main types of tires purchased for Jeeps: all-season radials, all-terrain, and off-road. Each has a particular advantage.

All-Season Radials
All-season radials are the tires most often chosen by individuals who rarely venture off of paved city streets. This tire type generally offers good traction in most weather conditions so long as they remain on the pavement. The all-season type tires also offer a quieter, more comfortable ride and tend to have a much longer lifespan than more aggressive tires.
All-seasons are the best choice for individuals who live in the city and have longer commutes.
All-Terrain Tires
All-terrain tires range in tread design. Some are slightly more aggressive than all-season radials, while others are closer to off-road varieties. These tires normally offer better traction in more severe weather and light to moderate off-road environments. Some might be slightly noisier than an all-season but will handle more surface variations.
All-terrain tires are best suited for construction workers or the weekend outdoor adventurer. They can plow through an unfinished driveway or take you to your secret fishing hole. 
Off-Road Tires
Off-road tires are designed primarily to handle poorly maintained dirt roads or recreational off-road adventures. They're typically noisier on paved roads and can make for quite a rough ride. They're great for their designed purpose but probably aren't the best choice for the daily city commute.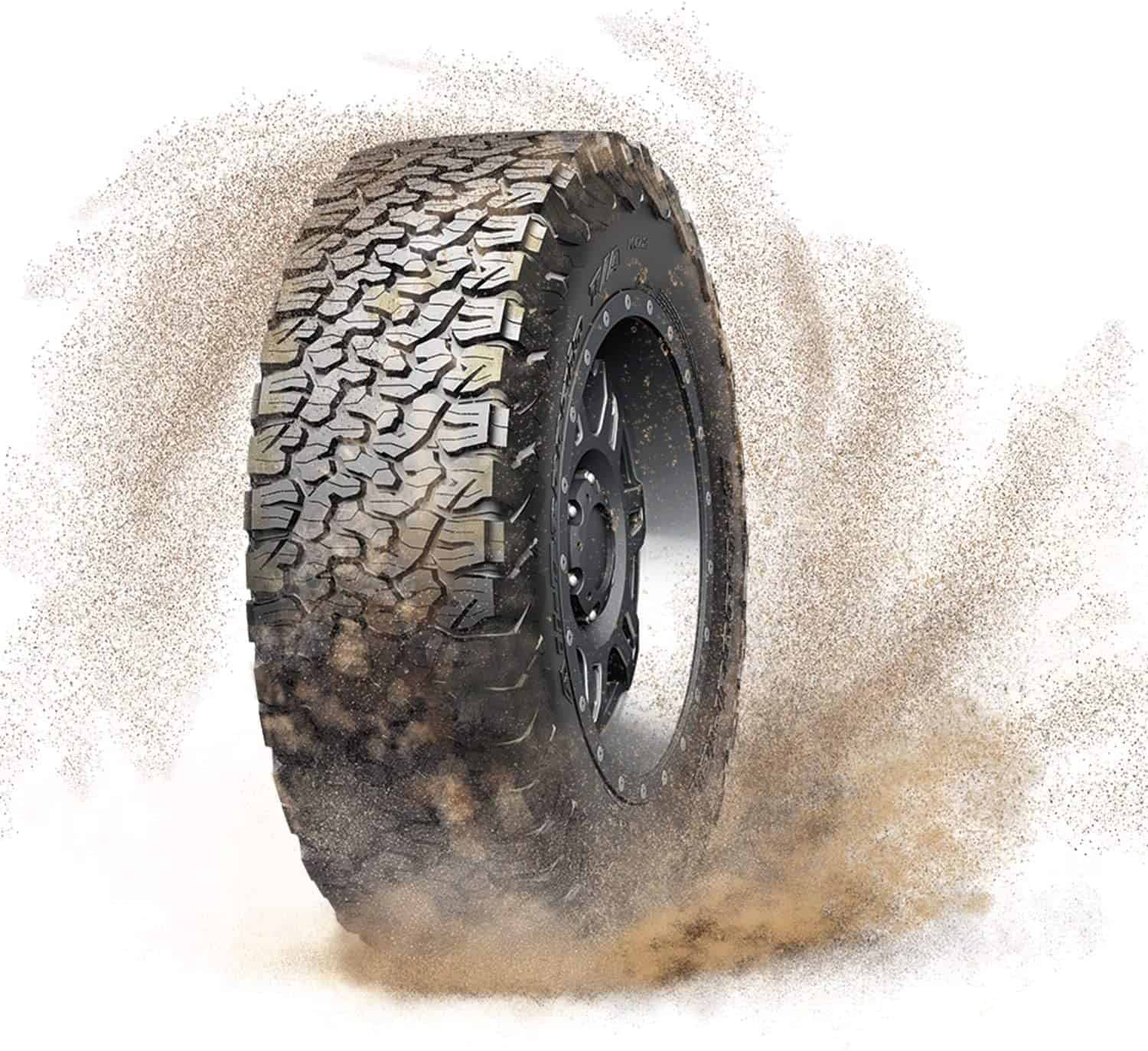 Mostly off-road tires are purchased for the individual whose recreation is playing in the mud with their Jeep. There is a wide range of options in the category to choose from, each designed with particular terrain types in mind. If you're planning on spending a lot of time where there aren't any roads, you might want an off-road tire.
Jeep Tires – Comparison Overview
Let's cover some of the common 'this or that' considerations many Jeep owners ponder:
Winter Tires vs All-Season For Jeep
Not every all-season tire is rated for winter conditions. Most might do well in light snow a few inches thick, but if you live in an area that gets heavier snowstorms, you'll want to look for tires that are specifically designed for snow. Many winter tires will offer a studded option, meaning that small studs are placed in the tire's tread to provide better traction in ice and snow.
Jeep 40 Inch Tires vs 37 Inch
Be careful when increasing the tire size on your Jeep. Contrary to what some sales representatives might say, there's such a thing as too big. You might need a substantial lift kit to clear such large tires. Anything over 33″ on a Jeep should be investigated thoroughly, as its likely to require a lift, possible fender trimming, inner-fender installation, or other modifications.
Jeep Stock vs 37″ Tires
There's nothing wrong with keeping the stock tires on your Jeep. After all, the stock tire size is what the Jeep is engineered to handle. There aren't any lift requirements, and all the components of your Jeep operate with the stock size tires in mind. If you're thinking about making the jump to 37″ tires, be ready to spend quite a lot of money on a lift kit, engine upgrades, brake components, axle upgrades, and more. Being an off-roader is an expensive hobby.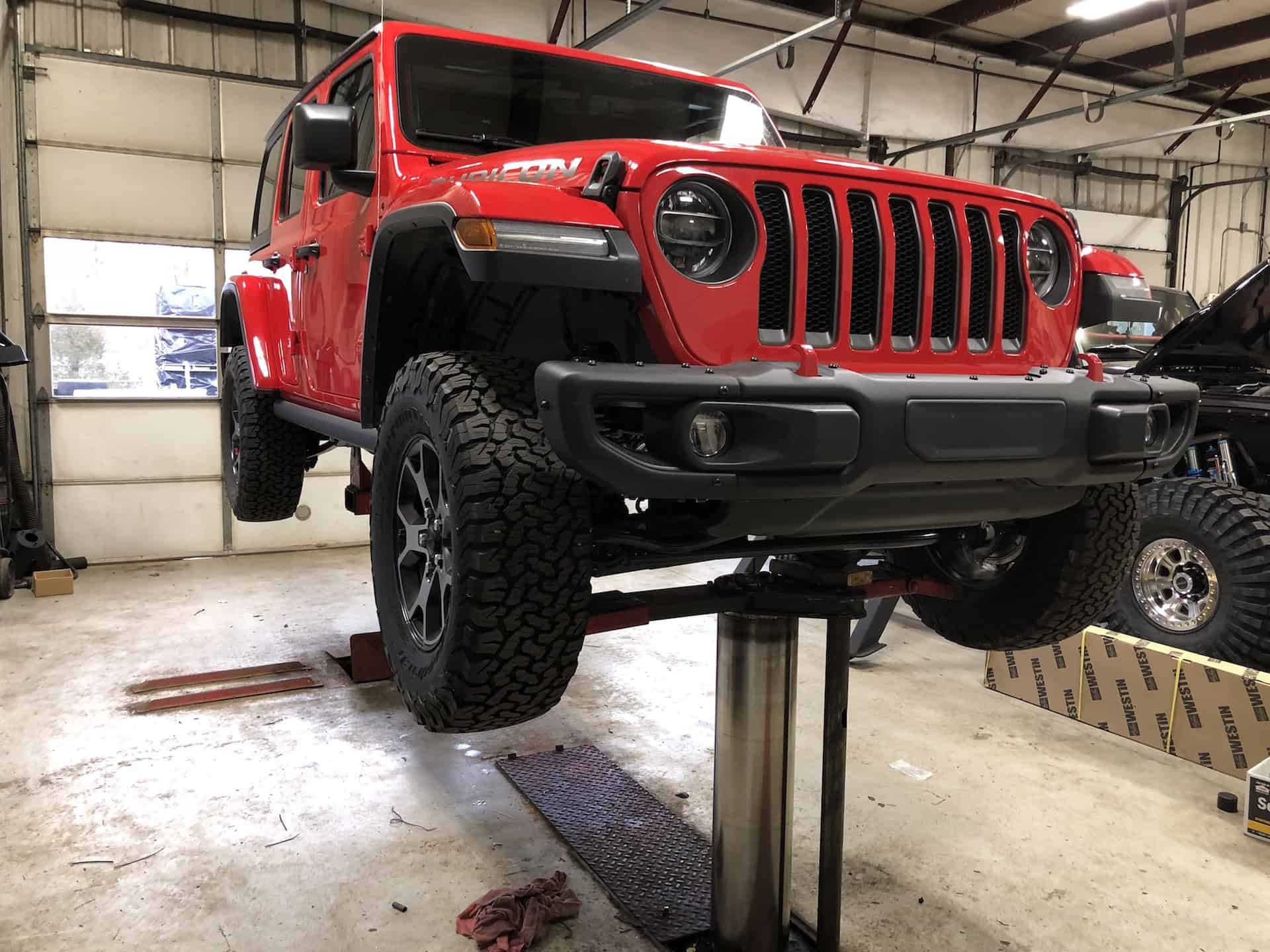 All-Terrain vs All-Season Tires
How do all-season tires differ from all-terrain tires? This is a fairly common question. Typically, all season tires are more for commuting on paved roads in a variety of conditions: cold weather (light snow possible), summer, and rain / standing water while performing relatively well in each. All terrain tires are a compromise of decent paved road performance and relatively good off-road performance.
Conclusion
There are many different types and styles of tire out there that will fit your Jeep. The trick is in determining what you need from your tire to enable your Jeep to perform the most efficiently for you. Hopefully, this will help steer you toward the best tires for your Jeep.
Quick Summary – Best Jeep Tires
Here's a quick wrap-up of the best Jeep tires:
People Also Ask
There are always a few unanswered questions; we've done our best to compile the most frequently asked question and include them below. 
What is the Recommended Tire Pressure For Wrangler Tires?
This is dependent on the type of tire you have on your Wrangler. Your recommended tire pressure will be posted on the white manufacturer's sticker inside the doorjamb.
What is the Recommended Wheel Diameter For Jeep?
Jeeps typically come with 15-17″ wheels. This is the recommended range because there are more tire options in these sizes that accommodate Jeeps best.
What is the Recommended Time To Rotate Tires For Jeep?
Most veteran vehicle owners will advise that a good practice to develop for rotating tires is that every time you have your oil changed, also have your tires rotated.
Do I Need to Lift My Jeep For 35 Inch Tires?
Yes, if you intend to install 35-inch tires on your Jeep then a lift will be necessary. Otherwise, your tires will rub against the wheel wells and obstruct turning.
How Big of Tires Can I Put on My Jeep Without Lifting it?
The largest recommended tire to put on a stock Jeep is a 33×12.50 or a 285/75. The wheel size will depend on your wheel choice.
How to Rotate 5 Tires on Jeep
If you have a matching spare, remove both rear tires and install them to the vehicle's front without changing sides. Next, take the spare tire and move it to the passenger-side rear tire position. Now, take the tire on the driver's side front and place it on the spare tire position. Lastly, take the tire that was the passenger's front tire and move it to the driver's side rear.
How Much Does it Cost to Install Tires on a Jeep?
How much a tire will cost for installation depends on the size and how the tires were purchased. Many tire shops will do the installation for free if you purchase tires there. However, if you buy them online and take them to a tire shop for install, then prices may be as low as $20 per tire to as high as $50 per tire.
Who Worked on This?
---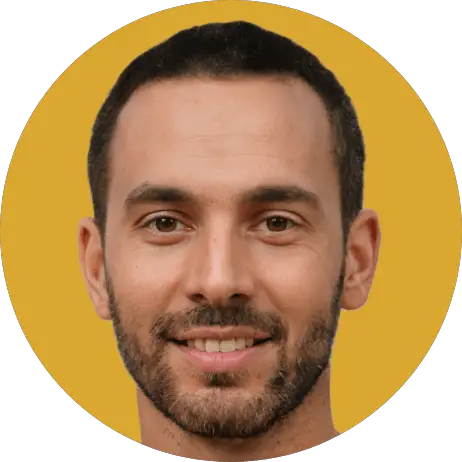 Brian
Editor
A master of organization, Brian helps keep everything running smoothly for Your Jeep Guide.
No Jeep yet but we're working on that!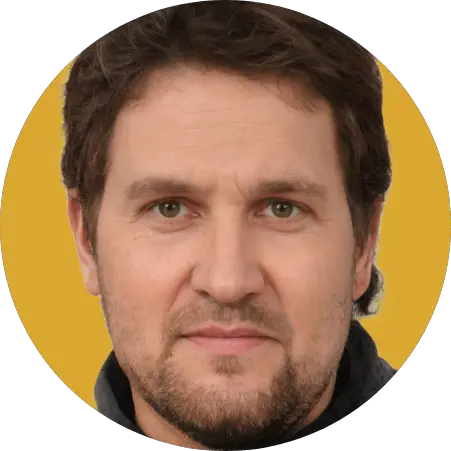 Cory
Writer
Cory loves his XJ and frequently thrashes it through the hills. He's constantly fixing something.

"What fenders?"
Check Us Out!