Winter weather is no match for the Trail Rated, go-anywhere Jeep Wrangler. Even when the sky opens up and pours down a seemingly endless snowfall, you're prepared.
But even if your Wrangler can traverse blizzard-like conditions doesn't mean other cars can. And that's when you can turn to the best snow plows for the Jeep Wrangler. By connecting one of these to your Wrangler, you can plow the driveway, the parking lot of your business, or even start a new business venture.
Here's what you should know about snow plows for the Wrangler.
Comparison of the Best Snow Plows For Jeep Wrangler
IMAGE
PRODUCT

Our Top Pick

Features a 3 year manufacturer warranty
Made out of premium material such as 11 gauge steel
Designed to fit several UTV models

View Latest Price →

Comes with a beginner-friendly hitch mount system
With a wireless controller to offer more adjustability
Perfect for lightweight trucks and SUVs

View Latest Price →

Best Budget Option

Best for the Money
Comes with an electric winch of 3000lbs
Can be used on rough/smooth terrains

View Latest Price →

Comes in form of a superb hydraulic plow
Set at 22 inches in height
Featuring a user-friendly remote for easy control

View Latest Price →

Highlighted by scraper blade construction for enhanced durability
Includes a 1 year limited warranty on built-in defects
Simple to install with several mounting brackets

View Latest Price →
Factors to Consider Before Buying A Snow Plow For Wranglers
There's no doubting the Jeep Wrangler is a brawny vehicle, but many people aren't sure what type of snow plow to buy or even if the four-wheel monster can handle a snow plow. Rest assured, the capability is there. Beyond that, you should also consider many other factors before making a purchase. These are some of the most important.
The Weight of the Plow and Construction Material
Most snow plows can weigh anywhere from 75 to 105 pounds. That's a ton of weight on the front end of the vehicle, which can put extra stress on the suspension and front axle. In addition, a heavy plow can make it far easier to attach and detach the apparatus.
To some degree, this will come down to the type of material the plow is made from. Metal plows are inevitably heavier, but they're also more durable. Conversely, a plastic plow is lighter (and cheaper), but it can't withstand the same abuse.
Other factors to consider are that a heavy plow can reduce braking power, and may also require a certain level of torque for you to power through heavy amounts of snow. Pentastar engines should be fine, but if you have an old 2.5-liter four-cylinder Wrangler, you may not have enough power to push a heavier plow.
The best plan of action is to find a balance between weight and durability. By doing so, you can make sure you don't break your plow or weigh down the front end of your Wrangler.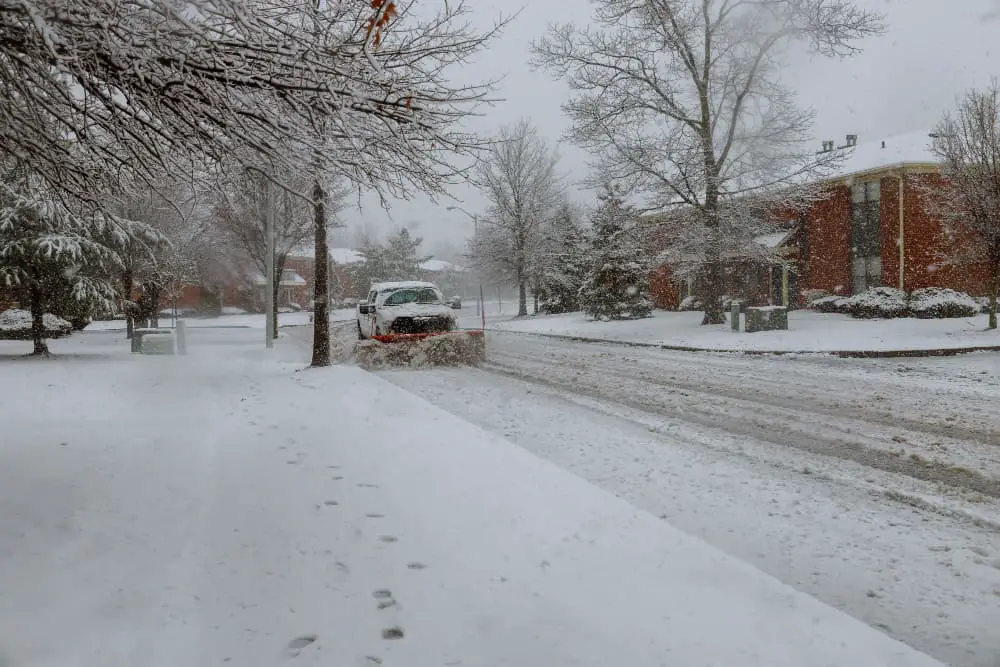 The Size of the Plow
The width of almost all models of the Jeep Wrangler is about 72 to 74 inches. Therefore, your plow has to be at least that wide. Otherwise, the outside edge of your tires are at risk of hitting debris. While you don't need a massive plow, as this only adds to the weight, one that's about 78 inches to 84 inches should give you enough plowing power without putting your Wrangler at risk.
What If I Have a Lift or Leveling Kit?
If you have a lift or leveling kit that's more than 4 inches, you're putting a lot of stress on the frame of the Wrangler. In addition, the plow may not touch the ground all the way, leaving strips of snow behind. Therefore, you'll need to modify the snow plow mount so it's lower to the ground. This should provide maximum plowing power without putting too much stress on the frame.
Ease of Attachment and Detachment
The ease of attachment and detachment is another aspect that should be part of your buying process. If you get a snow plow that's difficult to remove or put on, it's added stress on you, especially if you're doing a job by yourself. Therefore, you should put a premium on how long and how difficult it is to attach and detach the plow.
At a Glance: Our Top Picks for Best Snow Plows For Jeep Wrangler
Review of the Best Snow Plows For Jeep Wrangler 
If it's your first time adding a snow plow to your Wrangler, you might be blown away by how many options there are. To make your research easier and eliminate poor-quality options, here are reviews of some of the top-rated and best snow plows for a Jeep Wrangler.
MotoAlliance DENALI
Size: 72 inches
Construction Material: 11 gauge steel
Warranty: Three years
Adjustable: Height (winch required) and skid feet
Mounting Hardware Included: Yes
We may earn commission from purchases made from our links, at no additional cost to you
Review
The MotoAlliance DENALI lives up to its name as one of the best plows money can buy. Made of 11 gauge steel, it's highly durable and ready to plow through even the biggest snow drifts. The easy-connect design is convenient, allowing you to add or remove the plow quickly, although it can remain on the vehicle year-round without any problems.
Bottom Line
Although the adjustment of the plow requires a winch and certain components aren't made of heavy-duty steel, the MotoAlliance DENALI is an excellent choice for personal and light commercial use. Just pop it on your Jeep Wrangler, and you're ready to go.
Pros
Heavy duty to push vast amounts of snow
Includes installation hardware
Easy-connect design for quick attachment and detachment
Can remain on vehicle year-round
65-degree attack angle for superior plowing
Cons
Requires a winch to lower the height of the blade
Push frame is flimsy
Tubes made of weak steel
Detail K2 Avalanche
Size: 82 inches
Construction Material: Steel
Warranty: One year
Adjustable: Yes, both manually and with a wireless remote
Mounting Hardware Included: Yes
We may earn commission from purchases made from our links, at no additional cost to you
Review
The Detail K2 Avalanche is an excellent choice for your snow plowing needs if you love the ease of operation. With the included wireless remote, you only need to touch a button to raise or lower the plow. In addition, the attached caster wheels allow a person to attach and remove the plow, even if they're flying solo. If you want a stress-free, painless way to start your plowing business, this is the plow for you.
Bottom Line
While rusting and some T-bar bending under stress may make some buyers balk at the price or the investment, the ease of use makes the Detail K2 Avalanche one of the best buys in the snow plow space.
Pros
Attached caster wheels to make mounting and unmounting quick and easy
Easy to assemble without the need for special tools
Comes with a wireless remote to adjust the height of the plow at the touch of a button
Includes snow deflector, skid shoes, and blade markers
Allows for manual adjustment if necessary in three locking positions
Cons
Warranty is short compared to other plows
T-bar assembly is prone to bending in heavy, wet snow
Problems with rusting
SnowBear Personal Plow
Size: 84 inches
Construction Material: Powder-coated steel
Warranty: One year
Adjustable: Winch-adjustable and remote control-adjustable
Mounting Hardware Included: Yes
We may earn commission from purchases made from our links, at no additional cost to you
Review
If you're searching for a plow for your own personal use, the SnowBear Personal Plow should get the job done right. At a whopping 84 inches wide, you won't have to take nearly as many passes to get the job done. It also includes a winch with the plow, as well as a wireless remote to raise and lower the blade.
Bottom Line
Although SnowBear has been a premier name in snow plows for a few decades, some loyal customers have begun to question the construction materials and quality of the build. However, this may be the result of pushing the plow past its limits. As such, the winch, remote control, and a universal kit for mounting coupled with a low price make this snow plow a great value buy.
Pros
Includes a 3,000-pound electric winch
Universal kit can connect to any mount
33-degree blade angle
Comes with a wireless remote for height adjustment
Skid shoes for enhanced performance over gravel and rough terrain
Cons
Support brackets have been known to fail
Quality has fallen over the years
Winch lasts for only one to two years
Meyer Products Home Plow
Size: 80 inches
Construction Material: Steel
Warranty: Two years
Adjustable: Hydraulic adjustable with a wireless remote
Mounting Hardware Included: Yes
We may earn commission from purchases made from our links, at no additional cost to you
Review
With nearly 100 years in the business, Meyer knows how to make a high-quality plow, and their Home Plow product line delivers on that reputation. At 80 inches wide, it's big enough to push large amounts of snow without being too taxing on your vehicle. One of the most interesting and handy features is a blade that angles in four directions, allowing you to cut down the time on the job.
Bottom Line
Although mounting the front hitch is a burden and some buyers report bending of the blade due to thin steel, overall, the Meyer Products Home Plow is a great plow for the money. And if you're on the fence about it, a two-year warranty should help to quell your worries.
Pros
Power angling technology allows you to move the blade up, down, left, or right at the push of a button
Powder-coated to prevent rusting
Wireless remote included
Super easy to remove and attach the blade
Cons
Vehicle-specific hitch must be ordered separately
Blade is made of thin steel
Mounting the front hitch is difficult
SnowBear 84″ Hydraulic Plow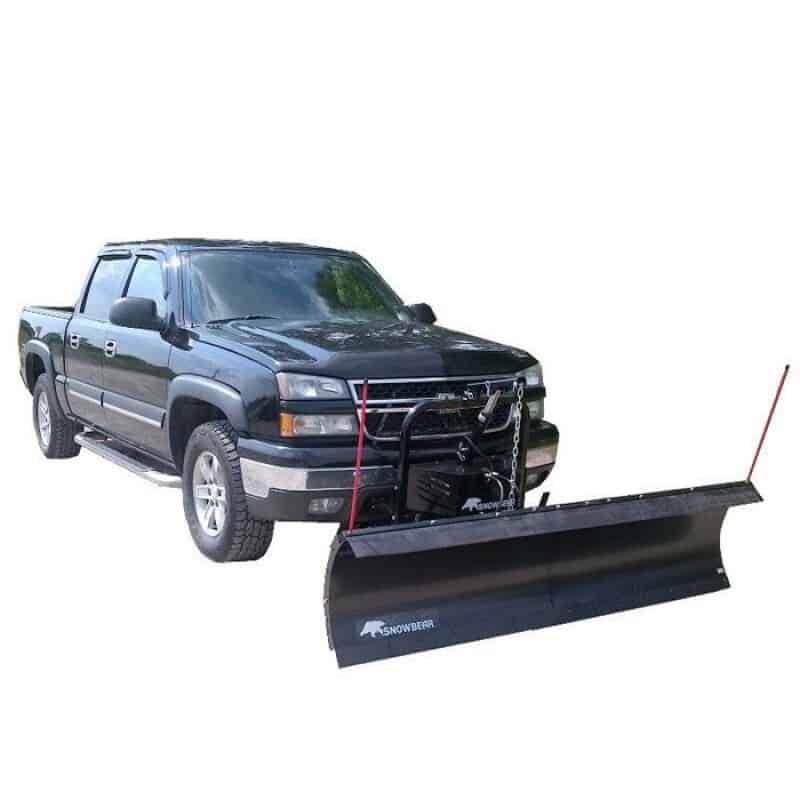 Size: 84 inches
Construction Material: Steel
Warranty: One Year
Adjustable: Hydraulic with chain and a wireless remote
Mounting Hardware Included: Yes
We may earn commission from purchases made from our links, at no additional cost to you
Review
For the plow driver that lives in the most extreme conditions, the SnowBear 84" Hydraulic Plow is a great ally. Made of high-grade steel with a hydraulic lift and a wireless remote, you're ready to handle a blizzard, especially when paired with the off-road prowess of the Jeep Wrangler.
Bottom Line
Although some minor modifications might be necessary to mount the SnowBear 84" Hydraulic Plow, that's about the only downside. With everything it has to offer, it's sure to provide the plowing power to get the job done quickly and efficiently.
Pros
Two-point mounting system for improved stability
Detailed instructions provide easy installation
Includes a wireless remote
Can angle blade in four directions
Cons
Included mount is for four-wheel drive Wranglers only (2WD versions were made from 2007 to 2010)
May require modification to the plastic deflector plate
What Size Plow Is Best For A Jeep Wrangler?
Since the width of a Jeep Wrangler is a maximum of about 74 inches (a little over 6 feet), you'll need a plow wider than that to do adequate plowing and avoid any debris lurking beneath the snow.
In this regard, you have plenty of options, but make sure that you go no smaller than about 76 inches. Several brands produce options that are up to 80 inches, which should give you the width you need for proper plowing. Never choose a plow that's more than 84 inches, as it can put too much stress on the engine of your Wrangler.
However, some snow-plowing Wrangler owners have used plows less than 7 feet and have wished they had gone a bit bigger. As long as you don't put an excessively large plow on your vehicle, you should be fine.
Another reason you might want to go with a slightly larger plow, such as 7.5 feet is so that you don't scratch your ride while you're plowing, especially if you're doing it for some extra cash. Some driveways and parking lots have shrubs and tree branches that can hang out over the pavement. With a shorter plow, these branches can scratch your doors and fenders, so that might be another aspect to consider.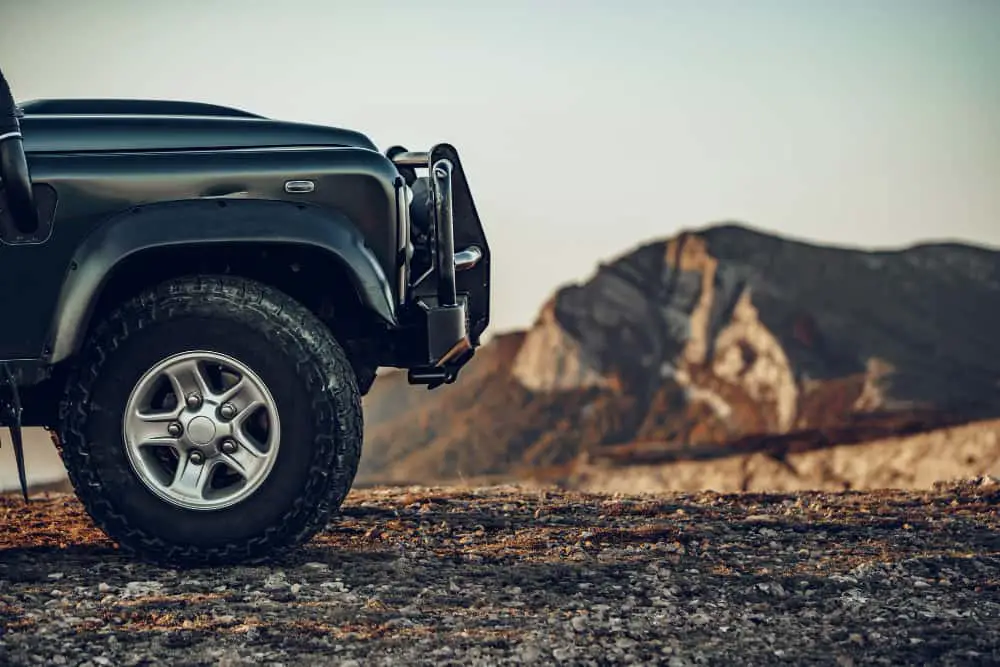 Top Brands in the Snow Plow Space For Jeep Wrangler
Finding an efficient snow plow that's durable and meets your specifications isn't as simple as it sounds. And even though the brand name doesn't necessarily equate to high-quality, these brands prove that a strong reputation can provide excellent plowing results. Here are some of the top snow plow brands for the Jeep Wrangler.
Meyer
Founded on a farm in New York State in 1926, Meyer is one of the premier names in snow plows and salt spreaders. Fast-forward nearly 100 years later, and Meyer remains a top snow plow brand for both commercial and personal snow plows. The company currently manufactures five plows that are compatible with the Jeep Wrangler out of a total lineup of 11. If you're searching for a strong reputation, think Meyer.
Snowbear
Snowbear is a leading manufacturer of snow plows throughout all of North America. To date, the company produces several light commercial and personal snow plows, along with all types of accessories. On top of their quality products, Snowbear also has a highly renowned customer service department and warranty that's guaranteed to sort out any problems you might have with your plow mounted to a Jeep Wrangler.
DK2
Founded by a married couple in Burlington, Ontario, DK2 has become a popular name in the snow plow and truck accessory market, expanding their product lines and distribution networks to include all of North America. Today, the company produces three snow plows for various budgets and applications, including the Rampage, Storm, and Summit lines of plows.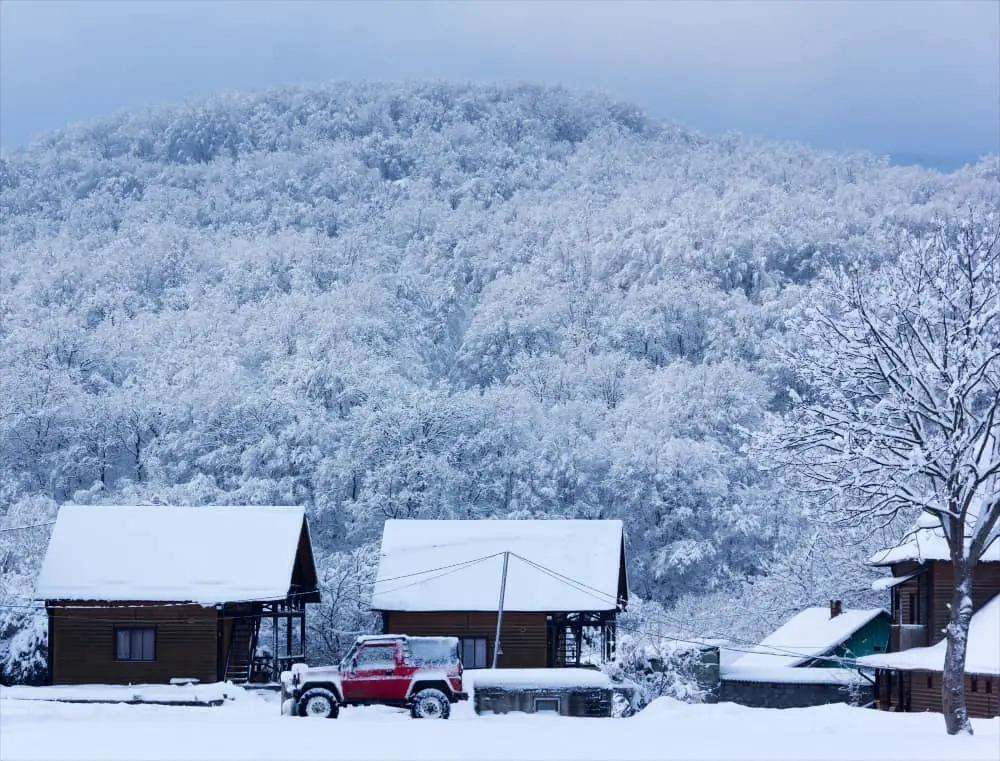 Whether You Name Yourself Mr. Plow or the Plow King, Make Sure to Buy Only a High-Quality Snow Plow
Whether you're volunteering to plow the church parking lot, looking to earn some extra cash during the winter, or just want to curb winter-induced cabin fever, a snow plow for your Jeep Wrangler is a savvy purchase. But only if you buy a high-quality option. Using the above information, you have everything you need to get a great plow that will move mountains of snow at your beckoning.
People Also Ask
You may still have some questions about buying a snow plow for your Wrangler, especially if it's your first time making a purchase. However, you can use these frequently asked questions to guide you toward the right snow plow for your needs.
Can You Put A Plow On A Lifted Jeep?
Yes, you can put a snow plow on a lifted Jeep. If your lift or leveling kit is 2 inches or less, you probably won't have to make any modifications. However, you may need a special mount or the ability to raise and lift the plow if your lift kit is any more than 4 inches.
Does Plowing Ruin Your Jeep?
If the snow plow is properly installed and you have enough engine power/torque to push the plow, snow plowing shouldn't have any adverse effects on your Jeep Wrangler. However, if you buy a plow that's too large or mounted improperly, you risk damaging your frame, suspension, or brakes. Make sure to follow the manufacturer's installation directions to diminish the chance of damage to your Jeep.
Who Worked on This?
---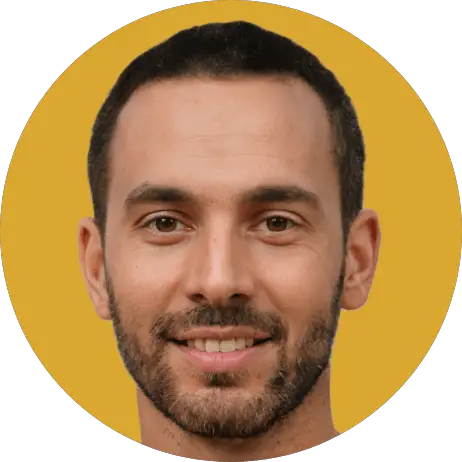 Brian
Editor
A master of organization, Brian helps keep everything running smoothly for Your Jeep Guide.
No Jeep yet but we're working on that!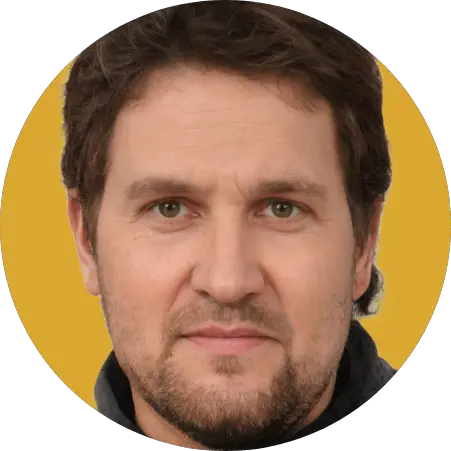 Cory
Writer
Cory loves his XJ and frequently thrashes it through the hills. He's constantly fixing something.

"What fenders?"
Check Us Out!