Protecting the wiring and inner workings of your Jeep is essential. As such, you should know the top ways to protect them currently available. 
Inner fender liners are your best defense, preventing corrosion and damage as you drive through any environment. 
Here are all the facts that you need to know and the five best options currently available. 
Comparison of the Best JK Inner Fenders
IMAGE
PRODUCT

Our Top Pick

Compatible with most Jeep Wrangler models
Improves overall appearance to display nicely
Aluminum liners included to prevent corrosion

View Latest Price →

Everything for a complete installation included
Will easily fit on most models
Strong and durable materials used

View Latest Price →

Best Budget Option

Best for the Money
Strong and durable materials used
Easily fit on most Jeep Wrangler models

View Latest Price →

Best Poison Spyder Inner Fender JK
Stainless steel vents included for better airflow
Will easily fit on most models

View Latest Price →

Will easily fit on most Jeep models
Everything for a complete installation included
Easy bolt-on installation option

View Latest Price →
Characteristics of Our Favorite JK Inner Fenders
We loved many features about the best JK inner fenders on our list, from the designs being aesthetically pleasing to the ease of installation, coverage area, and durability. Here's a brief overview of why these products stand out from the rest.
Large Coverage
Having broad coverage is essential for any of the best JK inner fender liners since it keeps more of your engine bay and surrounding areas clean of mud. It also reduces the risk of a stone or other piece of debris getting stuck behind the panel.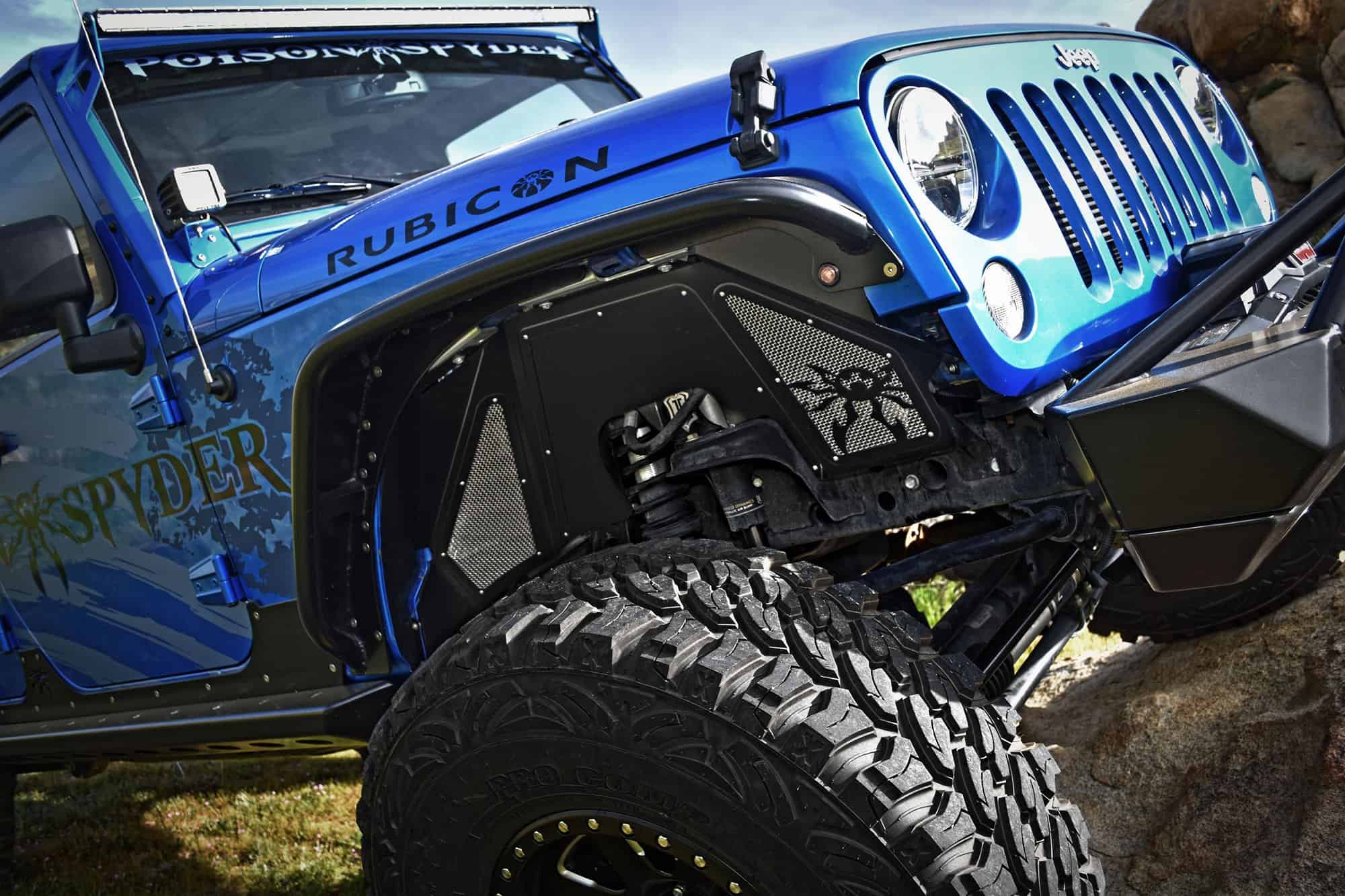 Design
Having the part match your Jeep's colors or theme isn't necessary but helps it stand out. This feature makes finding the best matching inner fenders a great decoration that's protective and stylish.
Easy Installation
Whether you're an experienced mechanic or someone who's never held a tool before, any inner fender with easy installation is a great find. While this isn't a top priority, a kit, such as the JROAD model, is even better with the needed tools. This inclusion saves you the money of hiring an expert or purchasing the required tools. 
Durability
As all the models we reviewed are made of metal, they're strong and durable. However, the Hooke inner fenders use steel instead of aluminum, which is a stronger material. Features such a rust proofing and corrosion resistance are a must for traveling off-road.
At a Glance: Our Top Picks for Best JK Inner Fenders
Review of the Best JK Inner Fenders
Now that you understand more about the workings of these fantastic components, let's take a look at the best JK inner fenders.
Smittybilt 76984
We may earn commission from purchases made from our links, at no additional cost to you
What Recent Buyers Report
Many buyers find the Smittybilt 76984 inner fenders to be too small to protect a Jeep's undercarriage. A few customers also opted to use bolts or other screws as an alternative to the option provided. However, most buyers love how these inner fenders look and appreciate the holes for rock lights.
Why it Stands Out to Us
The Smittybilt 76984 inner fenders are stylish and one of the best looking items on this list. The hexagonal vents are perfect for any outdoor activity, keeping your engine a few degrees cooler than before. We also love the material, with the strong aluminum keeping rocks and pebbles out of any motor.
It's also great having the rock-light holes readily available, but, unfortunately, the lights themselves don't come with the inner fenders. The anti-rattle design is pleasing as well, as there's no concerning noise as you drive. 
Bottom Line
While this is a beautiful addition to any Jeep, and it functions amazingly, it can often seem small and ineffective. However, it's strong enough to handle usage and keeps your engine cooler with the hexagonal vents.
Pros
Anti-rattle design
Pre-drilled holes for rock lights
Made of corrosion-resistant aluminum
Easy installation that fits both 2-door or 4-door Jeeps
Hexagonal vents to help reduce under-hood temperature
Cons
Might be short and lacks full coverage
Installation option that's hard to remove
JROAD Front Fender Liners
We may earn commission from purchases made from our links, at no additional cost to you
What Recent Buyers Report
Many buyers loved the look of these inner fenders but opted to change the color of the Jeep emblem through creative methods. The parts were extremely easy to install, and the instructions were a breeze to follow. However, while there's a guide for wiring the lights, many buyers couldn't install it correctly. 
Why it Stands Out to Us
Firstly, this part has a fantastic aesthetic design, even though it only comes in red. The strong aluminum alloy used to make the inner fender is strong and long-lasting. Once lit up, the logo on the parts is bright and catches the eye.
The items included make these inner fenders one of the best purchases you can make. It comes with a pair of gloves and a tool you'll need for installing the parts. Additionally, the product includes a set of four red pattern lights.
Bottom Line
The JROAD Front Fender Liners are stunning to look at, making it an ideal choice for utility and style. It's robust and easy to install but only comes in red, a deal-breaker if you're not already sporting those colors.
Pros
Includes four red pattern lights
Provides installation tool and gloves
Easy to install with a video guide included
Made from a high-strength aluminum alloy
Stylish design that keeps mud and dirt out of the engine
Cons
Slight gap at the top
Only available in red
SMALLFATW Inner Fender Liners
We may earn commission from purchases made from our links, at no additional cost to you
What Recent Buyers Report
Recent buyers are mostly enjoying the design of this product and the full coverage and protection it provides. However, the most raised complaint is about the flag decoration and that it's flying in the wrong direction on the passenger's side. There's also the lack of instructions that has upset many customers. 
Why it Stands Out to Us
The SMALLFATW Inner Fender Liners are excellent value for your money, covering and protecting a large portion of your engine bay. The aluminum design can withstand a fair amount of usage before showing any issues or wear. These can keep the mud out of your engine as they hug the underside of the Jeep.
The design for these inner fenders is patriotic, even though one flag is flying backward. Additionally, you can remove the white backplate and change the color of it yourself to match your Jeep. The design also gives ideal ventilation to your engine without compromising aesthetics.
Bottom Line
The SMALLFATW liners are a fantastic addition to any vehicle and make it one of the best JK inner fender products. These are strong and able to keep your engine free from dirt. However, the design isn't entirely pleasing if you have OCD or are incredibly patriotic.
Pros
Traps excess heat
Allows for ventilation of engine bay
Full coverage for maximum protection
You can color the removable panel yourself
Made from strong aluminum and coated with a black powder anti-corrosion finish
Cons
Unclear installation instructions
Flag design flies the wrong way on the passenger side
Best Poison Spyder Inner Fender JK
Poison Spyder JK Front Inner Fender Kit
We may earn commission from purchases made from our links, at no additional cost to you
What Recent Buyers Report
Recent buyers of the Poison Spyder Front Inner Fender Kit found the design of these parts astounding. However, they also commented that you'd need to fix the rattling issue yourself. Aside from that, most purchasers tweaked the design to accommodate their needs or color scheme to make it the best JK inner fenders they've ever had.
Why it Stands Out to Us
The kit is a beautiful set that'll match almost any color scheme or design you have on your Jeep. It's made out of durable aluminum that was bead-rolled and brake-formed, ensuring that it'll last. The mesh fits the steel frame and can withstand a large number of pebbles and rocks.
These inner fenders are extremely customizable, as just a quick coat of paint can have it matching and enhancing your Jeep's appearance. With a little know-how or a quick Google search, you can install these easily.
Bottom Line
These inner fenders are an ideal choice if appearance is your primary concern. However, if you go off-road a lot, then you'll find the lack of water-shielding an annoyance as your Jeep's underside becomes rusty. You'll also need to adjust these to ensure they fit correctly and don't rattle.
Pros
Large coverage area
Appealing cut-out design
Allows for airflow to the engine bay
Steel mesh that keeps your engine safe from rocks and pebbles
Made from solid aluminum that was bead-rolled and brake-formed
Cons
Steel screens rattle while driving
Requires tweaking to fit properly
Hooke Road Front Inner Fender Liners
We may earn commission from purchases made from our links, at no additional cost to you
What Recent Buyers Report
Most recent buyers are amazed by how well these inner fenders function. Many customers find the parts extremely easy to install, with only a few need to tweak the process. Buyers are also in love with the design and the fact that you can paint the color of it to match your Jeep.
Why it Stands Out to Us
Unlike all the previous products, the Hooke Road Front Inner Fender Liners are made entirely out of steel. This material makes the parts stronger and longer-lasting, ideal for anyone who's going off-road. Additionally, the metal is coated to prevent corrosion or rust from damaging it.
The Hooke front inner fenders are just big enough to block almost all mud or debris from entering your engine while remaining stylish. The white panel behind the design is removable and paintable, letting you customize it for your Jeep. Being able to quickly bolt-on these parts is another exemplary aspect.
Bottom Line
The Hooke Road Front Inner Fender Liners are visually stunning and extremely durable, making it an optimal choice for anyone. The parts are also easy to install onto your Jeep. However, the model is slightly small and can leave the engine bay exposed. 
Pros
Customizable design color
Made of high strength steel
Rust and corrosion resistance 
Easy bolt-on installation process
Blocks mud from getting into your engine bay
Cons
Doesn't provide maximum coverage
Instructions aren't universal for different Jeeps
What is an Inner Fender?
An inner fender is the part of your vehicle found between your wheels and the fender. This component is often made of metal or plastic and prevents debris from damaging your engine or other areas of the car. This part often comes preinstalled to avoid any unwanted damage when you first get on the road. 
However, you can and should get an upgrade if you're regularly going off-road. While you can find many great plastic products, a metal component will last far longer and has less chance of getting damaged. At the very least, it's essential to get corrosion-proofed inner fenders as these can withstand more wear from water.
What Purpose Does an Inner Fender Serve?
Inner fenders are an essential part of your vehicle as it protects many costly components you don't want to replace. Here are a few of the top uses.
Water, Dust, and Debris Protection
Inner fenders prevent the dust and water from on- or off-road drives from getting into your engine or behind the wheels. It also prevents any small rocks or litter from reaching your vehicle's inner workings or cutting any wires.
Engine Cooling
Inner fenders help keep the engine cool as they prevent air near the wheel wells from getting sucked into the engine's area. This aspect lets more air pass through the radiator fins. The effects often aren't noticeable unless you're already overheating your engine.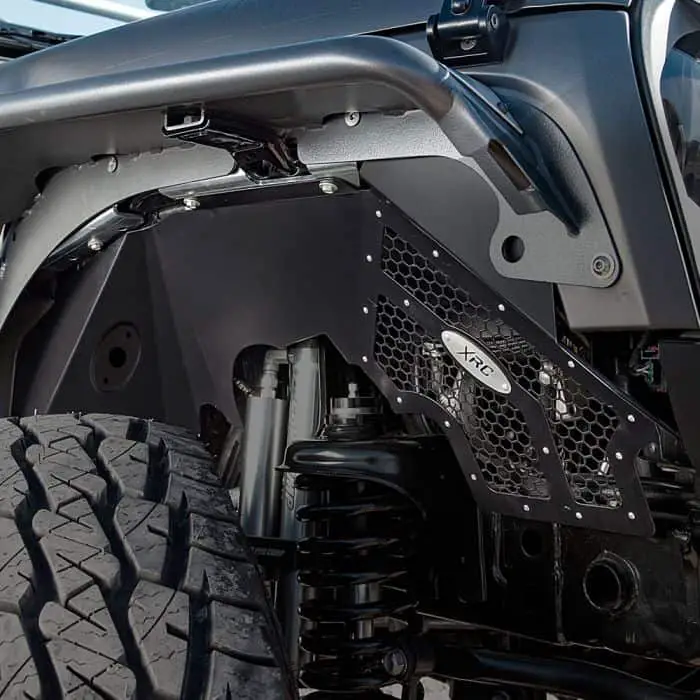 Are All Inner Fenders The Same?
The material that the best JK inner fenders consist of is the most considerable difference between them. Almost all of these are steel or aluminum, which last longer than plastic. However, the downside to this material is that it can develop dents and eventually rust if not maintained.
Plastic fenders are ideal for everyday road use as you're unlikely to throw many rocks into them on the road. Additionally, these are better in a crash, as only the fenders will break compared to the metal ones damaging your flares. However, if you go off-road a lot, then you should use steel or aluminum inner fenders.
JK Inner Fender Materials
Most commonly, the inner ends you purchase are made out of aluminum. However, there are other material options, such as plastic and steel. These options vary in strength, usage, and more.
Plastic
Plastic is the least commonly used material for Jeep inner fenders since it's the weakest of all options. However,  it's the best option if you don't drive often and only travel on roads. During an accident, these parts will break without bending other parts of your vehicle.
Aluminum
Aluminum is the most popular material used for Jeep inner fenders as its lightweight and sturdy. It's often coated in black with an anti-corrosion seal. These are strong enough to withstand many bumps and undergo a lot of wear.
However, it isn't unbreakable and will eventually receive small dents as more rocks hit it.
Steel
This option is the strongest material used for inner fenders since it seldom breaks and can undergo more usage than aluminum. Steel parts are often coated in a rust-proofing and anti-corrosion seal to prevent any damage from occurring at all, even if it's soaked in mud.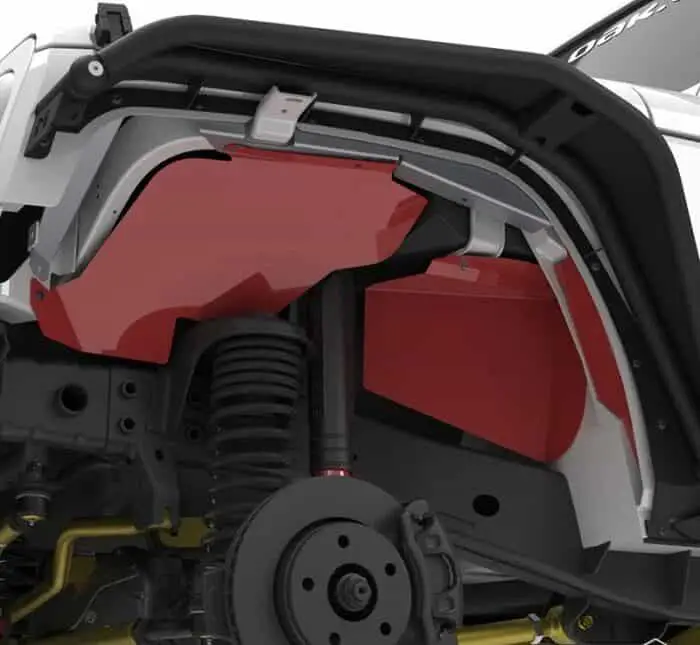 Steel Inner Fender vs Aluminum JK – Comparison Overview
While steel and aluminum are near identical in function, they have some differences.
Steel
Steel is a stronger metal than aluminum, making it a better choice if you're going off-road where many rocks will hit the sheet. It also makes the inner fenders heavier and more taxing on your vehicle and gas cost. Additionally, in wet weather, this metal can easily rust without proper care.
However, maintaining these inner fenders isn't difficult since they're often coated in a rust-proof and anti-corrosion seal. As stones and other debris scratches this coating, it will begin to rust faster than aluminum.
Aluminum
Aluminum is a lighter but still highly durable metal used for inner fenders. Unlike steel, it still has a slight amount of bend and elasticity to it that helps it keep its shape. This elasticity can save you from damaging other parts of your Jeep. 
Aluminum inner fenders are less likely to rust and are often only coated with an anti-corrosion seal. Unfortunately, the stones that fly up when driving will wear down an aluminum panel faster than a steel one.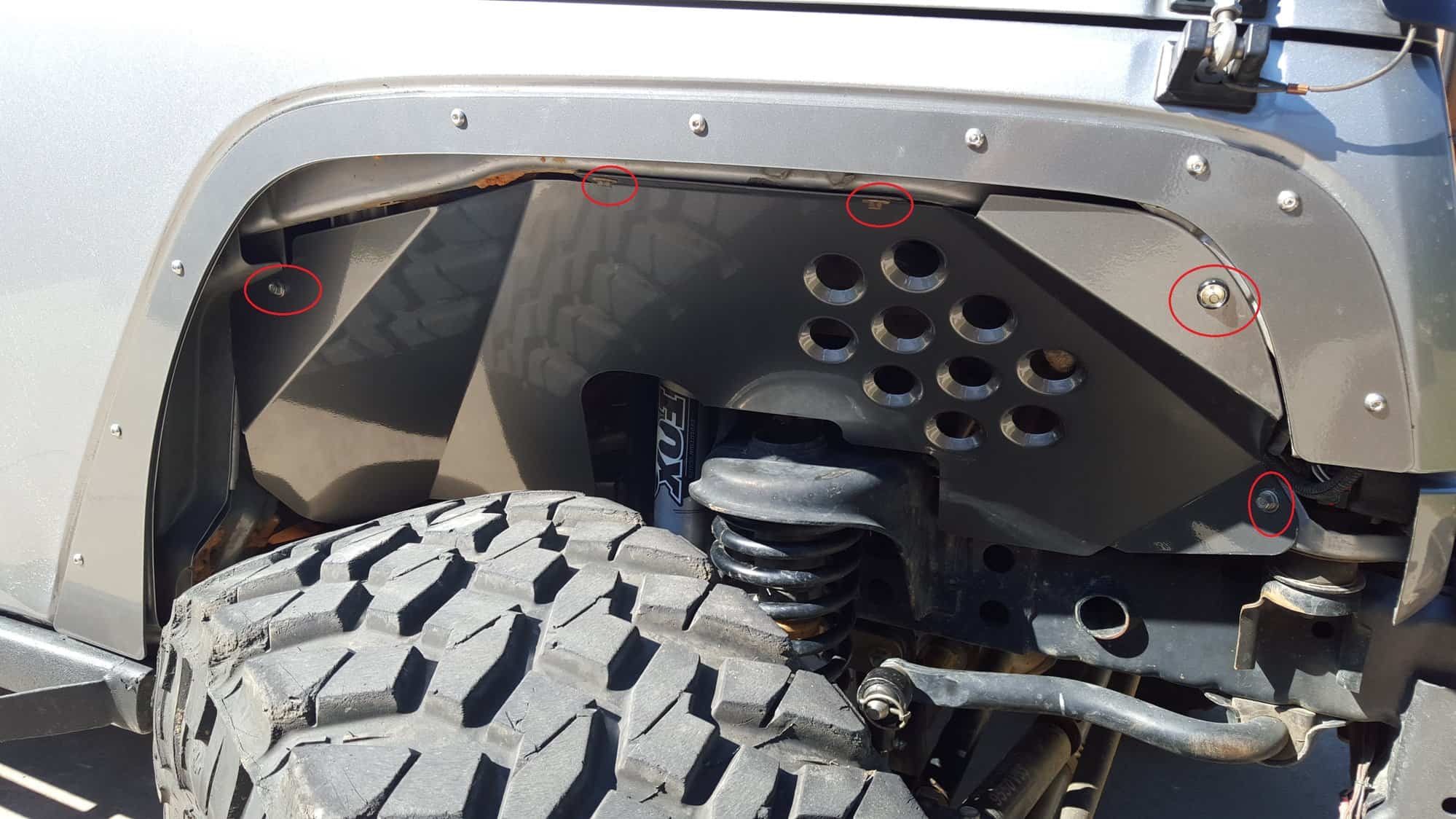 JK Inner Fender Install
Before you can install a new inner fender, you need to remove your older default one. To remove the stock part, you'll need a way to remove the bolts, likely with a 10mm socket. After you remove these six screws, you'll need to locate and detach the plastic grommets.
Taking out your wheel's flare is a must if you want to get the inner fender out of the way and off your vehicle. You'll need to remove this again after setting the limits, as you can't get the piece in without firestone typers.
Once you have your inner fender in place and want to attach it using the pieces it came with or your own preferred items, you can quickly drill any necessary hole and use your screws, nuts, or bolts to finish fastening it. 
Refer to the video below for the best way to remove the original parts and install your inner fender. If the product has lights, you'll need to follow its instructions to install it properly.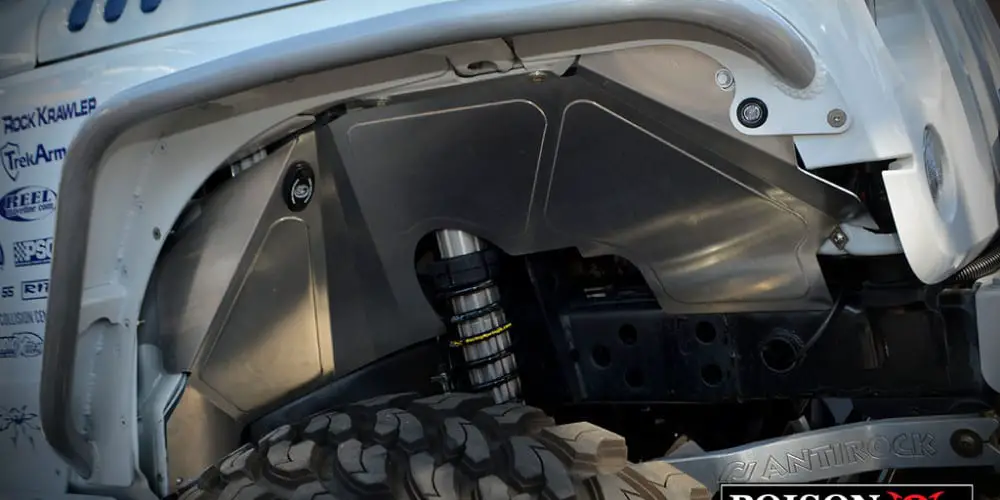 Conclusion
An inner fender is essential to your Jeep, keeping it safe as you drive on almost any terrain. We've looked at the best JK inner fenders you can buy for your vehicle right now. Follow the guides on how to remove your previous set and install your new ones to keep your engine bay safe.
Quick Summary – Best Inner Fenders for JK
Before you head out, here's a quick wrap-up of the best inner fenders for Jeep JK:
People Also Ask
There are several frequently asked questions you're likely to have thought of before. These will explain what an inner fender is, why you need it, and if you can drive without it. We'll also explain the common ranges for purchasing a new set of any quality range.
Are Inner Fenders Necessary?
Yes. Inner fenders protect your engine, wires, and other parts of the vehicle from damage caused by rocks and pebbles. It also keeps the underside of your Jeep clean as it prevents mud and dirt from attaching to the small crevices you can't clean easily. It's essential to avoid damage and to lessen the wear over time.
How Much Does it Cost to Replace the Inner Fender? 
A new set can easily cost you over $85 for low-end ones made from aluminum. However, for anywhere from $100 to $200, you can buy better and more stylish options. Unfortunately, the best JK inner fenders can cost over $200 for just the front set.
Can You Drive Without an Inner Fender?
Yes. While you can drive without an inner fender, you should avoid doing this. Driving without this part on your car leaves you exposed to small rocks or litter on the road that can get thrown into your engine. Additionally, you may develop engine issues resulting from poor airflow.
What is a Fender Apron?
Fender aprons are an extra measure that helps to keep water out of your fenders. This is extremely useful if you're traveling through wet, muddy, or flooded trials and roads. While a Jeep is made to withstand these environments, fender aprons work hand in hand with inner fenders to keep water out of your vehicle.
What is the Difference Between Inner Fenders and Inner Fender Liners?
These two names refer to almost the same part of your Jeep and look identical in many ways. Both items keep mud, water, and debris out of your engine and aid the airflow from it. However, the difference between these two is in their installation methods.
Who Worked on This?
---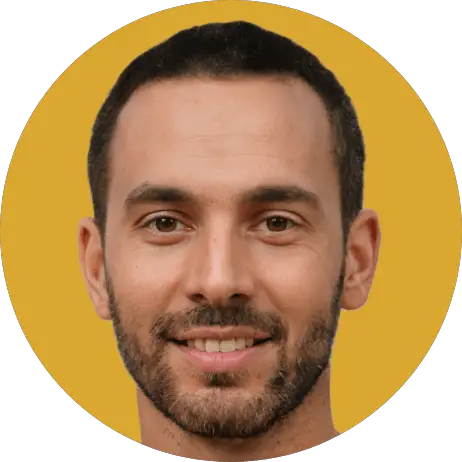 Brian
Editor
A master of organization, Brian helps keep everything running smoothly for Your Jeep Guide.
No Jeep yet but we're working on that!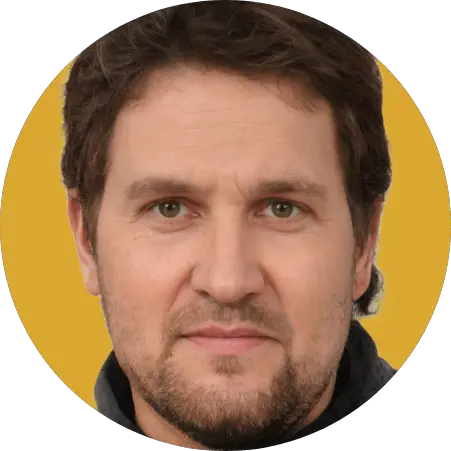 Cory
Writer
Cory loves his XJ and frequently thrashes it through the hills. He's constantly fixing something.

"What fenders?"
Check Us Out!