Produced from 1997 to 2006, the Jeep TJ was, and still is, a blend of old and new Wrangler styling. It introduced the four-door Wrangler Unlimited, as well as returned to the classic circular headlights.
Though there have been calls to have it recalled, it remains a collector's piece and an off-road machine for many Wrangler owners today. Yet even the most meticulously maintained Jeep TJ can still succumb to wear and tear over time, including your radiator.
Without a properly functioning radiator, your Wrangler can overheat and you risk serious engine damage. So if your radiator is on its last leg, use this information to find the best replacement for your budget and performance needs.
Comparison of the Best Radiators for Jeep TJ
IMAGE
PRODUCT

Our Top Pick

American Made
Construction Type: Aluminum
Number of Rows: 1

View Latest Price →

Genuine MOPAR Product
Construction Type: Plastic with aluminum core
Number of Rows: 1

View Latest Price →

Best Budget Option

Excellent weld quality
Construction Type: Aluminum
Number of Rows: 3

View Latest Price →

Legendary Mishimoto Dependability
Construction Type: Aluminum
Number of Rows: 2

View Latest Price →

Produced in an ISO 9001 compliant factory
Construction Type: Plastic
Number of Rows: 1

View Latest Price →
Factors to Consider Before Buying a Radiator 
While you don't need to have an encyclopedic knowledge of a radiator prior to buying one, having a basic understanding of how they work, as well as considering additional factors will make the purchase quicker and easier. Here are some aspects to think about before you pull the trigger on a radiator for your Jeep TJ.
Downflow vs Crossflow Radiators
The Jeep Wrangler TJ comes with a stock downflow radiator. Downflow radiators have tanks on the top and the bottom, while crossflow radiators have a tank on each side. Both have similar cooling power for the purposes of a Wrangler, although crossflow radiators are better for cooling in high-performance vehicles. The other difference is that a downflow radiator is taller than it is wide, and a crossflow radiator is wider than it is tall.
So what does this mean for you? If you want a radiator that's more similar to the stock radiator, you'll want to purchase a downflow radiator. In fact, nearly all the replacement radiators for a Jeep TJ will be a downflow. However, if you really want a bit of added cooling power found in a crossflow radiator, you can certainly install one. Some of these have a greater width than height for this very reason, although they're more expensive.
Just make a mental note that you may have to make some modifications as necessary, as fitment issues will almost undoubtedly become a problem.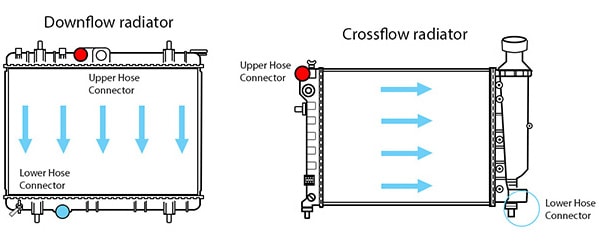 Radiator Construction Materials
Radiators are manufactured in a variety of different materials. Each has its pros and cons based on performance, price, and personal preference. To help you determine your budget and what you need for your Jeep TJ, here are the most common types of radiator construction materials.
In the recent past, aluminum radiators have become the most popular radiator replacement choice for Jeep TJs and other types of vehicles. While they are lightweight and indeed easier to install, they are also at a premium, usually being the most expensive option available.

If you want an affordable choice, either because you're on a budget or you're just fixing up a Jeep Wrangler TJ to sell it, go with a plastic radiator. These radiators have an aluminum core surrounded by plastic tanks on each end. The fact that they are cheap and lightweight, these radiators won't last as long, but for the price, they're a feasible choice. Keep in mind that if they crack, fixing them is a fruitless venture. In most instances, you'll have to replace it.


Brass and copper alloy radiators were some of the first mass-produced radiators to make their way to the assembly line. These were the primary radiator type in most vehicles until the early-to-mid 1980s. However, these are far heavier than aluminum or plastic options, can suffer from corrosion, and yet are still more expensive than plastic (and some aluminum) radiators. Despite these shortfalls, they're still great at cooling down a vehicle.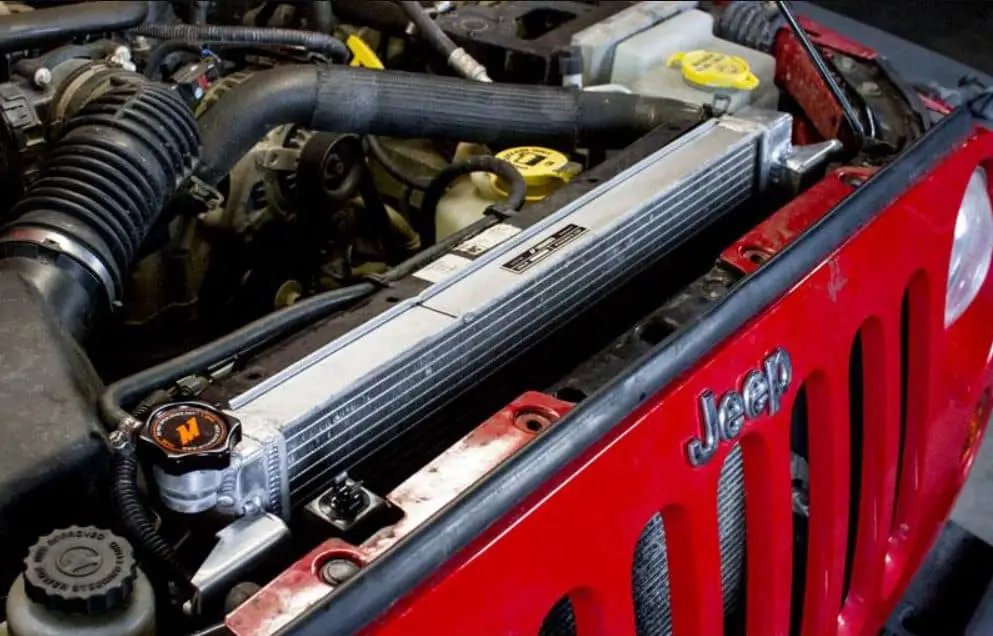 Aftermarket or MOPAR/OEM
Performance aftermarket parts for the Jeep TJ and other Wranglers have become big business. Nearly everyone wants to soup up their ride while making it showier, even under the hood. To meet the needs of consumers, companies manufacture many different types and styles of aftermarket radiators. However, these can vary in quality, and to Jeep purists, staying clear of them all together is the best move. But to the contrary, the standards of many aftermarket radiators have grown immensely in the past decade, meeting or exceeding OEM standards.
Nevertheless, if you didn't have problems with your stock radiator and it simply wore out, a genuine MOPAR or OEM radiator might be your best option. You won't have any fitment issues, and it should provide adequate cooling for about 80,000 to 100,000 miles.
Manual vs Automatic
If you have a manual shift Jeep TJ, good news: you can choose any radiator that will fit your ride. But if you have an automatic transmission, you'll need to make sure to purchase a radiator that has attachments for transmission cooler lines. Otherwise you will get into jeep jk automatic transmission problems
In addition to cooling your engine, these types of radiators will also cool your transmission fluid. If you buy a radiator for an automatic transmission but have a manual, simply cap off the two transmission fluid ports, and you're good to go.
At a Glance: Our Top Picks for Best Radiators For Jeep TJ
Review of the Best Radiators for Jeep TJ
Whatever type of Jeep TJ you have, don't skimp on a radiator. Without its cooling power, your car is a ticking time bomb just waiting to overheat. Check out some of the best radiators for the Jeep TJ, and you'll know you made a quality purchase.
Griffin High Performance Exact Fit Radiator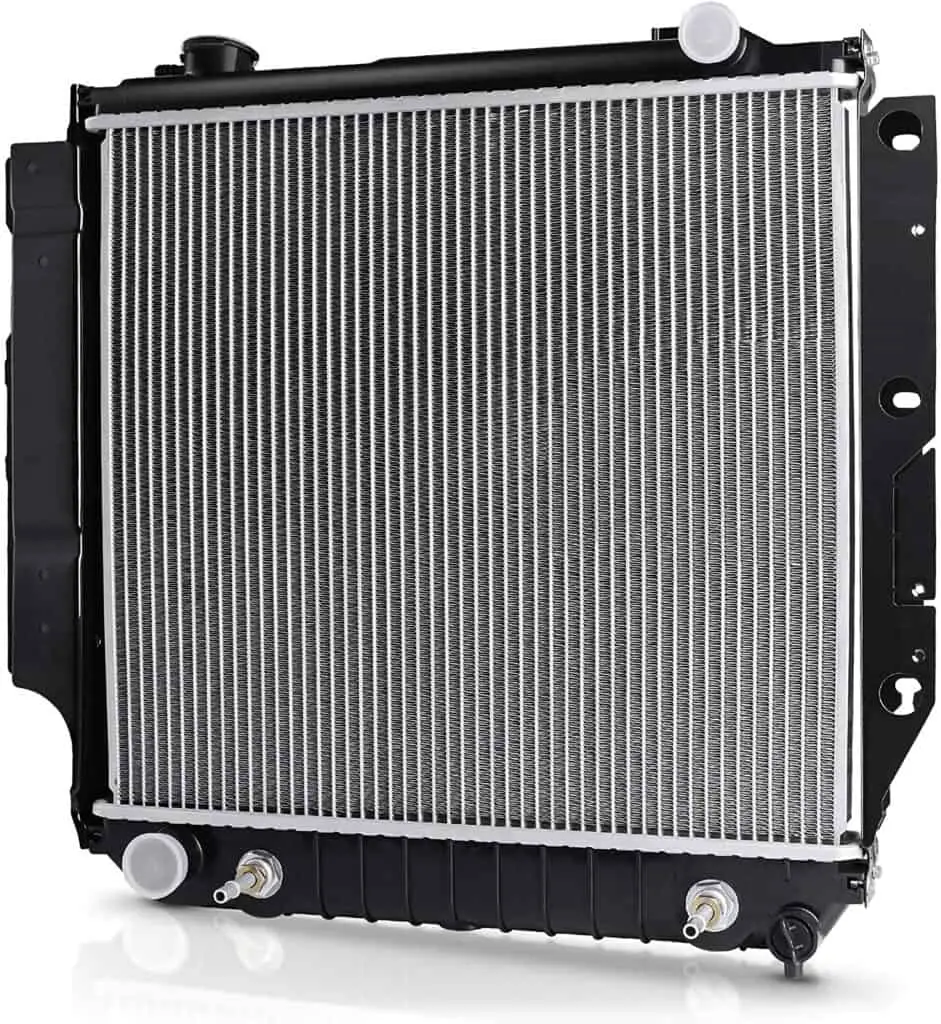 Construction Type: Aluminum
Number of Rows: 1
Modification Necessary: Yes, but only to attach transmission hoses
Weight: 30 pounds
Country of Origin: USA
We may earn commission from purchases made from our links, at no additional cost to you
Review
If you're searching for a high-quality aluminum radiator, the Griffin High Performance Exact Fit Radiator is a stellar choice. Easy to install and an exact fit as the stock radiator, you'll have no problem popping this thing in place without the need for expensive repair shop prices.
Bottom Line
Although a tad bit on the expensive side for budget-conscious buyers, this radiator looks sharp and cools the same or better than the OEM radiator. That's a one-two punch that any Jeep TJ owner will enjoy.
Pros
One-row cooling is efficient without being overkill
Strong brackets and mounting points to reduce rattle
Overall easy installation without the need for special tools
Mounting holes line up, making fan shroud installation easy
Cons
A bit heavy for an aluminum radiator
Need separate fittings to connect transmission hoses
Mopar 55037652AA
Construction Type: Plastic with aluminum core
Number of Rows: 1
Modification Necessary: No
Weight: 15.47 pounds
Country of Origin: USA
We may earn commission from purchases made from our links, at no additional cost to you
Review
Perhaps nothing is better for your Jeep TJ than going with a genuine MOPAR radiator, and this one fits the build. With proper maintenance, these have been known to last over 100,000 miles, and because it's from MOPAR, the installation process is a breeze.
Bottom Line
Buyers looking for a more high-performance radiator may balk at the plastic construction, but that's what came in the original Jeep TJ. But with an affordable price, no-hassle installation, and proven longevity, it's a bargain buy.
Pros
Genuine OEM radiator
Quick and easy installation process
High-quality part that's built to last, even with plastic construction
Can last up to 10 years or 100,000 miles with proper maintenance
Cons
Can get hotter than the original radiator
Some buyers report leaks after a few weeks
Plastic can crack, needing a full replacement
Champion Cooling CC2101
Construction Type: Aluminum
Number of Rows: 3
Modification Necessary: No
Weight: 18.85 pounds
Country of Origin: China
We may earn commission from purchases made from our links, at no additional cost to you
Review
With three rows and an aluminum housing, the Champion Cooling CC2101 radiator is a great value buy. Using proprietary welding technology, this thing is built to last without the threat of leaks that are caused by some companies that use epoxy to seal certain components.
Bottom Line
Budget-conscious buyers will love the ability to buy an aluminum radiator at a rock-bottom price. And while it's made with superb welding and high-grade aluminum, some buyers should go with a MOPAR part due to leaking issues in a few of these products.
Pros
Limited lifetime warranty
Great at cooling in extreme temperatures
Made with high-grade aluminum for longevity
Trans cooler and all mounting hardware included
Uses welded seams with Brazed Core Technology to prevent leaks
Cons
Some users report leaks after just six months
Limited lifetime warranty doesn't pay for shipping
Best Jeep TJ Aluminum Radiator
Mishimoto MMRAD-WRA-87
Construction Type: Aluminum
Number of Rows: 2
Modification Necessary: No
Weight: 5 pounds
Country of Origin: USA
We may earn commission from purchases made from our links, at no additional cost to you
Review
Nothing screams high performance like a radiator from Mishimoto. This two-row option that weighs only five pounds is quick and easy to install while providing efficient cooling power. It also comes with a number of extras such as Tig-welded end tanks for durability and a magnetic drain plug to remove metal fragments.
Bottom Line
If you have the budget for boutique parts, the Mishimoto MMRAD-WRA-87 radiator is just what the doctor ordered. And with a poor-quality radiator cap as one of the only drawbacks, you'll know it's money well spent.
Pros
Direct OEM fit
Lifetime warranty
Lightweight construction
Maximizes cooling efficiency by up to 20%
Polished end tanks for an excellent aesthetic
Cons
Radiator cap is poor quality/flimsy
More expensive compared to other aluminum radiators
Spectra Premium CU2101
Construction Type: Plastic
Number of Rows: 1
Modification Necessary: No
Weight: 10.88 pounds
Country of Origin: Canada
We may earn commission from purchases made from our links, at no additional cost to you
Review
If money is your main concern for a Jeep TJ radiator replacement, the Spectra Premium CU2101 is an excellent pick. And with a two-year warranty and factory testing to ensure durability, you have a little extra peace of mind.
Bottom Line
Plastic radiators don't seem to last long, but many users report that they've had no problems with the Spectra even tens of thousands of miles later. Paired with a great price, this is the definition of great value.
Pros
Affordable price
Two-year warranty
Exceeds OEM standards
Factory-tested for aging and longevity
Cons
Fan screw holes on radiator fins are too large
Have to purchase additional mounting hardware
How to Change or Replace Radiator on Jeep TJ 
Changing a radiator may sound complicated, but it's actually one of the easiest replacements you can do on a vehicle. With no special tools necessary, some basic know-how, and these instructions, you can swap out your radiator in an afternoon. Here's how to do it.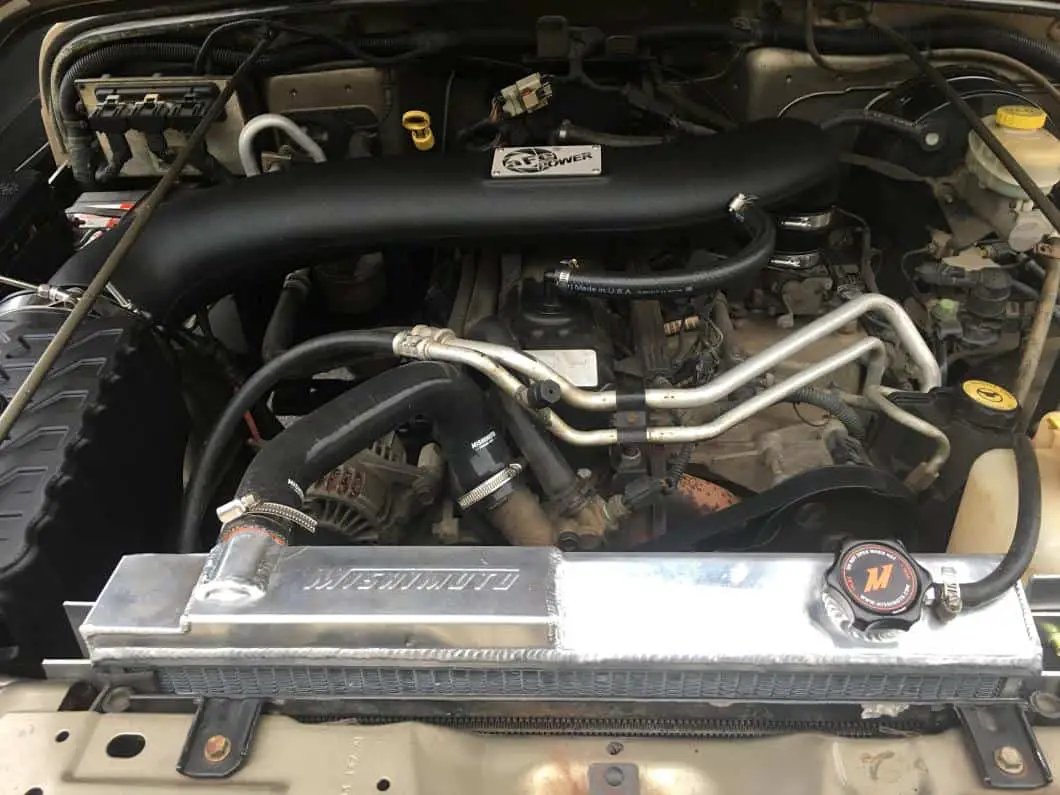 Remove the radiator cap, but make sure the engine is cool so you don't burn yourself.

Drain the coolant into a bucket using the bleeder underneath the Jeep, but don't get any of the fluid on you, as it's toxic.

Put the coolant aside, and dispose of it later at a hazardous waste facility or recycling center.

Push in the nipple on the side of the coolant reservoir and remove it.

Remove the four bolts from the fan shroud using a 10mm wrench.

Remove the tube attached to the fan shroud.

Take off the six 10-mm radiator mounts.

Remove the tubes from the bottom tank of the radiator.

Lift the radiator out.

Install the new barbs on the new radiator that allows you to attach the transmission lines (may be included with the radiator).

Do the previous steps (6 through 8) in reverse order by attaching all necessary tubes and remounting the radiator.

Reattach the fan shroud. Note that you may need to go get four bolts, nuts, and washers that are longer.

Refill the radiator with about 10 quarts of coolant.

Burp the system by squeezing the coolant hoses, especially on the underside of the vehicle.

Start the engine and let the vehicle idle to circulate the new coolant. This will also bring the fluid level down so you can top it off. At this point, you might also want to top off your transmission fluid.

Refill the coolant reservoir.

Put the radiator cap back on, and you're done.
If you're more of a visual learner or you just need some supplementary instruction, make sure to check out the video below:
Maintain Your Jeep TJ With a Cool and Efficient Radiator
While there's no right or wrong choice for a radiator for your Jeep TJ, buying a quality piece will eliminate headaches further down the road. And with your new shiny radiator in place, you can show it off to your friends, go for an off-road trip, or sit back and admire your handiwork. One issue to keep in mind when maintaining your Jeep TJ is rust. A Jeep TJ frame recall has been requested over the years by a few groups of Jeep owners but ut never happend.
People Also Ask
Even after all of the information above, you may still be racking your brain to get all your questions answered. To streamline the process, here are a few of the top questions that people also ask about radiators for the Jeep TJ
Can I Replace the Radiator Myself?
You can definitely replace the radiator by following the instructions above. But if you don't feel confident, there's no sense in causing a problem. Instead, have a repair shop do it for you. If you buy the radiator yourself, expect to pay anywhere from $250 to $500 for labor depending on if anything needs modifications and where you live.
How Much Does it Cost to Replace a Radiator in a Jeep Wrangler?
Radiators can range from about $100 for a plastic radiator to $500 for a high-performance radiator. Factor in the $250 to $500 labor listed above, and you're looking at a total cost between $350 and $1,000 to have your radiator professionally replaced.
Can I Change a Radiator Without Draining the System?
It's not recommended, and it would be a pain to do so. Chances are your coolant system may need to be flushed at the same time, so think of draining the system as two birds one stone type of scenario.
Who Worked on This?
---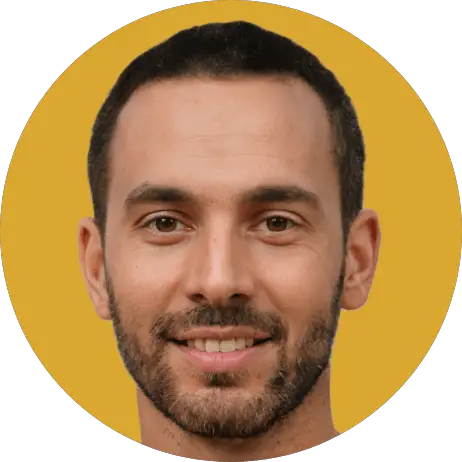 Brian
Editor
A master of organization, Brian helps keep everything running smoothly for Your Jeep Guide.
No Jeep yet but we're working on that!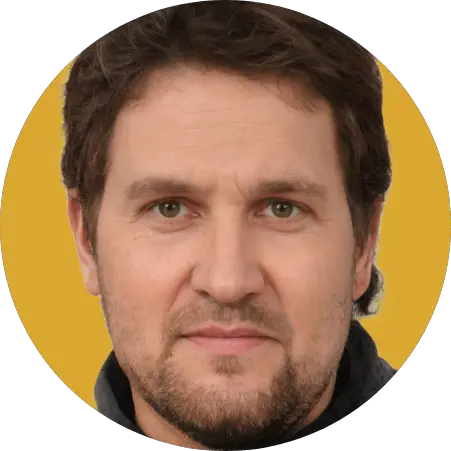 Cory
Writer
Cory loves his XJ and frequently thrashes it through the hills. He's constantly fixing something.

"What fenders?"
Check Us Out!