Your exhaust system controls emissions, noise, and has a hand to play in your efficiency.
It's time that you upgrade your stock Jeep Wrangler exhaust system in favor of something sleeker, lighter, and more beneficial for your Jeep.
Comparison of the Best Jeep Wrangler JK Exhaust Systems
IMAGE
PRODUCT

Our Top Pick

Made from durable stainless steel materials
Construction Material: 409 stainless steel
Weight: 29 lbs

View Latest Price →

Exhaust flow improved with large internal flow tubes
Construction Material: 409 stainless steel
Weight: 28.31 lbs

View Latest Price →

Best Budget Option

Best for the Money
Construction Material: T304 Stainless
Weight: 29 lbs

View Latest Price →

Can be used for a wide variety of models
Construction Material: Aluminized Steel
Weight: 18 lbs

View Latest Price →

Everything included for a complete installation
Construction Material: Stainless Steel
Weight: 23 lbs

View Latest Price →
Are All Exhaust Systems The Same?
Not in the slightest. Exhaust systems have different uses, sounds, sizes, and perform different actions. They just share the common function of letting off the exhaust. These are the five main types of exhaust.
Single Exit Pipe: The average exhaust system in most vehicles with a single exit pipe.
Dual Rear Exit: One single exit pipe on the left, one on the right.
Opposite Dual Exhaust: These exhaust ports wrap around the wheel (standard in trailers).
Dual Side Exhaust: Exhaust ports exit out the side instead of propelling right behind your car.
High-Performance: As the name implies, highly efficient and rather quiet.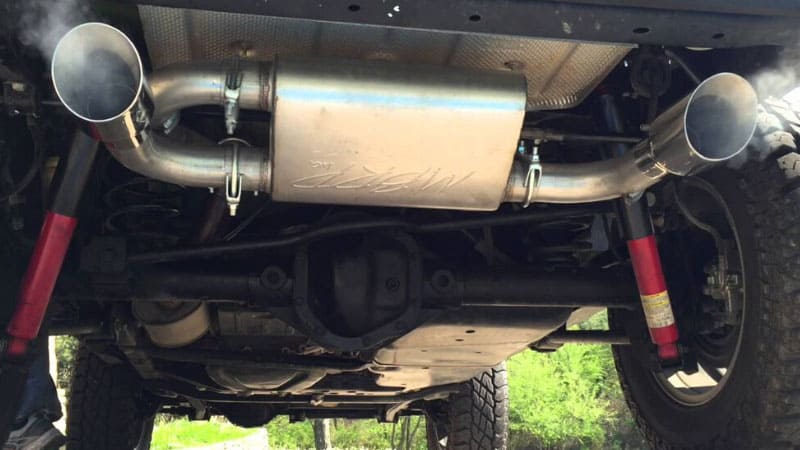 Can You Really Find a Quality Exhaust System That's Affordable?
There's the old rule of thumb, "You get what you pay for," but there are always exceptions to the rule. In this buying guide, we've found five of the best exhausts that don't break the bank and still offer excellent quality.
That being said, certain materials simply cost more money. You'll have more efficiency with polished stainless steel, which costs more than your average standard-grade steel. Depending on your vehicle, you may be able to get away with a smaller exhaust system, which saves money on total materials used versus larger systems.
At a Glance: Our Top Picks for Jeep Wrangler JK Exhaust Systems
Review of the Best Jeep Wrangler JK Exhaust Systems
It's time to take a peek at the top five exhaust systems for your Jeep Wrangler. Keep in mind these systems can be used on multiple cars, so your performance changes may not be the same as you see in online reviews from previous buyers and users.
MagnaFlow 15160
Construction Material: 409 stainless steel
Weight: 29 lbs
We may earn commission from purchases made from our links, at no additional cost to you
What Recent Buyers Report
Magnaflow is expensive, but buyers were aware of that going in. The main concerns come down to noise (not making as much as they would like), but report that the lack of rumbling is an ode to the performance capabilities. On average, drivers do not notice any negative hits on their fuel economy for about 800 miles.
Why it Stands Out to Us
Magnaflow as a brand usually makes some pretty good stuff, and while that isn't enough to completely sway our decision, it was nice to see that their attention to quality hasn't faded over the years.
The 15160 system Is one of the most precisely-made exhausts ever. With completely robotic manufacturing (and human checking), you get the same thing as everyone else with almost no chance of manufacturer defects. When you're dropping this kind of cash, that's a nice feeling.
Bottom Line
It's expensive, but it's powerful. Magnaflow is proven to increase your horsepower and get that perfect level of rumbling without disturbing the peace. While the installation process is very finicky, you'll be able to enjoy this for years beyond the average exhaust system lifespan.
Pros
Laser precision manufacturing methods
Heavy, durable stainless steel construction
Dyno-proven power for long-term durability
Beats the average exhaust system life span by 25%
Gorgeous machined black exterior for a low profile look
Cons
Difficult to clean due to carbon-colored steel
Stabilizing rods require very specific installation angles, or they don't work well
Dynomax 39510
Construction Material: 409 stainless steel
Weight: 28.31 lbs
We may earn commission from purchases made from our links, at no additional cost to you
What Recent Buyers Report
First and foremost, everyone comments on the low price. The only major grievance is that the chrome tips don't do you any favors—they should be left off entirely, and your exhaust system will perform much better. Good price, excellent product, and as long as you're handy with installation, this won't take too long.
Why it Stands Out to Us
The price jumps out, but beyond that, Dynomax managed to make something of high quality while hitting that excellent lower budget price point. While the machined exterior doesn't look very aesthetic, the function outweighs everything else.
Bottom Line
It's cheap, and with cheaper things, you get a few problems as trade-offs for the money saved. That being said, Dynomax still offers great value and a good exhaust system with minimal rumbling or vibration issues.
Pros
Extremely low price point
Fiberglass and steel design
Dyno-proven up to 700 SCFM
Flow director removes most vibrations and rumbling
90-day money-back guarantee w/ unlimited warranty
Cons
Some pieces may need to be sanded down to fit properly
Known to arrive dented or with imperfections
Gibson Performance 17303-B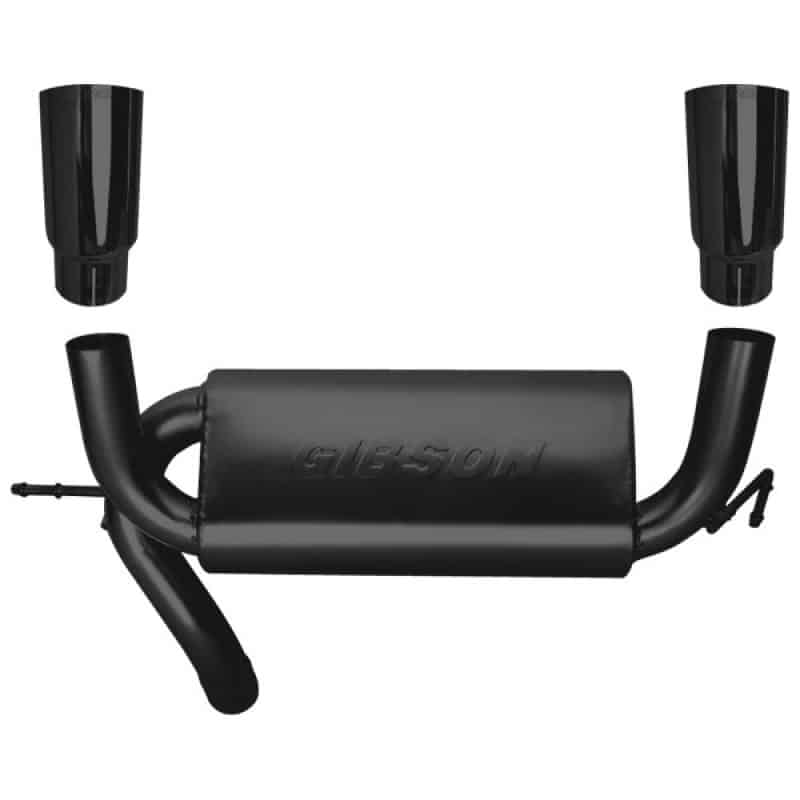 Construction Material: T304 Stainless
Weight: 29 lbs
We may earn commission from purchases made from our links, at no additional cost to you
What Recent Buyers Report
Buyers talk about the nice boost in volume that your muffler gives off without being too loud. Installation is simple enough, though some buyers did not receive every bolt in their kits (easily fixable). Shipping damages have been reported in small numbers, but most buyers report getting their system in one piece and installing it quickly.
Why it Stands Out to Us
Dual exhaust vents aren't typically the most sought-after on the market, but Gibson changed that with this eye-catching design. Apart from having a black coating finish, the exhaust ports are smooth and go inline with most Jeep Wrangler JKs, giving a flawless OEM look. It's what drew us in, but the horsepower increase is what made us stay.
Bottom Line
You're on the higher end of the price range, but these two 50″ stainless steel tubes help improve your horsepower, and the aesthetic design adds bonus points. Overall, this is a top-tier exhaust, but you will pay the proper price tag for it.
Pros
Easy installation process
No internal packing at all
Black coated stainless steel design
Dual outlet for better exhaust potential
Increases horsepower while optimizing fuel economy
Cons
Stabilizer rods barely hold its weight
Heavy design can be difficult to implement into some Jeeps
aFe (49-08046) Scorpion
Construction Material: Aluminized Steel
Weight: 18 lbs
We may earn commission from purchases made from our links, at no additional cost to you
What Recent Buyers Report
Buyers who get this for their Jeep report a somewhat lengthy installation, but overall say it's a simple process. There's a good amount of rumble, but nothing obnoxious that you're going to get a noise complaint over. Buyers also love the lower cost associated with aFe as a whole and enjoyed saving money on this purchase.
Why it Stands Out to Us
It stood out specifically because it doesn't have a clear aesthetic charm to it. We knew aFe and wanted to know what the deal was. Performance is great, and buyer reviews were all favorable for the installation process. American-made is the way to go.
Bottom Line
It's a middle-of-the-road price and an agreeable quality, but it's nothing to do backflips over. There are clear welding marks, and the stabilizing rods aren't the best, but as long as you don't care for aesthetics, this exhaust system will improve your fuel economy on any Jeep Wrangler JK.
Pros
Made in the United States
Very quick installation process
All-in-one kit doesn't require additional pieces
Balanced rumble performance without being disruptive
High tuck; mitigates potential scraping and damage while driving
Cons
Tons of welding marks; not very aesthetic
Track record of manufacturing defects (customer service will replace)
Banks 51313
Construction Material: Stainless Steel
Weight: 23 lbs
We may earn commission from purchases made from our links, at no additional cost to you
What Recent Buyers Report
While the main attraction was the price, many buyers report that the online marketing material differs from what you get in the package. Some of the kit pieces look different (except the muffler), such as an oval tip instead of a narrowing tip. Apart from that inconsistency, they report excellent quality and no dents.
Why it Stands Out to Us
It's fairly small, and while that seems like a bad thing, somehow Banks was able to make this super effective without having the huge size to accompany it. All the pieces are brushed with no weld marks, and the installation kit is fairly simple to run through.
Bottom Line
You're in the middle of the price points we've outlined here. It's effective, it works on Jeep Wrangler JKs, but it's a very niche exhaust system. It's worth the money, but you need some know-how before installing this.
Pros
Affordable price point
Quality stabilizing rods
Quick installation process
Fits a wide variety of vehicles
Inclusive booklet helps with installation
Cons
No warranty on purchase
Not designed for new modders
Perks of Getting a New Exhaust
Swapping out that old exhaust could have far more benefits than you think. Your exhaust can either benefit your engine or act as a bottleneck to it and restrict the maximum horsepower capabilities. Let's take a look at all the reasons you'll be better off after you upgrade that exhaust.
More Horsepower
It can't increase the horsepower, but it can force your engine to not hit its potential due to exhaust buildup. A better exhaust with a larger muffler can improve your total output.
More Fuel Efficiency
The faster your exhaust can leave the engine, the better it will perform. You won't have to apply as much pressure and rev the engine up as much, saving you gas in the process.
Muscle Car Rumble
Some exhausts reduce nicely while others can enhance it. To get that deep rumble sound that is typically produced by muscle cars, you need to upgrade your exhaust.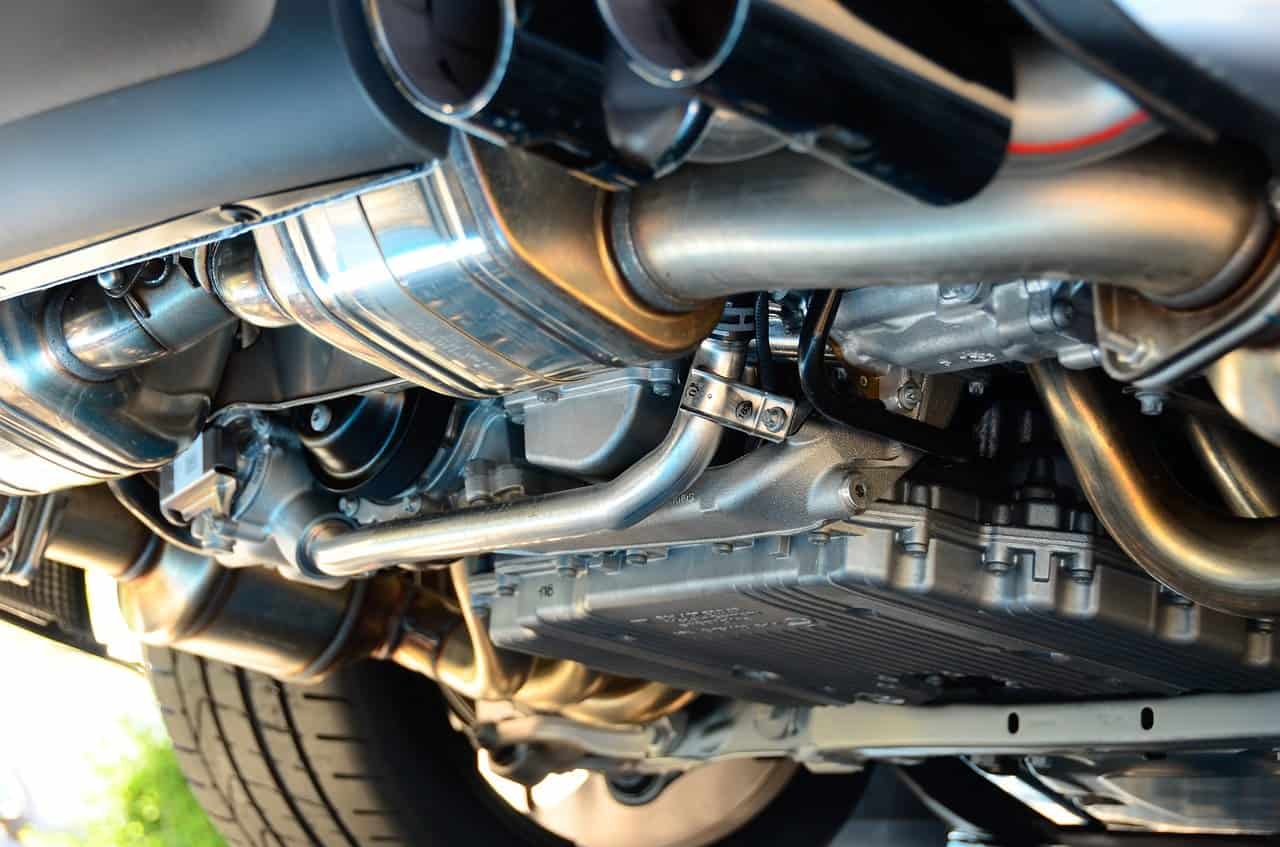 Types of Exhaust
There are multiple exhaust types, and depending on how gung-ho you are about modding your car, you might have different preferences. Let's take a look at the main types.
OEM vs Aftermarket Exhaust
OEM stands for the original equipment manufacturer, while aftermarket implies it was made after the market for the original parts. Aftermarket parts can actually end up costing more than OEMs, depending on how much time has passed since the car's original manufacturing year. OEM parts are always a better bet, although some aftermarket part manufacturers have done a bang-up job at making replicas that function similarly to OEMs.
Axle Back vs Cat Back
Cat backs outperform axle backs just about every single time, no matter how you look at it. An axle back is restricted to the rear axle and being around it, while a cat back can be made in many different ways. Axle backs have a threshold on how efficient and optimized they can be, which inhibits size, function, and other aspects of the muffler.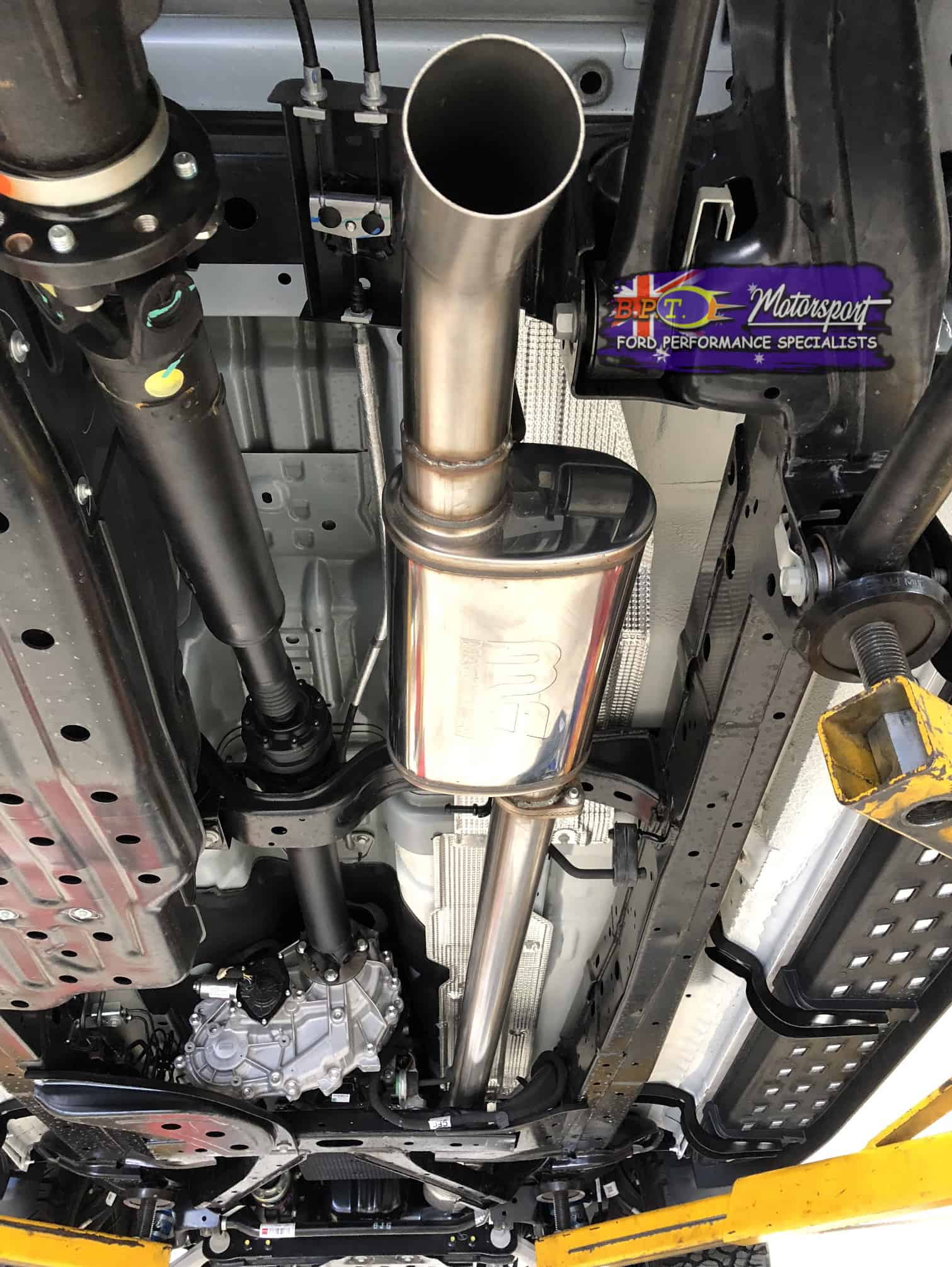 Conclusion
While it is among the most expensive, Magnaflow's system provides the best horsepower benefits, comes with the longest lifespan, and doesn't increase the noise all too much for offering this much extra power. You have a slew of budget-friendly options at your disposal as here, but Magnaflow tops our chart in JK exhaust systems.
Quick Summary – Best Jeep Wrangler JK Exhaust Systems
Before you get too far, here's a quick take of the best Jeep Wrangler JK exhaust systems:
People Also Ask
We've covered a lot in this guide, but if you still have some burning questions that haven't been answered, that's okay—there's more to know. These are the most frequently asked questions about cat backs, and Jeep Wrangler exhausts.
How Much Horsepower Does Dual Exhaust Add?
Once you know for a fact that all other aspects of your car are up to snuff, you can add anywhere from thirty up to fifty additional horsepower. However, if your car isn't optimized or efficient the way it should be, that number could be as minuscule as two horsepower—a mere 6% of what it could be.
Is a Cat Back Exhaust Worth it?
It depends on your car. If you have a restrictive catalytic converter, then a cat back exhaust will barely increase your horsepower. However, if you've personally changed out the catalytic converter and it's not a restrictive stock model, it is worth it to get a cat back exhaust.
What Does Cat Back Mean?
Cat is short for catalytic converter. Those are the pieces that come from the catalytic converter to the tip of the exhaust. Since there are different types of exhaust, not all of them will be cat back.
How Long Does a Muffler Last?
While your mileage may vary, you have roughly three to five years. A quality muffler may optimize your exhaust and make that last even longer because of these average ropes in all muffler types. With care, you may see a muffler life beyond five years.
Do Resonator Tips Make Exhaust Louder?
Yes, they most certainly do. A resonator tip is designed to control how much exhaust comes out (and is usually more narrow than the pipe exit). By design, it forces specific vibrations in hollow parts of the pipe, which cause a crackling noise when exhaust exits through it.
How Much Does a Good Exhaust System Cost?
New exhaust systems, in general, start at a low price of around $150, but a new system does not equal a good system. You can expect to spend from that $150 up to around $550. This depends on which cars the exhaust system applies to, materials, and horsepower increase.
Can Aftermarket Exhaust Damage Engines?
It's certainly a possibility. If you're getting an aftermarket exhaust from a reputable company that knows what they're doing, then you're fine. It's off-brand, no-name exhausts that look all wonky that may impact your performance and lead to eventual engine damage.
How Much Horsepower Will a Magnaflow Exhaust Increase?
With so many different types of cars available, it's hard to say. On average, most vehicles see an average increase of about 10% horsepower output with a Magnaflow exhaust system. Everyone will have different experiences, and your car's optimization and efficiency will also affect this output.
Who Worked on This?
---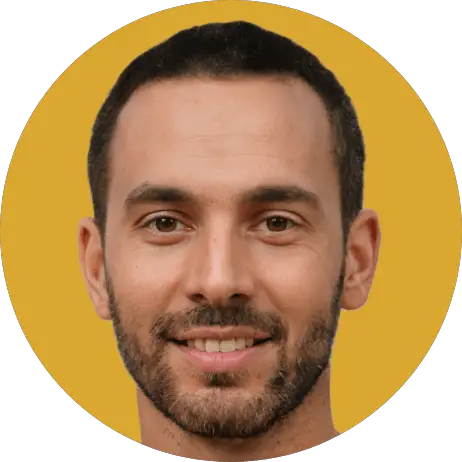 Brian
Editor
A master of organization, Brian helps keep everything running smoothly for Your Jeep Guide.
No Jeep yet but we're working on that!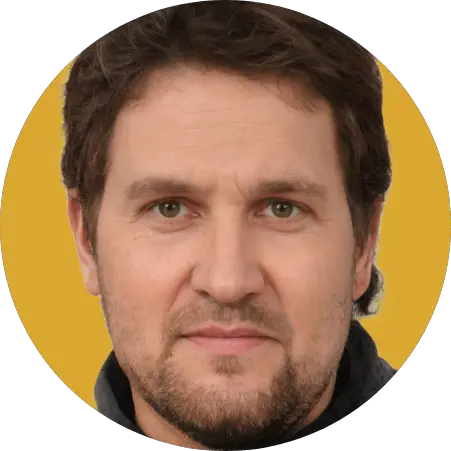 Cory
Writer
Cory loves his XJ and frequently thrashes it through the hills. He's constantly fixing something.

"What fenders?"
Check Us Out!