Off-roading with your Jeep JK can be an adventure, but your vehicle's body is easily susceptible to damage from the rough terrain.
You can upgrade your vehicle's frame by installing rock sliders to prevent any dents or scratches from rocks or debris. Many manufacturers offer durable rock sliders explicitly designed for your Jeep JK. 
At a Glance: Our Top Picks for Jeep JK Rock Sliders
Comparison of the Best Jeep JK Rock Sliders
IMAGE
PRODUCT

Our Top Pick

Will easily fit on many different models of Wrangler
Easy to install with easy bolt-on installation
One-piece design with durable construction

View Latest Price →

Powder-coated for improved protection and to resist corrosion
Will easily install with existing hardware on the vehicle
Made with durable and strong materials and construction

View Latest Price →

Best Budget Option

Best for the Money
Top-quality steel materials used
Made with all-weather feature to resist rust and environment

View Latest Price →

Provides improved protection for undercarriage and side of vehicle
Can be used as a step-on for vehicle
Heavy-duty stainless steel tubing used for construction

View Latest Price →
What Are Rock Sliders? What Do Rock Sliders Do?
Rock sliders are an accessory for four-wheel drive vehicles that protect your car's frame from damage. They are often made out of heavy-duty box section steel or tubular steel. When you attach rock sliders to your Jeep, they run along the sides right between your front and rear wheels. 
There are several types of rock sliders, but they are all used primarily by those who take their Jeep on off-roading adventures on rugged terrain. Rock sliders protect door bottoms and sills from damage when you drive over rocks or other large obstacles. You can also use them as steps to enter or exit your vehicle, though that is not their primary purpose. 
How Do I Choose Rock Sliders? 
With various rock slider options to choose from, it can feel a bit confusing to figure out which one is the best for your vehicle. There are a few things you should look for in purchasing the right rock slider to fit your needs. 
Material
Depending on the type of terrain you plan to drive your Jeep JK on, you will want a different kind of material for your rock slider. Drawn Over Mandrel (DOM) steel tubing is cold-worked, making it a strong roll cages option.
Hot Rolled Electric Resistance Welded (HREW) tubing is another popular and widely available economical steel tubing. It is used in many different 4×4 parts because it is cheap and easy to manage. Both DOM and HREW steel tubing is strong and affordable, making it suitable for reliable rock sliders. 
Aluminum is another material that is softer and lighter than steel. It is also usually more expensive because of the skill required for a different welding process. It is suitable for more delicate terrain, but if you plan on driving over rocks or more challenging obstacles, the aluminum will dent easily.
Material Thickness
You want rock sliders that will not dent or split upon impact. Thicker material is often more resistant to damages. Square tubing between ⅛ to 3/16 inches thick or round tubing that is 0.120 inches thick is the most common material thickness in the market. Well-built panels should be about 3/16 inches thick as well to last long.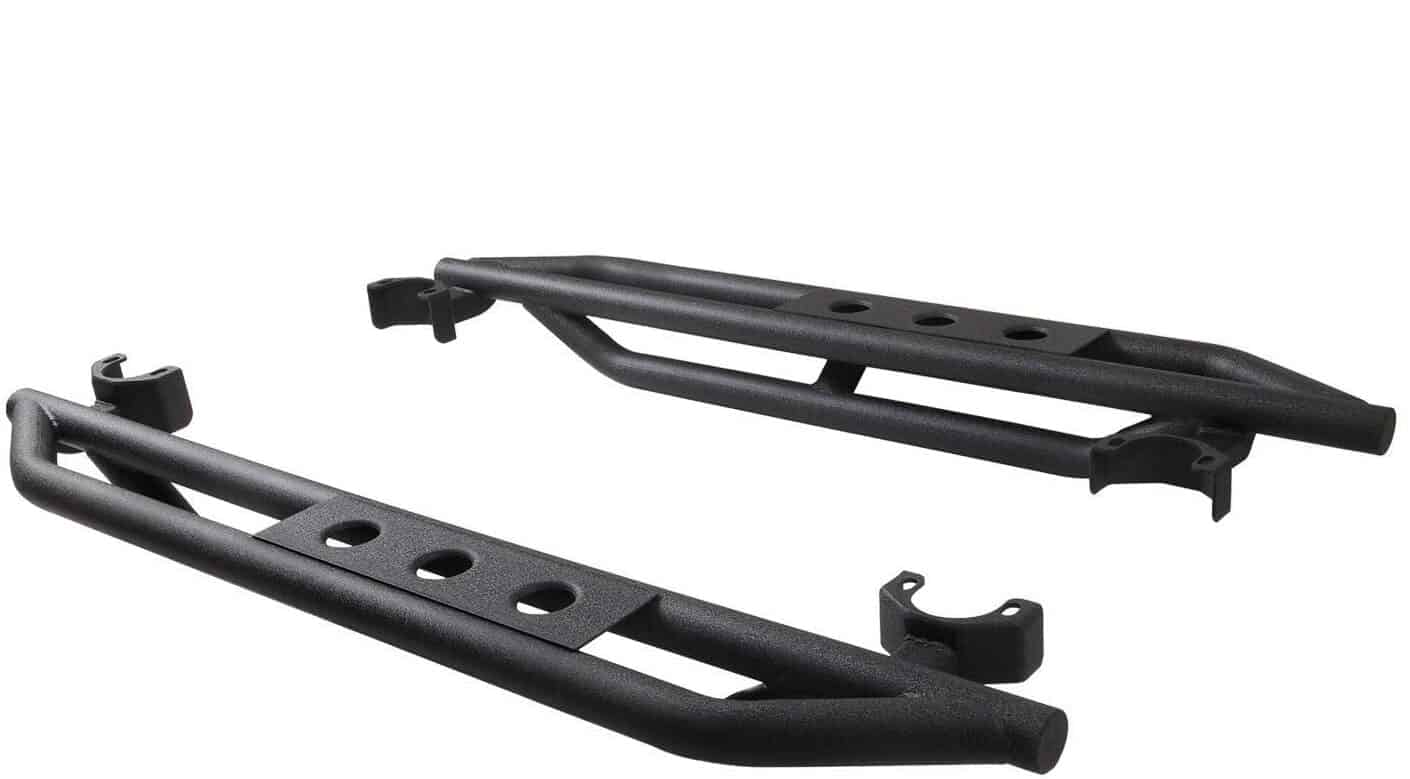 Finishing
Depending on your preference, you want the rock sliders you attach to your Jeep to look good. If you like to keep it simple, bare metal is the cheapest because it doesn't require coating or paint.
You can also get a basic paint finish with black or other primary colors. The most expensive finish is powder coat, which will look great but can scratch easily. 
Review of the Best Jeep JK Rock Sliders
Let's take a look at this year's top options.
Tyger Auto TG-JA2J2239B
Construction Material: Steel
Finish: Textured Black Powder Coat
Weight: 97 lbs.
We may earn commission from purchases made from our links, at no additional cost to you
What Recent Buyers Report
Most buyers find this rock slider easy to assemble without help despite its substantial weight. They report the instructions are clear and straightforward enough to follow, and the tubing is strong and durable with a nice and clean finish. However, some found that the bolt hole pattern was misaligned.
Why it Stands Out to Us
The Tyger Auto Star Armor Kit is our choice for Best Overall because of its solid durability, unique design, and excellent protection. It protects the underside and rocker panel area from damages. It also keeps the Jeep from getting caught on larger obstacles. The heavy-duty tubes are 2" in diameter and 0.120" wall thickness. It is a one-piece slider with a patented star armor design that makes it look unique and stylish.
These running boards are easy to install and do not require any drilling or welding. Each slider weighs about 50 pounds each, and they are solid and durable. They are protected against rust and come with a limited lifetime warranty to ensure quality. 
Bottom Line
The Tyger Auto Star Armor Kit fits on all 2007-2018 Jeep Wrangler JK 4-Door models. It protects the body and underside of your vehicle from any damaging impact. Its unique design and textured finish make this an attractive and reliable addition to your Jeep. 
Pros
Solid and strong design
Limited lifetime warranty
Black powder coat offers a clean finish
Provides maximum wheel-to-wheel protection
Clear and straightforward installation instructions
Cons
Not a huge area to step on
Center hole may not align between the step and the Jeep
Rugged Ridge 11504.23
Construction Material: Steel
Finish: Satin Black Powder Coat
Weight: 40.7 lbs.
We may earn commission from purchases made from our links, at no additional cost to you
What Recent Buyers Report
Buyers love how sturdy and durable this product is against large obstacles. They found it easy to install in about 30 minutes or less when done properly. However, some had trouble fitting the screws into the holes. Overall, buyers report that it fits perfectly on most Jeep JK models. 
Why it Stands Out to Us
Our choice for Runner-up is the Rugged Ride 11504.23 because of its rocker panel protection, ground clearance, and special no-drill mounted design. The Rock Crawling design protects your Jeep closely when you install it under the side of your Jeep. The secure installation is easy to do on your own since the sliders don't require any drilling.
The rock slider mount uses a simple bolt-on frame design for extra durability and easier installation. This product protects the rocker panels and maintains ground clearance, so you don't have to worry about it catching on other objects. Each slider weighs about 40 pounds and is finished with a clean black powder coat. 
Bottom Line
Our Runner-up choice from Rugged Ridge offers sturdy protection and uses a no-drill design to make the installation process simple. It provides extra durability and maintains ground clearance for the best off-roading experience. However, it may not be the best option if the price is a concern. 
Pros
Easy to install
Black powder coating
Offers strong protection
Maintains ground clearance
Special no-drill frame-mounted design
Cons
Pricier than others
Cannot be used as a step
EAG Side Steps Armor Fit
Construction Material: Alloy Steel
Finish: Textured Black Powder Coat
Weight: 65.7 lbs.
We may earn commission from purchases made from our links, at no additional cost to you
What Recent Buyers Report
Buyers rave about these rock sliders providing quality protection and a terrific aesthetic for the price. They find the installation quick and easy, though some report finding minor imperfections in the finish. Buyers love being able to use these as skid-resistant steps as well. 
Why it Stands Out to Us
Designed for 2-door Jeep JK Wranglers, the EAG Side Steps Armor Fit is our choice for the Best for the Money. These rock sliders provide excellent under and side carriage protection from small or large obstacles on the road. It is wide enough to act as a convenient step to get in and out of your Jeep. 
These sliders are one-piece, heavy-duty metal tubes with a sturdy structure for extra strength. They attach to the frame of the vehicle with no drilling acquired during installation. This product has a textured black finish for long-lasting corrosion resistance. Overall, it is a sturdy, protective rock slider that comes at a great price.
Bottom Line
The EAG Side Steps Armor Fit is an excellent option for rock sliders at a budgeted price. They are simple to install using basic hand tools on 2007-2018 2-door Wranglers and provide superior protection by sliding along rocks while rock-crawling.
Pros
Great price value
Includes step pads
Easy bolt-on installation
Provides side and undercarriage protection
Skid-resistant surface with all-weather step guard
Cons
Rust may show quickly
Protective coating can rub off easily
Barricade Off-Road Rock Sliders
Construction Material: Stainless Steel
Finish: Textured Black Powder Coat
Weight: 58 lbs.
We may earn commission from purchases made from our links, at no additional cost to you
What Recent Buyers Report
Buyers report having no problems with stepping on the tubular rock sliders even in cold or icy weather. Some had trouble following the included instructions for installation, but others found this product quick to attach. They find these rock sliders very sturdy and wide enough to provide some splash shielding from the front wheels. 
Why it Stands Out to Us
Made of heavy-duty tubular stainless steel, the Barricade Off-Road Rock Sliders is our Editor's Pick for its durability, easy installation, and dual-use. It provides side and undercarriage protection for your Jeep JK and comes in various sizes to fit either 2007-2020 2-door or 4-door Wranglers. 
This rock slider protects your vehicle and doubles as a convenient step for easy entry and exit with no slippage. The textured black powder coat makes this product an attractive accessory to attach to your Jeep JK and prevent corrosion. This product is heavier than others at 58 pounds each but provides long-lasting strength. 
Bottom Line
The durable and protective Barricade Off-Road Rock Sliders are our Editor's Choice. It can shield your Jeep's frame and body from damage and also be used as a non-slip step. It is easy to install and has an attractive textured finish. 
Pros
Long-lasting strength
Simple installation process
Can be used as a non-slip step
Made of heavy-duty stainless steel
Provides some splash shield for front wheels
Cons
Heavier than other brands
Welds may not look attractive
OEdRo Running Boards
Construction Material: Steel
Finish: Textured Black Powder Coat
Weight: 59.7 lbs.
We may earn commission from purchases made from our links, at no additional cost to you
What Recent Buyers Report
Buyers love the tough texture of these strong running boards. They find the steps to be excellent, and most installed the sliders with no issues. Buyers especially like the finish of this product and the wide, textured surface to step on. However, some have found it rusts very quickly.
Why it Stands Out to Us
We included the oEdRo Running Boards on this list as our Honorable Mention because of its durable material, easy installation process, and wide, non-slip steps. This product is compatible with 2007-2018 Jeep JK 4-door Wranglers and offers great rocker panel protection. They provide 6" of extra clearance on the sides of your Jeep, which you can step on without fear of slipping.
The bolt-on installation is simple to do on your own with the included DIY instructions. These running boards do not provide as much protection as other rock sliders, but its high-strength steel construction is durable for off-road usage. They are designed to stand strong against any debris or obstacles. 
Bottom Line
Though these running boards provide less protection than other rock sliders, the oEdRo Running Boards still slide off rocks and other obstacles with ease. They are strong and heavy-duty, and installation is easy with the provided instruction manual.
Pros
Wide, all-weather steps
Textured black powder coat
Slip-proof, UV resistant running boards
Made of durable, heavy-duty steel tubes
Easy to follow DIY installation instructions
Cons
Rust may show up quickly
Provide less protection than other sliders
What Do I Need to Know Before Buying Rock Sliders?
There are several factors to consider before purchasing rock sliders. You want to make sure it is designed specifically for your Jeep JK and will fit on the sides. Here are a few other considerations to make before buying:
Installation
Before choosing the best type of rock slider for your Jeep JK, consider how you want to attach it. The best methods to install your rock slider is by welding or bolting it to the frame if you plan on rough off-roading ventures or welding it straight onto the body of your Jeep for strength. Another option is to bolt it to the body for lighter protection, but you may have a more difficult time selling your vehicle in the future.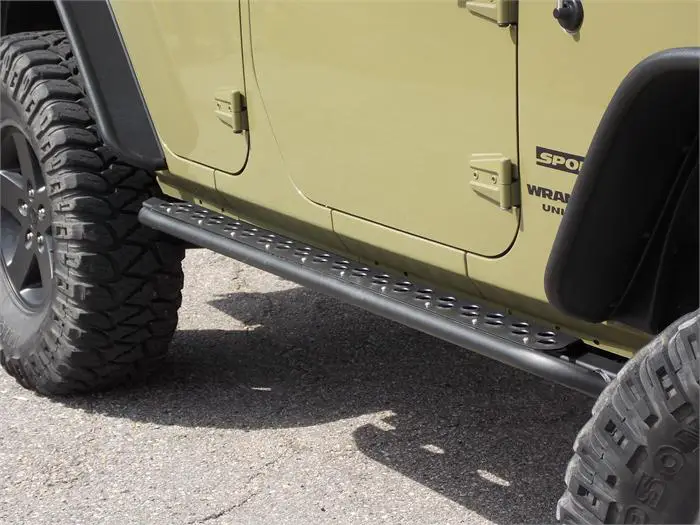 Tubing Type
There are various types of tubing, such as square, round, or panels. Depending on the aesthetic you are going for and the kind of protection you want that will affect your decision in choosing the right type of rock slider for your Jeep JK. 
Dimensions
You must know your vehicle's correct measurements to buy the best rock sliders for you. These are the best material dimensions for most Jeep JK vehicles: 
Round tube: 1.5" – 2" diameter, 0.120" wall
Square tube: 1.5" – 2" per side, ⅛" – 3/16" wall
Pros and Cons of Rock Sliders
Rock sliders can be a great accessory to add to your Jeep JK for its protection and attractive look. However, there are some drawbacks to attaching rock sliders to your vehicle.
Protection
The purpose of rock sliders is to shield the frame and body of your vehicle while off-roading. They slide on rocks and hills and protect from dents and damages.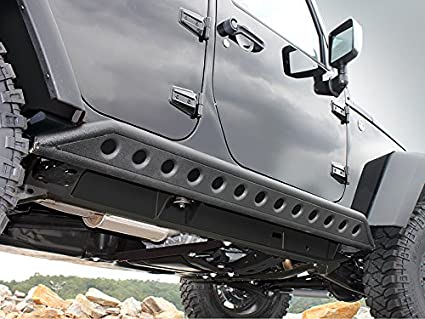 Better Aerodynamics
Rock sliders can help your Jeep slide past large obstacles such as rocks or trees as you drive through. With the sliders on the sides, they can also make your vehicle more aerodynamic. 
Provides Optional Steps
With rock sliders, you can add skid plates for more protection or use them as steps to move around your vehicle. 
Heavy
Since most rock sliders are made of steel for ultimate protection, they are also cumbersome.
They add a considerable amount of weight to your Jeep, which may make your vehicle a little harder to control.
Not Affordable
Despite how important they are to protect your Jeep from rough terrain, most rock sliders are expensive accessories to add to your car. They cost hundreds of dollars and may cost more to install if you don't have the necessary tools.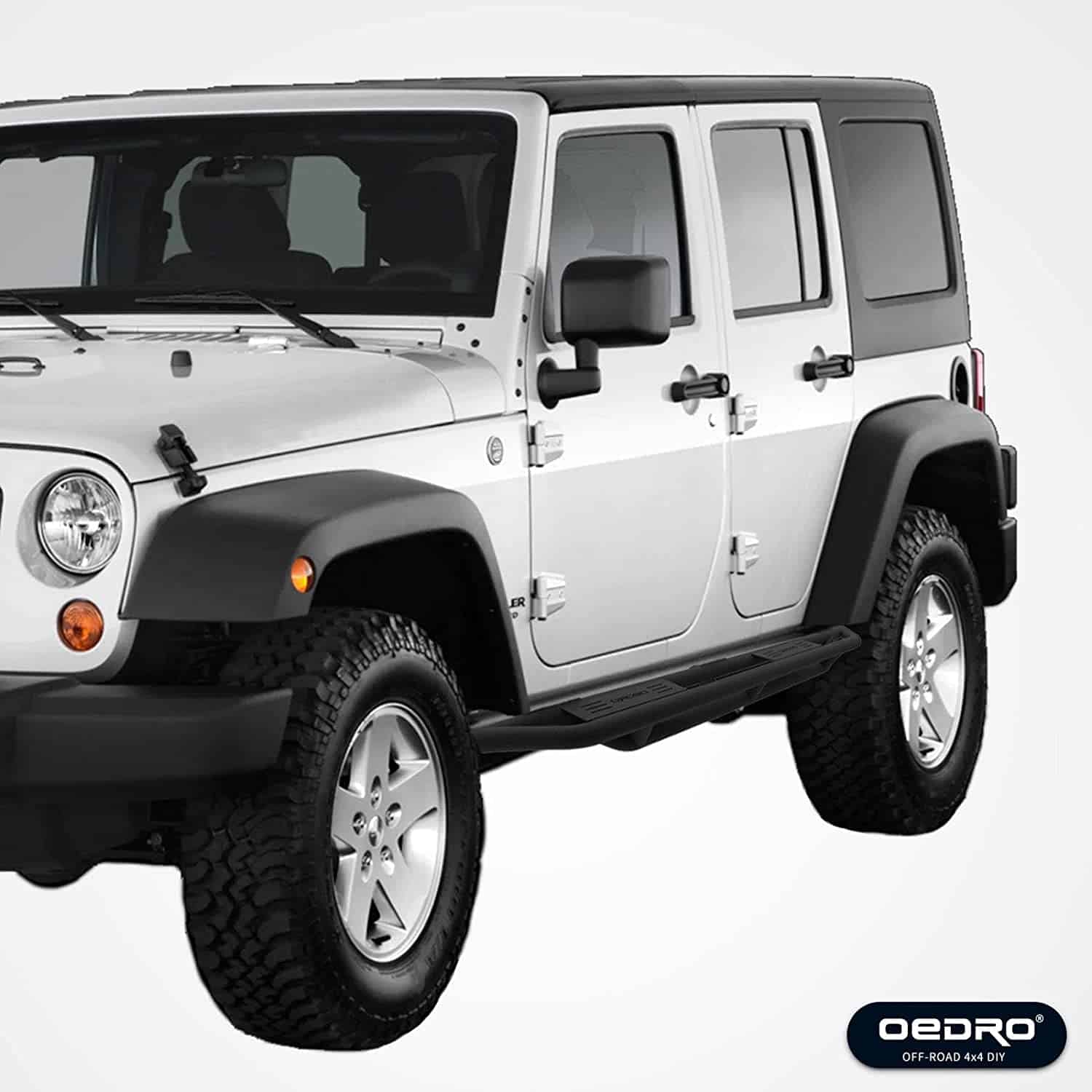 Jeep JK Rock Slider Installation 
Most rock slider manufacturers provide the necessary nuts and bolts required for installation, and you can use basic tools for the products on this list to easily attach your sliders with no drilling required. 
To install any of the rock sliders mentioned here to your Jeep JK Wrangler, you need to first locate the body mounts along with the frame of your vehicle. There are nine bolts in total: three larger bolts and six horizontal factory bolts. Remove the three larger bolts using a half-inch socket head to remove any running boards that may already be attached to your Jeep. 
Next, remove the factory bolts from your vehicle where you will be mounting the rock slider. Depending on which brand you choose, make sure the slider is on the correct side, as some are made specifically for the driver or passenger side. 
Align the mounting points, and then screw in the six factory bolts once again to attach the rock slider to your Jeep. Once you're finished, your installation is complete. Then repeat the process on the other side of your vehicle. 
Be sure to refer to the video below for a full overview of what was just described. 
Conclusion
Rock sliders are a great investment for off-roading trips on mild or rough terrain. They can protect the body and underside of your Jeep JK by sliding off rocks and other obstacles you may drive over. The Tyger Auto Star Armor Kit is our choice for Best Overall, but you should purchase the right sliders to fit your vehicle for the best off-roading experience.
Quick Summary – Best Jeep JK Rock Sliders
Before you get too far, here's a quick summary of the best Jeep JK rock sliders:
People Also Ask
As you decide whether or not you want to invest in rock sliders for your Jeep JK, it's essential to learn as much as you can to make the best decision for yourself. Here are answers to some of the most common questions buyers have.
How Much Do Rock Sliders Cost?
Rock sliders can cost between $190 to $400, depending on their material, construction, and finish. On average, you can find decent rock sliders for around $200-300, depending on how durable you want the material.
How Heavy are Rock Sliders?
Rock sliders are often heavy-duty if they are completely constructed from steel, adding considerable weight to your Jeep JK. Each slider can weigh around 45 pounds on average, adding at least 90 pounds total to your vehicle. Some of the heaviest rock sliders we've found weigh around 60 pounds each. 
Are Rock Sliders Hard to Install?
All of the rock sliders mentioned here are simple to install if done correctly. They only require basic tools and some help holding the heavy-duty steel as you attach it. The installation process can take less than 30 minutes for the ones we've included on this list.
How Long Do Rock Sliders Last?
Heavy-duty steel rock sliders can last for a long time even under abuse from rocks and other elements. If you do any off-roading with your Jeep JK, you will want to invest in high-quality rock sliders that will protect your vehicle for several years.
Who Worked on This?
---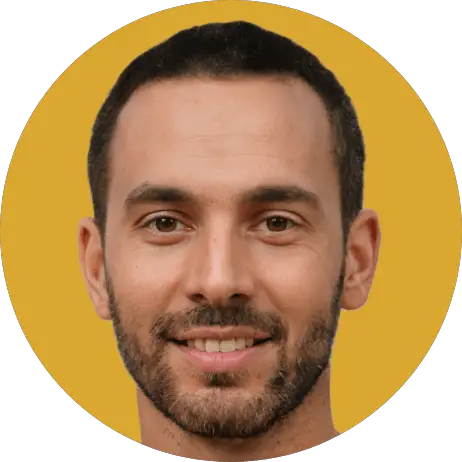 Brian
Editor
A master of organization, Brian helps keep everything running smoothly for Your Jeep Guide.
No Jeep yet but we're working on that!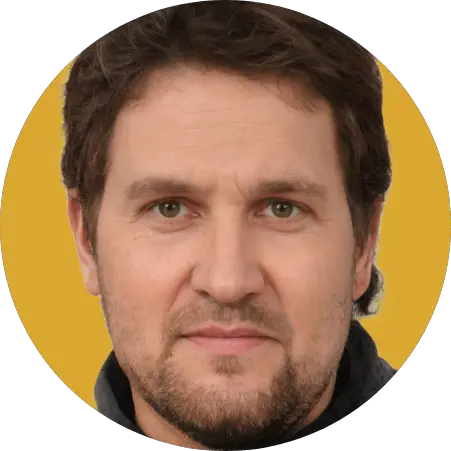 Cory
Writer
Cory loves his XJ and frequently thrashes it through the hills. He's constantly fixing something.

"What fenders?"
Check Us Out!