Whether you're going off-road or stick to the highway, a malfunction in one of your tires can always happen, so being prepared is essential. 
One way to ensure you're always ready to change a tire or conquer an obstacle is by keeping a jack in the trunk. However, how do you choose a jack for a heavy vehicle, like a Jeep?
Today, we review a few of the best jacks for Jeeps so that you can handle any obstacle while on the road.
Comparison of the Best Jacks for Jeeps
IMAGE
PRODUCT

Our Top Pick

Comes with a powder coating finish to improve longevity
Made with a durable construction for better durability
Improved safety option with shear bolt included

View Latest Price →

Will easily fit on most Jeep Wrangler models
Comes with quite a high maximum load capacity
Made with a durable construction for better durability

View Latest Price →

Best Budget Option

Best for the Money
Ratchet design for ease of use
Powder-coated to resist corrosion and last longer

View Latest Price →

Best Jeep Off Road Jack
Load capacity of more than 4600 pounds
Large base for better balance option

View Latest Price →

Best Bottle Jack for Lifted Jeep
Can be used for a variety of lifting applications
Strong steel construction for improved durability

View Latest Price →
What Makes a Jack Great for a Jeep?
There are multiple jacks available on the market, but not all of them will be a great fit for a Jeep. Here are some qualities that make a jack suitable for your Jeep:
Maximum Weight Capacity
Jacks come with a specific weight capacity. How much they can bear is usually stated in tons, so you'll need to convert to pounds—we've already done this for you in our recommendations below.
Ideally, choose a jack with a higher weight capacity rating than your jeep to ensure it's safe. 
Jack Weight
The best jacks for Jeeps have a reasonable weight, making them easy to transport and maneuver. An ideal weight would be between 20 to 30 pounds.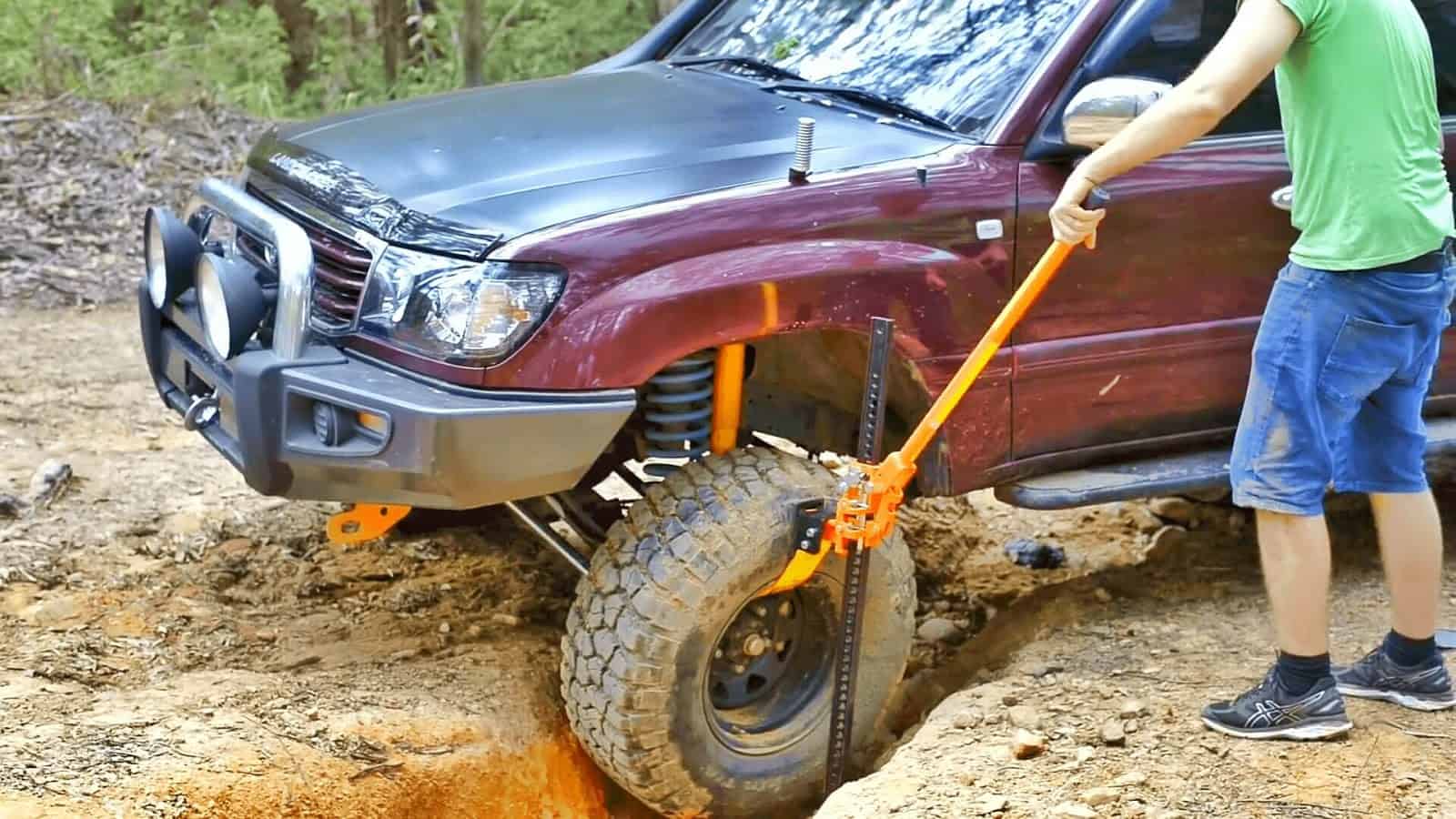 Lift Height
The maximum and minimum lift height on jacks is usually between 6 to 48 inches; variations are available, as you'll see in our review. 
With large vehicles, a high lift range is ideal for giving you enough leverage. With that said, the higher the setting, the less stable it will be, so be careful. 
Materials
Jacks should be able to withstand high pressure, so the material's quality is essential to consider. We always recommend going for solid cast steel as opposed to welded products or aluminum since it's more durable. 
Powder-coated finishes and zinc-plated hardware are two other guarantees that the jack will hold up nicely. An advantage if the powder-coating is rust-resistant. 
Next, consider a two-piece handle-socket design since it's generally more effective and easier to use.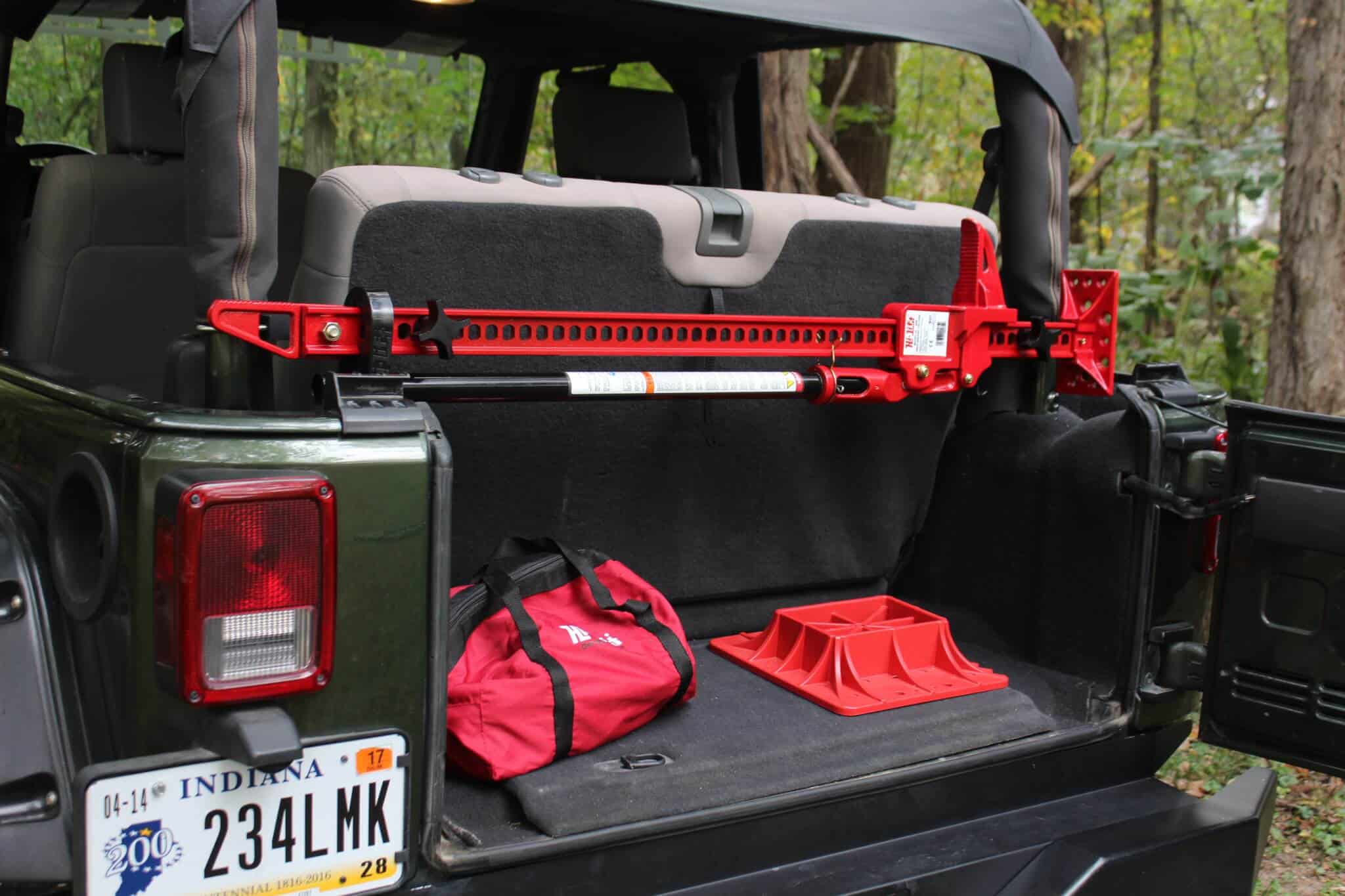 What Size Jack Do I Need for My Jeep?
When you choose a car jack for your Jeep, it's essential to consider how much weight it can bear. You want the jack to be able to lift more than what your car weighs. 
Start by finding the Gross Vehicle Weight (GVW) on the sticker attached to the driver's door or in the manual. On some cars, however, the manufacturer split the weight into the front and rear; add those together to get the total.
When you have your car's total weight, look for a jack that can lift more. For instance, if your jeep weighs 3,100 pounds, go for a jack with a weight capacity of 3,500+ pounds. 
Next, ensure the maximum lifting height is compatible with your intended use. Some car jacks only go as high as 14 inches, which might not be sufficient with a large Jeep. Because of this, we suggest going for a height between 20 to 30 inches for a Jeep.
At a Glance: Our Top Picks for Best Jacks For Jeeps
Review of the Best Jacks for Jeeps
It's now time to have a look at our choices for the best jacks for Jeeps:
Hi-Lift Jack HL484
We may earn commission from purchases made from our links, at no additional cost to you
What Recent Buyers Report
Recent buyers are overall pleased with the Hi-Lift Jack. It works excellently with a Jeep, and many states that it's a "must-have" if you go off-road. The jack can take a lot of weight, making it suitable for various Jeeps. 
However, a few buyers point out an issue with quality control from the manufacturer. Users claim that either the product arrived in a broken package or it was already damaged. Fortunately, the brand is quick to respond. 
Why it Stands Out to Us
The Hi-Lift is a 48-inch steel and cast jack, made with a combination of cast components and four high-strength stamped steel parts. 
This is a more budget-friendly version of other all-cast Hi-Lift jacks, but with the same performance characteristics and a maximum weight capacity of 7,000 pounds. However, it has a rated load capacity of 4,660 pounds.
Hi-Lift claims that you can use its jack for any task requiring lifting, pulling, pushing, clamping, or winching. It's light and easy to operate, weighing only 28 pounds, and the two-piece handle and socket are reliable and heavy-duty.
Bottom Line
If you're searching for a heavy-duty, reliable jack, the Hi-Lift is worth a look. Made from durable materials and reliable mechanics, it's a great tool to include on your Jeep for your next trip. 
The Hi-Lift jack has a high load capacity, yet it's relatively lightweight and easy to maneuver. 
With that said, make sure you check your product upon arrival to ensure it's not broken or faulty. Another drawback is its tendency to rust; ensure that you don't expose it to excessive moisture. 
Pros
Can lift up to 7000 pounds
It consists of highly durable steel
Relatively lightweight, weighing 28 pounds
Durable and reliable two-piece handle and socket
Included safety feature that prevents operation with weights greater than 7000 pounds
Cons
The jack is prone to rust
A few quality control issues from the client—some users got faulty products
BOLT 7028648
We may earn commission from purchases made from our links, at no additional cost to you
What Recent Buyers Report
Buyers seem very pleased with the Bolt jack mount. Most users applaud how easy it is to install and use; if appropriately installed, it doesn't damage the paint. 
However, it can rattle while driving, which some found quite annoying. 
Why it Stands Out to Us
The Bolt hi-jack mount has several good-to-have features. For starters, it installs directly into the holes on the side of your Jeep, either the passenger or driver's side. 
From there, you can secure your hi-lift jack using the attached knobs. To prevent theft, you can lock it using your ignition key. Follow the instructions, but keep in mind that it can only register one key. 
As you remove the key, the auto-return spring locks automatically. These are also weather-proof, made from stainless steel. 
Bottom Line
If you have a hi-lift jack, we recommend investing in the Bolt mount. It's handy and easy to use, plus you can lock it with your ignition key.
Although, it can rattle while driving, try securing it a bit tighter. 
Pros
It opens with the ignition key
Weather-proof materials—rust-resistant
Installs easily into existing holes on your Jeep
Features an auto-return spring, locking when you remove the key
Includes a stainless steel lock shutter, keeping out dirt and moisture
Cons
It can rattle or make noise when driving
If not installed properly, it could scratch your paint job
Arcan ALFJ48
We may earn commission from purchases made from our links, at no additional cost to you
What Recent Buyers Report
The Arcan jack receives mixed reviews from buyers. It's a more budget-friendly option, which could explain why some users aren't as pleased as others. 
Still, those who are happy with their purchase state that it's a heavy-duty jack, perfect for use on heavy cars, such as Jeeps. Many users report that it's easy to operate, but it requires lubrication. 
One thing that buyers say to be aware of is that you need to check the bolts before use. They come quite loose, which could compromise the safety if not tightened upon arrival. 
Why it Stands Out to Us
The heavy-duty steel construction is the first standout feature of the Arcan ALFJ48 jack. It can support up to 3 tons, about 6,613 pounds, which should be ample for a large Jeep. 
Another great feature is the adjustable lifting arm; you can adapt it to any position on the upright. For safety, you have the ratcheting design, providing controlled lifts. It has a lifting range from 4.9 inches to 40.1 inches.
Lastly, there's the bright green powder-coated finish, which also increases the jack's longevity by preventing rust. 
Bottom Line
Whether you're on a budget or have a heavy vehicle, the Arcan ALFJ48 jack is worth a second look. Made from steel, it's built for heavy-duty use and can handle anything from a 4-wheel drive vehicle to a tractor. 
It includes several good-to-have features, such as its adjustable lifting arm, ratcheting design, and rust-resistant powder-coating. 
However, the handle is a bit weak and may require fixing after a few uses. 
Pros
Adjustable lifting arm
Sturdy steel construction
Vibrant powder-coated finish
Weight capacity of 6,613 pounds
Provides controlled lifts due to its ratcheting design
Cons
The handle is somewhat weak
Bolts are loose upon arrival and require tightening before use
Smittybilt 2722
We may earn commission from purchases made from our links, at no additional cost to you
What Recent Buyers Report
Recent buyers are fairly pleased with the Smittybilt 2722 jack. Many users praise its broad base, stating that it makes the jack more secure and stable, even while lifting heavy vehicles. 
Another point of praise is the size itself. Where most jacks are around 47 to 48 inches tall, the Smittybilt is 54 inches tall. 
However, users were disappointed to find that it doesn't fit standard jack mounts, and unfortunately, Smittybilt doesn't offer one currently.
Why it Stands Out to Us
The Smittybilt 2722 jack is another heavy-duty tool. Although it has a 4,660-pound rated capacity, its tested ability is 7,000 pounds. It consists of solid cast steel and features durable climbing pins, which yield 100,000 PSI and 125,000 PSI tensile strength. 
A great feature is the 28 square-inch base plate that provides a stable platform. You can also adjust the connector clamp to suit your needs. 
The jack comes in a powder-coated gray and black finish, and all the hardware is zinc plated. Another excellent feature is the handle; it features synthetic rubber, making it comfortable to use. 
Bottom Line
For large Jeeps, the Smittybilt is a fantastic jack. With its durable construction and broad base, it provides a stable platform for any task. 
The 54-inch height also makes it superb to work with around big vehicles and machines. 
Unfortunately, it doesn't fit standard jack mounts, so you may have to store it in the trunk. You should also lubricate it often, especially if you live in a humid region, to prevent rust. 
Pros
Synthetic rubber handle
Heavy-duty steel handle
Tall jack, measuring 54 inches
A-rated weight capacity of 4,660 pounds
Broad base suited with adjustable connector clamp
Cons
Doesn't fit a standard jack mount
Susceptible to rust—requires lots of lubrication
Best Bottle Jack for Lifted Jeep
Alltrade 640912
We may earn commission from purchases made from our links, at no additional cost to you
What Recent Buyers Report
The Alltrade jack receives mixed reviews from buyers, with some claiming it's the best product out there and others pointing out several flaws. 
For the good points, users praise its broad, stable base and ease-of-use. 
However, a few had problems with leaking and using the bottle jack on its highest lift setting. This might be due to faulty products since not everyone had this experience.
Why it Stands Out to Us
The Alltrade 640912 is a two-in-one jack, combining a standard jack with a bottle jack, offering more versatility and security. A great feature is the broad steel base, providing stability while lifting a heavy vehicle. 
It has a default lift range between 11 to 17.25 inches, but you can raise it manually to 21 inches. Once you have your desired height, use the safety bar to lock the unit, preventing it from lowering.
Another excellent feature is the portable design; the jack fits in the trunk, weighing only 22 pounds. Still, it has a rated load capacity of 6,000 pounds and works excellent with vehicles and construction. 
Bottom Line
If you want to eliminate the need for a floor jack, we highly recommend the Alltrade bottle jack. It's a two-in-one design, providing versatility, allowing you to use it for a variety of tasks. 
The unit includes a safety bar that locks in your chosen lift height, preventing accidents. It also offers a versatile lift range, although some users reported issues raising it to the highest setting.
The jack is also prone to leaking, which could indicate a faulty product. 
Pros
Safety bar lock feature
Three height adjustment options
Wide steel base provides stability
Has a rated capacity of 6,000 pounds
Design combines a jack stand with a bottle jack
Cons
Jack is susceptible to leaks
Doesn't work well on the highest lift setting
How to Choose a Jack for Your Jeep
Before you pick the first jack you see, there are a few things worth considering to ensure it's the best fit for your Jeep:
Safety
The jack you choose must be safe. This includes being made from durable materials and comes with jack stands, especially if you're looking for a floor jack. 
With floor jacks, it's essentially only keeping your car up, but without a stand, it's not stable and could fall over or fail and injure you. 
Build
As we discussed earlier, durable materials are a must when it comes to jacks. Due to this, we always suggest that you opt for solid cast steel with powder-coated finishes. 
Lift and Weight Limits
Check your vehicle's overall weight and wheel size, then go for a jack with a rated load capacity higher than your vehicle's weight. So, if your Jeep weighs 4,000 pounds, go with a 4,500+ pound jack. 
Then consider the wheel size to determine the lift height of the jack. We suggest anything between 20 to 30 inches.
Weight
The best jacks for Jeeps are relatively light and easy to maneuver. Hauling around a heavy tool is not only tiresome, but it can also make it difficult to use.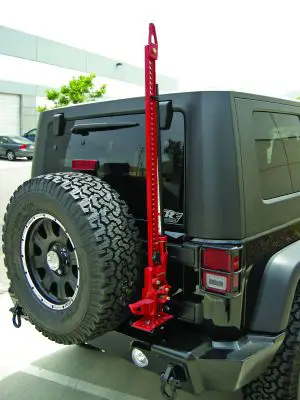 Types of Jeep Jacks
There are essentially four types of jacks suitable for Jeeps. We explain them below:
Hi-Lift Jack
If you're into off-roading, a hi-lift jack is what you need. These make it easier during maintenance or if you get stuck on an obstacle. 
They have a high lift range—usually above 3 feet—they're also highly portable and are generally compatible with mounts.
Bottle Jack
Bottle jacks have a cylindrical shape (like a…bottle) with a lever to create pressure, moving the lift plate upwards. These are excellent to have in the garage as they're quite heavy and not easy to take in and out of the trunk.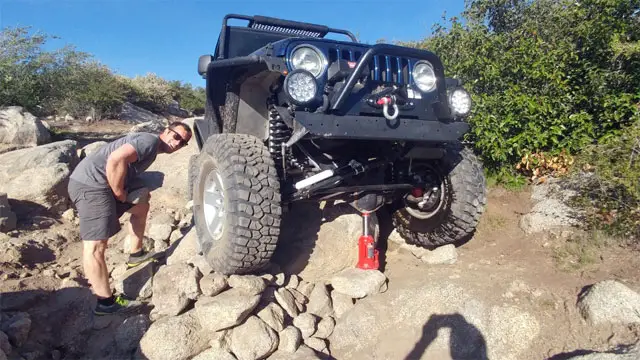 Floor Jack
Floor jacks are somewhat similar to bottle jacks. They utilize hydraulic pressure to raise the vehicle. These can usually handle a lot of weight and are ideal for large trucks and SUVs. This is generally what everyone thinks of when they think of a 'vehicle jack'.
Scissor Jack
Scissor jacks are generally what manufacturers include in a vehicle; they're lightweight and highly portable. However, they don't take a lot of weight, so unless one comes with your Jeep, avoid using these. 
Jeep Jack Comparisons
Below we highlight some differences in uses for Jeep jacks:
Bottle vs High-Lift Jack For Jeep Wrangler
A bottle jack is excellent for maintenance; keep one in the garage, and you're ready for anything. High-lift jacks, however, are better in the field, especially if you go off-road. They're more portable and lightweight, making them quick to whip out and use. 
48" vs 60" Hi-Lift Jack Jeep
With 48-inch and 60-inch hi-lift jacks, we're talking about their length. Although it's always good to have the extra length, a 60-inch is often overkill. It can be hard fitting it in your Jeep, and you rarely need all that length. Thus, a 48-inch is generally best for most Jeepers.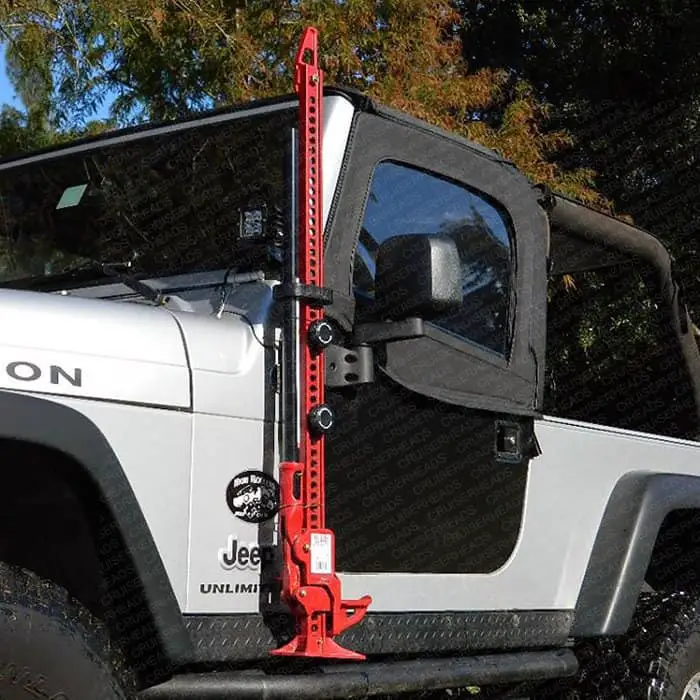 How Do You Jack up a Jeep?
If you've never jacked up a car, we've included a brief guide for you below on how to use a hi-lift:
How to Use a Hi-Lift Jack on a Jeep
Before you start, we recommend using work gloves to protect your hands and a towel or rag to prevent damages to your paint. 
Here's what you do:
Place the jack where you need to lift your car. Ensure the base is stable; if you're working on mud or sand, place a piece of wood or other hard material underneath.


Lift the jack into the lifting position so that it comes in contact with your car. 


Next, push the lever all the way down until you hear a click, and then up. The click indicates the pins going into the holes, keeping it secure.


Continue pushing the handle down until you hear the click and up until you have your desired height.


To lower the jack, click the direction lever to the downward position. Now, this is where you need to be careful since all the weight is in the handle. Always keep your head, arms, and body away from the jack.


Push the lever downwards until you hear the click again. Then slowly raise it upwards. Continue until your Jeep is back on all fours.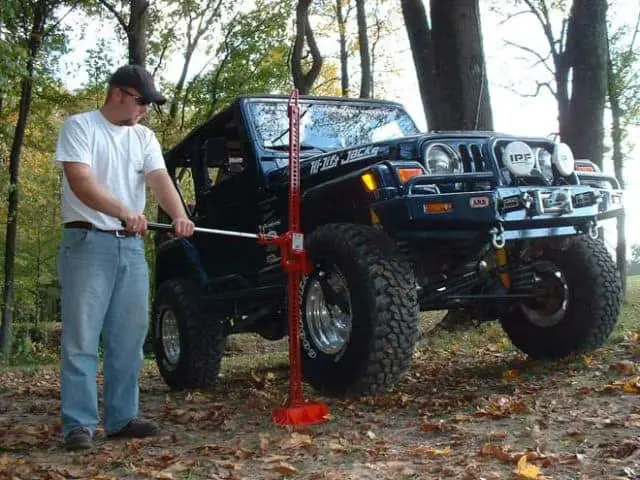 Conclusion
Finding the best jacks for Jeeps helps you be ready for any maintenance task or obstacle on the road. However, there are different types, and all aren't equal; it depends a lot on your Jeep, its weight, and where you usually drive. 
Quick Summary – Best Jacks for Jeeps
Here's a quick recap of the best Jacks for Jeeps:
People Also Ask
Below we answer some additional questions about jacks for Jeeps:
Do I Need a Hi-Lift Jack for My Jeep?
If you're off-roading in rough terrain, it's an excellent tool to keep with you. However, if you drive on the road and need a jack to change a tire, a bottle or floor jack is better.
Can I Jack up My Jeep on the Differential?
It depends. We recommend checking your car's manual to ensure you won't cause any damage.
Where to Jack a Jeep Wrangler?
We suggest that you look in your Wrangler's manual. However, generally, a Jeep Wrangler has its jacking points on the axles.
Where is the Jack in a Jeep Liberty?
In the Jeep Liberty, you can find the jack in the cargo department behind a trim cover, located on the left rear trim panel. The latch sits at the bottom of the trim cover.
Where to Mount a Hi-Lift Jack on a Jeep?
You can mount your hi-lift jack on the hood, on the passenger or driver's side, or at the back together with the spare tire. 
Is it Safe to Start a Jeep While on Jacks?
No, it's not safe to start your Jeep while lifted by a jack. Unless you know what you're doing and can secure it properly, we advise against doing this.
How Does a Jeep Jack Work?
A Jeep jack works by lifting a part of your car, so you can gain access to the undercarriage, to change a tire, or other maintenance work. By pumping the handle, the jack either utilizes pegs or pressure to elevate your vehicle. 
Are Hi-Lift Jacks Dangerous?
Hi-lift jacks aren't dangerous, per se. However, you should be cautious when using them. For example, never go under your car while using a hi-lift and always use a steady jack point (do not use the running boards!!!)
Who Worked on This?
---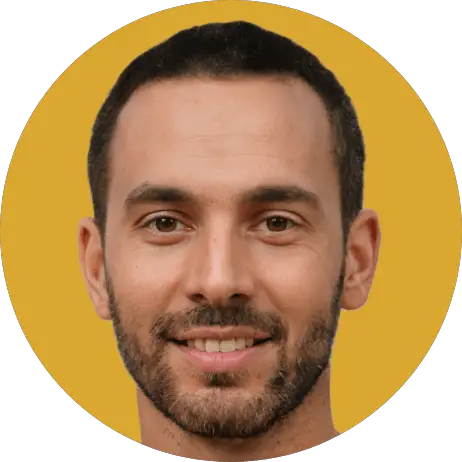 Brian
Editor
A master of organization, Brian helps keep everything running smoothly for Your Jeep Guide.
No Jeep yet but we're working on that!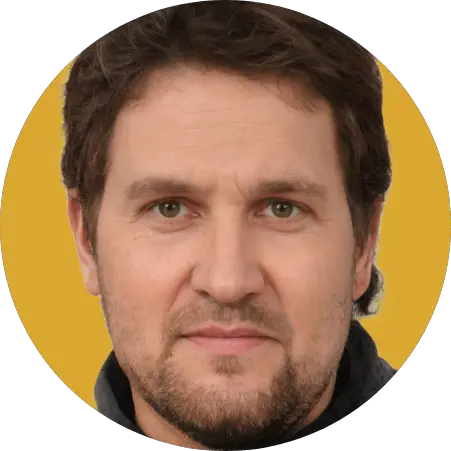 Cory
Writer
Cory loves his XJ and frequently thrashes it through the hills. He's constantly fixing something.

"What fenders?"
Check Us Out!