Evolution is defined as "the gradual development of something, especially from a simple to a more complex form." If there was one sentence that sums up the JL Vs. JK debate, it is exactly this. Every generation of Wrangler is an evolution of an idea and the JL is one of the largest evolutions yet! 
The JL is the automotive equivalent of the first creatures that emerged from the ocean and grew legs to walk on solid ground! 
Sounds great, but what's the catch? Well, like all great advancements, this one is not without its challenges. So what's better for you, the Jeep Wrangler JL or the Wrangler JK? 
Let's get into it.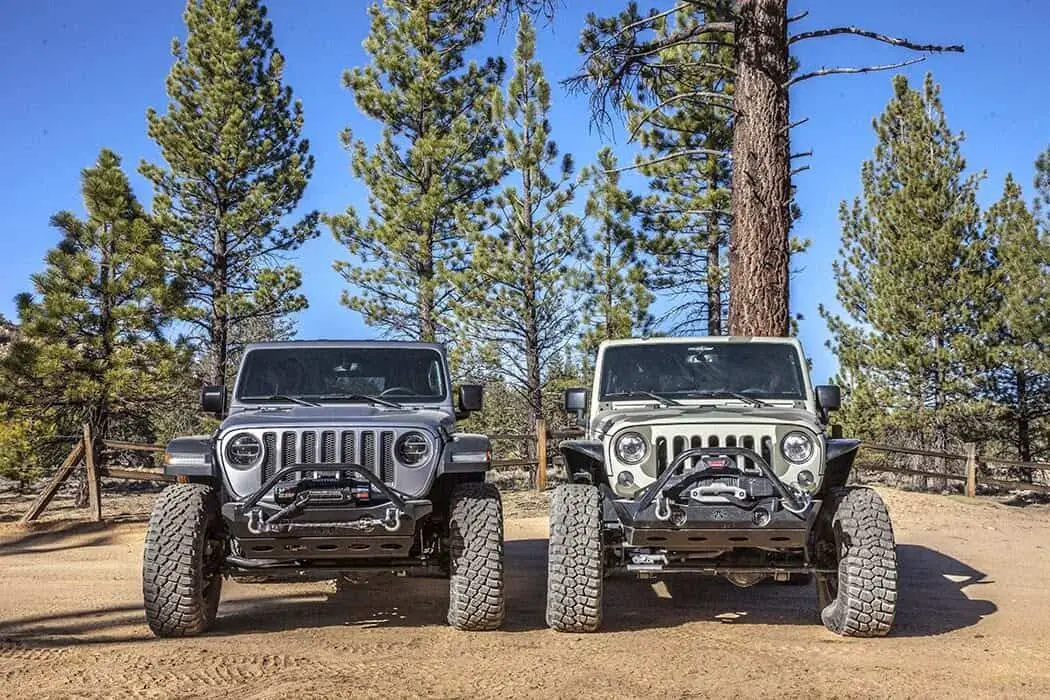 TL;DR: Jeep JL vs JK
The JL is the most capable, yet most daily driver-friendly Wrangler ever produced but its higher price may not make it worth the price of admission to some buyers over the similarly capable Wrangler JK.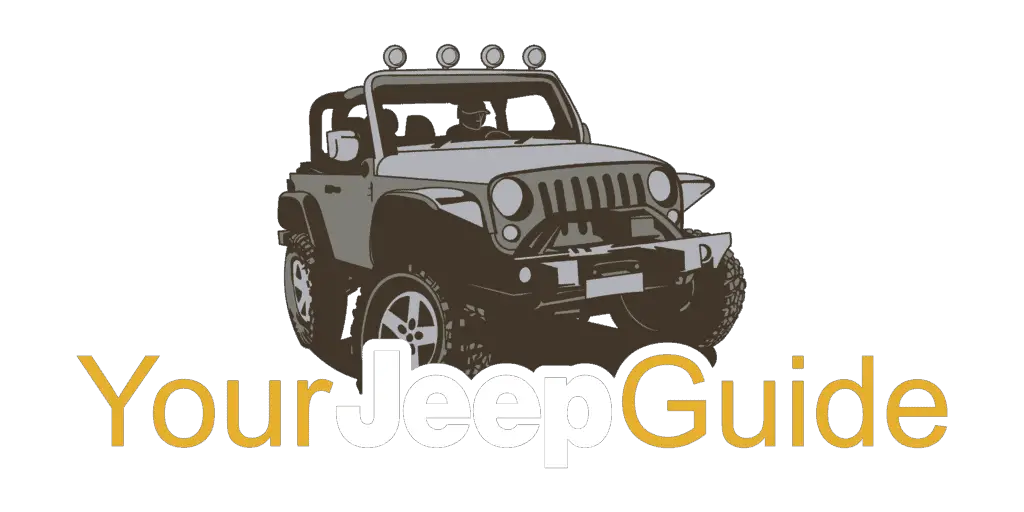 Jeep JL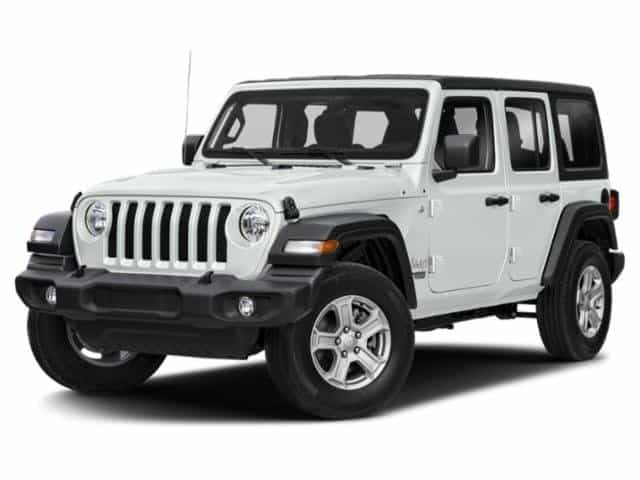 Jeep JK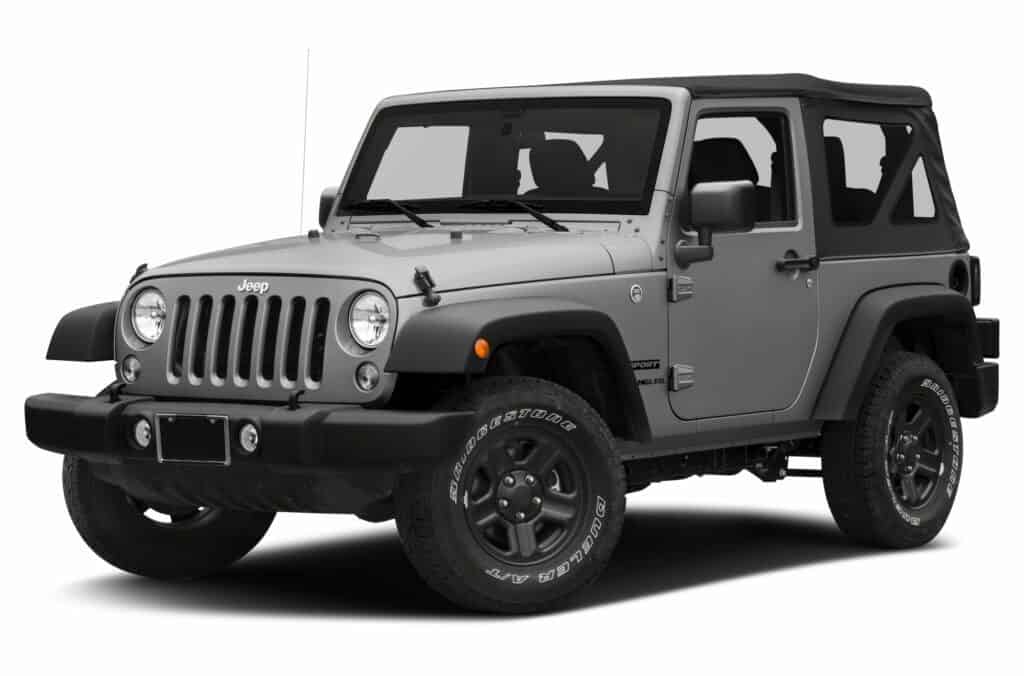 Pros
Jeep JL
Easier to drive demeanor
Easy roof, door, and windshield removal
Hugely capable off-road right out of the box
Daily driver creature comforts and technology
Fantastic selection of powerful, fuel-efficient motors
Jeep JK
Powerful Pentastar V6 (2012 +) 
Much cheaper than JL Wranglers
Massive off-road capability in every trim
Soft and hardtop options for fun in all kinds of weather
Cons
Jeep JL
Expensive, especially in higher trims
Compromised utility vs. a standard SUV
Jeep JK
Worse ride and handling
Crude, out of date cockpit and technology
Old school 5-speed automatic transmission
Best For
Jeep JL
The person who's looking for the ultimate off-road vehicle that retains daily driver usefulness and doesn't mind paying for it.
Jeep JK
The person who wants to save money by giving up creature comforts, modern technology, and high-performance engines but still demands off-road chops.
When were Wrangler JLs Made? 
Model Years: 2018 – Current 
The JL Wrangler made its international debut at the 2017 Los Angeles Auto Show as a 2018 Model and went into production later that same month. The first JL Wranglers started showing up on dealer lots to rabid fans in early 2018. 
Late in 2018, Jeep began to offer the Hurricane Turbo I4 engine as an option. In 2020 the "EcoDiesel" turbodiesel engine joined the options list while 2021 introduced an all-new Hybrid powerplant 
They're still being produced to this day. 
When were Wrangler JKs Made? 
Model Years: 2007 – 2018 
The JK Wrangler made its international debut at the North American International Auto Show in 2006 and went on sale in August as a 2007 model. The final JK was produced in April of 2018. 
2012 brought a major change with the introduction of the 3.6L Pentastar V6, which replaced the old 3.8L V6. 
A myriad of upgrades and trim changes made their way through the lineup over the years of the JK with most of the upgrades going to safety and interior upgrades. The difference between the 3.6 and 3.8 engines is their performance and fuel efficiency. The 3.6 has better power and efficiency, while the 3.8 is more durable and reliable.
Relevant Characteristics Between Jeep JL and JK
When looking at a spec sheet or the jeep vin decoder build sheet, there seems to be a number of similarities between the JK and the JL but this is a case where the numbers do not tell the whole story. However, the core mission of the Wrangler has rarely wavered through its long production run and these two gens are no exception.
Jeep JL and Jeep JK
Compare by tapping or clicking below!

Engine Options
Jeep JL
3.6L V-6 w / 285 HP & 260 LB.FT of Torque
(Late 2018) 2.0L I4 Turbo w / 270 HP & 290 LB. FT. of Torque
(2020) 3.0L Diesel V-6 w / 260 HP & 480 LB. FT. of Torque
(2021) Hybrid 2.0L I4 w / 375 HP & 470 LB. FT. of Torque
Jeep JK
3.8L V-6 w/ 202 HP & 237 LB.FT of Torque
(2012) 3.6L V-6 w / 285 HP & 260 LB.FT of Torque
Transmission Options
Jeep JL
6 Speed Manual (V-6 Only)
8 Speed Automatic
Jeep JK
(2007 – 2011) 4-speed Ultradrive 42RLE automatic

 (2012 – 2018) 5-speed Mercedes-Benz W5A580 automatic
(2007 – 2018) 6-speed Chrysler NSG370 manual
Dimensions
Jeep JL
Wheelbase: 2 Door: 96.8 in
4 Door: 118.4 in
Length: 2- Door 166.8 in
4-door: 188.4 in
Width: 2 Door73.9
Height: 73.6 in
Jeep JK
Wheelbase: 2-door: 95.4 in
4-door: 116 in (2,946 mm)
Length: 2-door: 164.3 in
4-door: 184.9 in
Width: 2-door: 73.7 in
4-door: 73.9 in
Height:73.6 in
Mileage / MPG
Jeep JL
23 City / 25 Hwy (Hurricane)
19 City / 22 Hwy (Pentastar)
22 City / 29 Hwy (EcoDiesel)
Jeep JK
17 City / 21 Hwy (Pentastar)
15 City / 20 Hwy (3.8L)
Typical Used Price Range
Jeep JL
$32,900 to $41,300
Jeep JK
$23,000 to $35,000
Similarities and Differences 
Although these two vehicle generations appear to be quite close in their measured specifications, appearance, and capabilities, the JK and JL Wrangler could not be more different from each other! Let's dive into why this is the case. 
Jeep JL and JK Differences 
Powertrain
The biggest change from JK to JL Wranglers is the change over to the 8-speed Torqueflite 850RE automatic transmission made by ZF. This was a huge upgrade from the 5 speed unit in the JK and it gave the Pentastar V6, which was essentially the same in both generations, better gas mileage, and better performance. 
Beyond this change, the addition of several engines to the lineup diversifies the JL lineup in a way the JK could only dream of. The Hurricane Turbo I4, EcoDiesel, Hybrid, and the soon-to-be-released Hemi (sorry to all those who did their own custom Hemi-swap) are all part of the JL lineup. The JK came with one engine and one engine only. If you add up all the parts and labor from a reputable shop, expect a Jeep Wrangler Hemi conversion cost somewhere between $7,000 to $12,000.
Suspension and 4 Wheel Drive Systems
Here, Jeep didn't make too many changes because it really didn't need to! The JK and JL both use solid axles along with a 4-link plus track-bar suspension design front and rear. 
Dana Axles are still part of the standard design, along with three different 4 wheel drive systems: Command-Trac, Selec-Trac, and Rock-Trac (Rubicon).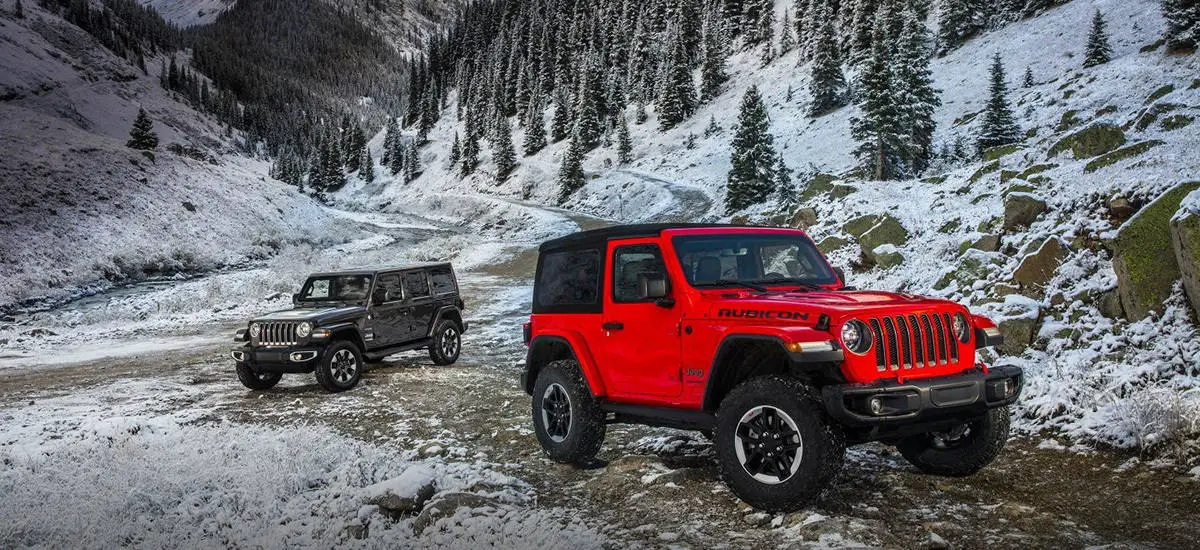 Interior
The JL Wrangler has a hands-down advantage over the JK when it comes to technology integration, driver comfort, and overall quality. Like most of Chrysler's lineup, the JL received the brand's UConnect infotainment systems in sizes ranging from 5 inches to a massive 8.4 inches. JK Wranglers got by with a system that was over a decade old and had no smartphone integration.
There's even a large, color display right in the instrument cluster that provides crucial, driver-focused information at a glance and a standard push-button start. This is one high-tech Jeep.
All switchgear in the cockpit is easier to operate and provides a more functional experience for the off-road enthusiast. There are easter eggs throughout the Jeep that make you feel just a little bit more special for upgrading to the latest and greatest version of the Wrangler. 
Jeep even allows buyers to option in things like heated steering wheel, heated seats and an upgraded LED lighting package; right from the factory. These features take the JL evermore upmarket. 
Exterior 
Outside, you'll be hard-pressed to tell the two vehicles apart and this is not an accident. Some dead giveaways are the increased fender flares, fender vent, and front grill design. Jeep surveyed owners and most indicated a desire to keep the Wrangler looking like, well, a Wrangler. Size has grown a bit, with the JL Wrangler 2 Door is 2.5 inches longer than the JK, while the Wrangler Unlimited has grown by 3.5 inches overall. 
JL doors are substantially lighter than the JK series and offer a more easily removable design that utilizes a grab handle. The Windshield is now made of aluminum and offers a fast-folding design that requires minimal unbolting. How fast? Most owners can fold down their windshield in under 3 minutes! 
Some of the biggest changes you'll see on the outside are the all-new top options for the JL. The Sunrider and Freedom tops carry on but are much easier to install and operate.
The JL adds in the Sky One-Touch Power Top, which includes a soft canvas panel that is power-retractable and exposes the entire roof of the Wrangler with the push of a button. How cool is that!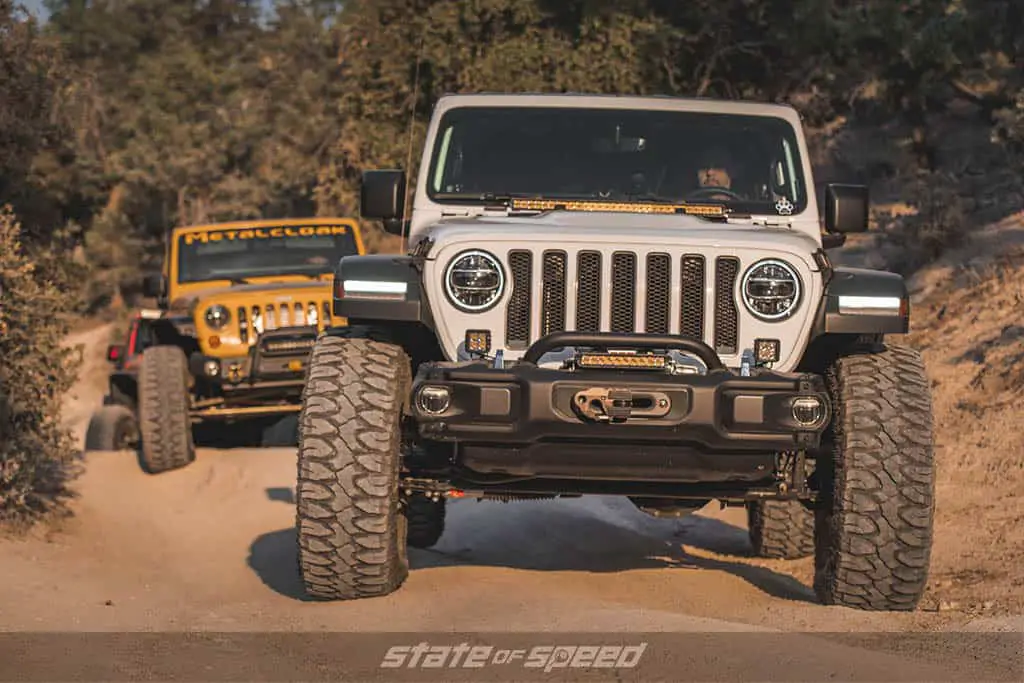 Jeep JL and JK Similarities
The easiest way to note the similarities of the JL and JK is to remember that the mission between the two is the same. No matter which you choose, both are highly capable, off-road-focused vehicles that can give their owners a one-of-a-kind, open-air experience.  
Powertrain
The only thing that the JK and JK share here is the 3.6L Pentastar V6 and a 6-speed manual configuration. The 6 speed in the JL is an Aisin unit, while the JK utilized a Chrysler-built unit, however. 
Interior
The JL and JK both retain their ability to remove their doors, fold-down their windshields, and take off their tops. Window switches are still on the center stack and the interior on both versions is still highly durable and can be washed out with a hose if needed. 
Exterior
Each of these vehicles retains the classic Wrangler look, 2 or 4 door configurations, and a variety of tops for different needs. A version of both the soft top and the hardtop is available for each generation. 
What About The TJ?
The TJ Wrangler is the second generation of Jeep's Wrangler model. Debuting in 1997 and rolling all the way to 2006, the TJ was an evolution of the popular YJ model and added in several refinements over the rudimentary YJ. The 4 doors Unlimited model (now making up a huge portion of Wrangler sales) made its introduction in 2004 as well.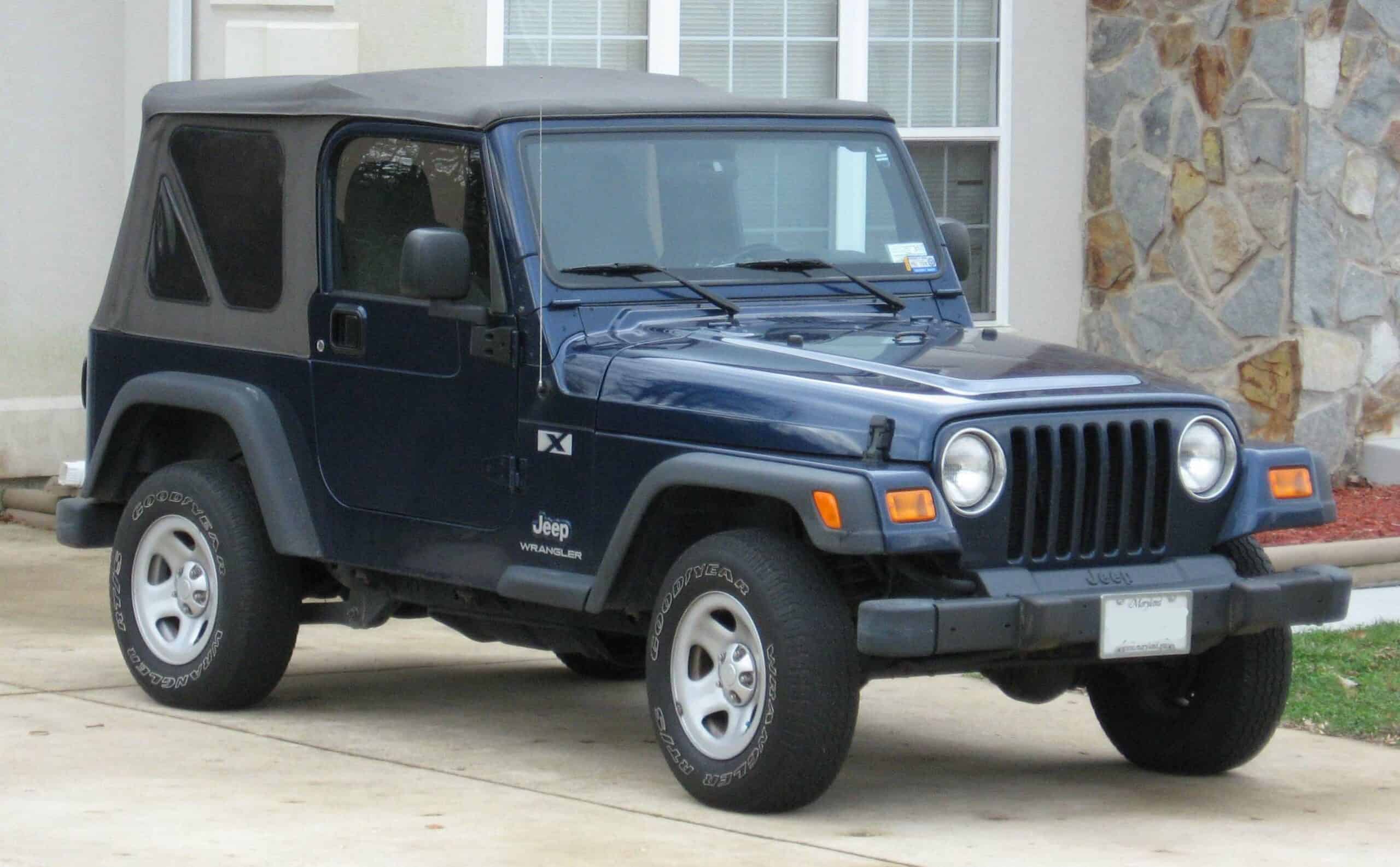 The downsides are a lack of performance from an antiquated set of engines, poor fuel economy, and a bare-bones style interior with little technology or refinements. 
However, if you're looking for a highly capable vehicle off-road, highly modifiable, and still maintains a good bit of daily driver capability – the TJ could be a good fit for you. These are also plentiful and highly affordable on the used vehicle market. 
When and Why Would I Buy a Jeep JL? 
Daily Driver / Weekend Warrior
You're looking for a driver-friendly, technology-savvy, and modern vehicle that can run errands looks awesome, and also happens to be incredibly capable off-road. 
Speed Demon or Fuel Sipper
Performance or fuel economy is a priority for you and you're looking to take advantage of EcoDiesel, Hybrid, or Hemi 392 models. 
Technology Geek
You're looking for modern safety and technology features like advanced airbags, blind-spot monitoring, advanced traction control, and advanced infotainment that are important to you and your family.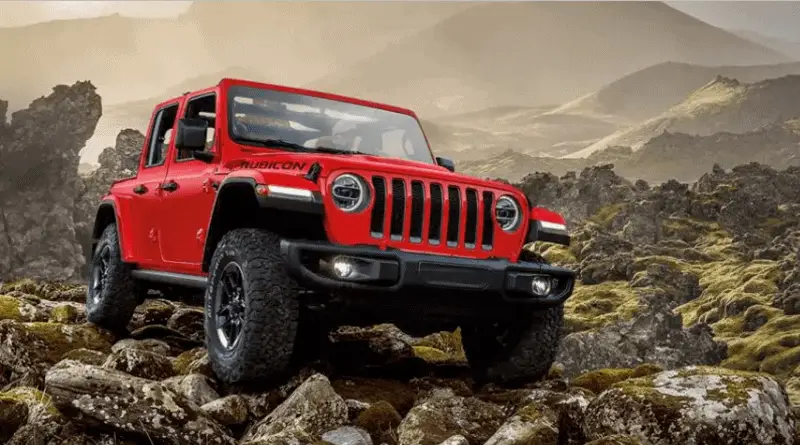 When and Why Would I Buy a Jeep JK? 
Hardcore Off-Road Monster
If you're looking to build the ultimate off-road rig, a gently used JK is a great place to start. This generation was incredibly capable out of the box and there is ample support from the aftermarket to create the ultimate rig. 
Weekend Toy
Since the JK isn't as friendly on daily drivers as the JL, many people purchase these vehicles to drive on the weekends or occasionally off-road. If you're not going to daily drive your Jeep, much of the allure of the JL is lost. 
Budget, Budget, Budget
Have you seen the listings for used JL's? If you take a look at the comparison above, you'll see that you can nab a JK for around $10k less than a JL. For those on a strict budget, there are plenty of late-model JK Wranglers to choose from!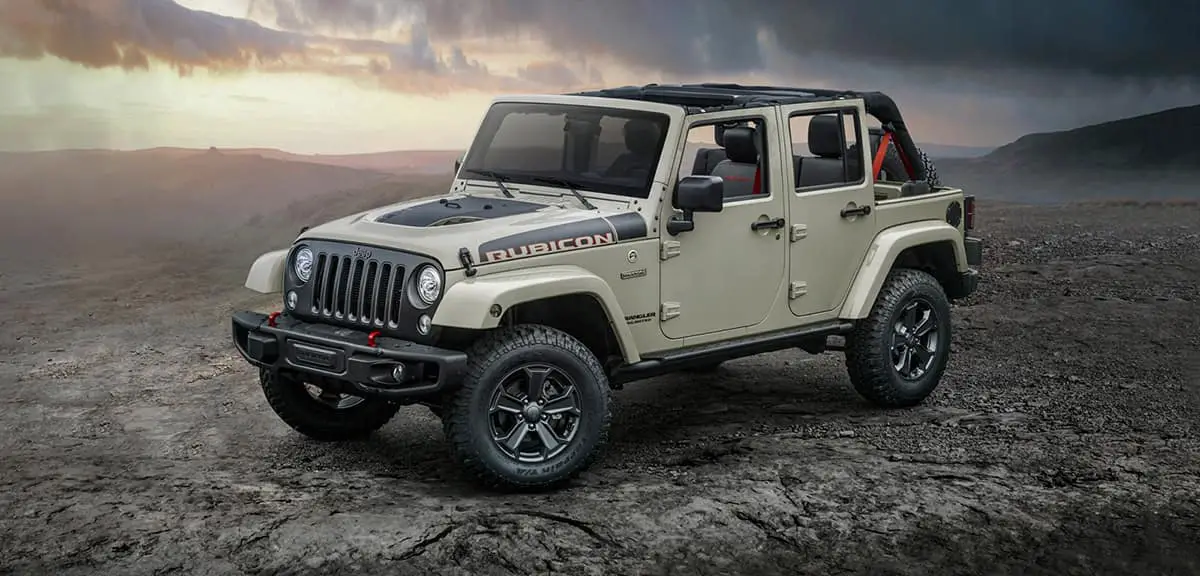 Bottom Line
There's no doubt in our minds that the JL is the best Wrangler ever created. However, you'll need to pony up some serious cash for the privilege of owning one of these awesome machines. The JK offers every bit of Wrangler capability and looks but sacrifices daily driver useability, performance, fuel economy, and technology. It also happens to be a whole lot cheaper to get into one, even in later model years. 
If you have the money, you should go with the JL! If all you have the budget for is a JK, they're no slouch and you'll have a vehicle that will provide you years of driving enjoyment. 
People Also Ask
Here are the questions surrounding the topic.
What Is the Size Difference Between a Jeep Wrangler JK And JL?
JL Wrangler 2 Door is 2.5 inches longer than the JK, while the Wrangler Unlimited has grown by 3.5 inches overall. Inside, JL models offer slightly more rear-seat space due to the longer wheelbase. See also: JK vs JKU
What Does Jeep JK And JL Mean?
These codes don't stand for anything, they're internal engineering codes used to distinguish the generations and their revisions. 
Is My Jeep a JK Or JL?
If you own a 2007 to 2017 Wrangler, you have a JK. 2018 saw both the JK and JL Wranglers being sold as new. Some dead giveaways that your vehicle is a JL are the increased fender flares, fender vents, and a front grill design with slightly inset headlights. All JL's have push-button start, while JK Wranglers did not offer this. 
How Much Higher Does the Jeep JL Sit Than the JK?
The JK and JL (minus the Rubicon trims) are the same height: 73.6 Inches.
Who Worked on This?
---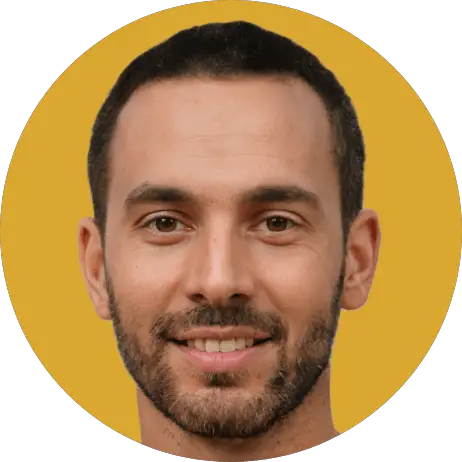 Brian
Editor
A master of organization, Brian helps keep everything running smoothly for Your Jeep Guide.
No Jeep yet but we're working on that!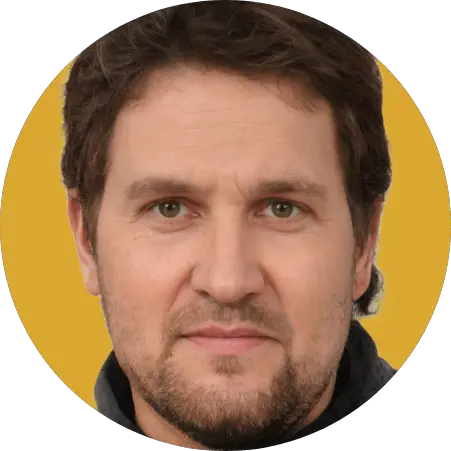 Cory
Writer
Cory loves his XJ and frequently thrashes it through the hills. He's constantly fixing something.

"What fenders?"
Check Us Out!