One of the great things about the Jeep Wrangler is its degree of customizability. 
You can take off the doors, take off the top, and add a lift kit. You can even switch out the grill.
Here is our complete list of the best Jeep grills out there in 2021.
Comparison of the Best Jeep Grills
IMAGE
PRODUCT

Our Top Pick

Adds an aggressive look to your Jeep
Made from high-quality and durable ABS plastic
Easy to paint to change to desired color

View Latest Price →

Very easy to install On your Jeep Wrangler
Anti-vibration strip included for protection
Can be used on a die range Jeep models

View Latest Price →

Best Budget Option

Best for the Money
Help to increase air flow to the radiator
Easy no drilling installation option

View Latest Price →

Best Jeep TJ Grill
Everything needed for a complete installation is included
Durable black finish to withstand the elements

View Latest Price →

Best Jeep Wrangler Gladiator Grill
Easy to paint to change to desired color
Made from high-quality and durable ABS plastic

View Latest Price →

Best Jeep Cherokee Grill
Will provide protection for your vehicle
Fits on a wide range of Jeep Cherokee models

View Latest Price →
What is the Purpose of a Jeep Grill? 
The grill is the face of your vehicle. If you want to add a little personality and style to your rig, then there's no better place to start. 
Grills are also functional. They play two roles. First, grills cover the engine of your vehicle to protect them from the elements and flying debris. Second, grills allow airflow to the engine to prevent it from overheating. In days past, grills were far more important for cooling than they are today. They used to be the single biggest cooling device on your vehicle. Now, engineers have come up with all kinds of ingenious ways to keep the engine from overheating. As a result, grills primarily serve a protective and decorative function today.
The grill of a car is one of its most distinctive elements. Jeep knows this more than most – their trademark seven-bar grill is iconic. That doesn't mean that it's the end-all-be-all of Jeep grills. Why be like every other Jeep? There are countless aftermarket options to add a little style and stand out from the crowd.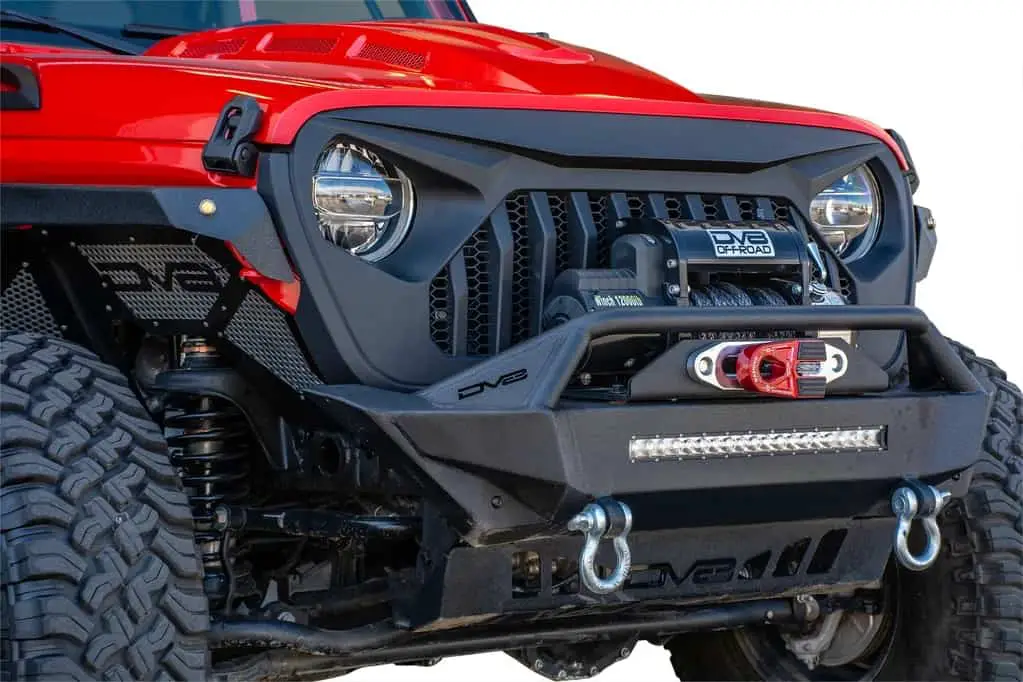 How Do I Choose a Jeep Grill? 
Choosing the right grill is the first step in the process. Fortunately, a lot of this just comes down to style. What is it, exactly, that you're trying to say with your grill? If you can figure that out, then you'll know where to start.
Of course, there are some characteristics to look for in any grill. These are the base features that make the good stand out from the bad. When looking at grills, we start by checking some important details, including:
Fitment
This is highly important. Be sure that the grill you're looking at is compatible with the Jeep you own. You can't just buy any old SUV grill – for the most part, Jeep grills need to be specifically designed for Jeeps. 
Installation
This is another important factor. Take a look at the instructions. How easy is this grill going to be to install? Do you need to make any major adjustments to the hood, bumper, or headlights? If so, you may want to consider another option.
Materials
The grill material is very important. Most grills use ABS (Acrylonitrile butadiene styrene). This material is not only durable and long-lasting, but it is also important for safety in a crash as it absorbs and redistributes impact.
At a Glance: Our Top Picks for Best Jeep Grills
Review of the Best Jeep Grills 
There are countless grill options out there, which is ideal when you have the time to wade through the options. When you're short on time, though,  the endless products on the market can start to feel restrictive. 
To help you get started, we reviewed seven of the best grills out there, one for every pillar on the front of the Jeep.
Xprite Front Grille
We may earn commission from purchases made from our links, at no additional cost to you
What Recent Buyers Report
Buyers seem to love this grill, particularly those who have an older Wrangler. This grill lets people update and customize their ride, giving them a fresh look on the road and off. According to customer reports, this is easy to install and even easier to maintain.
Why it Stands Out to Us
Like everyone else, we were drawn in by this grill's mesh design. The sharp angles of the headlight covers and the snarling mouth below really give this an aggressive feel. We also like that the mesh itself is removable. If you get tired of the teeth, you can swap them out for something else. 
Since the ABS comes in an unfinished matte color, you can paint it to match the rest of your Jeep.
As buyers note, the grill shape is a nice change from the traditional seven post look. While the OEM grill is a classic, it's hardly a rarity. As we all know, it can be pretty fun to stand out from the crowd.
Bottom Line
Out of all the grills we looked at, Xprite's Front Grille is our favorite. It not only looks great but is sturdy and well made. With impact-resistant ABS plastic construction, this is every bit as strong as the OEM original.
Pros
Removable mesh
Lightweight at 9.23lbs
High-quality ABS plastic
Cool & aggressive design
Matte black color is paintable
Cons
Doesn't fit JL Wranglers/Gladiators
ICARS Front Grill
We may earn commission from purchases made from our links, at no additional cost to you
What Recent Buyers Report
Two words keep coming up in buyer reports: looks great. Overall, feedback is very encouraging for ICARS Front Grill. Though the grill is light, people report that it is durable and sturdy and stands up to countless off-road beatings. 
Why it Stands Out to Us
Sharp and rugged – these are the words that come to mind when looking at this grill. It is one of the best looking Wrangler grills. The original diamond-cut design establishes itself beautifully among the contours and angles of the Jeep's body. If you have a push bar on the front of your Wrangler, this grill looks even better.
To top it off, the grill is of really high quality. It's made of thermoformed ABS to ensure a lightweight, durable, and crash-safe design. ICARS even throws in a useful anti-vibration strip to reduce any potential rattle or noise.
Bottom Line
This grill is a very close second. It is highly unique and will set you apart from the pack. It fits the OEM placement perfectly. Also, the grill itself is hardy and well made. It gets full stars from us.
Pros
Very quick installation
Fits a wide range of Jeeps
Anti-vibration strip included
Unique diamond cut design
Thermoformed ABS construction
Cons
Won't fit the JL
Some clip issues
American Modified Front Shark Grille
We may earn commission from purchases made from our links, at no additional cost to you
What Recent Buyers Report
For the most part, reviews are very positive. Older reviews indicate compatibility issues with some models, but the newer reviews suggest that the manufacturer has resolved these issues. 
Buyers report that the grill looks great, fits well, and can be installed in about ten minutes flat.
Why it Stands Out to Us
American Modified's shark grill is very affordable, well made, and a good fit for a wide range of Jeeps. The shark grill design gets its name from the sharp angles and jagged teeth.
This grill looks great on a bare-bones off-roader. If you have a lift kit installed, even better. 
We appreciate the quality of this grill and its ABS construction. Unlike years gone by, you no longer have to compromise quality to get a good deal. Given the price point, this is a durable and rugged piece. 
Bottom Line
When it comes to value, American Modified's Front Shark Grill is our number one pick. This grill is not just affordable but also a well-designed and well-constructed product. If you're looking for something on a budget, do yourself a favor and check this out!
Pros
Affordable price
Insert mesh grill
Very easy installation
Solid ABS construction
Uses stock clips and hardware
Cons
Won't fit the JL
White color is closer to grey
Allinoneparts Front Shark Grille
We may earn commission from purchases made from our links, at no additional cost to you
What Recent Buyers Report
Recent buyers are happy with this grill. For the most part, people find it easy to install since it slots right over the OEM positioning. We have seen reports from some buyers that they would have liked more extensive instructions.
Some buyers also claim that the grill is too small for some years of the Wrangler.
Why it Stands Out to Us
This grill stood out to us right away because of how well it complements the Wrangler TJ. The designers took the characteristics of Jeep's seven-slot design and gave it a modern twist. Instead of seven horizontal slots, this grill features twenty-four small slots divided up by seven horizontal posts and a series of arrows. The design also features sharper angles at the top and bottom of the headlights, which produces a more aggressive appearance. The finished product is impressive.
If you drive a TJ, this is the grill we recommend for you.
Bottom Line
This grill looks good on the Wrangler TJ. The TJ's simplistic design is accented well by the grill's sharp angles. Allinoneparts' product easily found a place on our list.
Pros
Very lightweight
30-day warranty
High-quality ABS
Installs on factory OEM position
Cons
For 1997-2006 Wranglers only
Best Jeep Gladiator Grill
u-Box Front Gladiator Vader Grille
We may earn commission from purchases made from our links, at no additional cost to you
What Recent Buyers Report
Most buyers are happy with this grill. It fits the listed models, is easy to install, and made of high-quality materials. That said, some reviewers have had issues with mounting it on certain Wrangler models. In these cases, modifications were necessary. 
Why it Stands Out to Us
This grill's angles flow so well with the shape of the front fender and bumper, it drew us in right away. The horizontal slats are a fun twist on the OEM design. 
U-Box's grill is of high quality. It is impact and crash-tested and produced under rigorous quality control standards. As a result, you don't have to worry about jeopardizing the integrity of your Jeep when you swap out the stock grill. The ability to paint the grill to match the rest of your Jeep is another great perk. 
All in all, this grill is a solid choice. 
Bottom Line
u-Box's grill is the best grill on the market for the Gladiator. It has a Vader style cut, which provides it an imposing and powerful look. With the build of the Gladiator, this pairs well. We highly recommend it. 
Pros
High-quality ABS plastic
Strict quality control test
Fits original mounting holes
Paintable matte black finish
Very lightweight at under 7lbs
Cons
Obstructs the hood latches somewhat
Best Angry Bird Jeep Grill
Usudu Mesh Front Bumper Grill
We may earn commission from purchases made from our links, at no additional cost to you
What Recent Buyers Report
This bumper receives fairly strong reviews from former buyers. Unfortunately, extensive written feedback is not readily available.
Why it Stands Out to Us
Usudu's grill hits it out of the park with this one. The angry bird grill design has become very popular in recent years. By evoking the essence of a bird of prey, these grills send a message: my Jeep can fly. 
On or off-road, this grill looks great. It is also one of the best grills on our list for a more recent vehicle, as it is specifically designed to be compatible with 2018-2019 Jeep Wranglers. 
The ABS material is the same as Jeep uses in its OEM grills, which ensures proper safety in an accident.
Bottom Line
Angry bird grills are really popular. They draw upon the speed, aggression, and prowess of birds of prey by replicating the shape of their face. As far as angry bird grills go, this is our favorite on the market.
Pros
High-quality ABS
Sleek matte finish
Mesh grill looks great
Fits 2018+ Wranglers
All necessary hardware is included
Cons
Does not fit older models
Little information available
XBEEK Matte Black Honeycomb Front Grill
We may earn commission from purchases made from our links, at no additional cost to you
What Recent Buyers Report
Former buyers highly recommend these grill inserts. Many buyers say that they are stronger and more durable than the OEM inserts. The blacked-out appearance is a favorite among Jeep buyers. They are, however, reportedly difficult to install.
Why it Stands Out to Us
After seeing a Cherokee with these inserts in place, it's hard not to love them. They give a serious facelift to your vehicle. It's pretty hard to believe just how dramatic the change is. 
These are some of the highest quality third-party accessories we've come across. Again and again, we hear how sturdy and durable these inserts are. As they come in seven separate pieces, damage to a single insert doesn't take out the whole rig. Instead, you can simply replace the broken piece.
If you drive a Jeep Cherokee, take a look at these inserts. You won't regret it.
Bottom Line
We recommend blacking out the grill with these inserts rather than swapping the grill entirely for a newer model Jeep Cherokee. They're light, great looking, and very strong. As far as inserts go, these are top of the line.
Pros
Seven distinct pieces
Only 1.8lbs in weight
Grill inserts fit OEM grill
Very strong construction
Fits most recent Cherokee models
Cons
Not a full grill
Not for Trackhawk or SRT
Types of Jeep Grilles
There are many grille types available for Jeeps. These range from the classic seven-slot stock grill to square slot grills, round-faced grills, mesh grills, and even a couple of shark grills. 
Some Jeep grills attempt to spin on the classic seven-slot design but leave everything else in OEM state. Other grills include adaptations to alter the headlight cover shape, giving the front of the Jeep an entirely different personality.
Billet Grilles
These grills traditionally feature horizontal or vertical bars. They are usually made with aluminum or alloy variations, which are some of the most popular styles of this grill.
Wire Mesh Grills
These grills feature interlocking wires to produce a mesh effect. They can take on a wide range of appearances, including diamonds, circles, honeycomb, egg-crate, or fencing. These are popular on trucks and luxury vehicles.
Tubular Grills
Tubular grills are grills that feature an array of small round tubes arranged either horizontally or vertically on your vehicle. These tubes are typically made of metal.
The list above is in no way all-inclusive. Instead, it provides a quick little overview of the most popular types. However, grills can get really niche. We've even seen custom made LED grills out there.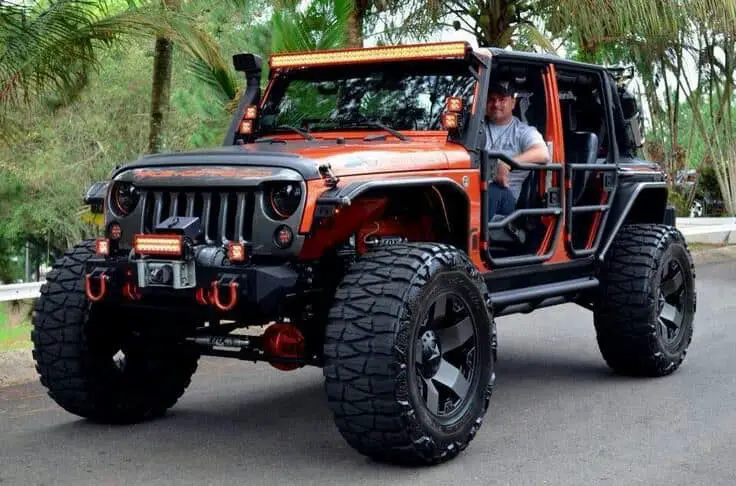 Jeep Grill Comparisons
It can be a little daunting to choose between the various types of grills out there. Why are some horizontal and others vertical? What is the purpose of a few round holes? How does this style compare to a series of tubular bars? Well, here's a handy tip when it comes to grills: most of the differences are decorative. 
If you're looking for a new grill, the most important thing to do is to make sure that the grill you buy is crash tested, quality-assured, and made from proper materials. Safety is first. Everything else is secondary. 
When it comes to appearance, here's our little comparison for these common styles:
Jeep Stock Grill vs Aggressive Grill
Jeep Stock Grill: This is the classic. It is timeless, iconic, and stands out a mile away. If you're rocking the seven slots, everyone knows what you're driving.
Aggressive Grill: A lot of people love an aggressive grill. This style uses hard lines and steep angles. It pairs well with a lift kit.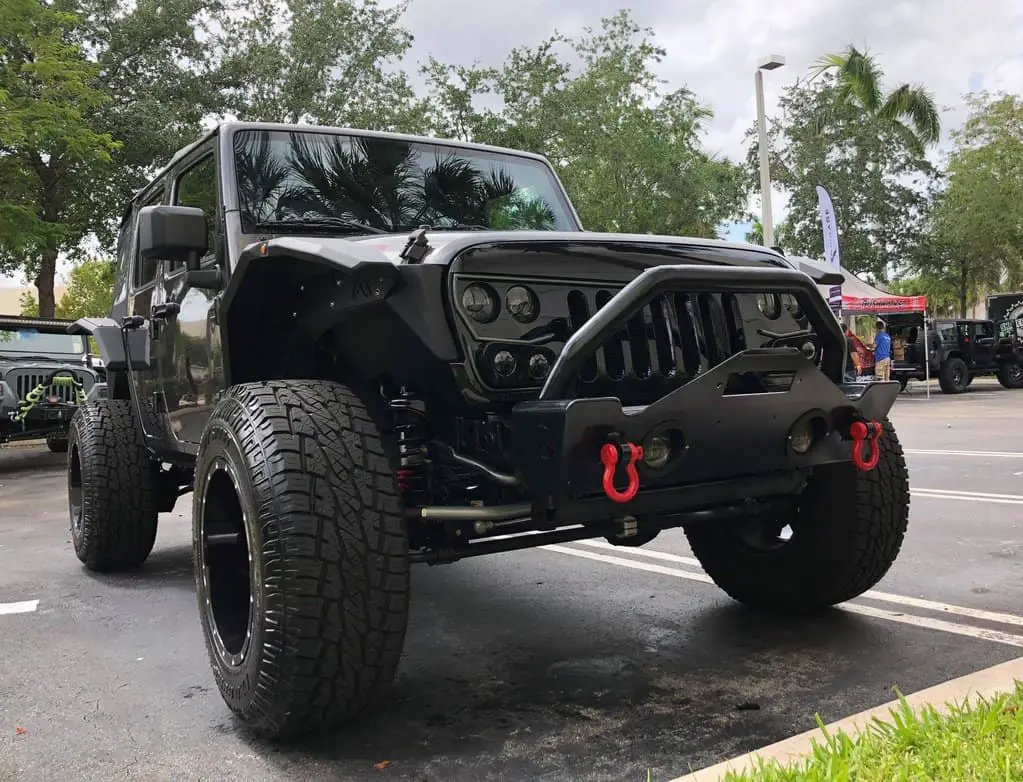 Jeep JK Round vs Square Grill Slots
Round: Round slots are sleek and modern. We love the look of these on newer models of the Cherokee.
Square: These are assertive and prominent grille slots. They give your Jeep a little old school flare.
Mesh vs Shark Jeep Grill
Mesh: Mesh is classic. It looks luxurious and subtle. 
Shark grill: This is a cool and aggressive look. If you want something a little different, try out the shark grill.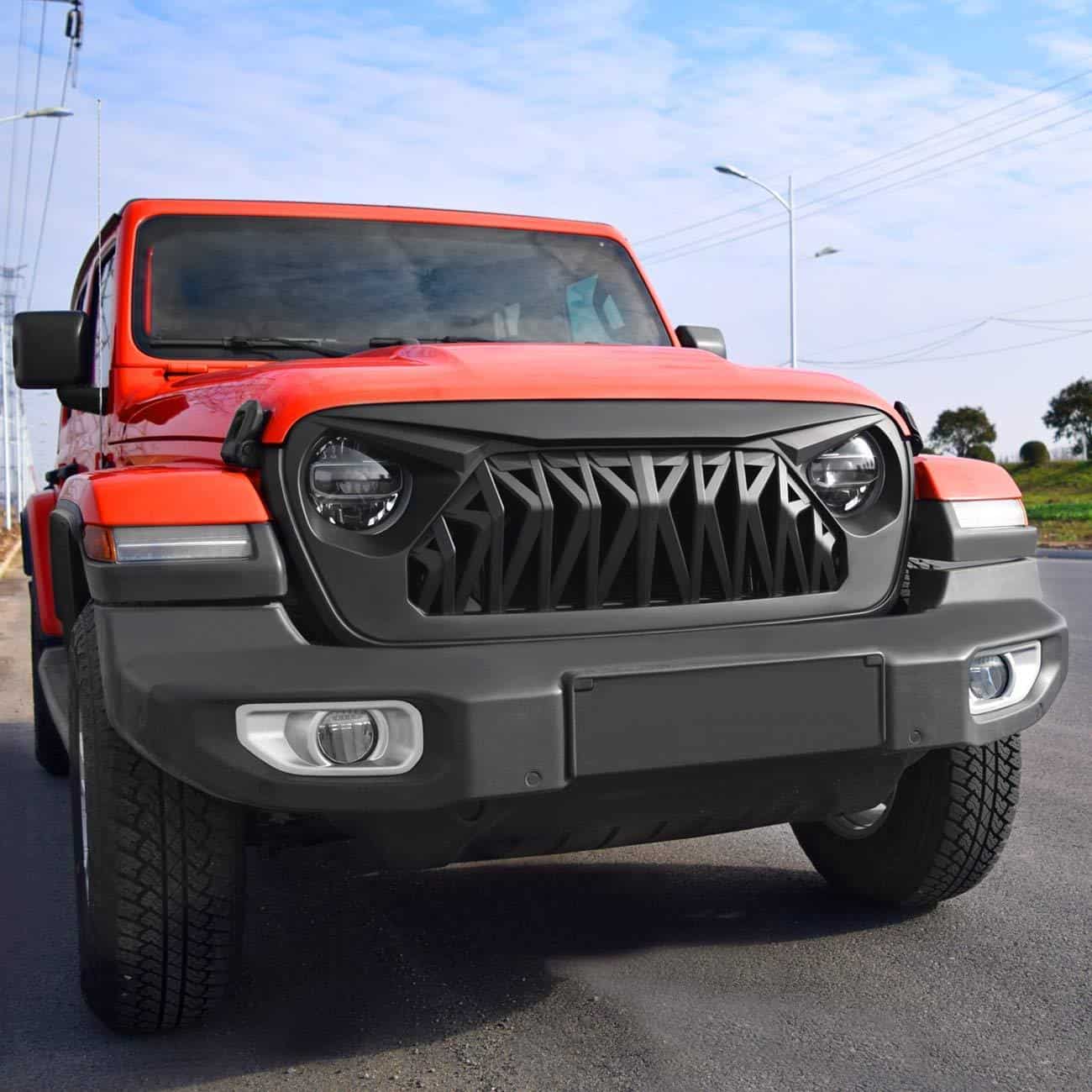 How to Remove Jeep Wrangler Grill
Like a lot of things, it's easier to remove your Jeep Wrangler's grill than you might think. While autobody and customization shops will offer to do the job for you, this can end up costing you quite a bit of money in hourly labor and part fees. 
Working on your vehicle is not just cost-efficient, it's a much more rewarding experience. 
For that reason, we've provided a step-by-step guide to help you figure out how to remove your Jeep Wrangler's OEM grill. 
Unlatch the hood and open it.


Unbolt the six clips along the top of the grill.


Locate the two holds at the end of the grill.


Pull up and lift the grill.


Pull up on the sides and pop the lower part of the grill from the lower clips.


Remove the grill entirely.
Please note that this is just a quick overview of the steps involved in removing a Jeep Wrangler's stock grill. Be sure to refer to the Youtube video linked below for a full breakdown of the process.
How to Remove Jeep Grill Inserts
Removing the grill inserts is very simple. Once the grill is removed, turn it face down. There should be clips on either side of the insert slots (on the back). You can simply push the clips and pop the inserts out.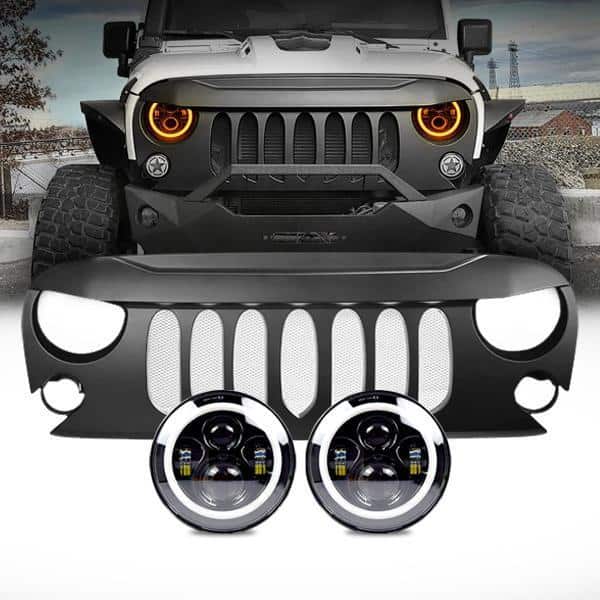 Conclusion 
Grills are a vital part of any car. They are also the face of your vehicle. If you want to add a little personality, what better place is there to start?
Quick Summary – Best Jeep Grills
Before you get too far, here's a quick take of the best Jeep Grills:
People Also Ask
We've made it through the basics. However, you probably still have a few unanswered questions. To help you out, we've gone through some of the most common questions and tackled them on our own. Here is a quick and handy FAQ guide to wrapping things up.
Why Should I Replace My Jeep Grills?
There are many reasons to replace a Jeep's grill. First and foremost, people like to customize their vehicles. This is largely an aesthetic choice. However, people also change out their grills to improve durability or to replace damaged parts. After extensive off-roading, certain components will likely need to be replaced or repaired.
Are Jeep Grills Expensive?
Generally speaking, Jeep grills are not overly expensive. There are, however, a wide range of grills available. These different grills can vary hugely in price. Some grills can be quite expensive, particularly when they feature custom or luxury options.
What Material is a Jeep JK Grill Made of?

Jeep's OEM grills are made by a company called Mopar. They use a combination of materials, primary synthetics such as ABS. These materials are durable but, more importantly, built to deliver safety under crash scenarios. 
Why Are Some Jeep Grills Slotted Horizontally?
There is no specific utility reason for these slots to appear horizontally. The slots allow air into the engine but protect it from debris. When Jeep designed their grill, they chose to use vertical slots for aesthetic purposes, more than anything else.
How Many Slots Are in a Jeep Grill?
The Jeep's grill is very distinctive. You can likely recognize it on sight. There are seven vertical slots in a Jeep grill, which is the company's trademark design and features on every Jeep vehicle made. On an aftermarket grill, the number of slots can vary, though many retain the seven slots.
What Does the Grill on a Jeep Stand For?
Originally, Jeeps were produced by Willys-Overland. These Jeeps featured a slatted grill. When the Ford Motor Company redesigned Jeeps for WWII, the grill was changed to nine vertical bars, which was a lighter alternative. Once Ford stopped making Jeeps, they shifted to seven slots.
What Do the 7 Slots in a Jeep Grill Mean?
The seven-slot grill is not a singular symbol, per se. It was initially a functional choice. However, after its introduction and its trademarking, it has been claimed by certain Jeep lovers that these seven slots represent the seven continents.
Are Jeep Grills Hard to Install?
Jeep grills are usually pretty simple to install. Every grill should come with instructions about how to install that specific model. Usually, it takes little more than half an hour to remove the OEM grill and then replace it with your custom one.
Who Worked on This?
---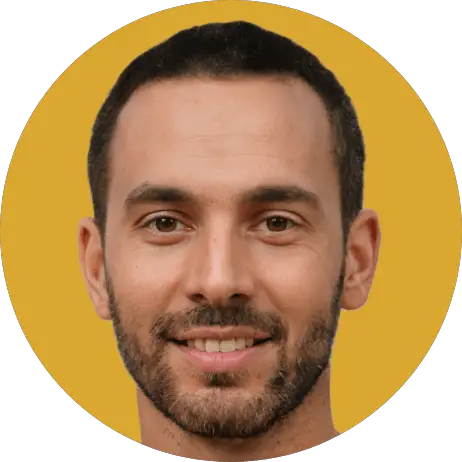 Brian
Editor
A master of organization, Brian helps keep everything running smoothly for Your Jeep Guide.
No Jeep yet but we're working on that!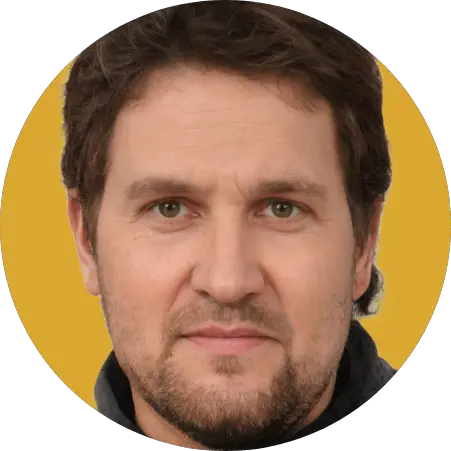 Cory
Writer
Cory loves his XJ and frequently thrashes it through the hills. He's constantly fixing something.

"What fenders?"
Check Us Out!