When it's really hot outside, you would naturally want to remove your hardtop. It can be a little tricky to do by yourself especially with 4-door Wranglers whether its a JK or JL.
They can be pretty heavy and awkward so lifting it off by yourself is can be a chore. You would want to keep your investment protected, keep the corners from being chipped or lose parts.
In this article, I will talk about different ideas, ways, and products that will help you store the hardtop safely.
I won't lie, it's quite hard for one person to remove the top off manually. In fact, I would discourage it as you might cause injure yourself with the heavy top. However, with the help of someone you can remove it safely and reduce and risks.
Most hardtops are present in one or two pieces but custom hardtops may have even more. New Jeep models also have lighting and electrical connections on the top which need to be removed before taking the top off.
Before Opening the Jeep Top
Before you take off your top, remove any electrical connectors or accessories. Take care to not pop off the weatherproofing seals between the top and body while you remove the top. Be sure to not drag the top along the Jeep's body as this will damage both.
Removing The Hard Top
You can build an inexpensive hardtop hoist to lift the hardtop out of the way and enjoy those warm summer days.
I will take you through a removal method applicable to the one-piece top but it's best to check your owner's manual before you take it off for specific instructions:
Pick up 4 ratchet straps, eyelet anchors with a working load of at least 300 pounds, 3-inch wood screws


Line the jeep under the trusses of the garage so that when you mount the eyelets in the ceiling it will not pull right out


Mount the eyelets into the trusses


Now release the quick-release clips inside the jeep which will make the freedom panels ready to come out


Remove the Torx screws that hold the hardtop in


Detach the connectors for the windshield wiper and the washer fluid in the back


Attach all the 4 ratchet straps in the corners and pull the hardtop up
In this way, you can remove the hardtop in under 20 minutes and cheaper, While removing the screws, don't just lump them all together as you may forget what goes where.  Having pre-labeled receptacles will help you keep organized and save time.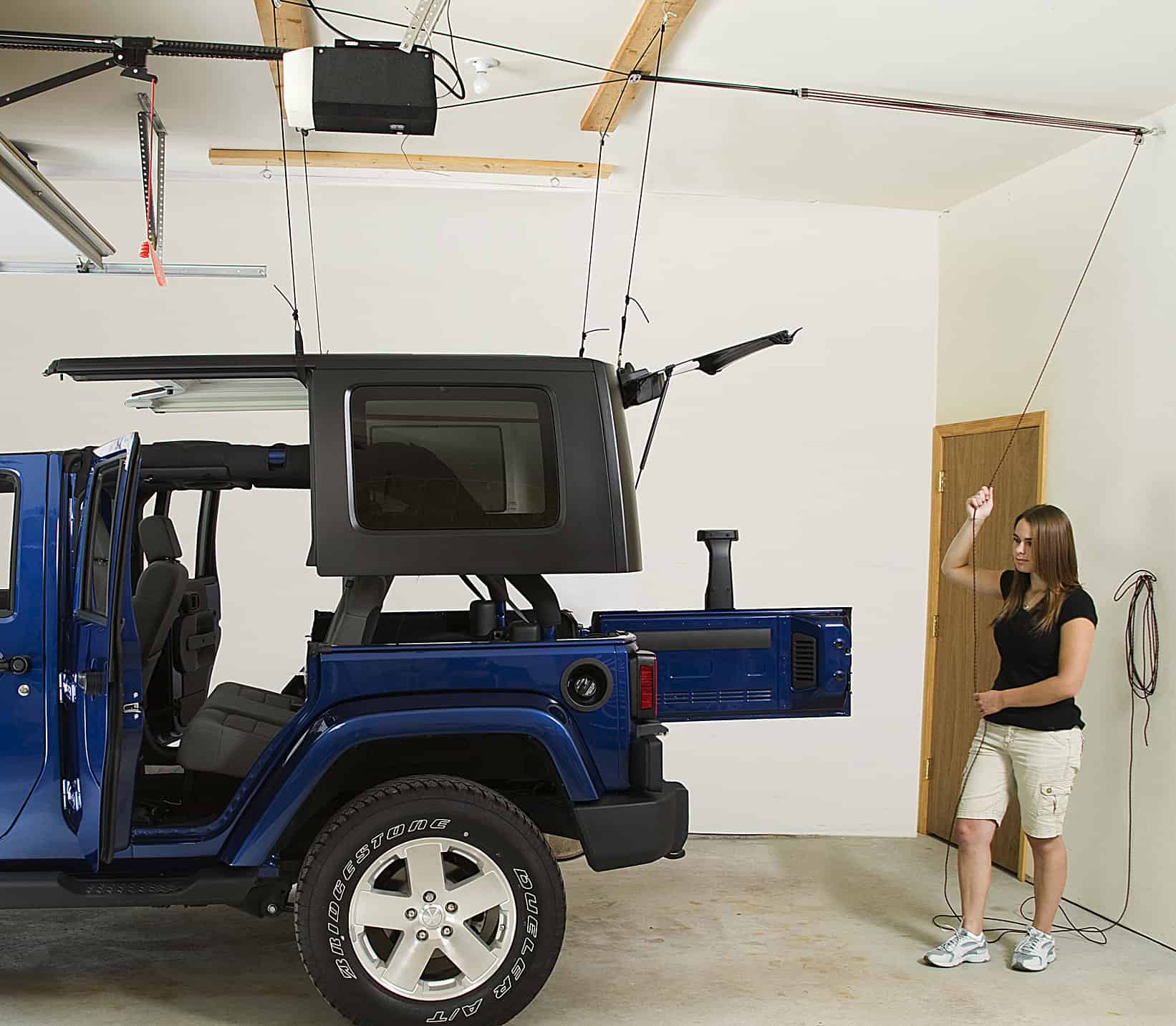 Storing Your Jeep Hard Top
Some methods can actually do both the lifting and the storing of a hard top together. Here are the most common systems of storing a hardtop:
1. Hoist Cart
A hoist is an appliance intended to lift or lower loads using the aid of a rope or chain coiled around a lift wheel. A hoist cart is great for removing your hardtop and you can actually lay the hardtop on it.
You can also get add-ons to it such as the freedom panel storage option and door hangers. So not only can you store your hardtop but you can keep your freedom panel and hand your doors (both 2 and 4 doors).
Basically, your whole jeep can be taken apart and stored on a cart.The one I personally recommend is HARKEN Jeep Hardtop Overhead Garage Storage Hoist (Check current price on Amazon)
2. Hoist-A-Top
The new Hoist-A-Top does the job of both removing and storing the hardtop easy which anyone can do without any help.
This system includes a strong steel frame that can attach to the hardtop. The good part is there is no drilling required.
The top is then lifted to the ceiling with a cable pulling mechanism. These are great if you have a tall ceiling or don't have space on your floor as you can store the hardtop high up in the air. There are 3 types of tops available
Hoist with a winch
Crank handle
Basic with a gear and couple pulleys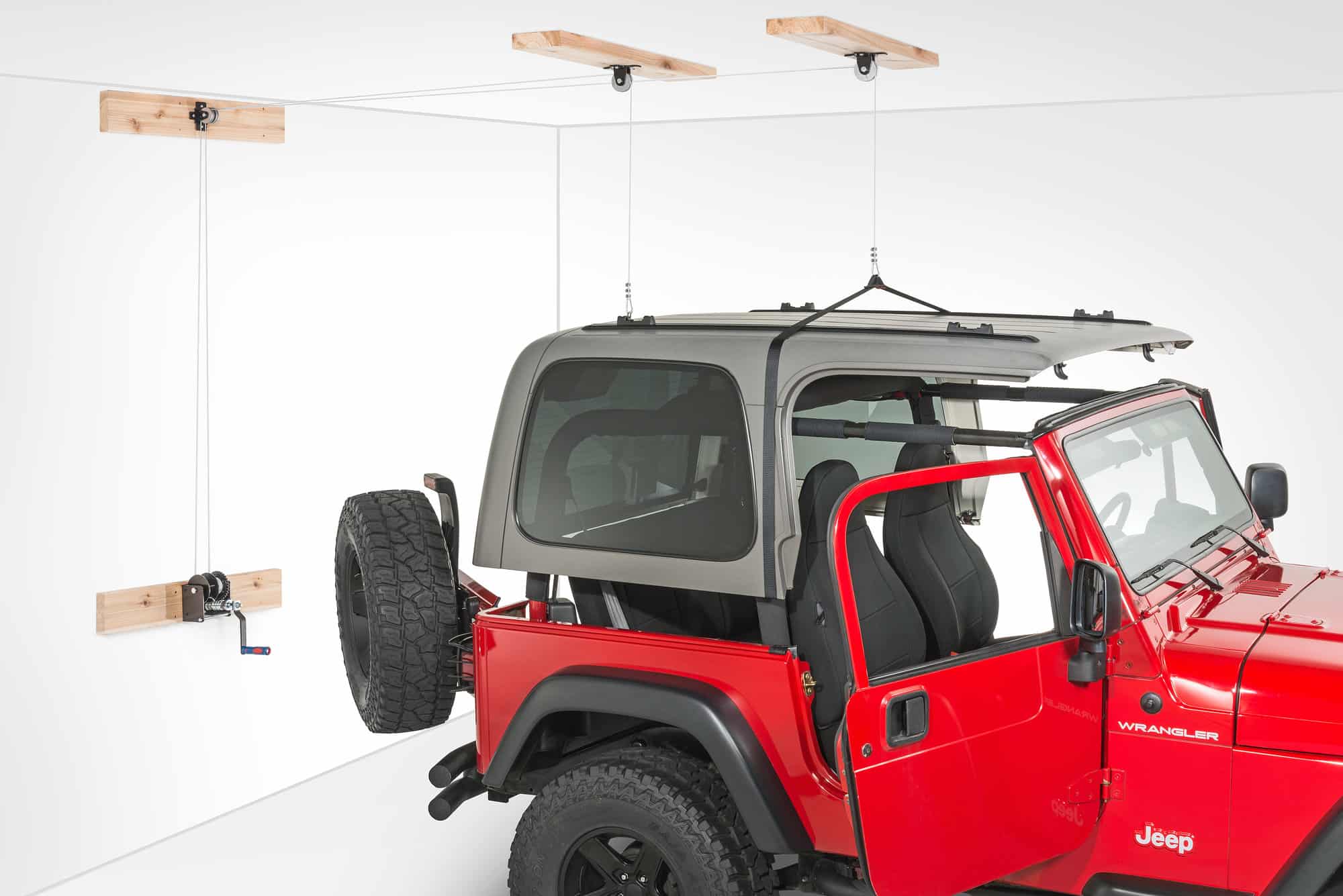 3. Storage Bag
Every jeep owner wants to enjoy the open-air driving experience. And if you have a hardtop, the freedom panel is the first thing you want to remove.
Storing them can be a pain and you'd want them to remain undamaged for as long as possible. Freedom Panel storage bags are a quick and safe storage option.
They have straps on the back which makes it easy to carry in and out of the garage and you can keep this bag in the back of your jeep.
With an investment like a jeep and an equally expensive hardtop, I think that a storage bag is worth it for protection and convenience.
4. Heavy Duty Hardtop Storage Cart
They are usually designed to store the hardtop in a verticle position to save space in your garage or shop. I would recommend you buy one with wheels so that you can glide the top around with ease after it has been removed from your jeep.
You'll find multiple aftermarket varieties available from multiple-storage dollies capable of holding the doors also, custom colors and more. Features like purpose-built winches and pulleys can make it really easy to remove or reinstall the hardtop.
Build Your Own Hardtop Dolly (DIY Method)
If you're a DIY-er who wants to save some money, here's DIY dolly from an expert
Material Required:
2×4 wood 60″ in length- 2 pieces
2×4 wood 30″ length- 2 pieces
2×4 wood 18″ in length- 3 pieces
2×2 woodcut to 60″ length- 1 piece
2 1/2″ deck screws
4 3-inch locking castors
16 1 1/2″ screws
1 pool noodle
Here are the steps to be followed:
Cut the board as per the above dimensions


Place the 30″ boards perpendicular to the 60″ ones at the corners.


Check for square and screw into place using 3 – 4 2 1/2″ deck screws.


Attach the locking castors on the 60″ boards with the screws


Turn the dolly over and fasten your castors From the edge of the 30″ board, measure up 9″ and mark on both sides. At this mark, screw your 2×2 board into place. On the 60" wood piece, about 2×4 distant


from the 2×2 cross board, measure in 21″ on either side and fix the first 18″ 2×4 board.


Screw the bottom of the dolly with the 2 1/2 deck screws.


Fix the 18″ board on above the first and fix the screw in it to secure them in.


Repeat this process in the other last 18″ board. Sand the hardtop in case you don't want to add foam padding
This is certainly a cheap method costing only about $28 but it would need some expertise with woodworking.
Final Thoughts
No other vehicle besides the motorcycle offers the luxury of being able to experience the open-air experience as a Jeep! With some effort, tools, and patience, you can pop off the lid and enjoy the fresh air.
Now that you've seen the options of hardtop storage, do your best to keep it indoors. This will protect the top from environmental conditions and from thieves!
If you do end up placing it in your garage, keep in mind that your jeep and other vehicles will take up space so keep it away from them to avoid being hit accidentally.
Who Worked on This?
---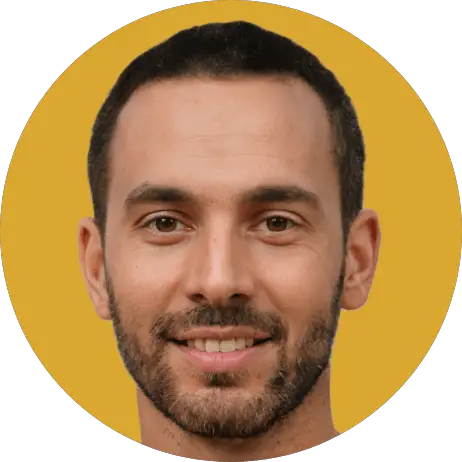 Brian
Editor
A master of organization, Brian helps keep everything running smoothly for Your Jeep Guide.
No Jeep yet but we're working on that!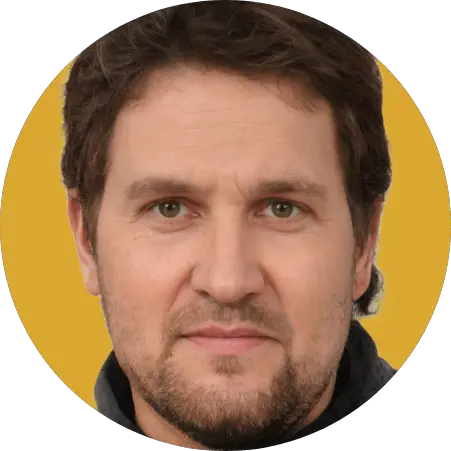 Cory
Writer
Cory loves his XJ and frequently thrashes it through the hills. He's constantly fixing something.

"What fenders?"
Check Us Out!