There's nothing better than cruising down the road with tube doors on your Jeep. You get the warmth of the sun and the breeze of gusting air.
If you live somewhere with four seasons, you'll need to throw the doors back on at some point. That also means you need somewhere to store them. 
Here's our guide to the best door hangers of 2021.
Comparison of the Best Jeep Door Hangers
IMAGE
PRODUCT

Our Top Pick

Will hold all models of Jeep Wrangler model doors
Very strong and durable metal used to last very long
Heavy duty screws included for secure fitting

View Latest Price →

You get 4 hangers included with this set
Will easily hold up to 60 pounds
Powder coated to resist rust and corrosion

View Latest Price →

Best Jeep JK Door Hangers
6 Of these door hangers included in package
EVA protection included for safe hanging

View Latest Price →

Best Jeep JL Door Hangers
3 groove holes included for a secured fitting
Easily hang up to 80 pounds on this hanger

View Latest Price →
When Would I Use a Jeep Door Hanger? 
The main reason that people need door hangers for Jeeps, and not for other vehicles, is because replacing a Jeep's full doors with tube doors or removing them is extremely popular. 
Unless you live in a single climate region, it's unlikely that tube doors are practical or viable for much of the year. For that reason, many Jeep owners have two sets of doors to switch between as the seasons change. 
Many people also remove their doors for off-roading but put them back on when they're hitting the highway. Why? Because when on the main road, it can be both a safety and legal concern if you drive without doors. If you're going to be switching your doors on and off regularly, you need to have easy access to your doors. In times like these, a hanger comes in very handy.
You're likely to use a Jeep door hanger when you remove a set of doors and need to store them. If you're short on storage space, they can be a real lifesaver.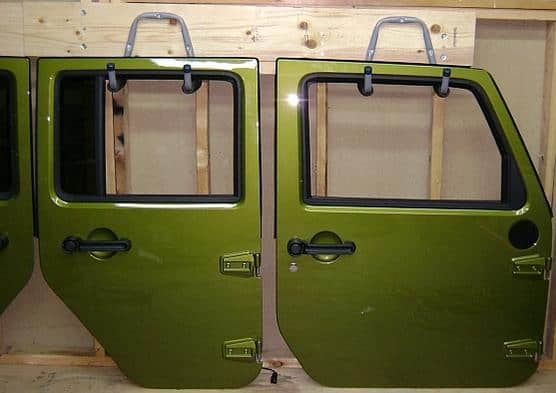 Are All Jeep Door Hangers The Same? 
All Jeep door hangers work along with the same principle – they provide a space to hang your doors. There are, however, several differences among hangers. 
Most hangers are wall-mounted. That means they bolt to the wall of the garage and hold your doors vertically. For the most part, these hangers hold a single door. In contrast, some hangers are attached to carts or racks. In these cases, your doors are usually both locked in place and then stored together as one unit. 
The best hanger for you depends upon your garage. If you're low on floor space, the wall hanger is a handy device. If you have little wall space, you might prefer a floor cart.
At a Glance: Our Top Picks for Best Jeep Door Hangers
Review of the Best Jeep Door Hangers
Here's what you've been waiting for. Our top picks for the best Jeep door hangers of 2020.
Arc Off Road Door Hanger
We may earn commission from purchases made from our links, at no additional cost to you
What Recent Buyers Report
Buyer feedback is very positive. It is difficult to find criticism of these hangers. They are strong, compact, and easy to install. People love that they do not involve metal-on-metal contact and, therefore, do not scratch or damage the paint in any way. 
Why it Stands Out to Us
Arc's Off Road Door Hangers caught our eye because of their simplicity, intelligent design, and easy installation. As far as door hangers go, these are our number one pick.
These hangers attach to the wall with three bolts. The door itself slides over the hanger at the window, and the hanger slots into the window channel to avoid any metal-on-metal contact. The door simply rests on the hanger. 
These hangers are sturdy. While their weight rating is not listed, they seem to support a great degree of weight and have no issue holding the Jeep's doors. 
Bottom Line
Here's what it all comes down to: the Arc Off Road Door Hanger is the best Jeep door hanger on the market. It's as simple as that. If you're looking for Jeep door hangers, start your search here.
Pros
Lightweight at 4.5lbs
Solid steel construction
No metal-on-metal contact
Attaches to the window channel
Compatible with all Wrangler models and years 
Sunluway Door Hanger
We may earn commission from purchases made from our links, at no additional cost to you
What Recent Buyers Report
Buyer feedback for the Sunluway hangers is very positive. People like the hanging design, which uses the window track of the door to properly support the weight without causing stress or damage to the door itself. 
Some critics have pointed out that rear doors do not seem to hang quite as easily as front doors.
Why it Stands Out to Us
Like your Jeep, these hangers are reliable and rugged. They use a high standard, powder-coated steel that is rust and corrosion-proof. Also, they work with all Jeep Wranglers made between 1956 and present, unless the doors are half-height. 
We like that these hangers use the window channel effectively to avoid damaging anything on the vehicle, from paint to hardware. They are also compatible with Jeeps that have rain or weather guards on the windows.
Overall, these hangers are another great option. They come with a nice warranty policy.
Bottom Line
Sunluway's Jeep door hangers are a close runner-up to our top choice. These door hangers are durable, well made, and neat. They keep your doors safely elevated and out of the way. 
Pros
60lb rating
Two-bolt installation
Lightweight at 4.19lbs
Rust and corrosion-proof
Powder-coated steel construction
Cons
Set of 2 only
Do not feature a rubber guard
Best Jeep JK Door Hangers
HauSun Heavy Duty Hook Hangers
We may earn commission from purchases made from our links, at no additional cost to you
What Recent Buyers Report
Most buyers are happy with these hangers. The foam coated end means that you can hang a wide range of objects from them without fear of scratching. Most buyers tend to hang bicycles, kayaks, paddles, or other forms of outdoor gear. When supporting all of the above, praise remains high.
Why it Stands Out to Us
These hangers are not designed specifically for Jeep doors. We like these hangers for their versatility. The arm design means that you can hang a wide range of items on them, from folding chairs to pool toys.
A single bolt supports each hanger, which means installation is quick and easy. On the downside, this also means that the hangers cannot support a tremendous amount of weight individually. However, as a group, the carrying capacity is pretty good.
Due to the galvanized steel construction and weatherproof finish, these hangers can be used both inside and outside. 
Bottom Line
These hangers are a great option if you're looking for something with a little less carrying capacity. They are intended to hold a maximum of 40lbs apiece. We loved how versatile these multifunctional pieces are. Also, they are neat and compact. 
Pros
Simple to install
9-inch arm hangers
EVA foam protector
Good weight distribution
Powder-coated steel finish
Cons
Not specifically designed for doors
Maximum recommended weight of 40lbs
Best Jeep JL Door Hangers
Bentolin Door Hanger
We may earn commission from purchases made from our links, at no additional cost to you
What Recent Buyers Report
Buyers are impressed with Bentolin's hanger set. They love the simple and functional design of these door hangers, and that installation is quick and easy. They don't waste any time with unnecessary features or add-ons. Also, customers report that they are reliable, durable, and seem to be long lasting. 
Why it Stands Out to Us
Once again, we loved that these hangers were simple and functional. When you're buying a hanger for your Jeep door, all you need is something that will get the job done and take up as little space as possible. Bentolin's hangers are just that. They can hold up to 80lbs and are very compact.
We like the powder-coated steel finish. It gives the look and appearance of durability and left us feeling confident in the rig's ability to hold our Jeep's doors off the ground for an entire season.
This product is an easy pick for our list and one of the best sets that we reviewed this year.
Bottom Line
The Bentolin Door Hanger is a durable and sturdy option. It is one of the best hanger sets we reviewed, and it easily secured a place on our best-of list. This option is also the best Jeep door hanger set for the Wrangler JL.
Pros
3-bolt support
Scratch proof finish
Hangers hold up to 80lbs
Powder-coated steel construction
Compatible with all Wrangler models
Cons
2 door set
Almost 11lbs
Seven Sparta Vehicle Door Hanger
We may earn commission from purchases made from our links, at no additional cost to you
What Recent Buyers Report
Buyers seem to love these hangers. They are lightweight at just under 4lbs but can hold up to 100lbs, which is more than enough for even the most rugged Wrangler door. People love the design and carrying method.
Also, the low cost of these hangers receives serious praise.
Why it Stands Out to Us
These hangers are some of the best products we've seen. Seven Sparta's hangers have the style of Jeep doors themselves. The hanger has the same general shape and structure as the door and looks great on the wall. Also, they weigh just under 4lbs but can hold an incredible 100lbs apiece. 
These hangers match cost and quality. While the price point is low, they do not feel cheap whatsoever. These were serious contenders for the top slot.
If you're looking for door hangers for your Jeep, check these out. We really can't see anyone regretting this purchase.
Bottom Line
Ultimately, these are some of the best hangers we've seen. Seven Sparta's hangers look good, work well, and are very simple to install. When you factor in cost, they're our number one pick. 
Pros
Easy installation
Three-bolt support
Scratch proof finish
Rated for up to 100lbs
Premium quality steel
Cons
2 hanger set
No rubber guard provided
Why Did These Jeep Door Hangers Make Our List? 
There is a huge range of Jeep door hangers available today. Combing through the hundreds of products out there is no easy task. We managed to whittle our list down to five of the best hangers on the market. You might be wondering how, exactly, we decided what to pick. Well, here's a quick overview of just what we were looking for:
Material 
We put a lot of stock into the materials used to build these hangers. 
Capacity 
The maximum weight that a hanger can comfortably hold is very important. Over time, a hanger with a low capacity might break or wear out.
Models 
Since this list isn't specific to a single model of Jeep, we tried to select hangers that can accommodate a wide range of doors. 
Affordability
This is an important one. Affordability doesn't just mean cheap – it means value for money.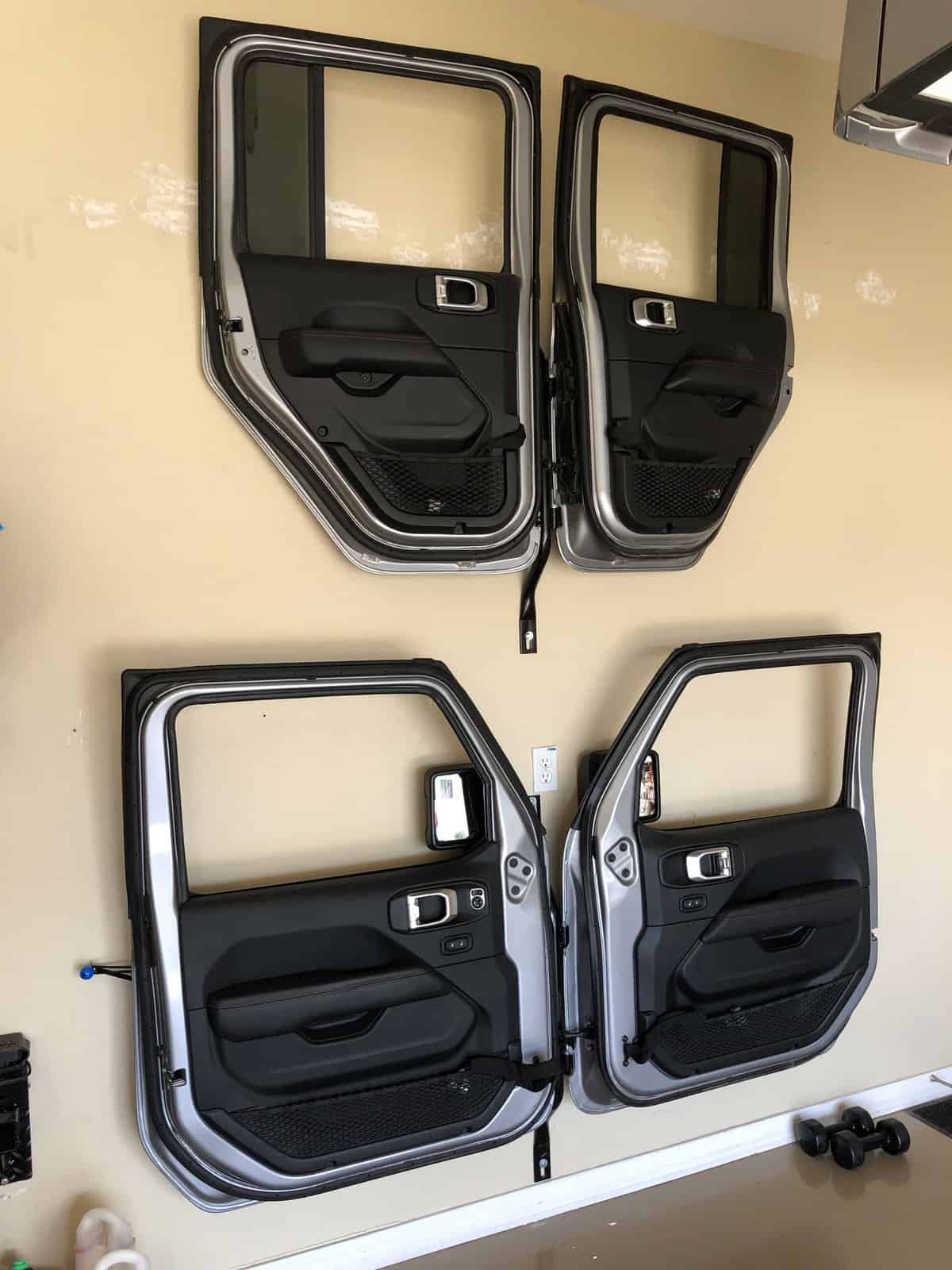 Quality
We wanted to make sure that the hangers we selected are the best of the best. If a hanger is of poor quality, we don't even consider it.
Just because a hanger didn't make our list doesn't mean that you should assume that it's no good. On a similar note, make sure to look into these items yourself to figure out which hanger is the best for your own needs. 
What Do I Need To Know Before Buying a Jeep Door Hanger? 
Jeep door hangers can save you an awful lot of time, trouble, and space. Before these hangers were commonplace, most Jeep owners left their doors hanging on posts or leaning up against the wall, but this can lead to damage, degradation, and dirt collection. With the use of a door hanger, you can be sure that your doors are safely and neatly stored away without any risk of undue wear and tear. 
However, there are a couple of minor points that you should know before buying door hangers. 
Is it Legal?
First, you should know that some jurisdictions do not allow you to drive your Jeep on the road without doors, as the side mirrors are a necessary safety feature. Before jumping in and buying door hangers, you should make sure that you can drive without doors in your region. It may be possible to circumvent this restriction by installing secondary mirrors.
Weight Capacity
You should also know that some Jeep door hangers can only handle about 50lbs of weight. Many Wrangler doors weigh somewhere in the region of 60-63lbs. Therefore, you need to carefully check whether your hangers can support the door you have before installing them.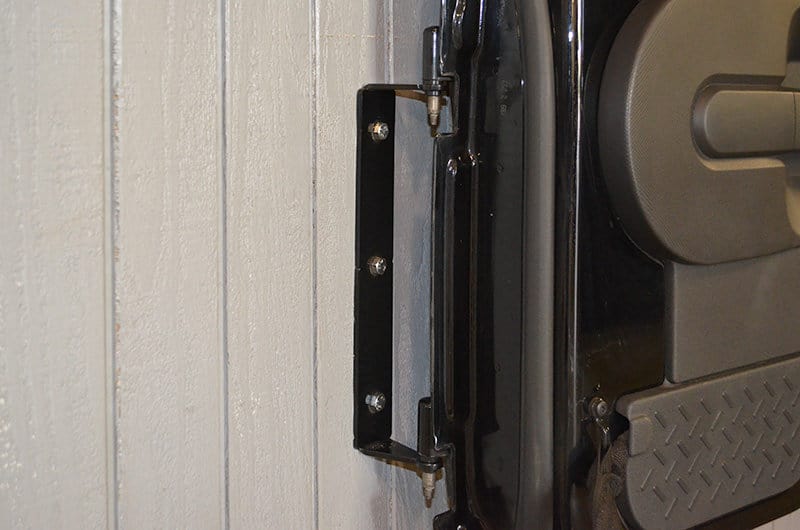 How to Install and Use Jeep Door Hangers
Installing most Jeep door hangers is a quick and easy process. Most of these hangers come with an instructional guide. If your hangers come with such a guide, make sure to refer to the manufacturer's instructions before installing the hangers. However, as the process is similar no matter the hanger, we have provided a simple overview of the installation steps.
Find the studs in your wall. 


Mark a place at least 48" from the ground.


Position your hanger on the wall. 


Mark this position.


Drill guide holes.


Install the bolts partially.


Level the hanger.


Fully install the bolts.


Repeat the process on the three remaining hangers.
Once you install your hangers, you should hang the doors over the hangers. Most hanger systems latch onto the inner lip of the window. As a result, it is important to lower your Jeep's windows before removal. 
This overview is just a quick rundown of the process. Be sure to refer to the video below for a full breakdown of the installation process.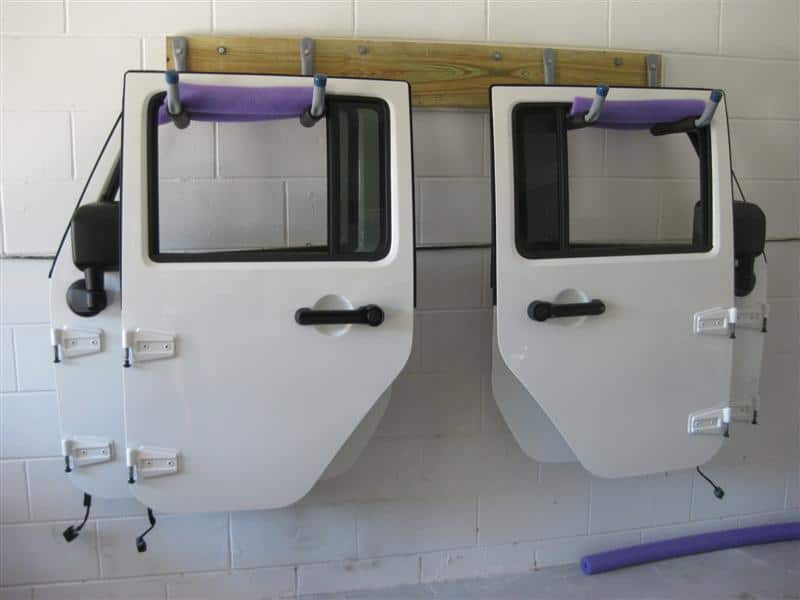 Conclusion 
Well, there you have it – you've made it through our complete guide to the best door hangers! We hope that we helped you decide which one is the right one for you.
Quick Summary – Best Jeep Door Hangers
Before you get too far, here's a quick take of the best Jeep door hangers:
People Also Ask
We've addressed the basics, but you likely still have some unanswered questions. To make things easier, we've put together a handy little FAQ. These are some of the questions we encounter most regularly.
Before you go, take a moment to read through this guide.
Where Do You Store Jeep Doors?
Where you store your Jeep doors depends on what storage space you have. Most people keep their Jeep's spare doors on wall hangers or floor racks. These hangers or racks are usually stored in a garage. If you do not have access to a garage, you might store them in a shed, an attic, or a spare room.
Can I Take the Doors Off My Jeep?
You can remove a Jeep Wrangler's doors. You can also take the top down. In some regions, it is illegal to drive without the doors on your Jeep, especially if you do not have an alternate set of side mirrors. Look into your local laws before removing your doors.
Do All Jeep Wranglers Have Removable Doors?
Yes. All Jeep Wranglers have removable doors as a base option, which applies to both soft and hard top Jeep Wranglers, as well as four-door options.  The only exception to this rule seems to be specialized (military etc.) variants of the vehicle. The process for removing these doors varies depending upon the model. 
How Long Does it Take to Take the Doors Off a Jeep?
The process of taking the doors off a Jeep Wrangler should not be overly time consuming or strenuous. These doors are easily removable. All in all, the removal process should take approximately five minutes. The first time you remove the doors may take slightly longer.
How Much Weight Can a Door Hanger Hold?
The weight limit depends upon the type of hanger you have. However, any quality hanger should be able to support at least 65lbs. We do not recommend hanging anything but Jeep doors on a Jeep door hanger, as the engineering may not account for the weight distribution of other objects.
Why Would I Take the Doors Off My Jeep?
Many people remove the doors on their Jeep Wrangler for recreational driving. This approach is popular when off-roading, but it is also common for inner-city or suburban driving during the summer. Check your local laws before driving in traffic with your Wrangler's doors removed.
Who Worked on This?
---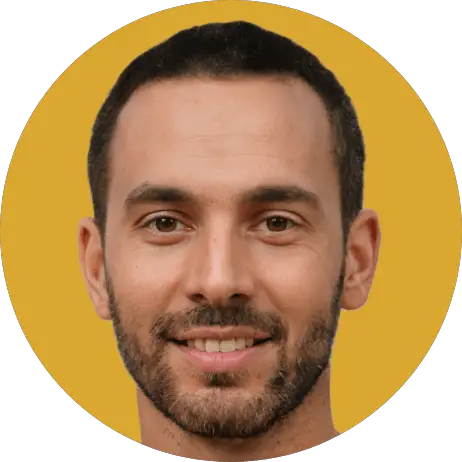 Brian
Editor
A master of organization, Brian helps keep everything running smoothly for Your Jeep Guide.
No Jeep yet but we're working on that!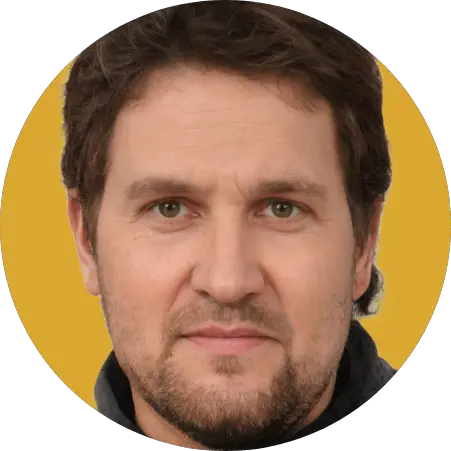 Cory
Writer
Cory loves his XJ and frequently thrashes it through the hills. He's constantly fixing something.

"What fenders?"
Check Us Out!