Looking through clutch kit options for your Jeep Wrangler can become overwhelming if you don't understand what you're looking at. 
So, to ease your frustration, we've put together a guide of everything you need to know about Jeep Wrangler clutches. We've also included our five top picks for clutch kits that can be used to replace the stock clutch in your Wrangler when the time comes. 
Read below for an all-inclusive look at how the clutch system works in your Jeep Wrangler. 
Comparison of the Best Clutches for Jeep Wrangler
IMAGE
PRODUCT

Our Top Pick

Properly tested to meet OEM Performance specs
Throwout Bearing Included? Yes
Flywheel Included? No

View Latest Price →

Comes with a 12 months and 12000 miles warranty
Throwout Bearing Included? Yes
Flywheel Included? Yes

View Latest Price →

Best Budget Option

Best for the Money
Throwout Bearing Included? Yes
Flywheel Included? Yes

View Latest Price →

Made with advanced performance options
Throwout Bearing Included? Yes
Flywheel Included? Yes

View Latest Price →

High-quality friction materials used to last much longer
Throwout Bearing Included? Yes
Flywheel Included? Yes

View Latest Price →
What Do I Need to Know Before Buying a Clutch for Jeep Wrangler? 
Before taking out your stock clutch and replacing it with a new clutch kit, you'll need to consider a few aspects of your vehicle. 
Some aspects you should consider before purchasing a new clutch for your Jeep Wrangler include:
Main Vehicle Use
Installation
Maintenance
Vehicle Use
The main way you use your vehicle will play a role in the type of clutch that will be best for your Jeep Wrangler. 
If you mainly use your vehicle for off-roading purposes, you will want to stay away from the clutch kits that are specifically geared for racing and vice versa. 
Usually, you can find a clutch kit that is mostly for street use but can also handle some off-road driving. 
Installation
The process of installing a new clutch may only take a few hours, but it's not always something you can do at home.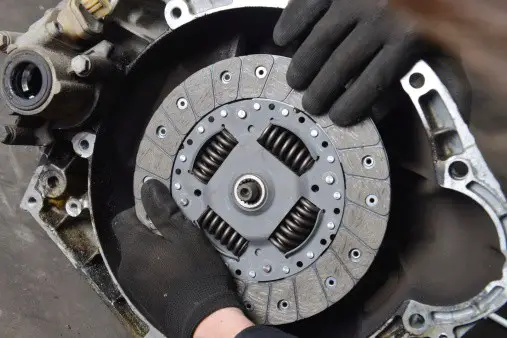 Usually, mechanics will charge for about 5 hours of their time if they are going to replace an entire clutch kit. Because of this, you may end up paying more in labor fees than you do for the cost of your parts. 
If you are interested in saving that money and installing a kit from home, make sure you buy from a manufacturer that makes easy-to-install kits and has a customer service line available for questions. 
Maintenance/Break-in
Similar to installation, it's very important to maintain your new clutch appropriately. After installing a new clutch, you should do as much city-driving (lots of start/stops) as possible in the first 500ish miles.
You should also try not to slip the clutch too much (engage it a little quicker than you normally would for a smooth/soft start) or you may risk glazing the clutch. If you glaze the clutch, it's toast. You'll need a new one!
Lastly, and this should be obvious but drive easy on the new clutch. Don't do any extreme launching, go easy on the gear shifts, and try to keep your foot out of the gas as much as possible. 
Once your ~500 mile break-in period is up, drive it like you stole it!
At a Glance: Our Top Picks for Best Clutches For Jeep Wranglers
Review of the Best Clutches for Jeep Wrangler
Not sure where to start? We've got the best clutches listed for you below.
LuK 05-065 Clutch Kit
Throwout Bearing Included? Yes
Flywheel Included? No
We may earn commission from purchases made from our links, at no additional cost to you
What Recent Buyers Report
Installing a new clutch kit is usually quite a headache for a non-mechanic, but not with this easy-to-understand kit from LuK. 
Recent buyers have said they've been shocked by how easy it is to install this kit into their Jeep Wranglers. A huge perk is that the kit will fit any model of Jeep Wrangler, making it very attractive for Jeep drivers who would normally take their vehicle to a mechanic for maintenance. 
The new clutch easily lasts over 50,000 miles with normal wear and tear and can be easily replaced again and again as needed. 
Why it Stands Out to Us
Not only is this clutch kit easy to install and understand, but it's also made by a brand that always values top-of-the-line manufacturing with all of its parts. 
LuK requires all of their clutch kits to be tested for 100% functionality before being sold. This test signifies how seriously the brand considers its product quality and can provide extra confidence in the parts for the customer. 
This clutch kit offers just enough mechanical strength to keep the transmission running well and the gears to shift smoothly every time. And you did not suffer from any jeep gearbox problems. It doesn't matter how heavy your Jeep is, this clutch kit will be able to handle the weight and function correctly every time. 
Bottom Line
If you want to skip a trip to the mechanics and install a high-quality clutch kit yourself that you can be confident in, this is the best option for you. 
Pros
Fits all Jeep Wrangler models
Tested for 100% functionality
All pieces engineered by hand
Includes kit with all parts and installation instructions
All parts have passed a performance specifications test
Cons
Throwout bearing may not be very durable
Plastic used for some pieces that should require a more durable material
EFORTISSIMO Racing Stage 2 Clutch Kit
Throwout Bearing Included? Yes
Flywheel Included? Yes
Warranty: 12 months/12,000 miles
We may earn commission from purchases made from our links, at no additional cost to you
What Recent Buyers Report
Since most Jeep Wrangler drivers seem to want to install their clutch kit at home, this is another kit high on our list for its ease in installation. An installation guide is included with the purchase and customer service representatives can answer any questions you come across.
This clutch is great for street or track use and comes ready to go, no modifications needed. The high-quality pieces in the kit provide a smooth ride and increased strength in the vehicle. 
Why it Stands Out to Us
This clutch kit fits like a glove for any Jeep Wranglers, Jeep Cherokees, and Jeep Grand Cherokees made between 1994 and 2000. The pieces are easy to install and are made of high-quality materials that can withstand the test of time with normal driving and maintenance. 
Not only is this kit easy to install but it's also easy to replace if there is a problem with any pieces included with your purchase. With one of the longest warranties available, EFORTISSIMO Racing offers a 12 month or 12,000-mile warranty against the manufacturer. 
This kit will only fit the specific models of Jeeps because it is made specifically to work with each vehicle's unique characteristics. This attention to detail pays off by providing a smooth engagement with the clutch and increased torque for the whole vehicle. 
Bottom Line
Instead of a one-size-fits-all approach, this personalized clutch kit is both easy to install and made of high-quality, durable materials. For the best performance on your 1994-2000 Jeep Wrangler, consider giving this clutch kit a try. 
Pros
Easy installation
Includes all necessary pieces
Guarantees 100% technical support
Engineered to perfectly fit the vehicle
Carbonized friction material has higher heat tolerance
Cons
May be a bit noisy
Some parts could be damaged during shipping
Southeast Clutch Kit
Throwout Bearing Included? Yes
Flywheel Included? Yes
Warranty: 12 months/12,000 miles
We may earn commission from purchases made from our links, at no additional cost to you
What Recent Buyers Report
This clutch kit is a popular purchase for owners of Jeep Cherokees, Jeep Grand Cherokees, and Jeep Wranglers. Made by Southeast Clutch, the parts included with this kit are made in Japan through the use of high-end technologies. 
The high-quality materials make this clutch a great option for even the heaviest vehicles. Customers who frequently carry large loads with them have been sworn by this kit for keeping their transmission running smoothly all the time. 
Why it Stands Out to Us
Unlike other clutch kits on the market, this kit is specifically made to work with heavier vehicles or those that do a lot of towing or traveling. 
Modern Japanese technology makes the parts in this kit the best of the best, which in turn makes the entire kit much more durable than you may initially expect. You can expect to use this clutch kit in your car for at least 50,000 miles before it may start to need repairs or a replacement. 
Bottom Line
If you notice your clutch kit giving out too fast or using too many cheap parts, you should consider switching to this kit from Southeast Clutch. The durability and high quality of the kit prove themselves time and time again.
Pros
Supports increase in torque
Quick shipping once ordered
Warranty of 12 months or 12,000 miles
All products verified with OEM specifications
Customer support available for installation questions
Cons
Professional installation recommended
Pilot bearing not included with purchase
LuK 05-901 Clutch Kit
Throwout Bearing Included? Yes
Flywheel Included? Yes
We may earn commission from purchases made from our links, at no additional cost to you
What Recent Buyers Report
Buyers who enjoy doing their work on their Jeeps are particularly fond of this clutch kit for its ease of installing and maintaining. The kit includes all of the necessary parts, but some pieces may be made better than others or last longer than others. All pieces of the kit have passed a functionality test and OEM certification. 
Once installed, this clutch feels easy and smooth when engaging and disengaging with the transmission. 
Why it Stands Out to Us
With LuK being such a trustworthy and reliable brand, we especially love this clutch kit that is specifically designed for certain Jeep Wrangler models and very heavy Jeep Wranglers. 
This clutch kit is easy to install at home and comes with everything you'll need to complete that process. Each piece has been tested and verified for its durability and can be individually replaced by the company if necessary. 
LuK consistently provides high-quality kits that set themselves apart from the stock clutch options and this product is no different. 
Bottom Line
This LuK clutch kit provides consistently better performance than a stock clutch, especially for heavier Jeep Wranglers. Every part needed to replace your clutch has been tested for quality and is included with this kit, along with detailed installation and management instructions. 
Pros
Lightweight flywheel
100% functionality tested
OEM performance specified
Works with several Jeep models
Easy-to-understand installation instructions
Cons
Some parts may wear out before others
Throw out bearing may not perform appropriately
Centerforce Dual Friction Clutch And Flywheel Kit
Throwout Bearing Included? Yes
Flywheel Included? Yes
Warranty: 12 months
We may earn commission from purchases made from our links, at no additional cost to you
What Recent Buyers Report
This clutch kit includes every piece you'll need to replace your stock clutch. Each piece is made specifically to work harder and be sturdier than the pieces that came with the stock option.
The heavy flywheel, for example, adds to the sturdier feeling of the vehicle once installed. This clutch guarantees a smooth, quiet driving experience and easy shifting. 
Why it Stands Out to Us
Any Jeep driver who had their Wrangler for a long enough time knows the difference an advanced clutch kit can make when compared to the stock clutch. 
With every piece in this kit made of high-quality and lasting materials, this clutch feels entirely different than a stock clutch once installed in your car. The flywheel is heavier than what would be included in the stock, which makes for a smooth and quiet drive every time.
The transmission is taken care of and you can easily shift between gears with the soft pedal when using this clutch. Though it may require professional installation, the difference it makes may be worth it for you. 
Bottom Line
This clutch leaps beyond the stock clutch kit that's usually included in the Jeep Wrangler. With high-quality parts and a specialized fit, this clutch kit could make your jeep drive smoother, quieter, and overall, more enjoyable. 
Pros
Vehicle-specific fit
Specialized machining processes
Minimal effort required on the pedal
High-quality and high-friction materials 
Uses patented centrifugal weight system where applicable
Cons
May require professional installation
Works better for street driving than off-roading
How Does a Clutch for Jeep Wrangler Work? 
Jeep Wrangler clutches work a little differently than the clutch in other manual vehicles. 
All Jeep Wranglers use a hydraulic clutch to switch between gears in the transmission. 
When you push on the clutch pedal, hydraulic fluid leaves the clutch master cylinder and heads toward the slave cylinder in the transmission. Since the hydraulic fluid is not able to be compressed, the force of your foot on the pedal transfers to the slave cylinder. 
The slave cylinder controls the clutch release bearing and pressure plate. The diaphragm spring of the pressure plate fluctuates and triggers a chain reaction in the transmission, which causes the hydraulic pressure to drop and the clutch disk to be pressed to the flywheel.  
When is it Time to Replace the Clutch on My Jeep Wrangler?
It can be easy to get caught up in the fun of driving a Jeep, but it's important to know when your clutch may need to be replaced.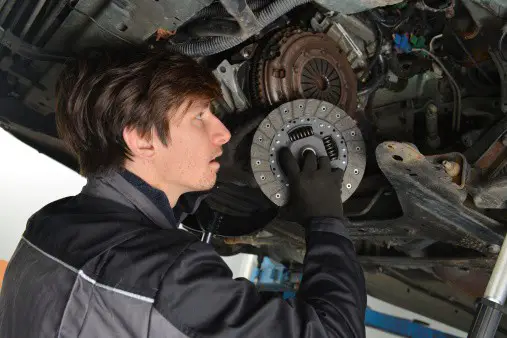 The best way to tell that your Jeep Wrangler clutch needs to be replaced is if it starts to slip when trying to shift gears. If you are unable to engage in certain gears, then there is likely something in your clutch that may need to be replaced. 
How Long Does a Jeep Clutch Last?
Jeep Wrangler clutches can easily last between 50,000 and 100,000 miles, depending on the way you drive your Jeep. 
How to Tell If Jeep Fan Clutch Is Bad
If you notice an especially loud noise coming from the clutch, that could be a sign that your fan is damaged or needs to be replaced. 
What Are The Components of a Jeep Wrangler Clutch?
The mechanism of the Jeep Wrangler clutch is more than just one large piece. Instead, it is a combination of multiple pieces that work together with the transmission to switch between gears appropriately. 
The main components of the Jeep Wrangler clutch includes: 
Clutch Release Bearing
Master & Slave Cylinder
Clutch Fork Bearing
Master & Slave Cylinder
The master and slave cylinder work together to transfer hydraulic pressure from the pedal to the transmission.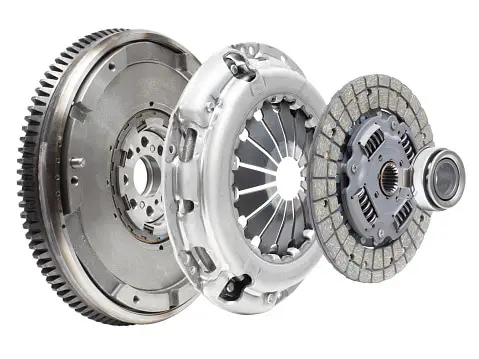 Power is transferred from the pedal to the master cylinder, then to the slave cylinder, which transfers the power to a rod that pushes against a lever to disengage the clutch. 
Throwout Bearing
The clutch release bearing, also known as the throwout bearing, is the "heart" of the entire clutch operation. The throwout bearing is the part of the clutch that temporarily disengages the engine from the transmission as you switch between gears. 
This piece must work properly because without it, you wouldn't successfully be able to switch gears without slipping. 
Clutch Fork Bearing 
The clutch fork bearing is a small, round piece that wraps around the clutch fork to keep it from grinding or making excessive noise. 
This specific piece of machinery helps to stabilize the process of switching gears to make it as smooth and easy as possible. 
How to Choose a Clutch for Your Jeep Wrangler
Choosing a clutch for your Jeep Wrangler may be a difficult undertaking, but it's easy to start with deciding which brand you are most comfortable with. 
LuK clutch kits, made by the Schaeffler Group in Germany, are the most popular clutch kits currently on the market that are used for Jeep Wranglers.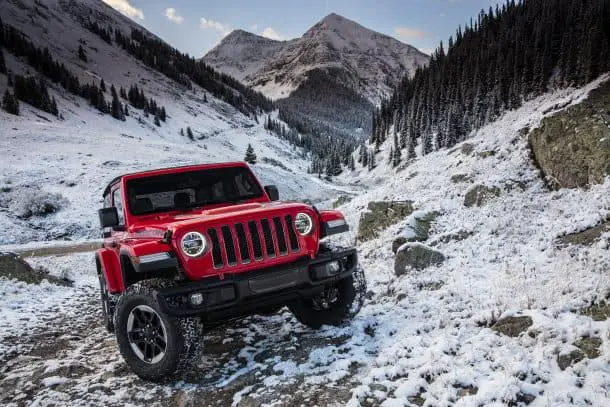 All of the clutch kits sold by LuK must pass a 100% functionality test before they can be purchased. This high standard of functionality is what sets LuK apart from other, similar brands. 
Other than the brand, there are also three main features you should look for in your replacement clutch to make sure it's going to get the job done well for you. 
Quality Throwout Bearing
A high-quality throwout bearing may be the most important piece in the overall clutch operation.
The throwout bearing is in charge of temporarily disengaging the engine from the transmission while shifting. If the throwout bearing does not work properly, the transmission could slip and you'll be unable to switch gears adequately. 
When looking for a new clutch kit, you want to make sure the throwout bearing is made of sturdy, heavy plastic or heartier material. The throwout bearing will gradually wear out with time, but the sturdier it is the longer it'll be before that happens. 
Pedal Effort
The amount that you have to physically push on the clutch pedal before the clutch is engaged seems like a minor detail but it can make a huge difference. 
You want a somewhat soft clutch pedal, meaning it does not require a large amount of effort before it disengages. But, at the same time, you also want to ensure the clutch is not too touchy and does not immediately engage like an on/off switch. 
The best way to get a feel for the clutch pedal of a new kit is by researching reviews or talking to the manufacturers about your specific vehicle.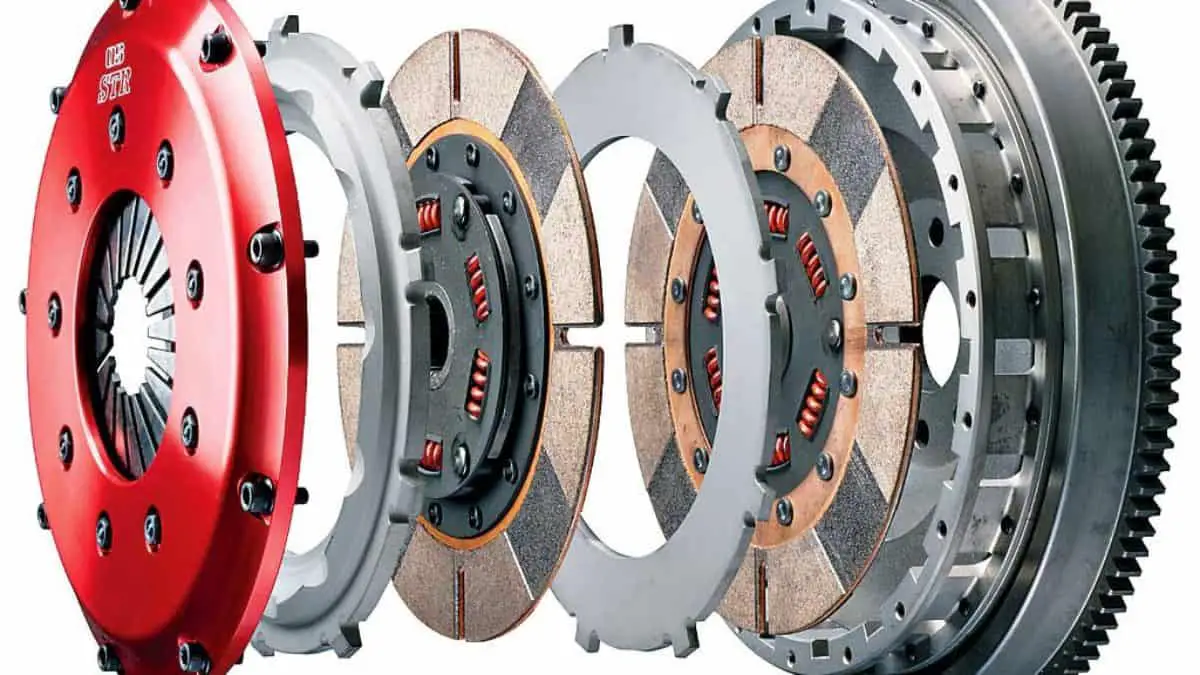 Mileage
Though not all clutch kits will provide a range, it would be good to know the number of miles you can expect to use your new clutch for before needing a repair. You should also note any specific maintenance details you may need to remember. 
Generally, a clutch kit should last at least 50,000 miles before needing to be replaced. Some clutch kits include warranties up to 12,000 miles or have recommendations on when to replace certain parts in correlation with the number of miles you've driven. 
Benefits of Investing in a Quality Clutch for Your Jeep Wrangler
Investing in a quality clutch may be a significant undertaking, but it's worthwhile at the end of the day. A good clutch can make all the difference for the ride of your vehicle and could even extend your vehicle's life, as well. 
Some big benefits of investing in a quality clutch include: 
Smoother Ride
Added Torque
Better Mileage
Smoother Ride
You can always tell when your clutch is needing some help because you'll hear and likely feel a rattling coming from your transmission. 
Replacing your clutch kit when necessary will eliminate the noise and will help provide a smoother ride because it'll be easier to switch between gears.
If you have a quality throwout bearing and flywheel, your transmission will appropriately engage and disengage with the engine when you push the clutch pedal every time.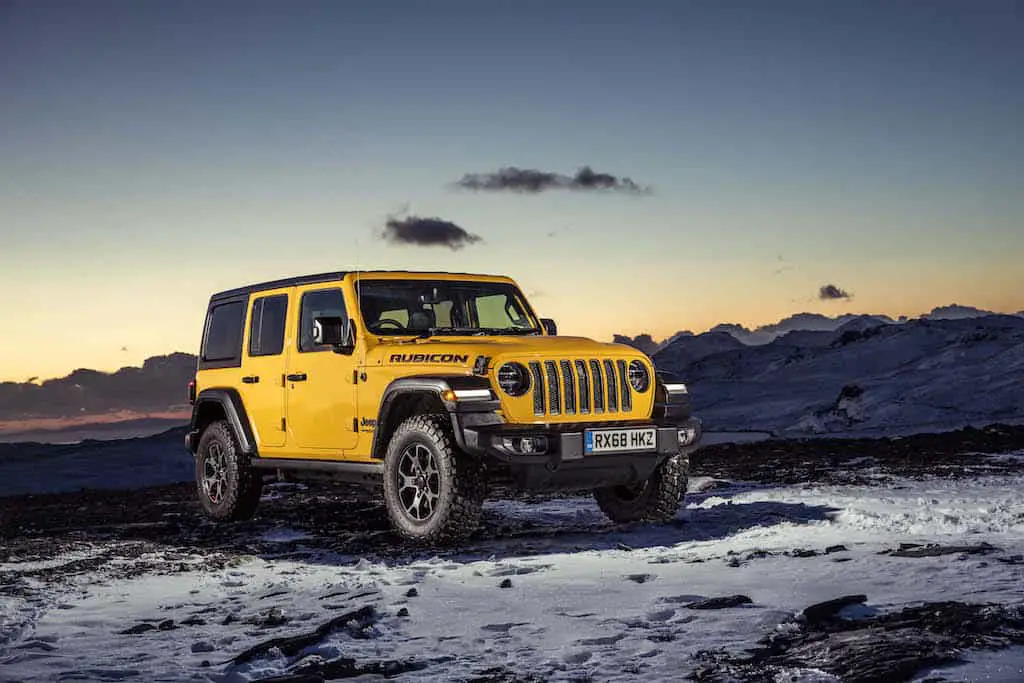 Added Torque
If you find yourself pulling a lot of weight frequently in your Jeep Wrangler, then you must keep your clutch kit looking and feeling good year-round. 
A new clutch kit will almost definitely add torque to your vehicle by increasing the amount of friction it can withstand when loaded down with heavy materials. 
If you have a good grip on the transmission through your gears, then your Jeep Wrangler will also have a good grip and feel more confident and sturdy when pulling heavy loads. 
Better Mileage
A properly maintained clutch is a sign of a well-kept car, which is why it's no surprise that a sturdy clutch will also help your vehicle perform better. 
In general, you'll receive better gas mileage on your Jeep Wrangler if you have invested in a quality clutch. Advanced clutch kits ensure all the power available in the vehicle is used appropriately, which helps make your vehicle run better and faster, 
How to Change a Clutch on a Jeep Wrangler
If you're planning to change your Jeep Wrangler clutch, you may want to carve out a whole afternoon to get the job completely done.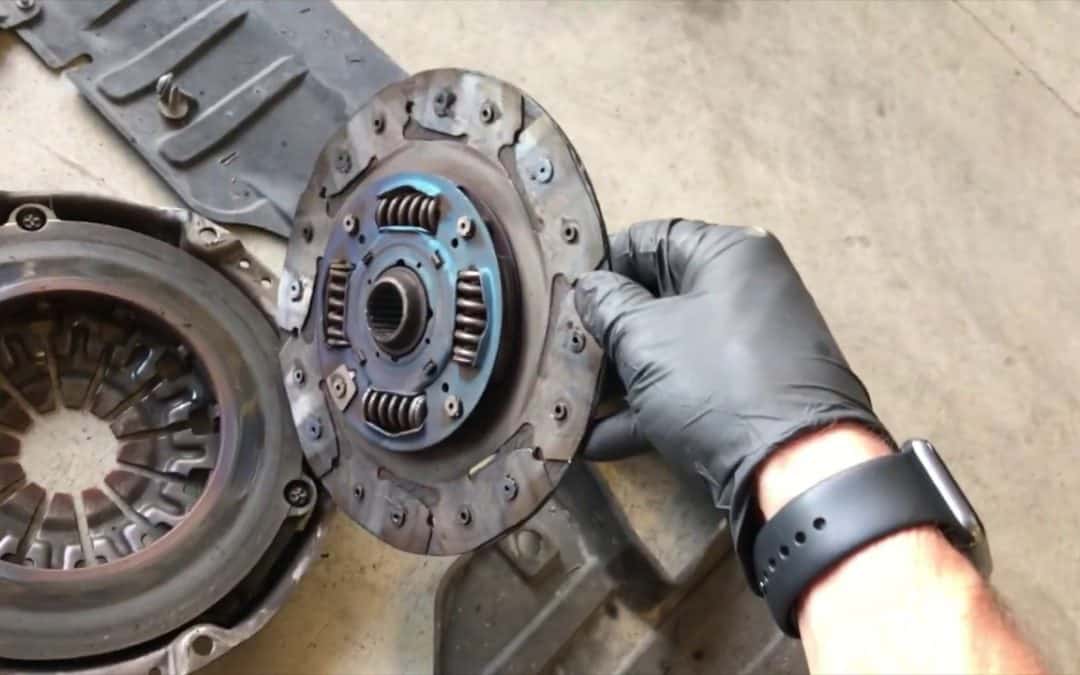 The installation process starts with lifting the car and sliding the transmission and TC back. Most Jeep-owners who have completed the task recommend using a transmission jack for this step. 
Next, remove the pressure plates using an impact. Be careful to remove the plates before they fall and get lost in the transmission itself. 
Remove the bolts that connect the flywheel to the crankshaft so you can remove the old flywheel. 
You'll want to press a large bolt into the hole of the pilot bearing to loosen it. Once it's free, you can remove the pilot bearing as well. 
Once all the old pieces have been removed, you can install the new flywheel in its place. Next, install the pressure plate over the clutch disc and screw in each of the bolts in the flywheel. 
You'll need to individually put each of the pieces back together before lifting the transmission back into your vehicle. Refer to this video for a full breakdown of how to change a clutch on a Jeep Wrangler: 
Common Jeep Wrangler Clutch Problems
Jeep Wranglers are notorious for being fun to drive and recognizable on the road. Unfortunately, they've also been known to have some consistent problems with the clutch. 
Though completely fixable, Jeep Wranglers are commonly known for having a "death rattle" or a loud noise that comes from the clutch because it may be slightly too loose. 
The stock clutch will almost always develop this problem once used enough, which is why it's important to upgrade to an advanced clutch kit that has parts that fit better than the stock models. 
All Jeep Wranglers use hydraulic clutches, meaning the clutch works by forcing hydraulic power from the pedal through to the transmission. It's important to make sure the transmission and all parts of the clutch kit are working properly to ensure the clutch will work as designed.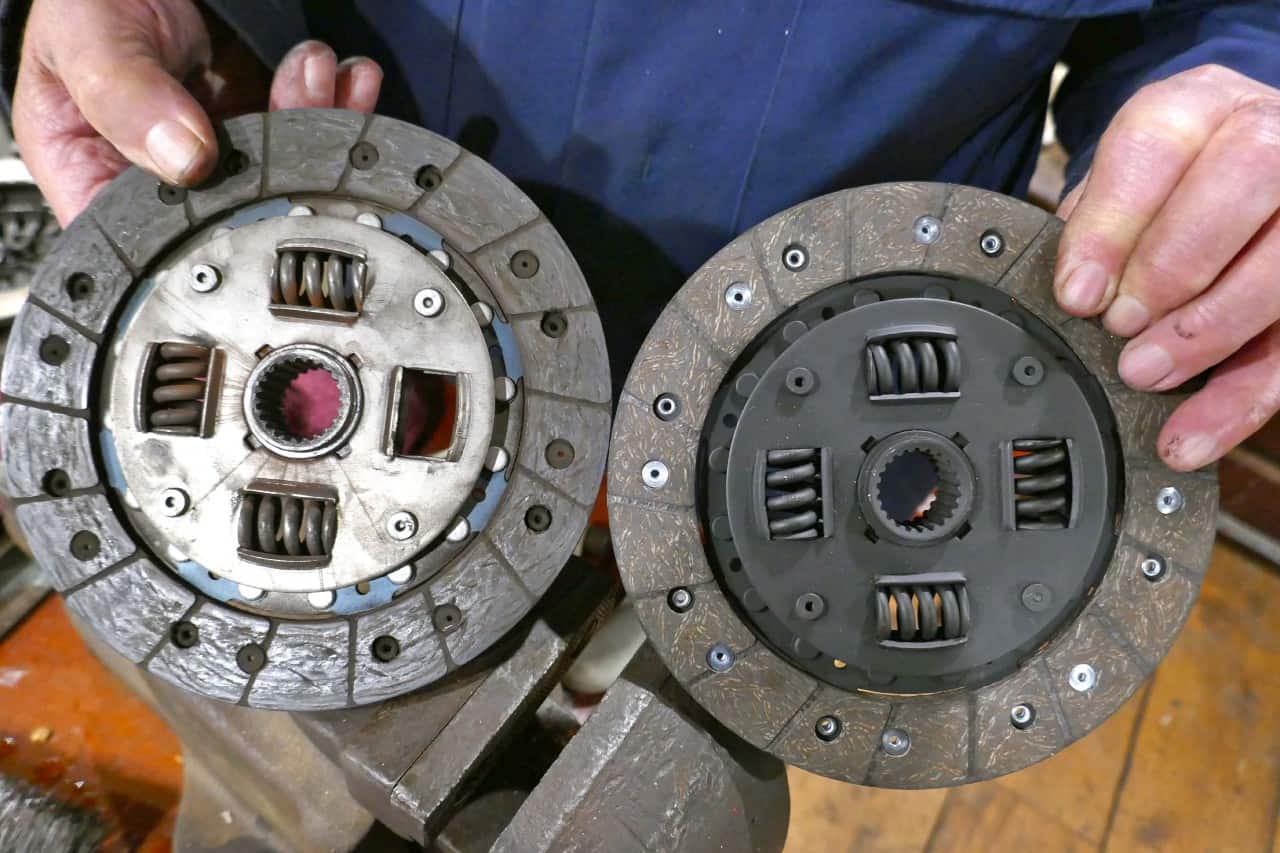 Conclusion 
Knowing you need to replace your Jeep Wrangler clutch is just the first step in the entire clutch-replacement process. 
Beyond knowing what clutch kit you'll buy, it's important to know how the clutch system works and how you can install and maintain the system over time. 
Further questions about Jeep Wrangler clutches are answered below. 
Recap – Best Clutches for Jeep Wrangler
Before you head out, here's a quick recap of the best clutches for Jeep Wrangler:
People Also Ask
There are many details wrapped up with how clutches work on all cars, not just Jeep Wranglers. We put together a list of some of the most popular questions about clutches so you can be the most informed shopper and Jeep owner possible. 
How Long Does it Take to Replace a Clutch in a Jeep Wrangler?
The process of replacing your Jeep Wrangler clutch may take a few hours or an entire afternoon, depending on how stuck the parts that must be removed to reach the area where the clutch is housed. Most mechanics will say it should take between three and five hours to have the entire job done. 
Is it Hard to Replace a Clutch on a Jeep Wrangler?
It's not too difficult to replace the clutch on a Jeep Wrangler if you have a lift and the proper tools. It's important to have a lift because you'll need to drop the transmission to reach the pressure plate and clutch disc. There are several YouTube videos and tutorials like this one that can walk you through the entire process. 
What is the Jeep Wrangler Clutch Replacement Cost?
If you have to replace the clutch on your Jeep Wrangler, you can plan to easily spend at least $1,000 in the process. Most labor costs range between $400 and $600, while the parts required for the replacement are usually at least $800 in total. 
Can You Drive With a Bad Clutch?
If you realize your car has a bad clutch or the clutch is no longer working, you should stop driving the car immediately. Continuing to drive the car when the clutch has gone bad will likely cause further damage to the clutch, the shifter, the gearbox, or several other parts of the car. 
How Can I Make My Jeep Clutch Last Longer?
Jeep clutches will typically only last for about 60,000 miles with normal wear and tear. A simple way to keep your clutch in the best shape possible is to refrain from riding the clutch when not necessary. Riding the clutch causes the clutch release bearings to wear out, which leads to you needing a replacement clutch sooner.
How to Bleed a Hydraulic Clutch on a Jeep Wrangler
Bleeding a hydraulic clutch on a Jeep Wrangler can be done in three simple steps. 

Step 1: Make sure the clutch master cylinder reservoir is full. 
Step 2: Slowly pump the clutch 5-10 times, pause for 30 seconds, and repeat.
Step 3: Attach a hose to the bleed screw. 
Step 4: Have someone else slowly pump the clutch while you open the bleed screw. Close the bleed screw before releasing the clutch. 
Step 5: Repeat the process until the clutch feels adequate.
What is a Jeep Wrangler Clutch Safety Switch?
A Jeep Wrangler clutch safety stick prevents your Jeep engine's start motor from cranking unless the clutch is engaged. The safety switch protects the transmission from starting while being in gear.
Why Are LuK Clutches so Popular For Jeep Wranglers?
LuK is a popular brand for Jeep Wrangler clutches because of its high-quality manufacturing and consistency over a long time. LuK is manufactured in Germany and is widely used in all types of Jeep vehicles. 
What is the Difference Between a Push-type and Pull-type Clutch?
The biggest difference between push-type and pull-type clutches is the mechanism that is used to engage and disengage the clutch. Push-type clutches work by the release bearing pushing the diaphragm down as you press the pedal. Pull-type clutches work using the release bearing to pull on the diaphragm as the pedal is released.
Who Worked on This?
---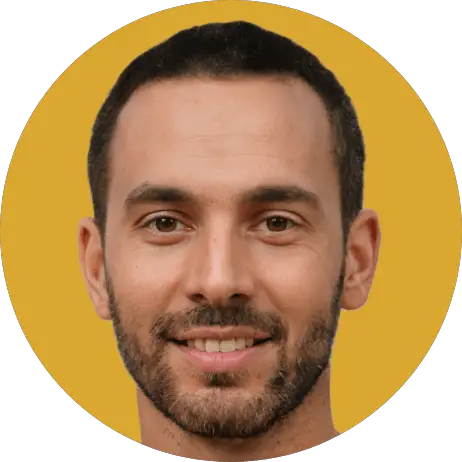 Brian
Editor
A master of organization, Brian helps keep everything running smoothly for Your Jeep Guide.
No Jeep yet but we're working on that!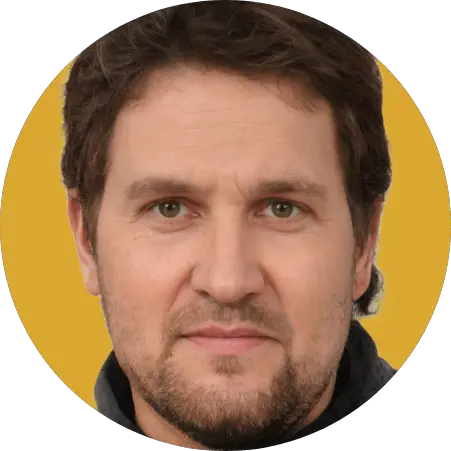 Cory
Writer
Cory loves his XJ and frequently thrashes it through the hills. He's constantly fixing something.

"What fenders?"
Check Us Out!