Not sure whether the Cherokee or the Grand Cherokee is the right SUV for you?
Shoppers looking for a new SUV have seemingly unlimited choices available to them, but when it comes to deciding between a Cherokee and a Grand Cherokee, there are often more than a few questions that need to be answered. While it's true that they are similar vehicles, some differences set them apart. Those differences could ultimately be decision-makers when choosing one over the other.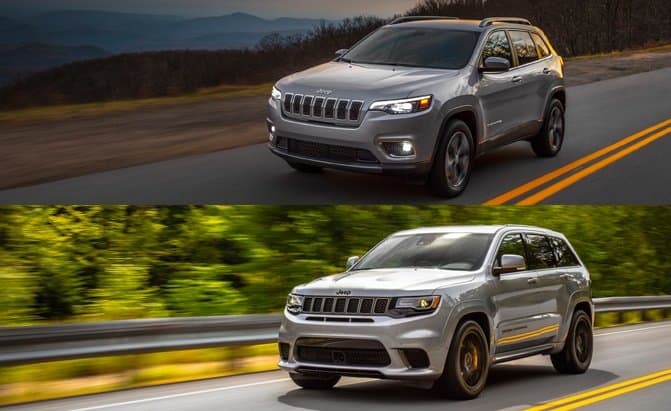 TL;DR: Jeep Cherokee vs Grand Cherokee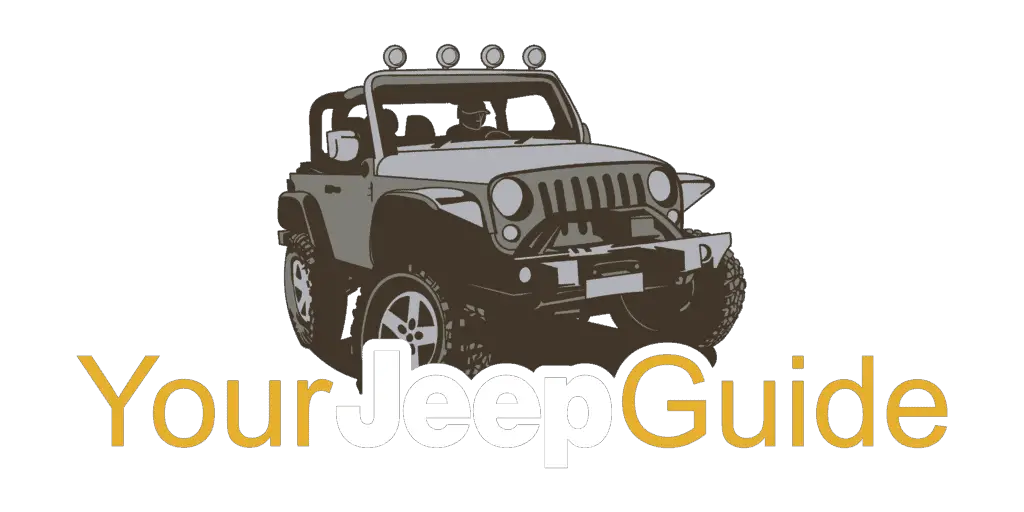 Jeep Cherokee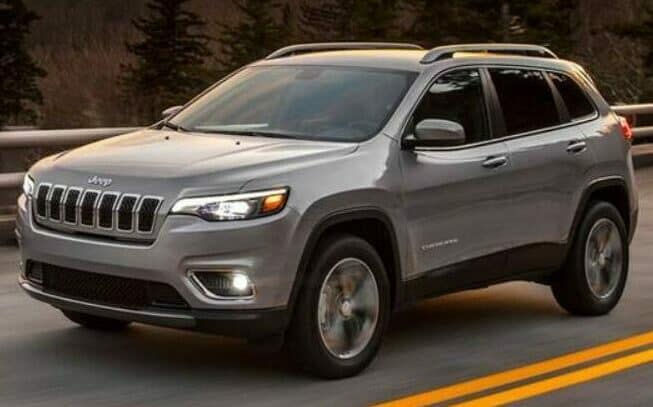 Jeep Grand Cherokee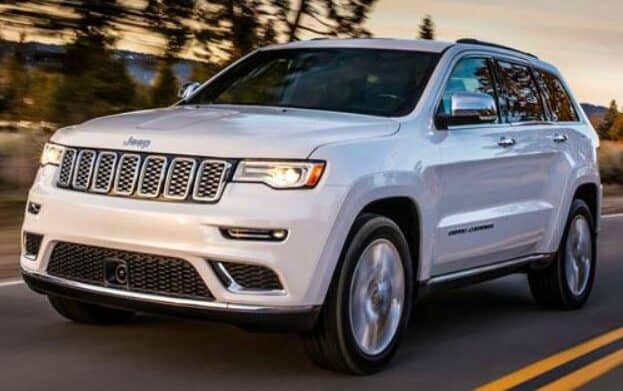 Pros
Jeep Cherokee
Roomy Back Seat
Comfortable Interior
Excellent Off-Road Ability
Fuel-Efficient 4-cylinder engine
Jeep Grand Cherokee
Luxurious interior
Roomy Cargo Area
Excellent Off-Road Ability
Powerful engine options for towing and hauling
Cons
Jeep Cherokee
Below-average reliability
Base Engine lacks power
Expensive Higher Trim Levels
Jeep Grand Cherokee
Not very fuel-efficient
High priced top trim levels
Heavy compared to others in its class
Best For
Jeep Cherokee
Those looking for a 4-wheel drive vehicle to commute with
Jeep Grand Cherokee
Those with a medium-sized family looking for a comfortable vehicle capable of transporting not just the family but their gear as well

Relevant Specs: Jeep Cherokee vs Grand Cherokee
Jeep Cherokee Specs vs Jeep Grand Cherokee Specs
Compare by tapping or clicking below!

Seats
Jeep Cherokee
5-person seating capacity

60/40 split fold-down rear seat
Jeep Grand Cherokee
5-person seating capacity with an optional third row to increase capacity to 7

60/40 split fold-down rear seat

Note: Third-row seating configuration is set to arrive mid-2021
Doors
Jeep Cherokee
Four-door Configuration
Jeep Grand Cherokee
Four-door Configuration
Engine(s)
Jeep Cherokee
Base Engine: 2.4 Liter 4 Cylinder
Optional Engines:
2.0 Liter 4 Cylinder Turbo
3.2 Liter Pentastar V6
Jeep Grand Cherokee
Base Engine: 3.6 Liter Pentastar V6
Optional Engines:
5.7 Liter Hemi V8
6.4 Liter SRT V8
6.2 Liter Supercharged V8
Horsepower
Jeep Cherokee
2.4L 4cyl: 180hp
2.0L Turbo: 270hp
3.2L V6: 271hp
Jeep Grand Cherokee
3.6L V6: 293hp
5.7L Hemi V8: 360hp
6.4L SRT V8: 475hp
6.2L Supercharged V8: 707hp
Torque
Jeep Cherokee
2.4L 4cyl: 171lb-ft
2.0L Turbo: 295lb-ft
3.2L V6: 239lb-ft
Jeep Grand Cherokee
3.6L V6: 260lb-ft
5.7L Hemi V8: 390lb-ft
6.4L SRT V8: 470lb-ft
6.2L Supercharged V8: 645lb-ft
MPG
Jeep Cherokee
2.4L 4cyl: 22 City/31Hwy
2.0L Turbo: 23 City/31 Hwy
3.2L V6: 20 City/29 Hwy
Jeep Grand Cherokee
3.6L V6: 19City/26Hwy
5.7L Hemi V8: 14City/22 Hwy
6.4L SRT V8: 13 City/19 Hwy
6.2L Supercharged V8: 11 City/ 17 Hwy
Basic Warranty
Jeep Cherokee
3 Years/36,000 Miles
Jeep Grand Cherokee
3 Years/36,000 Miles
Powertrain Warranty
Jeep Cherokee
5 Years/60,000 Miles
Jeep Grand Cherokee
5 Years/60,000 Miles
Seats: For anyone looking to buy an SUV, seat configuration is an important aspect. Whether seating space is needed for a large family or to have some extra seating for those trips with friends, the capacity and configuration can be the difference between having the right Jeep and the wrong one. The seat configuration also means having room for gear while still maintaining some room for passengers.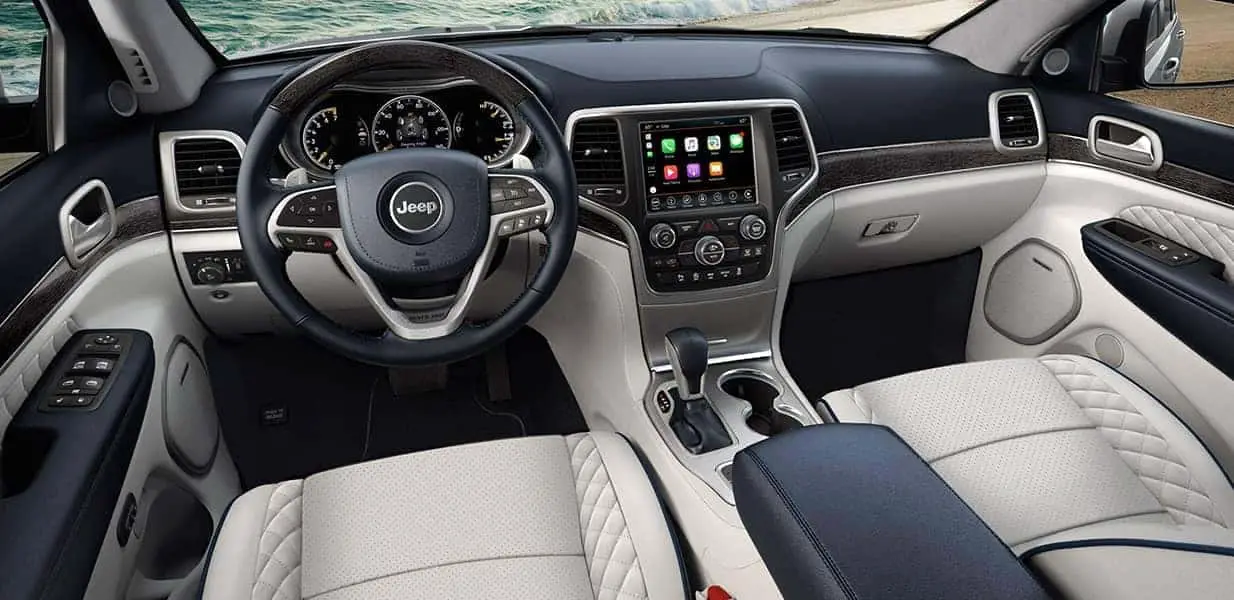 Doors: The only door configuration available in either of these Jeeps is four doors. Both are mid-size family SUVs, so it makes sense that they would come with four doors for both easy access to the back seat as a passenger and easier access to some of the cargo that you may be carrying with the rear seats folded down.
Engine: The Cherokee and Grand Cherokee both offer a wide range of engine options. From the fuel-efficient in-line 4-cylinder in the Cherokee to the supercharged V8 in the Grand Cherokee, engine options range to suit anyone's needs. It's important to consider which option will suit your specific needs best. A big gas-guzzling V8 may not be the right choice for moving around the city, and a 4-cylinder might not work for someone hauling a camper north every weekend.
Horsepower: Horsepower is a reference to how much power an engine produces and directly reflects performance. In any vehicle, horsepower means speed. If you want to go fast and get there quicker than horsepower is what will do that for you. While it may not seem like something worth considering. After all, not everyone is a speed freak. It's important for someone who does plenty of out-of-town highway driving and needs to get to a higher speed quickly.
Torque: Torque is a measure of rotational force and is viewed as the strength of the vehicle. Torque is not only the force that gives a sports car its incredible acceleration but is also the force that helps vehicles put heavy loads into motion. Unless needing it for a specific reason, many consumers don't even consider torque. Not considering it can mean getting a vehicle that underperforms to your needs and can lead to disappointment.
MPG: This is one of the biggest factors people consider when buying any vehicle. How many times have you heard someone ask, "What kind of gas mileage does it get?' If no one has asked you this, you most certainly will be asked when you buy a new vehicle. These days, it's possible to get great gas mileage out of just about anything, even SUVs considered some of the least fuel-efficient vehicles going. But that fuel mileage does not come without a cost, and you may have to make sacrifices in power to achieve great MPGs.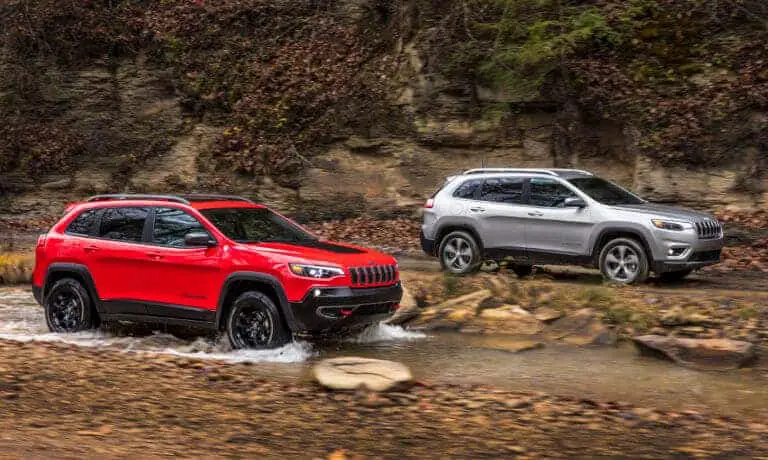 Ground Clearance: Ground clearance is a basic but important factor when using your Jeep for the off-road capabilities for which they are known. Ground clearance is the distance between the lowest point of the vehicle, the chassis, and the ground, measured without any load. If you intend to use your Jeep off the beaten path, you must know the ground clearance to fully realize the vehicle's capabilities and avoid damaging crucial parts when taking the Jeep off-road.
Basic Warranty: Jeep's Basic Limited warranty provides bumper to bumper coverage for almost everything it comes factory equipped with. We use the word almost because it is limited, and there are some things that it may not cover. The basic warranty for either the Cherokee or the Grand Cherokee is the same
Powertrain Warranty: Like the basic warranty, the powertrain warranty for either the Cherokee or the Grand Cherokee is the same, so it will probably have little bearing on which vehicle to purchase. What may be a bigger persuader would be knowing that Jeep warranties fall right in line with many major manufacturers when it comes to factory warranties.
Key Differences Between Cherokee vs Grand Cherokee
Cherokees and Grand Cherokees share similarities that make them distinctly Jeep, like the easy to spot seven-slot grill and the strong off-road capability. The interior designs of the Jeeps are also quite similar. Very subtle differences in the dash separate the two vehicles from each other. While many misconceive that the Grand Cherokee is nothing more than a Cherokee with more options, it goes well beyond that. The most obvious difference between the two is size. 
The Grand Cherokee is much bigger, and while the overall measurements come down to mere inches in most cases, the result is a bigger, beefier look and feel. This bigger size results in the Grand Cherokee being able to pack a bigger punch.
The base engine is a V6, a bigger option than you can get as the biggest engine in the Cherokee, and the optional engines being powerful enough to make even the most hardened sports car jealous.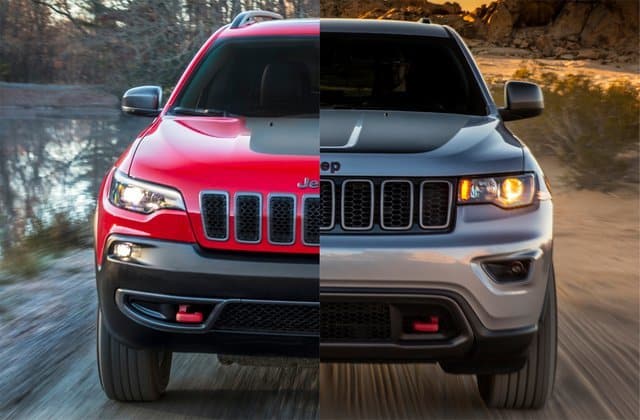 But if fuel economy is what you're after instead of power, the Cherokee's small stature and more fuel-efficient engine options may be what sets these two apart for you. With two different four-cylinder options as well as a V6, you're sure to find the perfect balance between power and fuel efficiency.
Advantages of a Cherokee
Smaller stature is perfect for those traveling around the city, but still want a vehicle that can be adventurous.

With two different four-cylinder and a larger six-cylinder engine option, the Cherokee can be both powerful and fuel-efficient.

Despite its smaller size, the Cherokee offers more rear-seat space for your passengers than you get from the Grand Cherokee.
Advantages of a Grand Cherokee
The Grand Cherokee has less second-row seating space, but it makes up for it with a larger cargo area than the Cherokee. 

Jeep plans on releasing a 2021 Grand Cherokee with third-row seating, increasing capacity from 5 passengers to 7.

The Grand Cherokee offers several power plants from the base V6 to the powerhouse supercharged V8, all of which provide powerful hauling capabilities, whether its cargo inside or towing a trailer.

Bigger and more powerful, the Grand Cherokees' towing capacity is well above that of the Cherokee.
Use-Case Comparison: Cherokee vs Grand Cherokee
While the Cherokee and Grand Cherokee share much of what makes Jeep products great, they are quite different machines as well. Jeep has incorporated its world-famous off-road capabilities into both, and both have models and trim levels that take advantage of that, so buyers should not have any concern if they intend to use either off-road. The two start to separate themselves after that, with the Grand Cherokee considered the 'bigger brother' of the two.
Off-Roading Ability
As mentioned, the two share Jeep's world-famous off-road abilities and either one is going to perform to that standard. The Cherokee is considered an on-road crossover SUV, but don't let that fool you.
It is quite capable of off-road adventures, especially with the off-road geared trim options like the Trailhawk prove that Jeep did not sacrifice ruggedness when designing the Cherokee. Many think that its lighter weight and smaller stature make it more capable in off-road situations than the Grand Cherokee, especially with the right tires.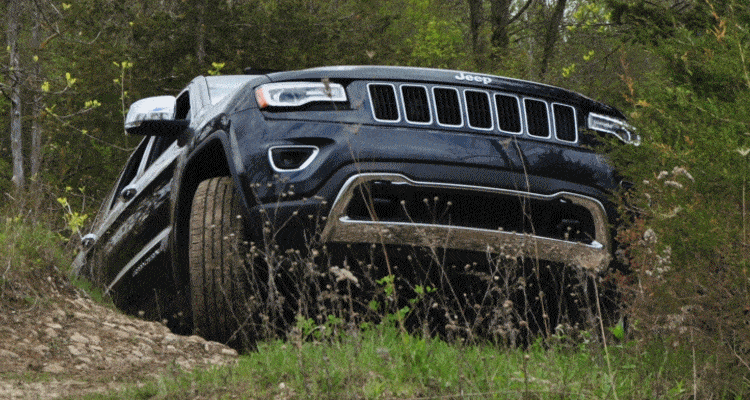 The Grand Cherokee Trailhawk, on the other hand, with the optional 5.7L Hemi V8, can be an absolute beast on the trail, handling just about anything you can throw at it.
While both the Cherokee and Grand Cherokee Trailhawk versions have unique 4-wheel drive systems, the Grand Cherokees Quadra-Drive II system features an air-ride suspension and limited-slip rear differential.
You can adjust the ride height and power is transferred to wheels as needed as opposed to most systems that divide the power. These can be key features for those looking for a more rugged off-road experience.
Family Vacations
When it comes to packing up the family and heading out for vacation, both the Cherokee and the Grand Cherokee can be viable options, but certain things will set the two apart.
While it's true that the larger Grand Cherokee has less room for passengers (the upcoming 7-seater excluded) it does provide considerably more cargo space. You can pack in more gear, which, let's face it, when taking the family on an extended vacation, sacrificing some legroom for a little more cargo can be a big game-changer. 
Towing capacity can also be a big factor, and while the Cherokee has no issues towing a smaller travel trailer, if you want to haul a bigger camper, the Grand Cherokee can haul up to 7400lbs, a big difference from the max towing capacity of 4500lbs that the Cherokee offers.
See Also: Can a Jeep Grand Cherokee Pull a Boat?
Daily Driver
One of the biggest factors that people consider when buying something they will be using as a daily driver is fuel economy. Whether commuting or driving from spot to spot in the city, most people want to know that they aren't going to be spending a lot of money on fuel to do so.
While the Cherokee may not be the best in its class when it comes to fuel economy, its smaller stature and smaller four-cylinder engine options mean it is much more fuel-efficient than the Grand Cherokee. 
Even with the smaller six-cylinder engine standard in the Grand Cherokee, fuel economy is slightly worse than the Cherokee equipped with the same engine. The 4-cylinder engines available in the Cherokee provide considerably better fuel mileage (refer to the above chart for specific fuel mileage), making it the better choice for a typical daily driver. 
Reliability
Reliability can sometimes be a difficult thing to gauge. Where one person may have nothing but problems with one vehicle, another person may not have any issues at all.
The Cherokee and Grand Cherokee have been plagued with issues, including problems with the transmission and multiple significant recalls. While the Grand Cherokee has taken big strides in improving that reliability and now sits above average (was considered below average only a few years ago), the Cherokee is still lagging in the reliability department, considered to be below average when compared to other crossover SUVs in its class.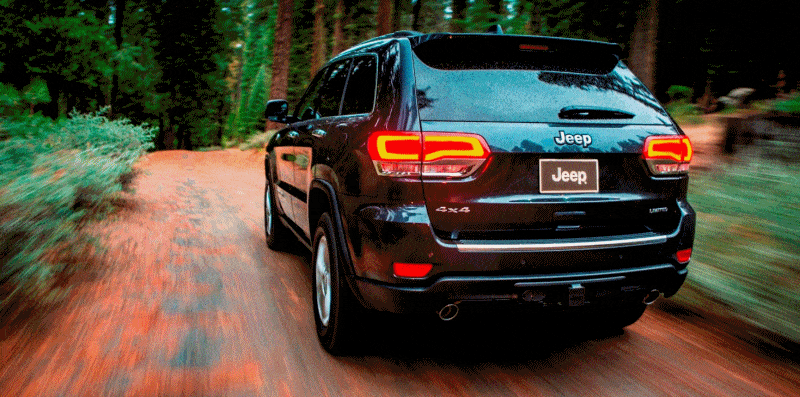 While the 2019 Cherokee brought in some changes, there were still many complaints, much of which fell to the engine, where customers reported the engines losing power or stalling out completely.
This problem significantly improved in 2020, but it remains to be seen how the 2021 model year will fare as it is early in its life and tough to get an accurate idea of how reliable it might be. The Grand Cherokee had a better reliability rating over the past couple of years, but it has had issues with both the drivetrain and the engines. 
Keep in mind that any vehicle's reliability has a lot to do with maintenance. Vehicles these days have scheduled maintenance for a reason, to keep them operating the way they should. Factors like proper maintenance are not often considered when customer reliability issues arise. 
Towing & Hauling
As discussed previously, the Grand Cherokee is far more capable than the Cherokee when it comes to towing and hauling. But of course, that stands to reason when the Grand Cherokee is a bigger, more powerful SUV. 
That is not to say that the Cherokee can't tow, because it can, and it does it quite well, but its smaller size coupled with the smaller engines means that its max towing capacity is much lower than that of the Grand Cherokee (Max 4500lbs for the Cherokee compared to a max of 7200lbs in the Grand Cherokee). The lower towing capacity isn't necessarily a bad thing. But, it is something to consider when determining your towing needs.
Final Thoughts: Jeep Cherokee vs Grand Cherokee
Choosing between a Cherokee and a Grand Cherokee is relative to the customer and their specific needs. While both share great qualities like their off-road capabilities, they also have specific things that set them apart from each other. Where the Cherokee's smaller stature and engine sizes might make it a better choice when it comes to fuel economy, the Grand Cherokees' larger size and more powerful engine options make it more suited to people who plan on hauling and/or towing. 

The Cherokee may be better suited for daily driving, but the Grand Cherokee might be the better choice for those looking for an adventure off the beaten path. These qualities aren't ones that make one dominate the other, but rather leave the choice to the consumer based on their specific needs. 
It isn't our goal to pick one over the other. Rather, we want to provide you with the information you need to make an educated decision when it's time to make a purchase. With that said, there are areas where one outshines the other, and below are our picks for which was better in some important categories.
Off-Roading Ability: Cherokee | Grand Cherokee
Family Vacations: Cherokee | Grand Cherokee
Daily Driver: Cherokee | Grand Cherokee
Reliability: Cherokee | Grand Cherokee
Towing and Hauling: Cherokee | Grand Cherokee
People Also Ask
We've covered a lot for you to make an informed decision when you head out to shop for your next Jeep. With that being said, there are sometimes still some questions. Here are some of the most frequent questions that we get.
How Much is a Jeep Cherokee?
Like any vehicle, the cost of a Cherokee depends on the model or trim level you purchase. With five different models and each of those models having its trim level and options, the Cherokee starts at a base price of $26,535 and can go up to $36,965.
How Much Does a Jeep Grand Cherokee Cost?
The Grand Cherokee has many more models, nine to be exact, than its smaller brother the Cherokee. While some models are very specific, many have different trims and options to add to them. The Grand Cherokee's base price is $34, 200 for the Laredo E and it can climb to $87,895 for the Grand Cherokee Trackhawk.
Do Jeep Cherokees Have 3rd Row Seating?
There is currently no option for third-row seating in the Cherokee or the Grand Cherokee, however, there is a Grand Cherokee L that is set for release later in the year that will have a third-row seat, increasing passenger capacity from 5 to 7.
Who Worked on This?
---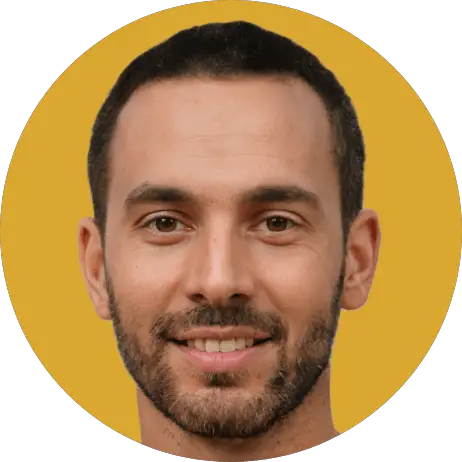 Brian
Editor
A master of organization, Brian helps keep everything running smoothly for Your Jeep Guide.
No Jeep yet but we're working on that!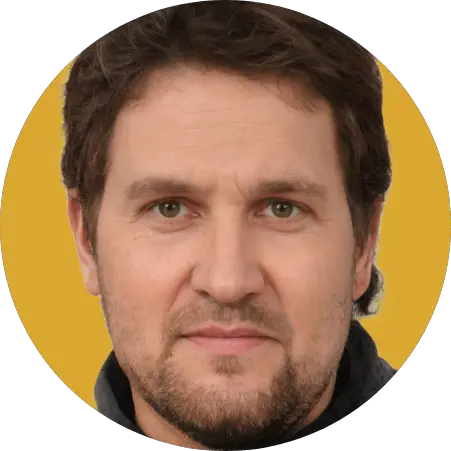 Cory
Writer
Cory loves his XJ and frequently thrashes it through the hills. He's constantly fixing something.

"What fenders?"
Check Us Out!