Getting a good audio experience in a Jeep is easier today than it's ever been, but it's still a challenge to get that rich sound experience in some older Jeeps and soft-top models.
However, there are still things you can do to improve your Jeep's raw sound, and one of those is to introduce a Jeep sound bar to the mix.
We'll go over some of your best Jeep sound bar options in this article.
Comparison of the Best Jeep Sound Bars
IMAGE
PRODUCT

Our Top Pick

High-impact plastic used for better durability
It is easy to install in your vehicle
Available in many different colors for better display

View Latest Price →

Many different speaker sizes will fit in
Made from UV resistant materials
Various color options

View Latest Price →

Best Budget Option

Best for the Money
Place for many different size speakers
It is easy to install in your vehicle

View Latest Price →

Best Jeep TJ Sound Bar
Lots of mounting brackets included for secure mounting
Not difficult to install in Jeep Wrangler

View Latest Price →

Best Jeep YJ Sound Bar
Tower speakers included for versatility
Everything for a complete installation included

View Latest Price →

Best Jeep Wrangler Sound Bar
Up to 75 Watts RMS
Lightweight but durable design

View Latest Price →
How to Choose a Jeep Sound Bar
Choosing a Jeep sound bar is a process that warrants careful research before you ever make a purchase. Here are some of the features and variables you'll want to look out for when choosing yours.
Speakers vs Soundbar
As we said before, you have the option of purchasing loose speakers to install into your existing sound bar, upgrading your sound bar and your speakers separately, or purchasing a full unit that includes both. We have at least one of each option for you later in this guide. 
The most expensive (but highest quality) option is to purchase an empty sound bar and individual speakers. A soundbar with included speakers tends to be a middle-of-the-pack option, while just upgrading the speakers is the cheapest option.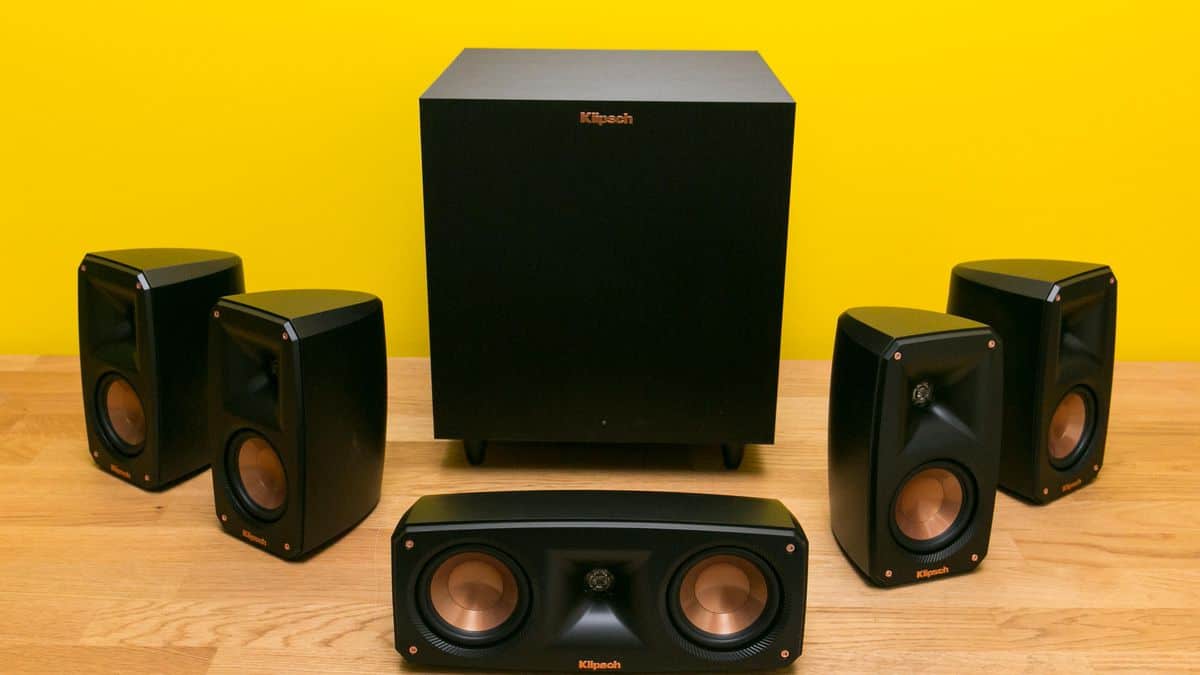 Power Ratings & Size
Speakers come with many different ratings on them, and while they might look gibberish if you're not familiar with them, it's essential to match your new speakers' ratings to what your Jeep is designed to handle. For example, some Jeeps that ship with stereo upgrades are designed to handle fewer ohms, but you should keep an eye on wattage, as well, in addition to the physical size your Jeep can accommodate.
Durability
Durability is a critical variable to consider if you ever take your Jeep off-road. If you ever drive with the top down or off, you may also want to look into waterproof speakers. Make sure to choose something that's roadworthy enough for your purposes. 
Aspects to Consider Before Buying 
Before you go ahead with your Jeep sound bar purchase, there are a few more things you might want to keep in mind. Some of the best questions to ask yourself are:
Is this sound bar an upgrade or a downgrade?
Will I primarily use my Jeep with the top off or on?
Will this sound bar fit in my Jeep model?
Your top on – top off considerations should primarily revolve around how much abuse your sound bar needs to handle, but you should also consider where you want to put it. For example, some people decide to install their soundbar at the rear of their roll cage instead of directly behind the driver and passenger seats.
Finally, while many Jeep models have similar dimensions from year to year, it's always essential to verify whether your chosen sound bar fits in your vehicle. If you can't find any resources to tell you this, make sure to buy from a site that has a return window just in case.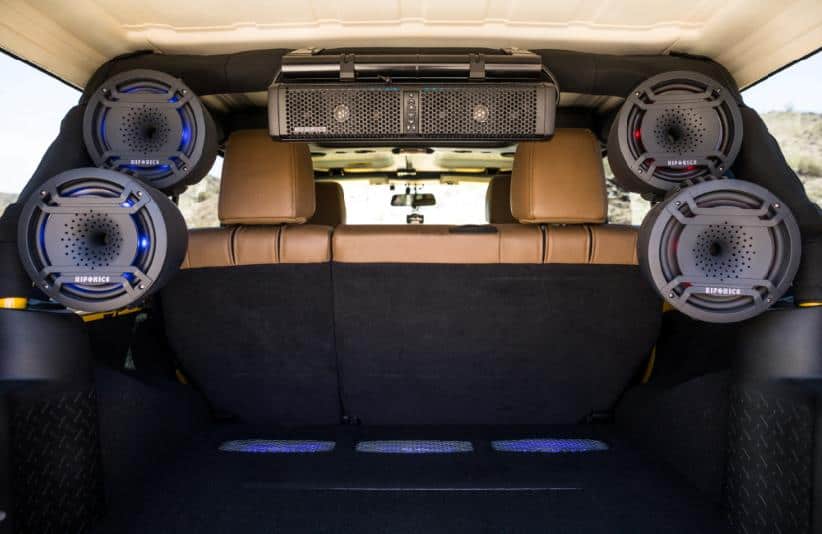 At a Glance: Our Top Picks for Best Jeep Sound Bars
Review of the Best Jeep Sound Bars
Are you ready to take a look at some of our favorite Jeep sound bars? We'll go over them in detail in the sections below. 
Rugged Ridge 13006.47
We may earn commission from purchases made from our links, at no additional cost to you
What Recent Buyers Report
Recent buyers say that while the weather-resistant lining can be a bit unsightly, the product itself is reliable – an excellent option for the price. The light is a nice addition, as well. It can be a bit difficult to install because of misaligned holes in the lining, but it's easy to cut new ones.
Why it Stands Out to Us
This soundbar stands out because it's the best plug-and-play value you can get for the money. All you need to do is swap out your existing setup (if you have one), wire this unit in, attach it to your roll cage, and get on the road.
Bottom Line
If you need an inexpensive, dependable sound bar system that can stand up to light weather effects, this is an excellent choice. While more color options would be nice, it's still an excellent buy if you can tolerate the brown and wrinkly liner.
Pros
Ready to install
Our most affordable sound "bar"
Included light for night illumination
Comes with weather-resistant lining
Six three-way speakers in total – two one-inch tweeters, two two-inch midrange, and two six-inch woofers
Cons
Weather-resistant, but not weatherproof
Fabric enclosure can be wrinkly and loose
DS18 JK-SBAR/B
We may earn commission from purchases made from our links, at no additional cost to you
What Recent Buyers Report
While recent buyers do comment that the price of this unit (plus any speakers you add to it) can hurt your wallet, the resulting quality is worth it. This 100% weatherproof sound bar will last for years and can take just about anything you throw at it.
Why it Stands Out to Us
It's obvious why we like this sound bar – if you want the best option on the market in terms of quality, durability, and sound experience, this is unquestionably it. The color options are perfect for heavily-customized builds, too.
Bottom Line
If you want the best of the best, then there's no other choice – this sound bar from DS18 sets itself apart from both with performance and visual appeal.
Pros
RGB-compatible (with the purchase of a separate remote)
It comes in several colors and shapes for different Jeep models
High-density UV-resistant plastic can stand up to off-road conditions
Customize with exactly the speakers you want for immaculate sound
Accommodates 10 three-way speakers – four eight-inch woofers, four 1.75-inch tweeters, and two 1.31-inch midrange drivers
Vertically Driven 792511
We may earn commission from purchases made from our links, at no additional cost to you
What Recent Buyers Report
Recent buyers say that while this sound bar is excellent overall, getting it in the correct color can be difficult due to conflicting information. However, the upholstery itself fits well and is weather-resistant.
Why it Stands Out to Us
If our winner isn't available or you have another problem with it, this model from Vertically Driven is a great alternative. It's virtually the same product, except it comes in both grey and a khaki-tan color. While the price isn't nearly as good, it's still affordable. The sound quality is impressive for an all-inclusive sound bar.
Bottom Line
If you need a high-quality alternative to our winner that won't break the bank, this is virtually the same product, but with a few improvements. While you'll pay a bit more for it, that extra quality may serve you better, too.
Pros
Lights included
High-impact plastic construction
Weather-resistant canvas outside
Factory matched to your interior color
Supports six speakers: two six-inch woofers, two two-inch midranges, and two one-inch tweeters
Cons
Sometimes comes shipped in the wrong color
Vertically Driven 792501
We may earn commission from purchases made from our links, at no additional cost to you
What Recent Buyers Report
Buyers report varying opinions on the quality of this sound bar. For some, it works well out of the box, while for others, individual speakers or lights don't work upon arrival. However, when it does work, it does a good job.
Why it Stands Out to Us
This is another great alternative to our winner, especially if you're looking for a fully-plastic sound bar instead of an upholstered model. While this one is closer to the same price, it also appears to be of lower quality. It's not an easy model to install, either – you may have to drill additional holes or use other hardware.
Bottom Line
Unless you're looking for a fully-plastic model, there's no reason to purchase this sound bar unless our winner is out of stock. However, it's still nice to have an alternative option just in case.
Pros
Very affordable
It fits Jeep TJ and YJ models
Weather-resistant plastic housing
It comes with an overhead light included
Accommodates six speakers: two six-inch woofers, two two-inch midranges, and two one-inch tweeters
Cons
Difficult to install and mount
Could use better quality control
Best Jeep Wrangler Sound Bar
Mopar Kicker Speaker Upgrade
We may earn commission from purchases made from our links, at no additional cost to you
What Recent Buyers Report
Buyers say that if you're on the fence about these speakers, don't be – they're a massive upgrade in sound quality for an extremely affordable price. However, they have to be compatible with your sound bar to be of any use.
Why it Stands Out to Us
This kit stands out to us because it's the best possible no-nonsense upgrade for your Jeep, especially if it's a Wrangler. They're easy to install with full plug-and-play functionality, and while they're not weatherproof, the sound quality upgrade is exemplary. 
These are not a sound bar – they're installable speakers that can fit in a Jeep Wrangler sound bar (and potentially other models). However, these speakers made the list anyway because of their excellent quality and price.
Bottom Line
This is an excellent speaker kit for any Wrangler, though you'll need to be careful not to expose them to too much bad weather with a soft top. The company also offers other sizes, such as smaller tweeters, if you want a more significant effect.
Pros
Very easy to install
Vastly improved sound quality
Our least expensive kit on this list
It comes with two 6.5-inch speakers
Can fit in your dash, your door, or your compatible sound bar
Cons
Not an authentic sound "bar"
May not fit all Jeeps or sound bars
What is a Sound Bar? 
A sound bar is just one part of building a quality aftermarket sound experience in your Jeep. The sound bar itself sits just behind the driver and passenger, and it uses your Jeep's roll bars to stay in place. A sound bar is an excellent solution to the music and sound that tends to escape through the top of your Jeep, regardless of whether it's a soft-top or a hard-top. 
Just like with any sound technology, you want a sound bar that's affordable and gives a quality sound, but you also want something that can stand up to the abuse that a Jeep is expected to take.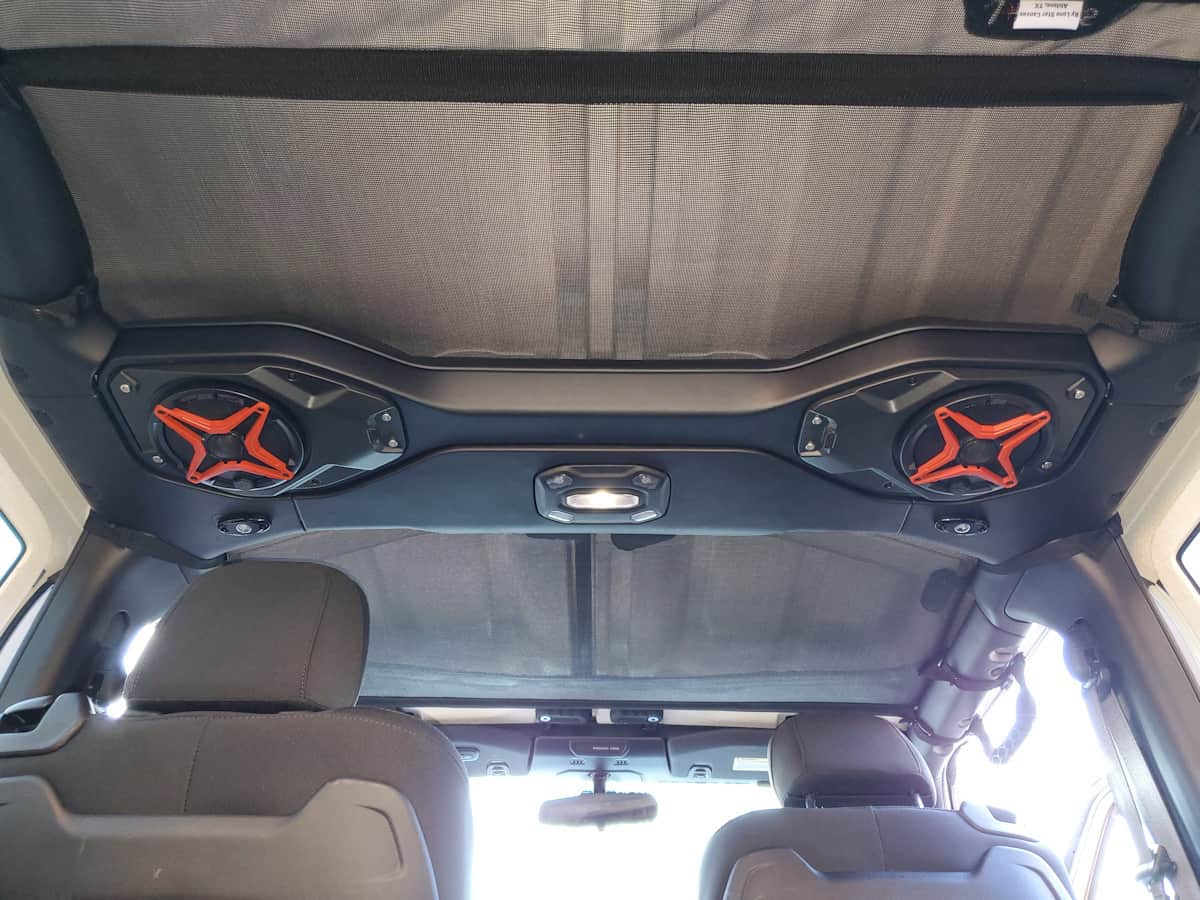 Are All Jeep Sound Bars the Same? 
While all Jeep sound bars have the same function, many models accomplish this task differently. Just as one example, some speakers are designed to fit into the existing sound bar in your Jeep (or one you buy yourself), while others come with an entirely new sound bar for you to install.
Of course, different speakers come in various power and size ratings, as well. It's important to check things like your speaker ohms and other information from your owner's manual before making any purchases. Otherwise, you could end up with an incompatible product. 
Sound Bar vs in-Dash Speakers for Jeeps – Comparison Overview 
You're here because you want to upgrade your Jeep's sound systems, but what about the dash speakers? You may have upgraded these already, but if you haven't, you should know that many people decide to replace both the in-dash speakers and the sound bar in their Jeep at the same time. Doing both results in a much fuller sound experience than just one or the other. 
Replacing your Jeep's sound bar is great for amping up the sound experience across the vehicle's rear. Not only does it create more of a surround-sound effect for the driver and passenger, but it improves music quality for your rear passengers, too.
However, the dash speakers in your Jeep are all about improving your sound experience upfront. If you're looking for a bigger, more in-your-face bass experience, the dash speakers will do a much better job at giving that to you. Many people decide to do both simultaneously since it improves sound quality for the whole vehicle.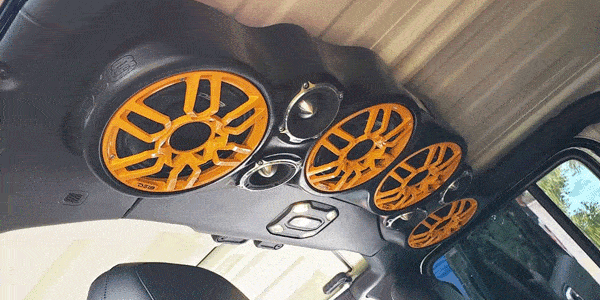 Jeep Sound Bar Troubleshooting 
While any aftermarket installation in your car can be nerve-wracking, speaker installations in Jeeps today are relatively easy to do. The vast majority of aftermarket speakers are plug-and-play, which means you don't need any real expertise to wire them in. Just unscrew and unplug the old speakers, then do the reverse with the new ones. 
However, this means that most of the problems you run into – if you run into any – will be due to user error. If your speakers are too large, too heavy, too sensitive, or don't match your vehicle's power outputs, they may sound wrong, or they might not work at all.
You can prevent 99% of these errors by doing plenty of research before you make your purchase. However, if you do run into problems even after that, it may be that you received a genuinely faulty speaker, so make sure to contact the manufacturer right away for a replacement. 
Aside from functional issues, you might also run into problems fitting your sound bar into your Jeep. If you have misaligned holes or other fit-related problems to deal with, don't be afraid to expand these holes to get things to fit snugly. Just be aware that, once you do this, you can no longer return the product! There are other ways too to make your Jeep sound louder, like removing the muffler or drilling holes in the muffler, etc.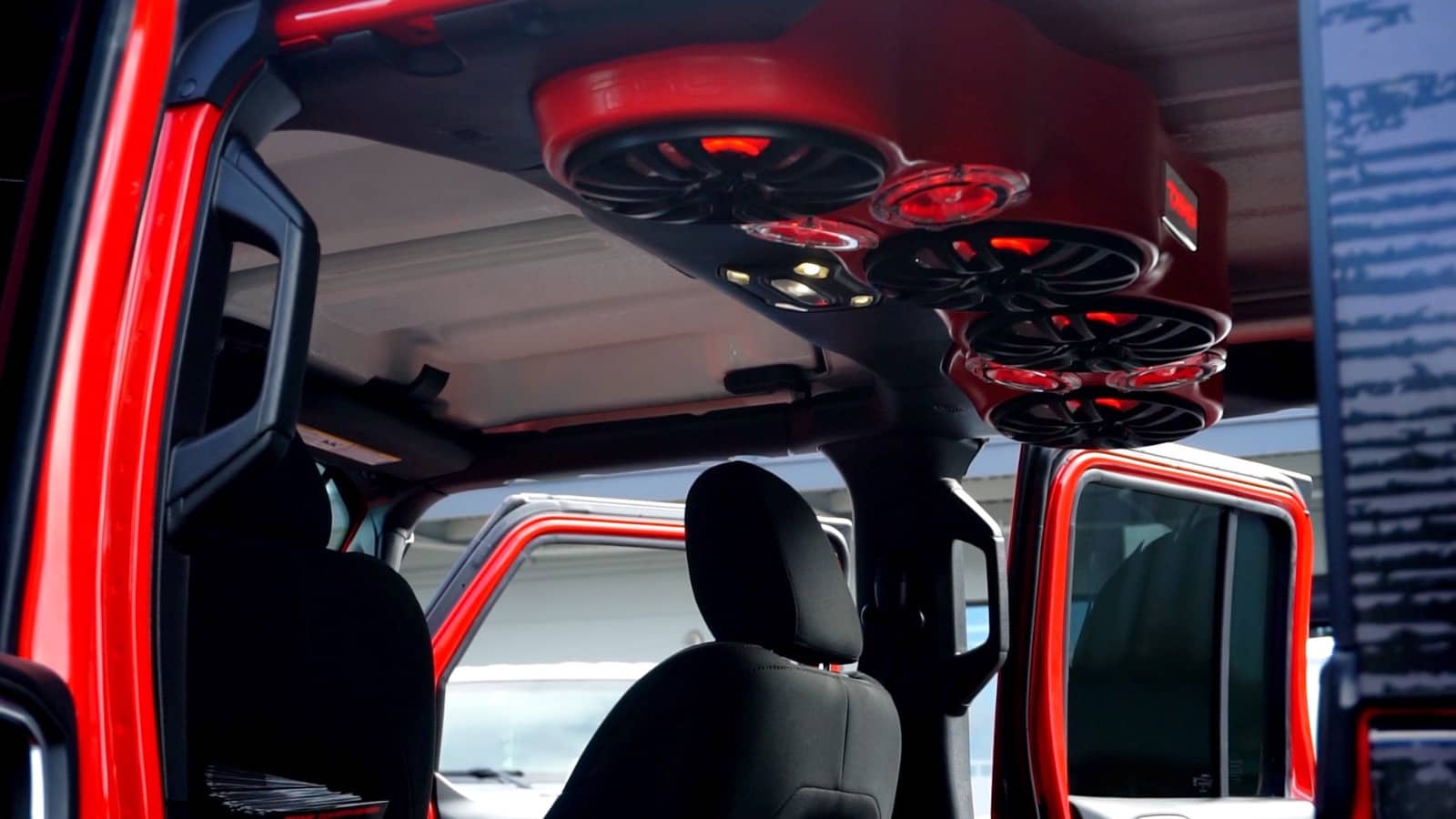 Conclusion 
In the end, no matter which Jeep sound bar you pick, we're sure you'll be happy with the improved sound experience you get. After all, a Jeep is an incredibly fun vehicle and one of the easiest cars to customize, so why not make it exactly the way you want?
Quick Summary – Best Jeep Sound Bars
Here's a quick summary of the best Jeep sound bars:
People Also Ask
Do you have lingering questions that we weren't able to answer in the article so far? If so, we may be able to address them in these FAQs. 
What Size Speakers Are in a Jeep Sound Bar?
Jeep sound bars can fit a variety of speaker sizes, so make sure to double-check which ones you need before purchasing. For example, the speakers on this list come in one-inch, two-inch, six-inch, and eight-inch sizes, as well as several sizes in between.
Is it Safe to Use Pillow in Jeep Sound Bar?
Many people use pillow polyfill to help "dampen" sound in their sound bars, especially if they have hollow areas. As long as you have no exposed wires, this is widely regarded as safe.
Are the Speakers of a Wrangler Waterproof?
Not all speakers are waterproof, so make sure to investigate this before taking your Wrangler's top off! However, nowadays, it's highly likely that most of the internal components are already waterproof if your Jeep has a removable top. Just make sure to replace them with speakers that are also waterproof.
Can You Replace the Speakers in a Sound Bar?
Absolutely! You can replace speakers in just about any sound bar, but many are not designed for that. If you want to add custom speakers to your sound bar, you're better off buying an "empty" sound bar and adding your own speaker selections to it instead of buying one with the speakers already included.
How Hard is it to Install a Sound Bar in Your Jeep Yourself?
While it depends slightly on the sound bar you choose, installing one in your Jeep yourself isn't hard at all. Like we said before, swapping the wires around is very easy. In fact, screwing or clipping the bar into your roll cage will probably be much more demanding than any other aspect of the installation process.
Who Worked on This?
---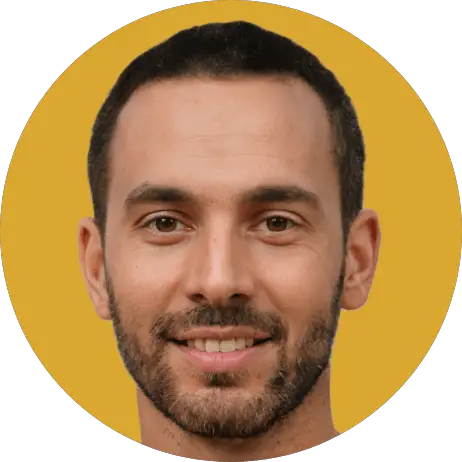 Brian
Editor
A master of organization, Brian helps keep everything running smoothly for Your Jeep Guide.
No Jeep yet but we're working on that!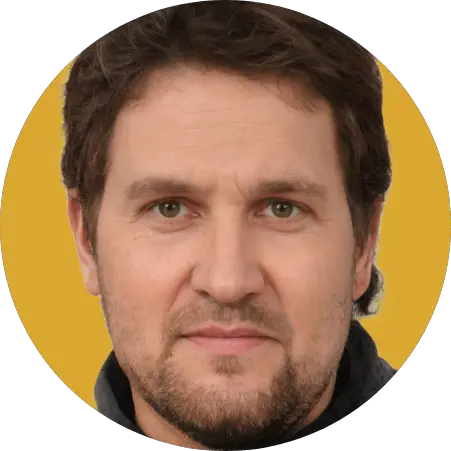 Cory
Writer
Cory loves his XJ and frequently thrashes it through the hills. He's constantly fixing something.

"What fenders?"
Check Us Out!