In the market for a new-used car and know that you want a Jeep but can't decide between the Liberty or the Patriot?

Thankfully, we've heard your cry for help and are here for you.
After looking at each, we've concluded that one is the way to go if you want your SUV needs to match your adventurous spirit, while the other is your best bet if you need a trusty companion for your day-to-day life. 
TL;DR: Jeep Liberty vs Patriot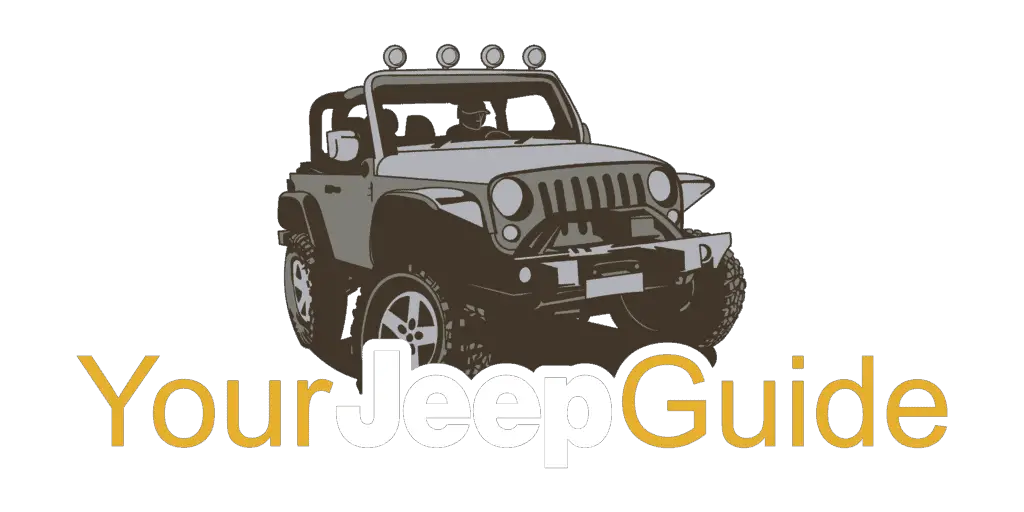 Jeep Liberty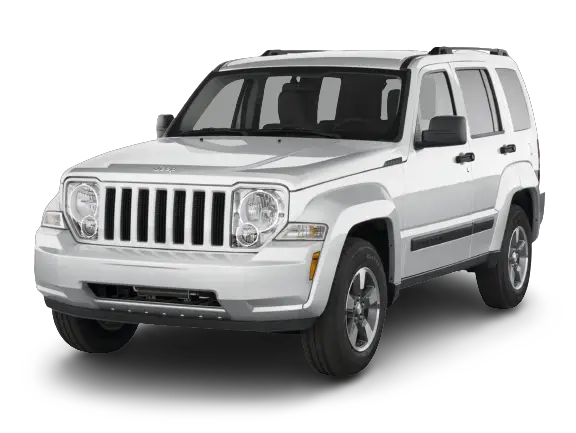 Jeep Patriot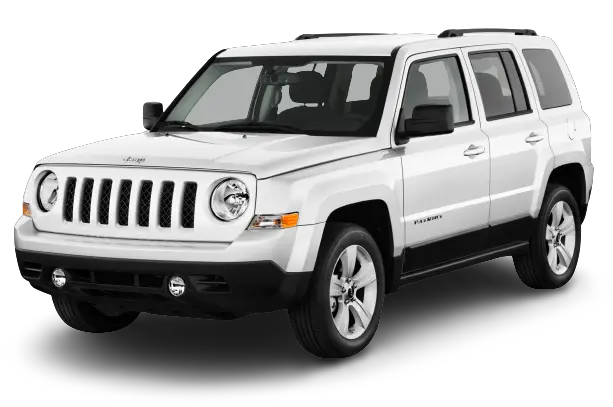 Pros
Jeep Liberty
Off-road Capability
Luxurious Options
Towing Capacity
Jeep Patriot
2WD or 4WD Options
Affordable
Off-road Package Availability
Cons
Jeep Liberty
Poor Fuel Economy
Jeep Patriot
Limited Power
Best For
Jeep Liberty
The Jeep Liberty is the ideal SUV for the person who wants the comforts and style of the city while also being able to confidently take their vehicle offroad.
Jeep Patriot
The Jeep Patriot is the ideal vehicle for the person who wants an affordable, reliable AWD SUV that they can make fit their weekly routine from commuting to errands to weekend excursions.
Relevant Characteristics: Jeep Liberty vs Patriot
Jeep Liberty vs. Patriot
Compare by tapping or clicking below!

Typical Used Price (2012)
Trims Offered
Jeep Liberty
Sport / Limited / Limited Jet
Jeep Patriot
Sport / Latitude / Limited
Engine Options
Jeep Liberty
3.7-liter 6-Cylinder Gasoline
Jeep Patriot
2.0-liter 4-cylinder Gasoline / 2.4-liter 4-cylinder Gasoline
Transmission Options
Jeep Liberty
RWD 4-spd automatic / AWD 4 spd automatic
Jeep Patriot
5-spd manual / FWD CVT (Continuously Variable Transmission) / AWD CVT
Mileage (MPG)
Jeep Liberty
Up to 16 city / 22 highway
Jeep Patriot
Up to 23 city / 30 highway
Used Prices
The current price for a used vehicle is a common starting point for buyers, especially those looking for an alternative to Wranglers. The Patriot offers a lower starting price point with affordable options out there for even Patriots with higher trim levels and added extras. The Patriot comes in a little higher, though with a V-6 engine, this is to be expected. The question here is power or price point?
Trim Levels Offered
On both the Liberty and Patriot, Jeep offers three levels of trim, with each step up providing options that offer increased comfort, convenience, and style via leather, heated seats, and infotainment upgrades. The Liberty's Sport, Limited, and Limited Jet trims offer both interior upgrades as well as exterior visual benefits like larger wheels and chrome.
Similarly on the Patriot, upgrading from Sport to Latitude or Limited brings the interior quality up a notch (leather, heated seats) and exterior style-forward (larger wheels, chrome). 
Engine Options
For many buyers, engine output is a primary factor. While the Liberty offers a surprisingly powerful sole 3.7 Liter V-6 option, the Patriot can be had with a smaller 2.0 Liter or moderate 2.4-liter engine. If power is a desire, the Liberty is ready, though the Patriot's 2.4 Liter will more than suffice for nearly all drivers.
Transmission Options
The different transmissions offered by Jeep are the clearest indication of the intended purposes of these two vehicles. The Liberty's 4 speed automatic can handle the greater power and potential abuse, the Patriot's CVT is meant for casual, non-aggressive driving. The 5-speed manual is an outlier for the select few who prefer an analog experience. 
Mileage
At nearly 10 years old, nearly all used Liberty and Patriot vehicles on the used car market are either at or past 100,000 miles. Well kept, lower mileage options do exist though as 2012 was the final year of the Liberty, these are more desirable and thus have maintained greater value. Finding a lower mileage model of either of these vehicles is advisable.
Cabin Space
While both of these vehicles offer room for five passengers and can fold down the rear seats when not occupied for greater capacity, one offers more room than the other.
At 62.4 cu.ft., the Liberty provides 9 cu. ft. more than the Patriot, which comes in at 53.5 cu. ft.

For those wanting more cargo space, the Liberty takes the cake, though at the expense of nimbleness and maneuverability on the road. 
Towing Capacity
Unsurprisingly, the delta in engine sizes between even the larger Patriot's 2.4 L 4-cylinder engine and the Liberty's 3.7 L V-6, means a great difference in towing ability. The Liberty, equipped with a towing package, can handle up to 5000 pounds, while the larger-engined Patriot can only manage 2000. The 2.0 L base Patriot meanwhile is rated for 1000 pounds. If towing is in your future, Liberty is the way to go.
Key Differences Between Jeep Liberty and Jeep Patriot
With 5 seats and an abundance of standard and optional amenities, both the Liberty and Patriot have much to offer. Yet, while their badge may be the same, what appeals to a potential buyer is very different.
The Liberty caters to the urban explorer with style in the city and offroad power and capability for the weekend adventure. The Patriot offers an affordable compact, economic package ideal for the everyday travails of an urban or suburban lifestyle with a hint of adventure still present. 
Advantages of Jeep Liberty
The 3.7 Liter V-6 engine offers 210 horsepower and 235 pound-feet of torque to provide all-terrain power and highway performance.


Bold, aggressive exterior styling with sporty accents like 18" chrome wheels and tinted windows make the Liberty stand out as a stylish and powerful-looking mid-size SUV. 


The Liberty can tackle diverse off-road terrain (snow, mud, etc.)  thanks to its high clearance and the ability to provide necessary torque via its solid rear axle and innate 4WD auto and 4WD low modes. 


Spacious front seats and intuitive interior controls combined with simple amenities and ample rear cargo space make the Liberty the ideal road trip vehicle.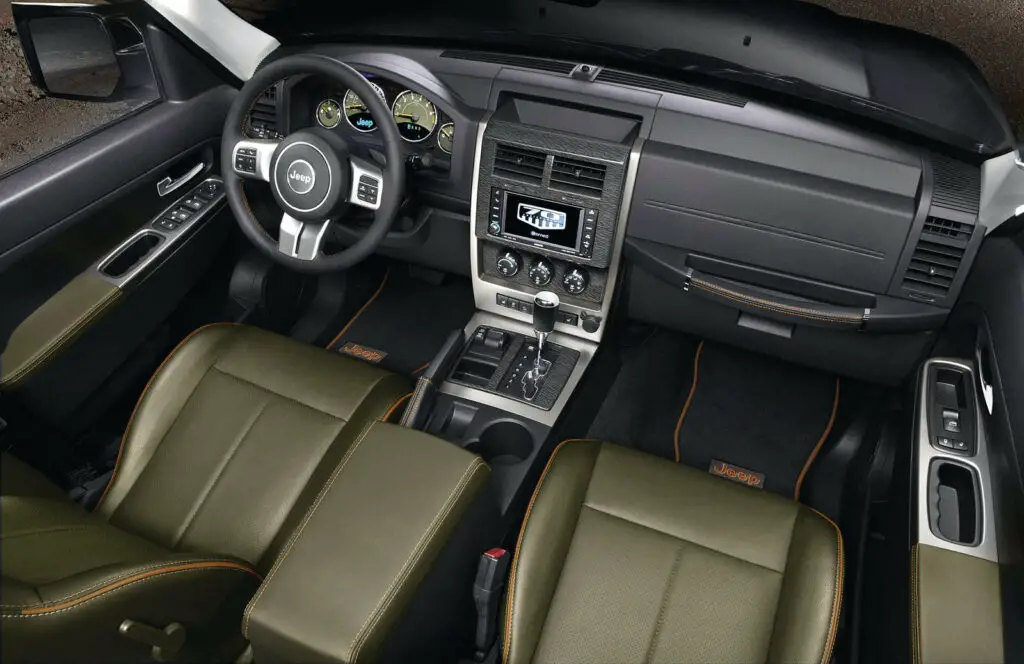 Advantages of Jeep Patriot
Economically priced even with All Wheel Drive makes it an ideal option for many needing a reliable SUV year-round regardless of the weather. 


The 2.4 Liter engine paired with the CVT makes for a smooth ride that provides competitive fuel economy for the everyday commute. 


Upgrading from the Freedom Drive I 4×4 system to the Freedom Drive II system makes the Patriot an unexpectedly capable off-roader worthy of Jeep's honorable Trail Rated Badge. This includes hill climb and descent assist as well as a low range mode as well as skid plates, tow hooks, and a host of other off-road goodies. 
Use-Case Comparison: Jeep Liberty vs Jeep Patriot
Both Jeep Liberty and Jeep Patriot are considered by potential purchasers for a variety of reasons. Next, we've looked at the three most likely applications of the two vehicles and using what we've already learned about each vehicle, we'll decide which is more suited for the job. 
Off-Road Capability
At face value, this should be no comparison. The Patriot should be quite literally left in the dust. However, while all three trims offer little in the way of off-road prowess, the Patriot does have a rare ace up its sleeve.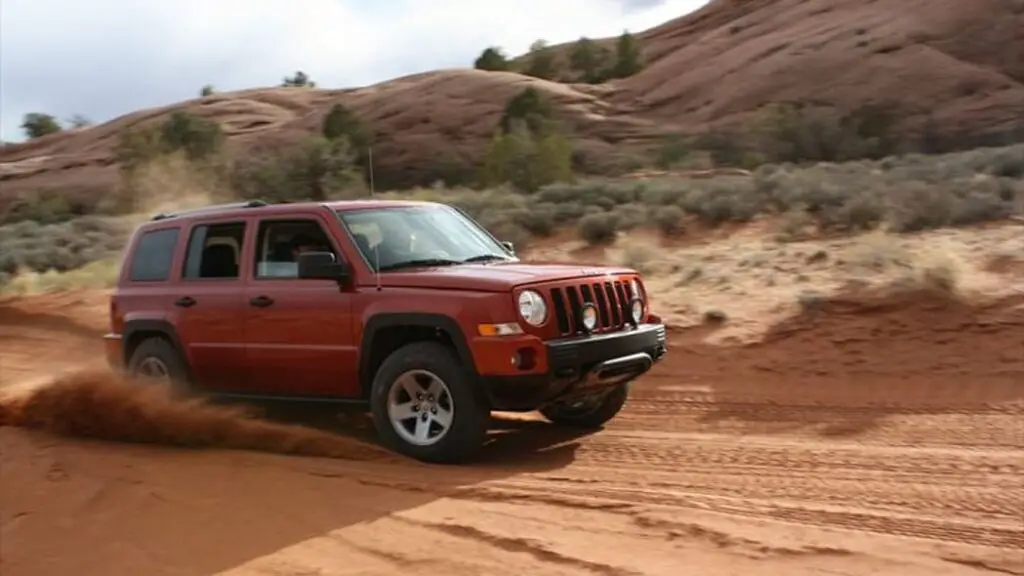 As previously mentioned, the Freedom Drive II off-road package offers drive modes suited for adverse situations, as well as a higher ride height, the ability to forge up to 19 inches of water, and other additions. Jeep themselves said, "The Trail Rated Jeep Patriot's body and chassis were developed and tested over numerous rugged off-road terrains to meet the requirements of the enthusiast Jeep customer."
The Liberty meanwhile, in every 4WD trim, has a built-in 4WD automatic mode that is skilled at finding the traction to enable it to naturally tackle off-road obstacles. In the most trying circumstances, a flip of a dash switch moves the Liberty from 4WD auto to 4WD low to give every bit of torque possible. The solid rear axle makes the Liberty more akin to its off-road truck siblings at Jeep, which also serves to make it more capable on a trail. 
Patriots equipped with the Freedom Drive II off-road package are worthy contenders, but at the end of the day, the higher-riding Liberty is the vehicle to have if you are looking to head out of the concrete jungle.
Winner: Jeep Liberty  |  Runner Up: Jeep Patriot w/Freedom Drive II Package
Daily Driving
After being crowned king of the off-road, you may think that on the road the Liberty is going to be disappointing. However, thanks to a host of options available including an infotainment screen with Bluetooth, heated and powered leather seats, and additional speakers the Liberty offers the feeling of luxury.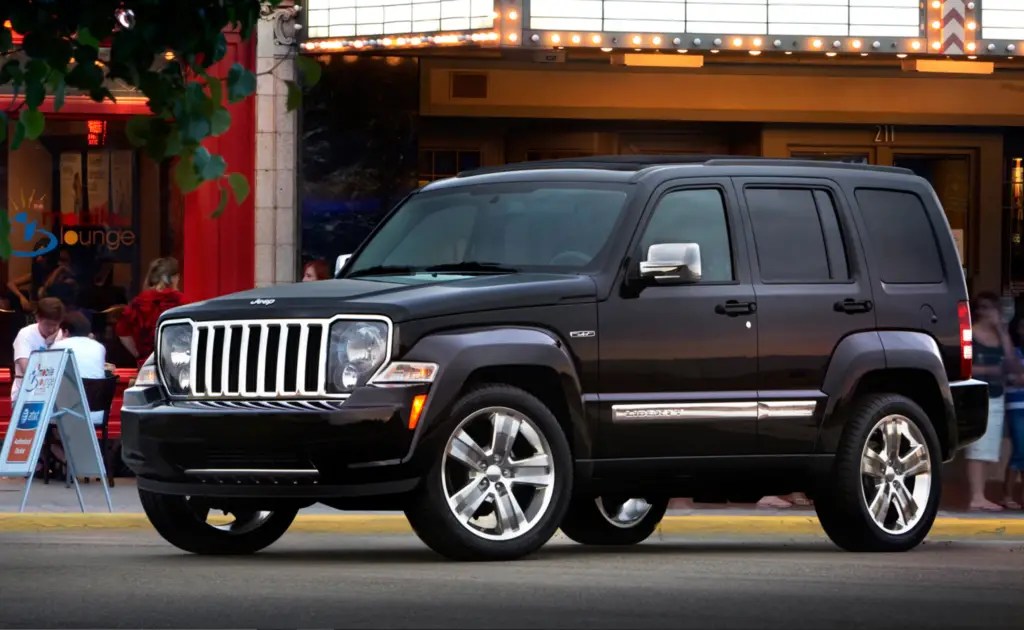 While inside the Liberty may be a comfortable daily driver, two factors are holding it back. First, the solid rear axle, a welcome feature in sturdy trucks, diminishes ride comfort. Second, the large, powerful engine may give greater oomph at a light, but it will give greater oof at the pump. 
The appeal of the Patriot as a daily driver begins with the initial cost of ownership. Whether 2 or 4 wheel drive, the Patriot will keep rolling while keeping money in your pocket thanks to a gas mileage rating of 23 city/29 highway in the 2.0 L engine and 21 city/25 highway in the 2.4 L engine. With similar interior options to the Liberty, the Patriot really starts to pull away when showing how nimble and comfortable it is. Bumper-to-bumper traffic, the grocery store, and a tight parking space or no trouble for the Patriot. 
At the end of the day, while the Liberty may gain some ground thanks to style, the Patriot is the way to go for daily driving thanks to its comfort, convenience, and economy. 
Winner: Jeep Patriot
Towing and Camping
Jeep has rightfully garnered a reputation for off-road and adventure. For those looking to haul a trailer out to a campsite for a week away, the Liberty is the way to go. With a towing package installed from the factory, the Liberty can pull most small to midsize camping trailers or boats. To add to the adventure, the Liberty can be purchased with a Sky Slider two-row sunroof for full nighttime star gazing access.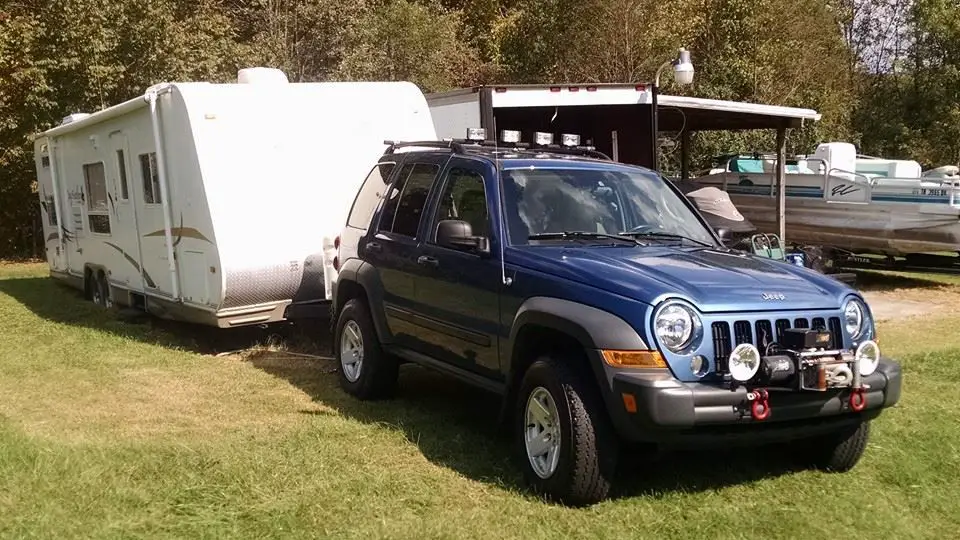 On the other side, while the Jeep Patriot's smaller inline 4-cylinder engine was never going to be able to tow a trailer, the 2000 pound limit in the 2.4 liter means that there can still be a few fun excursions. Jet ski for instance comes in under 2000 pounds and offers a host of entertainment. 
As a compact SUV with 4WD, the Patriot can still be your ride to a week away in the wilderness. You'll just need a tent instead of a trailer. The Liberty meanwhile is primed to tow, ready to put a trailer or boat behind it on the way to make memories. 
Winner: Jeep Liberty
Final Thoughts: Jeep Liberty vs Patriot
The Jeep Liberty and Jeep Patriot both appeal to modern consumers, though each in very different ways. Those explorers who want an SUV that always reminds them a little of their adventurous side should go after the Liberty. It's always ready to escape the mundane in favor of something extraordinary.
Those who instead want the vehicle that they can trust through thick and thin, to offer a little extra on a trip to a muddy pumpkin patch or bumpy construction zone, should pursue the Patriot. Whether you're ready to go off-road or downtown, both of these Jeeps are ready to get you there no matter what.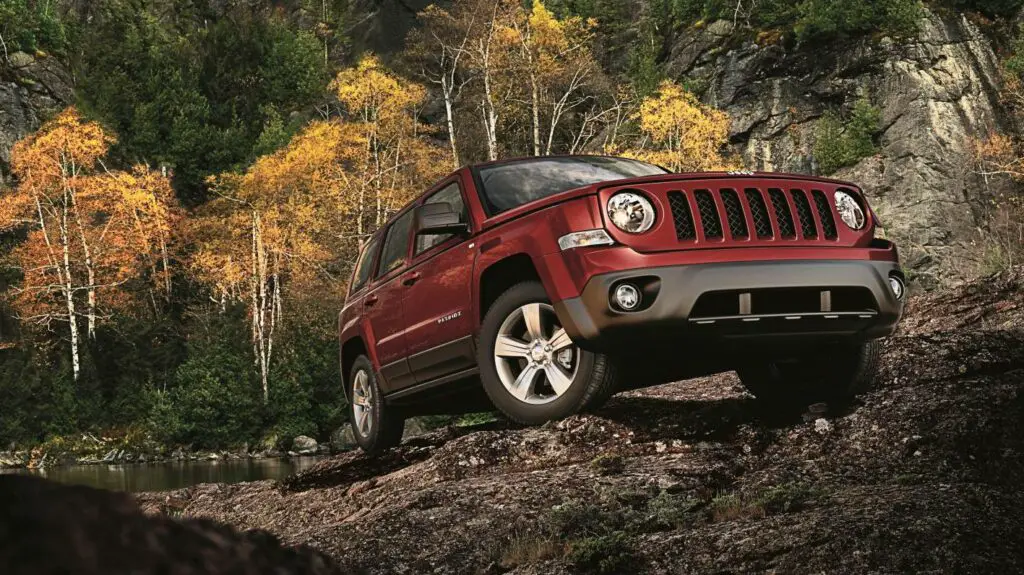 People Also Ask
Both the Jeep Liberty and Jeep Patriot were discontinued – the Liberty in 2012 after being produced since 2002, and the Patriot in 2017 after being around since 2007. Below we've offered answers to the three most frequently asked questions that come up around these two vehicles. 
Why Did Jeep Stop Making the Patriot?
While the Patriot earned great marks for its economic price point, it struggled to compete in a highly competitive segment. As Jeep looked ahead to the future of their brand, they decided that it was not worth investing in the Patriot platform to improve technology, performance, and safety, opting instead to stop production and use resources elsewhere. 
What Replaced the Jeep Liberty?
The death of the Liberty brought about the resurrection of the beloved Cherokee name. The Cherokee, launched in 2014, offers much of what the Liberty AND Patriot did via a 4-cylinder engine option and 6-cylinder option paired to a 9-speed automatic transmission. 
Does Jeep Liberty Have a lot of Problems?
A variety of Jeep owners have reported a variety of problems, though most not common enough to warrant significant worry. The Sky Slider two-row sunroof is the biggest complaint from Jeep Liberty owners, with the canvas top causing a variety of problems including leaking and mechanical failure.
Other Jeep Related Guides