If you want to listen to music while driving, you should have the best radio for a Jeep Wrangler. Luckily, you can take out your current radio and swap it for something with more features.
Whether you want to use Bluetooth, your local radio, or something like CarPlay, you can. You can also find others with GPS or backup camera functionality!
Comparison of the Best Radios for a Jeep Wrangler
IMAGE
PRODUCT

Our Top Pick

Live music streaming enabled for quick and easy entertainment
Hands-free calling with Bluetooth connection
USB and aux inputs available for variety

View Latest Price →

Up to 10 inches of viewing size
Dash kit included for quick and easy installation
Compatible with a wide range of devices

View Latest Price →

Best Budget Option

Best for the Money
Easily fit in many different Jeep models
Use different media ports or a DVD for entertainment

View Latest Price →

Makes use of Spotify internet connection
High 800 by 400 resolution video and picture quality
USB, aux and more connection options

View Latest Price →
What Makes a Radio Great for a Jeep Wrangler?
The right screen size can make a huge difference when choosing the best Jeep Wrangler. You should consider how big your current radio is so that you can find a replacement with the right dimensions. That way, your new radio can fit flush with your dash.
You may also want to consider what smartphone you have and if you want to use it with your new radio. Some radios work better with iPhones, while others are only compatible with Androids.
And unless you plan on also upgrading your speakers, you should look for a radio that can work with the factory sound system.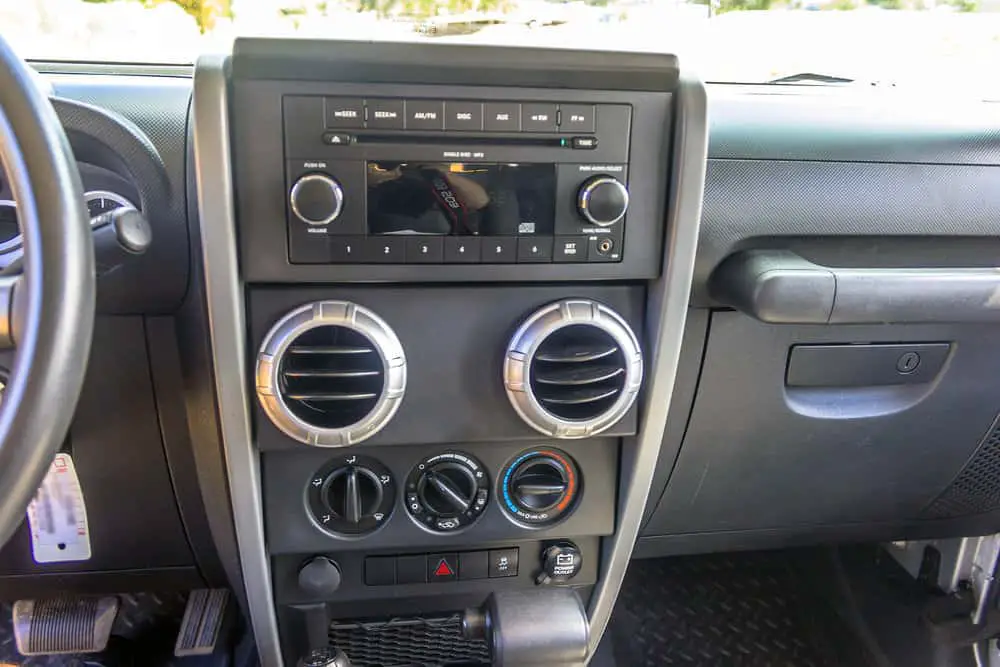 What Do I Need to Know Before Buying a Radio for a Jeep Wrangler?
Before you upgrade your Jeep Wrangler radio, consider a few things to help you make the right choice.
Model Year
First, you know the year of your Wrangler so that you can find a compatible radio. Unfortunately, some radios are only compatible with Wranglers from certain years. If you know the year of your Jeep, you can narrow your search to find a suitable radio. Then, you shouldn't have any problems installing or using it.
Your Budget
Next, you should consider how much you can spend and how much you want to spend on a new radio. If you use your Wrangler a lot, you can justify a more expensive radio than someone who hardly uses their vehicle. Luckily, there are radios at every price point, so you can find something that fits your budget.
How You Plan to Use it
Many Jeep Wrangler radios offer more features than playing your local radio stations. You can usually connect your phone to stream music or podcasts, and a lot of models offer Bluetooth capabilities. Some radios also have navigation features, so consider if you need those extra options to choose the right radio.
Available Connections
You should also consider if you want to connect to a particular device. Whether you have an iPhone or Android, some radios can sync to the music you have on your phone. Make sure your radio works with your chosen smartphone so that you can play the music you want.
At a Glance: Our Top Picks for Best Radios For Jeep Wranglers
Review of the Best Radios for a Jeep Wrangler
Consider some of the best radios for a Jeep Wrangler.
Pioneer Double-DIN Digital Media Receiver
We may earn commission from purchases made from our links, at no additional cost to you
What Recent Buyers Report
Recent buyers have mixed opinions on this radio. Some love the audio quality that the radio has, even with factory speakers. The touchscreen is also easy to use. However, others have experienced black screens and AMP errors after a few months of using the radio.
Why it Stands Out to Us
The Pioneer radio offers a 6.2" touchscreen display you can use to set the radio. You can connect it to Bluetooth to play music or take calls in your Jeep Wrangler. It can offer fantastic audio quality without any special speakers.
In addition to playing music, you can also use it as a backup camera, and it's compatible with your smartphone. If you want to use a backup camera, you can connect it to the camera input and the video output. This radio is easy to install in your Wrangler.
Bottom Line
If you're looking for a reliable radio for your Jeep Wrangler, consider the Pioneer radio. It offers plenty of excellent features to help with music, videos, and taking calls. You don't need to upgrade the rest of your audio setup to get a good listening experience.
Pros
Easy to install
Customizable display
Great deal for what you get
Compatible with smartphones
Excellent quality audio and video
Bluetooth connection allows calls
Uses USB and Aux IN connections
Comes with a resistive touchscreen
Offers video camera input and output
Has better sound quality than existing stereo
Cons
Hard to see during the day
Some report it won't always turn on at the start
STINGER-STH10JK Stereo
We may earn commission from purchases made from our links, at no additional cost to you
What Recent Buyers Report
Many recent buyers love the STINGER radio. Some buyers say the radio is a good size and looks good in their vehicles. The radio offers various options for sound input and output, so you can get good sound quality. However, it could have more features for the price.
Why it Stands Out to Us
The STINGER radio looks cool in almost any car, including the Jeep Wrangler. While it can be hard to install, it works well once you set everything up. You can use the touchscreen display to select what you want to listen to, and you can take calls through Bluetooth.
Apple users can also connect to CarPlay to play music or podcasts from an iPhone. But any smartphone user can use the USB ports to connect to the radio. It also works with your favorite Sirius XM radio stations, so you have more control over what you listen to when you drive.
Bottom Line
While it's not the cheapest out there, the STINGER radio provides a lot of value. You can use it whether you want to listen to the radio or connect to your favorite playlist. If you want an affordable upgrade for your Jeep Wrangler, consider this radio.
Pros
Works with Apple CarPlay
Mounts flush with your dash
Compatible with Sirius XM radio
Comes with an installation guide
Has USB ports to connect your phone
Retains factory settings for steering and amplifier
Offers a Bluetooth connection for hands-free calls
Massive 10-inch display shows much more than other radios
Cons
Can be hard to install
AWESAFE Car Stereo Radio
We may earn commission from purchases made from our links, at no additional cost to you
What Recent Buyers Report
Some recent buyers say the radio is the perfect replacement for the factory radio in a Jeep Wrangler. It is easy to install and works with the factory-installed speakers and amplifier system. However, it doesn't come with an instruction manual, and customer support isn't very helpful.
Why it Stands Out to Us
Other Jeep Wrangler radios can cost thousands of dollars, but this model costs a fraction of that. You can use it to replace your factory radio and improve the sound quality of your vehicle. The touchscreen display is easy to use, and Android users can mirror the display.
While iPhone users don't have that option, there are plenty of functions available. You can use this radio for everything from taking calls while driving to listening to your favorite songs or podcasts. It's a great option if you want to try a new radio without spending a ton of money on one that may or may not work.
Bottom Line
If you want to upgrade your audio setup but don't have a ton of money, start with the AWESAFE radio. It's much more affordable than the competition, but it doesn't compromise on features or quality. Almost everyone can enjoy the differences this radio makes.
Pros
Easy to install
Very affordable
Offers GPS navigation
Remote control for steering wheel
Option to buy a separate backup camera
Can sync screen to Android smartphones
Works with Jeep Wranglers from 2007-2018
Built-in microphone and Bluetooth for taking calls
Can play music on the radio, CDs, or smartphones
Cons
Extra features don't always work
Pioneer MVH1400NEX
We may earn commission from purchases made from our links, at no additional cost to you
What Recent Buyers Report
Recent buyers report mixed opinions on this Pioneer car radio. Some buyers love the quality and how the radio looks. It sounds good and has a decent amount of features, but it could offer more things, like a remote control. Customer service also isn't very helpful.
Why it Stands Out to Us
This car radio is an excellent option for iPhone users and others who have a bit more to spend. It's not the most expensive radio out there, but it features plenty of listening options for the price. You can listen to music, connect to Apple CarPlay, or make and take phone calls.
Apple users can use Siri without looking at the display, and some Android devices are also voice-compatible. The radio isn't too big, so it can fit in most Jeep Wrangler models. It's also relatively easy to install.
Bottom Line
Whether you want to switch from your factory radio or another aftermarket radio, you should consider this model. It's more affordable than some of the competition. However, you can still get a good quality radio for your Wrangler.
Pros
Includes a manual
Lightweight car radio
Has a multi-language display
Excellent resolution on the touchscreen
Comes with different cables and accessories
Multiple audio and video inputs and outputs
Can work as a virtual DJ with music transitions
Connects to different smartphones and music devices
Cons
Some report the touchscreen lags
MCWAUTO Indash Radio
We may earn commission from purchases made from our links, at no additional cost to you
What Recent Buyers Report
Most recent buyers are happy with this MCWAUTO car radio. It works well in Jeep Wranglers, and it's worth the money for many people. However, many people have had the radio stop working without much notice.
Why it Stands Out to Us
The MCWAUTO radio offers an excellent 1080p display, and you can use it for more than just music. It features maps that you can use for navigation, and you can use it hands-free. This radio is great for Bluetooth calling as well as playing music from the radio or your phone.
You can also use the rear camera function to see behind you, making it safer to back up. And if you need to back up while calling, you can show both on the display at once. WiFi and 4G capabilities also let you watch movies when in your Jeep Wrangler.
Bottom Line
If you want a middle of the road car radio for your Jeep Wrangler, consider this model. It offers more features than cheaper options, but it won't break the bank. Whether you want to get a better radio or simply make hands-free calls, this is a good choice for you.
Pros
Can mirror iPhone display
Touchscreen is easy to use
Has a fast, smooth processing speed
Works with Android operating system 10.0
Compatible with Jeep Wranglers from 2007-2015
Supports Bluetooth, 4G, WiFi, and other connections
Comes with a North American map for help navigating
Cons
Doesn't include installation instructions
Characteristics of Our Favorite Jeep Wrangler Radios
The best radios for Jeep Wranglers, of course, need to fit the dash. But there's more to choosing the best radio for your Wrangler.
Connections
Many of the best radios offer Bluetooth capability so that you can make or take calls. But some of our favorite radios also have WiFi or 4G connections. Others also have wired connections, such as USB or auxiliary inputs and outputs. Those connections offer more flexibility.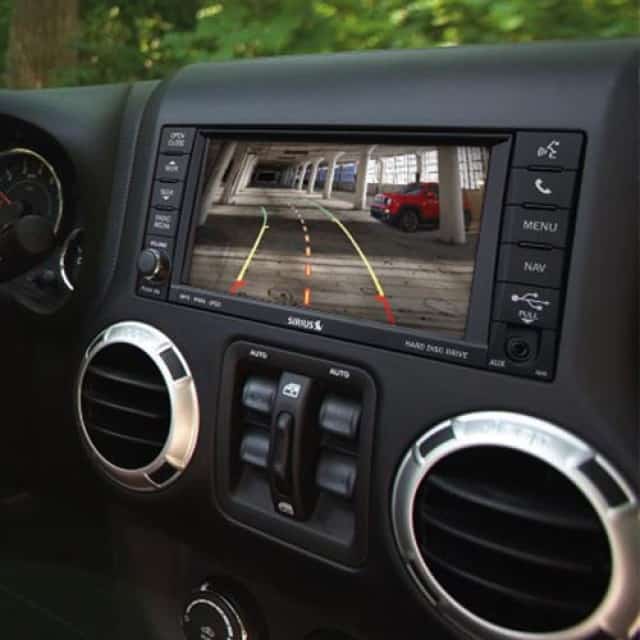 Cameras
A good car radio should also have a backup camera to help you when reversing. While you should still look behind you, a camera can catch things that you may not see. Having a camera can help make it safer for you to back your car up.
Ease of Installation
If you want to install the radio yourself, you should consider a model that's easy to set up. The easiest models to install come with instructions or an entire owner's manual with the steps.
Types of Radios for a Jeep Wrangler
Consider a few ways Jeep Wrangler radios can vary.
Screen Size
Many radios have a 6.2" screen to fit in your dash and give you enough visibility. But you can find other radios with screens as large as 10" if you want to use them for music videos or movies.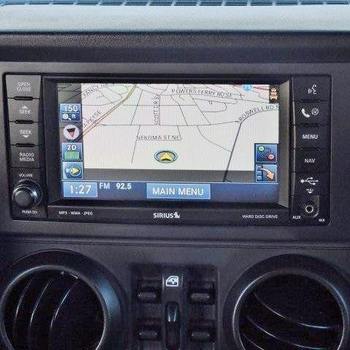 Smartphone Compatibility
Many radios are compatible with smartphones, but some aren't compatible with both iOS and Android. This may be a big deal if you want to use your phone with your radio.
Other Functions
Some radios are more than just radios, so you can use them to call, navigate, or even watch movies. But some radios don't offer all of those functions, and that can set some radios apart.
Camera Connections
Along with other functions, you can use some radios as a backup camera. Consider if you can hook up a camera to the screen so that you can see what's behind you.
Jeep Wrangler Radio Comparisons
You can find a few different types of Jeep Wrangler radios, so consider the different options.
LCD vs Factory Radio for a Jeep Wrangler
An LCD radio is one with a liquid crystal display, so you can view the various features of your radio. The screen makes it easy to select the radio station or playlist you want. A factor radio is the one that comes with your Wrangler, and it may or may not have an LCD screen like an aftermarket radio.
OEM vs Aftermarket Radio for a Jeep Wrangler
OEM stands for the original equipment manufacturer, so an OEM radio comes from the same company as your Wrangler, or Jeep in this case. With an OEM radio, you know it will work with your vehicle no matter what because the manufacturer is the same. But an aftermarket radio can be a good alternative.
What is an Aftermarket Radio?
An aftermarket radio is a new car radio that you can buy from any manufacturer. You can get a radio from Jeep for your Wrangler, but you don't have to. Because of that, an aftermarket radio can be a lot more affordable but have just as many features as an OEM radio.
What is an OEM Radio?
An OEM radio faces tough scrutiny from the manufacturer. You know it will be of good quality, so you don't have to worry about exchanging one for another of the same model. They aren't replicas, so you can trust that they will work well in your Wrangler.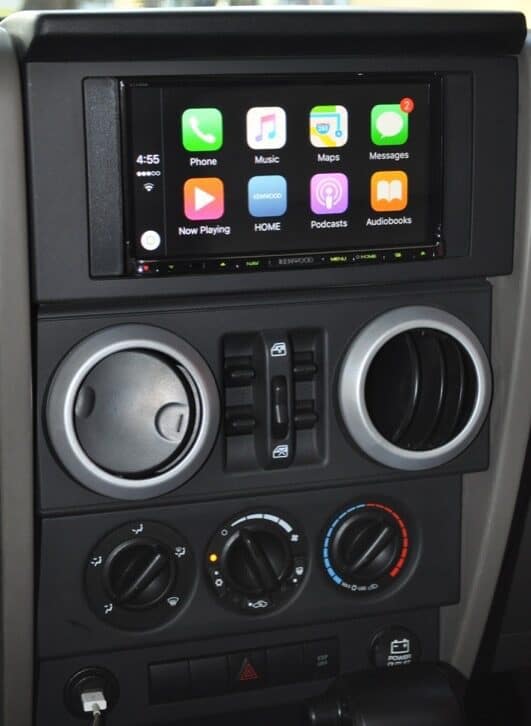 Jeep Wrangler Radio Install
Before you install your radio, make sure it comes from a reputable manufacturer so that you get a good quality model. You'll need a fit kit to help install the head unit to your dash. The pieces will bolt to the radio to keep it in. A good kit will also include an instruction manual that you can follow to install the radio.
You will also need a data device to connect to the car. It will then be able to tell the radio which car you're connecting to so that you can keep your settings for things like steering wheel control. First, you should program your data device using a computer. Next, you'll connect the wiring to a harness for your radio.
After that, connect the fit kit pieces to the side of your new radio. When you're ready, you'll need to take out the old radio. Make sure you safely remove the various panels around your dash as you take out the bolts. Finally, you can install the radio in your Wrangler.
If you've never installed a car radio, take it slowly. Make sure you turn everything off so that you don't shock yourself when working with the wires to stay safe. Check out this video for a more detailed breakdown of the steps:
Conclusion
The best radio for a Jeep Wrangler is one that offers the features and compatibility you need. Whether you choose a Pioneer radio or another manufacturer, you should consider your preferences before installing it. Then, you can get the best sound quality and features for you.
Quick Summary – Best Radios for a Jeep Wrangler
Here's a quick recap of the best radios for a Jeep Wrangler:
People Also Ask
Hopefully, you already have a good idea of what you want in a car radio. However, you may have a few questions.
Are Jeep Wrangler Radios Waterproof?
Jeep makes their radios waterproof, but not all aftermarket radios will be the same. If you like to ride with the top down, make sure you look for a waterproof radio. And if you can't find one, you can get through a storm by maintaining your speed so that the rain goes over rather than into your vehicle.
Why is My Jeep Radio Not Working?
If your radio isn't working, you can try a few things. First, make sure your key is in the ignition because it can affect the radio if it is slightly out. If that doesn't work, check the fuse and ensure that the radio makes contact with the plug.
How Do You Remove a Jeep Radio?
You'll need to turn off your Jeep and remove the vent trim panel. Next, remove the screws on the sides of the panel and remove the trim panel from the dash. Take out the screws by the radio and the climate controls. Loosen the strap that holds the glove box and remove the nut at the back of the radio, then pull the radio out.
How Do You Reset the Radio in a 2013 Jeep Wrangler?
You'll need to disconnect from power and wait five minutes before plugging back in. If your current radio is aftermarket, you can use the reset button instead.
How Do I Get the Code For My Jeep Radio?
Your radio should have a label on it with a long number that starts with the letter T. Take note of that number and call the dealership. You may also need to give the serial number that starts with P and the VIN for your Jeep. The dealership should be able to give you the code.
Where is the Satellite Radio Antenna on a Jeep Wrangler?
It is on the roll bar on the passenger side of your vehicle.
How to Improve Radio Reception in a Jeep Wrangler?
You can check your antenna connections to make sure there aren't any issues and replace them if necessary. Also, consider installing a signal booster or replacing your Jeep Wrangler radio.
Should I Hire a Professional to Install a Radio in My Jeep Wrangler?
If you don't want to follow the steps to install your radio, hire a professional. Hiring someone is also a good idea if you don't have experience with electrical wiring because it can be dangerous.
Who Worked on This?
---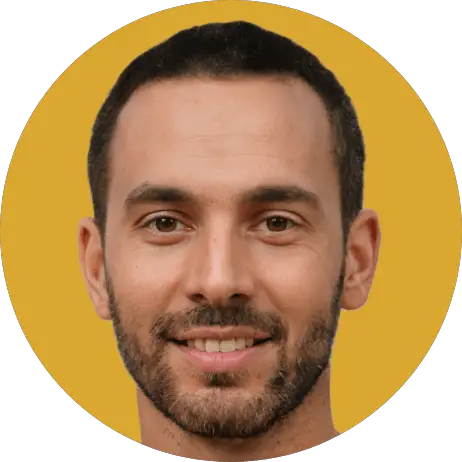 Brian
Editor
A master of organization, Brian helps keep everything running smoothly for Your Jeep Guide.
No Jeep yet but we're working on that!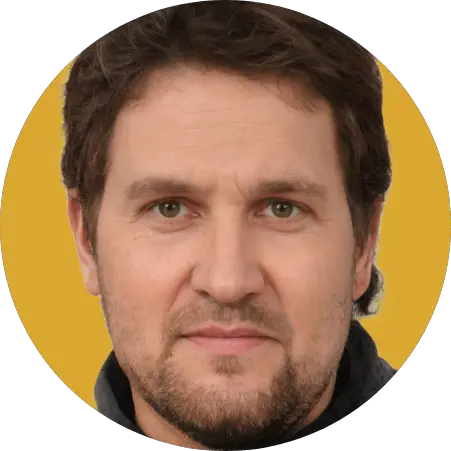 Cory
Writer
Cory loves his XJ and frequently thrashes it through the hills. He's constantly fixing something.

"What fenders?"
Check Us Out!