A reliable CB radio is a popular piece of equipment for off-road enthusiasts.
Not only can a CB radio help you maintain contact with fellow off-roaders during a group trail ride, but it can also serve essential communication purposes during an emergency or if you get stuck in a remote location.
Comparison of the Best CB Radios For Jeeps
IMAGE
PRODUCT

Our Top Pick

Up to 40 channels at your disposal for communication
Can connect to optional speakers with speaker jack included
Precise frequency control with phase-locked loop technology

View Latest Price →

A weather scan is included with this device
Sensitivity can be adjusted with RF gain control
Improves weaker signals with Automatic noise limiter

View Latest Price →

Best Budget Option

Best for the Money
Great for beginners with easy to use controls
Sensitivity can be adjusted with RF gain control

View Latest Price →

Powerful and very durable design to last longer
Up to 40 channels at your disposal for communication
Noise filter to remove background noise for clear reception

View Latest Price →

Wide range of communication with 4 watts output
Comes with a long microphone cord of up to 9 feet
Up to 40 channels at your disposal for communication

View Latest Price →
What is a CB Radio and How Does a CB Radio Work? 
A citizens band radio, or CB radio as they are more commonly known, is a land mobile radio system that allows short-distance radio communication between individuals.
Unlike other types of radios, operating a CB radio does not require a license, and anyone can use them for personal communication. They work the same way as any other radio, by transmitting and receiving radio waves; however, they only work along 40 channels and frequencies, with a single one reserved for emergencies. They use a maximum signal strength of four watts to communicate in a short-range.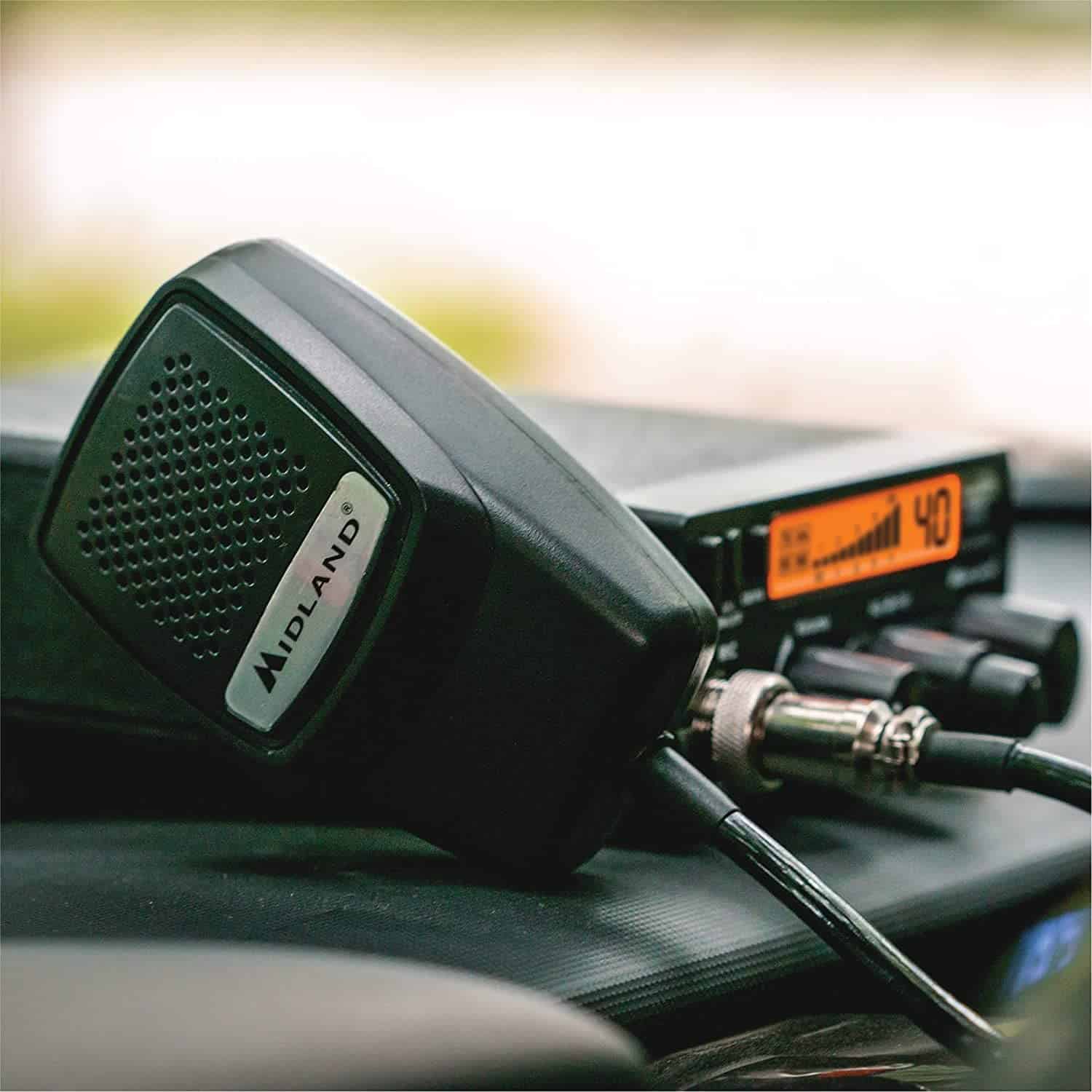 Is a CB Radio Important While Driving a Jeep? 
While not all Jeep drivers would have use for a CB radio, those that enjoy taking their vehicle on off-road adventures certainly should use one. As it turns out, a CB radio is an essential piece of safety equipment that any off-roading vehicle should have. 
While most people now carry cell phones, most remote off-roading locations lack cell phone reception. On the other hand, CB radios communicate with others in the area, even if you have zero cell phone signal.
While CB radios are excellent in emergencies, they are also a practical way to remain in contact with the members of your off-roading group, especially if you are in a remote location. CB radios can help coordinate off-roading groups or call for help and a tow if your Jeep gets stuck on the trails.
By having a CB radio, your group off-roading trips are much more fun and far easier to coordinate, but more importantly, you have a way to call out for help in the unfortunate event of an emergency. In many ways, a good CB radio can be your most reliable means of communication when you are exploring the great outdoors with your Jeep.
At a Glance: Our Top Picks for Best CB Radios For Jeeps
Review of the Best CB Radios For Jeeps 
To help you find the best CB radio for your Jeep, we have reviewed and ranked five of the best Jeep-friendly CB radios on the market in 2020.
Uniden – PRO520XL Pro Series 40-Channel CB Radio
We may earn commission from purchases made from our links, at no additional cost to you
What Recent Buyers Report
Recent buyers were impressed by how well this relatively small CB radio works. They found that the small size makes it easy to fit this unit in a Jeep cabin. Users found they could communicate clearly, and they were impressed with the range, especially given it is available at such an affordable price.
Why it Stands Out to Us
More often than not, a CB radio of this quality comes in a much larger package, which can make it unsuitable for use in a Jeep. Some of the large CB radios are for larger transport trucks, so it's great that Uniden offers a high-quality CB radio that is practical for off-road vehicles.
We also really liked that the radio came with a full mounting kit. The fact that this CB radio works so well and is the right size for a Jeep means that it deserves its position as our top pick for the best CB radio for Jeeps.
Bottom Line
If you are looking for a reliable CB radio that transmits clear audio, look no further than the Uniden Pro Series. Despite its small size, this radio is powerful and has some great features that are only available in more expensive units.
Pros
Backed by a 2-year warranty
Comes with a mounting bracket and hardware
Automatic noise limiter switch for improved communication
Front-mounted 4-pin electret microphone with extra-long coiled cord
Built-in internal speaker jack allows you to connect it to an external speaker
Cons
Instructions somewhat unclear
Can take a while to install the mounting brackets
Midland – 1001LWX 40 Channel Mobile CB
We may earn commission from purchases made from our links, at no additional cost to you
What Recent Buyers Report
Jeep owners appreciate the compact size of this little CB radio. Given the low price, most buyers are satisfied with the signal quality. Many users find the automatic weather scanner to be a helpful feature. The only issues buyers seemed to have was the lack of a headphone jack and the fact that the backlit screen can be a little bit too bright during night drives.
Why it Stands Out to Us
The thing we liked the most about this unit was its simplified design that delivers what you want out of an off-roading CB radio without complicating things with unnecessary features.
We also liked how easy it is to fit into the cabin of a Jeep. It is small enough that you could easily use it in the center console. The fact that it is this affordable and still features a weather scanner is impressive. Being able to get weather updates while on the trails can be helpful for off-roaders and people that drive their Jeep to remote, backcountry camping locations.
Bottom Line
If you are looking for a small CB radio that delivers the basic features well, this could be the right unit for you. Its compact size and clear speakers help this CB radio stand out from the crowd.
Pros
Compact size
12V connector
Features an automatic noise limiter
Adjustable RF grain control to adjust the sensitivity 
Comes with a built-in weather scanner that finds and connects to the local weather channel
Cons
No headphone jack
No channel scan feature
Radio Oddity – CB-27 Mini CB Radio
We may earn commission from purchases made from our links, at no additional cost to you
What Recent Buyers Report
Aside from the low price, the first thing recent buyers usually report is how compact this unit is. It is one of the smallest CB radios available, which is helpful when it comes to installing it in the front cabin on a Jeep. 
Recent buyers also found the squelch control was effective and helped make sure that transmitted and received messages were easy to understand.
Why it Stands Out to Us
As you may suspect, the first thing that stood out to us about this CB radio is the more than reasonable price. If you are on a budget but still want a CB radio in your Jeep in case of emergencies, this is the perfect unit for you.
In terms of performance, we found that this radio transmits and receives very clearly without static or background audio. While it does not have much in terms of extra features, it still works great and takes up very little space. It is so lightweight that you can even securely mount it with Velcro.
Bottom Line
This CB radio is perfect if you are looking for something that is affordable and performs basic communication tasks well. While the plastic, unattached microphone can be an issue for some, you have to expect some compromises when you are purchasing such an affordable radio.
Pros
9 levels of squelch control
Features a removable microphone
Compatible with external speakers
Ultra-compact and portable design
Instant emergency channel connection
Cons
Poor instruction manual 
Microphone is made out of plastic
Uniden – BEARCAT 880 CB Radio
We may earn commission from purchases made from our links, at no additional cost to you
What Recent Buyers Report
Most recent buyers are impressed with the incredible number of features you get with this CB radio. They also really appreciated how intuitive the controls are, which can be an issue with some of the more complicated, higher end CB radios.
Some felt the LED backlights could have been brighter so that the screen would be easier to read during the day. However, given how clear this radio is and how many features you get with it, most say the backlight issue is only a minor inconvenience.
Why it Stands Out to Us
The reason why this CB radio is our editor's pick is that it features every feature you could ever want out of an off-roading radio. The transmissions are crystal clear and rarely suffer from static issues. The thing that we liked the most about this radio is the overall quality of the microphone; it works well, and the extra-long cord is handy. The weather connect feature is also helpful.
We liked how straightforward this unit is to use. While the instructions could be a little bit more detailed, we found most of the controls are easy to figure out.
Bottom Line
If you want a CB radio with all of the bells and whistles, then this could be the one for you. While it is a little bit more expensive than some of the other radios on our list, it is well worth the price.
Pros
Instant access to NOAA weather channels
Noise-canceling microphone with an extra-long cord
Large, easy to read display with seven backlight color options

Rugged design is perfectly suited for use in an off-road vehicle
Memory channel scan, dynamic squelch control, and Hi/Lo microphone gain control
Cons
Fairly expensive 
LED backlights not bright enough to see during daylight hours
Cobra – 25LTD Professional CB Radio
We may earn commission from purchases made from our links, at no additional cost to you
What Recent Buyers Report
Recent buyers appreciated how easy it is to mount this CB radio in a variety of locations. While some installed it below their front dash, others positioned it overhead in the roll bar. Users liked the extra long cord and the overall quality of the microphone.
Why it Stands Out to Us
Aside from its impressive ability to transmit and receive clear communications, we liked how easy it is to install this radio in the cabin of a Jeep or any other vehicle for that matter. We also really like the ability to instantly connect to the emergency channel, which is a useful safety feature.
We also liked the overall appearance of this radio, which has a bit of a rugged, traditional aesthetic. 
Bottom Line
If you are looking for a reliable CB radio for off-roading purposes, you really cannot go wrong with this powerful unit from Cobra. Cobra is one of the most trusted manufacturers of portable and professional CB radios, and their 25LTD CB radio lives up to their reputation.
Pros
Easily mounts in any vehicle
4 pin microphone connector
Instant connection to emergency channel 9
Sleek and durable construction looks great in any Jeep
Extra-long, coiled 9-foot microphone cord can reach anyone in the Jeep
Cons
Flimsy packaging
Setup can be time-consuming compared to plug-and-play radios
What Makes a Great CB Radio for Jeeps? 
Given how many CB radios are out there, it can be somewhat difficult choosing the right one for your Jeep. If you consider the following features, you will be able to find one that is perfectly suited for use in a Jeep:
Compact Size and Easy Mounting
Some CB radios are much too large for use in the relatively small and compact interior of a Jeep's front cabin, so it is important to choose a smaller unit that you can mount. Look for CB radios that mount in the dashboard, overhead, or within the Jeep's glove compartment.
Visibility
It is always a good decision to look for a CB radio that has a backlit display. There is a good chance you will want the option to operate your CB radio at night, and LED displays can help in that regard.
Microphone Quality
Choosing a CB radio with a good quality microphone will save you some headaches when it comes time to use it. Look for one with a long, coiled cord and some sort of static/squelch control.
Affordability
Even if you are not on a tight budget, you do not want to overspend on your CB radio. Remember, you are using the radio for off-roading purposes rather than cross-country transportation, so you do not have to spend a fortune on unnecessary features.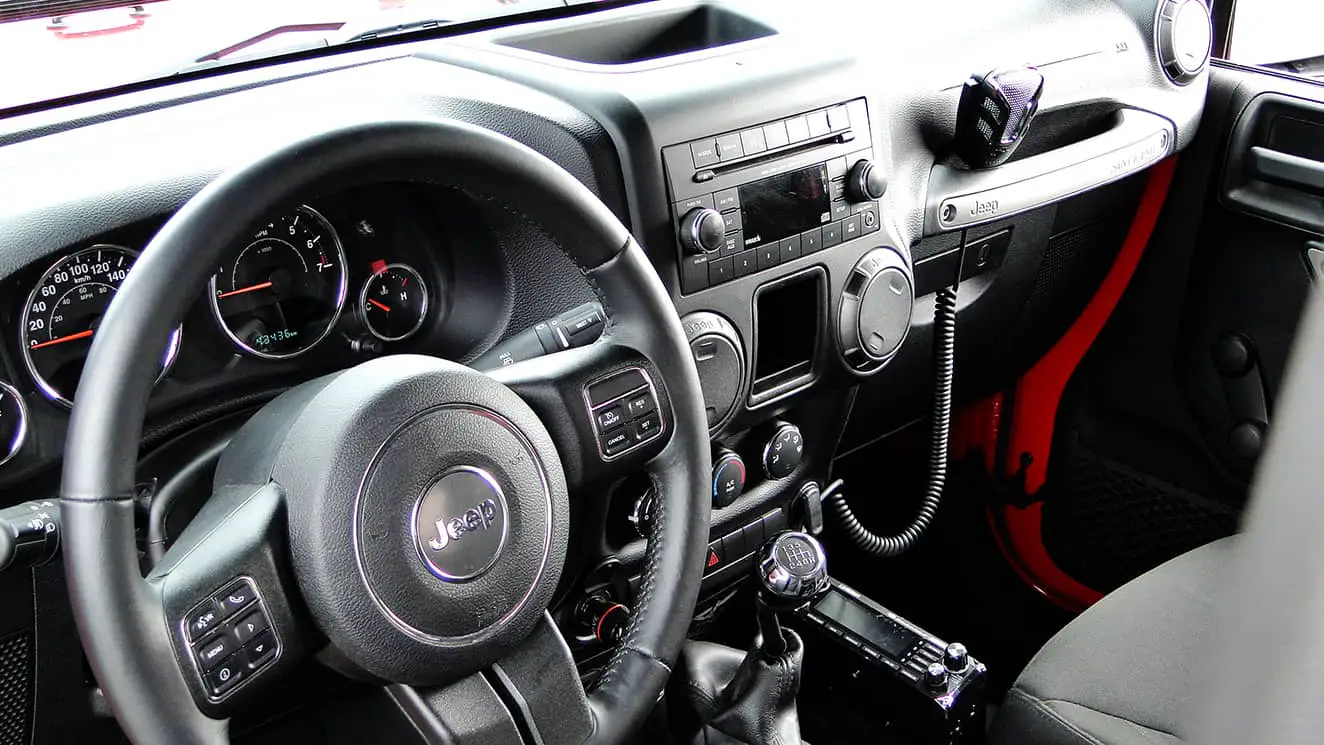 Radio Features to Look For When Buying a CB Radio for a Jeep
Along with looking for a CB radio with a practical size for use in a Jeep, you should also keep an eye out for the following features:
Instant Emergency Channel Access
Given that most off-roaders purchase CB radios as a safety precaution, you should always choose one that can quickly connect to the emergency channels. In most emergencies, time is of the utmost importance, so you want to make sure you can quickly reach out for help without having to waste time scanning for an appropriate channel.
Weather Channel (NOAA) Access
Off-roading conditions can change in an instant, which is why it is so important that your CB radio is NOAA weather channel enabled. Having access to real-time weather reports and notifications can be incredibly helpful when you are out on the trails. 
Squelch Control
A squelch control function helps you improve sound quality for much clearer communications. It also prevents you from having to hear the annoying sound of constant static by only activating the radio's speaker when a transmission is received.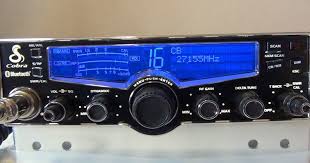 How to Install a CB Radio on a Jeep
How you install your CB radio in your Jeep will depend on several factors – where you would like the unit to sit, the size of the CB radio, and whether or not you want to mount the radio inside the dashboard.
For most of the smaller CB radios, you can simply install them on the dash with a simple U-bracket. If you choose a small unit, such as the Radioddity CB-27 Mini CB Radio, you can usually secure it with Velcro or double-sided foam tape.
Large radios will almost always require you to install a fixed mounting bracket. Most of these radios will even come with mounting brackets and all the necessary hardware, in which case you would simply follow the instruction manual during installation.
If the radio uses an antenna, you would most likely have to purchase a separate mount for the rear of the vehicle. Often these attach to the rear bumper or the spare wheel mount.
Be sure to check out the following video for some ideas on how you can install your CB radio in your Jeep:
Conclusion 
Choosing a CB radio for your Jeep does not have to be overly complicated. As long as you keep the features you want in mind, you should be able to find an appropriate unit. Remember, any of the CB radios reviewed above are a great place to start when you begin your search for a new CB radio.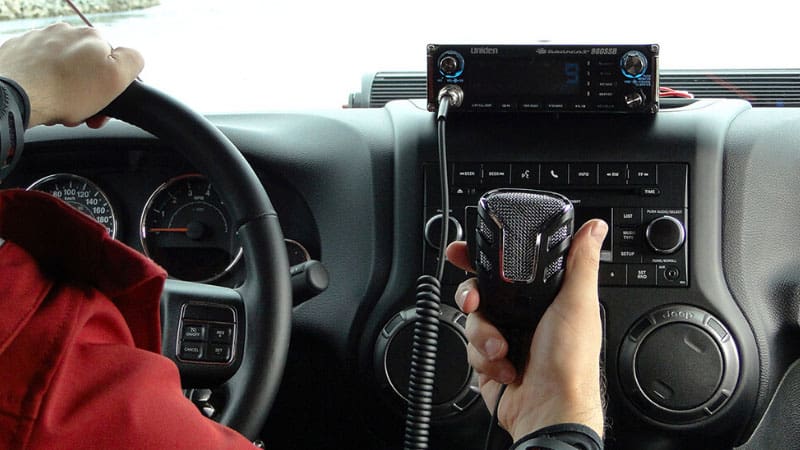 Quick Summary – Best CB Radios For Jeeps
Before you get too far, here's a quick summary of the best CB radios for Jeeps:
People Also Ask
If you still have questions, we're here to help. Here are some of the most common things that people wonder about when looking for a CB radio.
What CB Channel Do Jeeps Use?
While there is no designated channel for Jeep owners, many tend to use channel 4. Aside from the emergency channel, anyone can use any one of the 40 channels they would like.
How Far Can a 4-Watt CB Radio Transmit?
Typically, a transmitter power of 4-Watts will have a range between 3 miles and 20 miles. Distance depends largely on terrain and other factors that could interfere with the transmission.
How Can I Increase the Range of My CB Radio?
The best way to extend the range of a CB radio is to invest in a good quality antenna and raise it as high as possible.
Are CB Radios Making a Comeback?
For several reasons, CB radio sales have increased in the last few years, which indicates they are making a comeback. 
Can a CB Radio Communicate With a Walkie Talkie?
You very rarely can use a CB radio to communicate with a handheld walkie talkie. However, you can sometimes receive transmissions sent from a walkie talkie, but you wouldn't be able to respond.
How Much Cable Will I Need for CB Radio 2-Door Jeep?
The amount of cable you will need will depend on where you mount your CB radio; however, an 18-foot cable should be more than enough length.
Where to Mount CB Radio in a Jeep Wrangler?
Where you mount your CB radio will depend on personal preference. You can choose to mount the unit in the dashboard, overhead above the rearview mirror, or within the Jeep's glove compartment.
Do I Need a CB Radio in My Jeep?
While you do not necessarily need a CB radio in your Jeep, they are a useful item that can be worth investing in, especially if you enjoy off-roading in remote locations. They can be helpful in emergencies, so you should view them as an added safety feature.
Do I Need to Install an Antenna to Use a CB Radio in My Jeep?
You will need an antenna to use your CB radio; however, you do not necessarily need to mount a large antenna on the back of your vehicle. There are smaller roof antennas that attach using a magnet, but they do not perform as well as the much longer mounted antennas. 
Who Worked on This?
---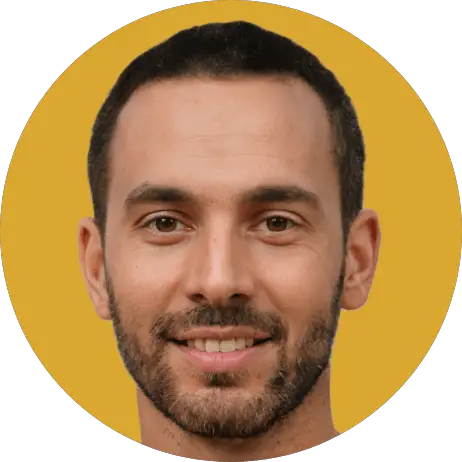 Brian
Editor
A master of organization, Brian helps keep everything running smoothly for Your Jeep Guide.
No Jeep yet but we're working on that!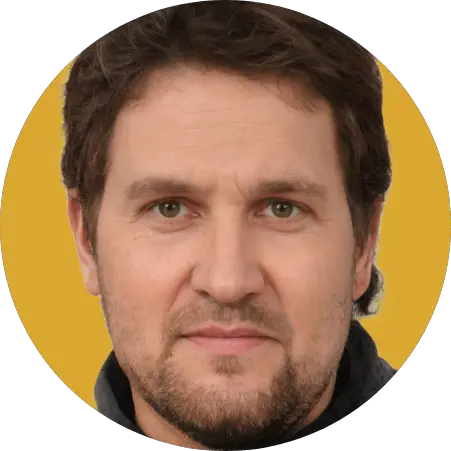 Cory
Writer
Cory loves his XJ and frequently thrashes it through the hills. He's constantly fixing something.

"What fenders?"
Check Us Out!