Jeep Wranglers are some of the coolest and most well-known off-road vehicles, but they can be completely modified to fit any off-road adventure. But what if you don't want to sleep in a tent on the ground during a multi-day road trip driving through the Mojave Desert for example? We don't know about you, but we would not like to have spiders or snakes joining me in the middle of the night, so the most reasonable solution is a camp trailer. 
Due to the short wheelbase of the Wrangler, the towing capacity is only 2,000 to 4,000 lbs. – making it a challenge to find a trailer that can fit all your needs at such a lightweight size. So, to help you start your trip a little sooner, here is a list of some of the best travel trailers for Jeep Wranglers.
We'll also give you a breakdown of some factors that you may want to consider before you buy so you won't be regretting your purchase as you are taking your trip through Yellowstone National Park in a rig that really shouldn't be there in the first place.
Not sure if Jeep Wranglers alone are safe? We've addressed all your possible concerns here: Are Jeep Wranglers Safe?
At a Glance: Our Top Picks for Travel Trailers For Jeep Wrangler
Comparison of the Best Travel Trailers for Jeep Wrangler
IMAGE
PRODUCT

Our Top Pick

Has a sub 15' floor plan
Made with incredibly light-weight materials
Has an efficient and stylish design

View Latest Price →Read Customer Reviews

Has a convenient and small design
Includes all necessary appliances
Weighs just over 1,250 pounds

View Latest Price →Read Customer Reviews

Best Budget Option

Best for the Money
A versatile single axle trailer
Includes all necessary appliances and furniture

View Latest Price →Read Customer Reviews

Made with lightweight and long-lasting materials
Can be pulled by any SUV
Has a convenient and efficient design

View Latest Price →Read Customer Reviews

Extremely lightweight materials used
Has a stylish and efficient design
Has a small floor plan

View Latest Price →Read Customer Reviews
Factors to Consider Before Buying Travel Trailer for Jeep Wrangler
Before we get to the trailers, here are a few key factors to consider before you buy the trailer of your dreams to tow behind your Wrangler.
Tow Capacity
Probably the single largest factor to consider is the towing capacity of the Jeep Wrangler. Each model variation of Wrangler is different, and with that, the towing capacity can be slightly different, so be sure to check the GVWR (Gross Vehicle Weight Rating) of the vehicle before you go any further down your search.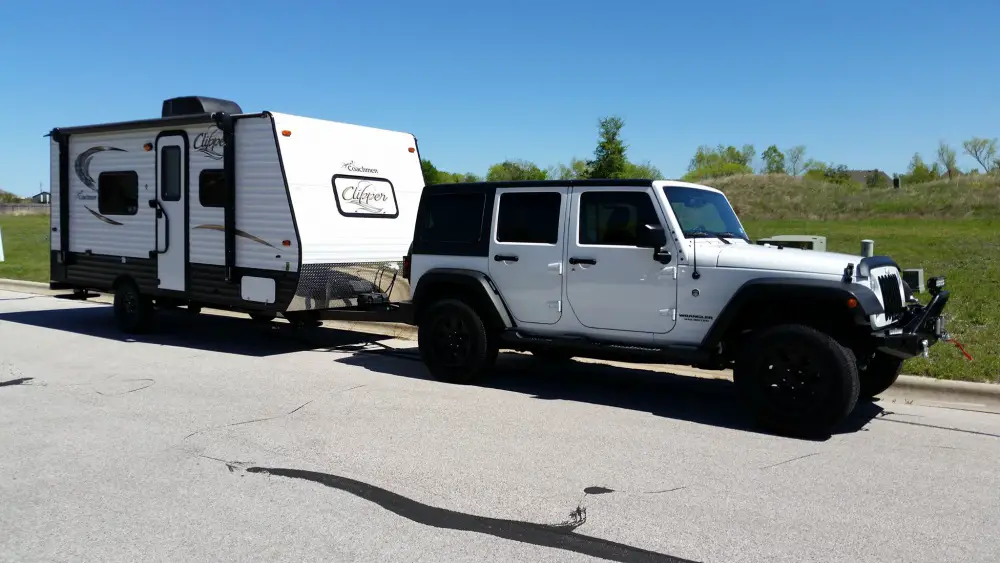 Some Wranglers are capable of towing up to 4,000 lbs, but others can only tow around 1,500. Another crucial part of the towing capacity is the weight of the trailer so be sure to understand the difference between when the trailer is completely empty (i.e the listing weight) and when you add all of your equipment, food, clothing, and water.
 All of that weight matters so be sure to account for it. 
Trailer Type
No matter the style, whether it's a smaller airstream or a pop-up trailer; they all tow differently and behave differently out on the road. Depending on what you require on the trail, the more aerodynamic the trailer is, the better as it can better sit behind the Wrangler and its short wheelbase. This is especially handy if crosswinds are a concern. 
Wants vs. Needs
What exactly do you want to do with it? Where are you going to take it? Is it just for you? Or are you taking friends and or family with you? These are just a few of many potential questions to ask yourself when you go to buy a trailer in order to make sure it fits you and your plans. 
Price vs. Features
The final part when it comes to the trailer itself is cost, and frankly, the cost of the trailer can also play a huge factor in which you end up going with. Because as many know, with the equipment out there today you can definitely go overboard on quality and you'll absolutely pay for it. 
Review of the Best Travel Trailers for Jeep Wranglers
So without further talk, let's get right into our top five list of trailers! 
We did our best throughout this list to give a good overview of a few different styles and companies to really show you what the best out there looks like. 
So let's get into it!
Lance 1475 Travel Trailer
Cost: Around $39,995
Weight: 3,700 lbs. GVWR
Measurement: Length: 19'8" Exterior Width: 84-⅜" Overall Height: 9'10" Interior Height: 78"
Tanks: 26 Gallon Tanks for Grey, Black and Fresh
Sleeping Capacity: 2 to 3 people
Storage Containers: None
We may earn commission from purchases made from our links, at no additional cost to you
Review
Coming in at number one is, and for good reason, the Lance 1475 Travel Trailer. It is essentially a compact conventional trailer with a small lounging area, indoor kitchenette, bed, a full bathroom, as well as a partial slide out. With all of this, you may wonder how is it a micro trailer or even an option for a Jeep? Well with a GVWR of around 3,700 lbs.
The trailer comes fully loaded for a trip of 2 to 3 people, including having a heater and even AC. So, wherever you want to go, this trailer is compact enough to be towed by a Jeep but also still has all the room you want to actually be able to rest after long days on the trails. 
With a sticker price starting under $40,000, it ranks very competitively within the market of high-end trailers.
Pros
Indoor shower
Indoor kitchen with stove, microwave, and fridge
Has the most interior space of any trailer on the list
With over 78 inches of ceiling height, taller people won't have to worry about ducking in this trailer
Cons
As the heaviest trailer on the list, some Wranglers may not be able to tow this in stock trim
Has a futon/sofa style bed so be sure that you are comfortable with a bed style like that
Very high price tag, so be sure you are comfortable and prepared for the micro trailer camping life before making such a commitment
Flagstaff E-Pro 12RK
Cost: Starting at less than $15,000
Weight: UVW 1,252 lbs
Measurement: Length: 11'3" Exterior Height: 7'9" Exterior Width: 80"
Tanks: 20 Gal. Freshwater 6 Gal. Grey
Sleeping Capacity: 2
Storage Containers: None
We may earn commission from purchases made from our links, at no additional cost to you
Review
If you're looking to maintain that micro trailer look and feel but don't want to feel like you're back in college sleeping on a futon, then the Flagstaff E-Pro is for you.
While keeping the same micro trailer feel, the Flagstaff has shoehorned a full-size bed inside so that you and/or someone else can sleep in a little more comfort than a standard micro has with a futon style bed. However, since it does have a larger bed inside, that's about all there is room for and as a result, there is only an overhead compartment and a tv inside the trailer.
The Flagstaff is also listed as being the lightest trailer on the list weighing in at just under 1,300 lbs. It also rocks an outdoor kitchen with an awning for all of your cooking needs, making this micro another great option for anyone looking for a bed on wheels.
Pros
Has one of the only full-size beds on our list
One of the lightest trailers and shortest trailers on the list
Starting at less than $15,000, this micro comes in at one of the cheapest on our list, really aimed for an entry-level adventurer
Cons
No toilet or shower
Very basic, no interior lounge room aside from the bed
The kitchen is outside, so be sure to lock up so you don't have Yogi Bear visiting you at night
Rockwood Geo Pro 12SRK
Cost: Starting at $17,500
Weight: UVW: 1,763 lbs
Measurement: Length: 12'3" Exterior Height: 7'9" Width: 88"
Tanks: 20 Gal. Grey: 6 Gal.
Sleeping Capacity: 2
Storage Containers: Yes, on the driver's side
We may earn commission from purchases made from our links, at no additional cost to you
Review
Coming in at number three is our best bang for your buck with the Rockwood Geo Pro 12SRK.
This trailer is very similar in size to the Jayco Micro and has a lot of the same amenities including a small kitchenette on the outside of the trailer with a stovetop and sink, as well as a wardrobe and sofa/futon combo for your bed.
This trailer is the perfect micro trailer to use if you need a place to rest and eat while offroading out on the Rubicon. Coming in at under $18,000, you really can't beat it compared to the rest of the trailers on the list. 
Pros
Comes with a small wardrobe inside as well as small cabin storage
With a price tag under $18,000, it definitely caters to the entry-level adventurer
Comes with a larger awning/cover for the outdoor kitchen, so you will have constant shade whenever cooking
Cons
The kitchen is outside so be careful when leaving it unattended
No toilet or shower so be sure to account for that when out on a trip
Small headroom inside (tall people you are warned, trust me on that)
Safari Condo Alto R1713
Cost: Starting at $36,500
Weight: GVWR 1,816 lbs.
Measurement: Length: 17'3" Width: 83" Height: 83.5"
Tanks: 60 Gal. Grey: 60 Gal. Black: 46 Gal.
Sleeping Capacity: 4-5
Storage Containers: None
We may earn commission from purchases made from our links, at no additional cost to you
Review
Next on this list is a more retro-style trailer coming from Safari.
With its sleek roofline and retro feeling interior, almost giving you airstream vibes, the Condo Alto R1713 is another great option for people who are wanting a little bit larger (for a micro) trailer and have the option to have more than just you and your favorite person.
The Alto has the ability to house up to 4 people along with having a kitchenette, dining table, fridge, and even a sunroof to see the stars at night. To top it all off, given its aluminum construction, the Alto only has a GVWR of 1,816 lbs. Making this trailer definitely a nice trailer to fit behind a Wrangler!
Pros
Is one of the more spacious micro trailers out there
Has the most room over out all the trailers on the list
Is super lightweight, which makes it easier for towing
Has a sitting area inside as well as a bed and kitchen
Cons
Has virtually no exterior storage, so keep that in mind when loading
While it has a toilet, there is no privacy from the rest of the trailer for it
With a price tag of around $36,000 is one of the most expensive trailers on the list
Jayco Feather Micro 12SRK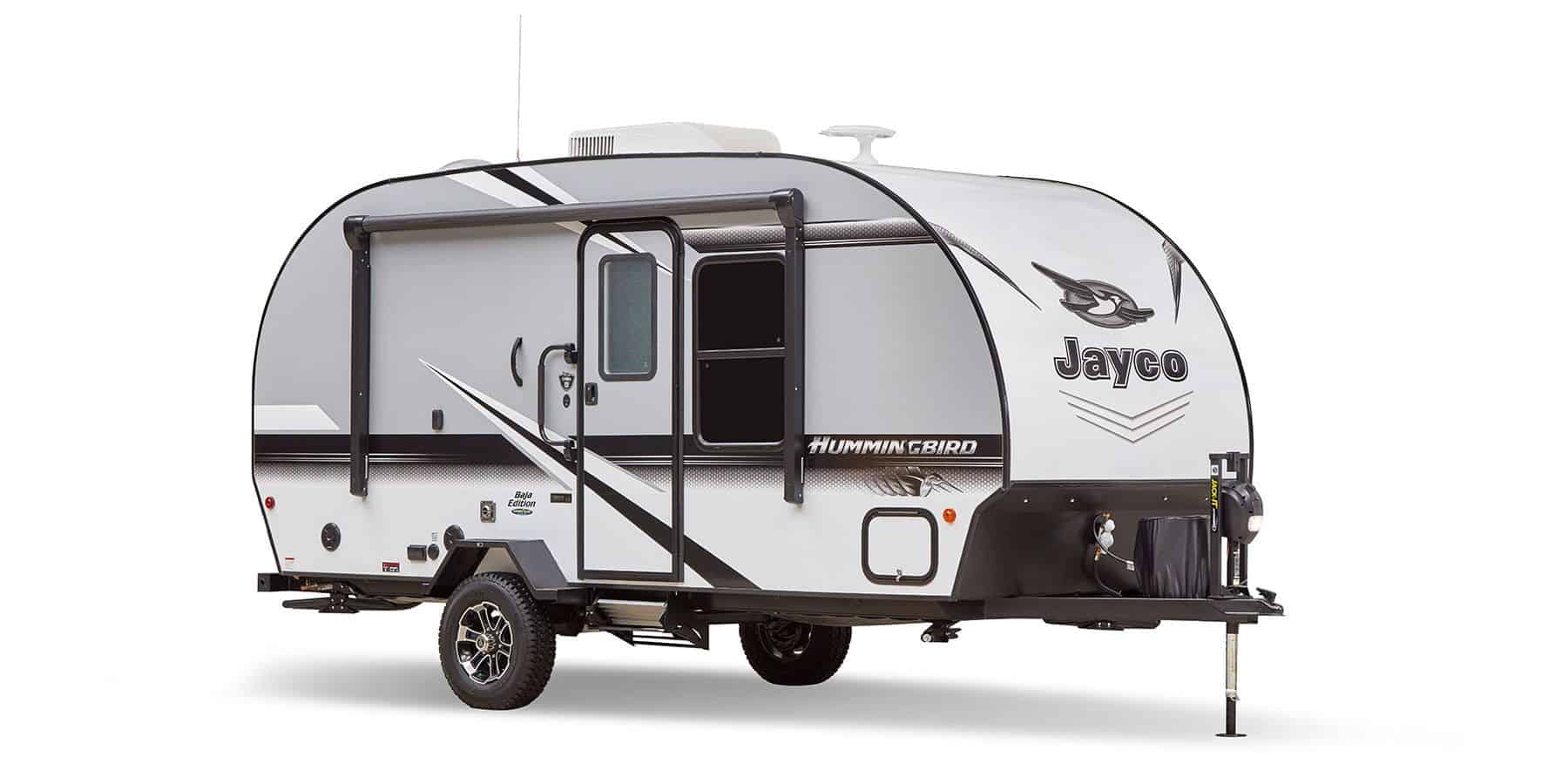 Cost: Starting price of $21,713
Weight: 1,585 lbs. unloaded, 2,795 lbs. GVW
Measurement: Length: 13'4," Width: 6'8" Living Area Height: 4'7"
Tanks: Propane: 30 Water capacity (gallons) 25.5
Sleeping Capacity: 2
Storage Containers: 2
We may earn commission from purchases made from our links, at no additional cost to you
Review
Tailored to work with vehicles with 2,000 lb towing capacity, the single axle trailer is Jayco's first real attempt to break into the micro trailer world.
The Feather Micro 12SRK is the perfect entry-level trailer for solo or potentially for couples wanting to explore. This particular version comes standard with a Futon/Sofa style bed, indoor storage, 12v hookups with a cooler, as well as having a foldout griddle for cooking needs.
The Micro can also be equipped with solar, roof, rack, or an awning for the side. With a price tag of just over $21,000, this trailer can be a great option for any newcomers in the micro trailer scene or for someone looking to upgrade from an older model. 
Pros
Inexpensive and oriented for the entry-level person
Is the second lightest trailer on the list making it a much easier trailer to tow
Given its compact build, for a solo camper or two-person team this trailer can be the perfect localized place during any trip
Cons
Solar and other components are sold separately
Very small living capacity so if you are planning on staying a lot of time inside a spacious trailer this is not the one for you
With only two exterior containers, storage is very limited and may require you to find other ways to store your equipment if you're planning on taking a multi-day trip
Who Should
Not

Buy a Travel Trailer for Jeep Wrangler?

Buying a trailer for your Wrangler may be an exciting and fun dream to think about, and we aren't trying to dissuade you from your dreams, quite the contrary. However, towing a trailer (even an ultra-light micro like these) can be tricky.

Towing without proper knowledge or experience can spell danger for you and your passengers, especially if you have little experience towing a trailer. So, before you get into spending tens of thousands on a trailer and all the equipment; make sure you are prepared for the dream. 

Much like a boat, the two best days of owning a trailer could be the day you buy it and the day you sell it!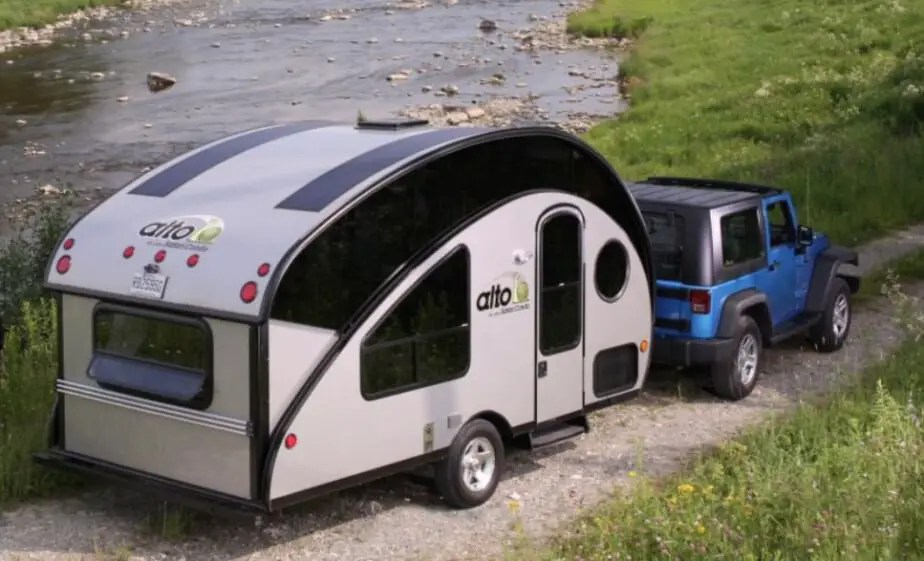 Bottom Line
Buying a trailer to pull behind your Jeep for your off-road endeavors is an exciting and almost freeing purchase! It could be your new home away from home when out exploring, however, be sure to keep in mind everything that was discussed above and do what makes the most sense for you.
Whether it is to hold back for a little while on buying a trailer to learn more or upgrade your current rig to a better trailer, you have many options when deciding what is the best trailer for your Jeep Wrangler. 
People Also Ask
Can I Tow a 5000 lbs Travel Trailer with Jeep Wrangler?
Can is a loaded word, a Jeep Wrangler "can" tow a 5,000lb trailer, and a Toyota Tundra towed the space shuttle, the correct word is "should." The answer is no, a stock or slightly modified Jeep, unless directly built to tow such a trailer, is not the recommended or safe vehicle to tow a 5,000 lb trailer with.

The reason being is the wheelbase is too short to handle the weight and at speed, wind can whip on the vehicle, and cause instability. 
Can You Increase the Towing Capacity of a Jeep Wrangler?
You can do a few things to increase capacity, such as using a trailer brake, as well as improving the brakes on the Jeep however it still is not recommended to tow any more than 4,000 lbs max with a Wrangler. 
Do All Jeep Wranglers Come With a Hitch?
No, not all Jeep Wranglers come with a tow package, however it is easy to install if yours does not have one. 
Can a Jeep Wrangler Pull a Travel Trailer?
Small trailers like we discussed above, but much bigger you should really look into a full-size truck to use as a tow vehicle. 
Why Is Jeep Towing Capacity So Low?
Low towing capacity is due to the extremely sort wheelbase. Being less than 100 inches long can cause a lot of issues with a heavy trailer. Around town or going down the freeway may feel fine, but if you are coming down a hill on a windy road and go to hit the brakes, the trailer may very well push the Jeep around and take you places you may not want to go.
Who Worked on This?
---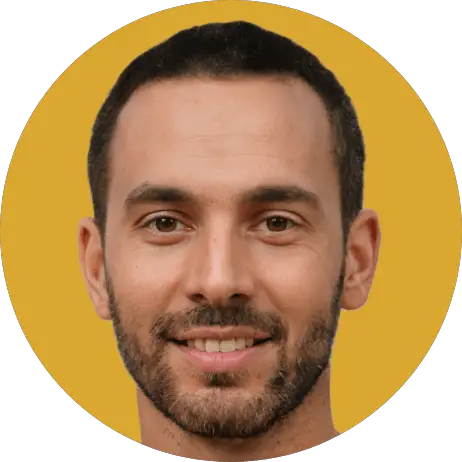 Brian
Editor
A master of organization, Brian helps keep everything running smoothly for Your Jeep Guide.
No Jeep yet but we're working on that!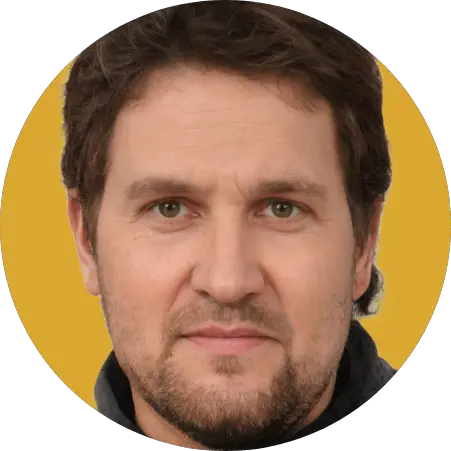 Cory
Writer
Cory loves his XJ and frequently thrashes it through the hills. He's constantly fixing something.

"What fenders?"
Check Us Out!