Camping in an RV is one of those memorable experiences that you can enjoy as a family, alone or with friends.
While the experience might be memorable, driving your RV into town isn't exactly ideal.
RVs are just too cumbersome, which is why a smaller car is preferred. However, this means that you have to flat tow a jeep behind the motorhome.
Most cars can be flat towed, but the easiest to setup is the jeep wrangler unlimited. RVers tend to prefer Jeep Wranglers (1997-2018) as they can be safely towed regardless of whether they have an automatic or manual transmission.
Also, its modest size makes it easy to tow for both Class A and C motorhomes.
6 Easy Steps to Flat Towing a Jeep Wrangler
Check your RV's towing capacity. 
Install a base plate.
Attach a tow to the base plate. 
Connect safety cables or chains to the Jeep Wrangler. 
Attach a wiring harness to the brake lights with brake pedal. 
Install a braking system.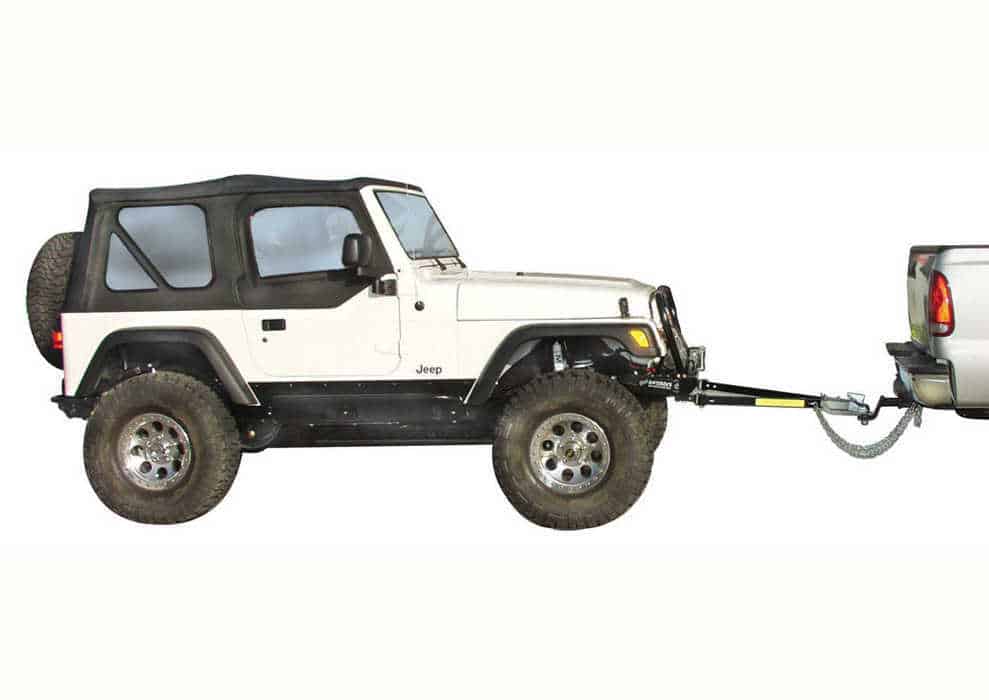 Can a Jeep Wrangler Be Flat Towed?
Yes a wrangler can be flat towed – but, before you can flat tow a jeep, you will need at least five towing components.
These include base plates, tow bar, safety cables, tow wiring and supplemental braking system.
1. Base Plates
You need attachment points installed on the Jeep's frame as it makes it easier to connect the tow bar. Here you will need a custom-fit attachment point that is specific to your vehicle.
Typically, base plates are compatible with 2007-2018 Jeep Wranglers that have the standard factory bumper.
Installation of the base plates often involves drilling holes and trimming the rock guard.
For example, you can use the Roadmaster Direct-Connect Base Plates, which is made in the USA, has a streamlined design, and doesn't require a Quick-Disconnect crossbar.
2. Tow Bars
The next step involves using a towing bar. Unlike base parts, tow bars are not custom-fit components; thus, you'll need a tow bar that's compatible with the base part.
Preferably, choose a tow bar that's manufactured by the same company as the base plate.
Therefore, if you used Roadmaster base plates, the tow bar should also be by Roadmaster.
Most rigs will use either Roadmaster or Blue Ox. Once installed, ensure that you clean the bar every few weeks to remove the grime and keep it working smoothly.
3. Safety Cables
Even with the base plates and the towing bar installed, you still need a back up in case the towing bar malfunctions. 
To connect the safety cables or chains to your Jeep you need attachment points.
The most common attachment points are D-rings and tow hooks. You can purchase the hooks as you buy the safety cables.
However, if you're using Blue Ox tow bar, you get safety cables as part of the package.
Roadmaster also includes the safety cables in their tow bar kit but only in limited models.
Depending on your jeep wrangler flat towing setup, you can use coiled or straight safety cables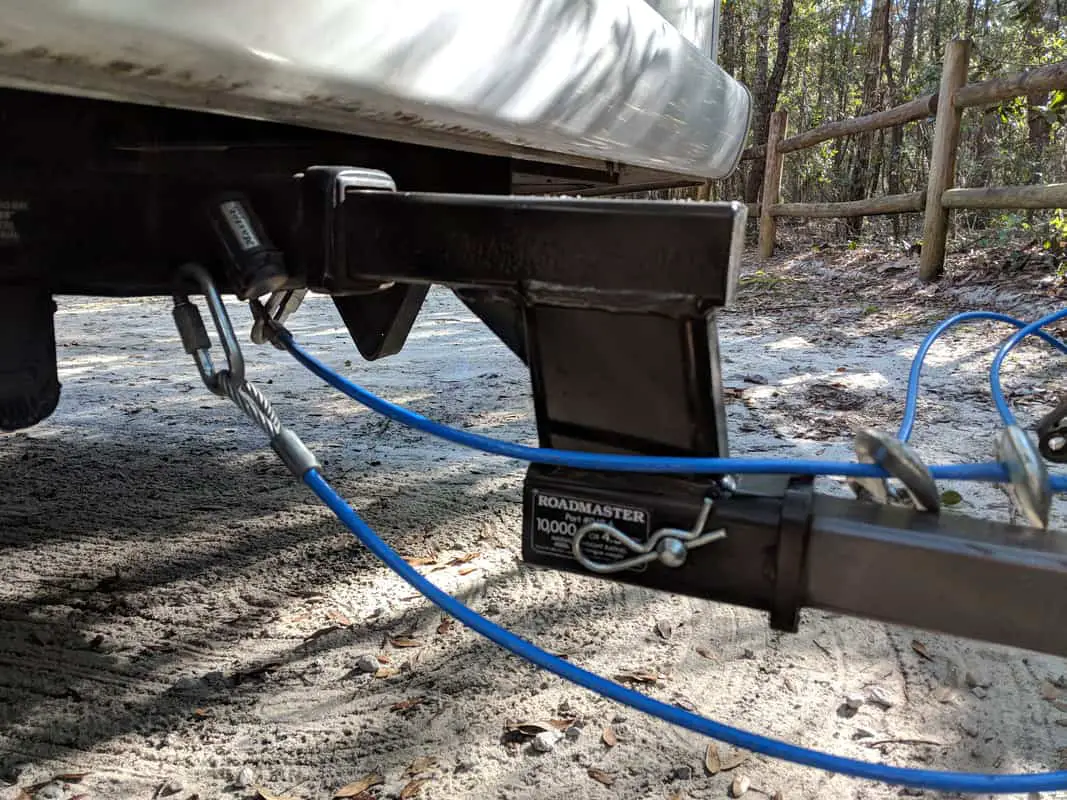 4. Tow Bar Wiring
Tow bar wiring, you can switch on the taillights, activate the function stop and turn while towing the vehicle. This means that you have to wire the vehicle for flat towing.
For starters, install a custom-fit plug-in harness that will be used with the existing lights. You can also hardwire the Jeep to work with the existing lights or use a universal lighting kit.
Since having towing lights is a legal requirement, you can either use the above option or removable tail lights.
The first option involves permanently tapping into your Jeep's wiring system while the second option is quicker, cheaper and removable.
Portable/removable tail lights are magnetically mounted on your Jeep, thus giving you turn and brake signals. You can use either wired or wireless tail lights.
The downside of wireless is that you have to keep replacing the batteries.
5. Tow Bar Braking System
It can also be referred to as the supplemental braking system and helps slow down your Jeep as the Motorhome slows down.
In most states, it's a requirement to have a supplemental braking system. Not only does it shorten the braking distance, but it also reduces wear and tear.
You can either install a fixed supplemental system or use a portable system. A fixed system may bring up problems later on when you decide to sell your Jeep.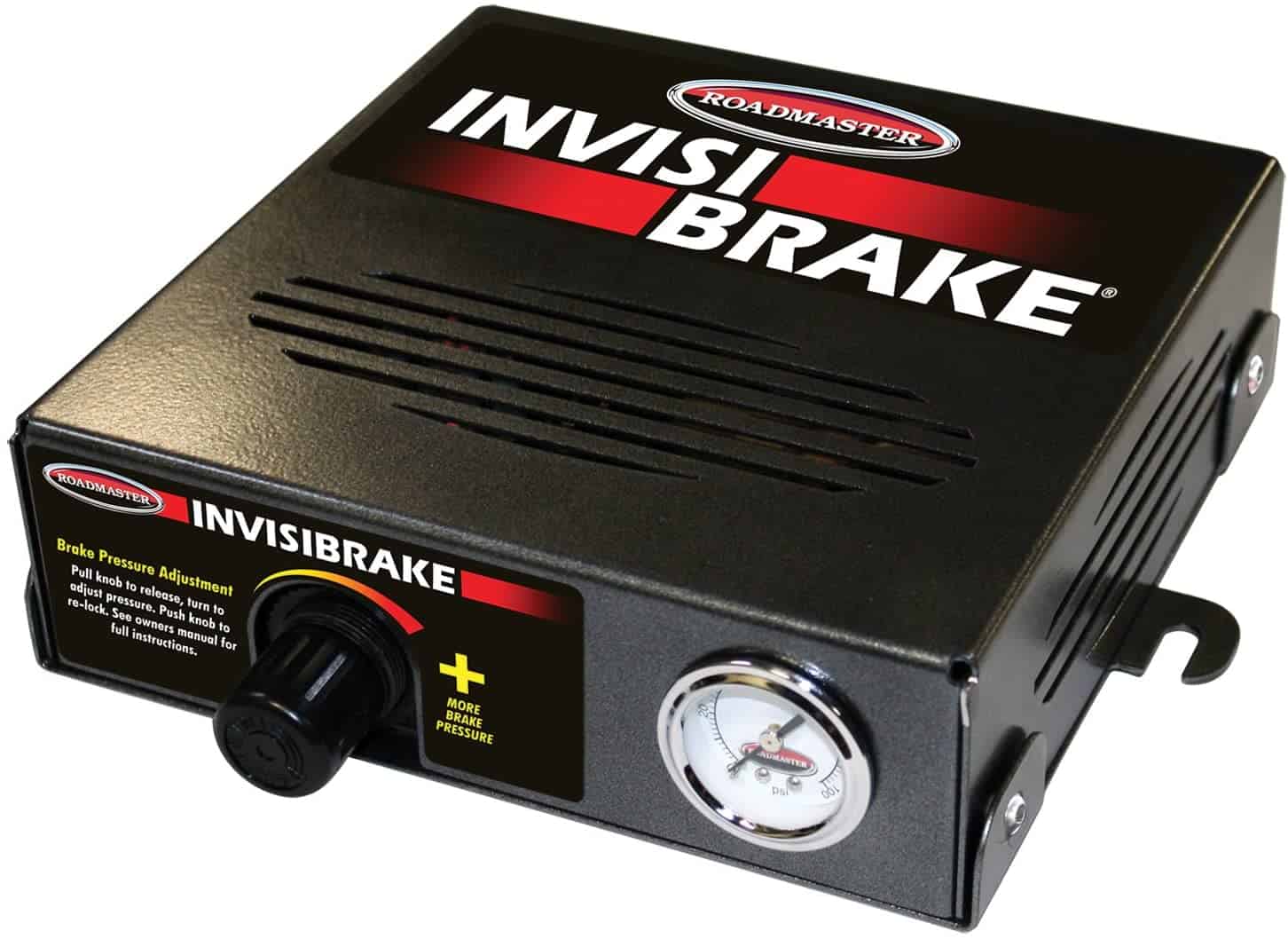 Depending on preference, you can choose an electronic or manual braking system.
Typically, an electronic braking system comprises a main unit that is installed in the motorhome and is used to communicate with the unit in the Jeep.
Such systems include the Roadmaster InvisiBrake, which is permanently fixed.
Check the Towing Capacity
Before you can tow your off-roader, ensure that you check your motorhome's towing capacity. Also, use this as a consideration when shopping for a motorhome.
For example, a Class A motorhome can tow up to 10,000 lbs. They are known to have the highest towing capacity. Some can tow as much as 15,000 pounds.
However, heavier Class A motorhomes that have smaller engines tend to have the lower towing capacity. Class C motorhomes have similar towing capacities as the Class A motorhomes.
They typically have heavy-duty truck-chassis that increase their towing capacity to 10,000 lbs. Also, Class C motorhomes can pull longer loads without violating legal length restrictions that bind Class A motorhomes.
Class B motorhomes have a towing capacity of not more than 5,000 lbs.
They are typically smaller than their Class A and C counterparts; thus can only tow smaller objects such as boats, snowmobiles, and ATVs.
A 5,000 lbs. towing capacity will also accommodate a Jeep Wrangler. However, this may not apply to Jeeps that have been customized and are heavier than 5,000 pounds.
You can also look at the jeep wrangler towing capacity chart for knowing the actual towing capacity.
Also, remember that loading your Jeep with extra cargo will only increase its weight past the towing capacity.
Towing the Jeep Wrangler
With setup complete, and all that remains is hitting the road. There is one last thing; you have to put the Wrangler in tow mode.
Check your manual to confirm the procedure to put the Jeep in tow vehicle mode. The process is quite simple, but if not careful, you could easily damage the Jeep's transmission.
And this can cause jeep wrangler transmission issues
You want to tow the wrangler with both the regular transmission and the transfer case in NEUTRAL.
However, when attaching the Jeep to the towing system, it's best to have the parking brake pedal on and have the transmission in gear to avoid rolling.
Just make sure you go back to neutral and turn off the parking brake before you tow!
Who Worked on This?
---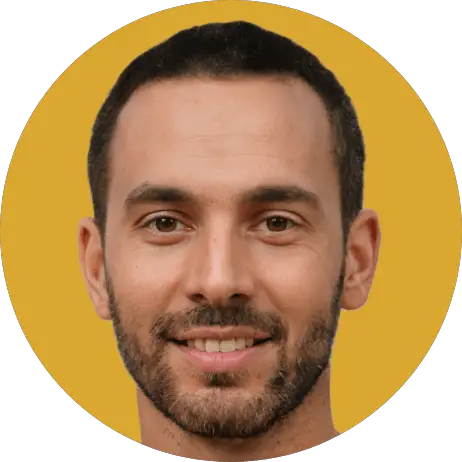 Brian
Editor
A master of organization, Brian helps keep everything running smoothly for Your Jeep Guide.
No Jeep yet but we're working on that!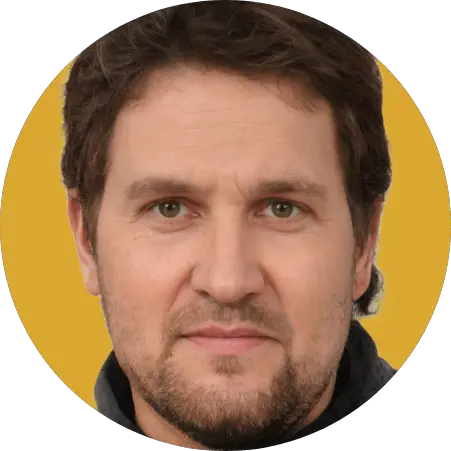 Cory
Writer
Cory loves his XJ and frequently thrashes it through the hills. He's constantly fixing something.

"What fenders?"
Check Us Out!