Jeep is synonymous with rugged durability, and it embodies a lifestyle of adventure, exploration, and outdoors.
If you're an outdoor enthusiast, you probably have some quintessential equipment such as campers, trailer hitch, or even a boat.
And as such, you might be interested in the jeep towing range It's for this reason I have created this detailed article that will explore the pulling capacities of jk wrangler.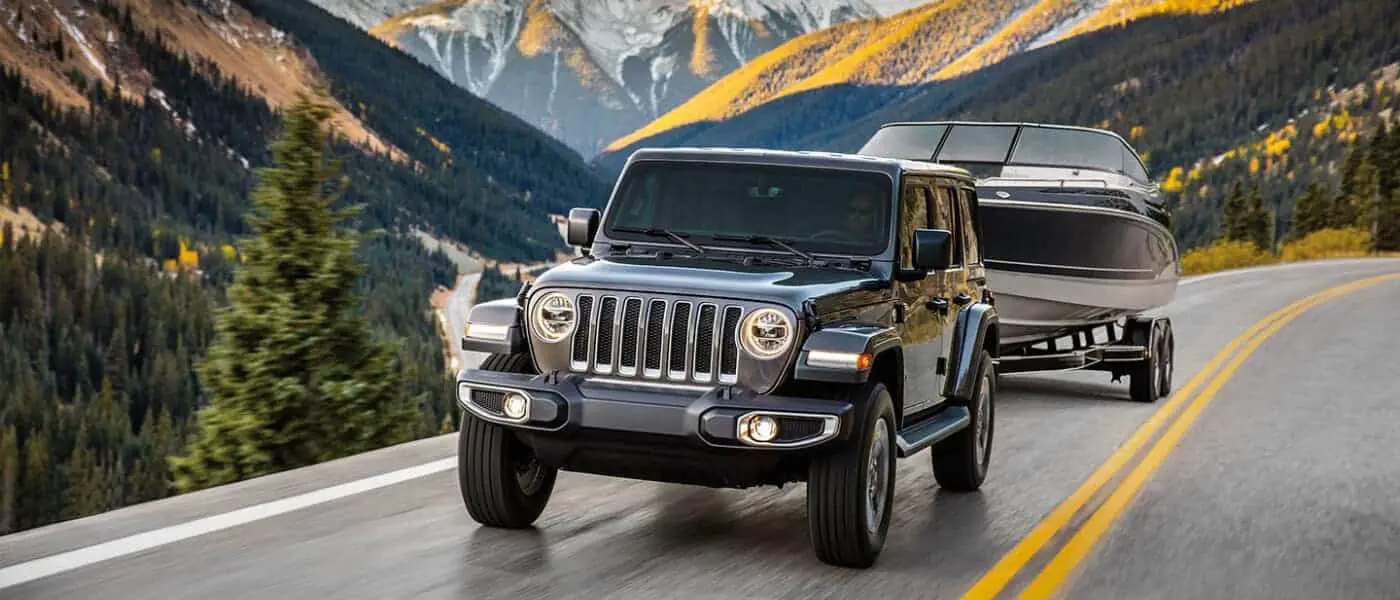 How much weight can a jeep wrangler tow? 
Here's how much weight a Jeep Wrangler can tow. 
Two-door jeep wrangler: 2000 lbs.
Four-door jeep wrangler: 3500 lbs.
Jeep Wrangler can also tow airstream trailers as it weighs around 3000 lbs – 5000 lbs.
General Towing Capacity of Jeep Wranglers
The Wrangler exhibits a variety of maximum loading capacity, and this is hugely dependent on the trim, and configuration of the model.
Generally, the four door models Jeep variants have a larger loading capacity than the two door models jeep variants.
On average, the four-door Jeep variants have a towing range of 3,500lbs.
On the other hand, the two-door Jeep variants have a loading capacity of 2,000lbs, typically.
However, this is just a general narrative, and there exist discrepancies.
For instance, if you consider the Wrangler Sport 2017 Jeep, 2 Door with an axle of 3.73 ratios, it lists a max towing range of 3,500lbs.
On the other hand, 2018 Jeep Wrangler, 4-door, 3.6L Auto, and axle of 3.73 ratios, lists a max towing range of 2,000lbs with a tow hitch.
The general rule of thumb is that when you need to tow heavy machinery, you should stay away from the 3.21 geared Jeep.
Most of these models are often limited to 100lbs tongue and 1000lbs towing.
Ideally, if you're looking for a performance-oriented unit that will offer maximum towing capacity, I recommend you go for a 4-door Wrangler with either 3.73 or 4.10 gears.
Most of these models have a decent tow rating of 3,500lbs and 350lbs tongue weight capacity.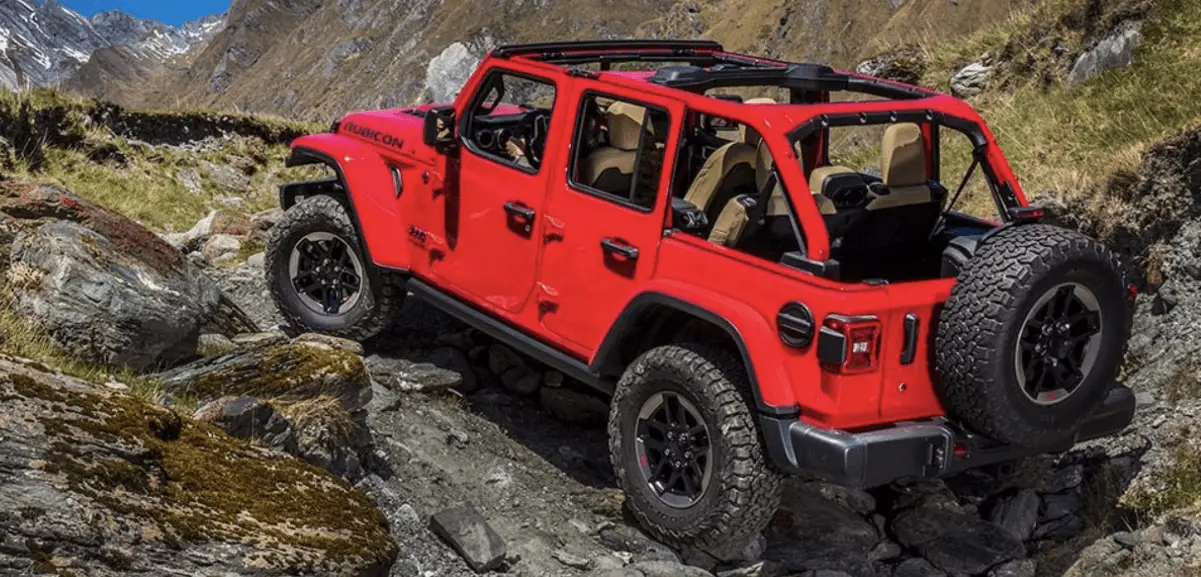 Role of Axle Ratio
The term axle ratio refers to the gears in a Jeep, or for any case, any vehicles differential, a mechanical device, linking the rear axle to the driveshaft, and then to the engine.
The axle is often expressed in a ratio. For instance, Jeep Wrangler, with a 3.73: 1 gear ratio, commonly expressed as 3.73, means that the drive shaft will turn 3.73 times for each complete wheel spin.
The key to understanding the role of the axle is to remember that as the numerical axle goes up, the towing load will correspondingly increase.
This is because a numerically higher ratio will offer a mechanical advantage to your Wranglers available torque to the rear and front tires.
Therefore, a Jeep Wrangler with an axle ratio of 4.10, regardless of the year, will have a higher loading capacity than the 3.21 or 3.73 Wranglers.
On the flip side, however, a Wrangler with a higher axle ratio will result in decreased fuel economy and a lower top speed.
Therefore, when choosing a Wrangler whether manual transmission or not, understand that you'll have to sacrifice jeep wrangler towing capacity/torque for speed/fuel economy.
Towing Capacity of 2010-2018 Jeep Wranglers
Most of the recently manufactured Jeep models including Jeep Gladiator fall into two categories of maximum towing capacities.
A majority of the Jeep models have a jeep towing capacity of 2,000lbs, while others max at 3,500lbs.
This is because; most of these models are classified either as 3.21 axle ratio or 3.73 axle ratio.
Below explain the differences between Jeep Wrangler models' towing capacities.
Towing Capacity of Jeep Wrangler JK
Both the Jeep Wrangler JK and JK Unlimited were launched from 2007-2018. The Wrangler towing capacity of 2,000lbs.
The towing capacity on the Wrangler KJ is equal to that of what is offered by YJ and TJ.
Jeep Wrangler JK Unlimited
The Wrangler JK Unlimited is a base variant of the JK, and they were launched from the year 2007-2018.
However, the JK Unlimited has a longer wheelbase than the Wrangler JK. The 4-door jeep wrangler towing capacity Unlimited is 3,500lbs.
Jeep Wrangler JL
The Wrangler JL is among the latest models and was created in 2018.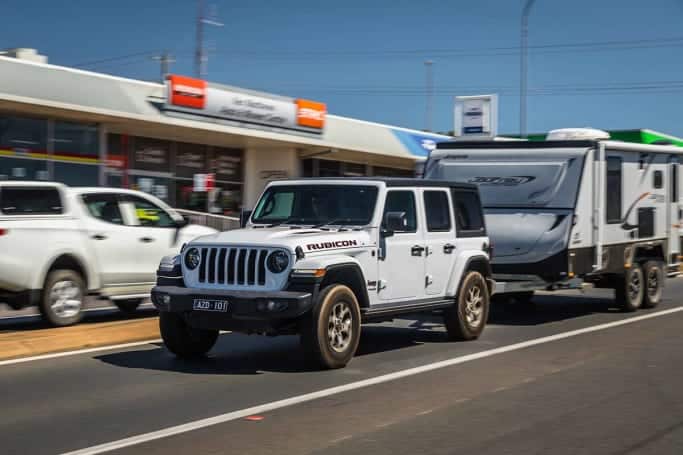 As at the moment of writing, it's still unclear whether they plan to end the production of this model.
The Wrangler JL has a 2,000-pound weight capacity like every other short-wheelbase Wrangler built along with a weight distribution hitch.
Jeep Wrangler JL Unlimited
Expectedly, this long-wheelbase Jeep Wrangler has a towing capacity of 3,500 lbs along with good trailer brakes.
2019 Jeep Wrangler Towing Capacity
The base towing capacity of the 2019 Jeep Wrangler is 2,000 lbs. However, you can increase the towing capacity up to 3,500 pounds by choosing an unlimited model.
For instance, the 2-door Wrangler has the max towing capacity capped at 2,000 pounds, while the 4-door Wrangler Unlimited offers a generous towing capacity of 3,500 pounds.
The 2.0L turbocharged engine or the 3.6L Pentastar V6 engine is more than enough to handle small to medium lightweight campers, trailer hitch, and boats.
Conclusion
Here is a recap on how the towing capabilities of a Jeep Wrangler.
4-door wranglers have a higher capacity than 2-door wranglers
Axle ratio determines the towing capacity. The higher the numerical ratio, the higher the towing capacity
The unlimited editions have a higher towing capacity than base models
Who Worked on This?
---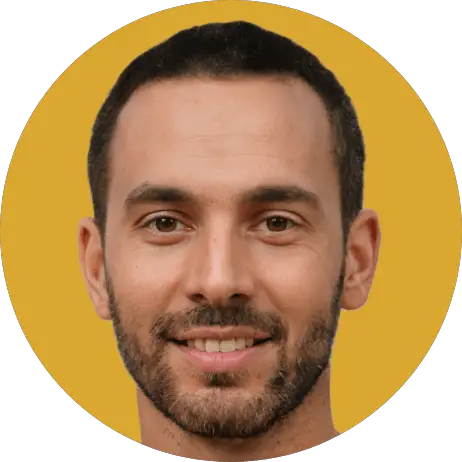 Brian
Editor
A master of organization, Brian helps keep everything running smoothly for Your Jeep Guide.
No Jeep yet but we're working on that!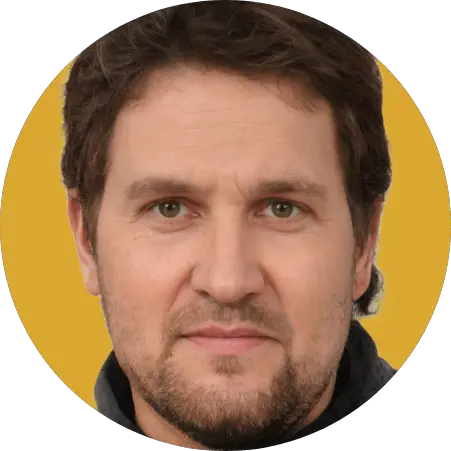 Cory
Writer
Cory loves his XJ and frequently thrashes it through the hills. He's constantly fixing something.

"What fenders?"
Check Us Out!