If you've ever gotten a car stuck in a ditch, stuck in some mud, or just stuck in general, then you know the importance of having the proper tools to get unstuck!
In this article, we're talking about one of the most important tools for this job – the recovery strap.
We'll give you everything you need to know about these straps and outline the best products on the market.
What Are Recovery Straps and How Do They Work?
Recovery straps are intended to "recover" a vehicle from a stuck situation (in a ditch, in the mud, etc.). The strap is attached to two cars with loops on either end of the strap (don't use one with hooks!). The mobile vehicle uses its acceleration to pull out the stuck car.
Recovery straps are generally made of nylon. They are designed to have a good amount of elasticity. The elasticity allows the strap to stretch out, stores kinetic energy and uses it to pull the stuck car when the strap contracts. This tugging motion assists the recovery vehicle and helps it become unstuck.
Below, we will examine these products in more detail, giving specific information about their varying functionality.
What Size Recovery Strap Do I Need?
Most people will have questions about the size of the recovery strap they need. But what they are really asking is the strength of the recovery strap. Different recovery straps are rated for different weight capacities, based on the weight of the vehicle being "recovered."
Recovery of a car requires a very strong, fast force on the strap itself. For this reason, a recovery strap needs to be rated much higher than if you only used the strap to tow your vehicle. Generally speaking, one inch of strap is rated for 10,000 lbs. of vehicle, with each inch of width adding an additional 10,000 lbs.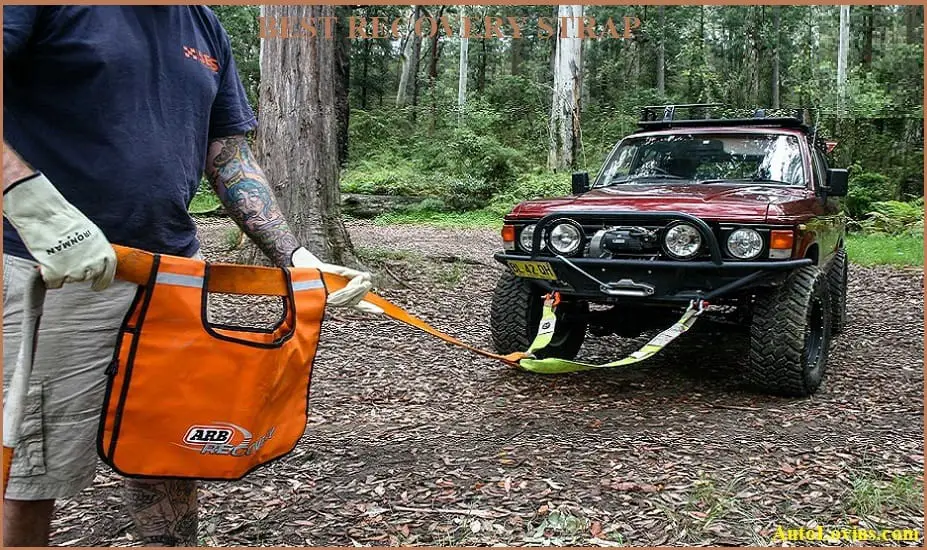 You want a properly rated strap for your vehicle, but you don't want one that is too far over the weight capacity. If the strap is too strong, it will lose some of the elasticity needed to pull the car loose.
Check out some of the best options below:
Review of the Best Recovery Straps 
In this section, we're examining our top picks of recovery straps. We've broken this list down by category to help you find the best recovery strap for you.
ARB ARB710LB
We may earn commission from purchases made from our links, at no additional cost to you
What Recent Buyers Report
Buyers really like this recovery strap. They mostly report that it is a strong, reliable strap. Buyers have reported using it successfully for a wide variety of recovery jobs and that it stood up to them quite well.
Why it Stands Out To Us
We like this strap because it was purely designed for recovery purposes. It is made of high-strength woven nylon, which provides the strength and optimal elasticity for the job. The strap stretches just enough to generate the energy to snap back and jolt the car forward. It's simply a high-quality strap that works, and that's about the best thing you can say about a recovery strap and why it received our best overall choice.
Bottom Line
This is a high-quality strap that works exactly as it is intended. It has an affordable price tag, and it is useful to keep in your car to get you out of a bind (especially if you off-road). Just be sure that it is properly weight-rated for the vehicles you intend to recover.
Pros
Suitable for most 4WD vehicles
30-foot length for extra reachability
24,000 lbs. minimum breaking strength
Reinforced loops to prevent wear and tear
100% nylon provides 20% elasticity for good snap strength
Cons
Not suitable for larger vehicles
Recovery damper is sold separately but recommended (in case strap snaps)
GearAmerica Recovery Tow Strap
We may earn commission from purchases made from our links, at no additional cost to you
What Recent Buyers Report
Buyers report using this product with success for a large variety of tasks. From towing to recovering to hauling, buyers have enjoyed this product overall. Many buyers were simply happy to have this product on hand in case they needed it.
Why it Stands Out To Us
If you're looking for a great all-around product, then this is one we can recommend. It's very strong and durable and can be used for a wide variety of towing and recovery tasks. You can't beat this product for the price of someone who just wants a versatile piece of equipment on-hand for emergencies.
The one downside is that it isn't very elastic for a recovery strap. It is 100% polyester, so it is definitely geared more toward strength over elasticity.
Bottom Line
As an all-around tool, this strap is great. Towing, to hauling, to recovering, it can do it all. But if you're looking for a strap that is better for just recovering, consider one with more elasticity.
Pros
Very affordable
10,000 lbs. working load limit
Ideal for pulling even large vehicles and trucks
Multi-purpose can be used for towing and recovering
Reinforced eyes and protected sleeves to prevent wear and tear
Cons
Elasticity could be better
D-shackles sold separately
Motormic 1701
We may earn commission from purchases made from our links, at no additional cost to you
What Recent Buyers Report
Most buyers were quite happy with this package overall. They especially appreciated the added convenience of a full installation kit. Some people don't realize how hard it can be to install a recovery strap without D-shackles, so they really appreciated having them in the package.
Why it Stands Out To Us
Overall, this is a great all-around package. It has everything you need to get the rope installed and to get it working. It is also ideal for recovery jobs, but perhaps less ideal than some of the options above. It is very strong, but it doesn't have great elasticity, which is necessary for the snap action to jerk vehicles loose. But if you're just looking for an all-around package for various towing/recovery jobs in case of emergency, it's a great package to have.
Bottom Line
A good "jack of all trades" option. Has everything you need to get set up and installed. Not quite as functional for recovery as some options above, but it's great to have on hand for emergencies.
Pros
No hazardous metal hooks
Can be used for towing and recovering
Great value – full recovery kit in one package
High strength – 41,445 lbs. break point capacity (10,000 lbs. working load)
Includes silicone reinforced D-shackles and a hitch receiver, which can be attached to your vehicle
Cons
Might be too much if you already own D-shackles
Not elastic. Not as focused on recovery as some options above
Best Keeper Recovery Straps
Keeper 02942
We may earn commission from purchases made from our links, at no additional cost to you
What Recent Buyers Report
Most buyers were very happy with this product for recovery purposes. Buyers have successfully recovered cars, tractors, and many vehicles in between! Buyers were also happy with the ample elasticity and recoil action, helping to jar vehicles loose.
Review
Another great recovery strap that puts a major focus on elasticity. If you're looking for a strap with more recoil action, then this one is great. We were a bit disappointed that with the low strength/weight ratio, its overall strength is more than enough. We'd recommend this strap for use in emergencies, and it's a great strap to have on hand for any offroad vehicle.
Bottom Line
Another quality strap at a quality price. We especially like the straps that have ample elasticity, and this one delivers. It might be a bit long for some, but it's an overall solid choice.
Pros
Up to 10,000 lbs. vehicle weight
Elasticity for optimal stretch and recoil
Suitable for small tractors or small trucks!
30 feet long for out-of-reach stuck vehicles
Reinforced loops to protect against wear and tear
Cons
Not a great width/strength ratio
Requires a shock blanket in case of snapping (although this is ideal for any recovery strap)
All-Top AT11000
We may earn commission from purchases made from our links, at no additional cost to you
What Recent Buyers Report
As far as recovery straps go, buyers were extremely impressed with this product. They especially like that it even included the D-shackles for easy attachment. As far as performance, some buyers stated that you could feel the strap working. You can feel the energy generated by the strap as it contracts back into place, yanking the vehicle with it!
Why it Stands Out To Us
This is the most complete package on our list, and the only thing keeping it out of the #1 spot was the price tag. But in this case, you're paying a bit extra for the D-shackles, which make attachment much easier.
And as far as performance, it works great. The elasticity is better than any option on our list. Combined with the high break capacity, you can really put this thing to work. You can feel it working as it contracts to yank a stuck car-free.
Bottom Line
This is a great choice overall! A complete package. A highly effective, strong, and elastic recovery strap. The added D-shackles are a huge bonus for easy attachment.
Pros
Lifetime warranty
100% nylon for extra elasticity (22%)
Breaking strength rating of 35,000 lbs
Reinforced loops to prevent tearing
Comes with 2 D-shackles for easy attachment
Cons
One of the pricier options on our list
Not multi-purpose- only for recovery
Best Heavy Duty Recovery Straps
Titan Auto Heavy-Duty Recovery Strap
We may earn commission from purchases made from our links, at no additional cost to you
What Recent Buyers Report
Many buyers report using this product with success. They speak to its heavy and durable nature and how it stands up to various recovery jobs. Buyers reported recovering vehicles of different weights, from smaller cars to heavier trucks.
Why it Stands Out To Us
This is a recovery strap that emphasizes strength above all. It sacrifices a bit of elasticity to do this (7% elasticity), but it's still elastic enough for most jobs. We liked its reinforced design, with strong woven polyester and ample cross-stitching. We can imagine this one holding up for many jobs to come. Overall, it's just a great, high-quality strap that works.
Bottom Line
If you're looking for a recovery strap with a bit more emphasis on strength and less elasticity, this is the one for you. It might not generate as much kinetic energy, but it certainly has the durability and strength to compensate. And the price is great.
Pros
1-year warranty
Multi-purpose design
2.5 inches wide for 25,000 lbs. capacity
Has 7% elasticity rating for kinetic energy
Reinforced loops to protect wear and tear
Cons
Shackle sold separately
Nylon straps tend to be better for recovery (this one is polyester)
How to Choose Recovery Straps
Now that we've presented our top choices of recovery straps, let's look at the top factors you should consider to pick the best option for you:
Weight Rating
Perhaps the most important factor in choosing a recovery strap is the weight rating. This represents the weight of the vehicle that is suitable to be recovered. Some recovery straps give you the "maximum break capacity," but you should really pay attention to the "working load limit." The working load limit represents the weight that can be recovered consistently with normal use.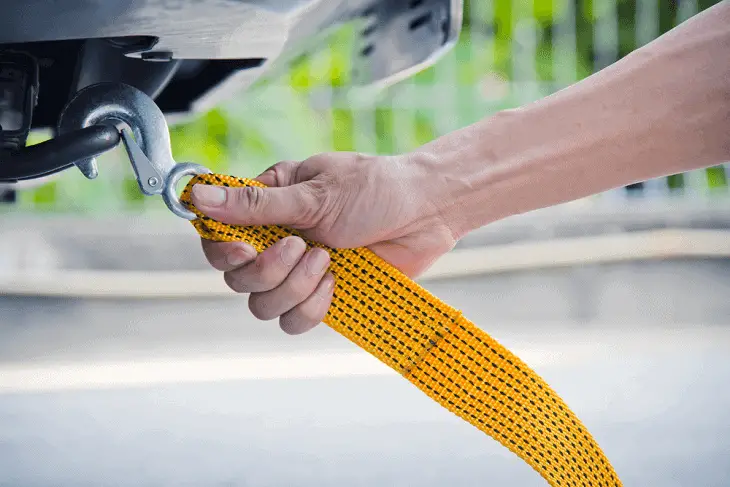 Elasticity
Elasticity is a major factor in the efficiency of a recovery strap. Elasticity allows the strap to build up energy, which it uses to tug the car as the strap contracts into its normal position. This works with the force of the recovery vehicle to generate more power.
Material
The material of the strap heavily influences both factors above. Higher quality straps are typically made of nylon, as it is more elastic but still highly durable and strong. Some straps are polyester, which is still quite durable but not nearly as elastic as nylon.
Comparison Overview
Here's some of the common comparisons recovery beginners have:
Tow Straps vs Recovery Straps
Tow straps and recovery straps are meant to have important differences, but we can't deny that many people do use them interchangeably. We would advise against this, as both types of straps should be designed to function quite differently.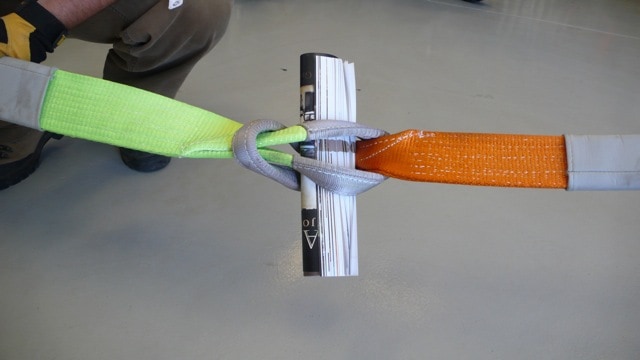 The main difference between a tow strap and a recovery strap is that a tow strap is meant to be non-elastic, while a recovery strap should have a good amount of elasticity (between 5-20% ideally).
A tow strap is meant to be consistently taut as it pulls a vehicle. This requires a lack of elasticity for a consistent pull. And as we have mentioned throughout this article, the recovery strap needs to be elastic to generate extra energy as it contracts.
30ft vs 20ft Recovery Straps
The most common lengths of recovery straps are the 20ft and 30ft varieties. The difference will largely come down to personal preference. Generally, 30ft ropes are more suitable for reaching vehicles that are further away (bottom a ditch, stuck in the middle of a mud patch, etc.). However, it also comes at the expense of being harder to set up and maneuver.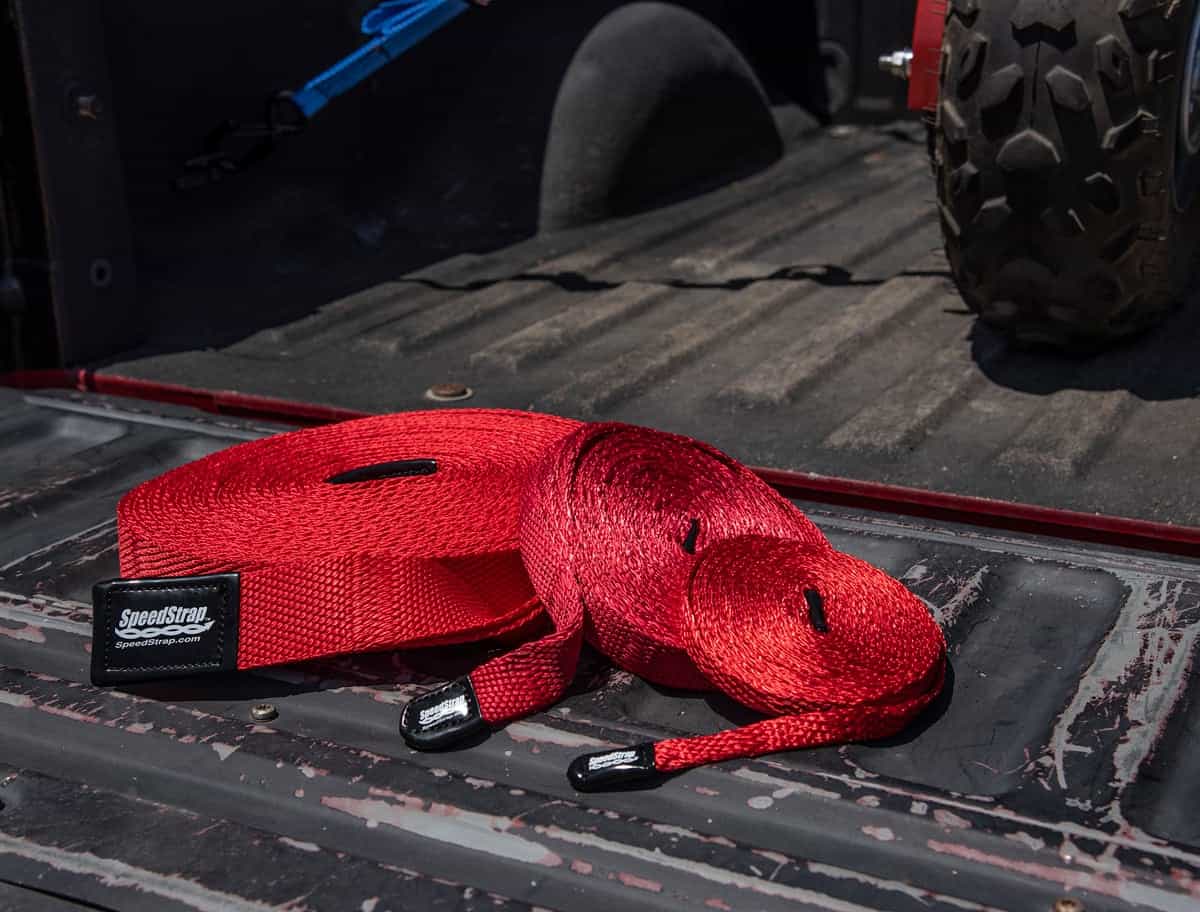 20ft ropes are more ideal if you plan to use the rope as a tow rope as well, as you wouldn't want too much distance between the cars.
Polyester vs Nylon Recovery Straps
Without a doubt, nylon is the better material for recovery straps. Nylon is highly elastic while also remaining quite durable. Nylon has the snap-back action needed to help jar a car loose from the stuck position. Most high-quality recovery ropes are made from nylon.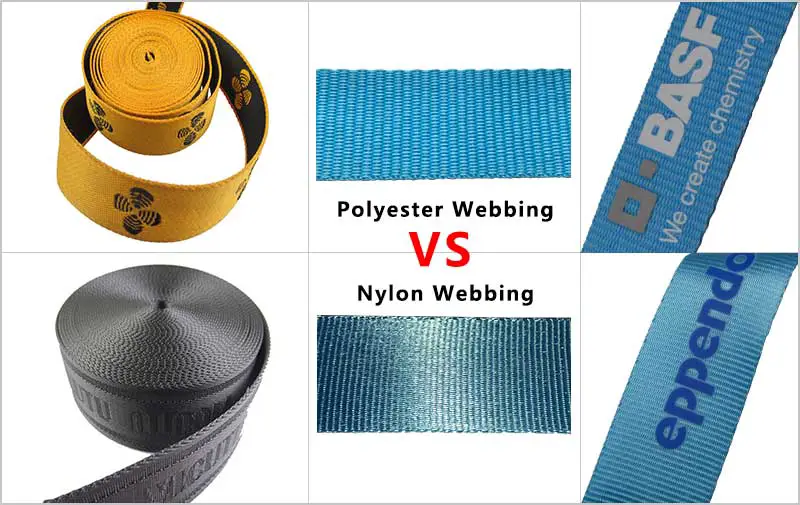 Polyester is quite a durable material as well but is used more often in tow ropes. That being said, many people will use a polyester tow strap for both purposes. It can still do the job if needed, but be aware that its lack of elasticity won't be as effective for recovery.
Recovery Straps vs Chains
Simply put, chains aren't great for recovery purposes. Chains lack any elasticity, which won't give you any of the kinetic action required for an efficient recovery. Chains are also heavy can really yank on each car, which can be a problem if the car isn't suited to support a chain tow.
And finally, chains are extremely dangerous if they break loose and flail about. We wouldn't recommend chains for recovery purposes.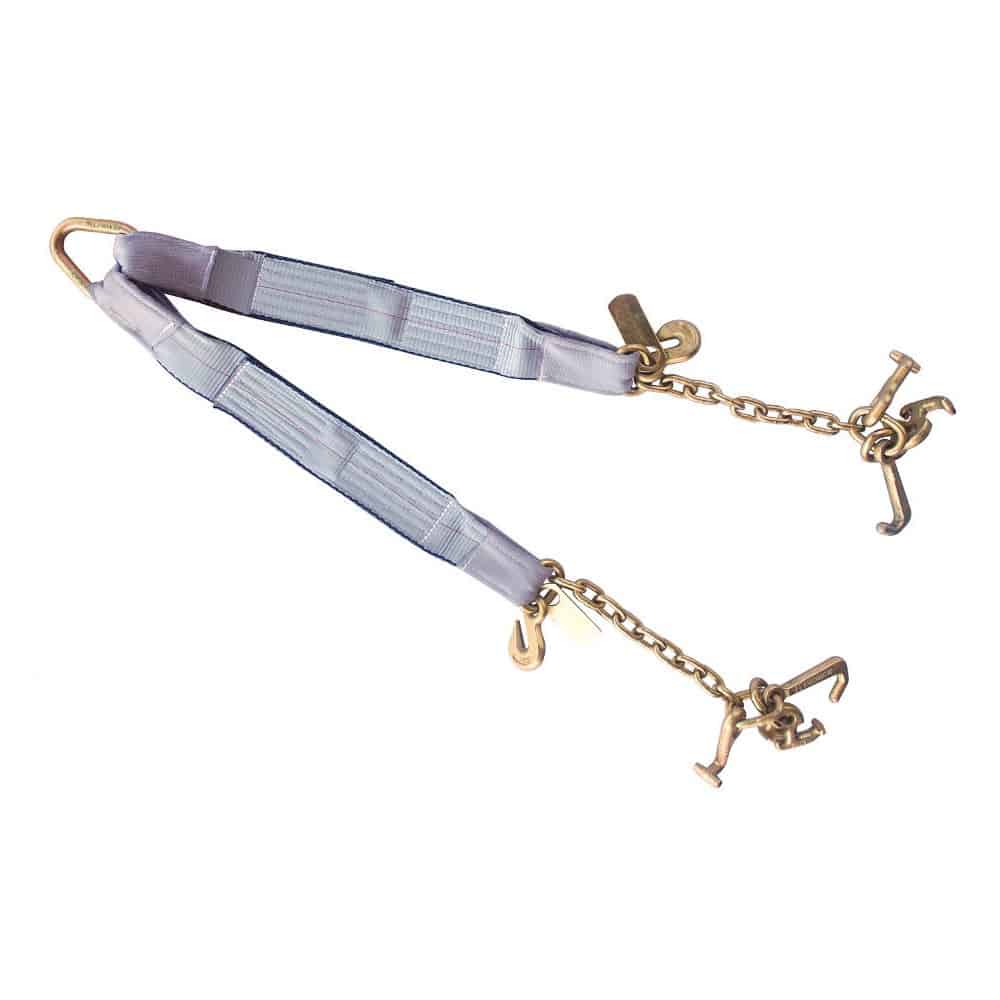 How to Use Recovery Straps
NOTE: Recovery straps work differently depending on your vehicle and depending on the straps that you purchase. The safest option is to check your vehicle's owner's manual to see where you can safely attach the straps and to check the product's instructions to see how they are meant to be attached.
That being said, here is the general process of what you can expect:
Check the condition of the recovery strap for any rips, tears, or problems before use.


Place the strap between vehicles in an "S" shape. This gives it ample space to stretch out.


Attach the recovery strap to both vehicles using attachment points found in the owner's manuals. Often, this will require a D-shackle if you're using a looped design, and there will be designated attachment spots on each vehicle designed to carry a big load.


Move the car forward slowly, but not too slowly. You can generate more force than on a tow. You need to adapt your approach to the situation. For a more detailed process, see the video below.
Conclusion 
Thanks for reading our guide to recovery straps. We hope we've helped you to understand the overall functionality of these straps and inspired you with our top product choices. Be sure you buy a strap that is properly rated for the vehicle you are trying to tow!
People Also Ask
Before we wrap up, let's check out some frequently asked questions about recovery straps.
How Does Using A Recovery Strap To Pull Out A Stuck Vehicle Compare To Using A Winch?
A winch is a very different method of recovery than a recovery strap. Both can be highly effective, but you need to follow the proper procedure to eliminate the inherent risks involved. Using a winch can be quite complicated, and as with a recovery strap, you'll need to follow the specifications exactly.
How Do You Use a Recovery Strap With Loop Ends?
The loop ends of a recovery strap are designed for functionality and eliminate the risk of using metal hooks. Typically, the loops are attached to the vehicle at an attachment point using a D-ring or D-shackle.
Where Do You Put a Recovery Strap?
It depends on the vehicle. Typically, there will be an attachment point underneath the car on either side. You'll have to check your car's owner's manual to find the safest point.
Can You Tow A Car With A Recovery Strap?
You shouldn't tow a car with a recovery strap. Recovery straps are designed to be quite elastic. Tow straps should be secure and taut for a consistent pull throughout.
How To Connect 2 Recovery Straps?
The best way to connect two recovery straps is with a D-ring or D-shackle. This allows you to connect it to the loop end of each strap for an efficient attachment that stays secure.
How Many Recovery Straps Do I Need?
It will depend on how many vehicles you intend to recover and the weight capacity of the straps you have. The main difference between straps is how much weight they can handle. Additionally, if you plan to recover many vehicles, you might need to buy replacements as the straps wear down.
Are Recovery Straps with Hooks Safe?
No, they are not. Metal hooks have the risk of coming loose and flailing about, damaging the vehicles, or hurting people standing nearby. You should avoid these and use only looped varieties of straps.
How To Attach a Vehicle Recovery Strap
We have a more detailed attachment guide above. In general, you need to check your vehicle's owner's manual, as well as the strap's instructions, so that you know you are attaching the strap safely.
Other Jeep Related Guides
Who Worked on This?
---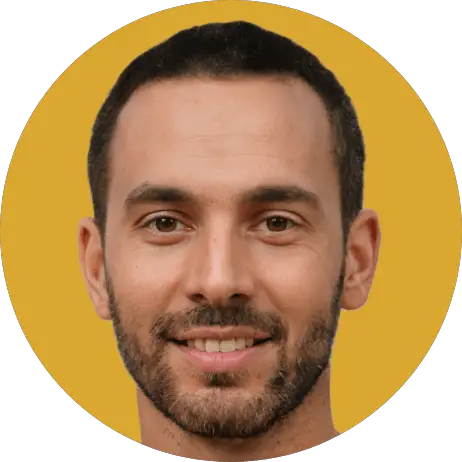 Brian
Editor
A master of organization, Brian helps keep everything running smoothly for Your Jeep Guide.
No Jeep yet but we're working on that!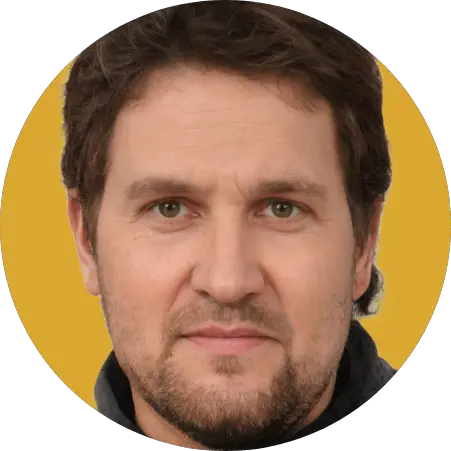 Cory
Writer
Cory loves his XJ and frequently thrashes it through the hills. He's constantly fixing something.

"What fenders?"
Check Us Out!