Shopping for the best wheels for a Jeep Wrangler can quickly turn into a confusing task as many options look similar.
Wheels come in different sizes, materials, weight, and finishes that make it harder to choose the best option.
We've compared these aspects and the various brands that are available when purchasing wheels for your Jeep.
Comparison of the Best Wheels For Jeep Wrangler
IMAGE
PRODUCT

Our Top Pick

Compatible with various Jeep models
Rims provide aggressive wheel offset
Can be used on all terrains

View Latest Price →

Has a very stylish and attractive design
Matte black painted finish with center cap
Made with long-lasting materials

View Latest Price →

Best Budget Option

Best for the Money
Made with top quality aluminum
Has high-range load ratings

View Latest Price →

Best Jeep JK Wheels
Has a flat black finish
Has a split 8 spoke design

View Latest Price →

Best Jeep Wrangler 20 Inch Wheels
Features a wide range of backspaces and offsets
Made with top quality aluminum alloys

View Latest Price →

Best Jeep TJ Wheels
Has a classic look and design
Tested and certified by professionals

View Latest Price →
Aspects to Consider Before Buying New Wheels
There are five main aspects to consider before buying. These include the size of the wheel and tires you want to fit, the material it's constructed from, the weight, the bolt pattern, and the aspect ratio. 
Size
The size of your wheel plays a part in determining the tires you can use for your Jeep. The most common size and most suitable is 17 inches. This option will allow you to fit tires with ease without needing a lift kit. 
The most common tire size you'll find for the 17-inch wheel is 32 inches. However, with spacers installed, those options increase to accommodate sizes up to 35 inches. 
Material
Most Jeep Wrangler aftermarket wheels are made from aluminum or a steel alloy. The option used for its creation determines the part's durability and weight. 
Additionally, if you're concerned about your Jeep Wrangler's style, material plays an important part. Without a good coating and quality paint, the part quickly begins to look worn. 
Weight
Weight will affect how easily you can install the wheels onto your Jeep. However, as you can have a mechanic fit the parts, you don't need to worry about this unless you're doing it yourself. 
This aspect will also play a role in fuel consumption. While the difference is slight, it'll quickly add up over the years. Additionally, every bit of additional weight increases your momentum, increasing the time it takes to return to a complete stop.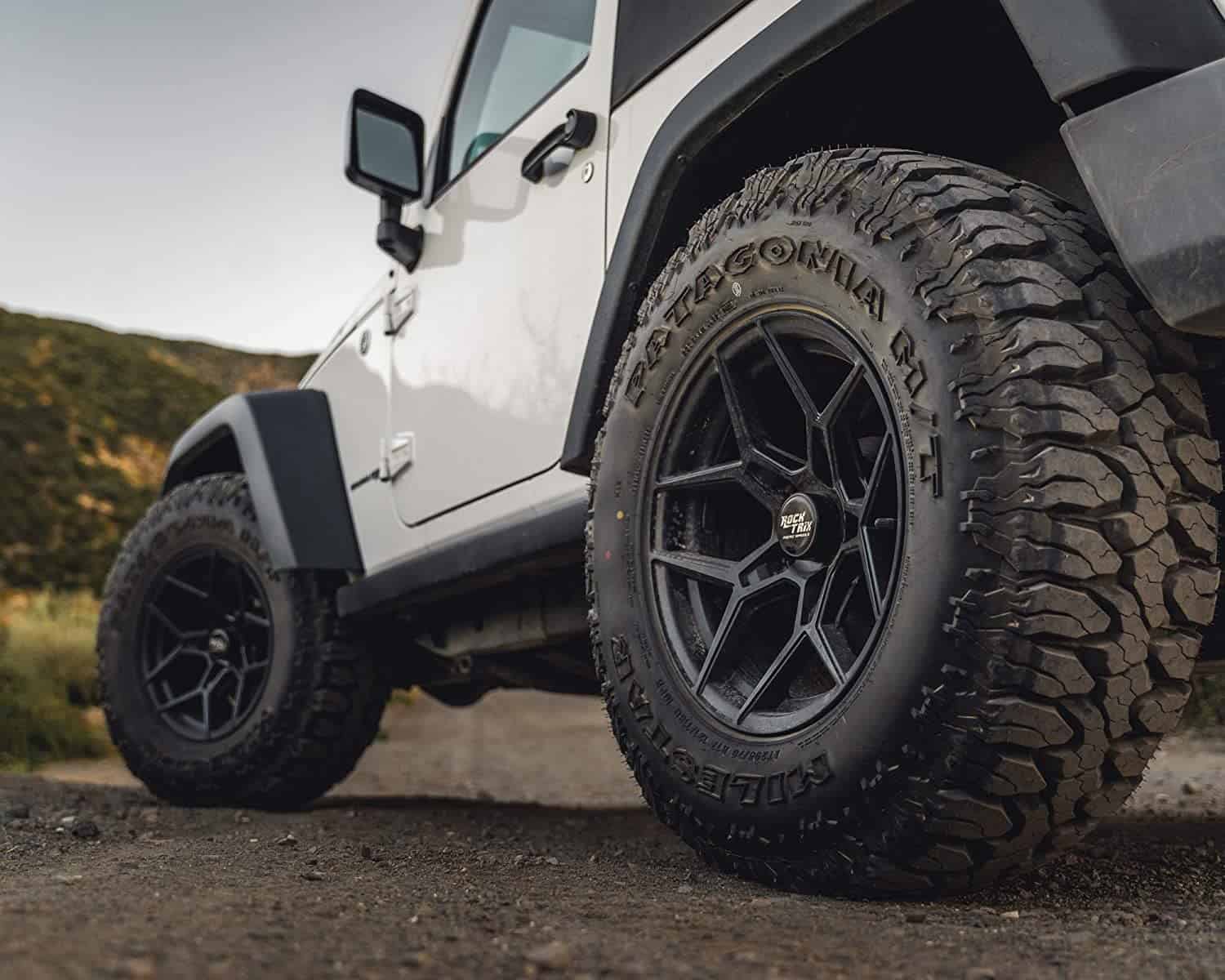 Bolt Pattern
Most Jeeps use a five-bolt pattern; however, the layout can change between vehicle models. This difference changes the spacing used, making it essential that you learn which spacings you're buying and currently use. 
Offset / Backspacing
Depending on the wheel you install, it'll have a different offset than your previous set. The key consideration here is ensuring that you have enough backspace to clear any suspension components.
At a Glance: Our Top Picks for Wheels For Jeep Wrangler
Review of the Best Wheels for Jeep Wrangler 
The following six items are the best wheels for a Jeep Wrangler. We've explained why each product is at the top of its category and looked at each part's features.
RockTrix RT105
Material: Aluminum
Exterior: Matte
Wheel Size: 17 Inches
Weight: 27 Pounds
We may earn commission from purchases made from our links, at no additional cost to you
Review
As the best wheel overall, the RockTrix RT105 is ideal for both off-roading and city use. However, before you traverse over rocks and harsh terrain, you'll need to fit your Jeep with a lift kit. The extra inner clearance provided allows for more space when installing a new suspension and other upgrades.
The part is solid and durable as it's constructed in a single cast without any welds. The clear coating on top of the matte finish is durable and will protect the wheel from the elements. The wheel is ideal for fitting tires between 32 and 35 inches without any issue or resistance.
Bottom Line
The RockTrix RT105 is a great wheel that's ideal for anyone if you can afford it. The part covers a large variety of wheel sizes and different Jeep models. All the features and quality make it a great wheel to install on your Jeep Wrangler.
Pros
Fits 32-35 inch tires
Doesn't require any spacers
Durable coating protects the matte finish
Aggressive wheel offset provides up to two inches of inner clearance
Compatible with Jeep Wranglers from 2007-2021 and Jeep JK and JL 2019-2021
Cons
Requires lift kit before you can safely go off-road
KMC Wheels XD Series XD775 Rockstar
Material: Aluminum
Exterior: Painted Finish
Wheel Size: 17 Inches
Weight: 22.7 pounds
We may earn commission from purchases made from our links, at no additional cost to you
Review
The KMC Wheels XD Series XD775 Rockstar is a significant part that's well-made and durable thanks to its one-piece construction. The wheel is extremely lightweight, weighing only 22.7 pounds. While it's lighter than other options on the list, it's as durable and reliable as any of the best wheels for Jeep Wranglers.
The matte black finish allows it to fit any colored design on your Jeep, including its paint. The center cap has a stylish design and helps protect your nuts from any impact or theft. However, this part may become a hindrance when you have a flat tire.
Bottom Line
Overall, the KMC Wheels XD Series XD775 Rockstar is the runner-up for best with good reason. The part has a brilliant matte design and is well-made with its one-piece construction. Additionally, there's a one-year warranty for peeling paint and the structural stability of the wheel.
Pros
Center cap protects nuts
Lightweight at 22.7 pounds
Well-made with one-piece construction
Matte black finish works with any paint job
Lifetime structural warranty and one-year warranty for peeling
Cons
Lug nuts aren't included
Mickey Thompson Sidebiter II Wheel
Material: Aluminum
Exterior: Satin
Wheel Size: 17 Inches
Weight: 29.49 Pounds
We may earn commission from purchases made from our links, at no additional cost to you
Review
The Mickey Thompson Sidebiter II Wheel is an excellent choice if you're buying aftermarket wheels while limited to a budget. The pieces are made from aluminum in a one-piece cast, avoiding any unwanted seems or weak points. Additionally, the wheels are some of the heavier aluminum options, providing a better grip as you drive.
The wheels are effortless to clean thanks to their satin finish, a stylish and simple design that works with almost any paint job. The center cap protects the locking hubs on your wheel. Overall, the design is simple but stylish enough for both urban and off-road Jeeps.
Bottom Line
The Mickey Thompson Sidebiter II Wheel is a great option to purchase as it offers a sturdy and rugged wheel. The satin finish is easy to clean but can only support tires of up to 31 inches. The wheel is made from aluminum and cast in a one-piece mold leaving no seams or weak areas.
Pros
Easy to clean
Simple yet stylish design
Constructed from a one-piece cast
Center cap that offers easy access to locking hubs
Weighs 29 pounds, providing a better grip on the road
Cons
31-inch tire size limit
Pro Comp Alloys PXA7005-7873
Material: Alloy
Exterior: Painted
Wheel Size: 17 Inches
Weight: 25 Pounds
We may earn commission from purchases made from our links, at no additional cost to you
Review
The Pro Comp Alloys PXA7005-7873 is an ideal alloy wheel for your Jeep Wrangler JK. The piece is well-made from a state-of-the-art low-pressure one-piece cast. This design also includes a lifetime warranty for structural damage. The eight-spoke design allows for a more stable and supported ride.
The Pro Comp Alloys PXA7005-7873 uses a simplistic flat black finish that contrasts nicely with almost any color paint on your Jeep. The painted exterior isn't overly resistant to peeling but will last in an urban environment. The product includes a center cap to protect your locking hubs.
Bottom Line
The Pro Comp Alloys PXA7005-7873 is an excellent choice for your Jeep Wrangler JK. The painted finish may peel, but the style is perfect for almost any color choice. The lifetime structural warranty is a significant aspect should the part ever fail.
Pros
Includes the center cap
One-piece cast construction
Lifetime structural warranty
Flatback finish suited for any Jeep
Eight-spoke design provides sturdy support
Cons
Painted exterior can peel easily
Best Jeep Wrangler 20-Inch Wheels
Mayhem Warrior 8015
Material: Aluminum Alloy
Exterior: Matte Black Finish
Wheel Size: 20 Inches
Weight: 26 Pounds
We may earn commission from purchases made from our links, at no additional cost to you
Review
As the best wheels for a Jeep Wrangler that offers 20-inch sizing, the Mayhem Warrior 8015 is an ideal choice. This model is one of the most stylish options on the list, with a two-pronged eight-spoke design. The black finish works with almost any of the colors you can paint your Jeep.
The piece is constructed using an aluminum alloy that makes it lightweight without compromising durability. The center cap is a great way to protect your bolts from unwanted attention and extend the time it takes to change the wheel. Additionally, the item has a lifetime warranty should it suffer a structural failure.
Bottom Line
Overall, the Mayhem Warrior 8015 wheels are great 20-inch options that have a stunning design. A lifetime warranty on this aluminum alloy makes it a great choice to pick for almost any Jeep. However, the cap design will extend the time required for changing wheels.
Pros
Stable eight-spoke design
Cap covers the bolt pattern
Stylish and ideal for any Jeep
Made from durable aluminum alloy
Includes lifetime warranty for structural failures
Cons
Cap can take time to remove when changing wheels
Rugged Ridge 15500.02
Material: Steel Alloy
Exterior: Gloss Black
Wheel Size: 15 Inches
Weight: 22 Pounds
We may earn commission from purchases made from our links, at no additional cost to you
Review
The Rugged Ridge 15500.02 provides some of the best features for your Jeep TJ. It may have a basic design, but the black finish will complement any Jeep's paintwork. The limited five-year warranty will ensure your parts don't break and cost you extra money before it's time to purchase a new set.
Rugged Ridge 15500.02 works well whether you're driving in a city or venturing out on rougher terrain. The piece uses a steel alloy in its construction, providing a durable wheel. However, the alloy is also lighter than many other options on this list and helps make it more efficient for urban areas.
Bottom Line
The Rugged Ridge 15500.02 is one of the best options for a Jeep Wrangler TJ due to its durable steel alloy. However, the simplistic design may make it a lower choice for urban use. The piece is ideal for off-road use yet is still lightweight and suitable for urban environments.
Pros
Limited five-year warranty
Made from durable steel alloy
Extremely lightweight at 22 pounds
Holds up wheel when taken off-road
Stylish black finish works with any Jeep
What is Wheel Offset? What is Wheel Backspacing?
Wheel offset and wheel backspacing are two of the most common terms you'll see when shopping for new wheels. These two aspects play an essential part in your vehicle's stability and durability.
Wheel Offset
The offset represents your Jeep's wheel's ideal position where it doesn't touch against the fender or brakes as it rotates. The standard measurement for offset is often millimeters due to the incremental distances.
A zero offset indicates that a wheel's mounting surface lines up with the centerline. However, most modern cars use a positive offset with the mounting surface closer to the wheel's face. A negative offset will place the mounting surface closer to the back of the wheel and the suspension system.
Most Jeeps use an offset of 6 inches that provides clearance from the vehicle's inner workings. However, the stock option isn't great if you're installing wider tires.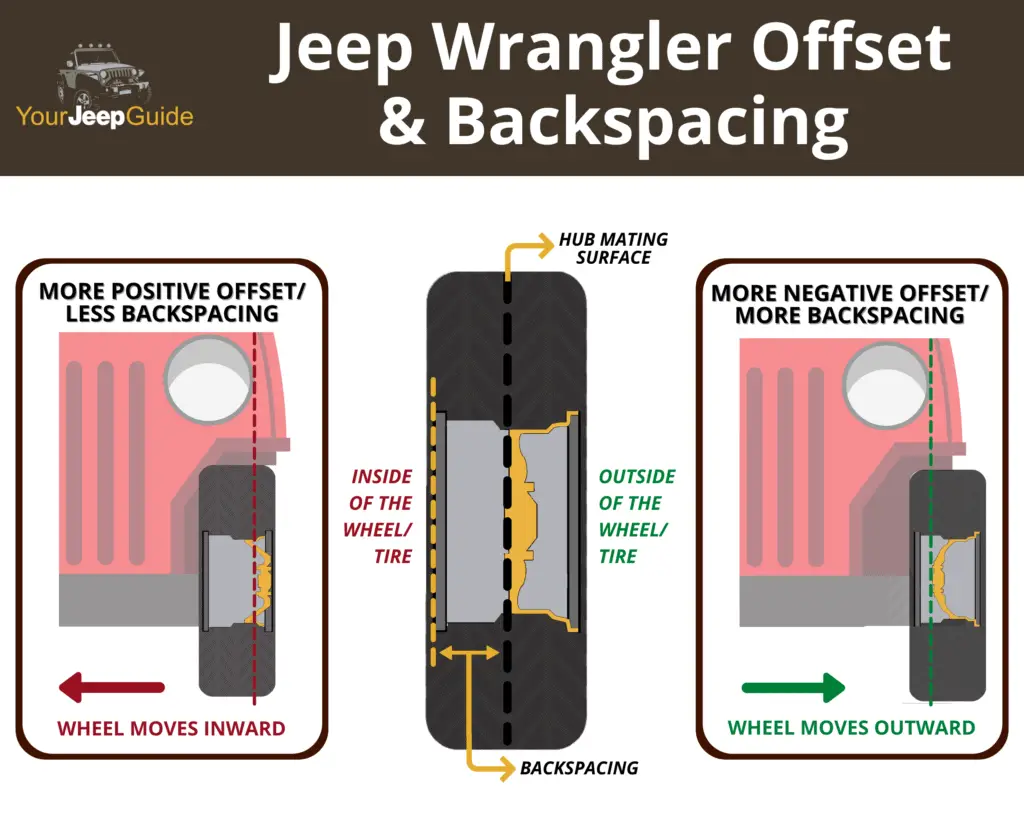 Wheel Backspacing
As an older measurement method, backspacing determines how deep the mounting pad is found within the wheel. A correct amount of backspacing allows enough space for the suspension, steering system, and brakes to operate without touching the wheel. 
A positive offset will create more backspace, and a negative offset will reduce the backspace as it brings the wheel more inward.
Steel vs Alloy Jeep Wheels – Comparison Overview 
Most commonly, you'll find wheels made from aluminum, steel, steel alloys, and other alloy mixes. Comparing a metal isn't an easy task while you're shopping, so we've broken down the must-know points for steel and alloy Jeep Wrangler wheels. This short guide will help you find the best part for your driving needs.
Steel
A steel wheel is often a couple of pounds heavier than an alloy option as it's denser and tougher. However, these wheels are also some of the cheapest options on the market. The strength and weight of these wheels make them a perfect choice for off-roading, and if they get damaged, it's cheaper to replace them.
As steel wheels are heavier, they offer better control on rugged terrain, providing a firmer grip on the path. This added weight is far better than adding weight to your Jeep in other ways as your shock absorbers and the suspension don't cushion it.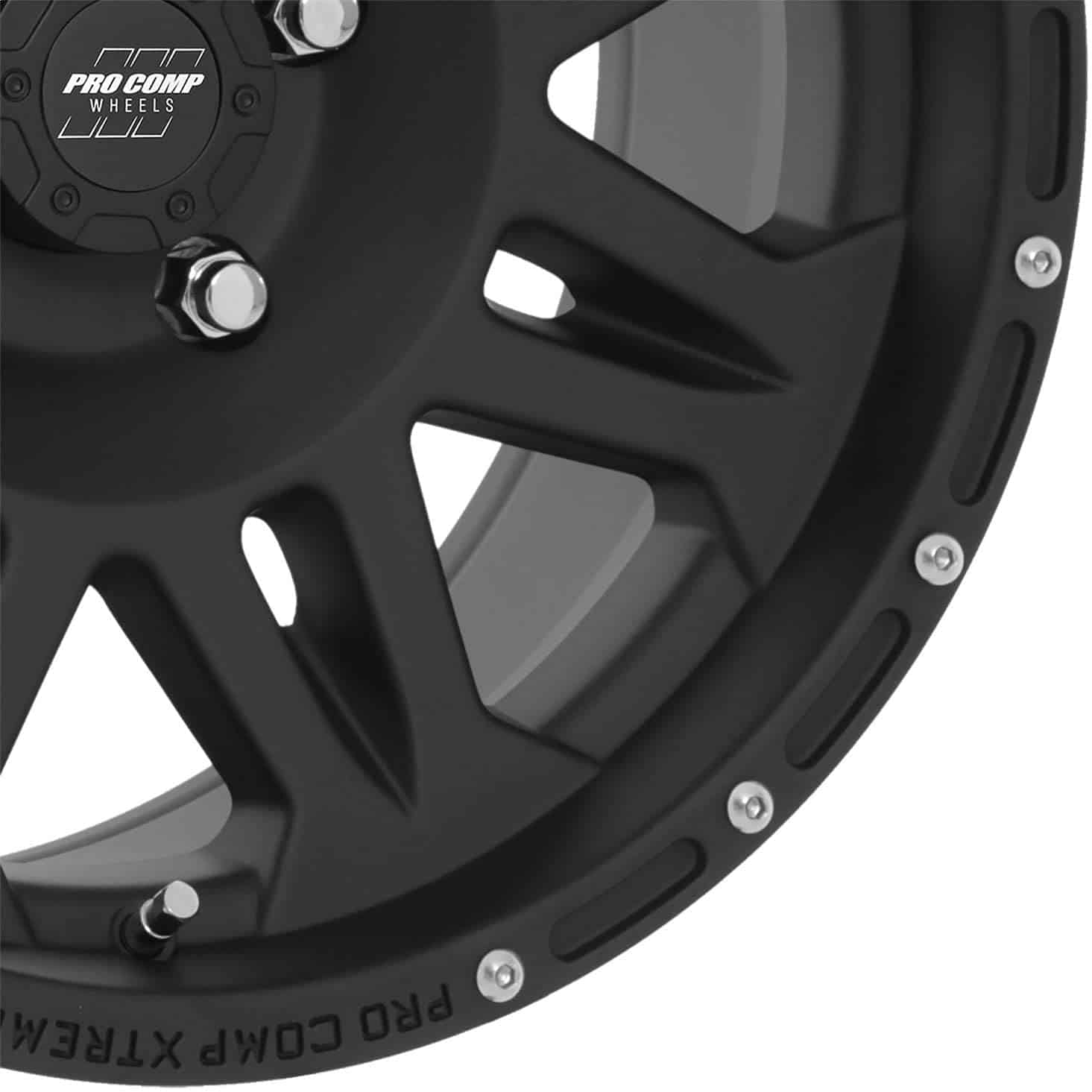 Alloy
You'll find two forms of alloy wheels when searching for the best fit for your vehicle. These options are either cast-formed or forged. You'll find most alloy wheels a mix of aluminum and another element such as steel or other durable metals. This addition makes the part stronger than its original aluminum base.
The lighter weight of an alloy wheel makes it a fantastic choice for everyday driving. However, these options are a poor choice if you frequently take your Jeep off-road. These pieces are one of the weakest wheels available and will easily dent if you have a mishap while driving on more challenging terrain.
Top Wheel Brands for a Jeep Wrangler
Four notable brands offer superb quality for their Jeep Wrangler wheels. These four are Mickey Thompson, RockTrix, KMC Wheels, and Pro Comp.
RockTrix 
RockTrix is an excellent and well-reputed brand that provides a quality wheel for your Jeep. The company produces a variety of Jeep parts such as wheel spacers and leveling kits. The wheels they produce are well-made and stylish but always feature their logo on the piece.
KMC Wheels
KMC Wheels was established in 1995 and continues to produce quality parts for your Jeep. The company produces the XD series of wheels, a quality line of items that are an excellent choice for your Jeep Wrangler. KMC Wheels continues to push the boundaries on their products, developing newer and better items.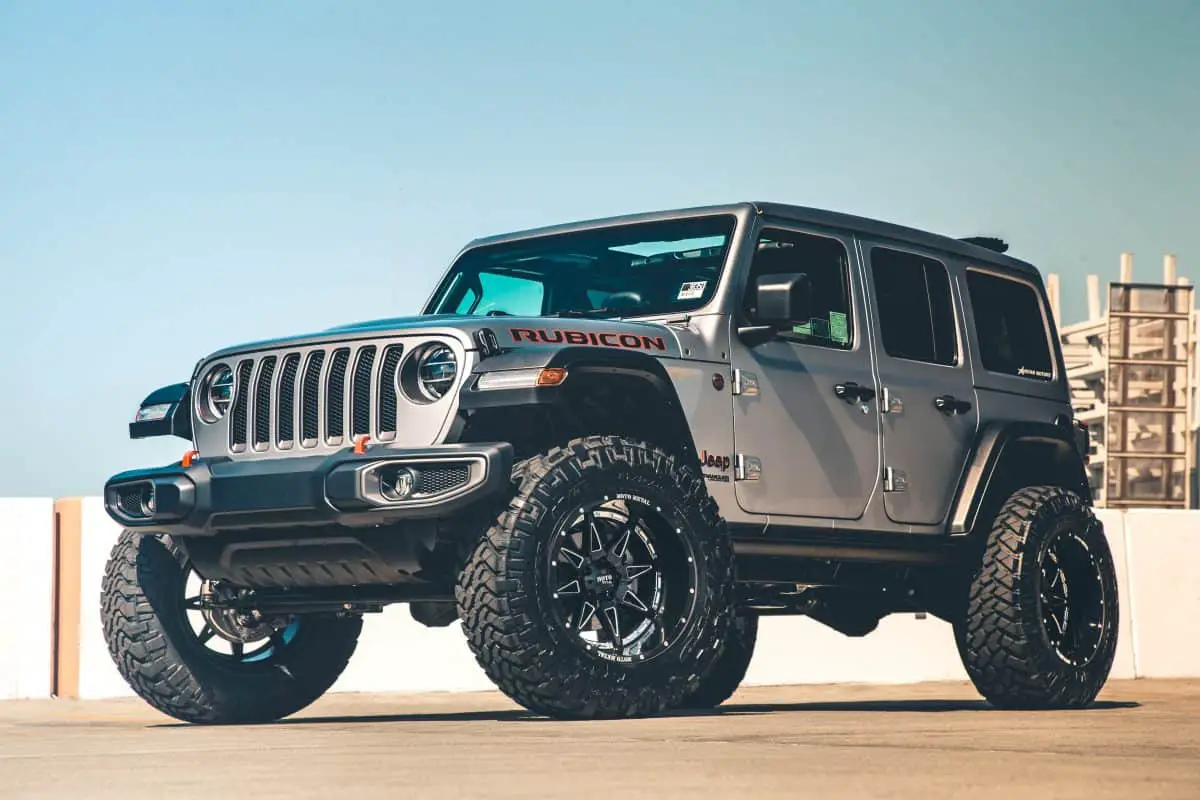 Mickey Thompson
Mickey Thompson is over fifty years old, having been founded back in 1963. The company is world-famous for the racing wheels they produce, but they also make wheels for other cars and Jeeps. The brand is reliable and an example of the quality you'll find when shopping for wheels.
Pro Comp
Pro Comp was established back in 1992 and has produced many wheels since its creation. The company offers many parts such as suspension, lighting, and tires for your Jeep. Their products are effective and affordable, making them a great choice to consider.
Price Points of Jeep Wrangler Wheels
Depending on how much you invest in your wheels will determine the quality and features you'll receive. On average, most Jeep Wrangler wheels range from $100 and upwards depending on their quality and use.
Under $100
These wheels are often the plainer and simpler designs made from steel. Wheels below $100 are extremely unlikely to have any fancy details or finishing, making them ideal for off-road trips where they may receive a bit of rough handling. They won't boost your performance but are great if you're confined to a limited budget.
$100 to $500
Items from this range often have a fair bit of stylization, making them a better pick if you're worried about how your Jeep looks. However, the wheels still lack the minor detailings that more expensive options provide. However, this range provides a large selection of steel, alloys, and aluminum.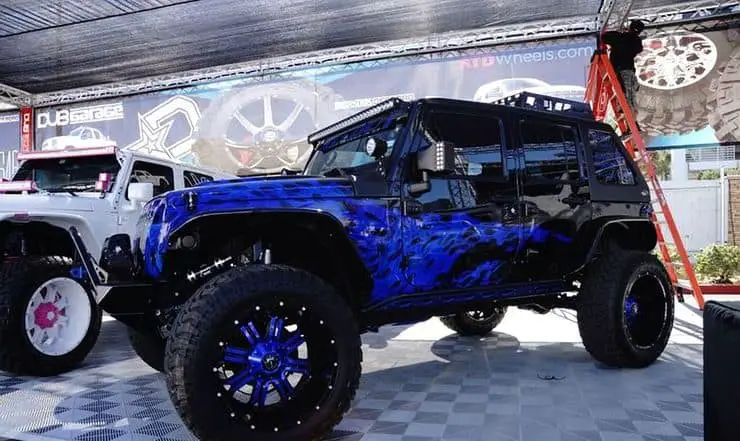 $500 to $1,000
These high-quality parts come in a large variety of types, such as forged, alloy, and multi-piece. The sizing also varies in this selection from small to large, accommodating your tires and lift requirements. The styles on offer in this range are generally bolder and more detailed, providing some of the best looks for your Jeep.
Over $1,000
Any wheel over the $1000 price tag is typically a specialty item that's exceptionally well made. The pieces are made of lightweight composites forged to offer a supreme level of durability and performance. Additionally, wheels over $1,000 are stylish with more detailings and often 20 inches in size.
Conclusion 
Looking for the best price range that offers all the features you need is the best way to select your new Jeep Wrangler wheels. There are a few finishes that fit your Jeep's colors and design while providing a smooth ride. The six best wheels for your Jeep Wrangler are the best options to consider when purchasing new pieces for your vehicle.
Quick Summary – Best Wheels For Jeep Wrangler
Here's a quick wrap-up of the best wheels for Jeep Wrangler:
People Also Ask
The following three questions are explained most commonly asked by anyone buying aftermarket wheels for the first time. We'll explore the warranty you can expect, whether all the wheels are the same, and if you'll fit 20-inch rims on your vehicle. All the answers are concise and to the point.
What Kind of Warranty Can I Expect on My Wheels?
Most warranties you'll find on aftermarket wheels range between one and two years. However, some parts will have a lifetime warranty for structural failure should the piece break through regular usage. It's important to note that installing an aftermarket item won't void your Jeep's warranty.
Are All Jeep Wheels Basically the Same?
While most Jeeps have a five-nut pattern on their wheels, the sizing is different. As long as the sizing in the pattern matches the ones on your vehicle, the wheels will work the same as any other. All wheels serve the same purpose and function; there's often little primary concern for choosing one type over another except for size and fit.
Can You Put 20-Inch Rims on a Jeep Wrangler?
While you can put 20-inch rims on your Jeep Wrangler's wheels, it'll impose limitations. You may require spacers and extra parts to ensure you have enough space to accommodate the larger size without it hooking on your vehicle. The most important part to remember when purchasing giant rims is to ensure that they'll fit your Jeep Wrangler model.
Who Worked on This?
---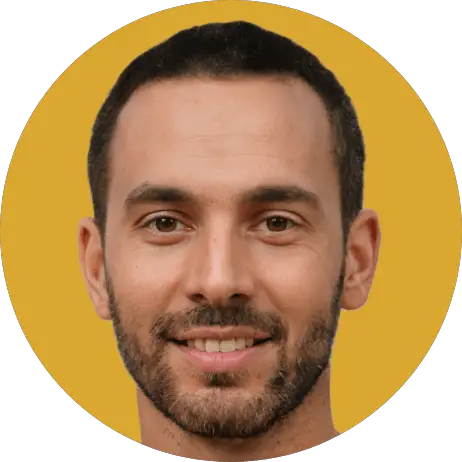 Brian
Editor
A master of organization, Brian helps keep everything running smoothly for Your Jeep Guide.
No Jeep yet but we're working on that!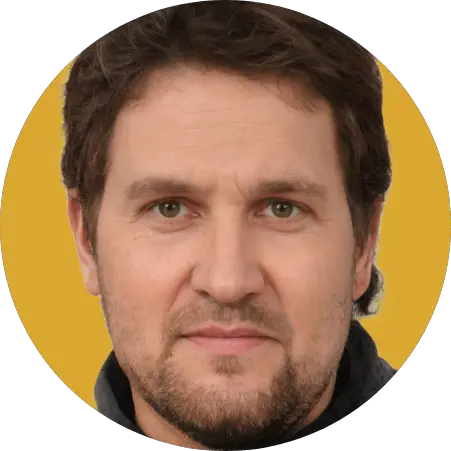 Cory
Writer
Cory loves his XJ and frequently thrashes it through the hills. He's constantly fixing something.

"What fenders?"
Check Us Out!