You've dragged your Jeep Wrangler through some of the harshest terrains possible, want to add a bit of pizzazz, or maybe your Wrangler has just seen its fair share of wear and tear. Either way, you want to restore your Jeep to like-new condition without the expense of buying a new one.
That's why you might have considered a new paint job, yet the cost is making you have second thoughts.
But don't stress. The cost to paint a Jeep Wrangler can vary widely, allowing the process to fit all types of budgets.
Pros and Cons of Painting a Jeep Wrangler
Before you slap a coat of paint onto your Jeep Wrangler, you should note that there are more reasons to paint your vehicle than just aesthetics. Conversely, a paint job may have some disadvantages that you may not have thought of. Either way, familiarizing yourself with the pros and cons of painting a Jeep Wrangler will help you decide which option is best for your budget and needs.
Pros of Painting a Jeep Wrangler
Although a new paint job isn't always a cost-feasible venture, it comes with a number of advantages. Some of the top advantages of painting your Jeep Wrangler include:
Extend the life of the Wrangler if painted before rust becomes a major issue

Creates a smoother surface that's easier to clean and maintain

Protects the vehicle from weather conditions such as rain, snow, mud, and sand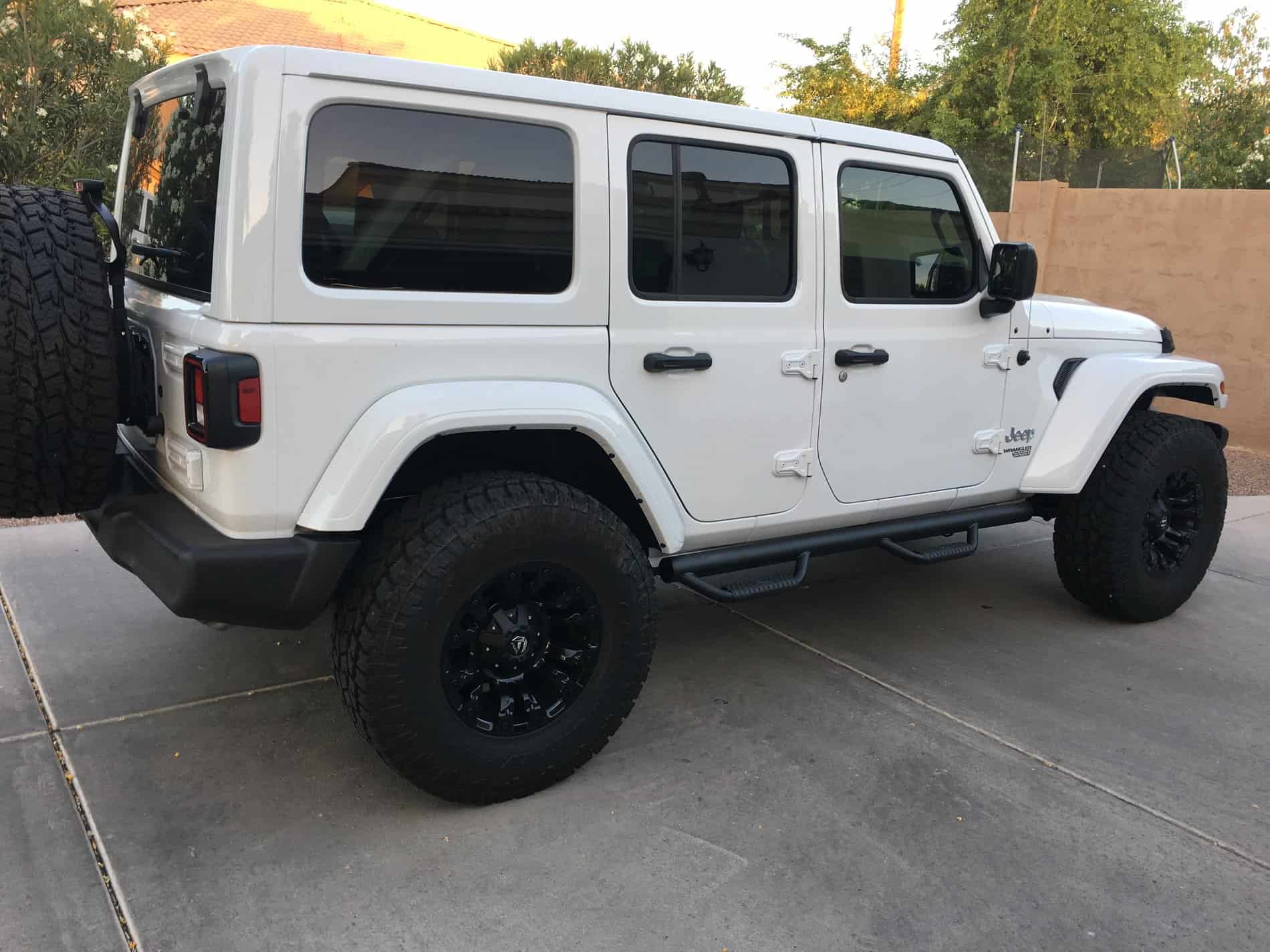 Cons of Painting a Jeep Wrangler
Despite the upsides that come with painting your Jeep Wrangler, you'll also have some disadvantages.
However, these are highly dependent on how or where you decide to paint your Jeep and the hassle involved with transportation during the painting process.
Can be prohibitively expensive to those on a budget
Cheaper paint jobs may not last long, meaning you'll have to repaint it sooner rather than later, which adds to costs

Poorly applied paint is difficult to remove, adding more time and costs if you want a professional paint job in the future

Steep learning curve for the novice DIY painter

Although it provides an extra degree of protection in the form of a hydrophobic coating, ceramic coatings — a chemical polymer that blends with the paint — can take days to set, leaving you without transportation
Should You Add a Ceramic Coating?
In recent years, ceramic coatings for the exterior of your vehicle have become increasingly popular. However, many Wrangler and other vehicle owners are always wary of new technology, especially one that costs between $1,500 and $2,500.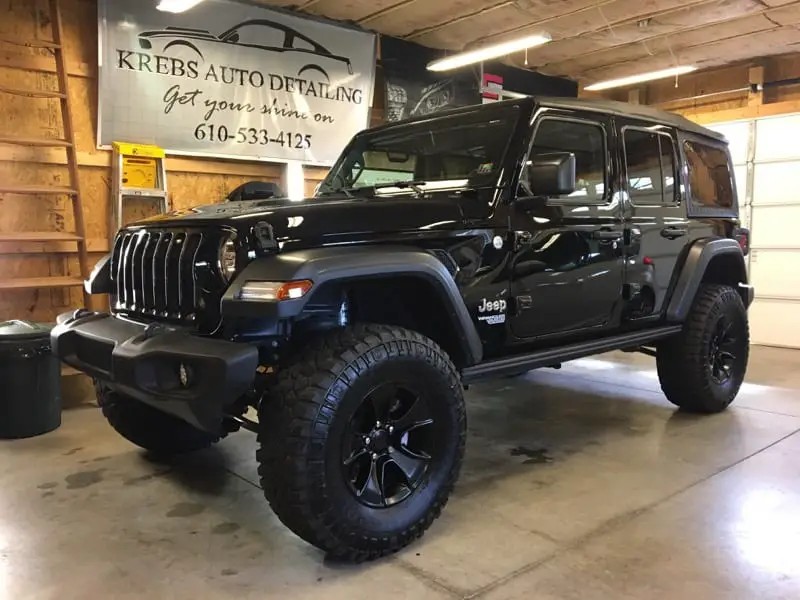 Why You Might Add a Ceramic Coating to Your Jeep Wrangler
A ceramic coating definitely adds a layer of protection to your Wrangler — there's no doubt about it. When applied, this ceramic coating can protect your vehicle in several ways, including:
Protection from UV rays, especially in climates that experience large amounts of sunshine

Protection from chemical stains, as acidic conditions in the air or those found in rock salt (snow removal), can damage the paint of your vehicle
In addition, the ceramic coating is hydrophobic, meaning it repels water. As a result, a Wrangler with a ceramic coating is far easier to clean and wax than a Wrangler without it. Furthermore, the coating gives the vehicle a glossy sheen that makes it more aesthetically pleasing.
Reasons to Skip a Ceramic Coating for Your Jeep Wrangler
Although a ceramic coating adds an extra layer of protection to the Wrangler, it's not a fix-all or protectant for every situation. A ceramic coating won't:
Protect your Wrangler from dings and dents

Eliminate the need to wash your Wrangler at regular intervals

Reduce the incidence of water spots after a rain or washing your vehicle
The idea you have to weigh is whether the added cost ($1,500 to $2,000) is worth the price. If you're an everyday driver, it may be a good value to consider a ceramic coating. But if you're an off-road warrior, you may decide that it's not a great value for your driving style.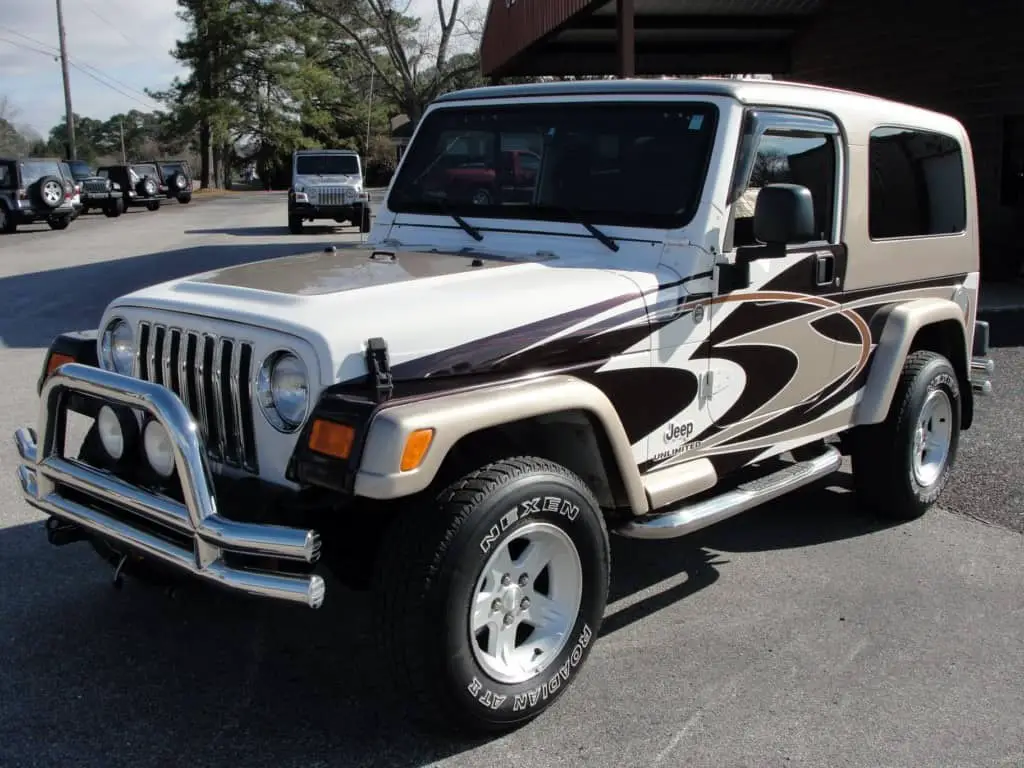 Cost to Paint a Jeep Wrangler Yourself
The most cost-effective way to paint a Jeep Wrangler is to do it yourself. By undertaking this project on your own, you can cut the cost of labor, which is typically the most expensive aspect of painting. Depending on the quality of tools and paint you use, as well as your level of expertise, expect a DIY paint job to cost between $500 and $1,500.
However, if you're using a separate paint gun for primer, coating, clear coating, and top-quality paint, you may have to shell out a bit extra. At this price, a professional paint job might be the better option unless you're planning on painting your vehicle more than once or painting another vehicle that you own.
The cost breakdown of the tools and supplies you need are as follows:
$125 to $250: Set of three sprayers, as you'll want to use a separate one for primer, coating, and clear coating. Using the same one for all three can cause clogs in the sprayer or actually ruin the paint job.

$150 to $250: A high-end paint sprayer for an even coat across the body of the vehicle.

$100 to $250: for quality automotive paint. Red is typically the most expensive while white is the most affordable option.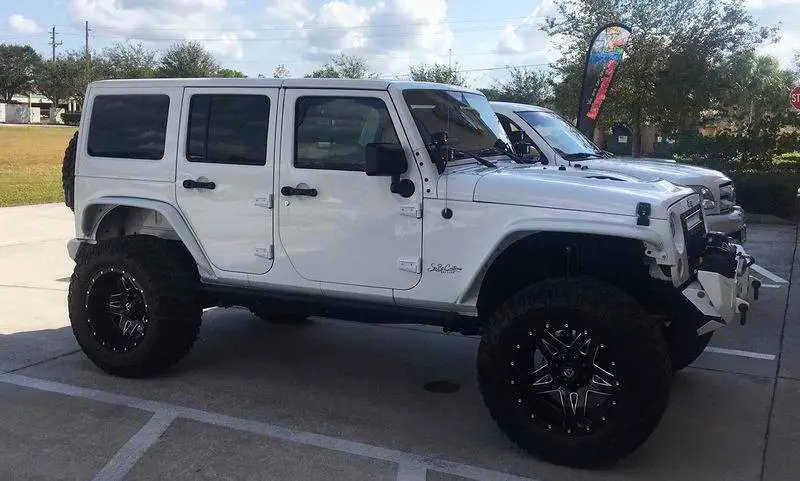 Prep Work to Paint a Jeep Wrangler
If you're not confident in your painting skills, you can still save quite a bit on labor by prepping the vehicle yourself. This usually only requires sanding, but may also need a bit of hole-filling with some type of glazing putty. If you pursue this avenue, some tips include:
For solid or matte colors, you'll need to use a final sanding grit of 400. Start with 320 to slowly smooth the surface.

For metallic colors, you'll need a final sanding grit of 600. You may want to start with the same 320 grit and work your way up to 600.

Old-school enthusiasts state that hand-sanding is the only real way of getting the job done right. But if you're careful, a power duster is just as effective. Just make sure to manually sand the contours and edges to avoid scratching them.

Use a shop-vac to remove the dust after each round of sanding.

When the surface is smooth and even, use soap and water to clean it, and you're finished.
Whether you use metallic or matte paint, you can decide whether to remove the panels before you sand them. In some cases, removing them might make access easier, but go with what you're comfortable with.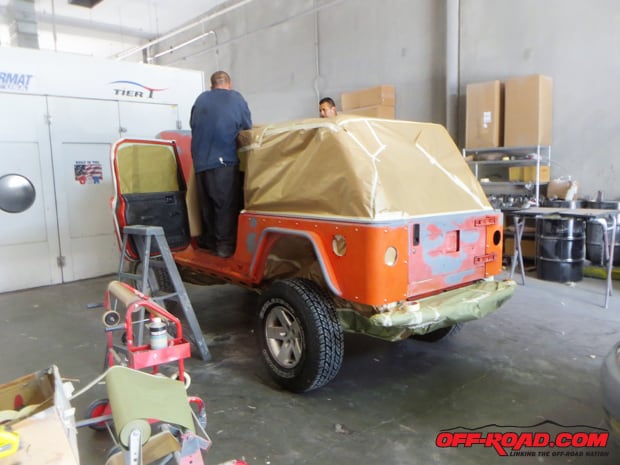 How to Paint Your Jeep Wrangler
If you decide to paint your Wrangler as well and you've never painted a vehicle before, this process can be overwhelming. To alleviate some of your stress, you may want to test your skills on a piece of scrap metal or even cardboard before you start on the vehicle. Here are the steps you need to follow to paint your Jeep Wrangler:
How to Paint Your Jeep Wrangler? Here is how:
Strip & Tape the Vehicle

Remove the seats and cover any components you don't want to be painted (basically any interior part of the vehicle that may be exposed to paint.

Paint in Coats

Always let each layer of paint or clear coat to dry before applying the next one.

Spray from a Distance

Keep your sprayer about six inches away from the painting surface.

Use a Side-to-Side Motion

Always use a side-to-side motion to paint the vehicle, never an up-and-down motion if you can avoid it.

Primer First!!

Fill the sprayer with primer and apply; wait for 24 to 48 hours for it to settle. Sand & prep as necessary.

Paint the Vehicle

Apply the paint with your paint sprayer (in coats, generally at least 3); wait for 24 to 48 hours for it to dry.

Apply the Clearcoat

Apply three to four coatings or clear coatings to the vehicle; wait 24 hours between sprayings. (Three to four coatings are for added protection. If you don't need this layer of protection, one or two coatings is fine.) Although the actual time to complete a proper paint job may last up to a week or two, the actual amount of labor is about 10 to 12 hours, so budget your time accordingly.
Furthermore, you may want to put a value on your time. For example, if you value your time at $100 an hour, you might find that getting your car painted professionally is a better plan of action.
Cost to Paint a Jeep Wrangler Professionally
If you don't want the hassle of painting your Jeep Wrangler, you can always get it professionally done. Paint shops have the experience and equipment necessary to get the job done correctly, often within a matter of days. Remember that the price you pay can have a huge effect on the longevity and quality of the paint job; in this regard, going the cheap route may end up costing you more in the long run.
So what's the cost of painting a Jeep Wrangler professionally? It varies.
Companies like Maaco can provide a quick paint job for about $500 that will last around a year or two, although this is usually only ideal if you plan to sell the car within that time frame.
If you want a proper paint job, you're going to pay far more. Depending on the color you want and the size of your Wrangler (regular vs. Unlimited), expect to shell out about $3,000 to $6,000 for the work.
Custom jobs or custom paints may even go as high as $9,000 or $10,000, so factor that into your budget. And always shop around to fetch the most value for your money.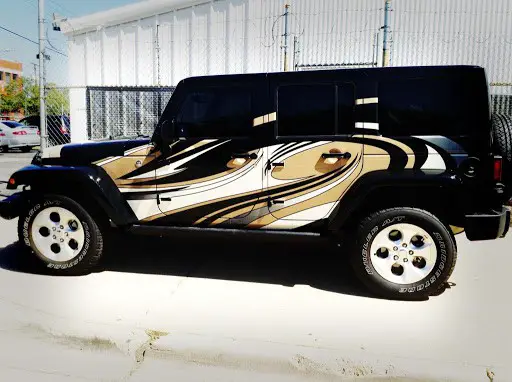 Alternatives to Painting Your Wrangler
Sometimes, a new paint fob for your Jeep Wrangler just isn't cost-feasible, whether you don't have the budget or you just don't want to pay thousands of dollars. In that case, you still have some alternatives to painting that can still make your Wrangler look like new.
Wrapping
Wrapping technology has come a long way in the past decade or so, allowing you to change the color of your vehicle while also adding a bit of protection. Made of vinyl and attached to the vehicle via pressure or heat, wraps come in over 200 colors and are usually sold by the foot. The good news is that they're only semi-permanent and you can remove them if you decide you want a different color. How much does it cost to wrap a jeep wrangler? And perhaps even better news is the price: It will cost about $1,000 to $1,500 to have this professionally done on your Wrangler for a like-new finish.
Cheaper Alternatives
Wrapping and a proper paint job are the two best ways to refinish your Jeep Wrangler, but if the cost gets in the way, you can still have a few cheaper options. Keep in mind that these pale in comparison in terms of quality and longevity. Yet in a pinch, you can make your Wrangler look somewhat decent at pennies on the dollar.
Touch-up Paint
If you have small areas affected by dings, rust, or UV rays, automotive touch-up paint will get the job done. It may not blend as well as a professional job, but it won't be as noticeable to the eye.
Spray Paint
Spray paint should be used as a last resort for painting, as it often looks a bit shoddy. But if you're confident with a spray can, you may find that quick spray paint on certain parts of your Wrangler will get the job done.
This is especially useful if you're an off-roader that repeatedly scratches or dings up your vehicle.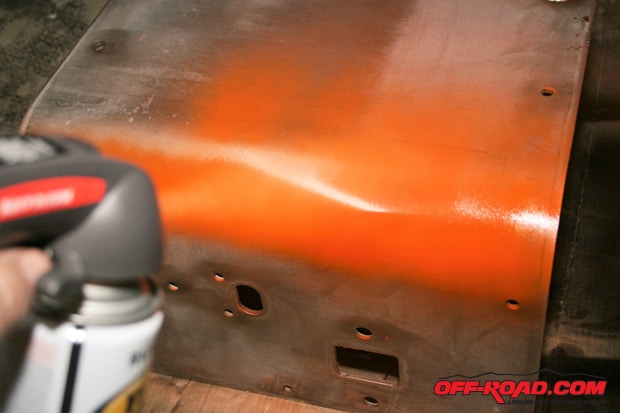 Paint Your Jeep Wrangler to Express Your Style
Regardless of your reasons to paint your Jeep Wrangler, the overarching idea is that it allows you to express yourself. Whether you want to turn heads driving down the street or relive the fond memories of what your Wrangler looked like when you drove it off the lot, a paint job could be the perfect — and more affordable — answer.
People Also Ask
Even after identifying the cost to paint a Jeep Wrangler, you may still have some concerns about the process. Here are some of the questions that people also ask about Jeep Wrangler paint jobs.
How Much to Paint a Jeep Wrangler at Maaco?
Many car owners head over to Maaco to get their paint job done, citing affordable prices and a quick turnaround. But as the adage goes, you get what you paid for. Maaco paint jobs are typically a good option if you want to sell the Wrangler in the next year or so, as that's typically how long their paint jobs last.

That said, you probably only need to spend about $500 to $1,000. Keep in mind that where you store the vehicle, how often you wash it, and how much you go off-roading can significantly impact the shortness or longevity of a Maaco paint job.
Who Worked on This?
---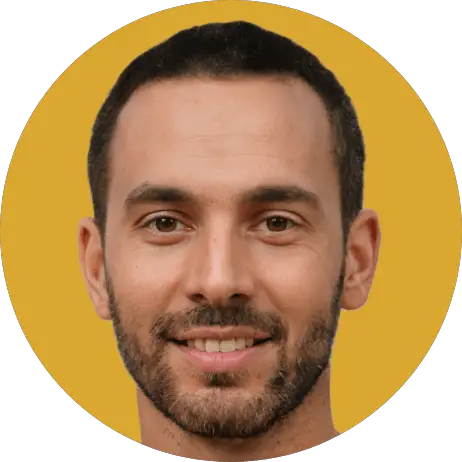 Brian
Editor
A master of organization, Brian helps keep everything running smoothly for Your Jeep Guide.
No Jeep yet but we're working on that!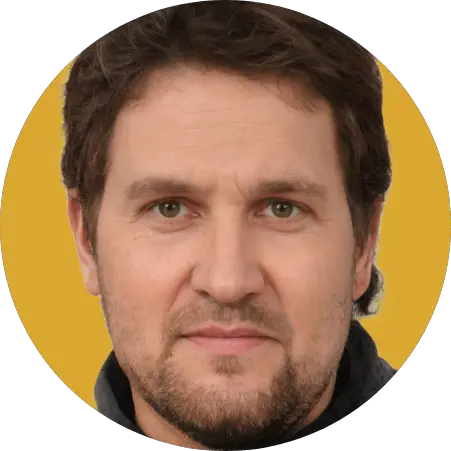 Cory
Writer
Cory loves his XJ and frequently thrashes it through the hills. He's constantly fixing something.

"What fenders?"
Check Us Out!