When you're off-roading in your Jeep the questions about what upgrades you need inevitably center on tires and shocks.
But what about your off-road rims? With the right set of off-road rims for your Jeep, you not only can get the most out of your all-terrain excursion but also add a bit of style to the mix.
Here's what to consider when you're buying off-road wheels for your Jeep.
Comparison of the Best Off Road Rims for Jeep
IMAGE
PRODUCT

Our Top Pick

Compatible with Wrangler models from 2007 to 2020
Size: 17 inches
Material: Cast Aluminum

View Latest Price →

Pressure casting technology used for better wheel strength
Size: 17 inches
Material: Painted Graphite

View Latest Price →

Best Budget Option

Best for the Money
Size: 17 inches
Material: Cast Aluminum

View Latest Price →

Black finish to protect against corrosion
Size: 22 inches
Material: Forged Aluminum

View Latest Price →

Comes with a lifetime limited defect warranty
Size: 16 inches
Material: Cast Aluminum

View Latest Price →
What Makes a Great Off Roading Wheel?
Before you pick the most stylish rims available for your Jeep, you have to contemplate a few other aspects. Looks alone don't determine how good your wheels will perform off-road. Here are some other factors that make a great off-roading wheel.
Type of Material
Like rims for sports cars, off-roading wheels come in a variety of materials, and each have their perks and pitfalls. Some of the most common options include:
Steel 
Steel wheels may not offer the flash of aluminum rims, but what they lack in flair, they make up for in affordability. Most steel rims are about ¼ to ½ the price of a comparable aluminum wheel. The upside is that they have tremendous strength and aren't prone to cracking if you hit an object on the trail.
The downside is that they're usually 10 to 15 pounds heavier. This can create problems not only on the trail but also when you're filling up at the pump. You'll also have to pay attention to rust, as off-roading can tear away the powdercoating and provide significant problems if you ignore maintenance.
Cast Aluminum
Cast aluminum rims are the most common type of stock and aftermarket rims. While they aren't as susceptible to rust, they're not as heavy-duty as steel rims and can crack if you hit something hard enough. However, they're also lightweight, which comes in handy on the trail and saves you on gas.
Forged Aluminum
Forged aluminum wheels are the most expensive, but they combine the best of both worlds. Lightweight and yet surprisingly durable, these rims turn your Jeep into a formidable off-road machine.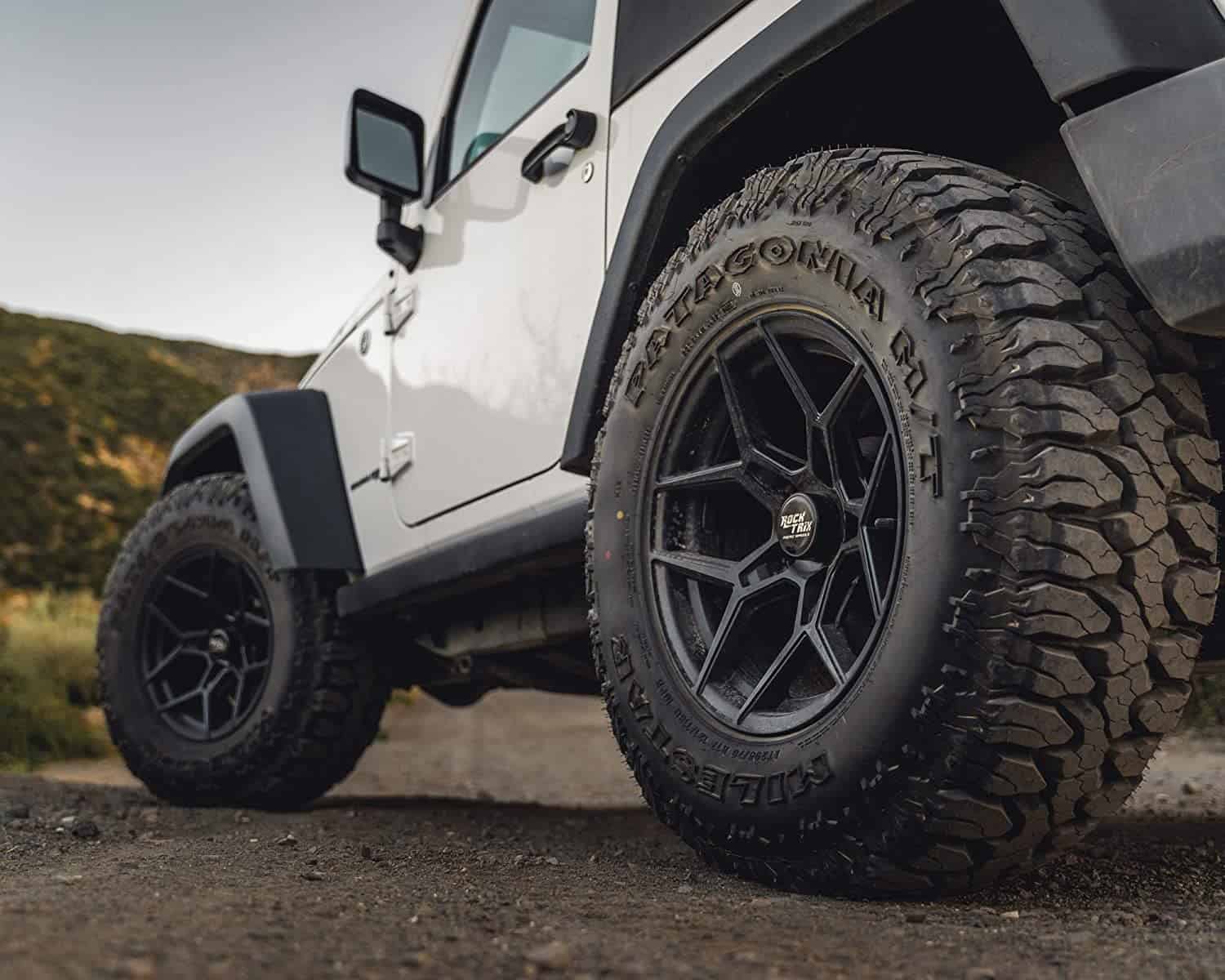 Wheel Size
Although the Escalade in Ludacris music videos demonstrates to the contrary, giant wheels aren't always the best idea, especially if you're an avid off-roader. Although they can certainly add style points, larger wheels cut down on the surface area of your sidewall, making them more susceptible to damage from off-roading.
In addition, larger wheels, specifically those larger than 20 inches, can create clearance problems, causing your tire to rub against the wheel well. In one of the rarities in the automotive world, sometimes less is more.
Wheel Finishes
You may not think the wheel finish would factor into your choice for the best off-road rims for your Jeep, but it makes a huge difference. Chromed, painted, and polished rims have their appeal, but these can scratch easily when you're off-roading. Fixing painted rims is relatively simple, but the other ones require a bit more maintenance.
However, the top choice is probably powder-coated wheels. These can stand up to abuse from off-roading and can also be refinished rather easily. For the sake of ease and durability, nothing beats powder-coated rims.
At a Glance: Our Top Picks for Off Road Rims For Jeep
Review of the Best Off Road Rims for Jeeps
Whether you want a mix of aesthetics and capability, ease of maintenance, or some combination thereof, you have thousands of off-road rims for your Jeep.
But to keep your research on point and to a minimum, here are some reviews of the top off-road wheels. By starting your search here, you can save time and avoid buying cheap or poorly made alternatives.
RockTrix RT105 17″ Wheels
Size: 17 inches
Material: Cast Aluminum
Weight (all four rims): 110 pounds
Finish: Matte Black
Rim Width: 9 inches
We may earn commission from purchases made from our links, at no additional cost to you
Review
If you want durable, long-lasting wheels that are bound to turn heads, nothing will beat a set of RockTrix RT105 17" Wheels. Not only does the matte black finish look great, but the pattern of the rim adds another dimension to your Jeep. Plus, each rim is factory-tested to ensure they can stand up to the punishment you're sure to give them on rough terrain.
Bottom Line
With an affordable price, stellar looks, and performance to match, RockTrix RT105 17" Wheels are a winner across the board with Jeep owners. Those looking to save money might opt for steel rims, but if you're in the market for cast aluminum, you probably won't find this type of quality at this price.
Pros
No spacers required
Fits 32- to 35-inch tires
Provides an aggressive stance to your Jeep
Guaranteed to mount and balance perfectly
Durable clear coat finish to withstand harsh weather
Cons
Requires conical lug nuts for installation
Won't fit on all Jeeps; some might need a lift kit to accommodate
Pro Comp Series 05
Size: 17 inches
Material: Painted Graphite
Weight (all four rims): 100 pounds
Finish: Matte Black
Rim Width: 8 inches
We may earn commission from purchases made from our links, at no additional cost to you
Review
With 17-inches of aggressive-looking graphite that bends into stylish eight-spoke wheels, look no further than the Pro Comp Series 05. Using state-of-the-art low-pressure casting technology, these wheels are also some of the best for durability in even the harshest off-road conditions. For the true off-road enthusiast with a little extra money in their budget, these lightweight and versatile rims should do the trick.
Bottom Line
Although some buyers report installation issues with the lugnuts, a vast majority of purchases tout these wheels as some of the best money can buy. If you want rims from a reputable company that are a knockout both on and off the road, the Pro Comp Series 05 is your solution.
Pros
Excellent value for the price
Slick-looking, split eight-spoke design
Long-lasting paint allows for extended durability
Allows for more brake clearance than comparable wheels
Cons
Requires new tire pressure monitors
Fitment issues with the center caps on some models
Best 22 Inch Off Road Rims
Fuel Maverick Series Wheel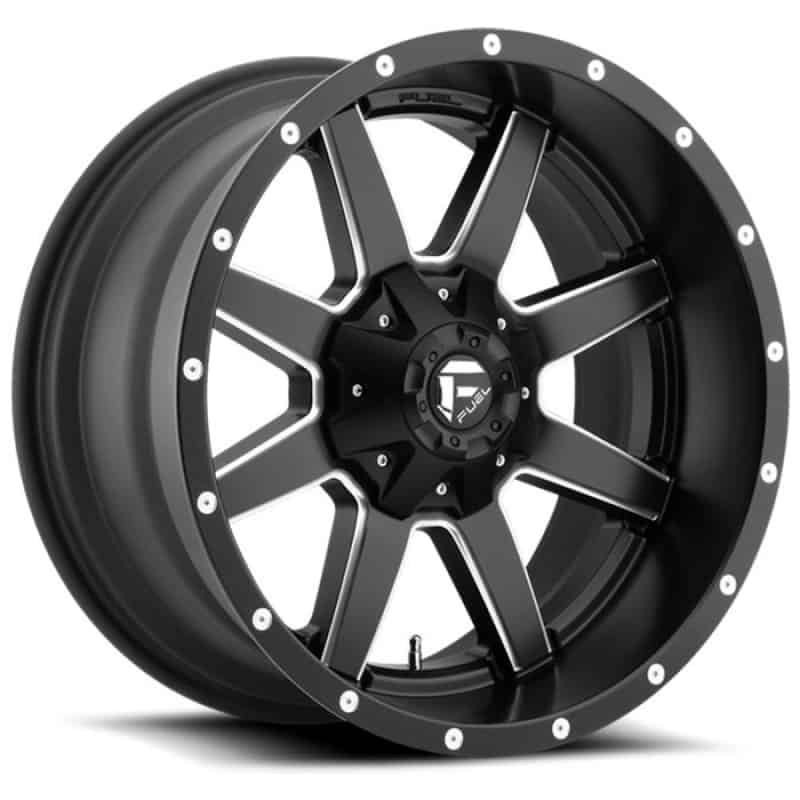 Size: 22 inches
Material: Forged Aluminum
Weight (all four rims): 140 pounds
Finish: Matte Black
Rim Width: 10 inches
We may earn commission from purchases made from our links, at no additional cost to you
Review
If price isn't an issue, you've come to the right place with a set of Fuel Maverick Series Wheels. At an impressive 22 inches with a matte black milled finish, these rims are guaranteed to make your Jeep look great whether you're driving to the store or hitting some treacherous terrain. Although some buyers had issues with the installation due to separate lugnuts, these wheels come highly praised by Jeep enthusiasts.
Bottom Line
If you're a thrifty buyer, you should probably look at other options on this list. But if your budget is no obstacle, the Fuel Maverick Series makes sure that your Jeep can tackle even the most intense off-road obstacles and look good doing it.
Pros
Sporty eight-spoke design
Stylish rims that stand out
One-piece construction for added durability
Lifetime structural warranty and one-year finish warranty
Cons
Lugnuts sold separate
Typically needs a lift kit or level kit
Expensive compared to other options
Being 22″ – clearly not for offroading
Best 16 Inch Off Road Rims
Mickey Thompson Classic Baja Lock
Size: 16 inches
Material: Cast Aluminum
Weight (all four rims): 93 pounds
Finish: Machined Black with Chrome Edge
Rim Width: 8 inches
We may earn commission from purchases made from our links, at no additional cost to you
Review
With a name like Mickey Thompson, you know you're getting a high-quality rim, and the 16-inch Classic Baja Lock is no exception to the rule. If you're in the market for a smaller wheel for more sidewall or traction while off-roading, this is the rim for you. And with the classic eight-hole finish, you're sure to be impressed after installation.
Bottom Line
While the wheel markets itself as a durable off-road rim, some buyers feel that these wheels scratch easily and that the wheel caps are flimsy at best. But when you pare away these issues, the durability and off-road capability make it a solid choice in the 16-inch rim space.
Pros
Classic MT logo
Cool machined eight-hole design
Protective clear coat for added finish durability
Limited lifetime warranty and one-year warranty on the finish
Cons
Wheel caps made of plastic
Can scratch easily if you're a heavy off-roader
RockTrix RT108 17″ Wheel
Size: 17 inches
Material: Cast Aluminum
Weight (all four rims): 112 pounds
Finish: Matte Black
Rim Width: 9 inches
We may earn commission from purchases made from our links, at no additional cost to you
Review
Designed with durability, longevity, and rigidity in mind, a set of RockTrix RT108 17" Wheels are just what you need to combine your off-road prowess with a striking addition to your Jeep. The twin five-spoke design comes beveled at different angles for even more depth, while the cast aluminum construction ensures that it remains both lightweight and durable. And while the manufacturer states that these work best with 30-inch tires, you can go all the way to 35s and not miss out on looks or performance.
Bottom Line
If you're searching for a wheel with short backspacing for an even more pronounced appearance, RockTrix RT108 17" Wheels are just what you need for the look you desire. And while they may be more expensive due to their aluminum construction and five-spoke design, you'll be glad you spent the extra money on these rims.
Pros
Attractive twin five-spoke design
Works with 30 through 35-inch tires
Machine-finished to precise specifications
Provides an aggressive look with wheels extending past the fenders
Matte black finish with clear coat provides both stunning looks and durability
Cons
Valve stems not included
Requires conical lugnuts to properly install
May not work with the Jeep JL backup camera
Top Brands in the Off Road Rim Space
With so many wheel brands out there, it's tough to nail down which ones are the best quality or suit your needs. The brands below, however, have a proven reputation in the industry, offering a mix of experience, durability, capability, and showiness that you'll want in the off-road rims for your Jeep. Here are just a few of the best.
Mickey Thompson
Started in 1963, Mickey Thompson is synonymous with off-road performance. For nearly 60 years, they've developed a strong line of aftermarket products with tires and wheels among their top-selling items. Purchased by Cooper Tires in 2003, the distribution of Mickey Thompson wheels has expanded abroad to even more Jeep and off-roading enthusiasts.
To top it off, Mickey Thompson has numerous accolades to its name, such as the world's largest one-piece drag wheel, the strongest and widest forged aluminum rim ever made, and a set of their tires and wheels even went up to 500 mph at the Bonneville Salt Flats. Enough said.
Pro Comp
Although the company started as a specialist in suspension systems in 1992, it wasn't long before Pro Comp branched out into all types of high-end aftermarket parts for both on- and off-road enthusiasts.
Today, the company specializes in steel and cast wheels that are prized for their durability, quality, and performance. Pro Comp even sponsors drivers on the off-road circuit, demonstrating how they've become a leader in the wheels industry.
Dick Cepek
Dick Cepek has always been about keeping it simple.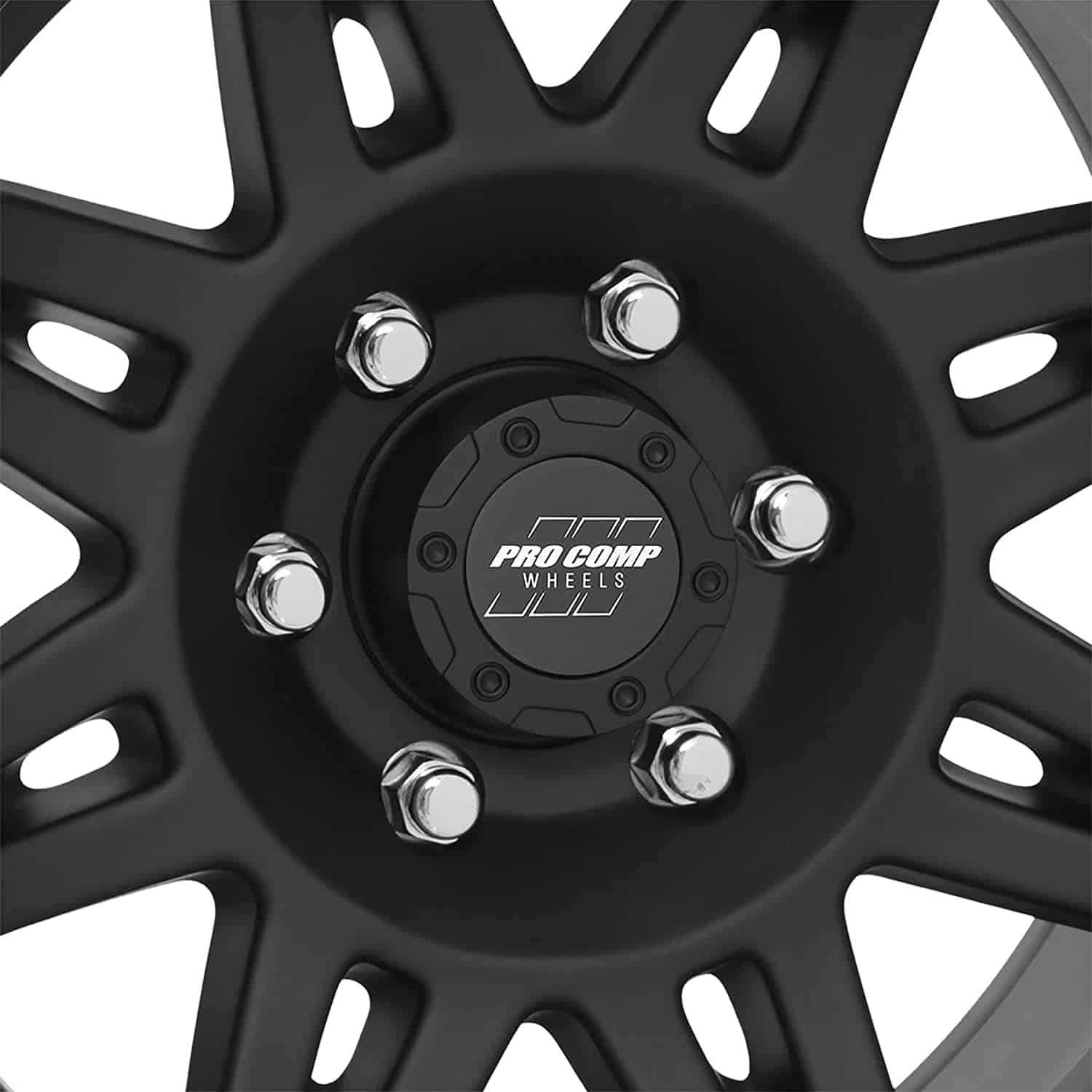 In 1958, he founded his eponymous company, specifically because he couldn't find wheels or tires that matched his enthusiasm for the off-road. Over 60 years later, the brand remains true to the promise of simplicity, offering only three wheels for avid off-roaders. This leaves more time to fine-tune the little things rather than expanding a product line, leaving only a high-quality rim in its wake.
Off-Road in Style and Show a Little Bling With the Best Rims for Your Jeep
Not all rims are just for flash. But with a bit of research and a selection from one of the top brands in the industry, you can get a dual-purpose wheel that provides off-road capability with a touch of bling. In fact, your fellow off-roading Jeep enthusiasts just might find your setup brings just a touch of envy. And for Jeep owners, that's the holy grail.
People Also Ask
Now that you're aware of the brands and reviews, as well as what to look for in an off-road rim for your Jeep, you're feeling pretty confident. However, you might find this one overarching question still wears on your mind. Here's the best answer.
What is the Best Rim Size for Off Roading?
Although it's not a steadfast rule, many off-roaders choose a rim size that's no more than half of their tire size. So if you're running on stock 30-inch tires, don't go bigger than a 15-inch wheel. Same goes for 16-inch rims on 33s or 17-inch rims on 35s. The reason for this is that you still have sufficient sidewall, your tires won't rub on the vehicle, and you can still maximize your off-roading power.
Who Worked on This?
---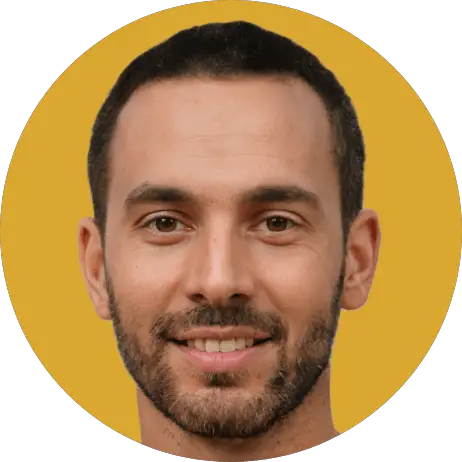 Brian
Editor
A master of organization, Brian helps keep everything running smoothly for Your Jeep Guide.
No Jeep yet but we're working on that!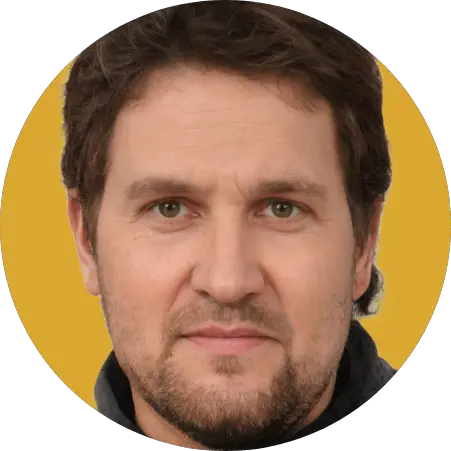 Cory
Writer
Cory loves his XJ and frequently thrashes it through the hills. He's constantly fixing something.

"What fenders?"
Check Us Out!