You're tearing down a rugged dirt road. Roots and rivets jostle your tires.
You see a puddle across the road ahead. The front wheels send a shower of muddy water over the windshield. Then, the Jeep drops. 
At that moment, it all comes down to preparation. Here's a guide to the best Renegade lift kits out there today.
Comparison of the Best Jeep Renegade Lift Kits
IMAGE
PRODUCT

Our Top Pick

Will improve overall wheel offset for your vehicle
Lift Height: 1.5" Front and Rear
Lift Type: Suspension Lift

View Latest Price →

Best Budget Option

Best for the Money
Lift Height: 2" Front and Rear
Lift Type: Suspension Lift

View Latest Price →

Best Jeep Renegade Lift Kit Daystar
Lift Height: 1.5" Front and Rear
Lift Type: Suspension Lift

View Latest Price →
What is a Lift Kit? 
Since the term lift kit seems like a fairly self-explanatory name, most people are too embarrassed to ask what it means. Well, thankfully, we've got you covered.
A lift kit is a modification that raises either the suspension or the body of your Jeep. 
Often, you see extra-large wheels on a lifted vehicle. However, this is not part of the kit. Instead, lifting the frame raises the wheel wells, allowing for the installation of larger wheels, which means that you can match the extra clearance with a lifted vehicle with special off-road tires.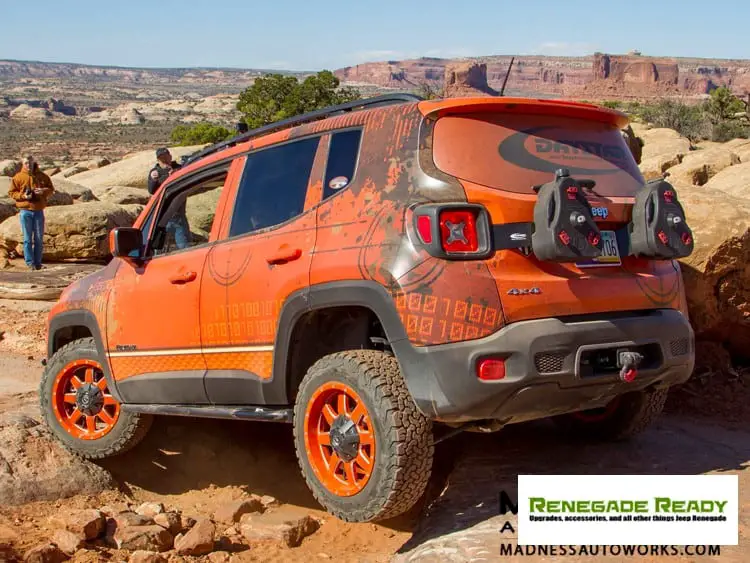 Why Would You Use a Lift Kit?
Ok, simple enough. Now, you wonder, why would you ever need a lift kit? A better question might be: when would you need to use a lift kit?
For many people, lift kits are all about appearance – it's a serious flex. In principle, though, there is a functional purpose behind a lift kit. It gives your rig extra clearance and height for difficult off-road challenges. It keeps your ride smooth and stable.
Off-Roading 
Most people who buy lift kits use them for off-roading. Lift kits increase entry and exit angles, improve stability, and improve handling on rough terrain. 
Towing
Lift kits can help transfer the load when towing, which is useful when doing off-road towing. 
Increase Tire Size
If you want to add larger tires, you may need to lift your vehicle, which is essential when undertaking some off-road challenges.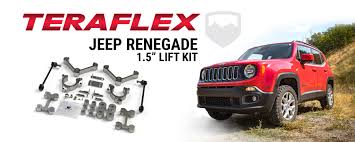 Front-Loaded Equipment
Lifting your Jeep can also be useful if you are planning to add a snowplow or a winch to the front of your truck. Without a lift, the added weight can end up squashing the front tires against the fenders or bumper.
Characteristics of Our Favorite Jeep Renegade Lift Kits 
In essence, the Jeep Renegade is a crossover vehicle. It is an ideal commuter and suburban vehicle, but it is not very effective for off-roading. The purpose of a lift kit is to take the Renegade and give it just what it needs to be a capable and impressive off-road vehicle.
Our favorite lift kits take this task seriously. They give better clearance, provide a more rugged suspension system, raise both front and rear levels, and use durable materials. It is an added perk if these kits are easy to install.
In particular, we look for:
Stability
Clearance
Compatibility with various models
Suspension integration
Interaction with sway bar
Fender clearance
Tire size capability
Coil spring spacers
Quality of parts
The best kits we reviewed have a combination of the characteristics listed above. 
The Jeep Renegade's platform supports off-road capability. These kits just let us unleash the inner Jeep in this utility vehicle, which means that you can take the kids to soccer practice, or drop them off at school, and then head directly for the trails.
At a Glance: Our Top Picks for best Jeep Renegade Lift Kits
Review of the Best Jeep Renegade Lift Kits 
Now you know all about lift kits. The question remains: what is the perfect lift kit for my Jeep Renegade. Well, as we found out, there are several great options. 
We whittled the list down as much as we could. Here are the products that caught our eye.
TeraFlex 1351200
Fitment Years: 2015-2018
Lift Height: 1.5″ Front and Rear
Type: Suspension Lift
Construction Material: Billet Aluminum
Warranty: 2 years
We may earn commission from purchases made from our links, at no additional cost to you
What Recent Buyers Report
Overall, buyer feedback is positive for this product. Most buyers sought out a lower lift, and they were pleased with the smart engineering of the suspension and mounting. The product accurately accounts for the stock angles of the Jeep components. People also report that the parts are top quality.
The criticism we have seen seems to focus on the lengthy installation process.
Why it Stands Out to Us
TeraFlex's 1351200 kit is a reliable, dependable, and intelligently engineered lift kit. It stood out to us as the best kit we reviewed. 
As we mentioned, we were looking for a functional lift kit that would enable us to make the most out of the Renegade's platform. This kit gets the job done. It adds the necessary clearance and accounts for the stock engineering of the vehicle perfectly. That means that the kit is not working against the Jeep to make it off-road ready, but working with the Jeep to enhance its pre-existing capabilities.
Bottom Line
In short, this is the best lift kit on our list. We were very impressed with the TeraFlex 1351200. It is well designed and well made. If you're looking for a 1.5-inch lift, this is the kit for the job.
Pros
Allows for 35-inch tires
Maintains wheel offset
Also fits 2017-2018 Compass
Accounts for mounting angles
Rustproof billet aluminum construction
Cons
Lengthy installation
Rough Country 62100
Fitment Years: 2014-2020
Lift Height: 2″ Front and Rear
Type: Suspension Lift
Warranty: Lifetime
We may earn commission from purchases made from our links, at no additional cost to you
What Recent Buyers Report
Buyers are very impressed with the low cost of this kit. For such a low price, it is a quality piece of equipment. They also tend to command the appearance of the lifted vehicle.
That said, some buyers have complained that the installation process is not quite as simple as advertised.
Why it Stands Out to Us
We looked for two things when writing up this section: affordability and quality. We settled on the Rough Country kit because it is an ideal marriage of the two and a reliable, economical option.
We like that this kit comes with a lifetime warranty, which is a guarantee from the manufacturer indicating that they have faith in their product. Generally speaking, a low-quality product won't come with such a warranty.
This kit is also quick and straightforward to install. It requires no drilling whatsoever, which is a significant perk.
Bottom Line
The bottom line is that this Rough Country kit is a solid kit for a low cost. It is cheap, easy to install, and comes with a lifetime warranty. If you're looking for a lower-end kit, start your search here!
Pros
2-inch lift
Fits Trailhawk
Lifetime warranty
Levels front and rear
Easy bolt-on installation
Cons
Stabilizer bar is lower quality
May need a vehicle lift to install
Best Jeep Renegade Lift Kit Daystar
Daystar Comfort Ride Lift Kit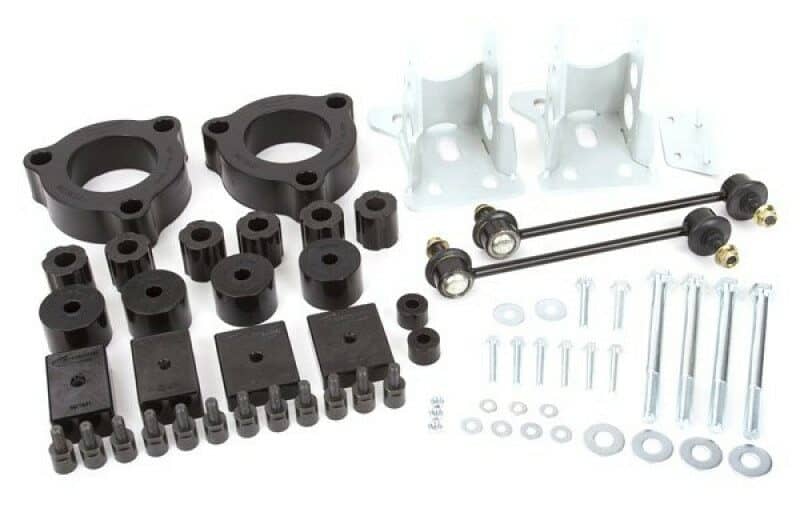 Fitment Years: 2015-2018
Lift Height: 1.5″ Front and Rear
Type: Suspension Lift
Construction Material: Polyurethane
Warranty: Lifetime
We may earn commission from purchases made from our links, at no additional cost to you
What Recent Buyers Report
Buyer reviews are positive for this Renegade lift kit. In-depth feedback for this product is not as readily available as others. However, the lifetime warranty seems to give a lot of customers peace of mind.
Why it Stands Out to Us
Daystar's Comfort Ride 1.5-inch lift kit is a great option. It provides a solid middle ground between off-road and city driving. While 1.5 inches won't take you over the largest of rivets in the road, it will carry you over more than enough to turn your Renegade into a capable off-roader.
We like the ease of installation, quality of the product, and lightweight nature of the parts. This product is a great lift kit for the average Jeep buyer, looking for something that they can install at home.
Bottom Line
We loved this product. If you're looking for slightly less lift than a two-inch model, this is a great option. It is easy to install, rugged, and fits perfectly. One of the perks of this lower lift level is that you don't need to replace the driveshaft.
Pros
Entirely bolt-on
Weighs just 20lbs
Lifetime warranty
No strut disassembly required
Compatible with all recent models
Cons
Fits tire size up to 29 inches
Benefits of Investing in a Quality Lift Kit for Jeep Renegade
When it comes to lift kits, there is a wide range of cheap options available. In general, we don't recommend opting for the cheap options. If you plan to use your kit functionally, it is worth splurging a little more and opting for a quality lift kit. 
A quality lift kit will allow you to make the most out of your Jeep, off-road and on-road. It will enable you to plow, use a winch, pull a trailer more effectively, or navigate tricky terrain. A lower quality kit will likely look great but will have limited functionality. 
Jeep developed the Renegade in partnership with Fiat. As a result, it is a smaller, more attractive vehicle with a reliable platform. That said, it is small. When off-roading, a low riding vehicle can be quite a burden. As a stock vehicle, the Renegade is a reliable crossover.
The Renegade needs a little tweaking to ride alongside a Wrangler or Cherokee on the trails. With a quality lift kit, you can harness the power of the Renegade by taking its suspension as far as it can go. Throw on some good off-road tires, and you're ready to roll.

Cautious Considerations to Keep in Mind 
There are a few important considerations to keep in mind when looking at lift kits, to make the right buying decisions.
It is worth noting that lift kits are not for everyone. If you are getting a lift kit, it is probably worth forking out a little extra and paying for something higher quality. If you do not use a proper lift kit, the result may be almost entirely aesthetic. If you're planning to make use of your kit for off-roading, you'll want to adapt the suspension rather than simply boost your body. 
It is also important to note that lift kits are not entirely interchangeable. Simply because you buy a lift kit advertised as a Jeep kit doesn't necessarily mean that it will fit on your Jeep. Make sure that the kit you're buying works with your specific vehicle. If you aren't a skilled mechanic, it is also worth getting this done professionally.
That said, if you are cautious and patient, buying a lift kit can be incredibly rewarding. When installed correctly, lift kits allow you to get the most out of your vehicle.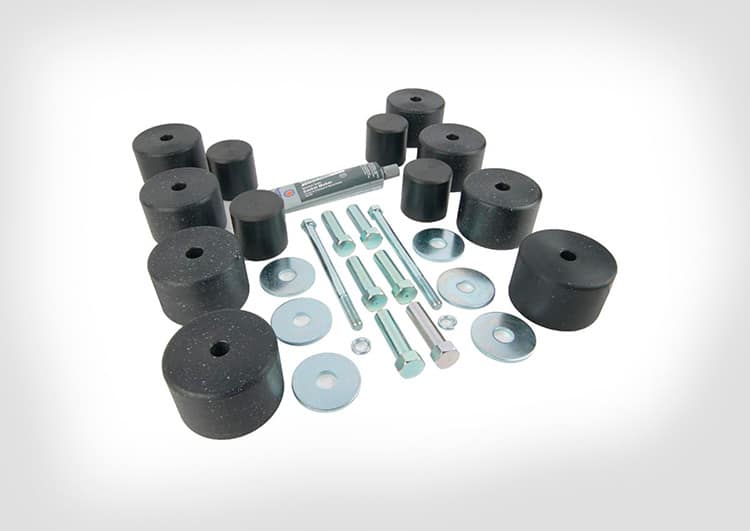 How to Install Lift Kit Jeep Liberty Renegade
If you have a little mechanical expertise, you can install your own lift kit. If you are entirely unfamiliar with vehicles, it is probably better to leave this job to a professional. 
For those who want to try this out on their own, we've broken down the necessary steps here. 
First, park the vehicle on a level surface. 
Open the hood.
Remove the windshield wipers.
Remove the cal cover.
Raise the front end of the Jeep until tires are off the ground.
Remove the front tires.
Remove the sway bar.
Disconnect tie rod end.
Remove the brake line and ABS line.
Separate the lower portion of the strut from the steering knuckle.
Remove strut assembly from the Jeep.
Install strut extenders.
Place a spacer on top of the strut assembly.
Reinstall strut assembly.
Reattach steering knuckle.
Reattach brake and ABS line.
Install sway bar end links.
Reinstall the tie rod end.
Lower driveshaft carrier bearing.
Add spacers between body and carrier bearing.
Add spacer between muffler hanger and heat shield.
Remove inner fender liner and inner fender.
Lower cross fender.
Install fender spacers.
Install replacement bolts.
Install spacer between subframe and brake line bracket. 
Remove the lower control arm.
Install a new lower control arm bracket.
Reattach lower control arm. 
Add spacers on the strut assembly.
Reinstall removed parts.
Set vehicle down. 
Be sure to refer to the video below for a full overview of what we just described.  
Conclusion 
A lift kit is a handy modification. Whether or not to add one to your truck is a question that most serious off-roaders will grapple with at some point. If you're a Renegade driver and in the market for a kit, take a look at the products we recommended in our review.
Quick Summary – Best Jeep Renegade Lift Kits
Here's a quick summary of the best Jeep renegade lift kits:
People Also Ask
If you're anything like us, you want to get all of the information you possibly can before jumping into something. In the spirit of knowledge, here are a few extra tips to help get you started. Read them. Then turn off your screen and get out there for a rip. 
Does a 2 Inch Lift Make a Difference?
Yes. A two-inch lift will make a difference. When towing, plowing, or climbing, what matters most is getting clear, not how much extra clearance you have. Sometimes, a couple of extra inches of clearance makes all the difference. There are times when you don't want anything more than two inches.
Do I Need to Replace My Factory Driveshaft After Installing a New Lift Kit?
If you have installed a lift kit of 2.5 inches or more, it is time to install a new driveshaft as well. A stock driveshaft cannot safely account for a lift of more than 2.5 inches, resulting in a dangerous break.
Will I Lose Ride Quality With a Jeep Lift Kit?
You should not lose any ride quality with a good lift kit. If you have opted for a cheap booster to get a little extra height, you might lose some quality. Why? Because you have not adapted the vehicle for lifting, and the engineering does not account for the extra height.
Why Do Many Lift Kits Raise Suspension Higher in the Front and Not the Back?
One of the reasons for this is that trucks generally come with something called a rake. Rake means that the back suspension is higher than the front, which accounts for shifts when towing or hauling. In these cases, a lift kit might even things out by raising the front end higher than the back.
How Much is it for a 2.5 Lift Kit for a Jeep Renegade?
The price of lift kits varies hugely. In general, kits for a Jeep Renegade can range anywhere from $200 to $1000. On average, a 2.5-inch kit will cost somewhere between $200 and $500. Cheaper kits are those which simply boost the truck. Higher quality kits involve some mechanical work.
Why Won't Lift Kits Fit 2006 Jeep Liberty Renegade?
The Jeep Liberty Renegade was a short-lived version of the Jeep Liberty. It is designed to be a hardier, more rugged version. As a result, it is not the same vehicle as later Renegades. It has different construction and engineering.
Can You Put a Lift Kit on a 2018 Jeep Renegade?
Yes, you can install lift kits on 2018 Jeep Renegades. Make sure that the specific kit you chose is compatible with your Jeep. Some kits are designed exclusively for use with certain models or years.
Do I Need Bigger Tires if I Put a 2.5 Lift Kit on My Jeep Renegade?
No. You do not need to install larger tires simply because you've lifted your vehicle. The lift will allow you to do so if you choose. With a lift kit alone, you will be able to accommodate extra tire size. With a lift kit and fender mods, you can often go even bigger.
Who Worked on This?
---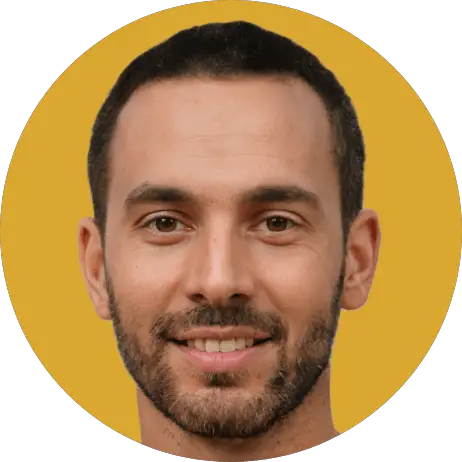 Brian
Editor
A master of organization, Brian helps keep everything running smoothly for Your Jeep Guide.
No Jeep yet but we're working on that!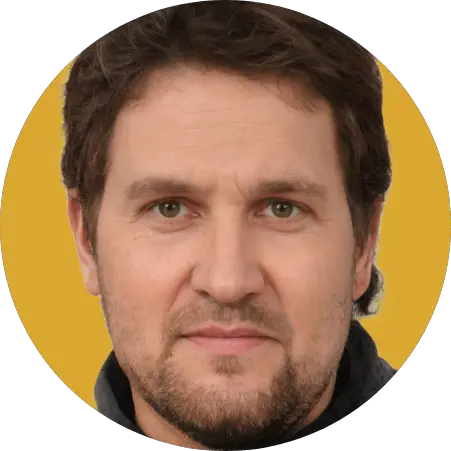 Cory
Writer
Cory loves his XJ and frequently thrashes it through the hills. He's constantly fixing something.

"What fenders?"
Check Us Out!