Everyone agrees the FJ is the Toyota that looks like a Jeep Wrangler – at least the closest thing Toyota has produced in nearly 50 years. 
The automotive press, the automotive public, and no doubt Toyota themselves have lamented the death of the FJ Cruiser for the better part of 7 years now. For the life of us, we never understood why this funky-looking, incredibly capable off-roader died an early death in the midst of one of the greatest resurgences in off-road capable, lifestyle vehicles since the FJ's cousins roamed the streets way back in the 1960s! Nonetheless, it is gone but not forgotten and those in the know are keen to pick these unique vehicles up for what seems like positively insane prices.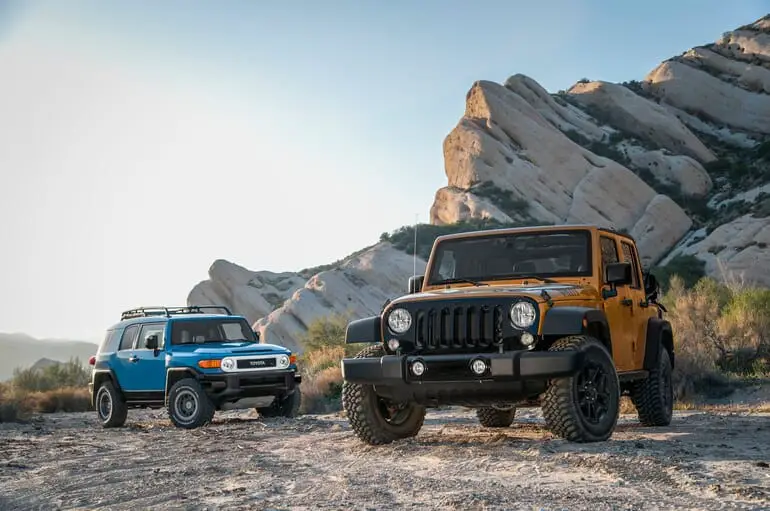 So, is the FJ Cruiser vs Jeep Wrangler a fair fight – even though one of these vehicles hasn't been on sale since 2014? You bet it is and today, we're going to tell you all about how these two titans off-road cool stack up to one another. 
Ready to hit the trail? Grab your gear and let's get out there! 
TL;DR: FJ Cruiser vs Jeep Wrangler
Although it hasn't been on sale since 2014, the FJ Cruiser represents a distinctive, incredibly reliable, and supremely capable version of a true automotive classic. It ain't no soft-roader either, since Toyota does know a thing or two about making some seriously tough trucks.
Ultimately though, its age and lack of top-down fun / modern tech hold it back. The Wrangler is and has been, the king of off-road lifestyle vehicles for over 30 years and offers a huge array of engines, configurations, and top options that really cement it as the leader in this market.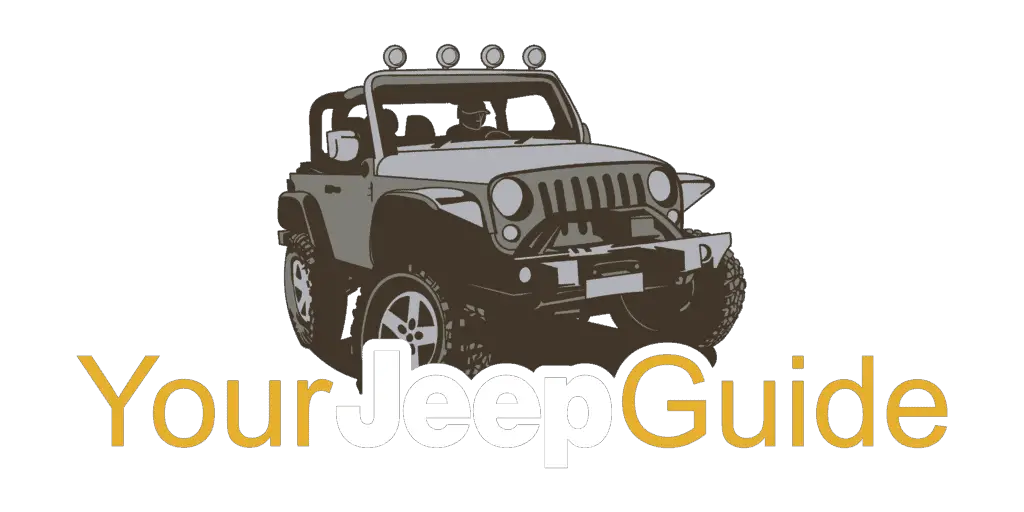 FJ Cruiser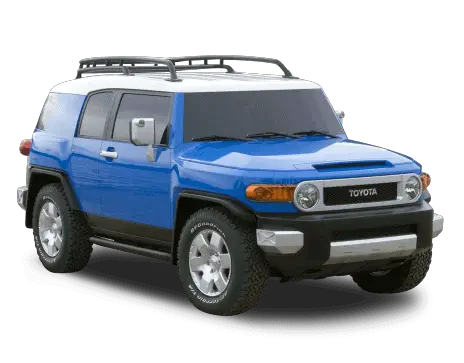 Jeep Wrangler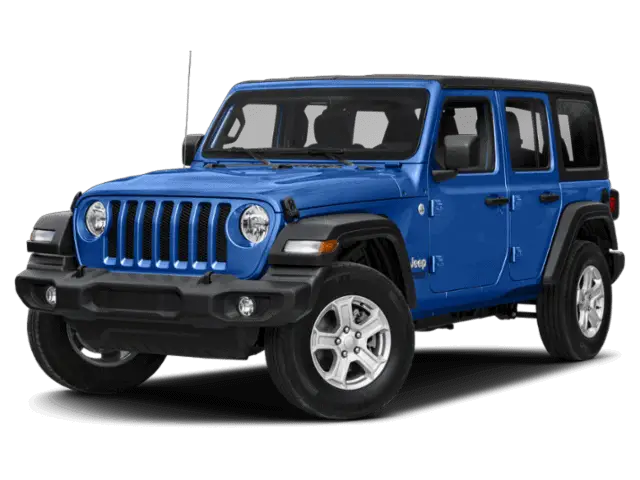 Pros
FJ Cruiser
Dead nuts reliable and near unkillable
Strong base powerplant
Huge off-road credentials
Manual and auto options
Jeep Wrangler
Huge variety of engines and configurations
Supremely capable off-road
Modern tech and safety features
Top-down, door-off, fun in the sun
MASSIVE automotive aftermarket
Cons
FJ Cruiser
Lack of modern cabin tech
One engine choice
Lack of accessories vs. Wrangler
Only available as a used vehicle
Only 2 doors available
No top-down / door off fun
Jeep Wrangler
Extremely expensive, even in base form
Less reliable than the FJ
Best For
FJ Cruiser
A Toyota loyalist who's looking for an excellent off-road rig that is supremely reliable and will appreciate over time
Jeep Wrangler
A hardcore off-road enthusiast or outdoor enthusiast who's looking for the ultimate in top-down fun, capability, and all-around cool factor
Relevant Specs: FJ Cruiser vs Jeep Wrangler
To be sure, these two vehicles have vastly different ways of going about their business of getting you off the beaten path. At the end of the day, they share the same mission of being a fully capable, stock, off-road vehicle but their specifications tell much of the story. Let's dig in here a bit. 
FJ Cruiser vs. Jeep Wrangler
Compare by tapping or clicking below!

Engine Options
FJ Cruiser
1GR-FE 4.0L V6 w/ 260 HP & 271 LB. FT. of Torque
Jeep Wrangler
3.6L V-6 w /285 HP & 260 LB.FT of Torque
(Late 2018) 2.0L I4 Turbo w/ 270 HP & 290 LB. FT. of Torque 
(2020) 3.0L Diesel V-6 w/ 260 HP & 480 LB. FT. of Torque
(2021) Hybrid 2.0L I4 w/ 375 HP & 470 LB. FT. of Torque
Transmission Options
FJ Cruiser
5 Speed Automatic 
6 Speed Manual
Jeep Wrangler
6 Speed Manual (V-6 Only)
8 Speed Automatic
Fuel Economy
FJ Cruiser
17 City / 20 Hwy
Jeep Wrangler
23 City / 25 Hwy (Turbo)
19 City / 22 Hwy (Pentastar)
22 City / 29 Hwy (EcoDiesel)
Towing Capacity
Jeep Wrangler
2,000 to 3,500 Pounds
Interior Space (cu.ft)
FJ Cruiser
Approx. 92 Cu. Ft. (Specs Never Officially Released)
Jeep Wrangler
150.4 (4 Door)
100.6 (2 Door)
Cargo Space (cu.ft)
FJ Cruiser
27.9 cu. ft (Seats Up) 
66.8 cu. Ft (Seats Down)
Jeep Wrangler
12.9 cu. Ft (2 Door, Seats Up)
31.4 cu. ft (4 Door Seats Up)
31.7 cu. ft (2 Door Seats Down)
72.4 cu. ft. (4 Door Seats Folded)
Powertrain Warranty
FJ Cruiser
3 yr/36,000 Bumper to Bumper
Jeep Wrangler
3 yr/36,000 Bumper to Bumper
5 yr/100,000-Mile Powertrain
Approach Angle
Jeep Wrangler
41.4 Degrees
Breakover Angle
Jeep Wrangler
20.3 Degrees
Engine Options
If you're looking for the most up-to-date technology, with options like a Hybrid drive system or a turbocharged powerplant, the Wrangler is a clear winner. We're not going to bag on the stalwart 1GR-FE 4.0L V6 in the FJ here though. This motor is incredibly reliable and provides a plethora of down-low grunt that makes the FJ feel punchy and fun around town. At the end of the day, it's still a gas hog and even the base engines in the Wrangler make due on providing more punch. 
Transmission Options
Again, the FJ shows its age with its old-school 5 speed automatic vs. the 8 speed automatic in the Wrangler. The shifts are deliberate but again, this powertrain is built for reliability, down low grunt, and overall long-term toughness. If you want to row your own gears, either one of these is an excellent option with their 6-speed manuals. 
Fuel Economy
Due to the age of the FJ, and lack of Hybrid or Diesel options, the Wrangler handily whips the snot of the FJ. Getting the FJ to its 20 MPG figure is a real challenge in the real world, while EcoDiesel Wranglers lay down nearly 30 MPG out on the open road. Over time, this can have a real effect on your bottom line but that may not matter to every driver. 
Towing Capacity
Here's a win for the plucky FJ! It can outmuscle the wrangler (low down, dirty grunt from that big old V6) to pull up to 4750 pounds. The best the Wrangler can do in any trim is 3500 pounds. If you need just that extra bit of muscle, the Toyota may be a better choice for you. 
Interior Space (cu.ft)
Since the FJ is only available as a 2 door, we can only really compare the 2 door Wrangler directly. Here, the FJ has slightly less interior volume but not by much. Obviously, if you spring for a 4 door Wrangler, you get WAY more interior space than anything the FJ could muster. 
Cargo Space (cu.ft)
The story for cargo space is actually quite similar. Here, we have superior cargo space in the FJ vs. the 2 door Wrangler but it gets positively trounced by the 4 doors massive 70+ cubic feet of space. Unfair fight? You decide, but the facts remain: You can not get a 4 Door FJ!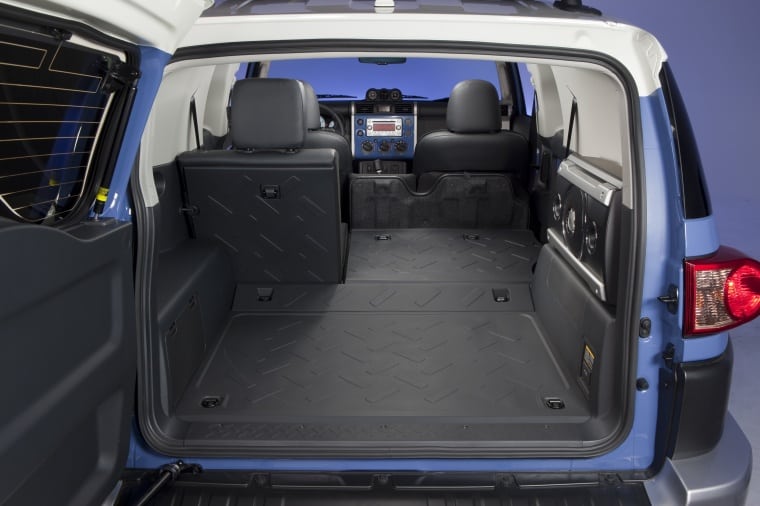 Powertrain Warranty
If you're comparing new vehicles, vs. old vehicles – clearly the advantage is going to lie with the Wrangler here. Since they haven't sold the FJ since 2014, you'll be on your own for any repairs that come up. A quick poke through any forum will tell you that the FJ is, however, supremely reliable. 
Ground Clearance
This is basically a dead-even heat, although the Wrangler may have slightly higher water fording capability. 
Approach Angle
Although the FJ is equipped with outrageously good specs, it still loses out to the slightly better approach angles on the Wrangler. 
Breakover Angle
Here, the FJ scores a win! It's less likely to get hung up on off-road obstacles due to its tidy wheelbase and overall length. 
Departure Angle
Here, the Toyota is again barely edged out by the mighty Wrangler. This is remarkable considering the specs of the Toyota but it just goes to show how good the Wrangler really is in the rough stuff.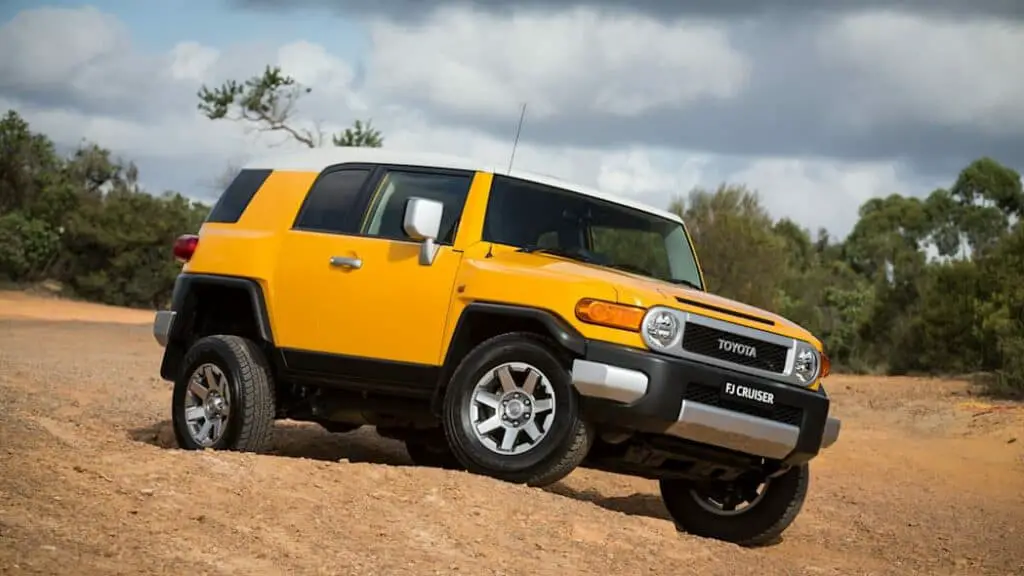 Use-Case Comparison: FJ Cruiser vs Jeep Wrangler
Although it's clear that the Wrangler outperforms the FJ Cruiser spec-wise, the showdown is not over yet. Below we discuss the next important criteria in comparing these two vehicles: applications.
Off-Roading
Let's just get this out of the way up front: both of these vehicles are AWESOME off-road. Spec for spec, the Wrangler manages to barely outmuscle the mighty FJ Cruiser but that doesn't mean the FJ is some slouch. If rolls in a beefy 4 wheel drive system, and off-road tricks like crawl control and hill descent control.
Throw in that torque-rich motor and easy to place size and you have a very capable beast. At the end of the day though, the overall capability of the Wrangler, huge availability of off-road aftermarket equipment, and straight from the factory spec packages like the Rubicon make it the undeniable winner.
Family Use / Road Trips
If you're going to use your vehicle for road trips or for hauling the family around, the 4 door Jeep Wrangler is a clear choice here. Although the 2 door Wrangler and the FJ are similar in size, their limited cargo capacity does not make them great options for hitting the road. Throw in the poor fuel economy of the FJ and the nail is really in that coffin.
Towing 
The FJ Cruiser punches above its weight here and offers a substantial 1250 pounds more in overall towing capacity than the Wrangler. If you want Wrangler styling and capability, but also need to tow; the Jeep Gladiator may be a better option for you. Honestly, though, neither of these rigs are great for towing and there are absolutely better options out there if this is your jam.
Daily Driving
The Jeep takes the win here in overall daily driver comfort due to its rather lengthy list of modern technology, driver assistance, and infotainment options. Things like heated seats, Android Auto / Apple Carplay, and Blind Spot Monitoring are available on a variety of Wrangler trims. These all add up to an overall more pleasant daily driving experience vs. the more bare-bones FJ Cruiser. 
Final Thoughts: FJ Cruiser vs Jeep Wrangler
At the end of the day, this is a tale of two completely different vehicles. These days, an FJ in excellent condition can easily fetch into the Mid $30k range! Yes, you read that right. A vehicle that is at a minimum of 7 years old is going for what you can buy a brand new Wrangler for! This sort of rabid following is due to the legendary reliability of the FJ Cruiser platform and its absolute one-of-a-kind looks. If you want a vehicle that will no doubt continue to appreciate over time, the FJ is a unique investment and possible future collectible. (See also: Do Jeeps Hold Their Value?)
On the other hand, the Wrangler positively stomps the FJ in every possible aspect – except for rareness and reliability. With hundreds of configurations, a handful of great motors, and trail-rated capability – there is really nothing on the market like a Jeep Wrangler. You can even bring your family, friends, and your dogs along for the ride and let everyone get a good old dose of Sunshine from the open top. The Wrangler simply oozes cool factor, while giving you something that is truly useful out on the trail and around town! What's better than that?
Who Worked on This?
---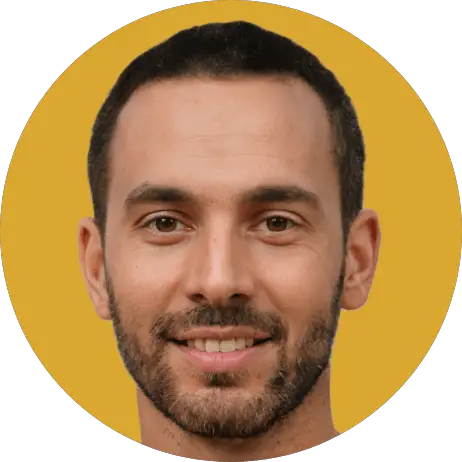 Brian
Editor
A master of organization, Brian helps keep everything running smoothly for Your Jeep Guide.
No Jeep yet but we're working on that!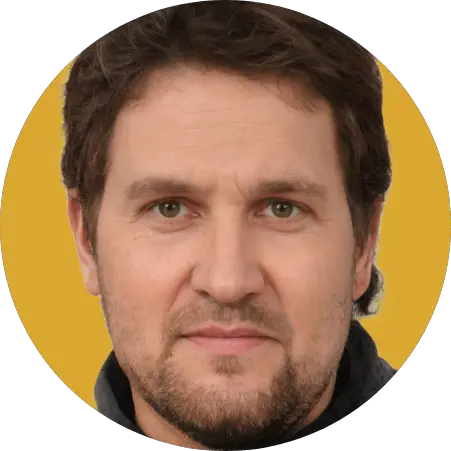 Cory
Writer
Cory loves his XJ and frequently thrashes it through the hills. He's constantly fixing something.

"What fenders?"
Check Us Out!