Introduced in 1997, the Jeep TJ is often praised as the best Wrangler to ever come off the assembly line. Not only did this Jeep combine the classic looks of the CJ-7, including similar door styling and a return to rounded headlights, but it also maintained the straight-six and ushered in the four-door Unlimited model during its reign. Furthermore, it marked the debut of the iconic Rubicon series, making it a highly collectible model for Jeep enthusiasts.
However, even the youngest TJ models are now entering the age when wear and tear starts to rear its ugly head. That's when you should consider a new set of shocks. With the best shocks for the Jeep TJ, you can restore that famous one-two combo of smooth on-road driving and the off-road capability that's made the Wrangler a household name.
Comparison of the Best Shocks for Jeep TJ
IMAGE
PRODUCT

Our Top Pick

Highly recommended by the offroading community
Powdercoated with dustboot for superior protection
3 year / 35,000 mile warranty

View Latest Price →

Full set of shocks
Fits '97-06 TJ Wranglers
Recommended for 2.5-3.5" Lifts

View Latest Price →

Best Budget Option

Excellent value
Excellent for daily and offroad use
Quality powdercoated construction

View Latest Price →

Best Shocks For Jeep TJ With 4 Lift
Highlighted by a monotube gas for simple charging
Coming with factory shock bolts for easy installation

View Latest Price →

Best Fox Shocks Jeep TJ
Offering a 1 year limited warranty on manufacturer defects
With an aluminum structure for enhanced cooling

View Latest Price →

Best Jeep TJ Rear Shocks
Able to withstand up to -50 degrees Celsius
Coming with a 2 year warranty on all components

View Latest Price →
Factors to Consider Before Buying Shocks for a Jeep TJ
Buying shocks for a Jeep TJ isn't as simple as choosing the most familiar brand name or picking the cheapest option. With numerous aftermarket options and up-and-coming brands, choosing the perfect pair of shocks that provide balance and smooth driving can feel overwhelming. But if there was one aspect not to skimp on, this is it. Before you buy, just make sure to consider the following factors to hone in on the best shocks for your driving style, budget, and needs.
How You Drive
How you drive can have a profound effect on what shocks you should choose. Everyday driving doesn't necessitate a huge budget; all you need is a set of shocks that offer a smooth ride at the best price you can find. In this case, twin-tube shocks are the industry standard and should check all the boxes for on-road driving and light off-roading. If you like a bit of a firmer ride, you might want to upgrade to monotube shocks, although this might not be necessary, especially if you never leave the pavement.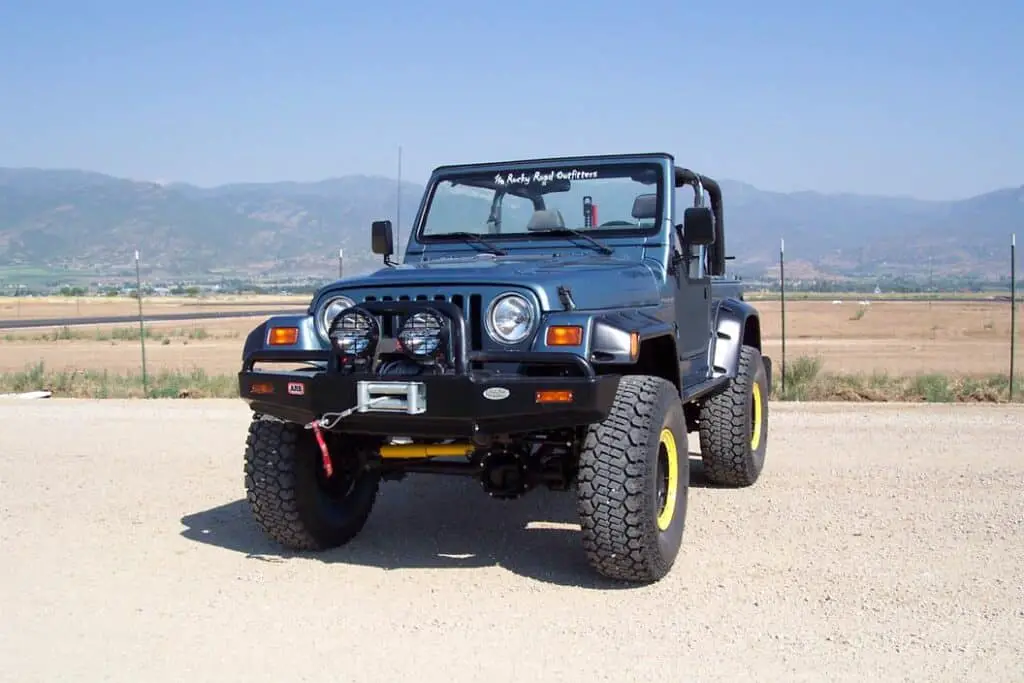 Do You Have a Leveling Kit or Lift Kit?
The Jeep TJ has a formidable appearance, combining the classic look of a Wrangler with a touch of aggressiveness. However, hardcore off-roaders or those just looking to add some appeal to their ride may have installed a leveling or lift kit. In this case, you can't go with stock replacements. You need a longer shock that can accommodate the difference in height over stock shocks. So before you buy a set, just make sure that the length of the shock is long enough to cover the distance.
The Ultimate Question: Monotube or Twin-Tube Shocks?
Similar to most Jeep Wranglers not named Rubicon or Sahara, most trims of the Jeep TJ came equipped with twin-tube shocks. Although less expensive than monotube shocks, they aren't an inferior product. Perfect for pavement driving and occasional off-roading, these types of shocks have a bit more give, which can produce a better overall drive. With a bit more flexibility in these shocks, you won't feel every pothole or bump like you might with twin tubes with a set of monotube shocks. 
Off-roading enthusiasts may find that twin-tube shocks don't provide adequate shock absorption, especially in tougher terrain. While the Jeep TJ Rubicon came with monotube shocks, the other models did not. The main advantage of monotubes for off-roading is that they have better heat dissipation and more consistent dampening, which translates to better off-roading prowess and a lessened chance for shock fade.
Moreover, monotube shocks have a firmer ride that some on-road drivers may appreciate. This might not always be the best selection, as you can feel the road a bit more than with twin-tubes. But if off-road performance is your main goal, nothing beats a set of monotube shocks.
At a Glance: Our Top Picks for Shocks For Jeep TJ
Review of the Best Shocks for Jeep TJ
The best shocks for the Jeep TJ are entirely in the eyes of the beholder. With so many different brand names, styles, and prices, your head can spin with even the tiniest bit of shopping or research. So to make the process easier, here are some of the top-reviewed shocks, their advantages, and their drawbacks.
Old Man Emu Nitrocharger Sport Shocks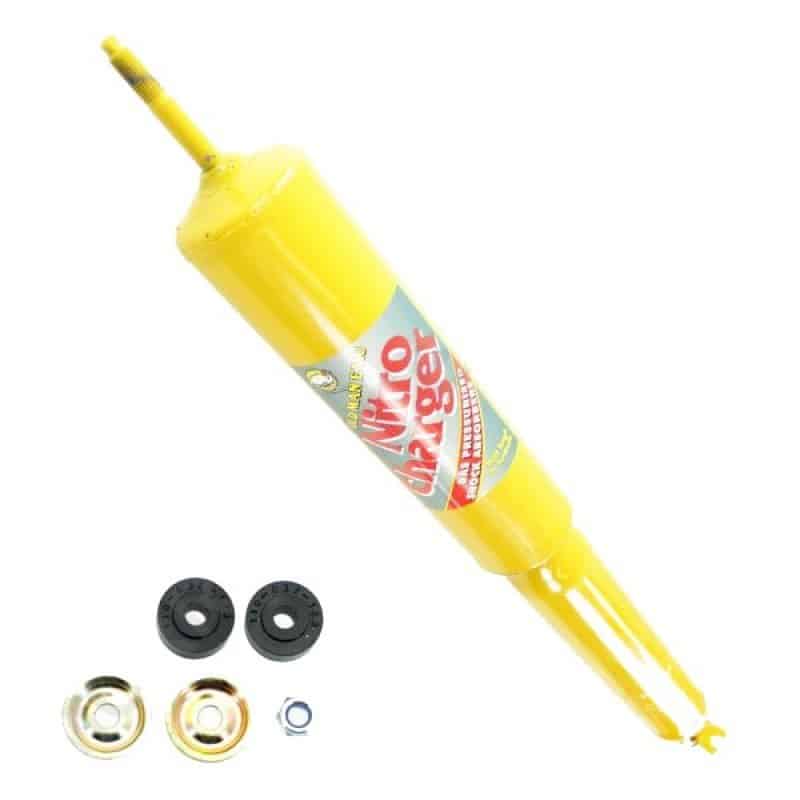 Weight: 23.2 pounds (for all four shocks)
Works With Lift or Leveling Kit: Yes
Construction Material: Aluminum
Type: Monotube
We may earn commission from purchases made from our links, at no additional cost to you
Review
Tested in the treacherous Australian Outback, Old Man Emu Nitrocharger Sport Shocks are the only shock an avid off-roader will ever need. Made of hard, anodized aluminum with a rust-resistant coating, these shocks can stand up to a beating. The nitro-charged element can also increase the life span of these shocks while the monotube design provides a firmness that can churn out a more spirited performance.
Bottom Line
If you're on a budget, chances are the Old Man Emu Nitrocharger Sport Shocks aren't the best option for you. But if you can subsist on ramen noodles for a month or you have some extra cash to play with, you probably won't find a better product in terms of performance and durability.
Pros
Excellent option for off-roading
Three-year, 35,000-mile warranty
Nitrogen charged for longer life span
Adapts to terrain instantaneously for a smoother ride
Monotube construction for better off-road performance
Cons
Expensive compared to other options
Doesn't feel like OEM shocks to the dismay of some buyers
Rancho RS5000X (2-3″)
Weight: 25 pounds
Works With Lift or Leveling Kit: Yes, if lift is 2" or less
Construction Material: Steel
Type: Twin-tube
We may earn commission from purchases made from our links, at no additional cost to you
Review
If you're in the market for a pair of gas-charged shocks, the Rancho RS5000X series will itch you where you need it. Not only do these shocks provide better performance over a variety of surfaces, but the gas-charged component increases durability. For drivers that want a pavement first, off-road second approach, these shocks are the ideal choice.
Bottom Line
Quality is the name of the game with Rancho, and even if you've never used them before, the 90-day guarantee and limited lifetime warranty should put your mind at ease. Furthermore, the twin-tube design will feel almost exactly like your OEM shocks, giving you a familiar ride that you've grown to love over the years.
Pros
All hardware included
90-day ride guarantee
Limited lifetime warranty
Red boot provides mix of aesthetic and protection from the elements
Cons
The ride may feel too soft for some off-roaders
Some users report rust issues after a few months on the road
Best Blistein Shocks and Best Shocks for Jeep TJ with 4" Lift
Bilstein 24-185929
Weight: 21 pounds
Works With Lift or Leveling Kit: Yes
Construction Material: Steel
Type: Monotube
We may earn commission from purchases made from our links, at no additional cost to you
Review
Using Bilstein's proprietary self-adjusting valves, these shocks provide unparalleled handling on both pavement and off-road. Easy to install, these shocks also have a limited lifetime warranty, offsetting the price tag that may seem a bit heavy to some drivers.
Bottom Line
Superb handling on all surfaces, soft enough for the commute, and yet just firm enough to tackle the off-road, these Bilstein shocks are just what you need for a balanced approach to driving in your Jeep TJ.
Pros
Limited lifetime warranty
Great handling on corners
Soft handling on all surfaces
Direct fit solution for lifted Jeep TJs
Cons
Expensive for some budgets
Drivers that like a firmer ride may not love these
Fox 2.0 Performance Shock
Weight: 25 pounds
Works With Lift or Leveling Kit: Yes
Construction Material: Aluminum
Type: Monotube
We may earn commission from purchases made from our links, at no additional cost to you
Review
Fox is widely known for high-performance off-road shocks, and their Performance Series is the company's top-of-the-line offering. Compatible with a lift kit of up to 4.5 inches in the front and 6 inches in the rear, these shocks provide excellent handling in all types of terrain while also boasting a firmer ride to maximize stability. Thanks to a corrosion-resistant finish, you also won't have to worry about mud, snow, or rain damaging your new set of shocks. 
Bottom Line
Fox 2.0 Performance Shocks are on the high-end of the price spectrum, but you get what you paid for. For zesty off-road performance and superb handling in tougher terrain, these shocks will turn your Jeep TJ into a formidable off-road ally.
Pros
One-year warranty
Hardware included
Rust-resistant finish
Works with both 2WD and 4WD Jeep TJs
Aluminum construction provides cooling power to resist shock fade
Cons
Short warranty for the price
One of the most expensive monotube shocks on the market
Some buyers report little difference compared to cheaper monotube shocks
Rough Country Premium N3 (3.5-6″)
Weight: 23.4 pounds
Works With Lift or Leveling Kit: Yes
Construction Material: Steel
Type: Monotube
We may earn commission from purchases made from our links, at no additional cost to you
Review
Rough Country has become a premier name in the shock industry thanks to its variable valving technology and enhanced durability in its N3 series. Nitrogen-charged to promote better driving on all types of terrain and the road, these shocks are an excellent choice for a more balanced approach.
Bottom Line
With a three-year warranty, an eye-catching silver paint job, and a head-turning price, Rough Country N3 Premium shocks are an excellent choice for your Jeep TJ. And although some buyers may be disappointed with the off-road performance, those who occasionally hit the terrain will be satisfied with the balance in performance.
Pros
Nitrogen-charged
Three-year warranty
10-stage variable valving
Fast-cooling design to resist shock fade
Excellent vibration dampening for on-road driving
Cons
Not as stiff as some drivers would like
Some buyers were dissatisfied with off-road performance
Rubicon Express SK010702RXJ (2-3.5″)
Weight: 21 pounds
Works With Lift or Leveling Kit: Yes
Construction Material: Aluminum
Type: Monotube
We may earn commission from purchases made from our links, at no additional cost to you
Review
Rubicon Express shocks for your Jeep TJ are the ideal choice if you want monotube shocks without losing the original feel of your OEM shocks. Although these aren't the original twin-tube design, they provide the ability to hit the off-road and the pavement without putting much of a dent in performance or your wallet.
Bottom Line
If you're intrigued by monotube shocks but you don't want to blow your entire budget on more expensive options, Rubicon Express has your back. And with a limited lifetime warranty, you get some peace of mind, even if you aren't familiar with the brand.
Pros
Limited lifetime warranty
Gas-charged for better durability
Feels the same as OEM shocks
Affordable option for a monotube shock
Cons
Rough ride on pavement
Not the same level as Fox or Bilstein for monotube shock performance
Top Brands in the Shocks Space
Because the shocks space for the Jeep TJ has so many options, dissecting which ones are the best can seem like an arduous process. In addition, cheap Chinese brands with fake reviews or other lesser shocks can creep their way onto your radar. While these aren't necessarily terrible options, sticking with top brands can often result in a better ride, and one that closely mimics the smooth drive you're undoubtedly wanting. If all else fails, go with one of these top brands, and you'll be satisfied with the results.
Old Man Emu
If you're searching for a high-performance set of shocks, perhaps nothing is better than Old Man Emu. Founded in Australia, this company designed shocks to withstand one of the harshest environments on the planet: the Australian Outback. With shocks designed for off-roading, few other options can top the durability and overall performance of these shocks.
Rough Country
Rough Country was one of the original manufacturers of off-road shocks, manufacturing their first design in 1975. Following the success of this design, the company has branched out into numerous options for all tastes and budgets. If you want something that's affordable, easy to install, and typically contains a bit of extra durability thanks to nitrogen-charging, Rough Country has you covered.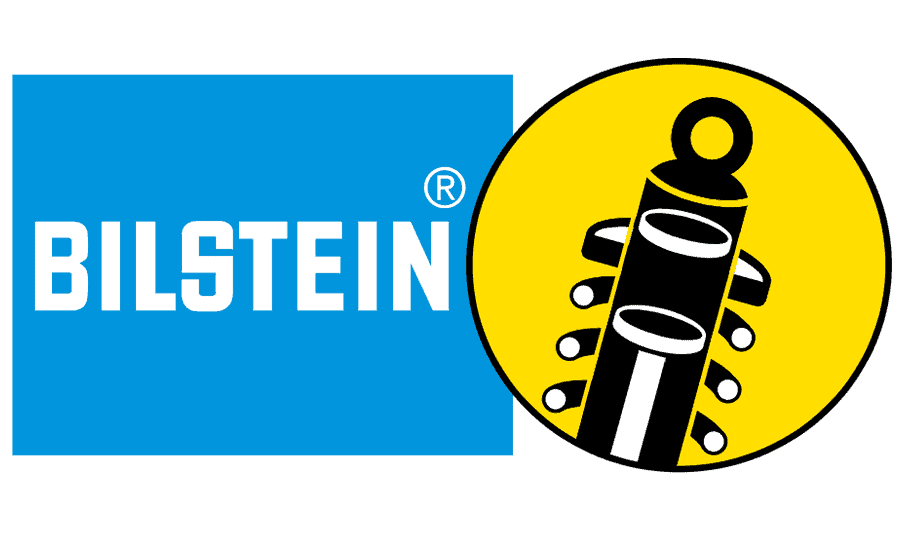 Bilstein
Founded in 1873, Bilstein is undoubtedly the oldest and perhaps the most well-known brand in shocks. Noticeable for their blue and yellow paint job, these shocks come in both twin-tube and monotube options. If you check out reviews for Bilstein, you'll find that most buyers praise the brand for its affordability and durability. If you're searching for shocks that can withstand a beating, this is a no-brainer.
Fox
Founded in California in 1978, Fox has been the premier name in off-road shocks for the Jeep TJ and other off-road vehicles for over 40 years. The key to its success as a company lies in its Performance Series shocks that were redesigned in 2014 to provide maximum off-roading capability. The company also has its Factory Series line that's more affordable, yet meets or exceeds OEM standards.
Price Points of Shocks
Like any other aftermarket part, shocks come in a range of prices for all types of budgets and needs. So whether you have no budget or you're a self-proclaimed thrifty buyer, you can find a set of shocks that provides the best ride for your desires. Keep in mind that prices may change due to availability and production, so keep an eye out for online sales or deals to always get the best price possible.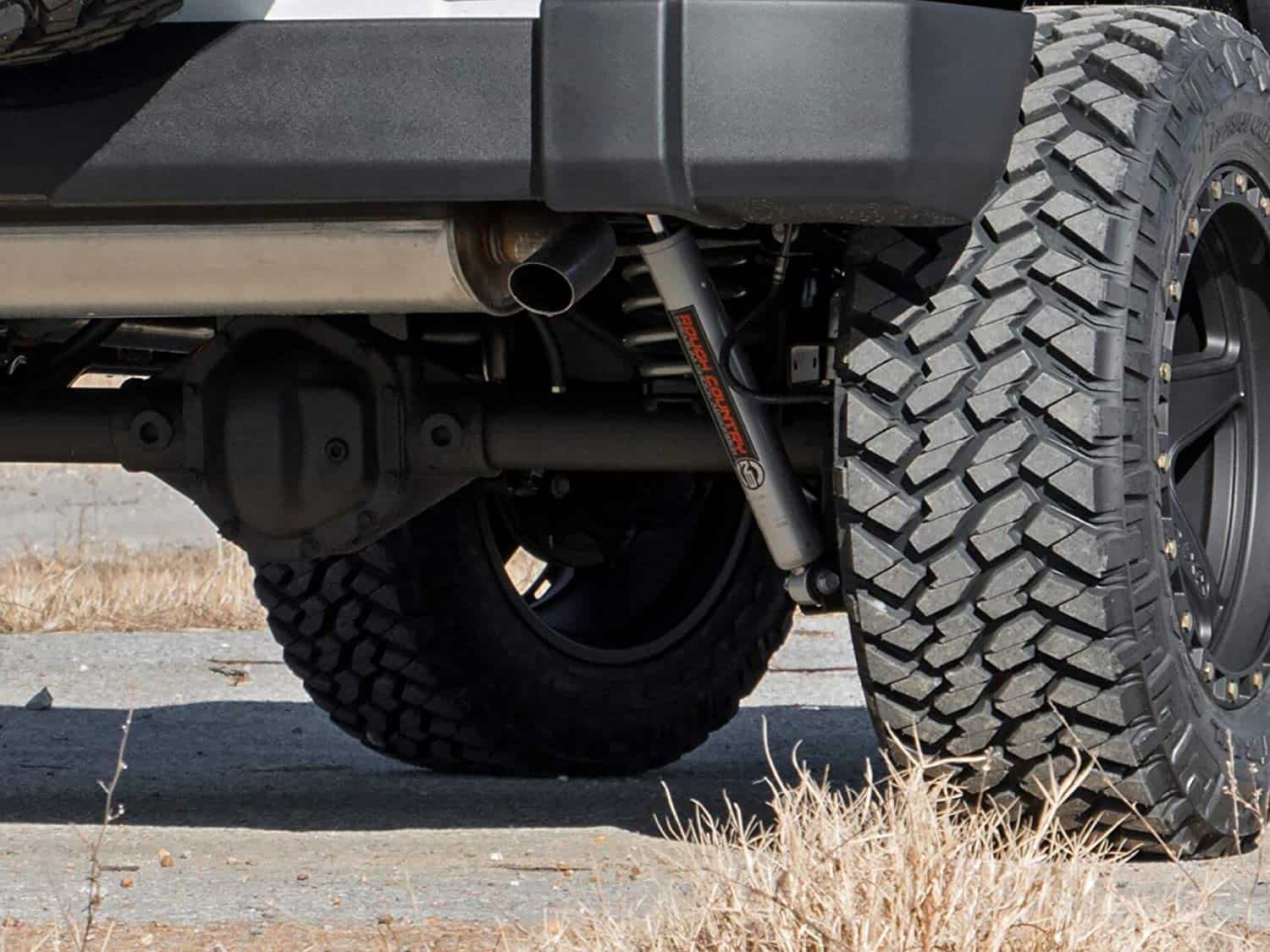 $50 and Below
Basic twin-tube shocks are what you'll find in the $50 and under price range, but that doesn't mean there aren't some bargains to be had. Rough Country and Skyjacker have their entry-level models here, and for the money, they're hard to beat. If you love your original OEM shocks, you'll also be pleased to know that the twin-tube options in this price range will give you a similar ride. Your Jeep TJ may not blaze new trails on rough terrain, but you'll enjoy a comfortable drive when you're on the pavement.
$50 to $100
Monotube shocks become an option in the $50 to $100 price range, but you'll also have the option of top-notch twin-tube shocks. Many of these shocks also wield a rust-resistant coating, as well as components that afford better off-road performance and less shock fade to boot. Teraflex and Rancho are a couple of the top names in this price range, and you'll know where that extra money went as soon as you tackle your favorite off-road terrain.
$100+
At $100 or more, you've priced yourself out of all but the best twin-tube shocks. However, many of the twin-tube shocks that go for this price provide an ultra-smooth ride that's hands-down better than those in lesser price ranges.
The big upgrade here is that you'll see familiar names such as Bilstein and Fox — two of the most reputable brands in the aftermarket shocks industry. Furthermore, you should find coilover shocks or remote reservoir shocks that provide exceptional heat dissipation and reduced shock fade compared to other prices. If you're an off-roading enthusiast, $100 or more for shocks isn't all that much to ask. Plus, you'll have handling and cornering that are beyond reproach, effectively turning your Jeep Wrangler TJ into an unstoppable force regardless of where you choose to drive.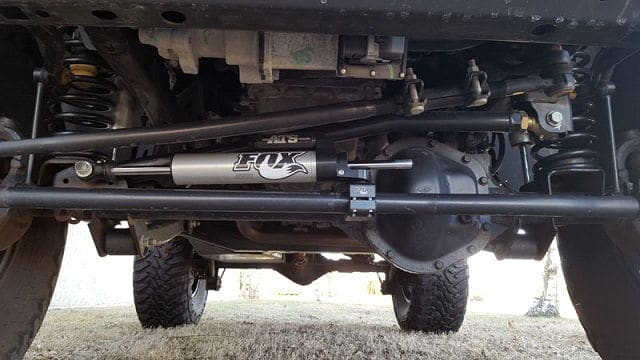 How to Install and Replace Front and Rear Shocks on a Jeep Wrangler TJ
If you're a DIYer, you might find that shock replacement is easier than you may have thought. So if you want to save a few bucks on installation or you're just interested in how shocks work or fit into place, here is a quick breakdown of how to replace your old front and rear shocks on a Jeep Wrangler TJ.
Loosen the front shocks, making sure that you hold the shock in place so it doesn't spin while you're loosening the shock. You may also have to apply some lube to be able to loosen the bolts. In some cases, removing the tire may also provide easier and quicker access.


Pull each front shock down and lift it out of place.


Pop the new shock into place by putting the bottom in first, compressing the shock, and then putting the top of the shock in place.


Ratchet the shocks into place.


Put the wheels back into place if necessary.


The rear shocks are more easily accessible with the wheels removed.


Once the wheels are removed, use a lubricant to lube the bolts.


The rear shocks are angled a bit more, but you should always start by removing the bolts on the bottom first. Then, remove the upper bolts. Remove the old shock.


Install the new shock by bolting the bottom part into place.


Put the top of the shock in place and bolt it in. Repeat on the other rear shock, and you're done.
If you need more instruction on how to replace the front and rear shocks on a Jeep Wrangler TJ, check out the link below:
Get a Shockingly Good Ride with the Best Shocks for the Jeep TJ
Regardless of which product you choose from the reviews above, you'll notice a marked difference in the drivability of your Jeep TJ no matter where you choose to roam. So don't overlook one of the most important components of your Jeep. While shocks may not have the allure of other aftermarket upgrades like tires, fog lights, or other aesthetics, they're the difference between a shockingly good ride and a mere ho-hum experience.
People Also Ask
Even after you've researched all of the shocks listed above, you may still have some questions and concerns. To alleviate these issues, check out some of the most common questions that people also ask about shocks for the Jeep TJ.
How Much Does It Cost To Replace Shocks On A Jeep Wrangler?
The total cost of replacing your shocks is almost entirely dependent on what type of shocks you buy and whether you're installing them yourself. If you're having a repair shop do all the work, you can expect the cost to lie somewhere between $400 and $800. If you do the work yourself, you only have to pay for the shocks, which should cost somewhere between $200 and $400.
How Can You Tell When You Need New Shocks?
There are several telltale signs that you probably need new shocks. A bumpy ride, problems steering, and braking issues may all point to shock issues. However, one surefire way to know that you need new shocks is by doing a simple test. Go to your Jeep TJ and push down on one corner and release it. If it bounces up and down more than two times, you're probably due for a new pair of shocks.
Do I Need To Replace All 4 Shocks At Once?
You may not have to replace all four shocks at once, but you should definitely replace them in pairs, whether it's both front shocks or both rear shocks. Replacing just one shock can have an adverse effect on handling and steering, so you'll want to take that into account when you're buying new shocks.
Who Worked on This?
---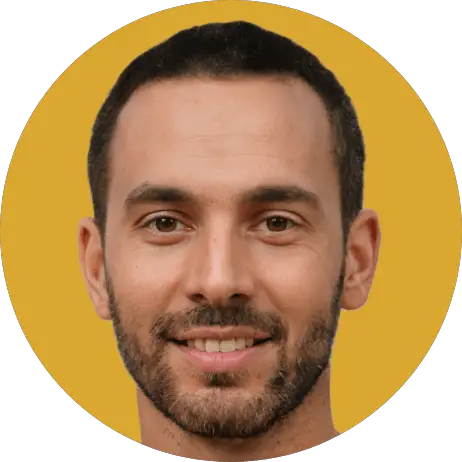 Brian
Editor
A master of organization, Brian helps keep everything running smoothly for Your Jeep Guide.
No Jeep yet but we're working on that!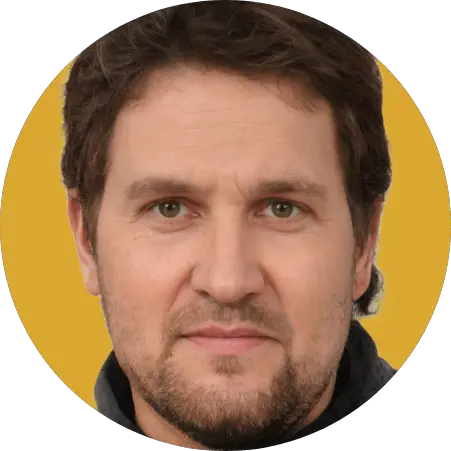 Cory
Writer
Cory loves his XJ and frequently thrashes it through the hills. He's constantly fixing something.

"What fenders?"
Check Us Out!