There are many options when considering a new roof for your vehicle.
As such, we've created a list of the best Jeep top covers available and look into the details of why each one stands out.
We'll also answer many of the questions you have before purchasing this add-on for your Jeep.
Comparison of the Best Jeep Top Covers
IMAGE
PRODUCT

Our Top Pick

Self-correcting, heavy-duty zippers offer smooth operation
Construction Material: Vinyl
Warranty: 3 years

View Latest Price →

Zipper-free panels for easy installation and removal
Construction Material: Black Diamond
Warranty: 5 years

View Latest Price →

Best Budget Option

Best for the Money
Construction Material: Vinyl
Warranty: 1 year

View Latest Price →

Best Jeep Soft Top Cover
Construction Material: Black Diamond
Warranty: 3 years

View Latest Price →

Best Jeep Wrangler Hard Top Cover
Construction Material: Aluminum or Stainless Steel
Warranty: 90 days

View Latest Price →
What Makes a Great Jeep Top Cover?
Several key characteristics make several perks follow a good top cover. With these features or properties, the roof you install can prevent damages and add style to your Jeep. 
Water-Resistance
Having the cover made from a water-resistant or waterproof material is essential, especially if you're in an area with frequent rain. This requirement keeps you, your passengers, and anything you're storing in your Jeep dry and rust-free.
Durable Material
If the cover isn't created from a durable material, it's likely to rip if snagged on a trail or simply from overuse of the zippers. This requirement often makes hardtops a prime choice, although they are more expensive. 
Ease of Access
Being able to remove one of the best Jeep top covers quickly is essential. Additionally, you should be able to remove windows and other parts easily. This removal will help if your rain or snowy weather is seasonal.
Lifespan
Any of the best Jeep top covers need to have a decently long lifespan, where you won't experience any flaws. Most of these items last for at least two years but can easily last longer if you take proper care of them. Additionally, having a warranty can expand the lifespan if you're in an accident that qualifies for the limited warranty to take effect.
At a Glance: Our Top Picks for Best Top Jeep Covers
Review of the Best Jeep Top Covers
These are the five best Jeep top covers available on the market. We've included reviews by recent customers and the details that stand out the most to us.
Sierra Offroad Factory Style Top
Fitment Years / Generations: 1997-2006 Wrangler TJ
Construction Material: Vinyl
Warranty: 3 years
We may earn commission from purchases made from our links, at no additional cost to you
What Recent Buyers Report
Many recent customers are satisfied with the Sierra top as it looks good and is easy to install. Some purchasers reported that the holes for installation weren't lined up in the exact spot required. However, this fault didn't prevent the customers from installing the piece.
Why it Stands Out to Us
The Sierra Offroad Factory Style Top stands out as the best Jeep top cover thanks to its marine-grade vinyl-coated fabric. This material is both waterproof and fade-resistant, making it an ideal choice for your vehicle. The vinyl is available in three options that allow you to choose an appropriate style for your Jeep.
The top is well crafted and has heat-sealed seams that prevent any water from leaking through to the inside. The product offers a three-year warranty should it break. The self-correcting zippers help prevent damage or bending when opening the top.
Bottom Line
Overall, the Sierra Offroad Factory Style Top is a great product that looks stylish on a Jeep Wrangler TJ. The material used is durable, waterproof, and fade-resistant while featuring sturdy zippers and seams. The piece is, however, known to have issues with its back window after a few years.
Pros
Heat-sealed seams
Three-year warranty
Self-correcting zippers
Available in multiple colors
Made from marine-grade vinyl
Cons
Absorbs heat
Back window has melted for some owners
Bestop Trektop NX Glide
Fitment Years / Generations: 2007 – 2018 Wrangler JK 4 Door
Construction Material: Vinyl
Warranty: 5 years
We may earn commission from purchases made from our links, at no additional cost to you
What Recent Buyers Report
Most customers found that the top was useful and worked well when swapping from fully deployed to open. A small number are unhappy with how the part appears when folded down. Additionally, a few purchasers recommend having a helping hand when installing this roof.
Why it Stands Out to Us
The folding design of the Bestop Trektop NX Glide that makes your Jeep comparable to a convertible is why it stands out as one of the best Jeep top covers. The product is available in many colors, making it a great choice if you're trying to match your vehicle's paint.
The roof provides a few useful utilities, such as an overhead storage compartment that can hold small items. Additionally, the flip section acts in a similar way to a sunroof and brings in more airflow. The zipperless design is another notable feature that makes it easy to set up the windows.
Bottom Line
The Bestop Trektop NX Glide is a beautiful component that can be challenging to install on your Jeep Wrangler JK. It provides a useful feature that acts like a convertible. However, the folded down roof is unappealing to look at.
Additionally, the zipperless design is slightly more tedious to use but doesn't run the risk of jamming.
Pros
Zipperless design
Sunroof-like section
Large variety of colors
Overhead storage pockets
Fully retracting system functions like a convertible
Cons
More complicated installation
Doesn't look great when folded down
Pavement Ends 51132-15
Fitment Years / Generations: 1988-1995 Wrangler YJ
Construction Material: Vinyl
Warranty: 1 year
We may earn commission from purchases made from our links, at no additional cost to you
What Recent Buyers Report
Many of the reports from recent buyers showed that while the cover is made of high-quality material, it has a few issues. Mainly the problems mentioned are a loose frame or that the structure didn't fit properly during installation. However, many customers have had no problems after setting the roof up.
Review
The aspect that makes the Pavement Ends 51132-15 stand out most is the material used for its construction. The automotive-grade fabric is high-quality and can resist damage from the sun that would cause fading. If installed correctly, the cover shows off its well-fitting design.
The top cover uses clear removable vinyl windows that are DOT approved. These parts are easily removable after you adjust them to the jam-resistant zipper. Additionally, anyone beneath the top cover is adequately protected from any leak, thanks to the sealed seam.
Bottom Line
Overall, the Pavement Ends 51132-15 is a decent choice when selecting from the best Jeep top covers for older Wrangler models. The part is constructed from durable materials but doesn't include any of the necessary hardware required to install it. Additionally, the sealed seams work well to keep you protected from the environment while surfing.
Pros
Fade-resistant
Well-fitting design
Vinyl windows approved by DOT
Sealed seams protect from climate
Created from automotive-grade fabric
Cons
Top can hold water during rain
Includes no hardware needed for installation
Rampage Products 990135
Fitment Years / Generations: 2007-2018 Wrangler JK 4 Door
Construction Material: Vinyl
Warranty: 3 years
We may earn commission from purchases made from our links, at no additional cost to you
What Recent Buyers Report
The installation is seen as challenging by a few of the recent customers. However, this challenge doesn't deter the buyers from enjoying the unique appearance this top cover provides. Unfortunately, a large number of customers are unhappy with the leaks caused by the seat belt arrangement.
Why it Stands Out to Us
The Rampage Products 990135 offers a customizable design that stands out by being adjustable to your needs. The piece can stay closed and fully protect you from the elements or be opened into a safari-style roof. The material used is resistant to the UV rays of the sun and won't fade quickly.
There are multiple storage compartments, such as the roof section that holds and conceals your windows when removed. The large window sizes allow for easy visibility as you're driving. Additionally, the sailcloth material helps your interior resist mold and mildew.
Bottom Line
As an option for many of the more recent Jeep JK models, this is a great product. The piece has large windows and a foldback design that makes it suitable for on- or off-road traveling. However, a few leaks can leave your interior getting wet due to all the configuration and adjustability.
Pros
Multiple interior pockets
Created with UV resistant sailcloth
Large windows for greater visibility
Changeable design to fit your needs
Foldback design allows effortless opening
Cons
Not a perfect fit
Doesn't protect rear seat belt straps
Best Jeep Wrangler Hardtop Cover
Surco HT200 Hardtop Carrier
Fitment Years / Generations: 1966-2021 CJ-7, Wrangler YJ, TJ, JK, JL, Unlimited
Construction Material: Aluminum
Warranty: 90 days
We may earn commission from purchases made from our links, at no additional cost to you
What Recent Buyers Report
Many of the recent buyers found that this product worked extremely well to store the hardtop cover when not in use. However, a few reported that the item is easy to misplace if you use it infrequently. Most found the item to be durable and well-constructed.
Why it Stands Out to Us
The Surco HT200 is a brilliant add-on to any Jeep with a hardtop cover and stands out by firmly storing the roofs. The stand can hold any of the bodies from all of the Jeep Wrangler models. There are soft areas where the top contacts the frame, protecting it from any damage or unnecessary wear.
The item's construction is extremely durable as it's constructed from metal and carefully put together. The piece is lightweight and can be stored in a corner or on a shelf when not in use. The four wheels feature two locking ones to firmly remain in place after you've moved the cover to a suitable spot.
Bottom Line
The HT200 is a brilliant add-on to keep your best Jeep top covers stored when not in use. The item is lightweight and well-made to store your hardtop cover without taking up a large space. The softened contact points hold your part without putting any strain on the touching areas.
Pros
Durable design
Softened points of contact
Fits all Jeep Wrangler hardtops
Lightweight and compact design
Four wheels for ease of movement
Cons
Not an actual hardtop
Design can fail to grip cover properly
Are Jeep Top Covers Universal?
Unfortunately, most of the best Jeep top covers aren't universal. This limitation is due to the massive differences between the shapes of the various Jeep models. The top often has a frame that guides it along as it's in use. Without the structure, the cover will likely collapse.
However, you need to fit the correct frame onto the vehicle you're using currently. As each Jeep series has different dimensions, you can't set up a random cover with any Jeep model. The lack of universal options requires you to ensure that your Jeep is the correct model for the roof you're buying.
What Size Top Cover Do I Need for a Jeep?
When considering any of the best Jeep top covers, you have to keep size in mind. If your Jeep model has options with two or four doors, you'll have to find the size that fits your vehicle. 
Your main point of concern with the sizing is the width of the cover. After that, you'll need to ensure the roof section reaches over and can firmly enclose itself on your Jeep. These size requirements are going to change depending on the Jeep model you have.
Fortunately, when deciding on the size, you can often find a cover that states it'll fit your Jeep's model. This method is the easiest way to ensure that the top is the correct size for your vehicle.
Perks of Getting a New Top Cover for Your Jeep
Several perks follow after installing a new top cover on your Jeep. These are especially prevalent if you haven't used one yet.
Protects the Interior
Any of the best Jeep top covers protect you and your interior seating as you drive. Often this is a protection from rain and sun, but it can extend to protecting you from high winds or snow. 
Adds Style
Changing your top cover is a significant impact on the appearance of your Jeep's interior and exterior. There are various colors and materials for you to choose from when purchasing a new part. This selection aids in making your Jeep's appearance feel genuinely unique.
Helps Protect From Thieves
Whether you're using a soft top or hardtop, both options can deter thieves looking for an opportunistic grab and run. With soft covers, you can lock the zips, preventing their removal. Additionally, the roofing itself will require time to remove or cut through if someone wants access to your Jeep's interior.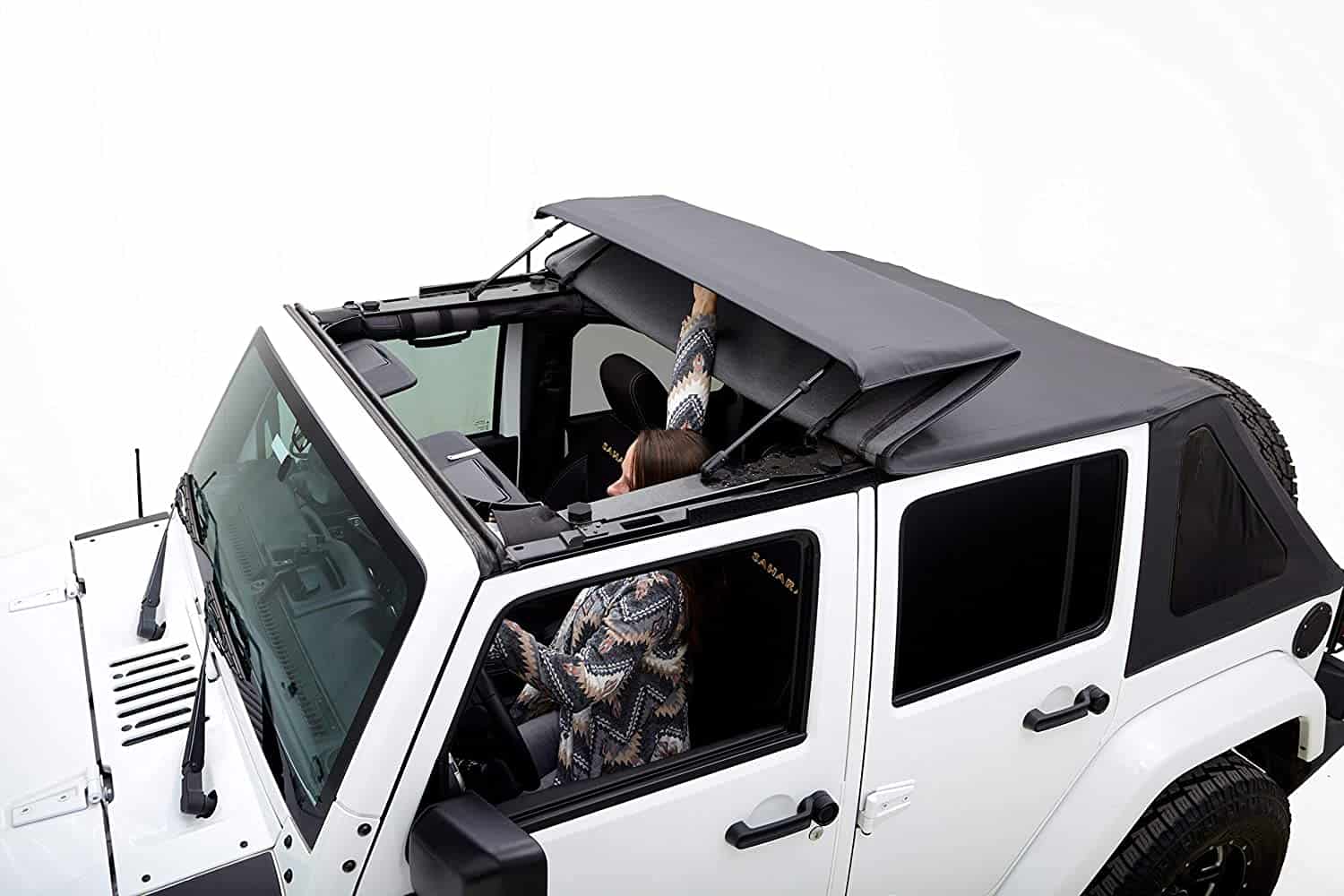 Smoother Ride
As you're driving with a cover, you limit the impact from the wind traveling over your vehicle as you go. This protection provides a smoother ride by lessening the reach of the wind that would generally affect drag. The part also helps quiet the noise from rushing wind that would typically pass over you.
Types of Jeep Top Covers
There are a few types of top covers to select from when choosing the best fit for your Jeep. The distinction lies mainly between hard and soft models, but there are a few options available within these ranges. The following are a few of the many options you can choose from when selecting a top for your Jeep.
Framed
A framed soft top cover has an aluminum skeleton that provides support and maintains the product's shape. The frame is attached to the roll bar of the Jeep and can require a slightly longer installation. These models are at times retractable but take up storage space when compressed.
Frameless
A frameless soft top has a far different method of supporting itself and an easier installation. The models without a frame have no reinforcement, making it easier to collapse them. However, the item is far easier to store and takes up less space than any other option.
Modular
Modular top covers are incredibly versatile as you can remove or adjust pieces to your liking. This versatility helps you quickly open a flap to act as a sunroof or remove windows with ease. These models are often an excellent choice in cold weather as they're generally made from an insulating material.
Bikini
A bikini soft top is designed for warmer climates that require more airflow. However, the model leaves passengers in the rear seats open to the elements. This design is ideal for beach areas but not other off-road terrains.
Hardtop vs Soft Top for Jeep – Comparison Overview
It can be challenging to consider whether a soft or hard cover option is ideal for your Jeep. Both varieties look stylish and can make your vehicle feel unique and stylish. However, there are a few areas where the differences are noticeable.
The two models' primary difference is the durability as soft tops are made from a fabric and hardtops are more reliable. This distinction makes a hardtop a better option when traveling off-road or in a hail storm as it'll take less damage. However, as a hardtop has no give to its design, it can form dents if hit with enough force.
A soft top is often a much more stylish option to install on your vehicle. Many of the best Jeep top covers are soft models as it's easy to adjust them, and there's a large selection of features available. You can easily change the piece to open like a sunroof or act as a convertible.
A soft top is more straightforward to install than a hardtop and takes up less space if you remove it for storage. However, a hard model is far more insulating and better suited to colder weather than the soft covers.
How to Install a Jeep Top Cover
Installing any of the best Jeep top covers is an easy task but can take a while due to its complexity and size of the product. It's advisable to have an extra set of hands to help hold everything in place as you fit it all together. If at any point you're confused, there's a video with the full instructions below.
What You'll Need
You need to gather the right and left side door rails, the door frames, the rear retainers, and your soft top brackets before you start. Additionally, you'll need the appropriate amount of door frame attachment set screws.
Remove the Current Cover
First, you'll need to remove the existing top of your Jeep if you have one currently installed. You can easily unclip and unlatch a hardcover, but the soft top will require a little more work.
Installing the New Cover
To start, you'll need to set up the door rails and the doorframes located near the back of the vehicle. Once they're set up, you can screw the parts on using the torque set screws. Ensure that the rubber seal is flat to avoid any unwanted leakage in the future.
Attach your soft top brackets, and the rear retainers and firmly screw them into place. Lift the top cover into the vehicle until the assist mechanism is in line with the frames. After this, quickly insert the guide into the rails and lift the top.
Conclusion
Choosing the best Jeep top cover isn't an easy choice as there are many aspects to consider. You'll need to decide if a hard or soft shell is the best fit and find the product that fits your vehicle model. There are plenty of points to consider when you're installing a new top cover on your Jeep.
Quick Summary – Best Jeep Covers
Here's a quick wrap-up of the best Jeep covers:
People Also Ask
These are the commonly asked questions that many people have regarding the best Jeep top covers. These will provide answers from the cost of a top cover to whether you need one to drive. Many other points of interest have already been answered in earlier sections.
How Much Are Jeep Top Covers?
Depending on the quality of the product you're buying, you can find a soft top cover for $60 to $900. However, this cost is nowhere near a hardtop model as that part will cost over $500 and possibly greater than $1,000. This price difference is massive due to the quality and longevity of a solid cover.
Can I Drive Without a Jeep Top Cover?
You can remove the top entirely if you prefer to drive without it. The lack of a roof doesn't affect how you travel but it will be windy and potentially wet if it rains!
Who Worked on This?
---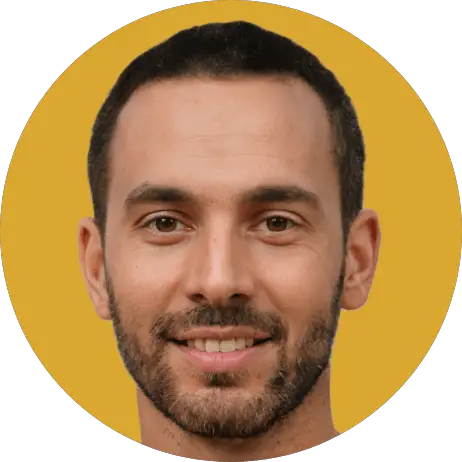 Brian
Editor
A master of organization, Brian helps keep everything running smoothly for Your Jeep Guide.
No Jeep yet but we're working on that!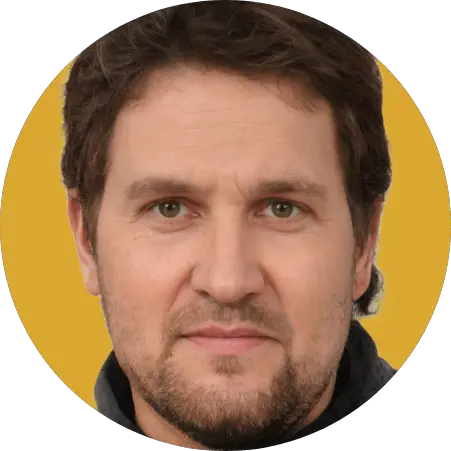 Cory
Writer
Cory loves his XJ and frequently thrashes it through the hills. He's constantly fixing something.

"What fenders?"
Check Us Out!