If you've never given much thought to your Jeep's air filter, you're not alone. Many people simply use their jeep Wrangler to get from one place to another and enjoy off-roading.
But after prolonged driving, you will begin to notice a difference in air flow quality. You may see thick air, reduced air flow, a dirty odor and weird colors in the air.
Just like the air filter under the hood of your jeep Wrangler that allows your engine to breath clean air that's air box, your jeep wrangler interior heating and air conditioning system also has an air filter allowing you and your passengers to breath clean air.
The factory filter is a large one-piece paper style filter that can be pretty flimsy and some models of the Jeep Wrangler don't come with even that.
So if you're on the lookout for new jeep wrangler air filter, you've come to the right place.
Comparison of the Best Air Filters for Jeep Wrangler
IMAGE
PRODUCT

Our Top Pick

aFe Magnum Flow Dry Air Filter for Wrangler JK

Bump seal included for extra protection
Reuseable: Yes
Kind: Dry

K&N High-Performance Filter Jeep Wrangler JK

10 years limited warranty included for peace of mind
Reuseable: Yes
Kind: Oiled

Best Budget Option

ECOGARD Cabin Air Filter for 2011-2017

Compatible with all Jeep Wrangler JK models
Reusable: No
Kind: Dry

Double engine protection with air filter
Reusable: No
Kind: Dry

POTAUTO MAP 2010W Cabin Air Filter Replacement (2010W)

Very easy to install in your vehicle
Reusable: No
Kind: Dry
Review of the Best Air Filters for Jeep Wrangler
Here is my list of the top 5 options that you can find online:
aFe Magnum Flow Dry Air Filter for Jeep Wrangler JK
Fitment Years / Generations: JK
Reuseable? Yes
Oiled / Dry: Dry
The aFe Magnum Flow air filter has been created to suit Jeep Wrangler JKs. Made of plastic, this filter features 3-layers of synthetic polyurethane to keep the engine running well.
These layers let air flow even when it is quite dirty. The filters use a rounded pleat design to increase the surface area thus increasing the dirt/dust capturing capacity.
Since this is a dry filter, it is easy to clean. There is no oil involved in using this filter thus it can be used multiple times after cleaning it- which is something oil-filters cannot offer.
Cleaning them is as easy as stacking them on a flat surface but we recommend using a vacuum cleaner/hose to do the job.
The filter is sealed with urethane which ensures minimal leakage and eliminates the usage of gaskets or sealants. Since the urethane is soft, it will return to its original shape allowing for a better fit.
The synthetic materials used make it weather-resistant so if you plan to use your jeep wrangler in hot weather, the aFe is a good option.
aFe claims that we can see an improvement by up to 45% in horsepower and torque, now we cannot measure that exactly but we did see better performance and quieter idling time.
All aFe filters come with a lifetime warranty. Many owners have had these for an extremely long amount of time, 5 years and up.
Pros
Durable as this filter can last for years
As this is a dry-filter, there is no spillage of oil or mess involved
Thick rubber seal around the filter ensures that no dust or moisture gets in
Cons
Issues are mostly due to improper fit so aFe should come up with a list of jeep wrangler this model is compatible with
K&N High-Performance Filter Jeep Wrangler JK
Fitment Years / Generations: JK, 2007-2018 Jeep Wrangler
Reuseable? Yes
Oiled / Dry: Oiled
When it comes time to replace your dirty, old cabin jeep wrangler air filter, it is a good choice to upgrade to a washable, reusable style cabin filter from K&N.
Thanks to K&N's million-mile warranty, this could be the last cabin air filter you buy for your jeep wrangler. Specially made for the Jeep Wrangler JK, this replacement air filter unit can handle high acceleration and horsepower.
This unit can fit easily into the filter box and has the advantage of being washable. It uses a 6-layered cotton-gauze mechanism to filter out impurities which are layered between two sheets of wire mesh covered with epoxy.
It is pleated well and oiled to enhance filtration abilities. This filter has a simple drop-in design and also enhances performance.
Many reviewers found that this filter lasted them for at least 50,000 miles in harsh driving conditions.
You will have to clean it, re-oil the filter and give it 1-2 days to dry before using it again. This process will not occur often however, this is essential to give this filter a long-life.
Pros
Great warranty
Improves throttle response
Sturdy and will last for years
Washable/reusable
Has shown to increase gas mileage for some
Cons
The filter has square corners instead of the more common rounded ones, so you might need to trim the corners according to your Jeep Wrangler
ECOGARD Cabin Air Filter for 2011-2017
Fitment Years / Generations: 2018 JK, 2011-2017 Jeep Wrangler
Reuseable? No
Oiled / Dry: Dry
If you own a Jeep Wrangler model between 2011-2017 then you are well aware that it comes with a standard air filtration system.
But the issue is that it does not come with filters installed at the factory. So it's a good thing that the Ecogard is a perfect fit.
Most ECOGARD cabin air filters can be installed in less than 15 minutes without a lot of tools. All filters from ECOGARD come with precise installation instructions anyway.
This cabin air filter gets rid of dust particles, allergens, pollens, air pollution, and other airborne contaminants.
This Cabin Air Filter will improve your driving experience irrespective of how hot and dusty it is outside as the air inside will be free of impurities and allergy-causing pollen.
This replacement cabin air filter can also limit the early wear and tear of the parts of your Jeep's climate control system.
Keeping the air clean will have a positive effect on the Jeep Wrangler's air conditioning and heating system also. The manufacturers recommend that you replace this jeep wrangler air filter after 12000-15000 miles for normal city or highway driving.
But if you plan to use your Jeep Wrangler to a lot of road debris or live in an area with airborne contaminants, you should replace your cabin air filter at least once a year.
The ECOGARD Cabin Air Filter is easy to install. It does not require the use of any tools and it can be done in only a few minutes.
Pros
Good value for money
OEM filters Collect pollen, dust, and dirt even in a highly dirty environment
Easy to install but you can get a professional to do so at a cheap cost
Cons
The rubber seal is not bonded to the filter cartridge as is the case in the OEM
Fram Cheap Air Filter
Fitment Years / Generations: JK, 2007-2018 Jeep Wrangler
Reuseable? No
Oiled / Dry: Dry
The Fram air filter is a great value for money and can deal with serious amounts of dust, pollen, and contaminants.
The pleats on this filter rise in both directions around an inch from the center, increasing the surface area. You'll save money compared to anything out there. Some reviews even mention using this filter in the desert. It almost looks like an OEM swap to us but is cheaper and the quality cannot match the former.
It's a thinner design with the sealing plastic being softer than the OEM. Installation is pretty easy and all you need to do is drop the glove box open, pinch in the tabs on the side to swing it further, remove the old filters and drop the Fram filter ones. Fram recommends that you replace these filters on reaching 12,000 miles as this point further you will not see an improvement in performance.
All in all, if you want to replace your jeep wrangler air filter and you live in a dusty area, the Fram filter is a good option as they are inexpensive and will last you several years. Engines are rather pricey after all, and keeping dirt out of them is really important.
POTAUTO MAP 2010W Cabin Air Filter Replacement (2010W)
Fitment Years / Generations: 2018 JK, 2011-2018 Jeep Wrangler
Reuseable? No
Oiled / Dry: Dry
The POTAUTO MAP 2010W Cabin Air Filter Replacement (2010W) perfectly fits your Jeep Wrangler JK. The manufacturer claims that this cabin air filter can remove almost 98% of airborne contaminants, which is quite an impressive number.
While the original Jeep Wrangler filter is one square filter, the Potauto features 2 pieces that are easier to install in the tight space. Installation is simple and you need to remove the glove box, open the cage and fit the filters in. If you're a bit confused, there are many videos on Youtube to help you install them by yourself.
Since it is a high-density micro-fiber filter, it can absorb dust, pollen, diesel soot, and bacteria with ease which will freshen the air immediately. This cabin air filter prevents you from breathing poor quality air but also helps enhance the performance of your system. I recommend that you change the filters after 12,000 miles as any further will not give you good results.
The biggest plus point of this air filter is the price as it is much more affordable than the OEM filters while having the same pictures.
Guide to Buying an Air Filter
Here are a few features that determine how well the air-filter works and will help you choose the right one for yourself:
Compatibility
You should check for the specifications of your car model before shopping for a new one.
An easy way is to look at the part number and specifications in your old filter and buy one with the same numbers.
Otherwise, when you buy online, you can a compatibility list to cross-check your jeep wrangler with the air filter
Types of Air Filter
Paper Engine Air Filters
The most rudimentary kind of air filter, they are made of paper using a special kind of wood pulp.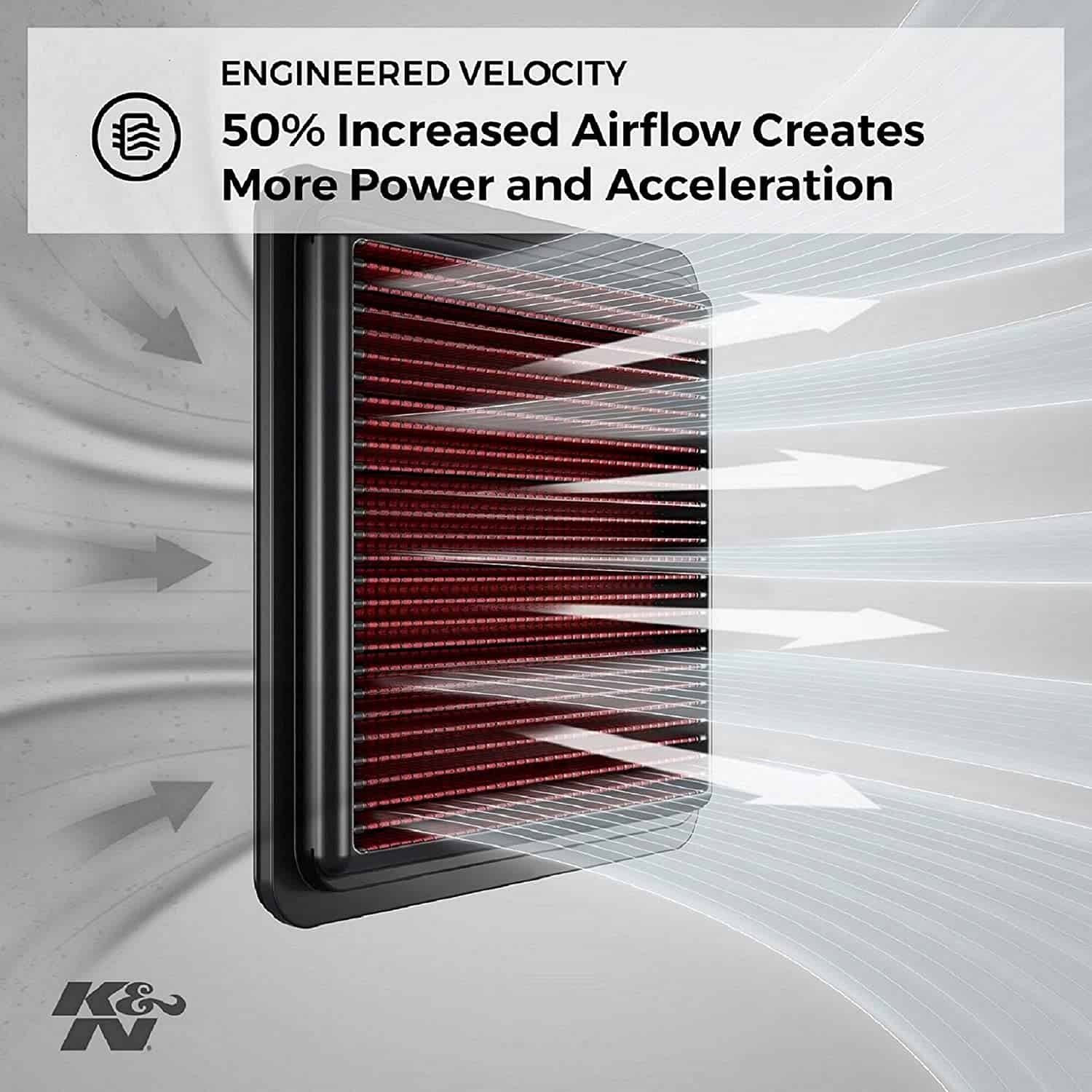 Being fine and porous, they are pleated out to increase the volume covered. It usually weighs between cover 100 g/m square to 200 g/m square in weight.
These filters are sealed with foam or plastic at the edge. They are affordable compared to other types and are good for jeep wrangler present in less dusty areas or less pollution. However, they tend to get worn out after reaching a particular mileage and cannot be reused.
Cotton Engine Air Filters
This air filter has multiple rows of cotton trapped between mesh screens. The cotton material is dipped in your jeep wrangler oil which helps trap most of the dust without affecting airflow.
They are long-lasting and reusable. When you feel that the filter is clogged, you can wash and re-oil it. But if you're the no-fuss involved kind of person, you will find the maintenance to be annoying. Also, they tend to be more expensive than paper filters.
Foam Engine Air Filters
These are very similar to cotton filters but they use polyurethane foam instead of cotton gauze. It is also dipped in oil to trap small dirt and dust particles from the air.
They are reasonably priced and are the popular choice for off-road vehicles as they can tackle a lot of dust and dirt.
Temperature Resistance
If you live in an area that experiences high-temperatures, you better chose air filter which is resistant to extreme weather.
Ease of Installation
Instructions that are simple and easy to follow are always a bonus feature, especially if you are a beginner. For some filters to operate properly, a particular side needs to be towards the air source.
You can get professional auto mechanics to do this for you and usually they should charge around $ depending on your jeep model.
But the service charge will end up being pricier than your air filter! Youtube is a good resource and you can refer them to install most of the above filters.
Lifespan
The lifespan of air filters is measured in terms of miles or months. It is quite obvious that the lengthier the lifespan of the air filter the more value for money you get.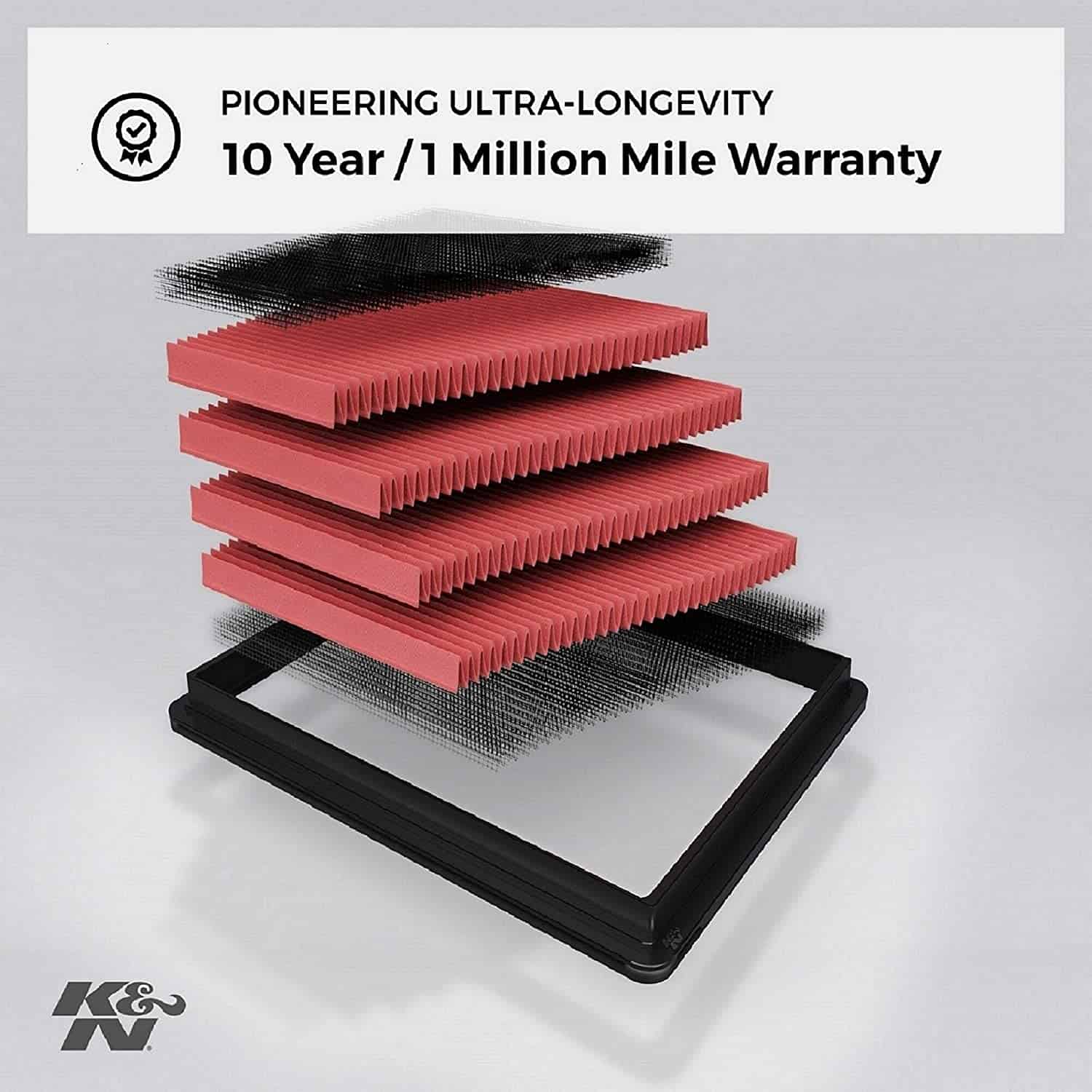 This also means they will have to be replaced less frequently. Even if the filter is easy to clean, you wouldn't want to keep taking it out and cleaning it.
Final Thoughts
All manufacturers mention the lifespan on their air box and you shouldn't try to use it beyond the set lifespan. At that point, they could be really dirty and will not adequately protect you from dirt and dust which is bad if you suffer from allergies.