Shock absorbers do exactly as their name suggests, they absorb the shock caused by hitting potholes, driving on a rocky road, driving over bumps, or off-roading.
Without shocks, your Jeep XJ would bounce up and down uncontrollably. The job of shock absorbers is to make that move as smooth as possible.
There are different types of shocks made for different purposes, so before we look at the best shock absorbers for a Jeep XJ, let's discuss a few factors you should consider.
Comparison of the Best Shocks for Jeep XJ
IMAGE
PRODUCT

Our Top Pick

Highlighted by a fluon band piston for better control
Made to reduce friction and support smooth performance
With a load capacity of up to 1,100 lbs

View Latest Price →

Perfect for Jeep Cherokee XJ 1984-2001
Coming in form of a 54mm cooling body
Highlighted by a 10 stage variable valving

View Latest Price →

Best Budget Option

Best for the Money
With a rear lift of 5 to 8 inches
Two pairs of front and rear shock absorbers

View Latest Price →

Best Jeep XJ Fox Shocks
Highlighted by a 1 year limited warranty
An aluminum body for sturdy performance

View Latest Price →

Best Bilstein Shocks Jeep XJ
Offering a travel length of 9.63 inches
Perfect for lifted trucks and SUVs

View Latest Price →
Factors to Consider Before Buying Shocks
These are the factors you should keep in mind before buying shocks simply because you'll save yourself a lot of headaches and money if you do. Making a wrong decision will just lead to purchasing another set of shocks sooner rather than later. 
Are Your Shocks Worn Out?
Shocks make such a tremendous impact not only on comfort but your entire vehicle. If your shocks are soon to be at the end of their life, you might want to wait before purchasing a new set. It wouldn't be such a bad idea because shock absorbers aren't designed to last that long. There is only one case where you can disregard this factor, and that is if you're going for a specific build and your Jeep's current shocks just aren't doing the job that you want them to.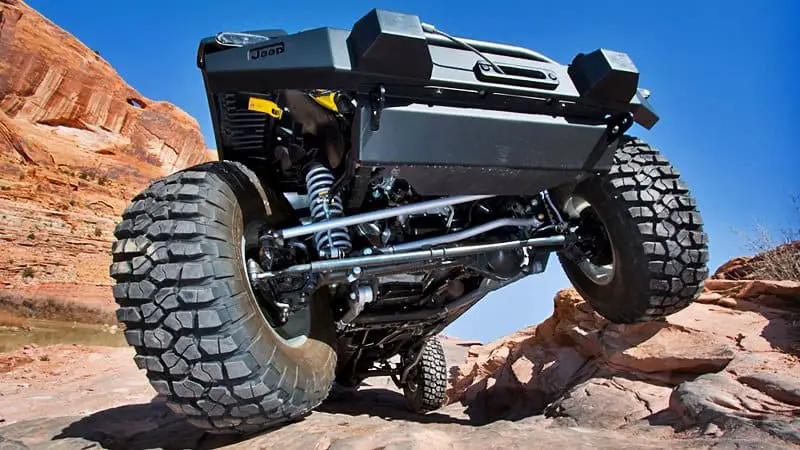 With worn-out shocks, your Jeep will be bouncing up and down, almost uncontrollably; it won't feel solid. You can also push down and up your vehicle and if it doesn't stop bouncing once you stop pushing, that's another sign that you've got worn-out shocks. The last thing you should check is oil/fluid leaks on your shocks. Most likely, you won't see any fluid but you'll notice grime and gunk build-up from the aftermath of oil leaks.
What Type of Shocks Do You Need?
The most common are twin-tube shocks. They're very simplistic; a shock cylinder filled with fluid and they have a piston inside. These are usually the shocks any vehicle comes with from the factory. They're excellent for daily driving because they offer a comfortable ride and they cannot be pushed too hard. You can forget about any kind of performance driving with twin-tube shocks because the fluid will become too hot, foam, and leak out.
Next are monotube shocks. Monotube shocks are always filled/charged with nitrogen, which they have a separate cylinder for, and they can hold more fluid. That's why they offer better cooling and better efficiency. Monotube shocks are excellent for off-roading, and because of their firmness, they're a great idea if you have a lifted XJ.
Hydraulic shocks were usually used in older vehicles. There isn't any gas inside of them, instead, the oil flows between the lower and the upper part of the rod through a little valve. They aren't designed for off-roading, and shouldn't be sought out anymore.
Will The Shocks Fit And Lift Your Jeep?
Some shocks will not be able to fit unless you have a certain amount of inches of ground clearance, and this is important to research before you purchase a set of shock absorbers. At the same time, you should know that some shocks increase the distance between the axle and the frame.
At a Glance: Our Top Picks for Best Shocks For Jeep XJ
Review of the Best Shocks for Jeep XJ 
Here's what we've found to be the best shocks for your Jeep XJ, you won't go wrong with any of these.
Monroe 58594
Compatibility: Fits Jeep XJ, but if it's lifted more than 3" you will need to mod the axle mounts
Type: Load-adjusting shock absorbers
Ideal Use: Towing and hauling heavy loads
Warranty: Monroe will replace the defective shocks if you file a claim
We may earn commission from purchases made from our links, at no additional cost to you
Review
Monroe 58594 shock absorbers will make your Jeep Cherokee feel firm again. The shocks' biggest advantage is their towing capability. They will make hauling heavy loads much, much easier, in a way that you won't feel like you're truck is about to fall apart; it'll actually feel solid and firm.
Another advantage of Monroe 58594 shock absorbers is that they adjust to every type of road very well thanks to the automatically adjusting full-displaced valving. They'll feel comfortable whether you're driving on the pavement or a rocky road.
These shocks might be the best for a Jeep XJ, but they're costly, so unless you really need them for towing, or maybe you just have money to spend, regular shocks will do just fine.
Bottom Line
If you have the money, you won't regret investing in Monroe 58594 shock absorbers, that's the bottom line. Otherwise, you really should purchase them if you're daily towing heavy loads with your Jeep XJ. Other than that, another set of shocks from our list might be a better option.
Pros
Adapts very well to road change
Offers a comfortable ride, even under a load
Excellent option for a work truck that hauls loads daily
Cons
Expensive compared to other shocks
Unless you constantly haul loads these shocks won't be that useful
Rough Country Premium N3 (4.5-6″)
Compatibility: 1984-2001 Jeep Cherokee XJ
Type: Monotube shock absorbers
Ideal Use: Excellent for off-roading, decent for pavement driving
Warranty: 3-year warranty, which is quite good
We may earn commission from purchases made from our links, at no additional cost to you
Review
The Rough Country Premium N3 shock absorbers are a perfect choice for an off-roading enthusiast on a budget. What's even better is that they offer a good ride quality even when you're driving on the pavement. In other words, these are excellent if you want to make your Jeep Cherokee XJ a daily-driveable off-roader.
The shocks are high-quality, they're quite solid, and the fluid inside of them is very resistant to heat.
Sadly, the Rough Country Premium N3 shocks only fit Jeep Cherokee XJs that are lifted from 4.5" to 6".
Bottom Line
If Rough Country Premium N3 shocks fit your Jeep XJ, and you enjoy off-roading, we highly recommend that you purchase them. And even if they don't fit right now, but you're looking to make your Jeep an off-roading machine, it wouldn't be such a bad idea lifting your Jeep to fit these.
Pros
Great on and off the road
The 3-year warranty alone should tell you how quality these shocks are
Quite a good price considering the quality of the product; good bang for buck
Cons
Only good on 4.5" to 6" of lift
Does not come with installation hardware
Skyjacker Hydro Shocks
Compatibility: 84'-01' 4WD and 2WD Cherokee XJ with 0-3" front lift and 1-3" rear lift
Type: Hydraulic shock absorbers
Ideal Use: For daily driving only
Warranty: No warranty offered
We may earn commission from purchases made from our links, at no additional cost to you
Review
The Skyjacker Hydro Shocks are very good at their job. They're entry-level shock absorbers that will definitely improve your Cherokee XJs ride quality on the pavement. However, when it comes to heavy off-roading, or anything more than very light off-roading the Skyjacker Hydro shocks aren't a good idea.
Two out of four Amazon customers weren't at all pleased with the product, but from the reviews we got from other sources, we can tell you that these shock absorbers will serve you very well as long as you don't push them too hard, but, if you do, they're gonna blow.
Bottom Line
If you're just looking to replace the old saggy shocks that have been on your Jeep Cherokee XJ forever, the Skyjacker Hydro shocks will do a splendid job for barely any money. They're really the best bang for your buck simply because they come from a brand that can be trusted, they have decent quality, and they're your basic entry-level shock absorbers.
Pros
Excellent value for money
Excellent entry-level shocks
Offers a very comfortable ride
Cons
Shouldn't be used for heavy hauling or off-roading
Very mixed reviews from customers who bought these
Fox 2.0 Performance Shock (3.5-4.5″)
Compatibility: 1984-2001 4WD and 2WD Jeep XJs with 3.5" to 4.5" lift
Type: Monotube shock absorbers
Ideal Use: Made for off-road use
Warranty: 1-year warranty protection from defects and premature failure
We may earn commission from purchases made from our links, at no additional cost to you
Review
Fox's 2.0 Performance shock absorbers are the definition of "you get what you paid for."
These are definitely worth every penny because they offer predictable, stable handling even in the toughest off-road conditions. On the road, however, they aren't so great because they're really firm, which won't be very pleasant to drive daily.
Fox offering a 1-year warranty on these shock absorbers should tell you everything you need to know about their quality. You'll be able to push them as hard as you want without them blowing, and even if they do, Fox will replace them.
Another great thing about Fox 2.0 Performance shocks is that they come with every piece of hardware necessary included. So if you plan to install these yourself, you won't have to search for bolts that fit.
Bottom Line
The bottom line is this: if you plan to take your Jeep Cherokee XJ off-roading, purchase the Fox 2.0 Performance shocks, otherwise, look for another set of shocks from our list. It really is that simple.
Pros
High-quality shock absorbers
Go-to off-roading shock absorbers
Comes with every piece of hardware necessary included
Cons
Aren't that cheap
Not the best shocks for the pavement
Best Bilstein Shocks Jeep XJ
Bilstein 24-188197
Compatibility: 84' to 01' Jeep Cherokee XJ with 3" to 4.5" lift
Type: Monotube shock absorbers
Ideal Use: Great for pavement, great for off-roading
Warranty: Limited lifetime warranty for defective product
We may earn commission from purchases made from our links, at no additional cost to you
Review
The only downside of these shock absorbers from Bilstein is that you didn't buy them sooner. They're really that good; it's difficult finding any flaws with them.
These shock absorbers are monotube which naturally makes them excellent for off-road use. However, they aren't too shabby for the pavement either because they're tuned for every application.
Even though Bilstein doesn't offer a failure warranty for these shocks, they are of the highest quality, and those who bought these shocks will tell you the same.
Bottom Line
Bilstein 24-188197 shock absorbers are cheap, they're high quality, they're excellent for off-roading and they're quite decent for pavement driving. There really are no downsides to these shocks unless of course, you don't plan to off-road. In that case, look for another set of shocks from our list.
Pros
Great value for money
Excellent shock absorbers for every road condition
High-quality shock absorbers that are praised by everyone
Can You Install Your Own Shocks?
Installing shock absorbers is relatively simple as long as you have the necessary tools and you have some, at the very least entry-level knowledge of working on cars.
Installing all four shock absorbers shouldn't take you more than a few hours and you'll save yourself some money. Still, you should be careful not to hurt yourself, especially if you aren't experienced.
As long as you read through the section below and watch the videos on how to install shocks on a Jeep XJ you shouldn't have any difficulties.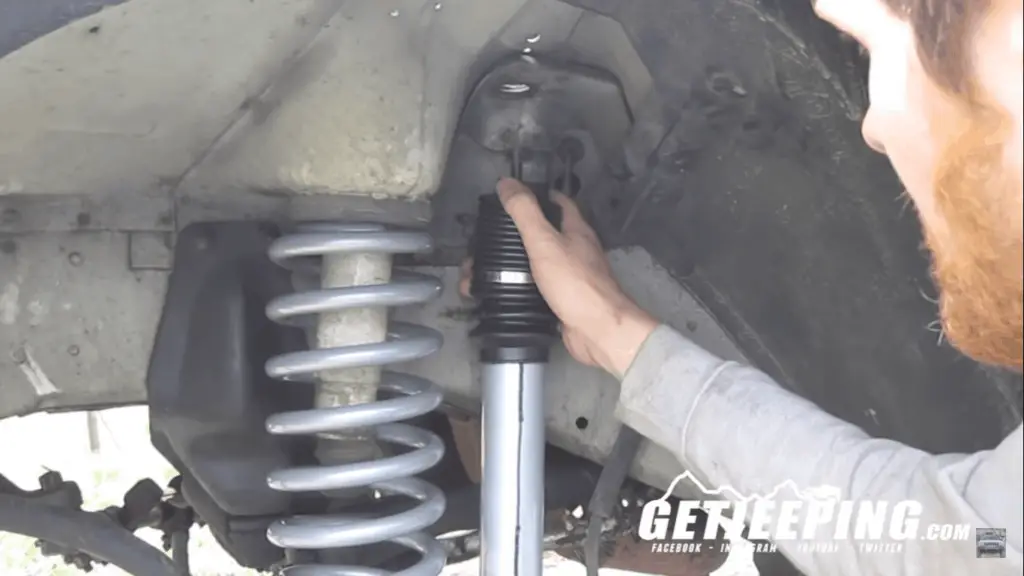 How to Install Front Shocks on an XJ
Before you even begin the installation, you should take a look at your hardware that might or might not come with the shocks. If hardware such as bolts did come with the shock, do not be afraid to cut or break any bolts, but you most likely won't have to.
Tools you'll need: A socket set, channellocks, an adjustable wrench.
First, you'll have to take off the tire and put your car on jack stands which is fairly simple. Once you take the tire off, locate the shock absorber. At the bottom of the shock absorber, there should be two bolts connecting the shock to the axle, unbolt the two bolts and pull the shock out of its place.
To unbolt the top of the shock from the frame of the vehicle, pop the hood and locate the bolt; on Jeep Cherokee XJ, it should be below the power steering pump. Next, if it's necessary, cut your shock absorbers so that you can grab them with the channellocks. Attach the channellocks which will hit the frame of the vehicle, get stuck, and prevent the shocks from moving while you're unbolting the bolt at the top.
Pull out the old shock absorber and put the brand new one into place. Put the bottom two bolts in, but don't tighten them down yet. Fit the shock through the hole at the top of the frame, set the gasket and the washer on top, and tighten everything down.
Do the exact same for the other side. If you're uncertain about something, take a look at the video down below, it should make the job even simpler!
How to Install Rear Shocks on an XJ
The rear shocks have three bolts, one 18mm bolt connecting the shock to the axle and two 13mm bolts connecting the shock to the top.
Before you unbolt the bottom bolt, you should either heat it up or spray WD-40 on it if it's rusty.
The top bolts are the ones that are difficult to remove because they have a high chance of snapping off.
First, loosen the bottom bolt and take it all the way off. Pull-on the shock absorber until it comes loose and comes off of the stud. 
Next, try to spray WD-40 on the top bolts, wait a little bit and then try to take them off.
Repeat the same process on the other side.
Now, take the new shock absorbers and hand-tighten the top bolts. Once the bolts are in place you can use a ratchet to snug them up. On the bottom, before you put the shock absorber in place, take a little bit of grease and put it on the stud to avoid premature shock ware. Put the shock absorber in place and tighten the bolt.
For a more detailed explanation, take a look at the video down below!
Conclusion 
You don't realize how much of an impact shock absorbers have on a vehicle's driveability until you replace them. Once you do replace your old worn-out shock absorbers, whether that's with comfortable twin-tube shocks or off-roading monotube shocks, you'll wish you had done it sooner. Just make sure to take your time during the installation and don't get yourself hurt.
People Also Ask
Because shock absorbers aren't such a predominant modification, they aren't talked about as much. So, once our customers realize how worthwhile replacing the shock absorbers is, they come to us, usually with similar questions.
Well, we wanted to save you some time and hassle, so we went ahead and answered the most common questions about shock absorbers. Of course, feel free to contact us if you still have unanswered questions!
How Long Do Shocks Last On A Jeep?
Shocks on a Jeep last from 50,000 miles to 80,000 miles. That's the estimated time, but it does not mean that your shocks need to be replaced. You should check if your shocks are broken, damaged, or leaking, and only then should you replace them.
Should I Replace All 4 Shocks At The Same Time?
Yes, you should replace all 4 shocks at the same time. This isn't necessary, but if you want your vehicle to function relatively correctly, you should replace all 4 at the same time. Especially because shocks aren't that expensive and replacing only one shock at the time could cause the other three shocks to get damaged easily.
Who Worked on This?
---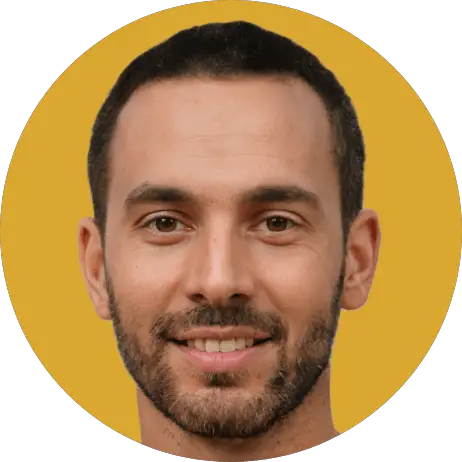 Brian
Editor
A master of organization, Brian helps keep everything running smoothly for Your Jeep Guide.
No Jeep yet but we're working on that!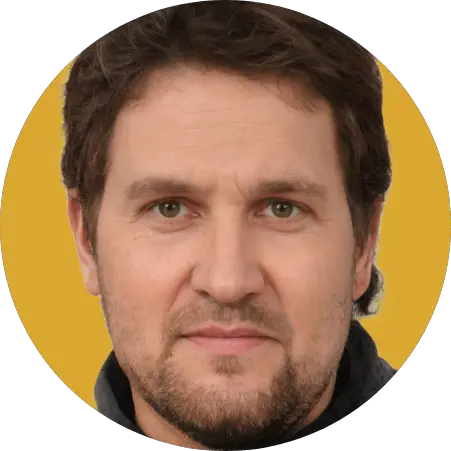 Cory
Writer
Cory loves his XJ and frequently thrashes it through the hills. He's constantly fixing something.

"What fenders?"
Check Us Out!