Jeeps are world-renowned for their openness, allowing you to remove the top, windows, and doors to enjoy a drive along the coast or a lazy summer day. But with this versatility and open-air comes one massive trade-off: security.
Even if you keep your valuables out of sight, you might have that one instance where you forget or are in a hurry. And that's when you need a Jeep lock box.
Available in many different styles for every type of budget, these lock boxes provide the protection you need without breaking the bank.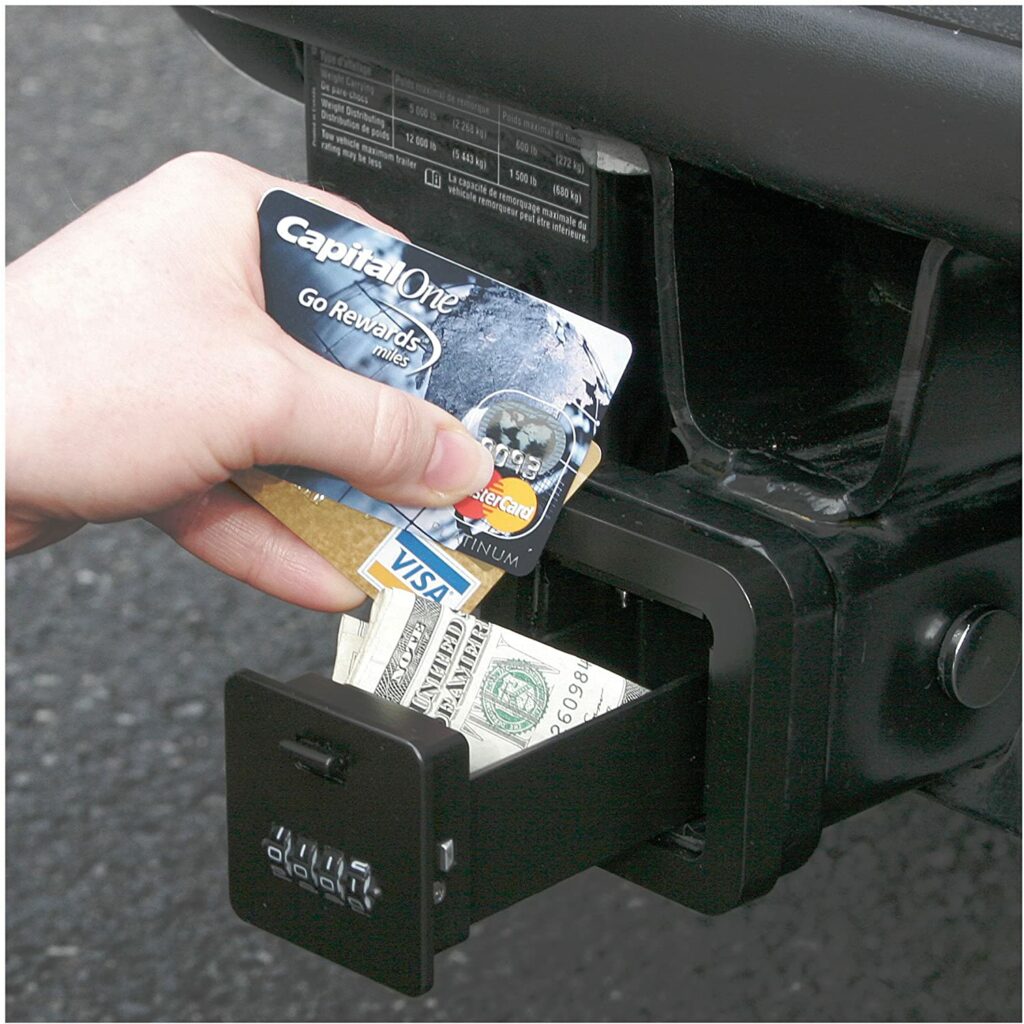 Factors to Consider Before Buying Jeep Lock Box
Due to the sheer number of available lock boxes for the Jeep, purchasing one isn't as easy as it seems and may feel downright overwhelming. However, knowing what features you want and factors to consider can help you narrow your scope and provide a much better and more fun buying experience. Here are some things you should know before you buy your next Jeep lock box.
Type of Lock Box
One of the most important factors when buying a Jeep lock box is deciding what type to get. Some fit under the seats while others fit snugly in the trailer hitch. The type of lock box you choose is highly dependent on what type of things you store. If you have bulkier items, an under-seat option is a better choice than other areas of the vehicle. Think about what you want to store, and this should help you decide what type of lock box is best.
Lock Type
Are you the type of person who constantly forgets their PIN or Social Security number? If that's the case, the lock type is an important part of which lock box you choose. Combination locks aren't great if you're forgetful; in that case, a key lock is the best idea. Some options also offer digital touch-button locks, which can be ideal if you want something that you can change on the fly or if you give your code out to a friend or family member.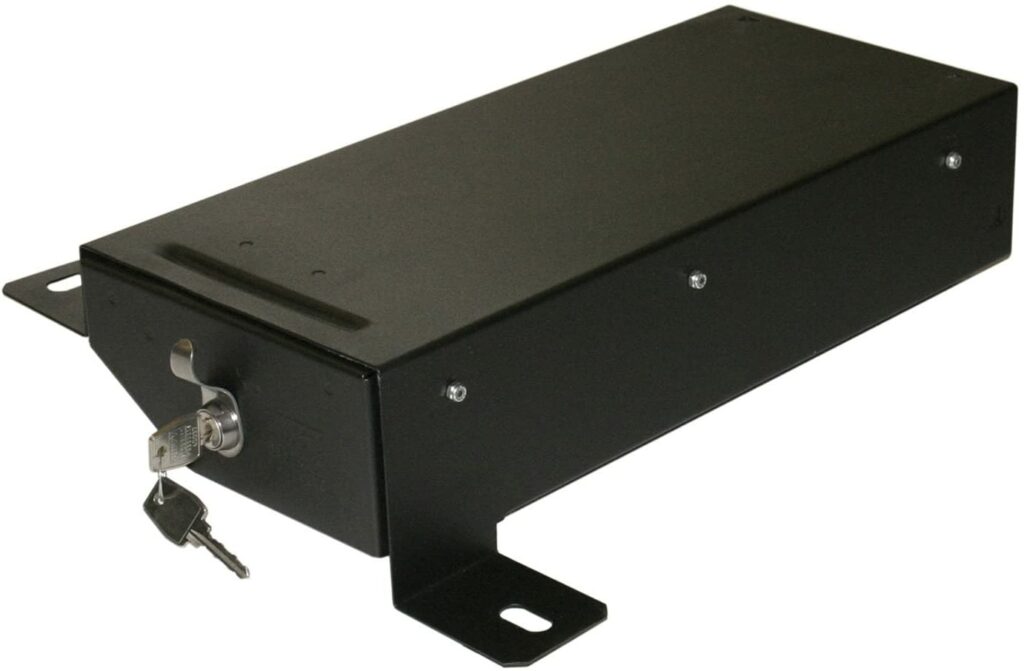 Level of Concealment
Many lock boxes conveniently fit in existing areas of the car, making them as inconspicuous as possible. However, lock boxes in the center console or glove box are the first places that thieves look, effectively negating the secrecy of their location. On the contrary, other lock boxes blend in with the vehicle without alerting potential thieves to their location, such as in the trailer hitch. If you want a secure case that's far from obvious, you may want to look at more creative or lesser-known lock boxes.
Size
The size of the lock box goes hand in hand with the type of lock box; you have to think about what objects or valuables you want to store in your vehicle. Storing a spare key or extra cash requires much different storage solutions than if you need to hide files or a laptop. To this effect, you'll always want to check the dimensions of the lock box before you pull the trigger on a particular product.
Review of the Best Jeep Lock Boxes 
Now that you have a basic idea of what to look for concerning a lock box, the next step is to see what top-rated solutions are available for your needs. From hidden trailer hitch lock boxes to locking under-seat drawers, you have plenty of sizes, styles, and price points to find the best lock box for your Jeep.
HitchSafe HS7000T
Type: Trailer hitch
Construction Material: High-impact aluminum and steel
Dimensions: 1.2" x 2.5" x 3.5"
Lock Type: Combination
Ease of Installation: Easy; no drilling required
We may earn commission from purchases made from our links, at no additional cost to you
Review
If you're searching for an inconspicuous way to hide your valuables, the HitchSafe HS7000T is a great ally. Simply attach it to your Jeep's trailer hitch without the need for tools, set your combo, and you're ready to go. Although the lock box's dimensions won't accommodate larger items, it's still a great option for spare keys, identification, and extra money that you don't want to carry on you.
Bottom Line
Thieves won't even know the HitchSafe HS7000T is there, and perhaps that's the greatest perk of this lock box. While some buyers have problems with the combo lock jamming, it's only a minority of owners. But if secrecy is your main concern, you probably won't find a better small option anywhere else.
Pros
Can hold keys, wallet, and money
No tools are required for installation
Great alternative to magnetic spare key holders
Has up to 10,000 codes to keep your valuables safe
Dust cover for more secrecy and protection from the elements
Cons
Too small for larger items
Combo numbers can get jammed
May require longer bolts for bigger trailer hitches
Tuffy 247-01
Type: Under-seat
Construction Material: Steel
Dimensions: 20" x 9" x 15"
Lock Type: Key
Ease of Installation: Some drilling required, may need to remove the seat
We may earn commission from purchases made from our links, at no additional cost to you
Review
If you need some extra space for bulkier items in your Jeep, the Tuffy 247-01 lock box delivers. Made from thick steel, it's tamper-proof, and with a convenient under-seat location, thieves may never even locate it if they happen to enter the vehicle. And with a limited lifetime warranty and responsive customer service, you never have to worry about holding the bag if something fails with the product.
Bottom Line
Although under-seat lock boxes are widely available, the Tuff 247-01 model is perhaps the best of the bunch. It's more expensive, but you'll know where that money went. Easy installation, quality construction entirely in the USA, and more spacious dimensions highlight the top features of the Tuffy. However, budget-conscious buyers may want to look at other under-seat models or different lock box solutions.
Pros
Made in the USA
Limited lifetime warranty
Excellent and responsive customer service
Large enough to fit firearms or some tablets
Can key the lock box the same as other Tuffy products
Cons
Not water-tight
Expensive compared to similar products
Drawer only comes out halfway, which can limit access
Bestop 4264301
Type: Center console
Construction Material: Powder-coated steel
Dimensions: 16" x 5.75" x 2.87"
Lock Type: Key
Ease of Installation: Simple; uses factory seat mounting bolts
We may earn commission from purchases made from our links, at no additional cost to you
Review
When accessibility to the lock box is a concern, only the Bestop center console lock box will do. It slides right into the existing center console, and although it will take away some of the space of the console, it provides added security while still leaving you with a bit of space for unsecured items. The no-drill installation allows most DIYers to pop this lock box into place in only about five to 10 minutes.
Bottom Line
By far one of the best lock boxes for those who want quick access to their valuables, the Bestop center console lock box provides a unique mix of convenience and security. While you lose a USB port (unless you drill a separate hole) and can only remove the key when the box is locked, it's a small price to pay for instant access to your lock box.
Pros
No-drill installation
Excellent accessibility
Perfect option for firearms
Good substitute for many under-seat units
Fits perfectly inside the console without modifications
Cons
Items can rattle inside the unit unless you make your own liner
Covers the USB port in the center console, rendering it unusable
Can't remove the key unless a box is locked, which can be a nuisance in certain situations
Best Under Seat Lock Box For Jeep Wrangler
Bestop 4264101
Type: Under-seat
Construction Material: Steel
Dimensions: 18" x 8.7" x 13"
Lock Type: Key
Ease of Installation: Installs using existing bolts
We may earn commission from purchases made from our links, at no additional cost to you
Review
If you're searching for a highly affordable under-seat lock box, the Bestop 4264101 model is a great value buy. At half the price of similar units, it has all of the same features and you'll have a bit of extra money in your pocket. While durability problems with the lock may cause you to hesitate, it's still a high-quality lock box from a trusted name.
Bottom Line
Bargain hunters will rejoice at the nominal amount they'll pay for the Bestop 4264101. Though a one-year warranty is far less than other units and installation may take a few hours, the price more than makes up for the hassle. Overall, it's a solid unit for the price.
Pros
One-year warranty
No drilling required
Doesn't interfere with seat adjustment
Compatible with Wrangler Unlimited models
Drawer pulls all the way out for improved access
Cons
Doesn't work with Wrangler TJ models
Some problems with the lock tumblers rusting
Some buyers report that this unit is difficult to install
Bestop 4270101
Type: Trunk
Construction Material: Steel
Dimensions: 2.7 cubic feet
Lock Type: Uses tailgate to conceal items
Ease of Installation: Easy to assemble and disassemble
We may earn commission from purchases made from our links, at no additional cost to you
Review
Also known as the InstaTrunk, the Bestop 4270101 is one of the few trunk options in the industry. With 2.7 cubic feet of space, it's one of the larger options, giving you more space to safely store valuables. However, it's not nearly as secure. If a thief gains entry to the vehicle, they can simply open the tailgate and take whatever's inside. But paired with an alarm system, it's a great choice.
Bottom Line
Though it's not without its problems, the InstaTrunk is a great lock box if you want to maximize the secure space in your Jeep. But with a heftier price than most other lock boxes, there are better options unless you definitely need the space.
Pros
One-year warranty
Mounting hardware included
Complete instructions included
Biggest lock box options available
Seals with tailgate to prevent tampering
Cons
Not as secure as other lock boxes
Metal is thin and may succumb to pry bars
Some buyers reported modifications were necessary
Hooke Road JK Lock Vault Box
Type: Center console
Construction Material: Steel
Dimensions: 8.86" x 7.09" x 2.17"
Lock Type: Key
Ease of Installation: Quick and easy; installs with four included screws
We may earn commission from purchases made from our links, at no additional cost to you
Review
If you want an affordable solution, the Hooke Road JK Lock Vault Box will do the trick. However, it's not a full lock box; it's just a lid. As a result, this is designed more as a deterrent than an actual security solution. Still, for the price and the appearance of a full lock box, it's a great option.
Bottom Line
Those who want more secure solutions should look elsewhere, but thrifty buyers will love the price.
Pros
Highly affordable
Works as a deterrent
Super easy installation
Comes with mounting hardware and two keys
Still allows access to USB ports in the console
Cons
Difficult to open
Not a full box; just a steel lid
Less secure than other lock boxes
Benefits of Jeep Lock Boxes
Aside from the obvious benefit of security for your valuables that you keep in your Jeep, lock boxes come with several other benefits. Learn what purchasing a high-quality model from this list can provide for your Jeep.
Possible Increase of Resale Value
Although a lock box can cost only as little as $50 or so, the amount of value it adds to your Jeep is remarkable. No, you won't squeeze an extra $500 out of your Jeep when you go to sell it. But you can easily include the price of the lock box in the selling price of the car. As a result, it's a sound investment that pays for itself if or when you decide to sell the vehicle.
Convenience
You should never leave valuables in the car, but times may arise when doing so is an inevitability. For example, if you're coming home from work but you need to make a quick stop, you probably don't think about bringing your laptop inside the store. That's when a lock box becomes a major convenience. By allowing you to store valuables out of sight, you can avoid crimes of opportunity or a smash-and-grab, which is one of the most common types of theft from vehicles.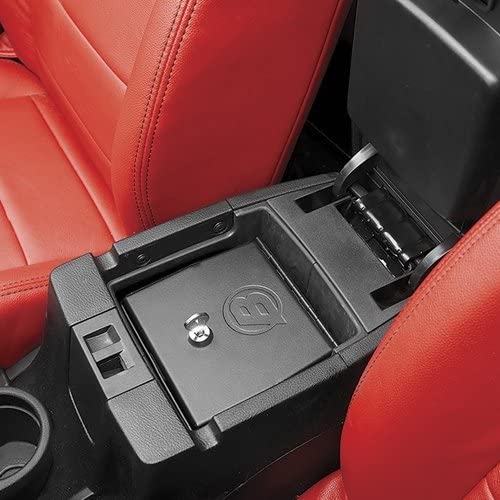 Peace of Mind
You can't put a price on peace of mind. With a nominal investment in your lock box, you can reap the benefits in the form of a lack of concern or worry about cash, credit cards, or a spare key being left in the car. A quality lock box also ensures that your valuables are safe and sound, even if someone attempts to break into your car.
More Options
The benefits of a lock box for your Jeep can be summed up in one word: options. Whether you want to leave a spare key in your car, don't want to take your valuables out, or just want another choice for your valuables, a lock box gives you all of these options.
Types of Lock Boxes (Locations)
Depending on what type of stuff you want to hide, how you want to utilize your space, and the size of the items, you want to choose a lock box that fits your needs. That's why lock boxes come in a variety of location-based styles. Here are some of the most common types.
Under Seat
Under-seat lock boxes are a popular choice for many buyers. They don't take up any existing space and they're hidden from view. Most of these units are similar to a cash drawer, which opens and closes with a key to hold your important items. However, it typically requires you to exit the vehicle to access it.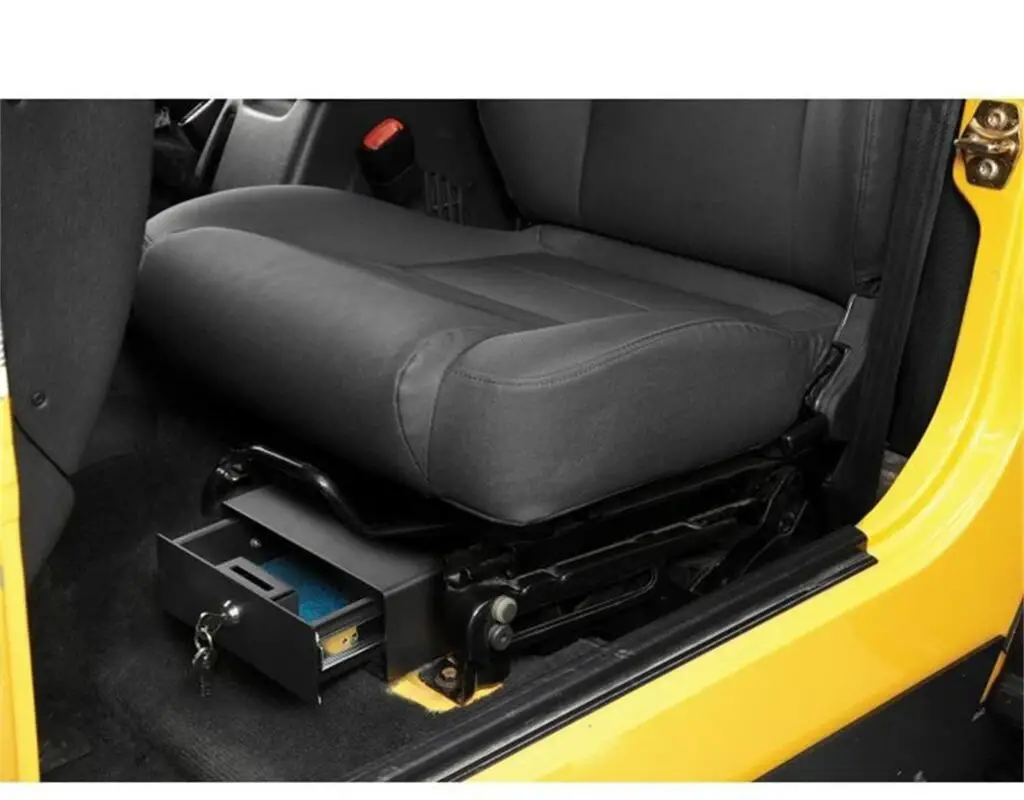 Center Console
The center console is another lock box type that's common with Jeep owners. Accessibility is the focal point of this lock box, as you can get into it while sitting in the passenger's or driver's seat. These come with either a combination lock or a key lock.
License Plate
One of the latest innovations to hit the lock box world is a license plate lock box. Hidden behind the license plate using existing license plate screws, this has a small compartment for a spare key or cash and is completely indistinguishable from the license plate itself.
Trailer Hitch
Another interesting new option in the lock box world is located in the trailer hitch. It's a small box that slips into the end of the trailer hitch and uses a combo lock. A dust cover fits on the end to both hide the unit as well as protect it from damage.
Trunk
Although the Jeep doesn't necessarily have a trunk per se, it does have a small storage area behind the rear seat. These are units that typically come unassembled. Then, you put the lock box together in the lower cargo area. It's yet another option that can't be seen from the exterior of the vehicle and provides the largest amount of cubic footage of any unit.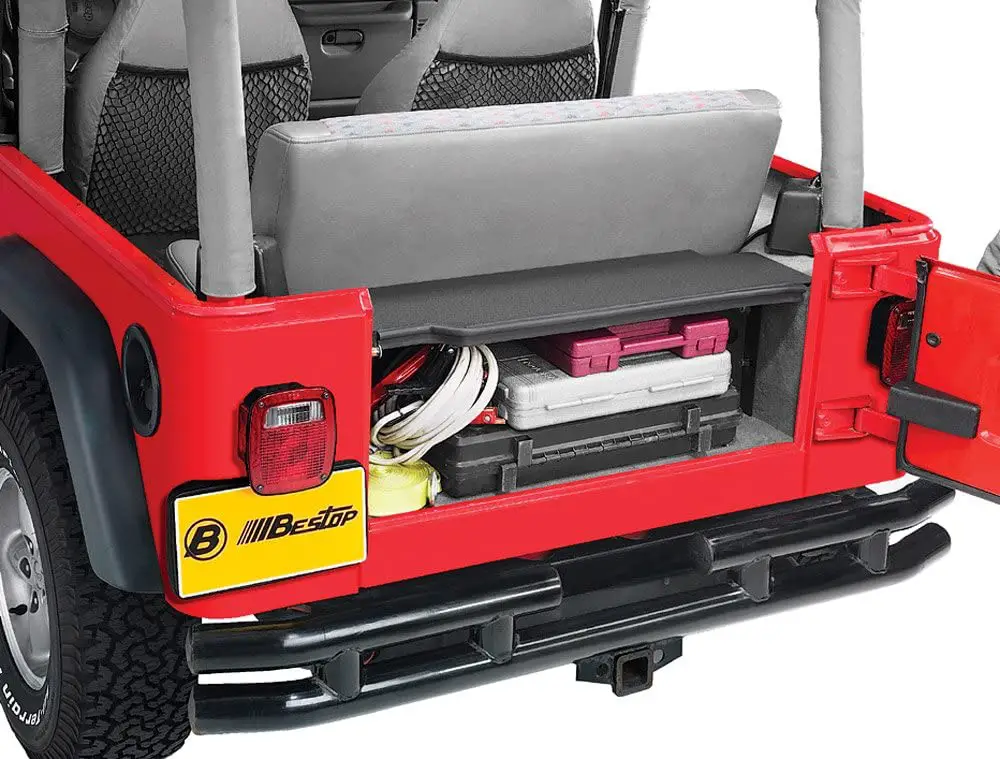 Overhead
If space is at a premium, overhead lock boxes are a great option. These attach to the upper frame of the Jeep and are similar in shape to a small glove compartment. These are especially handy for off-roading excursions, as they're easily accessible, even when you're running over rough terrain.
Who Should
Not

Buy a Jeep Lock Box?

Jeep owners are a smart bunch. They're aware of the trade-off between open-air driving and vehicle security. As such, a Jeep lock box isn't for everyone. If you're one of those Jeep owners that never has anything of value in your vehicle as a precaution, a lock box might be an unnecessary expenditure.
The Availability of Other Security Options
You shouldn't think of lock boxes as a one-size-fits-all solution. They definitely provide a benefit if you have to travel with valuables for work. However, you may find that other products work just as well.
For example, keeping a spare key is a savvy move. But that doesn't mean you need a lock box to stow it. Magnetic blocks that can fit a spare key often suffice, are hard for thieves to find and can fit on the frame or wheel well without falling off.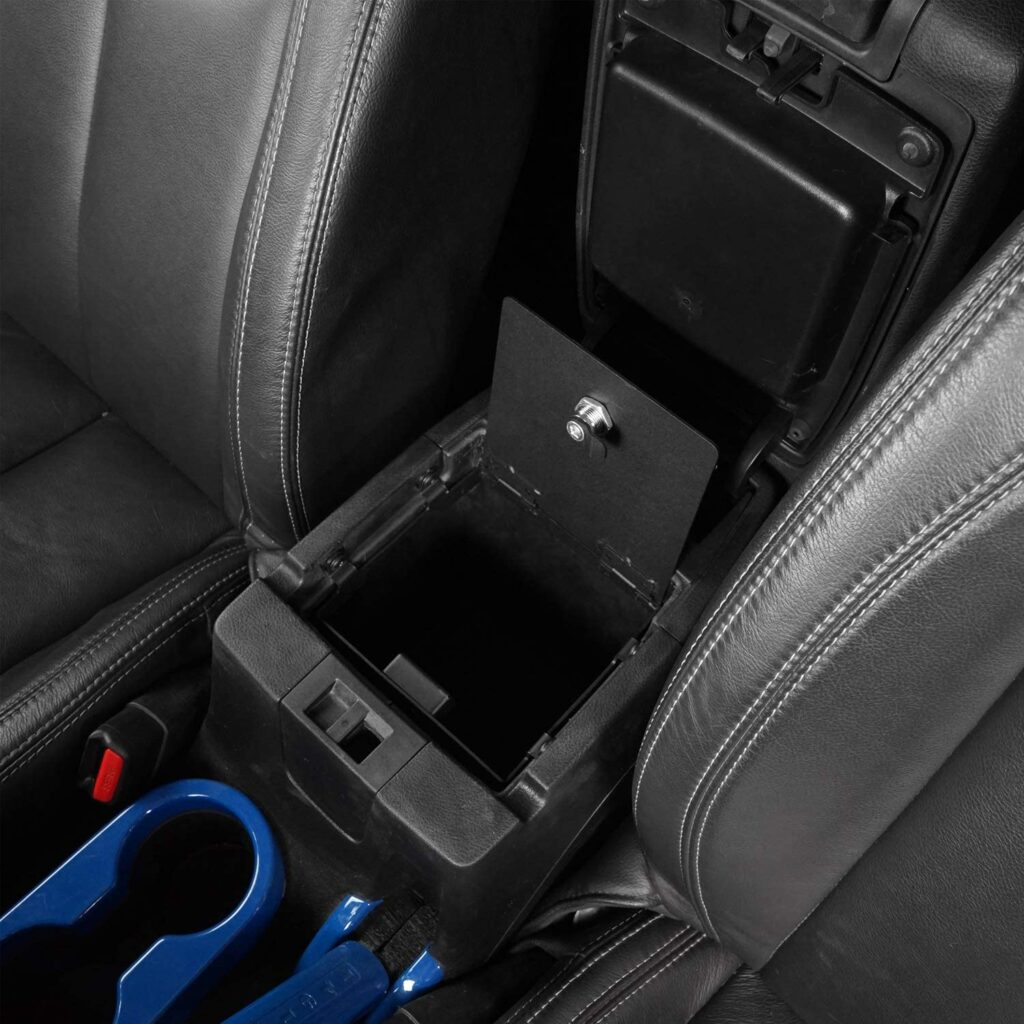 A car alarm is also ideal if you're more concerned about your car being stolen than you are about items being stolen from it. Kill switches, long-range transmitters, GPS, and two-way alarms can give you all the information you need to keep your car away from thieves or to track it down if it's stolen.
Depending on what you do for entertainment or how you drive, a lock box isn't always an option. Bulky items can't fit into many lock boxes, and if you get an oversized one that sticks out, a look inside the window can send thieves into a frenzy.
Though a lock box may be ideal for some of your needs, don't think that it's the be-all-end-all of security products. With plenty of other choices, you can find the right solution to make you feel safe and secure.
Don't Leave Anything to Chance; Protect Your Valuables in Jeep Lock Box
With dozens of styles and sizes, lock boxes for your Jeep give you the utmost protection. The only thing you have to worry about is which option works best for you. Compared to tracking down stolen items, it's a pretty good problem to have.
Who Worked on This?
---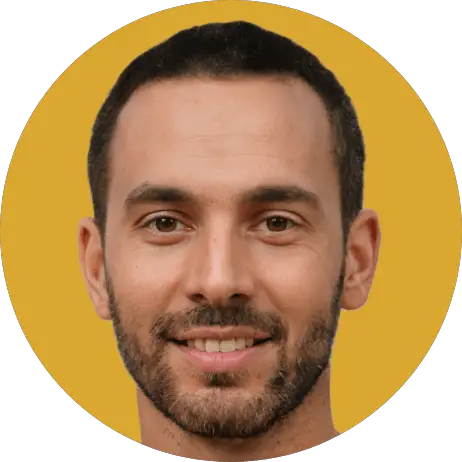 Brian
Editor
A master of organization, Brian helps keep everything running smoothly for Your Jeep Guide.
No Jeep yet but we're working on that!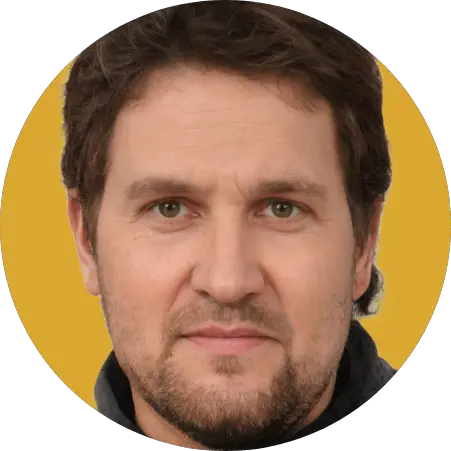 Cory
Writer
Cory loves his XJ and frequently thrashes it through the hills. He's constantly fixing something.

"What fenders?"
Check Us Out!