This is the rarest of automotive occurrences: a resurrected, modern-day battle of off-road titans that brings together two, classic iconic names. One of which just happened to take a 25-year nap and one that has evolved into the venerable swiss army knife of off-road vehicles. This is going to be good! 
Those who lamented the death of the Bronco in the '90s had certainly moved on after a long period of mourning, losing hope that the Bronco would ever be brought back to life. Yet, here we are in this glorious day and age, discussing the question that will be on every off-road enthusiast's heart and mind this year.
In the battle of Ford Bronco vs Jeep Wrangler – who reigns supreme? Lucky for you, we're going to cover everything you need to know and get you up to speed. 
Let's get into it!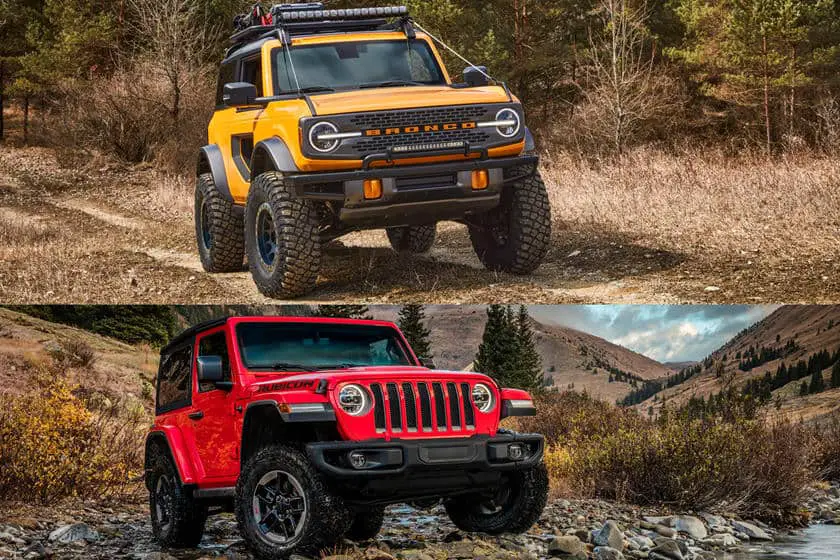 Ford Bronco vs Jeep Wrangler
While these two vehicles do share a common goal and purpose, how they go about achieving this goal could not be any more different. 
For the Bronco, coming back to life after a 25-year hiatus has the benefit of launching with the newest, most advanced technology and a considerable amount of buzz throughout the automotive community. What's come out of the engineer's and designers' hearts at Ford is a beast that harkens back to the original Bronco of the 1960s, while bringing serious off-road credibility and a modern, tech-rich cockpit. 
As we all know, the Jeep has never really left the party and due to its steadfastness, it has garnered an unbelievably huge following amongst off-road buffs. Since being completely re-designed in 2018, the JL has seen a level of engine capability, interior appointment, and flat-out capability that has never been seen in previous versions of the Wrangler.
To be honest, the Jeep Wrangler is the benchmark in a class that's full of posers, and bringing some Jeep fans over to the Bronco's stable means that Ford had to hit on all the points that Wrangler does well and then amp it a notch or two. 
Did they succeed?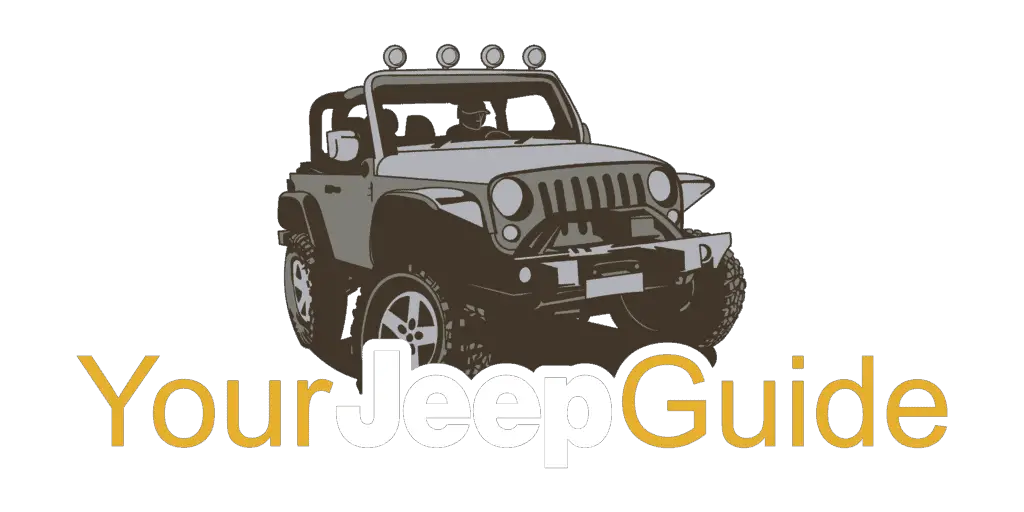 Ford Bronco
Jeep Wrangler
Pros
Ford Bronco
Stunning, throwback good looks
High levels of interior technology
Incredibly capable chassis and drivetrain
Heavy doses of useful off-road-focused tech and features
Retains the open door, open roof fun of a real off-roader
Standard 7 speed manual and optional 10 speed automatic
Independent front suspension for better on-road comfort
Jeep Wrangler
Classic, rugged good looks
Huge variety of engines choices, including a hybrid and a diesel
Massive aftermarket support for every single model
Incredibly capable off-road, right off the factory floor
Huge and growing Jeep owners community
Cons
Ford Bronco
Less aftermarket support than the Wrangler out the gate 
2 available engines, no Hybrid and no diesel 
Less top options
No folding windshield 
Independent front suspension may lessen the off-road capability
Jeep Wrangler
Less potent standard powertrains 
Less capable standard transmissions 
Less in-cabin tech
Less off-road tech
Questionable reliability
Best For
Ford Bronco
The off-road enthusiast looking for the latest / greatest who's not afraid to deal with some new model teething issues. 
Jeep Wrangler
The off-road enthusiast who is looking for a stalwart, jack of all trades trail vehicle that is equally stylish and fun to drive as it is capable.
Ford Bronco Backstory
Let's roll it back to 1966. America was just beginning an obsession with two unique automotive subsets; the muscle car and the outdoor lifestyle. Ford wanted an International Harvester and Jeep competitor that would serve rolls that varied from a trusted farmhand to a family-hauling, camping machine, and the Bronco was their answer.
For 30 years, the Bronco grew in size and popularity; eventually being based on the F-150 chassis. In 1996, changing consumer demographics and tastes saw the demise of the Bronco and for 25 long years, it remained only a memory. In 2018, Ford announced a brand new Bronco family, including the Bronco Sport Compact SUV and Jeep Wrangler competitor full-size Bronco. 
Jeep Wrangler Backstory
Jeep has been a stalwart of the American landscape since America's participation in World War II. Through a long (and interesting) history, the vehicle we now know as the Jeep became a sturdy, rugged partner on the battlefield for millions of soldiers. Post World War II, Jeep maintained a small but loyal fanbase and saw minimal changes from the rugged off-road vehicles of the war which now went by the term CJ or "Civilian Jeep".
By the 1960s, competition in the space saw changes to Jeep as a brand and it was bought/sold several times until eventually falling into the hands of AMC in 1969.
The 1970s saw the introduction of the Cherokee, while the 1980s saw a buyout of AMC by Chrysler Group and the introduction of the, you guessed it, Wrangler. The CJ name was dead after nearly 40 years and the original YJ Wrangler hit the streets. 
Relevant Characteristics Between Ford Bronco and Jeep Wrangler
At their core, both of these vehicles are purpose-built to head into the rough stuff and provide their owners a ton of fun in the process but how they achieve this connection to the wild are completely different from each other. 
Ford Bronco vs. Jeep Wrangler
Compare by tapping or clicking below!

Engine(s)
Ford Bronco
3.6L V-6 w / 285 HP & 260 LB.FT of Torque
3.0L Diesel V-6 w / 260 HP & 480 LB. FT. of Torque
2.0L I4 Turbo w / 270 HP & 290 LB. FT. of Torque
Hybrid 2.0L I4 w / 375 HP & 470 LB. FT. of Torque
Jeep Wrangler
2.3L Turbocharged and Intercooled I4 w/ 270 HP and 310 LB.FT of Torque
2.7L Turbocharged and Intercooled V-6 w/ 310 HP and 400 LB.FT of Torque
4WD System(s)
Ford Bronco
Full Time or Part-Time (Selectable) 4WD
Jeep Wrangler
Part-Time or Full Time 4WD
MSRP Range
Ford Bronco
$28,295 to $49,995
Jeep Wrangler
$28,295 to $49,995
Specs Comparison
These purpose-built off-road vehicles vastly differ in their approaches to providing fun in the dirt. While Jeep as a brand is known for building off-road vehicles, the men and women at Ford are no stranger to this concept and have produced such monsters as the Raptor to show off their off-road cred. Let's talk about how they get the job done and why that matters. 
Ford Bronco and Jeep Wrangler Differences 
These two vehicles could not be more different. From their rugged good looks to their powertrain and interiors; Ford and Jeep are catering to dramatically different crowds here. 
You're limited to 2 (very strong) engine choices on the Bronco, while there are 4 total engine options on the Bronco that range from mild to wild. The Wrangler makes use of a double solid axle set up while the Bronco goes for a more advanced solid rear, independent front set up that works better on-road but may not work as well off-road. Bronco's roll with a 7-speed manual or 10-speed auto while the Wrangler soldiers on with a 6-speed manual or an 8 speed automatic. 
Crucially for some owners, Jeep also offers more top options than the Ford Bronco and offers the ability to fold down the front window. On the other hand, the Bronco offers frameless doors that are lighter and more easily storable than the Wranglers. Ford is also offering a suite on in-cabin technology like trail maps and an available 12" touchscreen that are simply not available on the Jeep Wrangler. 
At the end of the day, these details are minor but the sum of these details adds up to a whole different ownership experience. 
Ford Bronco and Jeep Wrangler Similarities
Let's just start off by saying, these two vehicles have some serious street cred behind their names, and that alone marks them as similar. They are both designed to go off-road and make their way up the most serious of trails, while also providing a level of top-down fun that only a vehicle in this class can offer. 
Both the Bronco and the Wrangler start at a reasonable price just over $33k (for the four-door models) and can easily scream into the $50k range when outfitted with a range of option packages. Similarly, the Bronco and Wrangler are both offered with a ton of accessory options but here the Wrangler still has the Bronco tied up due to its market position and overall longevity. 
You can get either of these rigs with a manual transmission and each of them come with a standard selectable 4 wheel drive, with optional on-demand 4 wheel drive. A wide variety of final drive ratios and suspension upgrades are available for the discerning buyer no matter which model you buy. 
Why You Should Pick Ford Bronco 
There's just no way around it, the Ford Bronco is hot and will be hot for years to come and there's a variety of reasons why you may want to invest in this awesome, do it all, SUV:
You're looking to stand out at the trail and you have loyalty to the Blue Oval

You're looking for a more powerful line-up of engines and transmission with more advanced technology

You're looking for an off-roader that packs in a remarkable amount of in-cabin tech and real, useful off-roading technology

You're looking for an off-road-focused SUV that behaves better on the highway and street due to an independent suspension up front
Why You Should Pick Jeep Wrangler 
When it comes right down to it, the Jeep Wrangler is as popular as it is for good reason and there are a ton of reasons why investing in one of these unique vehicles will pay you back for years with smiles and memories:  
You're looking for the ultimate, focused off-roader with a heritage that stretches all the way back to WWII

You're looking for a vehicle with the most availability of top configurations and body part removal options

You're looking to be part of the massive "Jeep Wave" community

You're looking for the absolute king of aftermarket and custom parts

You're more focused on complete off-road dominance than having some on-road comfort and driveability tradeoffs.
Bottom Line
Since the Bronco is shiny and new, it's hard not to get drawn into its allure and hype. If the hype matches up to the capability promised by Ford, then there is some serious competition here for the Jeep Wrangler. From the awesome looks to the seriously useful off-road tech – Ford has built a vehicle that is an off-road vehicle owner's focus group of ideas and execution. It's hard to ignore, that's for sure.
However, the Jeep is inevitably the safer, more established choice in this market. It brings a selection of engine options, real off-road cred, and an ever-evolving selection of technology that seems to be making leaps and bounds every few years. Plus, the aftermarket community and ownership community are absolutely second to none. New and shiny or older and established? The choice is yours! 
People Also Ask
Here are some questions you may also be considering:
Is the Bronco Bigger than the Wrangler?
The wheelbase on the Bronco is 4 inches longer in 2 door guise and 2 inches shorter in 4 door guise. The width on the Bronco is up to 5.5 inches more than the Rubicon in top trims like the Wildtrak and Rubicon. 
Is Ford More Reliable Than Jeep?
This answer is difficult to answer because Ford makes considerably more vehicles than Jeep. As a brand, Ford fares better for vehicle reliability ratings. In 2020, Consumer Reports ranked ford 10th overall, while Jeep was ranked 27th. This is echoed in most research. 
When Did Ford Stop Making Jeeps?
The last Ford GPW was made in 1945. Ford made over 300,000 of these during WWII.
Who Worked on This?
---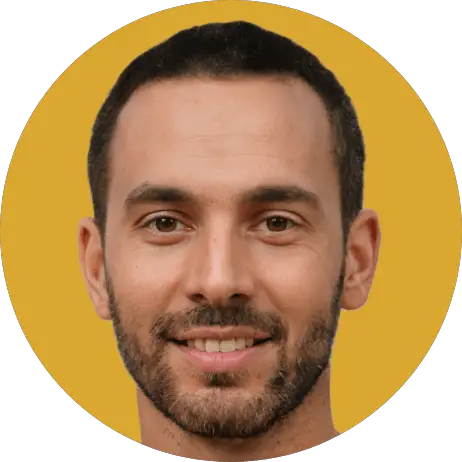 Brian
Editor
A master of organization, Brian helps keep everything running smoothly for Your Jeep Guide.
No Jeep yet but we're working on that!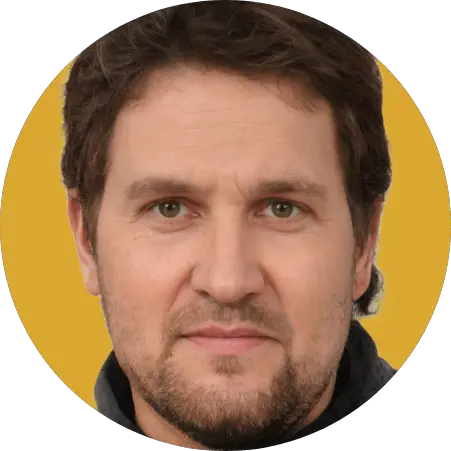 Cory
Writer
Cory loves his XJ and frequently thrashes it through the hills. He's constantly fixing something.

"What fenders?"
Check Us Out!