Why did you purchase your Jeep? From off-roading to travel, Jeeps handle difficult terrain and make trips more fun. Unfortunately, Jeeps can also lack sufficient cargo space for some ventures.
That's where certain accessories can change your world, and we're here to help you find the best Jeep roof rack for your vehicle.
Comparison of the Best Jeep Roof Racks
IMAGE
PRODUCT

Our Top Pick

Very easy to assemble when you get it
Will hold up to 150 pounds weight easily
Everything for a complete installation included

View Latest Price →

Can be used for a wide range of vehicles
Strong and durable materials used in construction
Very easy to install on your vehicle roof

View Latest Price →

Best Budget Option

Best for the Money
Use for a variety of cargo options
Metal bars used to improve durability

View Latest Price →

Best Jeep TJ Roof Rack
Easy to install on your vehicle
Will hold up to 700 pounds of cargo

View Latest Price →

Best Jeep JK Roof Rack
Strong brackets included for secure mounting
Maximum rust prevention with E-coating included

View Latest Price →

Best Jeep XJ Roof Rack
Fully welded construction for maximum durability
Will easily carry up to 300 pounds of cargo

View Latest Price →

Best Jeep YJ Roof Rack
Provides a lot of extra cargo space
Strong brackets included for secure mounting

View Latest Price →
What Makes a Roof Rack Great for a Jeep? 
You have a lot of options, but they aren't all equal. It's a good idea to have some comparison points so that you don't end up with a useless roof rack. If you want to find the best Jeep roof rack for your vehicle, pay attention to the construction, fit, and finish.  
Durability
Most manufacturers use steel or aluminum to build roof racks. Steel racks tend to be heavier and handle vibrations better, but aluminum racks are lighter on your roof and handle rust better. Some manufacturers use reinforced plastics, but those are unlikely to work well with any Jeeps.
Fit
First and foremost, the rack needs to fit your vehicle, but you also need to consider how it attaches. People who off-road more often may want to choose a fixed-mount roof rack that's more durable and versatile with multiple customization options. 
The alternative is a roof rack that fits on top of your vehicle with clamps. It's easily removed but less durable than the fixed-mount style.
Lastly, you'll obviously need to check and make sure the rack is made for your generation Wrangler, be that JL, JK, etc.
Finish
Though finish may seem like a superficial feature, it could be the difference between rust dripping on your vehicle or protecting the rack against the elements while you travel. It's also important that you like how the rack looks on your vehicle. Look for a rack that is powdercoated.
Why Did These Jeep Roof Racks Make Our List? 
Are you wondering how we created this list? We considered several aspects that come standard with roof racks to determine which products did them best for Jeeps.  
Wide Compatibility With Jeeps
While some roof racks may work well for other vehicles, we know that certain features are more important for Jeeps. Given the unique designs attributed to Jeeps, even between models, we know you need a roof rack that works for your vehicle. 
When shopping for a roof rack, make sure you select the appropriate size for your model. Many of these products come in a variety of sizes to accommodate different model years. You don't want a roof rack that won't fit with your Jeep!
Load Capacity
We tried to provide a range of roof racks to meet any needs, but you need to determine what your needs are. There's a significant difference between a rack that handles 150 pounds and one that can take more than 300 pounds. 
Before selecting a roof rack for your Jeep, make sure you consider the max capacity you plan to carry. Don't forget to factor in any accessories you plan to add because that can impact your total weight.
Aerodynamic Design
It helps when your roof rack looks cool or at least doesn't detract from your Jeep's aesthetic. However, it's equally important to select a roof rack that doesn't create unnecessary wind resistance. It doesn't just cause more road noise; it can impact your fuel efficiency. It's a good idea to choose a low-profile roof rack.
Easy Installation
Somebody has to install the roof rack on your vehicle, right? Even if you pay to have it installed, more complicated installations can cost you. You may want to look for a roof rack that's easier to install, especially ones that come with all of the hardware and don't require modifications to your vehicle.
Durability
The last thing you want is a roof rack that damages your vehicle or results in your cargo – and the rack – strewn across the road behind you. For your protection, and the preservation of your cargo, you probably want a durable, well-constructed roof rack. 
Consider the materials and finishes used on the rack. It's a good idea to read reviews for insight into how the rack stands the test of time.
At a Glance: Our Top Picks for Best Jeep Roof Racks
Review of the Best Jeep Roof Racks
There are dozens of roof racks available, but they aren't all created equal. Let's take a look at some of our favorite roof racks for Jeeps.
MaxxHaul 70115
We may earn commission from purchases made from our links, at no additional cost to you
What Recent Buyers Report
Most users commend the ease of installation and sturdiness of this roof rack. Several users shared some upgrades they made to preempt the question of rusting, including spraying with a clear coat or using silicon in the joints. Other users noted that the included rubber caps provided sufficient protection against rusting.
A handful of users complained about shipping issues. Some didn't like that the rack did not come assembled, and others reported that some parts arrived damaged.
Why it Stands Out to Us
We appreciate the lightweight, sturdy design and easy assembly. This roof rack comes with everything you need to install it, and it can be done in about fifteen minutes. The rubber caps offer protection for your cargo and repel the elements.
It does appear that the packaging could use some improvement before shipping the item, but that seems to be an intermittent issue. We would recommend spraying it with a topcoat once assembled for a little extra protection.
Bottom Line
This roof rack is lightweight but durable enough to hold up to 150 pounds of cargo. It fits most vehicles and looks good while expanding your storage space.
Pros
Lightweight, sturdy design
Features a universal mounting system
Powder-coated steel frame resists rust
Rubber caps cover the bolts to prevent cargo damage
Easy assembly and installation with all hardware included
Cons
Some users reported rusting at the screw joints
Quality control issues with packaging and shipping
ROLA 59504
We may earn commission from purchases made from our links, at no additional cost to you
What Recent Buyers Report
According to reviews, this is a highly rated roof rack that holds up against road wind and the elements if you make some adjustments. Some users noted issues with misaligned screws and rusting, but the majority of users reported making minor improvements and alterations so they could use the rack reliably.
Why it Stands Out to Us
The design of this roof rack truly sets it apart from the rest of the class because it's more modern and sporty than some of the others. Since it's a low-profile design, it doesn't detract from the look of your vehicle.
It's easy to install, and the removable wind deflector is a nice feature. We appreciate the suggested improvements from other users, which solve many of the complaints about this particular roof rack. The rack itself is strong and handles a fair amount of weight, though some of the mounting components could use an upgrade.
Bottom Line
If you don't mind making a few upgrades, like sealing screws and topcoats, this roof rack is durable and holds up to 130 pounds. It's low-profile and fits most vehicles easily.
Pros
Modern, sporty design
Includes a removable wind deflector
Features adjustable high-grade steel brackets
Exterior rough coat offers protection against the elements
Can accommodate some accessories, including lighting fixtures
Cons
High probably of rusting over time
Some quality control issues with the screws and screw holes
ARKSEN 64″ Universal Roof Rack
We may earn commission from purchases made from our links, at no additional cost to you
What Recent Buyers Report
Users seem to appreciate the durability and stability of this roof rack. Many reviews indicate that they used a sealant to prevent rusting, which extended the life of the rack. Several users appreciated the adjustable basket to accommodate varying loads. Some users commented on the importance of balancing your load to prevent instability and bowing.
Why it Stands Out to Us
This product is one of the more versatile options on the list because of the adjustable basket. It's durable and capable of handling odd-sized items, like kayaks. We would suggest following the advice of other users, like sealing and coating the components for better protection.
It is easy to install and adjust the roof rack, so you don't have to worry about a complicated process every time you want to alter your load. This roof rack looks nice, but you may want to prepare for some extra road noise and wind drag.
Bottom Line
The 64" Arksen holds up to 150 pounds and fits most vehicles without causing damage. It limits wind resistance, but you have to make sure the load is balanced, and you may need to do some additional treatments to prevent rust.
Pros
Available in multiple sizes
Features an extendable basket
One of the larger racks available
Easy to assemble and install on almost any vehicle
Sturdy design with heavy-duty steel bars as support
Cons
The rust-resistant finish isn't entirely effective
Unbalanced weight can compromise the rack's integrity
Smittybilt 76713
We may earn commission from purchases made from our links, at no additional cost to you
What Recent Buyers Report
Users seem split on this roof rack. Many indicate that it's durable and functions well, even in extreme weather. However, several people note that the installation is complicated and time-consuming. A few even suggest that you have this roof rack professionally installed to save yourself the trouble.
Why it Stands Out to Us
We like this roof rack for off-roading because it's a stable option thanks to the four-point mounting. It's a permanent mount because you likely need to make some alterations to your vehicle to secure this one; however, heavy users will appreciate the peace of mind.
Additionally, this roof rack handles several accessories, which makes it one of the more versatile options. As durable and sturdy as it is, this roof rack takes some effort (and a drill) to install it properly.
Bottom Line
If you plan to use your roof rack often and require some versatility, you may want to look at this Smittybilt. It supports up to 700 pounds of cargo and accommodates a variety of after-market accessories.
Pros
Attractive satin finish
Supports up to 700 pounds
Holds position even at high speeds
Compatible with multiple accessories
Durable construction with heavy-duty steel
Cons
You need a drill to mount it
Trail FX J029T
We may earn commission from purchases made from our links, at no additional cost to you
What Recent Buyers Report
Users seem to love this roof rack for the most part. Several reviewers commend the durability and construction. Additionally, many users note that the installation directions leave a lot to be desired and that it was easier to figure things out on their own. There are quite a few comments about squeaking and rattling when driving.
Why it Stands Out to Us
While we wish this rack came with a basket, it's not a dealbreaker. It is probably best to follow the suggestions of other users regarding installation, but it seems to be quick and easy. You get all of the hardware you need, and there don't seem to be quality issues with any of the components.
What stands out for this particular rack is the two-part finish. Unlike many other racks, there don't seem to be complaints about rust with this one, so we can't help but think it has something to do with the double-coating.
Bottom Line
This roof rack handles up to 350 pounds, and the parts undergo a two-step coating process for maximum rust protection. If you don't need a basket or don't mind purchasing one separately, this may be a good fit for you.
Pros
Low-profile for reduced wind noise
Excellent starter rack for first-timers
Made from heavy-duty two-inch tubing
Four-point mounting with quarter-inch brackets
All parts e-coated and powder-coated for extra rust protection
Cons
No basket included
May rattle on off-road excursions
EAG Black Steel Roof Rack
We may earn commission from purchases made from our links, at no additional cost to you
What Recent Buyers Report
Reviewers seem to rave about this roof rack with several comments about the durability and solid construction. A few complained about the need to assemble the rack, but there don't seem to be issues with the assembly. A few users note that it helps to use clamps along with the mounting hardware to make it more secure.
Why it Stands Out to Us
One of the features that stands out about this roof rack is the low-profile design featuring a built-in wind deflector. It's one of the most aerodynamic designs on the list. It's easy to assemble and install, though we recommend a little padding around the brackets to preserve the paint job.
With this being a three-piece roof rack, we would like to see some options for adjustment, but it's not a dealbreaker. We also suggest applying a clear coat for added rust protection since that seems to be a minor issue with this particular roof rack.
Bottom Line
If you want a roof rack that looks good and manages a decent load, this is a solid candidate. It's a lower-profile design than some others, which means you may not experience as much road noise.
Pros
Rugged, aerodynamic design
Capable of carrying up to 300 pounds
Black finish works with any vehicle color
Made with durable 16-gauge steel tubing
Multiple installation options, no drill required
Cons
Black paint chips easily
The powder-coat finish isn't thick enough to offer full rust protection
Barricade Off-Road Roof Rack
We may earn commission from purchases made from our links, at no additional cost to you
What Recent Buyers Report
Most users like this rack but note they made some modifications, like adding silicon to the joints. Several users note issues with the crossbar bolts and recommend upgrading them on your own. The biggest complaints seem to be related to noise, specifically a squeaking sound; however, it does not seem to be an issue for most users.
Why it Stands Out to Us
We like the look and feel of this roof rack. It's sturdy and versatile, thanks to the removable crossbars. We would agree that you may want to upgrade the bolts if you plan to use the crossbars intermittently.
Rust does not seem to be an issue with this rack as much as it is with others, which may be due to the textured finish. Additionally, you may want to inspect your components before installing, given the intermittent quality control issues. You don't want to get partway in to find you need new bolts!
Bottom Line
This roof rack is durable and versatile with removable crossbars. It can accommodate up to 350 pounds, including odd-shaped and oversized cargo.
Pros
Features removable crossbars
Bolt-on installation can be completed in an hour
Sturdy design that's compatible with stock bumpers
Available in multiple size options to accommodate your Jeep
Coated with a textured black powder for extra rust protection
Cons
Some quality control issues with the hardware
When Would I Use a Roof Rack? 
Accessorizing your Jeep with a roof rack could change the way you use it and open your world to new opportunities. Roof racks remain a popular accessory for many Jeep owners because they make an already versatile vehicle even more useful.
Free Up Space
Who wants to take a road trip? Shifting luggage and other gear to the roof of your Jeep means more room in the vehicle. You can invite people to join you or pack more gear in the back to extend the length of your trip. Some people even use the roof rack for luggage so that their furry friends have more space!
Carry Oversized Items
Jeeps remain popular with people who spend a lot of time outside. From fishing to kayaking, roof racks make it possible to transport large and odd-shaped gear without affecting your visibility.
Safer Transport
Roof racks can make travel safer in two ways. First, you can store extra fuel and any dangerous items on the roof. Secondly, roof racks allow you to distribute cargo weight evenly instead of loading the back end.
Can Any Roof Rack Be Used on Any Jeep? 
Like most vehicle accessories, roof racks don't fit every vehicle perfectly. Some roof racks are universal fits, but that doesn't mean you will like the look or feel of your Jeep.  
Most brands offer more than one size to accommodate different vehicles. It's important to look at your product's dimensions to determine how it would fit with the roof of your Jeep. Don't forget to consider any accessories you may want to use!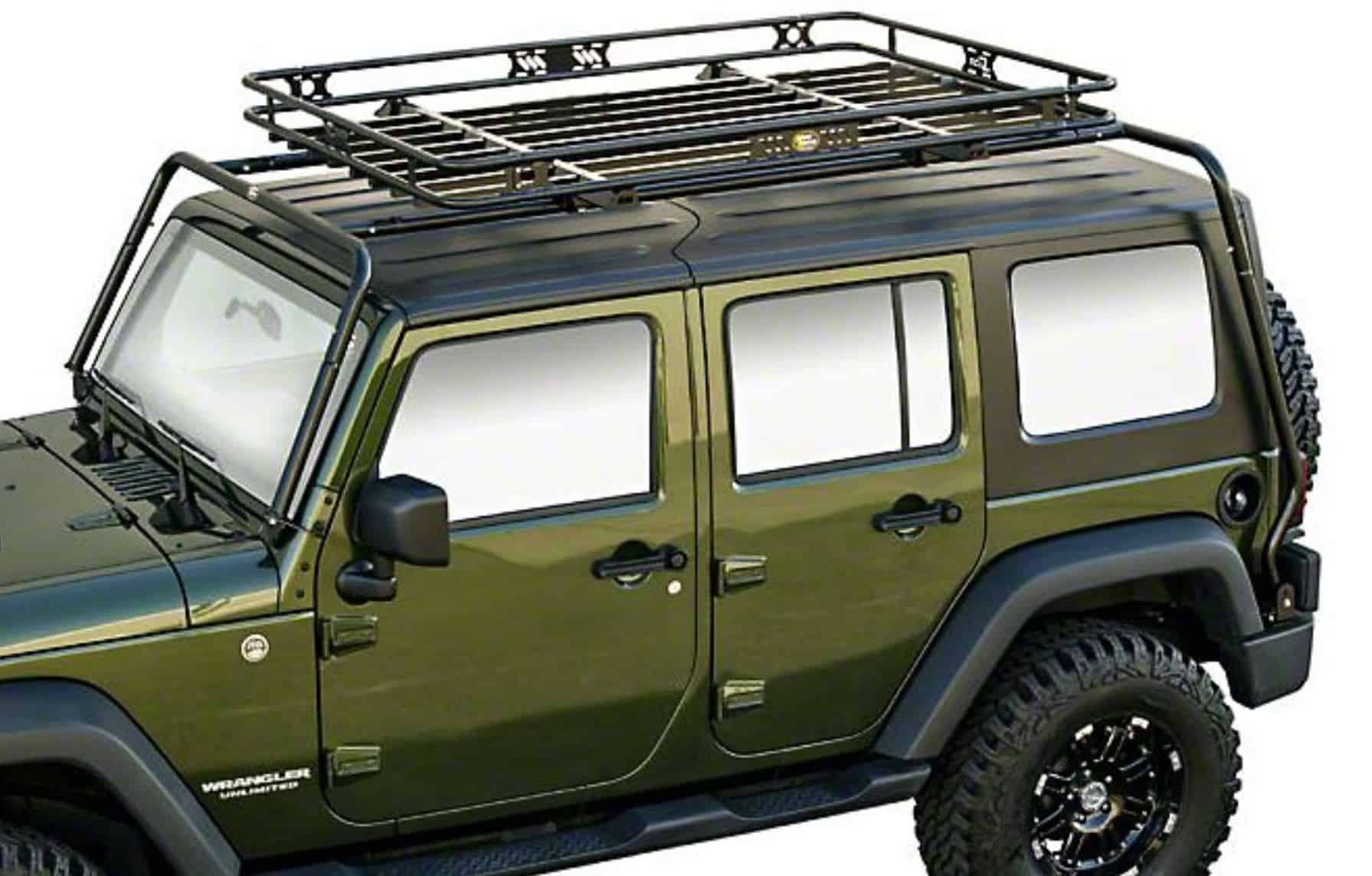 Jeep Roof Rack Pros and Cons
How do you know if a roof rack is right for you? If you can't decide whether it's worth the investment or not, consider the following list of pros and cons.
Pro: Increase Your Storage Space 
Is your back seat too full? You could strap a lot of cargo to the roof and free up valuable space. Whether you want to bring guests or make room for your furry companions, adding a roof rack to your Jeep helps you maximize your space every time you hit the road.
Con: Added Weight to Your Jeep
Roof racks aren't weightless, so you need to account for the extra pounds on your roof. Some of these racks, and the added cargo, can also add wind resistance and impact your fuel efficiency. 
Pro: Carry Over-sized Cargo
How well does your kayak fit inside your Jeep? You don't have to worry about accommodating oversized gear if you secure it to your roof rack instead. From sporting equipment to lumber, you can handle more with a roof rack.
Con: Extended Vehicle Height
Some roof racks add extra height, and when you attach cargo, you may struggle with clearance in certain situations. From low clearance parking garages to low-hanging branches, a roof rack could be problematic.
Pro: Reach Important Cargo Easier
Have you ever had to pull everything out of your trunk to reach your cooler for a bottle of water? With a roof rack, you can actually make life easier by putting unnecessary items up top and make important pieces more accessible.
Types of Roof Racks For a Jeep
Though it may not matter at first glance, there are four different types of roof racks available. They have unique applications and may work better for one class of vehicle than another. 
Fixed Point
The racks attach to the outer edge of a vehicle's roof at four points, two on each side. Usually, the connection points don't stand out because you can find them under a removable or flip-up panel. They remain permanently affixed to your car, even when not in use, and create a clean look. 
Flushed Rail
Another stylish, functional option is the flushed rail style. It sits on the roof of your vehicle and looks unimposing. This style works well with taller vehicles because it doesn't impact the top clearance when traveling through garages and tunnels.
Raised Rail
Raised rail racks usually appear on station wagons, SUVs, and minivans. They tend to be easy to install and adjustable to fit roofs of different sizes and shapes.
Tracks
These racks feature parallel tracks that run front to back on the roof of your vehicle. The result is a versatile setup that can accommodate several different accessories, including shell tops and baskets.
Jeep Roof Rack vs Cage – Comparison Overview 
Roof racks and cages are two convenient ways to expand the storage on your Jeep. However, there are some distinctions that you should note before deciding which would work best for you.
Storage Capacity
Since a cage is a container, it provides a finite amount of storage and will not accommodate larger items. Roof racks can generally handle far more cargo, including odd-shaped pieces, because you put it up there and strap it in place.
Aerodynamics
We already discussed the importance of aerodynamic design in selecting a roof rack. Unfortunately, if you add on a lot of cargo and large items, you gain more wind resistance. Cages tend to have rounded designs that limit wind resistance and don't have an impact on your fuel efficiency.
Weather-Resistance
When you use a rack, your items remain exposed to everything, while cages completely protect your items from the elements. That said, you have options for protecting items on racks, like tarps, but it is something to consider when deciding between the two options.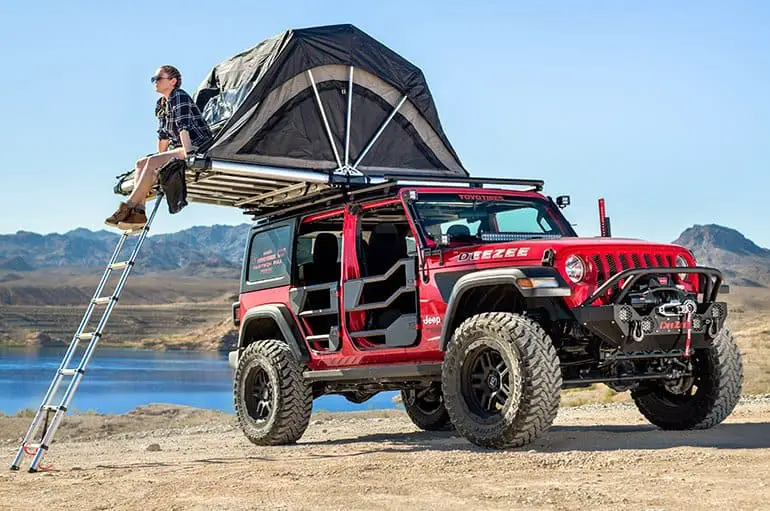 How to Install Jeep Roof Racks
When you decide on a roof rack, you can either install it yourself or pay to have somebody else do it. If you choose to do it yourself, it's a good idea to follow the manufacturer's instructions for your Jeep model. Since we can't address every type of rack, here are some tips to help you out.
Before you do anything else, make sure you choose a roof rack that works with your Jeep and that you have all the necessary hardware. 
You may want to add a clear coat or other protective coat to your rack before installation, especially if it's noted to be an issue with that particular product.
Try using a compound like LocTite to secure your hardware and prevent slipping over time.
Keep an open mind about modifications to make your roof rack more functional.
When in doubt, there are dozens of instructional videos on YouTube that can help you figure out how to install your roof rack. Just make sure you find one for your specific roof rack.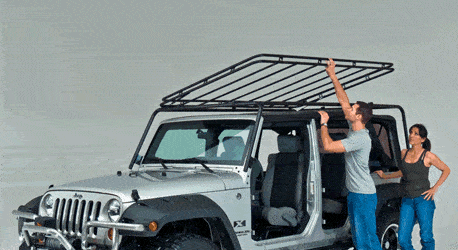 Quick Summary – Best Jeep Roof Racks
Here's a quick summary of the best Jeep roof racks:
Conclusion 
Adding a roof rack to your Jeep could be a gamechanger, especially if you spend a lot of time off-roading and traveling. It increases your storage space and can help you make the most of your vehicle. Hopefully, you have enough information to decide on the best Jeep roof rack for your vehicle!
People Also Ask
Do you still have questions? We thought you might, so here are some questions we came across often during our research. 
Why Do Jeep Cherokees Not Come With Roof Racks?
Some Jeep Cherokees come with factory roof rails that can accommodate a variety of accessories. A vehicle may not have the rails if it has a sunroof instead. Note that if your Jeep Cherokee does not have factory rails, you can have them installed for several hundred dollars.
What is the Cost to Install a Roof Rack on Jeep?
The cost varies based on the type of Jeep and the rack you choose. Expect to pay $150 on the low end and upwards of $500 for a top-of-the-line arrangement.
Why Are Roof Racks so Expensive?
Manufacturers of roof racks use high-quality, heavy-duty materials to handle a lot of weight without requiring too much contact with the vehicle. Additionally, they need to handle high speed and the elements.
Which is the Best Material for a Jeep Roof Rack?
You generally have two choices for roof racks, steel or aluminum. Steel roof racks tend to be heavier, but aluminum racks usually have better carrying capacity and rust resistance.
Will a Roof Rack Damage My Jeep?
If you install it correctly, then it should not damage your Jeep. Most manufacturers ensure their roof racks don't damage vehicles.
How Heavy is a Jeep Roof Rack?
Roof racks vary a bit in weight. Expect a rack to weigh between 25 and 65 pounds.
Who Worked on This?
---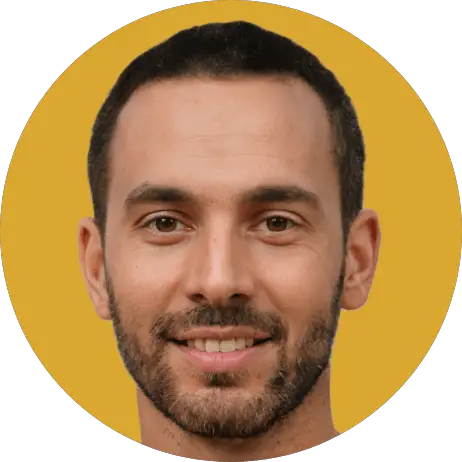 Brian
Editor
A master of organization, Brian helps keep everything running smoothly for Your Jeep Guide.
No Jeep yet but we're working on that!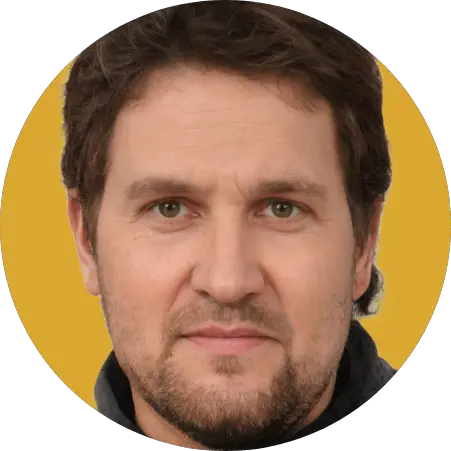 Cory
Writer
Cory loves his XJ and frequently thrashes it through the hills. He's constantly fixing something.

"What fenders?"
Check Us Out!